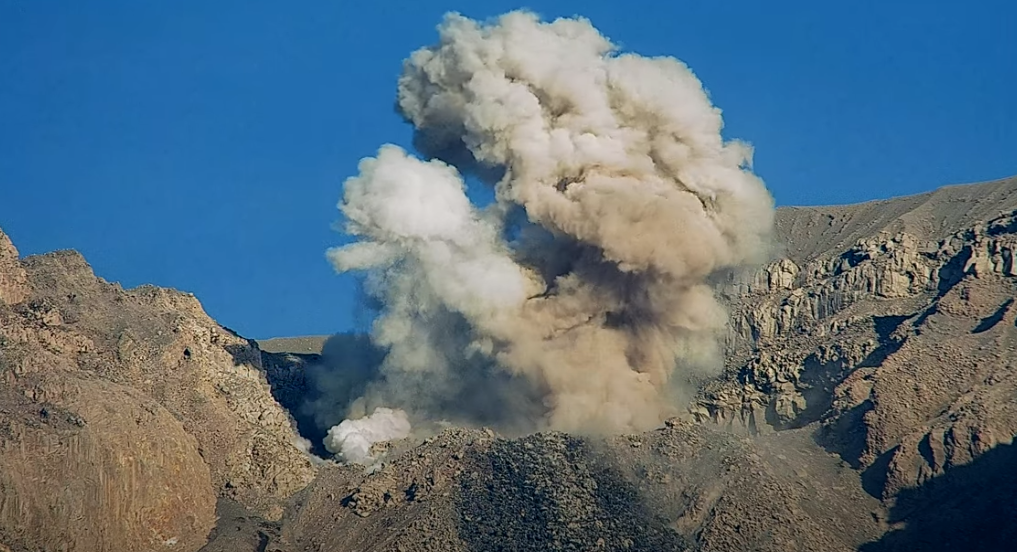 November 18 , 2023.
Iceland , Reykjanes Peninsula :
Magmatic gas is measured from a borehole. Confirms the presence of magma in the earth's crust. Land subsided by 25 cm in the center of the valley in Grindavík.
Updated November 16 at 5:50 p.m.
Seismic activity at the magma tunnel remained fairly constant from one day to the next. As of 5 p.m. today, around 1,400 earthquakes have been recorded since midnight, the largest measuring 2.9 and it was recorded in Hagafell just after 13 today. Most of the earthquakes were below magnitude two and the most intense activity occurred at Hagafell.
The deformation associated with the magma tunnel continues, although it has slowed slightly since yesterday. The latest models calculated based on GPS measurements and satellite data still indicate that the most significant slip in the magmatic dike is located north of Grindavík, near Hagafell. If the magma manages to rise to the surface, it is very likely that it is still in this area.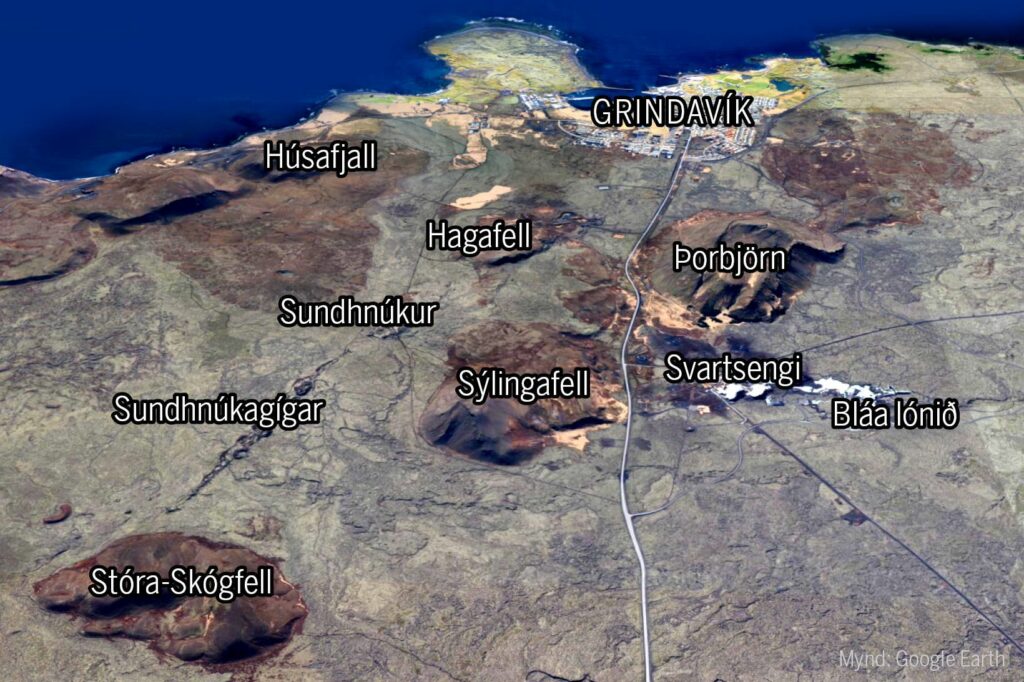 Today, magmatic gas, sulfur dioxide (SO2), was measured from a borehole at Svartsengi, located just north of Þorbjarna. The borehole is drilled diagonally to the east under Grindavíkurveg and extends into the earth's crust towards Sundhnúksgigur. The end of the borehole therefore extends close to the place in the earth's crust where the magma tunnel would be located. Further measurements will be made tomorrow, but the fact that magmatic gas is measured from the borehole confirms that magma is present north of Hagafell, just as the models indicate.
The likelihood of an eruption is still considered high. Signs of shallow micro-seismic activity and sudden slips are monitored, which may indicate magma is rising to the surface. There is no sign of this.
Since the formation of the magma tunnel on Friday November 10, the earth has subsided up to 25 cm inside the zone which then began to form. According to records from a GPS counter located in the middle of the magma tunnel just north of Grindavík, around 5 cm of inflation is still measured per day. According to the latest measurements, the intrusion is still active.
High likelihood of volcanic eruption continues
Updated 17 November at 12:00 UTC
Seismicity related to the magma intrusion that formed suddenly a week ago remains high and constant, although the level of activity is substantially lower than 10 – 12 November 2023. Approximately 2,000 earthquakes have been recorded in the last 24 hours, with most activity in an area north of Hagafell, towards the Sundhnúkar craters. Most of the seismicity is micro-earthquake activity comprising earthquakes under M 1. The largest earthquake during the last 24 hours occurred at 06:35 near Hagefell; it had a magnitude of 3.0.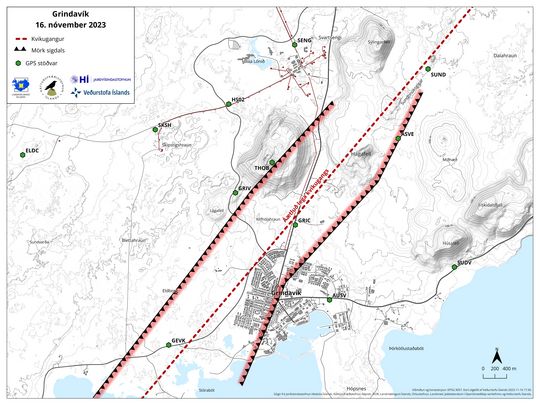 A map showing the extent of the subsidence over the magma instrusion in and around Grindavík. A GPS station (GRIC) located near the center of the subsidence has recorded a total subsidence of 25 cm since the beginning of the event.
According to GPS measurements, ground deformation continues but at a decreasing rate. The latest geophysical models based on GPS data and satellite imagery indicate that the largest movements in the magma intrusion are occurring north of Grindavík, near Hagafell. If magma manages to reach the surface, Hagafell is thought to be a prime location for an eruption.
Subsidence over the magma intrusion remains active, although measurements show a slight slowdown from day to day. Presently, GPS stations located in and around Grindavík, near the center of the subsidence zone, show about 3–4 cm of subsidence per day.
Based on the interpretation of the latest data and model results, a volcanic eruption remains likely, with the highest likelihood of it starting north of Grindavík near Hagafell.
Source : IMO
Photos : MBL.IS , IMO
Indonesia , Semeru :
Semeru exhibited an eruption on Saturday, November 18, 2023 at 06:22 WIB with the height of the ash column observed at ± 1000 m above the summit (± 4676 m above sea level). The ash column was observed to be white to gray in color with thick intensity, oriented towards the North, South-West and North-West. This eruption was recorded on a seismograph with a maximum amplitude of 22 mm and a duration of 109 seconds.
VOLCANO OBSERVATORY NOTICE FOR AVIATION – VONA
Issued : November 17 , 2023
Volcano : Semeru (263300)
Current Aviation Colour Code : ORANGE
Previous Aviation Colour Code : orange
Source : Semeru Volcano Observatory
Notice Number : 2023SMR433
Volcano Location : S 08 deg 06 min 29 sec E 112 deg 55 min 12 sec
Area : East java, Indonesia
Summit Elevation : 11763 FT (3676 M)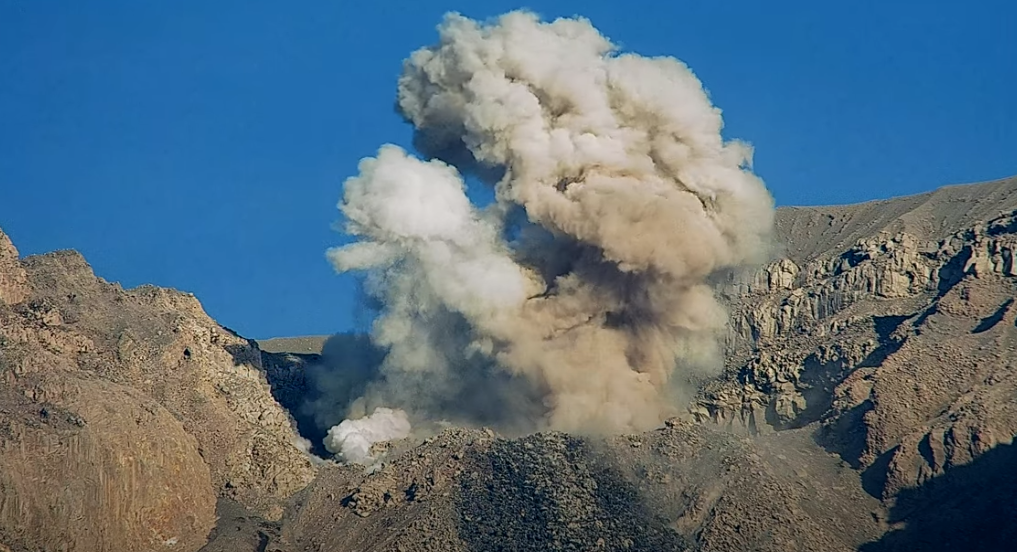 Volcanic Activity Summary :
Eruption with volcanic ash cloud at 23h22 UTC (06h22 local).
Volcanic Cloud Height :
Best estimate of ash-cloud top is around 14963 FT (4676 M) above sea level or 3200 FT (1000 M) above summit. May be higher than what can be observed clearly. Source of height data: ground observer.
Other Volcanic Cloud Information :
Ash cloud moving from north, southwest to northwest. Volcanic ash is observed to be white to gray. The intensity of volcanic ash is observed to be thick.
Remarks :
Eruption recorded on seismogram with maximum amplitude 22 mm and maximum duration 109 second.
Source : Magma Indonésie
Photo : webcam
Alaska , Trident :
58°14'3″ N 155°6'9″ W,
Summit Elevation 3599 ft (1097 m)
Current Volcano Alert Level: ADVISORY
Current Aviation Color Code: YELLOW
Earthquake activity in the vicinity of Trident Volcano remains slightly elevated over the past week with small earthquakes observed each day within the Katmai group of volcanoes. The number of deeper volcanic earthquakes within the Katmai area continues to be low. No volcanic activity was observed in satellite and web camera images, however, resuspended ash from the 1912 Katmai eruption was clearly visible in satellite images on Saturday, November 11.
The current period of unrest began in August 2022. Since then, most earthquakes have occurred within the shallow crust, with depths less than 4 miles (6 km) below sea level; however, deeper quakes (greater than 9 miles or 15 km depth) were notable during much of the unrest period. Surface uplift, low-frequency earthquakes, and seismic tremor – all consistent with magmatic activity – have been observed over this extended period as well.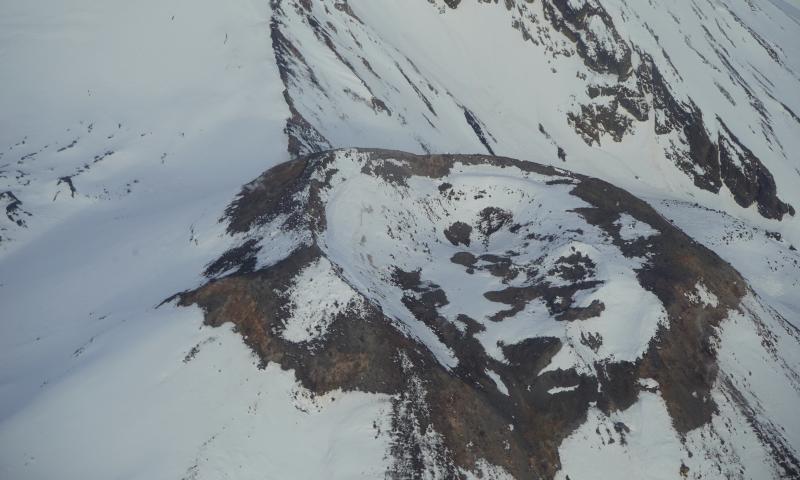 Aerial view of crater of Southwest (New) Trident. Degassing from week fumaroles on the outer crater rim can be seen in top left of the image.
Increases in seismic activity have been detected previously at Trident Volcano and other similar volcanoes and did not result in eruptions. We expect additional shallow seismicity and other signs of unrest, such as gas emissions, elevated surface temperatures, and ground movement, to precede any future eruption if one were to occur.
Trident Volcano is monitored by local seismic sensors, web cameras, regional infrasound and lightning networks, and satellite data.
Trident is one of the Katmai group of volcanoes located within Katmai National Park and Preserve on the Alaska Peninsula. Trident consists of a complex of four cones and numerous lava domes, all andesite and dacite in composition, that reach as high as 6,115 ft (1,864 m) above sea level. An eruption beginning in 1953 constructed the newest cone, Southwest Trident, and four lava flows on the flank of the older complex. This eruption continued through 1974 and produced ash (an initial plume rose to 30,000 ft or 9 km above sea level), bombs, and lava at various times. Fumaroles remain active on the summit of Southwest Trident and on the southeast flank of the oldest, central cone. Trident is located 92 miles (148 km) southeast of King Salmon and 273 miles (440 km) southwest of Anchorage.
Source : AVO
Photo : Lopez, Taryn / AVO / University of Alaska Fairbanks, Geophysical Institute.
Kamchatka , Klyuchevskoy :
VOLCANO OBSERVATORY NOTICE FOR AVIATION (VONA)
Issued: November 17 , 2023
Volcano: Klyuchevskoy (CAVW #300260)
Current aviation colour code: GREEN
Previous aviation colour code: green
Source: KVERT
Notice Number: 2023-161
Volcano Location: N 56 deg 3 min E 160 deg 38 min
Area: Kamchatka, Russia
Summit Elevation: 4750 m (15580 ft)
Volcanic Activity Summary:
An eruption of the Klyuchevskoy volcano has ended, only fumarole activity of the summit crater is observed. However, a large hot lava flow lying in the Apakhonchichsky chute, continues to provoke the collapses of old pyroclastic material from the sides of the chute. Video and satellite data by KVERT shows a plume of resuspended ash is extending for 150 km to the east-south-east of the volcano.
Fumarole activity of the Klyuchevskoy volcano on 16 November, 2023. In the foreground is the deep Apakhonchichsky chute on the southeastern slope of the volcano.
A fumarole activity of the summit crater of the Klyuchevskoy volcano is observed. However, collapses of old pyroclastic material from the sides of the Apakhonchichsky chute remains. Ongoing activity could affect low-flying aircraft.
Volcanic cloud height:
4000-4500 m (13120-14760 ft) AMSL Time and method of ash plume/cloud height determination: 20231117/0230Z – Himawari-9 14m15
Other volcanic cloud information:
Distance of ash plume/cloud of the volcano: 150 km (93 mi)
Direction of drift of ash plume/cloud of the volcano: ESE / azimuth 107 deg
Time and method of ash plume/cloud determination: 20231117/0230Z – Himawari-9 14m15
Source : Kvert.
Photo : Yu. Demyanchuk, IVS FEB RAS, KVERT
Mexico , Popocatepetl :
November 17, 11:00 a.m. (November 17, 5:00 p.m. GMT)
Activity from the last 24 hours
14 exhalations were detected, accompanied by emissions of volcanic gases and sometimes ash. Additionally, 1,276 minutes of tremors were recorded, with low to very low amplitude high frequency segments totaling 21.26 hours.
The National Center for Communication and Civil Protection Operations (Cenacom) reported today a light ash fall in the municipalities of Ayapango, Ozumba and Ecatzingo, State of Mexico and Axochiapan, Hueyapan, Tetela del Volcán, Morelos.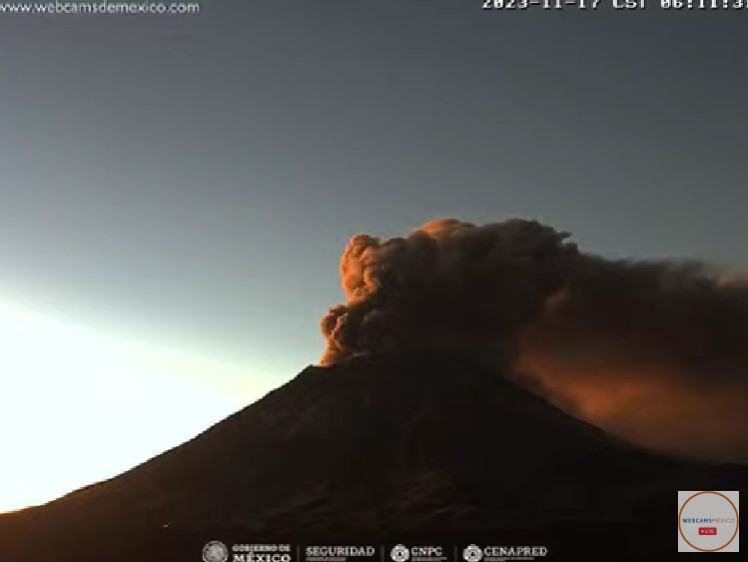 Since this morning and at the time of this report, we have observed a constant emission of water vapor, volcanic gases and ash, which is dispersing towards the South-South-West (SSW).
The Popocatépetl volcanic warning fire is in yellow phase 2.
The scenarios planned for this phase are:
A few small to moderate explosions
Appearance of tremors of variable amplitude
Source et photo : Cenapred .