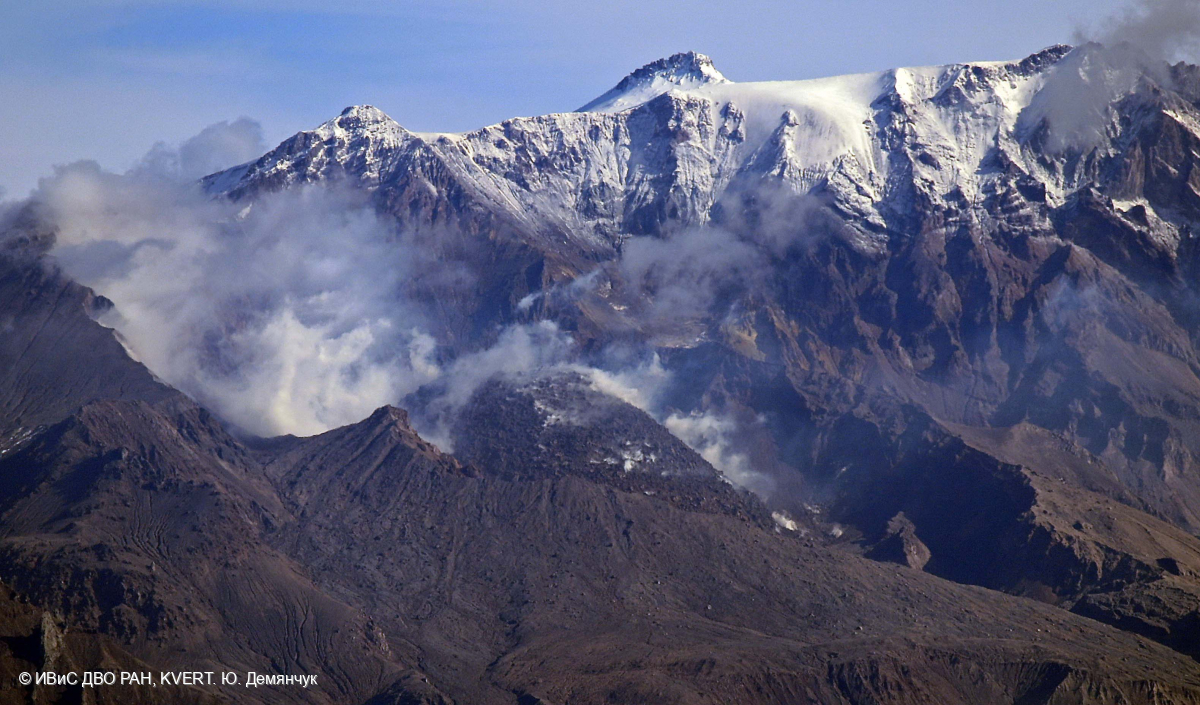 November 07 , 2023 .
Iceland , Reykjanes Peninsula :
Uplift now 7 cm in 10 days at GNSS station on Mt. Þorbjörn . Around 1300 earthquakes in the area last 24 hours . Updated 6. November at 1:15pm
In the last 24 hours around 1300 earthquakes have been detected on the Reykjanes peninsula, of which three earthquakes were above M3. The largest earthquake was M3.6 this morning and located 3 km NE of Mt. Þorbjörn.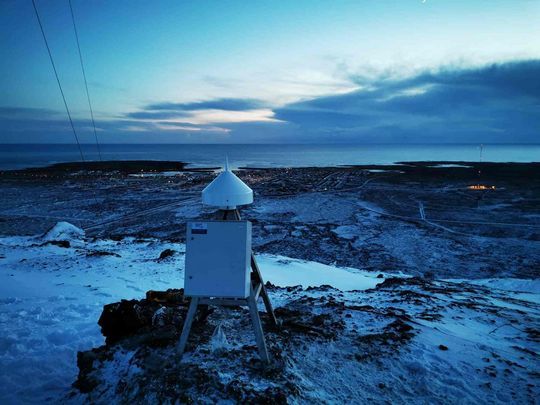 GPS meter on the top of the mountain Þorbjörn in January 2020. GPS meters are part of the meter network that analyzes land.
Deformation data shows that uplift continues in the area and there are indications on GNSS observations of an increase in inflation rates since 3rd of November. Since the start of the inflation, the uplift at the GNSS station at Mt. Þorbjörn has reached 7 cm. The deformation is caused by a sill-type intrusion at around 5 km depth. Modelling, based on data since 27th of October, indicates that the volume change associated with this inflation event has reached almost two times the volume change associated with the four previous inflation events in the same area between 2020-2022. Inflow of magma/magmatic fluids into the sill-type body is estimated at approximately 7 m3/s which is about four times greater than the highest inflow estimated during previous inflation events here.
While the inflation continues, increased seismicity in the area can be expected from additional stress changes induced within the crust.
Source : IMO.
Photo :  Benedikt G. Ófeigsson.
Kamchatka , Sheveluch :
VOLCANO OBSERVATORY NOTICE FOR AVIATION (VONA)
Issued: November 07 , 2023
Volcano: Sheveluch (CAVW #300270)
Current aviation colour code: ORANGE
Previous aviation colour code: orange
Source: KVERT
Notice Number: 2023-155
Volcano Location: N 56 deg 38 min E 161 deg 18 min
Area: Kamchatka, Russia
Summit Elevation: 3283 m (10768.24 ft), the dome elevation ~2500 m (8200 ft)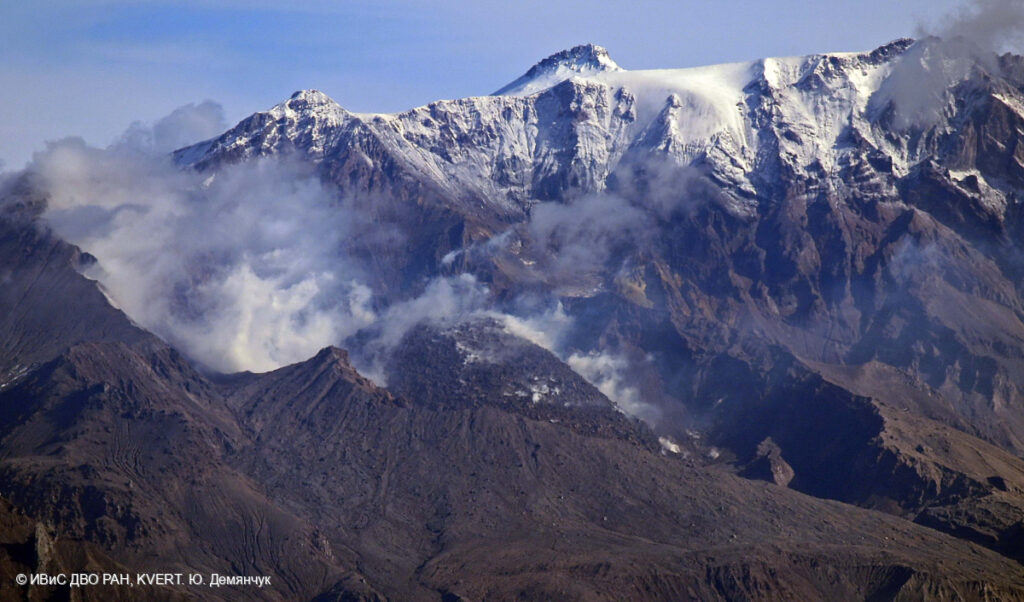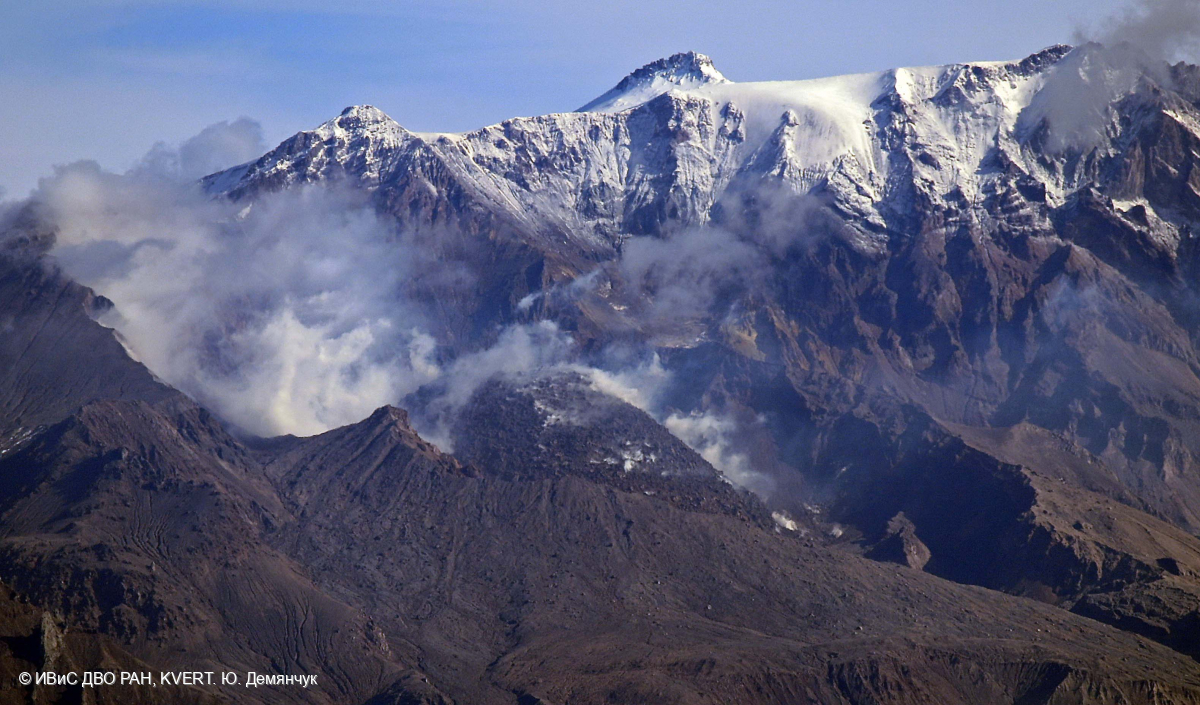 Volcanic Activity Summary:
Video and satellite data by KVERT shows a strong wind lifts ash from the southern slopes of Sheveluch volcano, and a plume of resuspended ash is extending about 40 km to the south-east of the volcano.
An extrusive-effusive eruption of the volcano continues. A danger of ash explosions up to 10 km (32,800 ft) a.s.l. is remains. Ongoing activity could affect international and low-flying aircraft.
Volcanic cloud height:
2500-3000 m (8200-9840 ft) AMSL Time and method of ash plume/cloud height determination: 20231107/0056Z – Suomi NPP 15m16
Other volcanic cloud information:
Distance of ash plume/cloud of the volcano: 40 km (25 mi)
Direction of drift of ash plume/cloud of the volcano: SE / azimuth 128 deg
Time and method of ash plume/cloud determination: 20231107/0056Z – Video data
Source : Kvert
Photo : Yu. Demyanchuk. IVS FEB RAS, KVERT.
Peru , Ubinas :
Analysis period: from October 30, 2023 to November 5, 2023. Arequipa, November 6, 2023.
Alert level: ORANGE
The Geophysical Institute of Peru (IGP) reports that the eruptive processes of the Ubinas volcano (Moquegua region) maintain low levels. During this period, no explosions or ash emissions were recorded, only gas emissions which reached up to 900 m above the summit of the volcano, with low seismic activity. As a result the volcano alert level has been lowered to Yellow.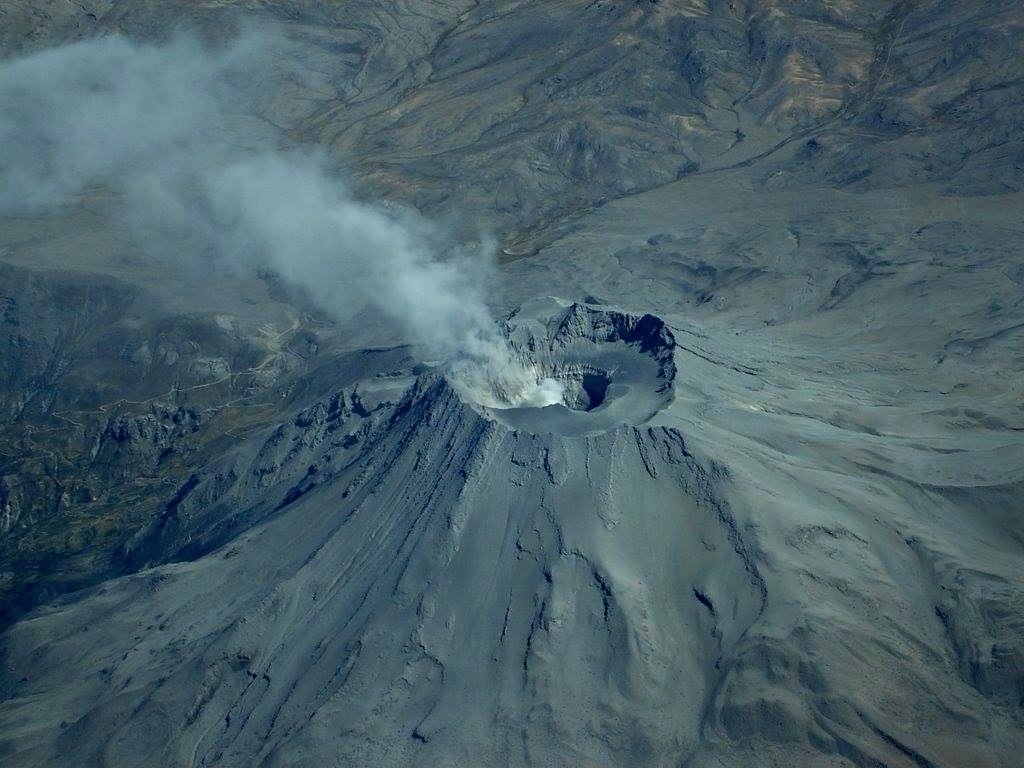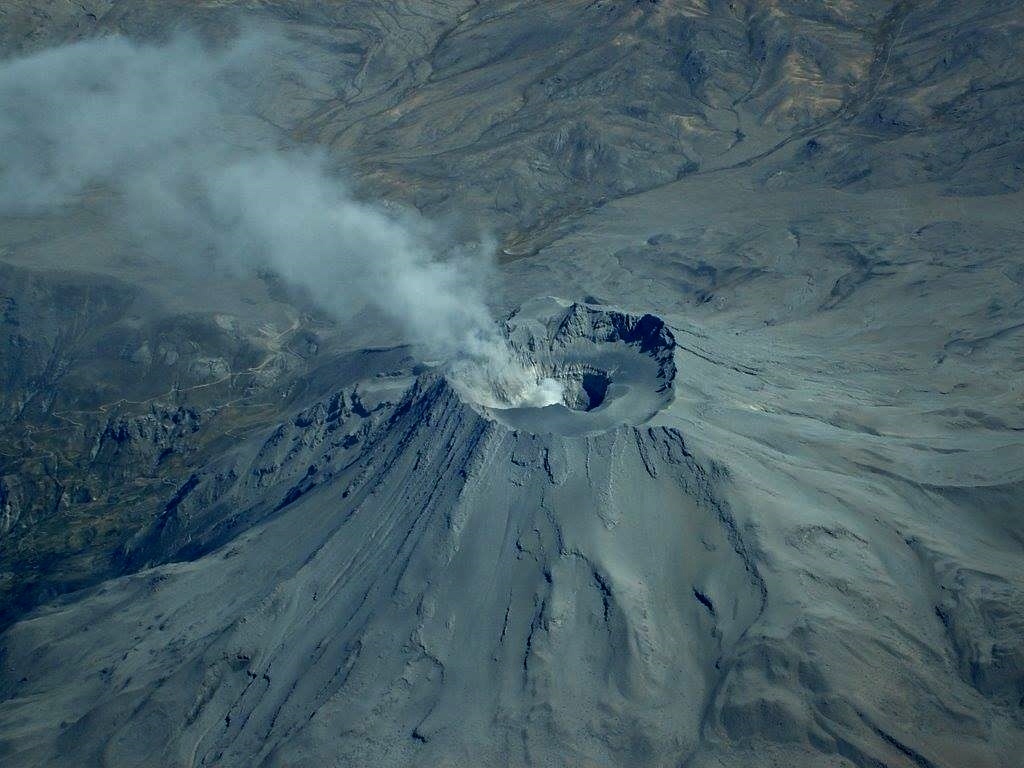 During the analysis period, the occurrence of 95 volcano-tectonic (VT) type earthquakes was detected, associated with rock rupture processes that occur inside the volcano. In addition, 24 seismic signals were recorded, associated with the movements of volcanic fluids (gas and magma). no explosions or ash emissions were recorded
Surveillance cameras made it possible to identify emissions of gas and water vapor which reached heights of 900 m above the summit of the volcano, which were dispersed mainly towards the eastern and south-eastern sectors of the volcano. Ubinas. On the other hand, monitoring of the deformation of the volcanic structure shows variations of less than 7 mm of vertical displacement. Satellite monitoring has not shown thermal anomalies in the Ubinas crater.
RECOMMENDATIONS
• Keep the volcanic alert level at YELLOW level
Source : Cenvul.
Photo :   Auteur inconnu
Indonesia , Dukono :
An eruption of Mount Dukono occurred on Tuesday, November 7, 2023, at 08:10 WIT. The height of the eruptive column was observed to be ± 950 m above the peak (± 2037 m above sea level). The ash column was observed to be white to gray in color with thick intensity, oriented towards the East. At the time of writing, the eruption was still ongoing.
VOLCANO OBSERVATORY NOTICE FOR AVIATION – VONA
Issued : November 06 , 20231106/2310Z
Volcano : Dukono (268010)
Current Aviation Colour Code : ORANGE
Previous Aviation Colour Code : orange
Source : Dukono Volcano Observatory
Notice Number : 2023DUK011
Volcano Location : N 01 deg 41 min 35 sec E 127 deg 53 min 38 sec
Area : North Maluku, Indonesia
Summit Elevation : 3933 FT (1229 M)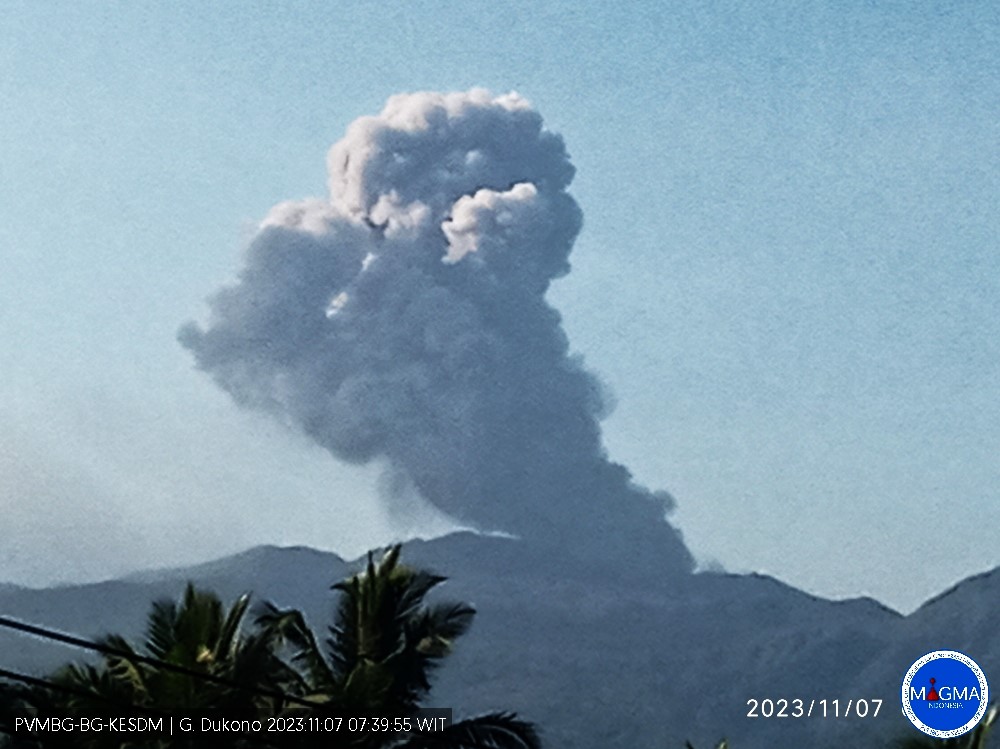 Volcanic Activity Summary :
Eruption with volcanic ash cloud at 23h10 UTC (08h10 local).
Volcanic Cloud Height :
Best estimate of ash-cloud top is around 6973 FT (2179 M) above sea level or 3040 FT (950 M) above summit. May be higher than what can be observed clearly. Source of height data: ground observer.
Other Volcanic Cloud Information :
Ash cloud moving to east. Volcanic ash is observed to be white to gray. The intensity of volcanic ash is observed to be thick.
Remarks :
Eruption and ash emission is continuing.
Source et photo : Magma Indonésie.
Chile , Hudson : 
Special Report on Volcanic Activity (REAV), Aysen Del General Carlos Ibanez Del Campo region, Hudson Volcano, November 6, 2023, 7:10 p.m. local time (mainland Chile).
The National Service of Geology and Mines of Chile (Sernageomin) publishes the following PRELIMINARY information, obtained using the monitoring equipment of the National Volcanic Monitoring Network (RNVV), processed and analyzed at the Southern Andean Volcanological Observatory ( Ovdas):
On Monday, November 6, 2023, at 5:45 p.m. local time (8:45 p.m. UTC), monitoring stations installed near the Hudson volcano recorded an earthquake associated with both rock fracturing and fluid dynamics in the volcanic system (hybrid type).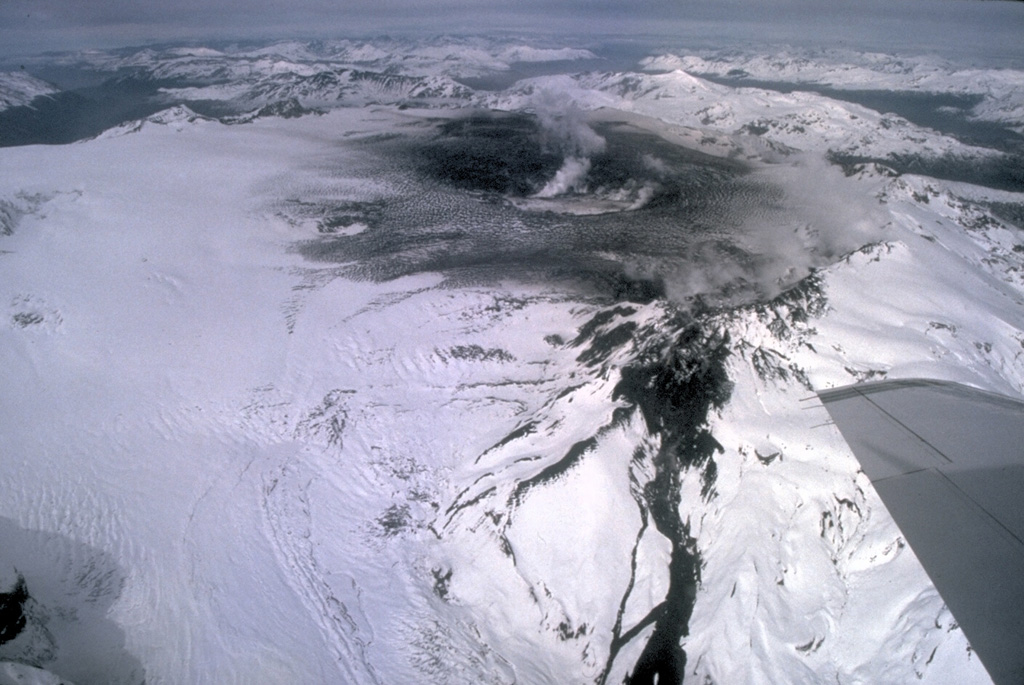 The characteristics of earthquakes after their analysis are as follows:
ORIGINAL TIME: 5:45 p.m. local time (8:45 p.m. UTC)
LATITUDE: 45.904°S
LONGITUDE: 72.882°E
DEPTH: 2.4 km
LOCAL MAGNITUDE 2.7
REDUCED DISPLACEMENT 867 cm2
OBSERVATIONS:
Following the event, 13 volcano-tectonic events were recorded. Monitoring parameters remain unchanged at the time of issuing this report.
The technical volcanic alert remains at level Green.
Sources :  Sernageomin.
Photo : Norm Banks