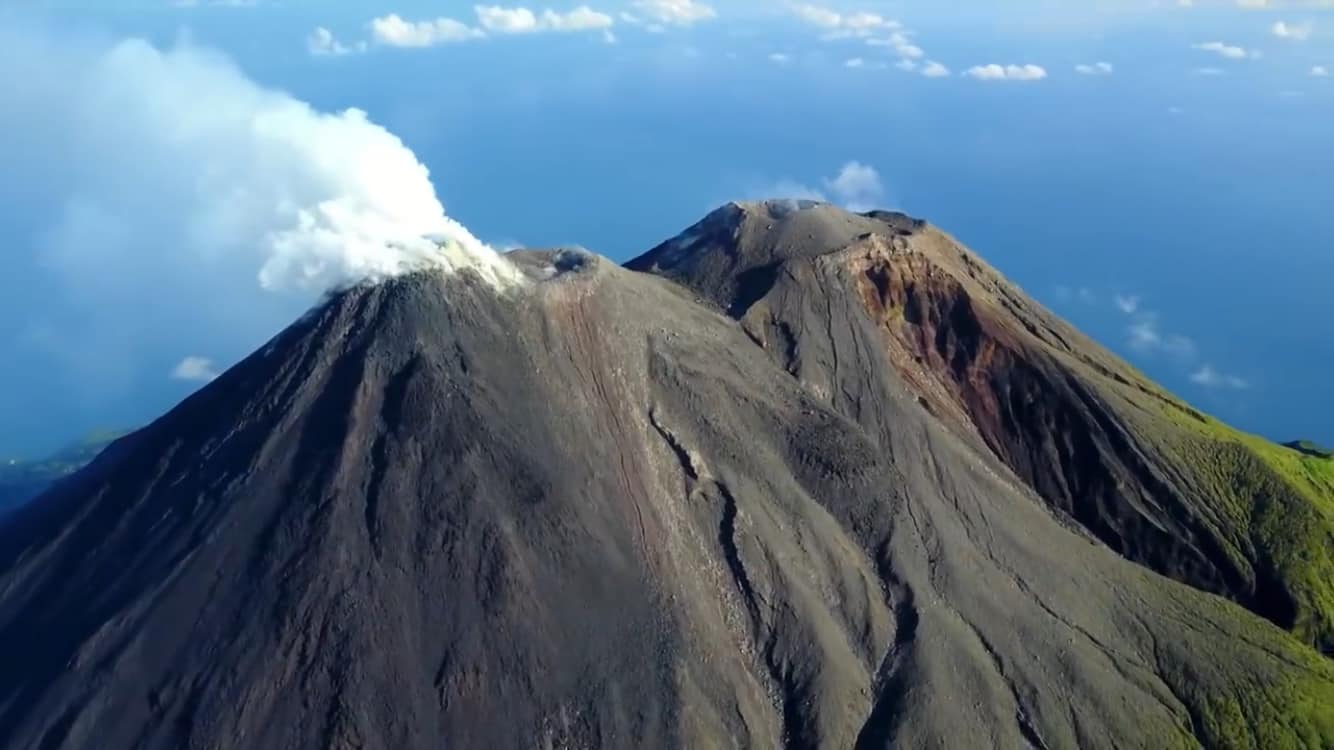 August 31 , 2023.
Indonesia , Karangetang :
According to 17 and 18 August news articles a total of 39 families (104 people) were able to return to Tatahadeng and Tarorane villages because activity at Karangetang had declined. Incandescent avalanches continued to descend the SW, S, and SE flanks, though the number of events and the distanced traveled were lower. PVMBG reported that dense white gas-and-steam plumes were visible on most days rising as high as 150 m and drifting NE, N, and NW during 23-29 August. Weather clouds sometimes prevented views of the summit. Webcam images published in the reports showed incandescence at the summit and from material on the flanks of Main Crater (S crater). According to a news source, incandescent lava avalanches traveled as far as 1.5 km down the Batuawang drainage and 1.8 km down the Kahetang and Keting drainages. Incandescent material was sometimes ejected up to 25 m above the summit. The Alert Level remained at 3 (on a scale of 1-4) and the public were advised to stay 2.5 km away from Main Crater with an extension to 3.5 km on the S and SE flanks.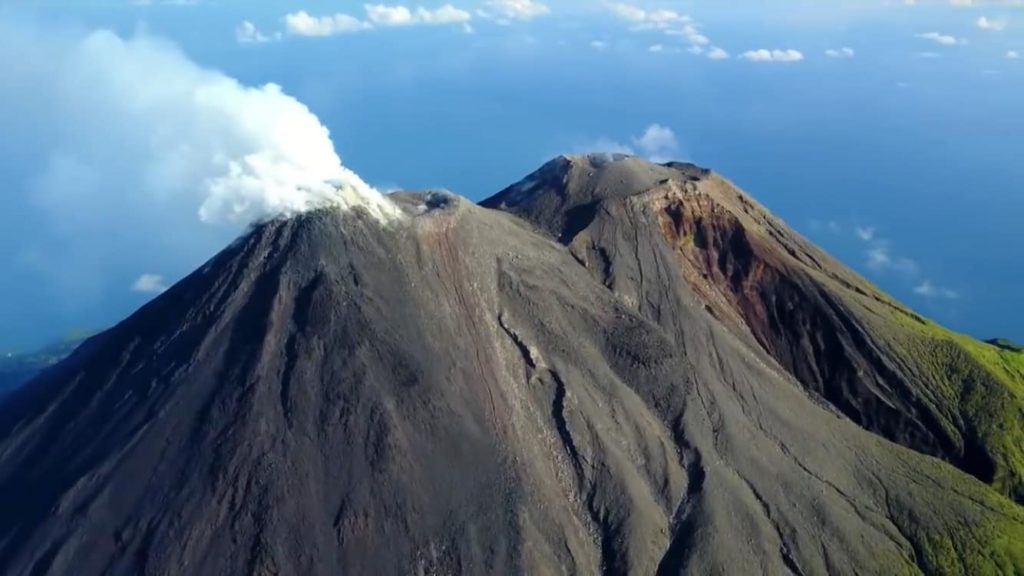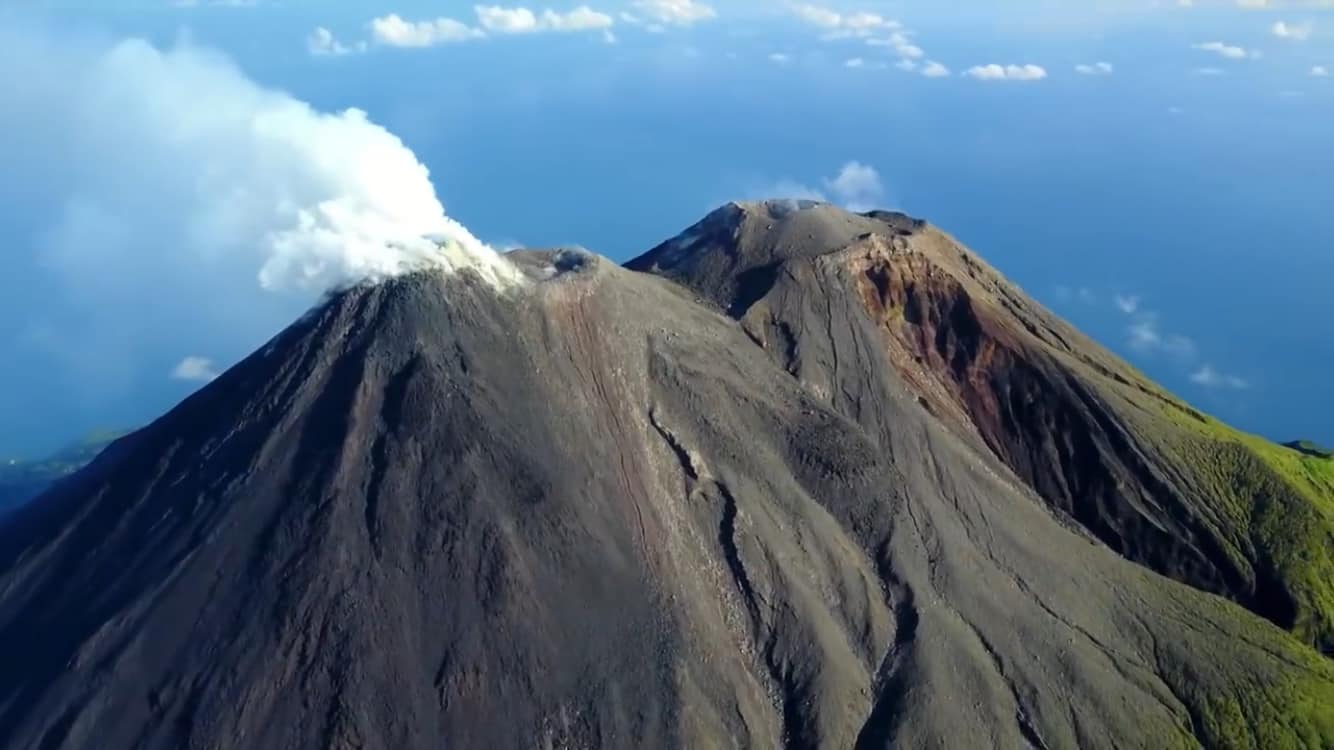 Karangetang (Api Siau) volcano lies at the northern end of the island of Siau, about 125 km NNE of the NE-most point of Sulawesi. The stratovolcano contains five summit craters along a N-S line. It is one of Indonesia's most active volcanoes, with more than 40 eruptions recorded since 1675 and many additional small eruptions that were not documented (Neumann van Padang, 1951). Twentieth-century eruptions have included frequent explosive activity sometimes accompanied by pyroclastic flows and lahars. Lava dome growth has occurred in the summit craters; collapse of lava flow fronts have produced pyroclastic flows.
Sources : PVMBG , GVP.
Photo : hshdude / esia
Kamchatka , Sheveluch :
VOLCANO OBSERVATORY NOTICE FOR AVIATION (VONA)
Issued: August 30 , 2023
Volcano: Sheveluch (CAVW #300270)
Current aviation colour code: ORANGE
Previous aviation colour code: orange
Source: KVERT
Notice Number: 2023-91
Volcano Location: N 56 deg 38 min E 161 deg 18 min
Area: Kamchatka, Russia
Summit Elevation:
3283 m (10768.24 ft), the dome elevation ~2500 m (8200 ft)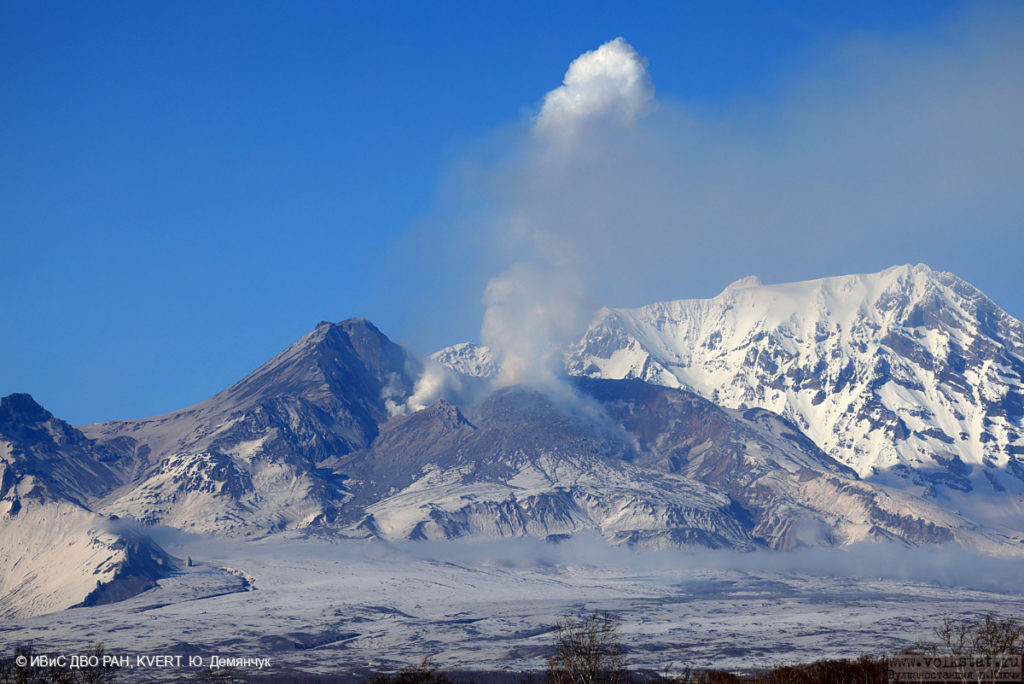 Volcanic Activity Summary:
Video and satellite data by KVERT shows a strong wind lifts ash from the southern slopes of Sheveluch volcano, and a plume of resuspended ash is extending about 83 km to the southeast of the volcano.
An extrusive-effusive eruption of the volcano continues. A danger of ash explosions up to 10 km (32,800 ft) a.s.l. is remains. Ongoing activity could affect international and low-flying aircraft.
Volcanic cloud height:
2500 m (8200 ft) AMSL Time and method of ash plume/cloud height determination: 20230830/2300Z – Himawari-9 14m15
Other volcanic cloud information:
Distance of ash plume/cloud of the volcano: 83 km (52 mi)
Direction of drift of ash plume/cloud of the volcano: ESE / azimuth 104 deg
Time and method of ash plume/cloud determination: 20230830/2300Z – Himawari-9 14m15
Remarks:
resuspended ash plume
KVERT reported that the eruption at Sheveluch continued during 17-24 August. Intense fumarolic activity was visible at the active dome, and daily thermal anomalies were identified in satellite images. The Aviation Color Code remained at Orange (the third level on a four-color scale).
Source : Kvert , GVP.
Photo : Yu. Demyanchuk, IVS FEB RAS, KVERT.
Japan , Suwanosejima :
JMA reported that the eruption at Suwanosejima's Ontake Crater continued during 21-28 August. Eruptive events produced volcanic plumes that rose as high as 1.4 km above the crater rim and produced ashfall in Toshima village (3.5 km SSW). Events at 05h44, 07h42, 08h24, 14h24, and 17h04 on 25 August produced ash plumes that rose 1.1-1.2 km above the crater rim and drifted NE, W, and SW. The Alert Level remained at 2 (on a 5-level scale) and the public was warned to stay at least 1 km away from the crater.
The 8-km-long island of Suwanosejima in the northern Ryukyu Islands consists of an andesitic stratovolcano with two historically active summit craters. The summit is truncated by a large breached crater extending to the sea on the east flank that was formed by edifice collapse. One of Japan's most frequently active volcanoes, it was in a state of intermittent Strombolian activity from Otake, the NE summit crater, between 1949 and 1996, after which periods of inactivity lengthened. The largest recorded eruption took place in 1813-14, when thick scoria deposits blanketed residential areas, and the SW crater produced two lava flows that reached the western coast. At the end of the eruption the summit of Otake collapsed, forming a large debris avalanche and creating the open Sakuchi caldera, which extends to the eastern coast. The island remained uninhabited for about 70 years after the 1813-1814 eruption. Lava flows reached the eastern coast of the island in 1884. Only about 50 people live on the island.
Source : GVP.
Photo : ontake , Masanori Genko
Colombia , Nevado del Ruiz :
Servicio Geológico Colombiano's (SGC) Observatorio Vulcanológico y Sismológico de Manizales reported that the eruption at Nevado del Ruiz continued at low-to-moderate levels during 22-28 August. Seismicity indicating the movement of fluids increased in number and magnitude compared to the week before; these seismic signals were most notable on 26 August and were associated with pulsating, or occasionally continuous, emissions of gas and ash. Seismicity indicating rock fracturing decreased compared to the previous week. These events were generally located below Arenas Crater and in areas within 8 km to the SE, NE, and NW at depths of less than 8 km. Ash-and-gas emissions continued, with the highest plumes rising as high as 1.3 and 2.6 km above the crater rim on 26 and at 17h45 on 27 August, respectively. Plumes drifted NW, WNW, and SW and caused ashfall in Manizales (27 km NW) and Dosquebradas (40 km WSW) on 23 August, and on several other occasions during 26-28 August. The Alert Level remained at Yellow, Level III (the second level on a four-level scale).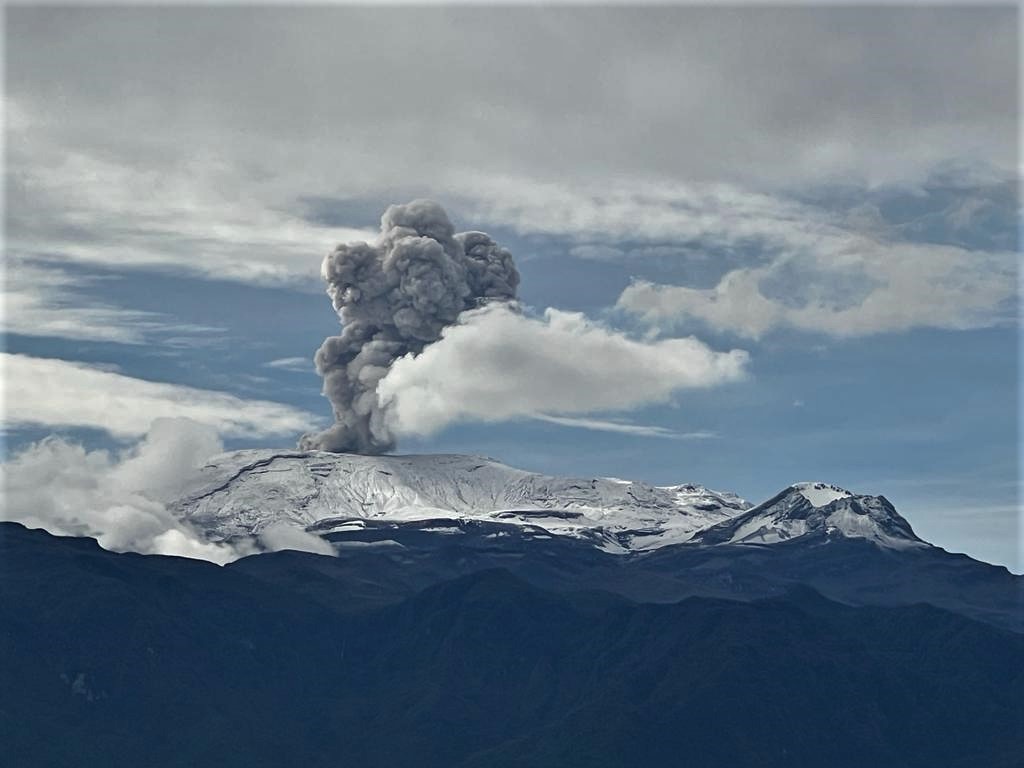 The greater height of the dispersing column was associated with the emission of ash on August 27 at 5:45 p.m., visible from several sectors of the city of Manizales and near the volcano thanks to the excellent weather conditions at the time of the emission. In general, the dispersion direction of the column presented a main trend towards the Northwest, West-Northwest and Southwest of the volcanic structure, which caused ash falls in Manizales (Caldas) and Dosquebradas (Risaralda) on August 23 and between August 26 and 28 on several occasions.
On the other hand, satellite monitoring platforms reported low-energy thermal anomalies detected at the bottom of the crater.
Sources : GVP , SGC.
Photo : SGC
Iceland , Katla / Mýrdalsjökull :
A 3.7 magnitude tremor struck at Mýrdalsjökull at 23:45 last night.
The quake occurred 4.6 km northwest of Hábunga and originated at a depth of 1.1 km, the website of the Icelandic Met Office stated. It was found in Reynishverfi in the Mýrdalur valley, among other places.
A second quake of smaller magnitude followed. The quake was magnitude 2.8 and originated at a depth of 1.1 km, 4.1 km northwest of Hábunga.
A report from the Met Office says that the quake was followed by several aftershocks. The largest was a magnitude 2.8, as previously mentioned.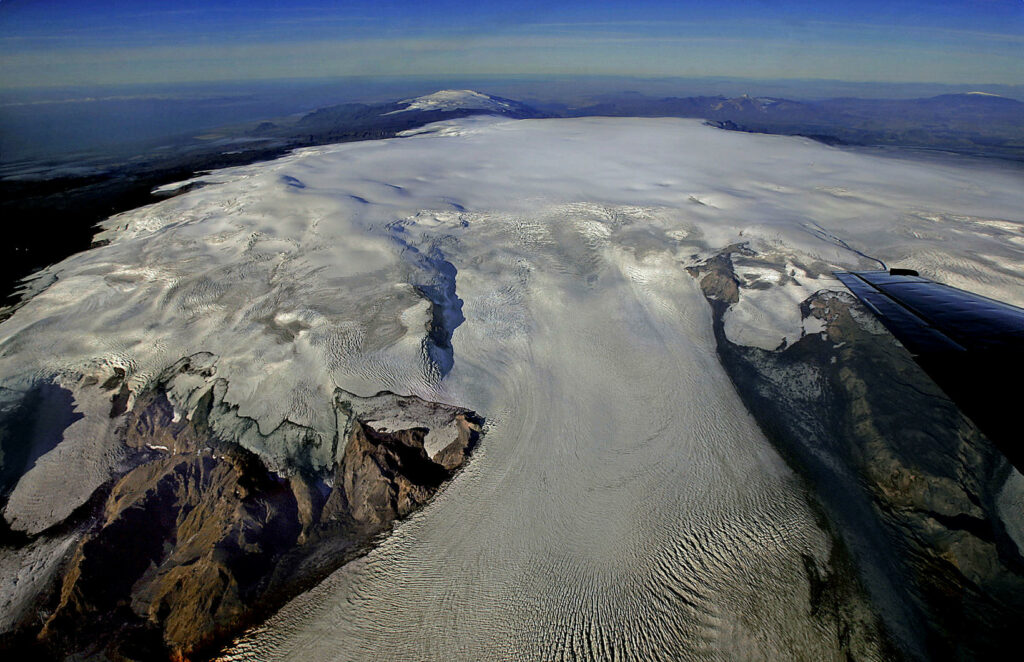 There has been some activity in Mýrdalsjökull glacier for the last year. The glacier experienced a seismic event in early summer, the largest in at least seven years,
The last time there was a quake of similar magnitude was on July 23. Eighteen quakes have been recorded in more than three locations in Mýrdalsjökull glacier since the end of the year, most of them in the burst on June 30. No unrest has followed these tremors.
Just before midnight at 11:59:48 pm on August 29ht, an earthquake of M 3.7 was detected in Mýrdalsjökull glacier. Followed by few aftershocks of which the largest one was measured of M2.8. It was felt nearby.
There has been an increase in the seismic activity in Myrdalsjökull since the beginning of the year but last time an event of this magnitude was detected was on July 23rd. Since the beginning of 2023 eighteen earthquakes of M3.0 or above have been detected, most of them in the swarm on June 30th.
Sources : icelandmonitor.mbl.is , IMO.
Photo : MBLIS / RAX.