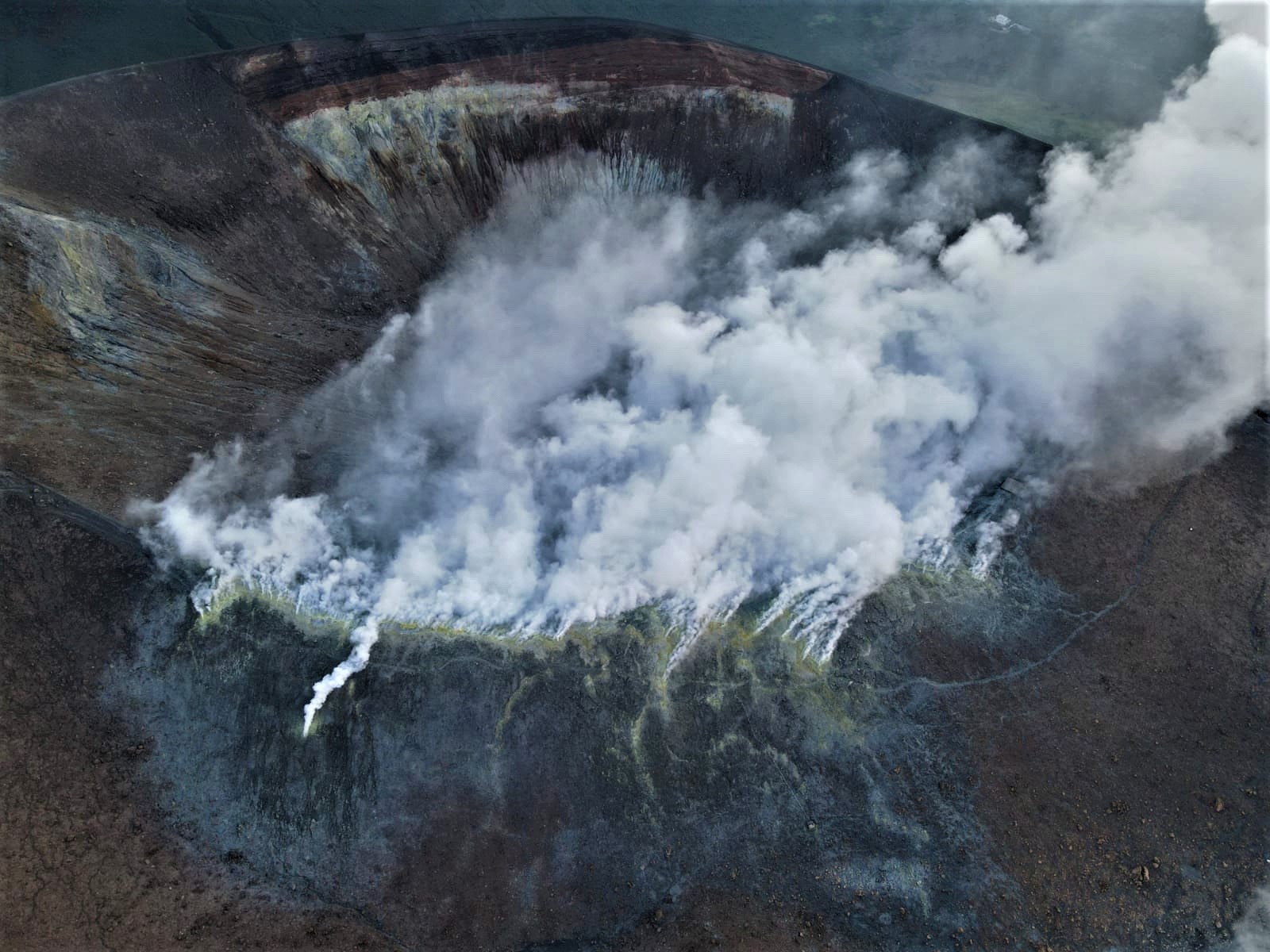 June 02 , 2023.
Italy , Vulcano :
WEEKLY BULLETIN, from May 22, 2023 to May 28, 2023. (issue date 30 May 2023)
ACTIVITY STATUS SUMMARY
In the light of the monitoring data, it is highlighted:
1) Temperature of the crater fumaroles: The temperatures recorded on the edge of the crater are stable at high values.
2) CO2 flux in the crater area: There are no updates.
3) SO2 flux in the crater area: at an average level
4) Geochemistry of fumarolic gases: The data from the last sampling (05/11/2023) show concentration values of magmatic species that are constant on the average values; the isotopic ratio of helium does not show any significant variations.
5) CO2 fluxes at the base of the La Fossa cone and in the Vulcano Porto area: The CO2 fluxes recorded at the sites of Rimessa, C. Sicilia show stable values, always above background levels. On the P4max site, the flows are down slightly on the average levels, while on the Faraglione site, values close to the background levels are recorded.
6) Geochemistry of thermal aquifers: stable but still high temperature values are recorded in the Camping Sicilia well and no variation in conductivity values; in the Bambara well, there was a sharp increase in water conductivity values.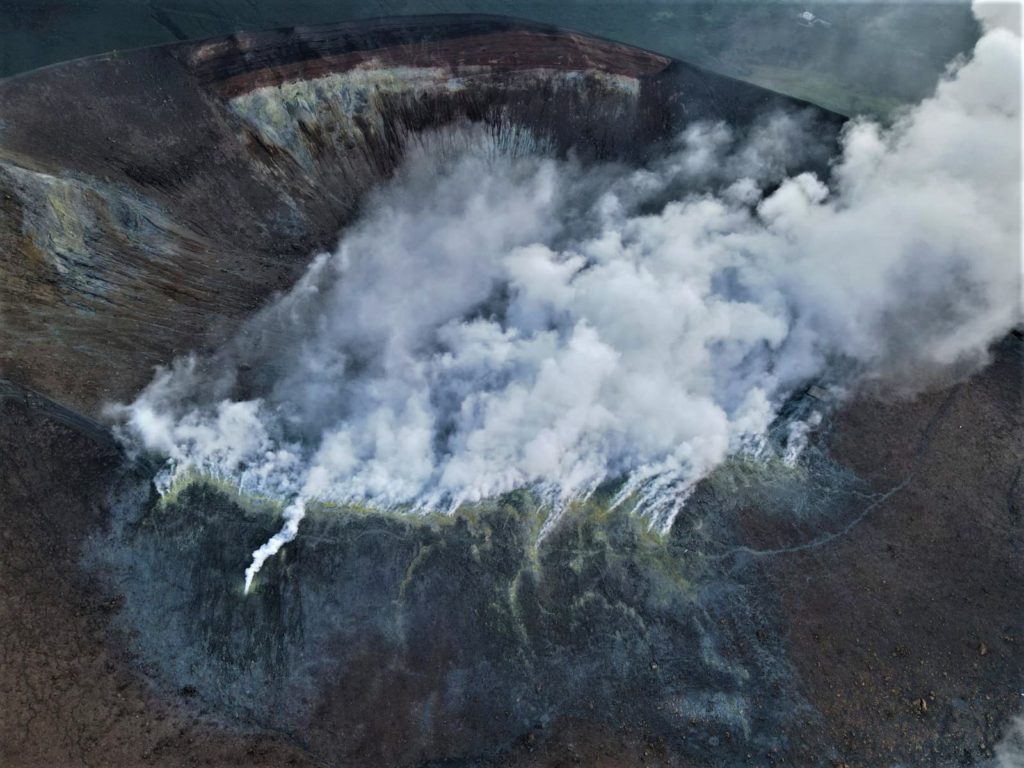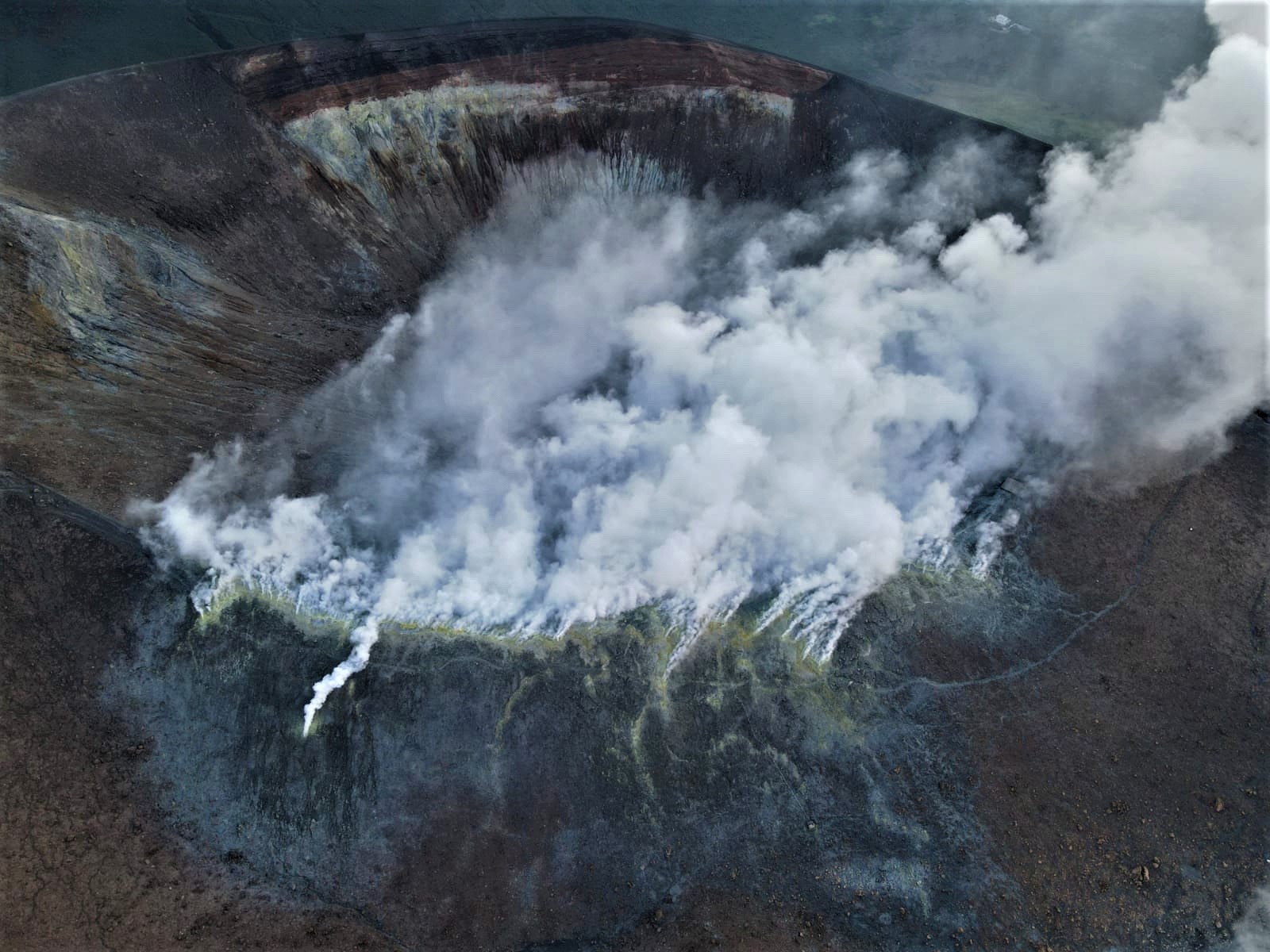 7) Local seismicity: A phase of moderate increase in the rate of occurrence of local micro-shocks was observed. However, the level of activity remains low.
8) Regional seismicity: No earthquakes with a local magnitude equal to or greater than 1.0 were recorded.
9) Deformations – GNSS: The network of permanent GNSS stations has not recorded any significant variations
10) Deformations – Inclinometry: The inclinometric network did not record any significant variations
11) Gravimetry: No significant change was recorded.
CRATER FUMAROLES TEMPERATURE
The fumarolic field showed homogeneous trends along the entire summit fracture line, confirming a thermal anomaly supported by a stable vapor flux, essentially conditioned by the variability of meteorological conditions.
N.B. Along the summit rim, the mission to restore the maximum temperature signal (T3) was carried out on May 24, the recorded temperature range varies between 341 and 349 °C. Since January 2023, T3 has continued to be confirmed as the reference for monitoring the maximum emission temperature of fumaroles, while its weak negative trend continues, with a loss of around 1°C every ten days.
LOCAL SEISMICITY
During the week, a gradual and moderate increase in the occurrence rate of local micro-shocks was observed, related to hydrothermal fluid dynamics. This increase phase involved both high frequency and low frequency (mainly VLP) events. However, the level of activity remains low.
Source : INGV.
Photo : INGV-Roma1
Vanuatu , Ambae :
VANUATU VOLCANO ALERT BULLETIN N°5 – AMBAE ACTIVITY, Thursday May 25, 2023
15°24'0″S 167°50'0″E
Summit: 4908ft (1496m)
Current Volcano Alert Level: Level 2
Volcanic activity at Manaro Vui continues at the Major Level of Unrest, consistent with Volcanic Alert Level 2. The latest analysis of data from the monitoring system shows the presence of volcanic earthquakes and low to high plumes of steam, gas and ash emissions inside the Lake Manaro Vui cone. From April 5 to 7, 2023 (3 days and 2 nights), volcanic activity intensified, evidenced by very high plumes of steam, gas and ash observed with incandescent lava overnight.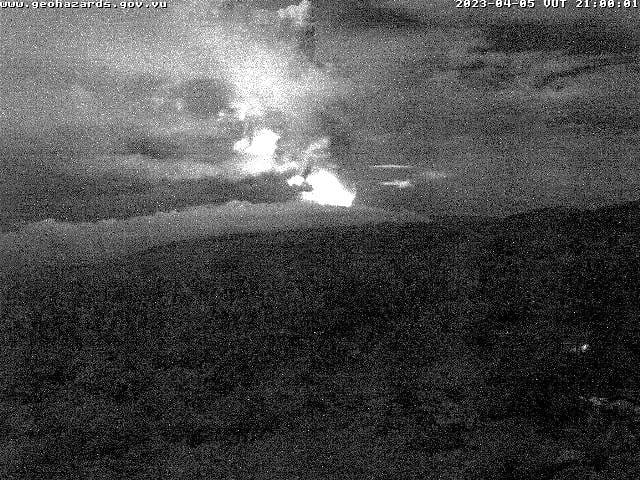 The increase in volcanic activity is the result of lava rising from the active vent of the emerging cone flowing into the smaller Manaro Vui lake. Observations from aerial surveys, field observations and satellite data have confirmed that there is no water left in this small lake. Although the activity lasted only 3 days, the lava flow in the small lake of Manaro Vui is slowly cooling and degassing continues at the active vent. However, the Volcanic Alert Level is maintained at Level 2.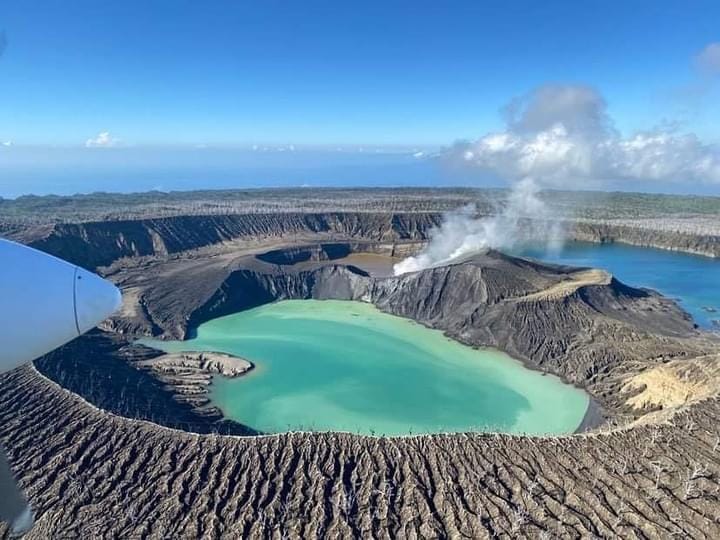 With ongoing volcanic activity and associated hazards such as recent lava flows, gas emissions, and ashfall, the summit danger zone remains within the danger zone which is approximately 2 km in radius active vent. A reminder of the lingering threat in stream flow areas during heavy rains.
Source : Geohazard
Photos : Geohazard , air taxi vanuatu.
La Réunion , Piton de la Fournaise :
Seismicity
In May 2023, the OVPF-IPGP recorded at the level of the Piton de la Fournaise massif in total:
• 212 superficial volcano-tectonic earthquakes (0 to 2.5 km above sea level) under the summit craters;
• 13 deep earthquakes (below sea level);
• 60 long-period type earthquakes;
• 380 landslides.
The month of May 2023 will have been marked by a continuous decrease in seismicity under the summit, going from around ten superficial volcano-tectonic earthquakes per day in the first fortnight to around 5 per day in the second half of the month.
These earthquakes were located under the eastern edge of the Dolomieu crater between 300 and 800m above sea level.
Deep seismicity was also recorded throughout May, especially under the western flank of the terminal cone.
Numerous landslides in the Cratère Dolomieu, at the Broken River of the East and at the level of the flow of the eruption of September-October 2022 have also been recorded.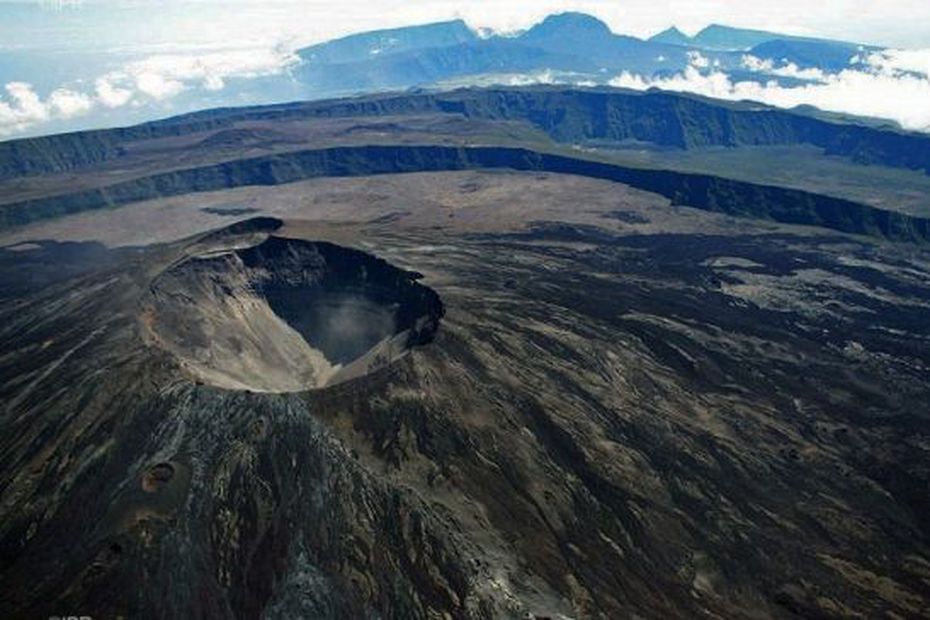 Deformation
The peak inflation that had been recorded since March 2023 came to a halt in early May. Since then, no significant signal has been recorded at the summit, while a weak and slow inflation is still recorded in the far field (base of the terminal cone and outside the Enclosure). The slow inflation in the far field could testify to the pressurization of a deep magmatic source (below sea level) and/or deep fluid circulations.
CO2 concentration in the soil
A new trend of fluctuating increase in soil CO2 emissions has started since the beginning of December 2022 at distal and proximal sites. The increase occurred at a high rate until mid-March 2023, then slowed down.
Balance sheet
As of May 2023, magma replenishment and pressurization of the superficial reservoir appears to have slowed or ceased.
It should be noted that since 2016, the replenishments of the superficial magmatic reservoir under the Piton de la Fournaise are done by pulses, thus such phases of calm in the deformations and seismicity have already been observed on several occasions between 2016 and 2023 over periods ranging from 15 to 80 days approximately.
Source : OVPF
Photo : Imaz press
United – States , Yellowstone :
Thursday, June 1, 2023, 11:44 AM MDT (Thursday, June 1, 2023, 17:44 UTC)
44°25'48 » N 110°40'12 » W,
Summit Elevation 9203 ft (2805 m)
Current Volcano Alert Level: NORMAL
Current Aviation Color Code: GREEN
Recent Work and News
The Norris Geyser Basin temperature logger system was repaired in early May, and data from past months was examined to assess activity at Steamboat Geyser. Results indicate that one unwitnessed eruption of Steamboat occurred during February–April: on March 11. Another eruption occurred on May 7, bringing the total number of eruptions for the year to four.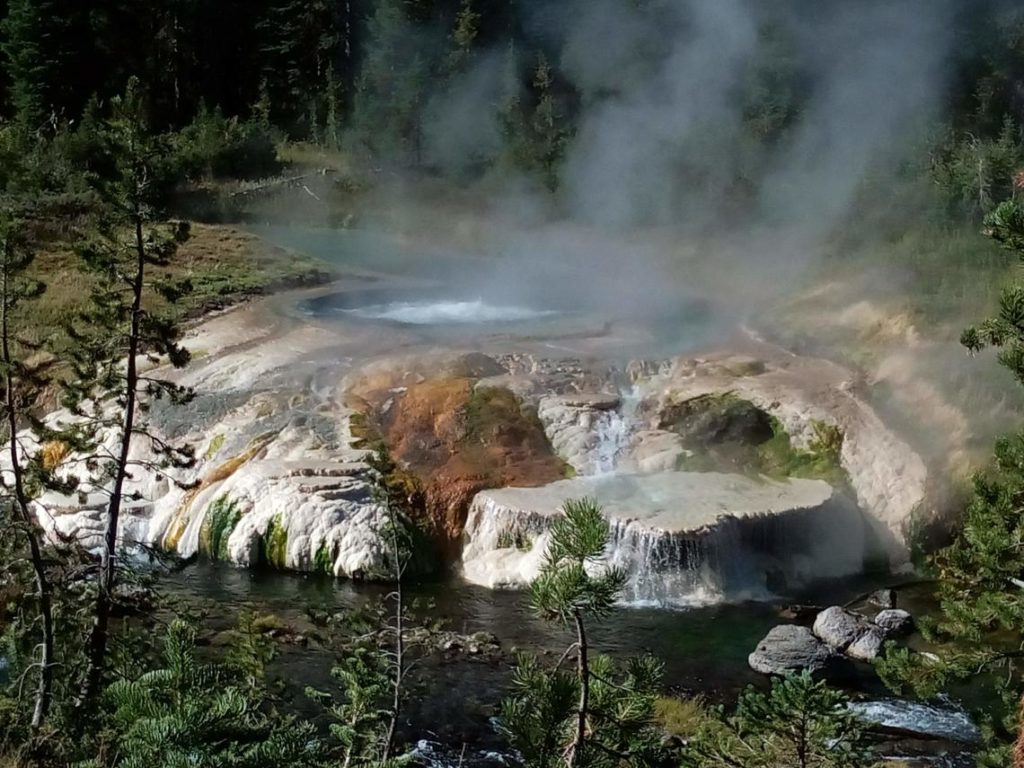 A general increase in the temperatures of some thermal features has been noted over the past few weeks on Geyser Hill, near Old Faithful. In addition, a new thermal feature has formed in the area and is throwing mud and hot water onto the adjacent boardwalk. That section of trail has been closed to ensure visitor safety. This activity is occurring in the same area as a similar thermal disturbance in September 2018. That year's activity included a rare eruption of Ear Spring, which brought several decades worth of human trash, like coins, hats, a cinder block, a pacifier, and other debris, to the surface. This sort of activity is not unusual in Yellowstone National Park and provides an example of the dynamic nature of Yellowstone's thermal areas, which are constantly changing through time.
Summer field work by Yellowstone Volcano Observatory scientists is under way. Maintenance has been completed on a number of monitoring sites, and a seasonal deployment of GPS equipment was completed in May. Additional work planned for June will include more temporary GPS deployments and geological field work to better understand the timing and style of past volcanic eruptions.
Seismicity
During May 2023, the University of Utah Seismograph Stations, responsible for the operation and analysis of the Yellowstone Seismic Network, located 148 earthquakes in the Yellowstone National Park region. The largest event of the month was a minor earthquake of magnitude 2.8 located about 5 miles north-northwest of Norris Geyser Basin in Yellowstone National Park on May 25 at 11:40 PM MDT.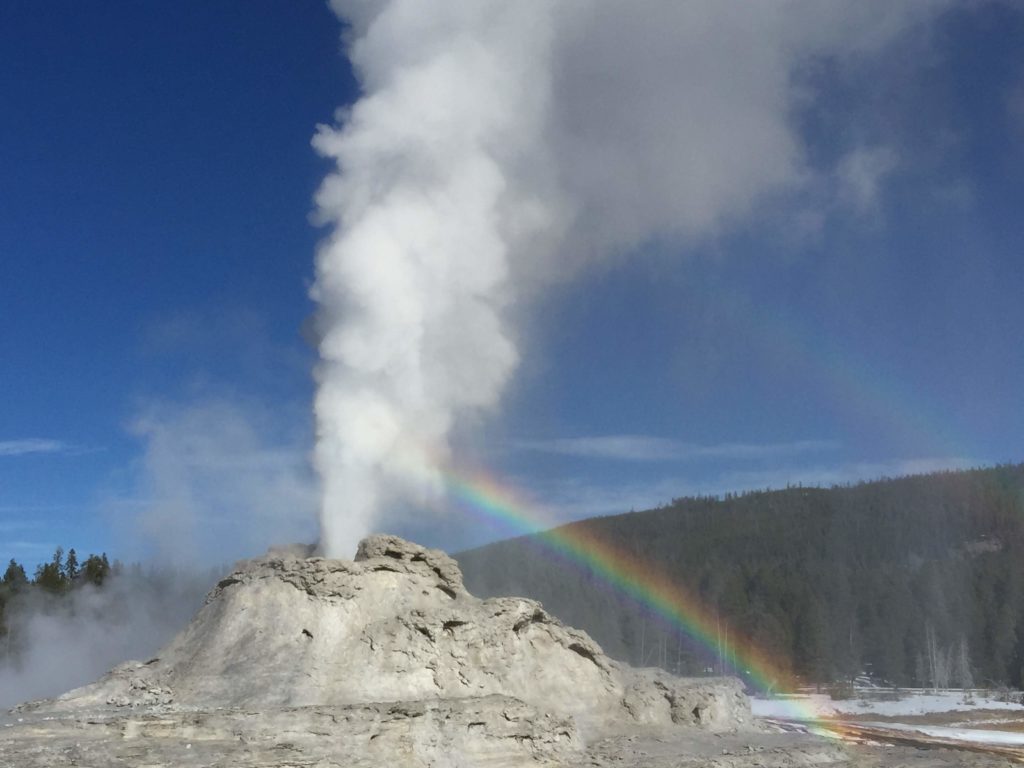 May seismicity in Yellowstone was marked by four swarms:
1. A swarm of 34 earthquakes, approximately 5 miles north-northwest of Norris Geyser Basin in Yellowstone National Park, occurred May 4–30. The largest swarm earthquake, a magnitude 2.8, was the largest earthquake in May (described above).
2. A swarm of 28 earthquakes, approximately 9 miles northeast of West Yellowstone, Montana, occurred during May 11–26. The largest earthquake in the sequence had a magnitude of 2.6.
3. A swarm of 19 earthquakes, approximately 4 miles north-northwest of West Thumb in Yellowstone National Park, occurred on May 5, with the largest being a magnitude 2.3 event.
4. A swarm of 12 earthquakes, approximately 4 miles north-northwest of West Thumb in Yellowstone National Park (the same area as the swarm described above), occurred on May 29, with the largest being a magnitude 2.1 event.
Earthquake sequences like these are common and account for roughly 50% of the total seismicity in the Yellowstone region.
Yellowstone earthquake activity is currently at background levels.
Ground Deformation
During the month of May, continuous GPS stations in Yellowstone Caldera recorded a slowing of ground subsidence, which has been ongoing since 2015, and the possible occurrence of a small amount of uplift. This pause in the subsidence and transition to slight uplift occurs every summer as water from snowmelt and runoff percolates into the subsurface, causing the ground to swell like a wet sponge. The rates of this ground deformation—both uplift and subsidence—are a few centimeters (about an inch) per year. A GPS station near Norris Geyser Basin has not yet been impacted by the seasonal changes and has recorded steady subsidence totaling about 2 cm (less than 1 inch) since October 2022.
Source : YVO
Photos : thermal feature , Sara Peek , Shaul Hurwitz / USGS.
Indonesia , Ili Lewotolok :
An eruption of G. Ili Lewotolok occurred on Friday, June 02, 2023 at 09:40 WITA with the height of the ash column observed at ± 700 m above the summit (± 2123 m above sea level) . The ash column was white, gray / black with a thick intensity, oriented southwest and west. This eruption was recorded on a seismograph with a maximum amplitude of 25.3 mm and a duration of 64 seconds.
VOLCANO OBSERVATORY NOTICE FOR AVIATION – VONA
Issued : June 02 , 2023.
Volcano : Ili Lewotolok (264230)
Current Aviation Colour Code : ORANGE
Previous Aviation Colour Code : orange
Source : Ili Lewotolok Volcano Observatory
Notice Number : 2023LEW035
Volcano Location : S 08 deg 16 min 19 sec E 123 deg 30 min 18 sec
Area : East Nusa Tenggara, Indonesia
Summit Elevation : 4554 FT (1423 M)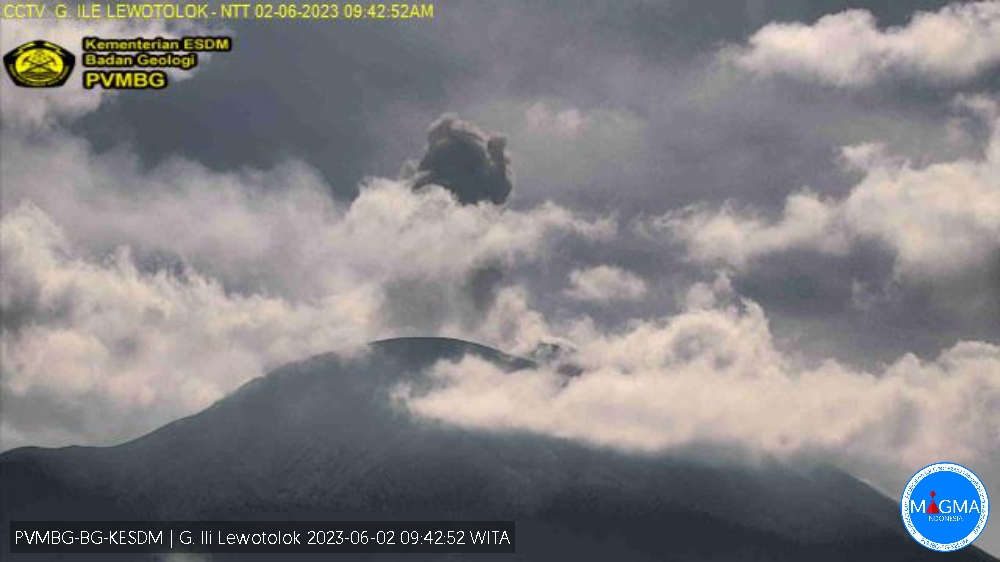 Volcanic Activity Summary :
Eruption with volcanic ash cloud at 01h40 UTC (09h40 local).
Volcanic Cloud Height :
Best estimate of ash-cloud top is around 6794 FT (2123 M) above sea level or 2240 FT (700 M) above summit. May be higher than what can be observed clearly. Source of height data: ground observer.
Other Volcanic Cloud Information :
Ash cloud moving from southwest to west. Volcanic ash is observed to be white to dark. The intensity of volcanic ash is observed to be thick.
Remarks :
Eruption recorded on seismogram with maximum amplitude 25.3 mm and maximum duration 64 second.
Source : Magma Indonésie.