November 24, 2022. EN. Alaska : Semisopochnoi , Hawaii : Kilauea , Iceland : Hekla , Russia / Kuril Islands : Alaid , Guatemala : Fuego .
24 Novembre 2022.
Alaska , Semisopochnoi :
AVO/USGS Volcanic Activity Notice
Current Volcano Alert Level: ADVISORY
Previous Volcano Alert Level: WATCH
Current Aviation Color Code: YELLOW
Previous Aviation Color Code: ORANGE
Issued: Wednesday, November 23, 2022, 12:30 PM AKST
Source: Alaska Volcano Observatory
Notice Number: 2022/A1337
Location: N 51 deg 55 min E 179 deg 35 min
Elevation: 2625 ft (800 m)
Area: Aleutians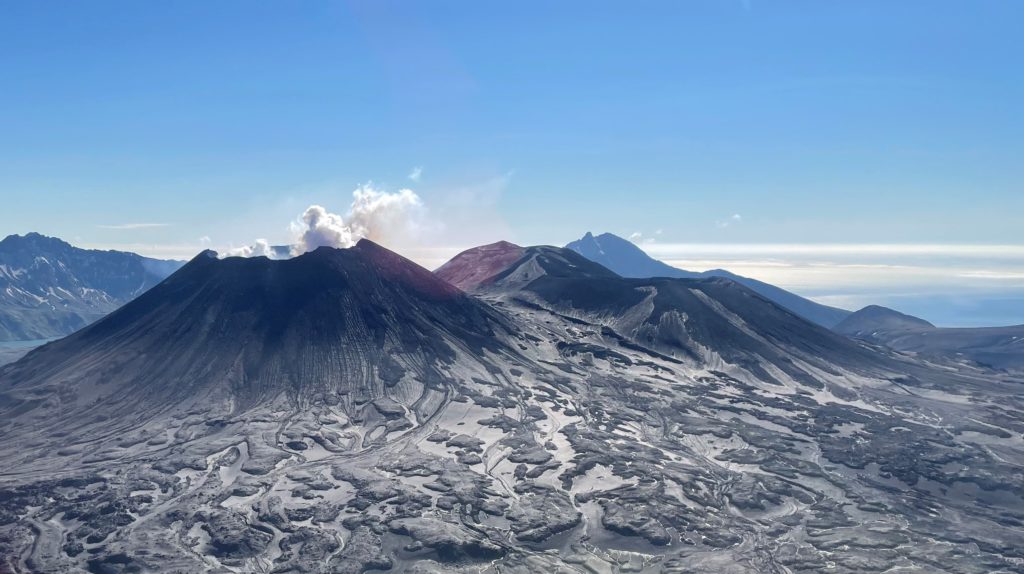 Volcanic Activity Summary:
Although the active north cone of Mount Cerberus continues to produce a vapor plume and elevated seismicity, no ash emissions or explosive activity have been detected at Semisopochnoi volcano since November 7th. The level of seismic activity is still elevated but has decreased. Thus, we are lowering the Aviation Color Code to YELLOW and Volcano Alert Level to ADVISORY.
Small eruptions producing minor ash deposits within the vicinity of the active north crater of Mount Cerberus and ash clouds usually under 10,000 ft (3 km) above sea level have characterized the recent activity and more ash-producing events could occur again with little warning.
Semisopochnoi is monitored by a local seismic and infrasound network, local web cameras, regional lightning and infrasound sensors, and satellite data.
Remarks:
Remote Semisopochnoi volcano occupies the largest, young volcanic island in the western Aleutians. The uninhabited island is part of the Alaska Maritime National Wildlife Refuge. It is located 65 km (40 mi) northeast of Amchitka Island and 200 km (130 mi) west of Adak, Alaska. Semisopochnoi volcano is dominated by an 8-km (5-mile) diameter caldera that contains a small lake and several post-caldera cones and craters. The age of the caldera is not known with certainty but is likely early Holocene. The north cone of Mount Cerberus, in the southwest part of the caldera, is the site of the current eruption, which began in 2018. The last known eruption prior to 2018 was in 1987 from Sugarloaf Peak on the south coast of the island.
Source : AVO
Photo : Lerner, Allan
Hawaii , Kilauea :
19°25'16 » N 155°17'13 » W,
Summit Elevation 4091 ft (1247 m)
Current Volcano Alert Level: WATCH
Current Aviation Color Code: ORANGE
Activity Summary:
The summit eruption of Kīlauea Volcano, within Halemaʻumaʻu crater, continued over the past 24 hours. All recent eruptive activity has been confined to the crater. No significant changes have been observed at the summit or in either rift zone.
Halemaʻumaʻu Lava Lake Observations:
Eruption of lava from the western vent into the active lava lake and onto the crater floor continued over the past 24 hours. The active part of the lava lake has been steady over the past 24 hours. Overflight measurements from October 28, 2022, indicated that the crater floor had seen a total rise of about 143 meters (469 feet).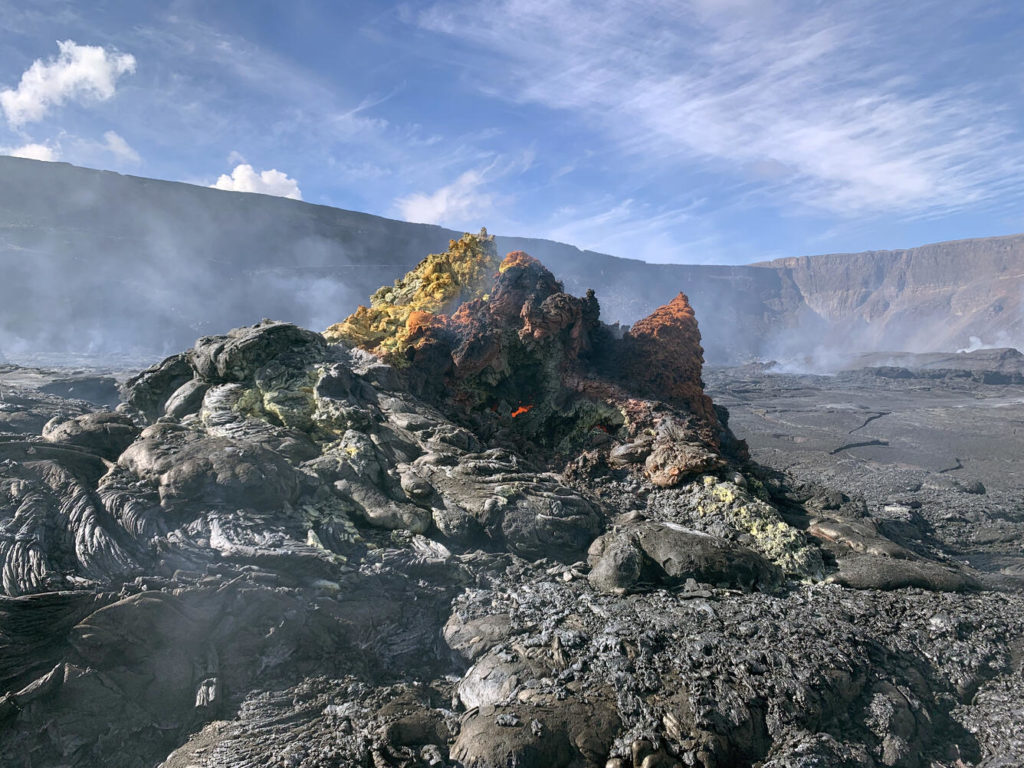 A hornito located on the eastern side of Halemaʻumaʻu crater floor. The colorful nature of the hornito comes from the various gases that come out of the magma and precipitate on the surrounding rock. Many of these colors are from sulfur that is abundant in Kīlauea magmas.
Summit Observations:
Summit tiltmeters recorded little ground deformation over the past 24 hours. Volcanic tremor remains above background levels. A sulfur dioxide (SO2) emission rate of approximately 500 tonnes per day (t/d) was measured on November 15, 2022.
Rift Zone Observations:
No unusual activity has been noted along the East Rift Zone or Southwest Rift Zone; low rates of ground deformation and seismicity continue along both. Measurements from continuous gas monitoring stations downwind of Puʻuʻōʻō in the middle East Rift Zone remain below detection limits for SO2, indicating that SO2 emissions from Puʻuʻōʻō are negligible.
Source : HVO.
Photo : USGS / D. Downs.
Iceland , Hekla :
Today at 10:04 am an earthquake of M3.0 was detected in Öræfajökull glacier and was felt nearby. Few events have been detected in the area yesterday and today.
Yesterday evening (22. November) at 19:55 a M3.9 earthquake was detected in Mýrdalsjökull. Several other earthquakes have followed, the largest M3,8 at 20:07 and a M3,5 at 20:11. IMO has received report the earthquakes were felt in Skafrártunga. >p> Four earthquakes above M 3 have been detected at Kolbeinsey, north of Iceland, today. The largest event was a M 3.5 which took place at 4:04 am this morning. The earthquakes are clear on the IMO's seismic network but only a handful of events have been observed up until now.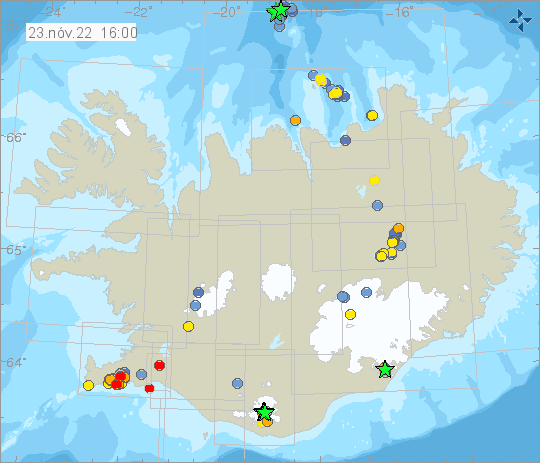 Week overview 14 November – 20 November
Last week was quiet with only around 350 detected and located earthquakes in the country, slightly fewer than the week before. Only one event was above magnitude 3, a M 3.3 in Mýrdalsjökull on Saturday Nov. 19. Seismicity is still observed at Herðubreið, north of Vatnajökull, where a seismic swarm started in the evening of Oct. 22. The activity has decreased considerably since then and it looks like the swarm is dying out. Five earthquakes were located near Hekla but mostly the weeks activity was located around the country with small swarms just off Reykjanestá, at Kleifarvatn lake, Langjökull glacier and just off the coast in the north.
Source et photo : Vedur is
Russia / Kuril Islands , Alaid :
VOLCANO OBSERVATORY NOTICE FOR AVIATION (VONA)
Issued: November 24 , 2022 .
Volcano: Alaid (CAVW #290390)
Current aviation colour code: GREEN
Previous aviation colour code: yellow
Source: KVERT
Notice Number: 2022-180
Volcano Location: N 50 deg 51 min E 155 deg 33 min
Area: Northern Kuriles, Russia
Summit Elevation: 2339 m (7671.92 ft)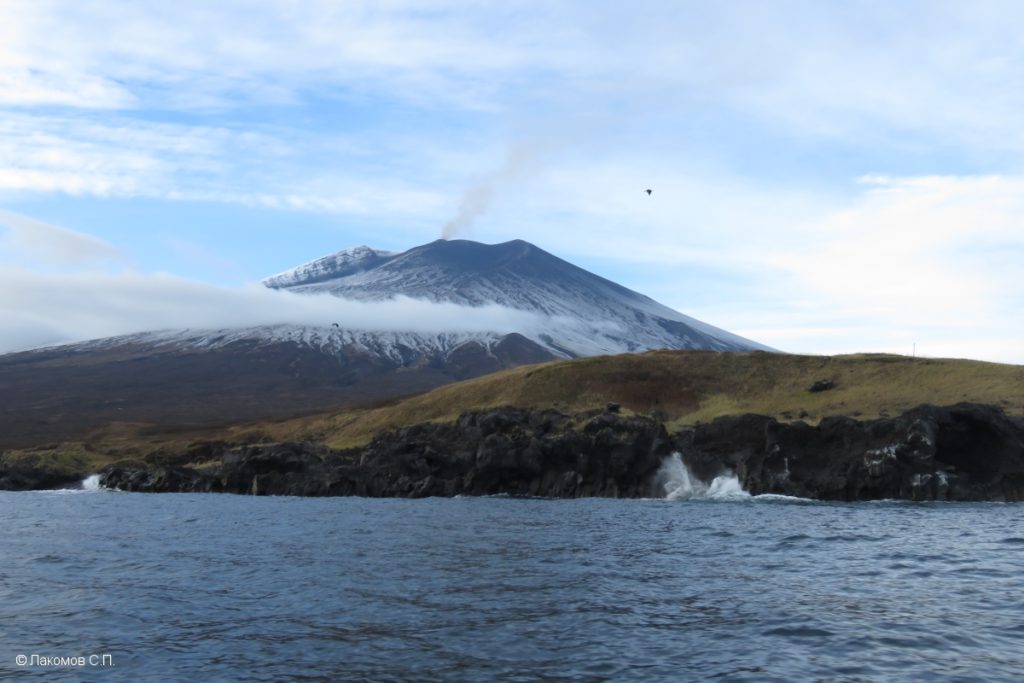 Volcanic Activity Summary:
The explosive-effusive eruption of Alaid volcano ended. Satellite data by KVERT showed there were not noting ash plumes since 26 October. The temperature of the thermal anomaly of the volcano began decreasing from 29 October, and by 20 November it reached the background level. KVERT continues to monitor Alaid volcano.
The fumarole activity of the volcano continues. Ongoing activity could affect low-flying aircraft.
Volcanic cloud height: NO ASH CLOUD PRODUSED
Other volcanic cloud information: NO ASH CLOUD PRODUSED
Remarks:
Alaid – the volcano-Island, the most northern in the Kurile archipelago, is situated at a distance 30 km north-west from Paramushir and 70 km south-west from Kamchatka.
Source : Kvert.
Photo : S. Lakomov
Guatemala , Fuego :
Activity :
The Fuego Volcano Observatory reports 6 to 9 explosions per hour of weak, moderate and some strong characteristics that generate weak to moderate rumblings and weak to moderate shock waves causing vibrations on the roofs and windows of houses near the volcano . It also expels a column of ash from a height of 4,500 to 4,700 meters above sea level (14,763 to 15,420 feet) which disperses in a southwest and west direction over a distance of 15 kilometers.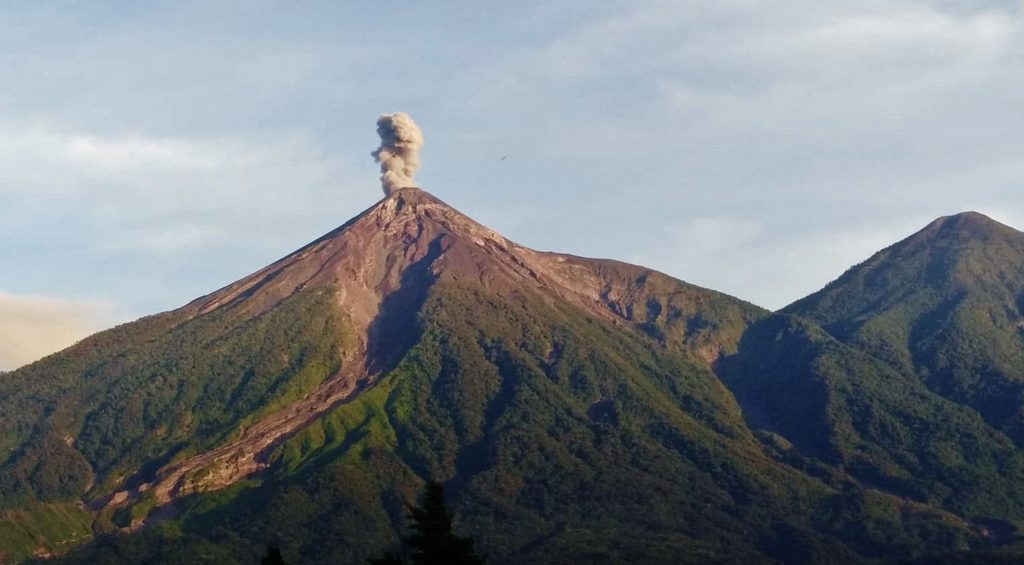 As a result of these explosions, avalanches of moderate to strong characteristics are generated on the contour of the crater, as well as in the ravines of Ceniza, Santa Teresa, Las Lajas and Honda, part of the material has reached the edge of the vegetation. A sound similar to that of a train locomotive is reported with a duration between 5 and 8 minutes. At night, incandescent pulses were also observed with a height between 300 and 400 meters above the crater. Ash falls are reported in the communities of Panimaché I, Sangre de Cristo, Yepocapa and others in this direction. There is a likelihood of ash fall in communities northwest of the volcano due to wind direction at different altitudes.
Source : Insivumeh
Photo : conred via facebook