October 01 , 2022. EN. La Réunion : Piton de la Fournaise , Indonesia : Merapi , New Zealand : White Island , Hawaii : Mauna Loa , Mexico : Popocatepetl .
October 01 , 2022.
La Réunion , Piton de la Fournaise :
Press release, Paris Institute of Earth Physics, Piton de la Fournaise Volcanological Observatory, September 30, 2022 – 11:00 a.m. (local time) – 07:00 a.m. (UTC time).
Ongoing eruption
The eruption started on 09/19/2022 around 07:48 local time continues. The amplitude of the eruptive tremor (indicator of surface lava emission) has been increasing since 9:40 p.m. local time yesterday (5:40 p.m. UTC; ). This intensification is most certainly linked to an increase in pressure within the eruptive cone which first led to the widening of the opening of the main mouth of the cone then to an increase in activity of the secondary mouth (south from the main cone) around 23:15 local time.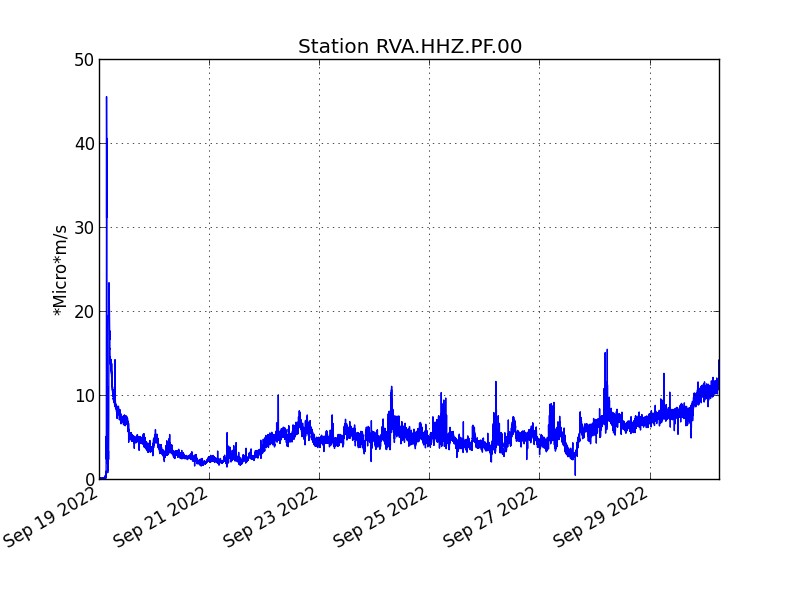 Evolution of the RSAM (indicator of a surface lava emission) since 09/19/2022 00:00 UTC time (04:00 local time) on the RVA seismological station located at the Rivals crater (© OVPF / IPGP).
The images from the OVPF-IPGP webcam located at Piton de Bert show since 11:15 p.m. local time yesterday evening a lava projection activity greater than the previous days at the level of the eruptive site, with an enlargement of the main eruptive mouth and secondary.
– Degassing is still observed at the eruptive site;
– the majority of lava flows are still through lava tunnels within which many resurgences are visible;
– lava flows are also directly from the secondary mouth;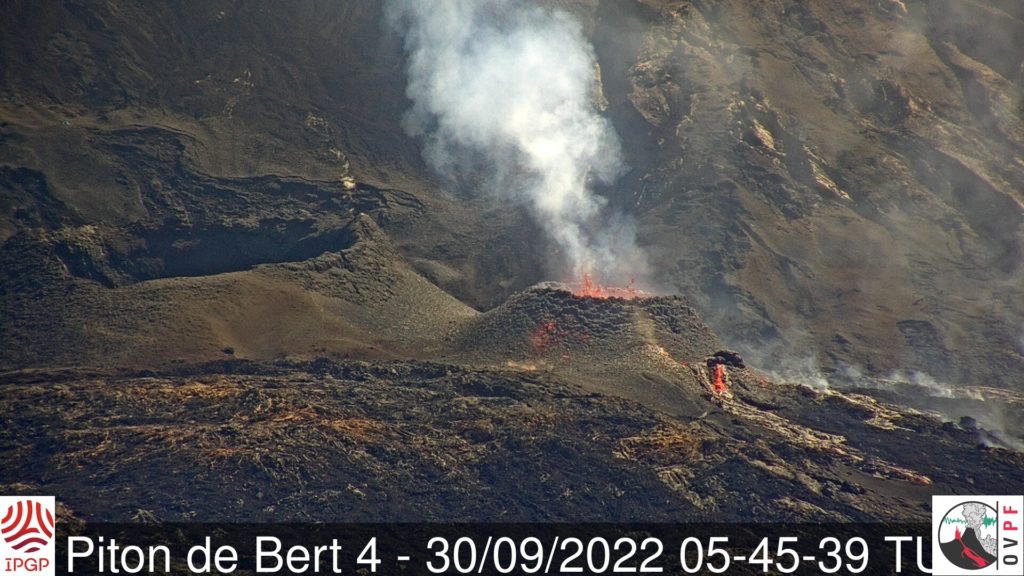 Shooting of the eruptive site on September 30, 2022 at 5:45 UTC (9:45 a.m. local time, on the right) from the OVPF-IPGP-IRT camera located at Piton de Bert (© OVPF-IPGP-IRT).
The lava flow estimates established by satellite method on the HOTVOLC (OPGC – Clermont Auvergne University) and MIROVA (University of Turin) platforms indicate an average flow over the last 24 hours relatively stable and low around 2-4 m3/s. As lava flow activity now occurs primarily in tunnels, these estimates are estimates.
minimum values.
The processing by stereophotogrammetry of the images acquired by the OVPF-IPGP teams on September 28, 2022 made it possible to estimate the size of the eruptive cone. It was at this date, at its highest point, about 27 m high and 87 m wide.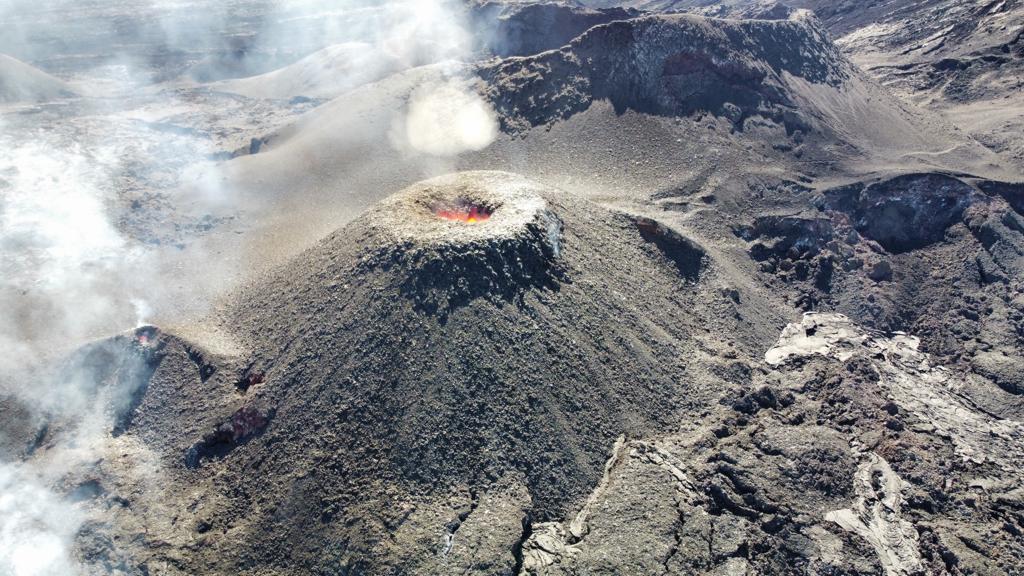 Shooting of the eruptive site on September 28, 2022 around 3 p.m. (local time). The main mouth was more closed and the secondary mouth (on the left in the photo) was already visible but of small size (©OVPF-IPGP).
– A volcano-tectonic earthquake was recorded directly above the summit area over the past 24 hours.
– The resumption of a slight inflation (swelling) on the whole volcano (summit and enclosure) is confirmed but remains of very low intensity for the moment (< 1 cm).
Alert level: Alert 2-1 (Access to the Enclosure prohibited; eruption in the Enclosure without any particular threat to the safety of persons, property or the environment).
Source et photos : Direction OVPF /IPGP.
Indonesia , Merapi :
Report on the activity of Mount Merapi from September 16, 2022 to September 22, 2022, Published on September 23, 2022
RESULTS OF OBSERVATIONS
Visual
The weather around Mount Merapi is usually sunny in the morning and afternoon, while the evening is foggy. White smoke, thin to medium thickness, low pressure and 100 m high was observed from the Mount Merapi observation post of Babadan on September 27, 2022 at 06:00 WIB.
This week, 7 lava avalanches were observed in the Southwest, descending the Bebeng River with a maximum slip distance of 1800 m.
On the Southwest dome, there is an increase in the height of the dome by 1 m. For the central dome, no significant morphological change was observed. Based on photo analysis, the volume of the dome is calculated at 1,637,000 m3, and for the central dome it is 2,772,000 m3.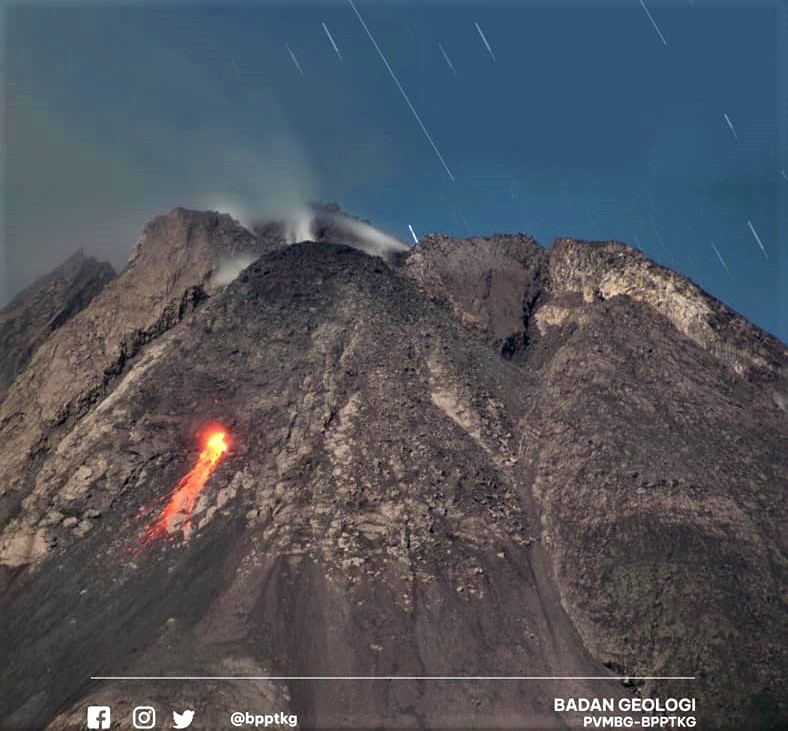 Seismicity
This week, the seismicity of Mount Merapi showed:
218 deep volcanic earthquakes (VTA),
18 shallow volcanic earthquakes (VTB),
137 multi-phase earthquakes (MP),
43 avalanche earthquakes (RF),
50 emission earthquakes (DG),
7 tectonic earthquakes (TT).
The intensity of this week's seismicity is still quite high.
Deformation
The deformation of Mount Merapi that was monitored using EDM and GPS this week shows no significant changes.
Rain and lahars:
This week there was rain at the Kaliurang observation post with a rain intensity of 47 mm/h for 85 minutes on September 21, 2022. There were no reports of lahars or additional flow in the rivers that originate from Mount Merapi.
Conclusion
Based on the results of visual and instrumental observations, it is concluded that:
The volcanic activity of Mount Merapi is still quite high in the form of effusive eruption activity. The state of the activity is defined at the « SIAGA » level.
Source et photo : BPPTKG.
New Zealand , White Island

:
Web camera images from Whakaari/White Island have shown that the minor, passive ash emission from the crater on Sunday 18 September 2022 has not persisted. The strong sulphur dioxide (SO2) gas signal associated with that ash has not been seen since. The Volcanic Alert Level remains at 2.
The minor, passive ash emission from an active vent behind the crater lake at Whakaari/White Island observed on Sunday 18 September has not been seen since. Our North Rim web camera continues to produce views of the crater area and regular checks by our National Geohazards Monitoring Centre have failed to see any ash emission. Observations from the TropOMI satellite which images sulphur dioxide (SO2) once a day has not shown any signals from Whakaari/White Island since Sunday 18 September.

View from North Rim camera on Sunday September 18 (left) showing brown ash emission from an active vent, and Wednesday September 28 (right) when no ash was present.
In recent days, images from the North Rim camera have become less clear. This is a normal result of the island's steam plume drifting over the camera and depositing a thin, salty film on the camera's protective cover. The images remain clear enough to provide useful views of the active crater area. The thin, salty film will often wash off in the next heavy rain.
We previously suggested that the minor, passive ash emission and sulphur dioxide (SO2) emission on Sunday 18 September was most likely due to a small, shallow batch of magma that released its gas and dragged with it small fragments of the magma. The lack of further ash or sulphur dioxide emission since supports that conclusion. There is no evidence of increasing activity at Whakaari/White Island.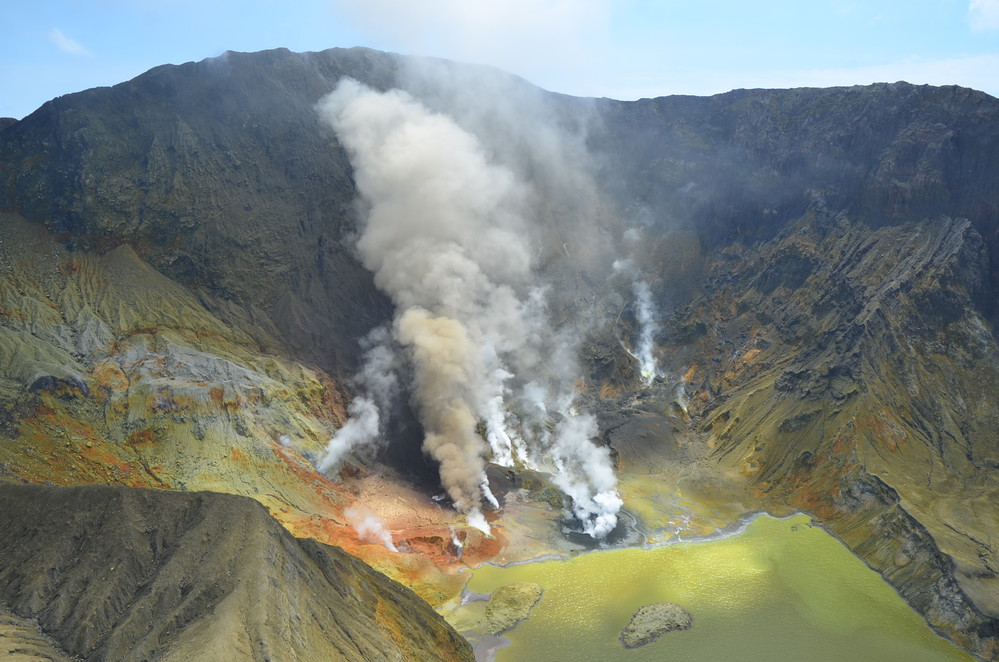 One of our seismic recording sites on Whakaari/White Island started working again on Monday 19 September, but continued for only a day. We do not know why our seismic station started to work again, and do not expect it to resume working in the coming days.
The VAL remains at Level 2 (moderate to heightened unrest), acknowledging the current level of activity, but also continuing to acknowledge the greater level of uncertainty in our interpretation due to the current lack of consistent, useful real-time data. The Aviation Colour Code is lowered to Yellow, which reflects a reduced likelihood of minor ash emissions.
As the weather allows, we will be increasing the frequency of our gas and observation flights to the island until we can service our on-island equipment and power supplies. We still have intermittent access to webcams images from the island, providing some level of visual monitoring between our flights.
Source et photos : Geonet / Steven Sherburn /Volcanologue de service par intérim.
Hawaii , Mauna Loa :
19°28'30 » N 155°36'29 » W,
Summit Elevation 13681 ft (4170 m)
Current Volcano Alert Level: ADVISORY
Current Aviation Color Code: YELLOW
Activity Summary:
Mauna Loa Volcano is not erupting. Rates of seismicity remain elevated above long-term background levels. Other Mauna Loa monitoring data streams—ground deformation, gas concentrations, visual appearance in webcams—show no significant changes.
Observations:
During the past week, HVO seismometers recorded over 400 small-magnitude (below M3.0) earthquakes below the summit and upper-elevation flanks of Mauna Loa. Most earthquakes occurred beneath Moku'āweoweo, Mauna Loa's summit caldera, at depths of 1-2 mi (2-3 km) below the surface. This increase in seismicity does not mean that an eruption is imminent nor that progression to an eruption is certain.
Elevated earthquake activity under Mauna Loa began in mid-2022 but intensified at approximately 2 a.m. HST on September 23, 2022. Earthquakes have continued at rates of about 50 per day. This represents an increase compared to an average of 15 earthquakes per day prior to this swarm. Most earthquakes have been smaller than magnitude-2 and are unlikely to be felt or cause damage; the largest event in the swarm so far was a magnitude-2.8 on September 23 .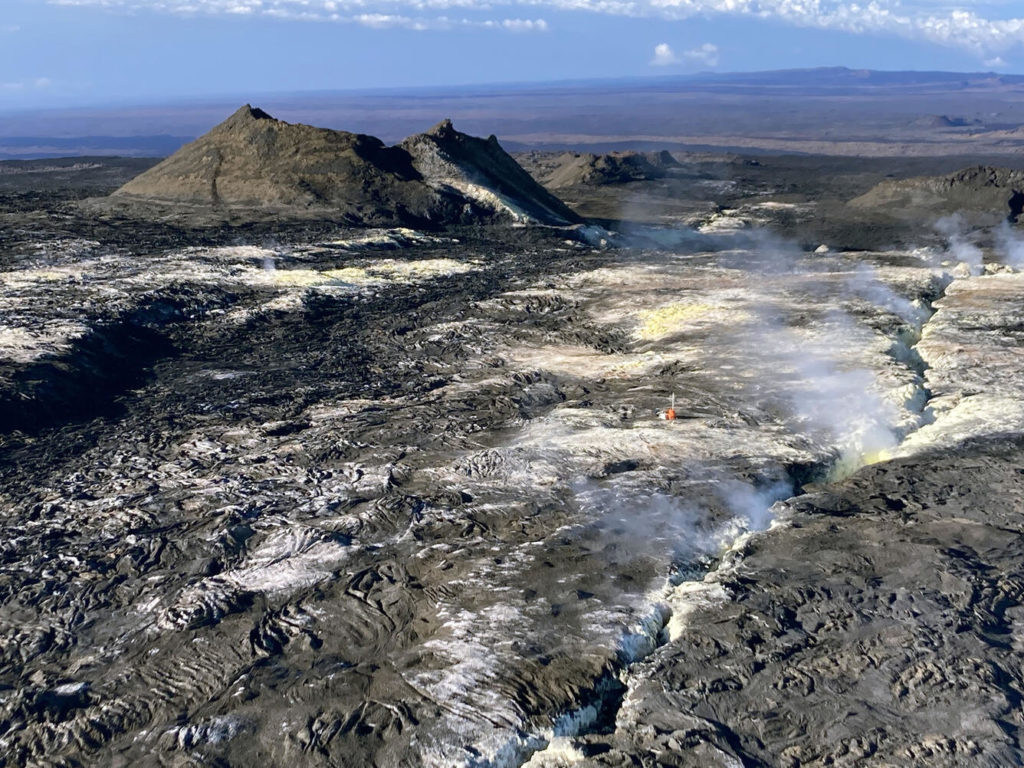 On September 8, 2022, Hawaiian Volcano Observatory staff replaced the gas measurement station at Sulphur Cone on the Southwest Rift Zone of Mauna Loa. Field staff (in orange) and the gas monitoring station are visible right of center in this aerial view, which also shows the 1950 fissure and Sulfur Cone. Sulfur Cone is at an elevation of 3,430 meters (11,240 feet) above sea level.
A minor ground tilt signal was recorded coincident with this swarm. Ongoing tilt changes are difficult to separate from ground motions due to daily heating/cooling cycles and strong seasonal signals. This tilt excursion is smaller than one that accompanied an earthquake swarm in August 2022, and both are smaller than one that occurred in March 2021 that was the subject of a Volcano Watch.
Global Positioning System (GPS) measurements show low rates of deformation in the volcano's summit region continuing through the past week.
Concentrations of sulfur dioxide (SO2), hydrogen sulfide (H2S), and carbon dioxide (CO2), as well as fumarole temperatures, remain stable at both the summit and at Sulphur Cone on the upper Southwest Rift Zone.
Webcam views have shown no changes to the volcanic landscape on Mauna Loa over the past week.
Increases in seismic activity have been detected previously at Mauna Loa with no subsequent eruptions. We expect additional shallow seismicity and other signs of unrest to precede any future eruption, if one were to occur.
Source : HVO.
Photo : USGS/ T. Elias.
Mexico , Popocatepetl :
September 30, 11:00 a.m. (September 30, 4:00 p.m. GMT)
During the past 24 hours, according to the monitoring systems of the Popocatépetl volcano, 58 exhalations have been detected, accompanied by water vapor, volcanic gases and slight amounts of ash.
In addition, two volcano-tectonic earthquakes were recorded yesterday at 4:30 p.m. and today at 8:11 a.m., with magnitudes of 1.6 and 1.4, respectively.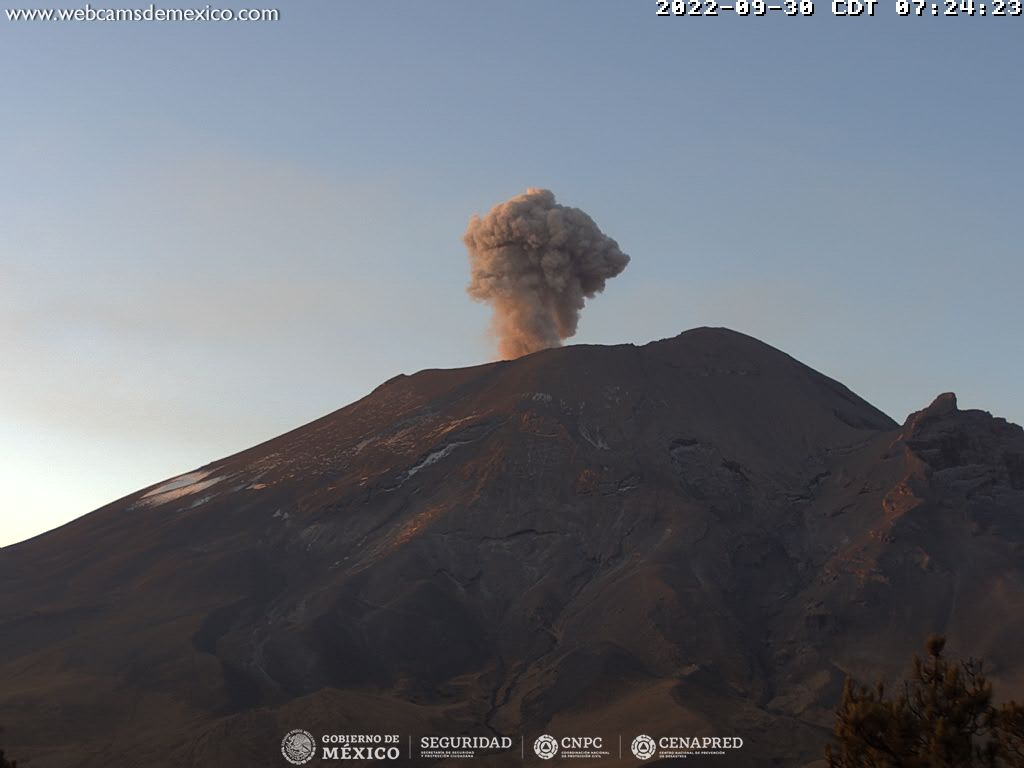 During the morning and at the time of this report, an emission of water vapor, volcanic gases and light amounts of ash is observed, with a South-South-East direction.
CENAPRED urges NOT TO APPROACH the volcano and especially the crater, because of the danger of falling ballistic fragments and, in case of heavy rains, to stay away from the bottom of the ravines because of the danger of mudslides and of debris.
The Popocatépetl volcanic alert traffic light is in YELLOW PHASE 2.
Source : Cenapred