August 29, 2022.EN. Indonesia : Semeru , Ecuador : Chiles / (Cerro Negro) , Samoa Islands : Ta'u , Iceland : Reykjanes Peninsula , Mexico : Popocatepetl .
August 29 , 2022.
Indonesia , Semeru :
Seismicity:
It was recorded:
17 earthquakes of eruptions/explosions with an amplitude of 12-22 mm and a duration of 75-110 seconds.
1 Harmonic Tremor with an amplitude of 10 mm and a duration of 140 seconds.
VOLCANO OBSERVATORY NOTICE FOR AVIATION – VONA
Issued : August 28 , 2022
Volcano : Semeru (263300)
Current Aviation Colour Code : ORANGE
Previous Aviation Colour Code : orange
Source : Semeru Volcano Observatory
Notice Number : 2022SMR198
Volcano Location : S 08 deg 06 min 29 sec E 112 deg 55 min 12 sec
Area : East java, Indonesia
Summit Elevation : 11763 FT (3676 M)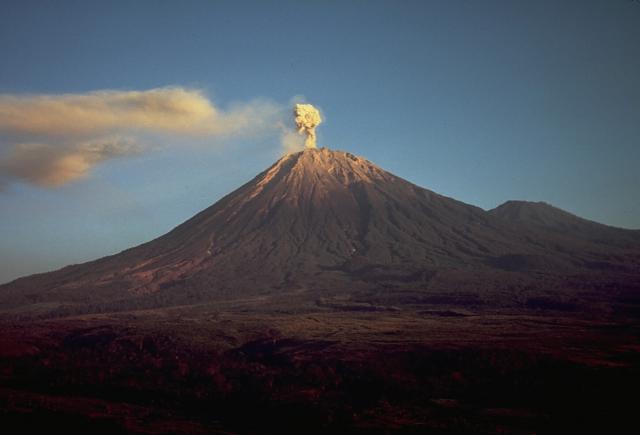 Volcanic Activity Summary :
Eruption with volcanic ash cloud at 23h18 UTC (06h18 local).
Volcanic Cloud Height :
Best estimate of ash-cloud top is around 13363 FT (4176 M) above sea level, may be higher than what can be observed clearly. Source of height data: ground observer.
Other Volcanic Cloud Information :
Ash-cloud moving to west
Source : Magma Indonésie .
Photo : Thomas J. Casadevall, USGS — Smithsonian – Global Volcanism Program
Ecuador : Chiles / ( Cerro Negro) :
DAILY REPORT OF THE STATE OF THE CHILES VOLCANO, Saturday August 27, 2022.
Information Geophysical Institute – EPN.
Surface activity level: Very low, Surface trend: No change.
Internal activity level: Moderate, Internal trend: No change.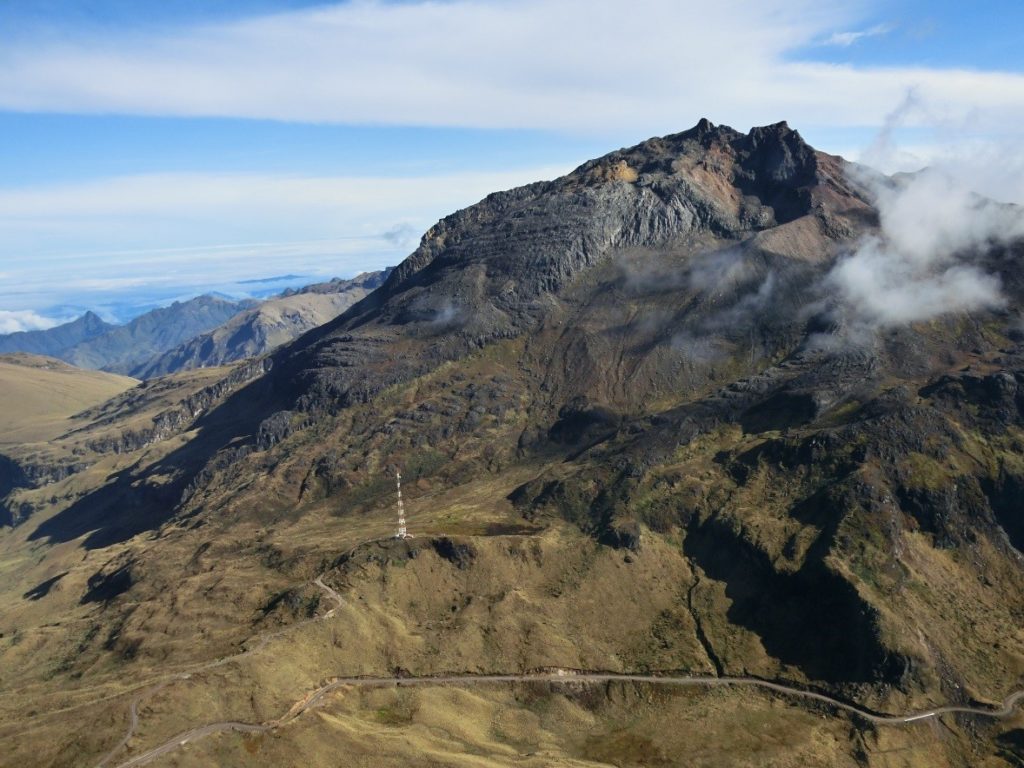 Seismicity: From August 26, 2022, 11:00 a.m. to August 27, 2022, 11:00 a.m.:
The statistics are made in the CHL1 station, they are preliminary and may change.
Tectonic Volcano (VT) 242
Long Periods (LP): 5
Rains / Lahars:
There are no reports of rain in the volcano area.
Observation:
In the morning hours, the volcano area is visualized cloudy. NOTE: This report is an update to the daily report published today.
Source et photo : IGEPN.
Samoa Islands , Ta'u :
14°13'48 » S 169°27'14 » W,
Summit Elevation 3054 ft (931 m)
Current Volcano Alert Level: ADVISORY
Current Aviation Color Code: YELLOW
The earthquake swarm related to Taʻū Island continues, and activity has not changed significantly since yesterday's daily update. All three sophisticated seismometers are now operational and transmitting data.
In the past 24 hours, the USGS seismic network detected approximately 31 earthquakes that were likely large enough to be felt by people on the Manuʻa Islands. Numerous events were felt and reported by residents, including the largest earthquake detected on our network at 3:43 PM SST yesterday. There are many more small earthquakes that are undetectable by humans.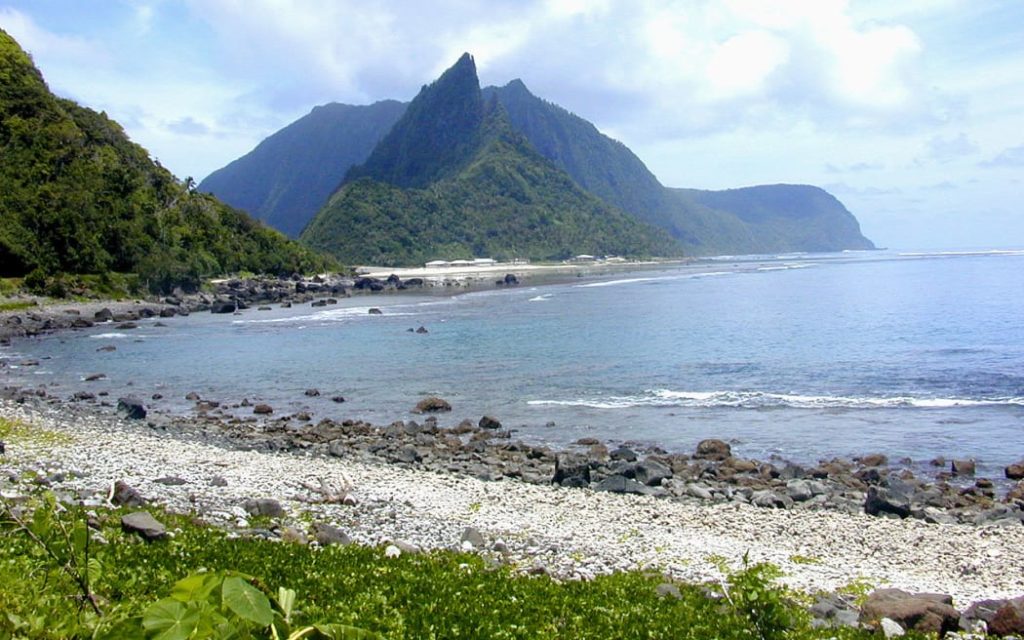 Residents of the Manuʻa Islands have been reporting booming noises for many weeks, and recent data analysis confirms that these sounds are related to earthquakes and not to other sources. The booming noises have been picked up on sensors that measure very low-frequency sound waves on the island of Taʻū. They also correlate with earthquakes recorded on nearby seismometers. These sound wave frequencies are at and below the lowest range of human hearing, like those that whales use to communicate over long distances. Geologists flew over the island of Taʻū yesterday and saw no signs of recent landslides, rockfall, ground cracking, or other activity that could have caused these sounds. Booming sounds are not uncommon with earthquakes and occur as the earthquake vibrations interact with the atmosphere.
The satellite data check on August 28 showed no visible volcanic activity in the Taʻū Island area.
Source : HVO.
Photo : rnz.co.nz
Iceland , Reykjanes Peninsula :
AUGUST 27, 2022
Earthquake swarm on the Reykjanes ridge close to Eldeyjarboði blind skerry
During the night of 27-August-2022 an earthquake swarm took place close to Eldeyjarboði blind skerry. Largest earthquake had a magnitude of Mw3,1. Other earthquakes where smaller and at this distance, only earthquakes with magnitude above Mw2,2 were detected. The distance from Reykjanestá is about 80 to 90 km. Last eruption in this area was in the year or around the year 1830. Location of the earthquakes detected is not accurate because of distance from the SIL network.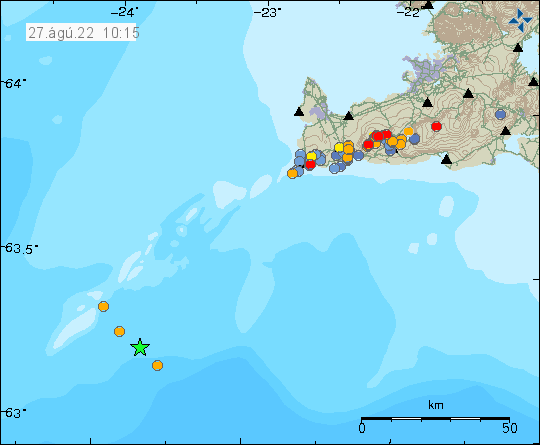 Earthquake activity on Reykjanes ridge. (Green star far from the coastline of Reykjanes peninsula on the Reykjanes ridge with few orange dots in a line ) . Copyright of this image belongs to Icelandic Met Office.
What is happening at this location is unknown. This can just be normal tectonic activity or this can be earthquake activity related to volcanism at this location. It is impossible to know since the area is under ocean and unless an eruption is seen. This can be assumed to be normal tectonic earthquake activity in this area.
Source : Icelandgeology.net
Mexico , Popocatepetl :
August 27, 11:00 a.m. (August 27, 4:00 p.m. GMT)
During the last 24 hours, according to the monitoring systems of the Popocatépetl volcano, 44 low intensity exhalations have been detected, accompanied by water vapor, volcanic gases and sometimes slight amounts of ash. The largest was recorded today at 08:55 local time. Additionally, low amplitude tremor segments were recorded totaling 283 minutes as well as 5 minutes of harmonic tremor.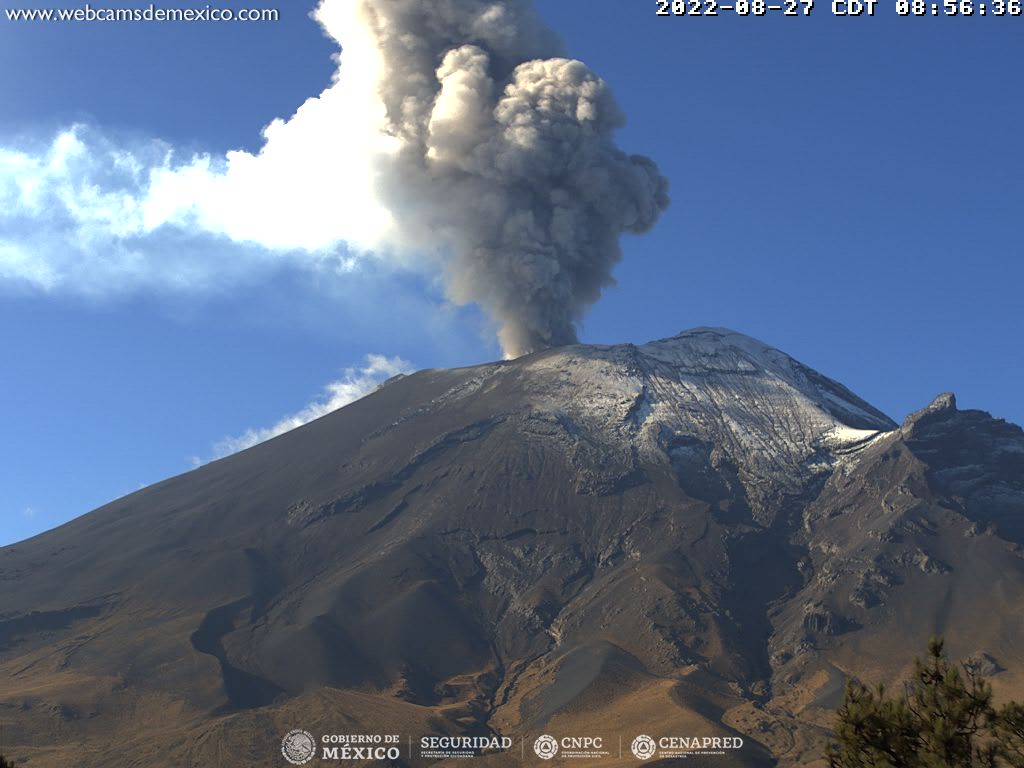 At the time of this report, there is zero visibility due to weather conditions in the area.
CENAPRED urges NOT TO APPROACH the volcano and especially the crater, because of the danger of falling ballistic fragments and, in case of heavy rains, to stay away from the bottom of the ravines because of the danger of mudslides and of debris.
The Popocatépetl volcanic alert traffic light is in YELLOW PHASE 2.
Source : Cenapred.