December 13, 2021. EN . Dominica : Boiling Lake , Indonesia : Awu , Spain / La Palma : Cumbre Vieja , Ecuador : Reventador , Hawaii : Kilauea .
December 13 , 2021 .
Dominica , Boiling Lake :
Update Friday December 10th, 2021
Observations made by a field team of officers from Dominica's Office of Disaster Management (ODM), Forestry, Wildlife & Parks Division and Fire Services Division on a visit to the Boiling Lake on 1 December, indicated that water levels at the Boiling Lake have decreased since the previous visit made on 22 November. On 1 December, the lake was reported to be ~15m below its normal water level.
Further observations made by a local tour guide on 7 December, indicated that there was a further decrease in the water levels, slightly lower than was first observed on 18 November.
Based on scientific knowledge of how the lake behaves, these fluctuations occur when vents beneath the lake are blocked. This limits the flow of gas and water into the lake and when vents are unblocked the flow resumes. Water levels may therefore fluctuate before returning to normal.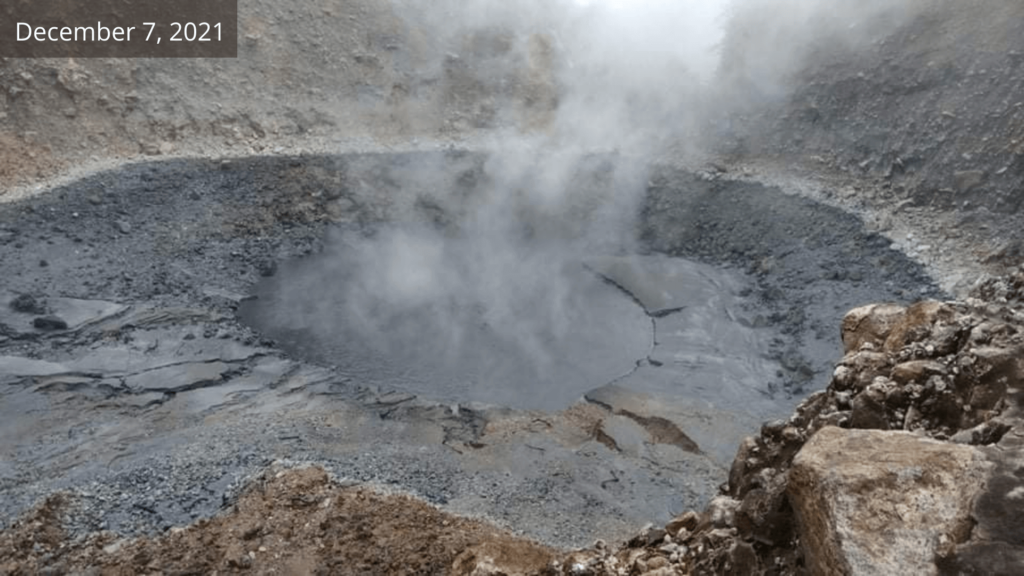 The observed changes in water levels and activity at the Boiling Lake have previously occurred and are not necessarily related to increased volcanic activity in the area. Historically, these periods of instability can last for weeks to months before normal activity is fully re-established. During these episodes harmful gases such as Carbon Dioxide, can be released and small steam explosions may also occur. People should, therefore, minimise time spent visiting the immediate area at the Boiling Lake until the activity has subsided.
Source et photos : UWI.
Indonesia , Awu :
The results of the last visual monitoring since September from Mount Awu do not show a significant change in surface activity. Volcanic seismicity was observed to have increased since October. Recorded shallow volcanic earthquakes ranged from 7 to 26 events per day, whereas previously the maximum recorded was 5 events per day. Deep volcanic earthquakes, also observed are increasing. Seismic amplitudes (RSAMs) reflecting the energy of volcanic activity increased gradually from November until this report.
Mount Awu has eruption intervals ranging from 1 to 101 years. Mount Awu has the potential to erupt with great explosiveness and has historically resulted in the most deaths among other volcanoes in North Sulawesi and the fourth deadliest in Indonesia after Tambora, Krakatoa and Kelud, with a total of d 'at least 5,301 dead. Its last eruption in June 2004 produced an eruption column 2 kilometers high above the summit and left a lava dome inside its crater. This lava dome is about 370 meters in diameter and about 30 meters high.
Based on the results of the analysis of visual and instrumental data and taking into account the potential threat of danger, from December 12, 2021 at 12:00 p.m., the activity level of Mount Awu was increased from Level I (Normal) at level II (Waspada).
The massive Gunung Awu stratovolcano occupies the northern end of Great Sangihe Island, the largest of the Sangihe arc. Deep valleys that form passageways for lahars dissect the flanks of the volcano, which was constructed within a 4.5-km-wide caldera. Powerful explosive eruptions in 1711, 1812, 1856, 1892, and 1966 produced devastating pyroclastic flows and lahars that caused more than 8000 cumulative fatalities. Awu contained a summit crater lake that was 1 km wide and 172 m deep in 1922, but was largely ejected during the 1966 eruption.
Source : Magma Indonésie , GVP.
Photo : Magma indonésie.
Spain / La Palma , Cumbre Vieja :
December 12, 2021, 09:00 UTC. Eruptive activity continues on La Palma.
Since the last declaration, a total of 24 earthquakes have been located on the island of La Palma, none of them have been felt by the population.
The maximum recorded magnitude is 3.2 (mbLg), corresponding to today's earthquake at 5:21 UTC, at a depth of 36 km.
Seismicity continues under the central area of Cumbre Vieja in the same areas of the previous days, most of the earthquakes (21) are located at depths between 10 and 16 km, the rest (only 3) were located at depths between 35 and 42 km. No earthquake was located at depths less than 10 km.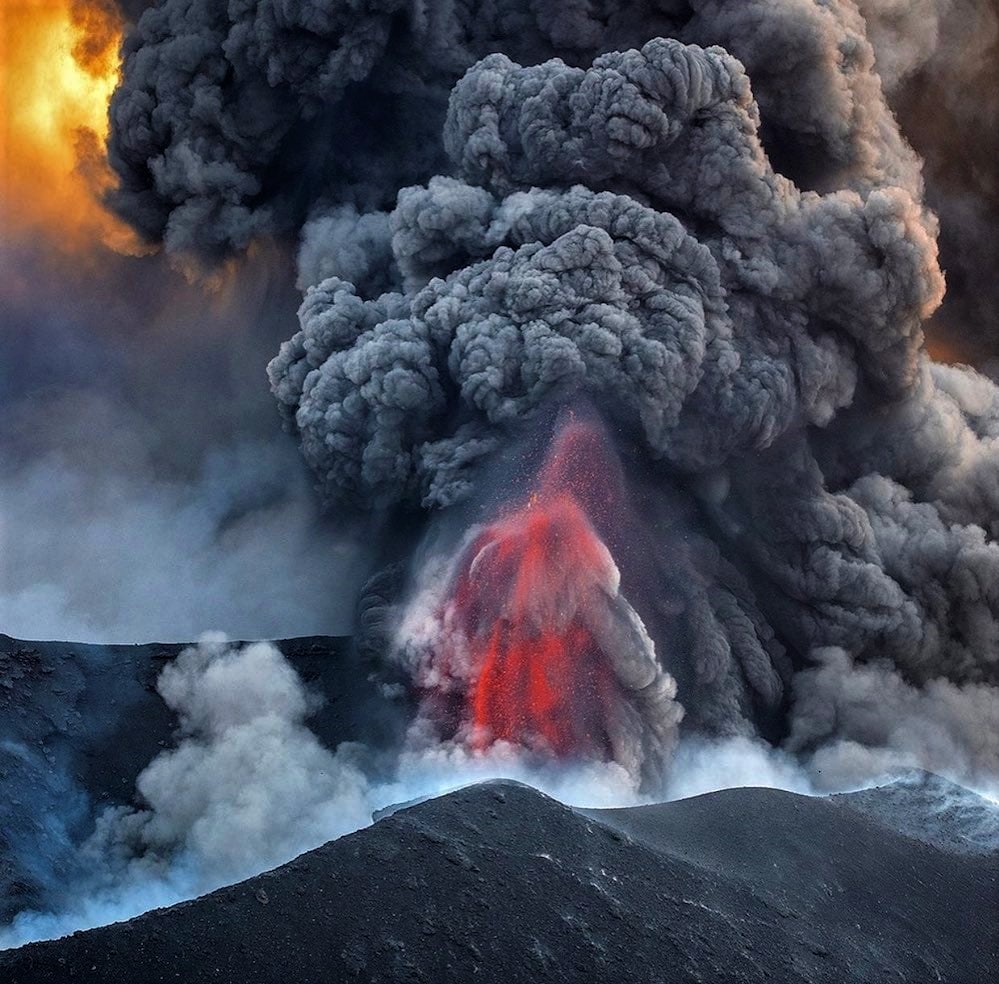 The amplitude of the tremor signal was maintained at low levels.
As in previous days, the island's network of permanent GNSS stations does not show a clear trend in the deformation of the stations closest to the eruptive centers.
In the rest of the stations, the slight deflation possibly linked to the deep seismicity has stabilized, except in LP01 which continues to record it.
In view of the image calibrated at 08:39 UTC, an eruptive column height of 1400 m is estimated, with a West-South-West direction.
The height of the cone is measured by obtaining a value of 1,124 m at sea level.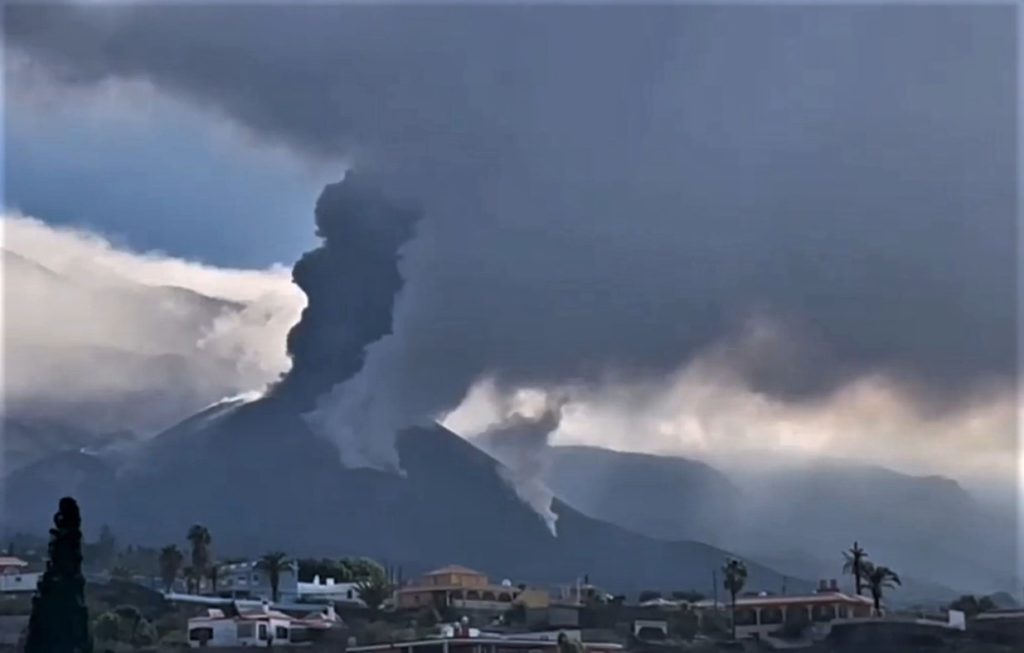 The volcano of La Palma recorded a « sudden » reactivation yesterday morning with strong explosions and a column of smoke and ash up to 4000 meters high, which however lasted only for an hour. The National Geographic Institute (IGN) recorded 17 earthquakes in La Palma on Sunday, a far cry from the seismic activity the island has seen in recent weeks. Two of the tremors exceeded magnitude 3, the most powerful of 3.2 with epicenter at Villa de Mazo, which occurred at 5:21 am at a depth of 36 kilometers.
Sources : IGNes , El Pais.
Photos : Saul Santos Diaz. Involcan.
Ecuador , Reventador :
DAILY REPORT OF THE STATE OF THE REVENTADOR VOLCANO, Sunday December 12, 2021.
Information Geophysical Institute – EPN.
Surface activity level: High, Surface trend: No change.
Internal activity level: Moderate, Internal trend: No change.
Seismicity: From December 11, 2021, 11:00 a.m. to December 12, 2021, 11:00 a.m.
Explosion (EXP) 46
Long periods (LP): 37
Harmonic tremors: (TRARM): 4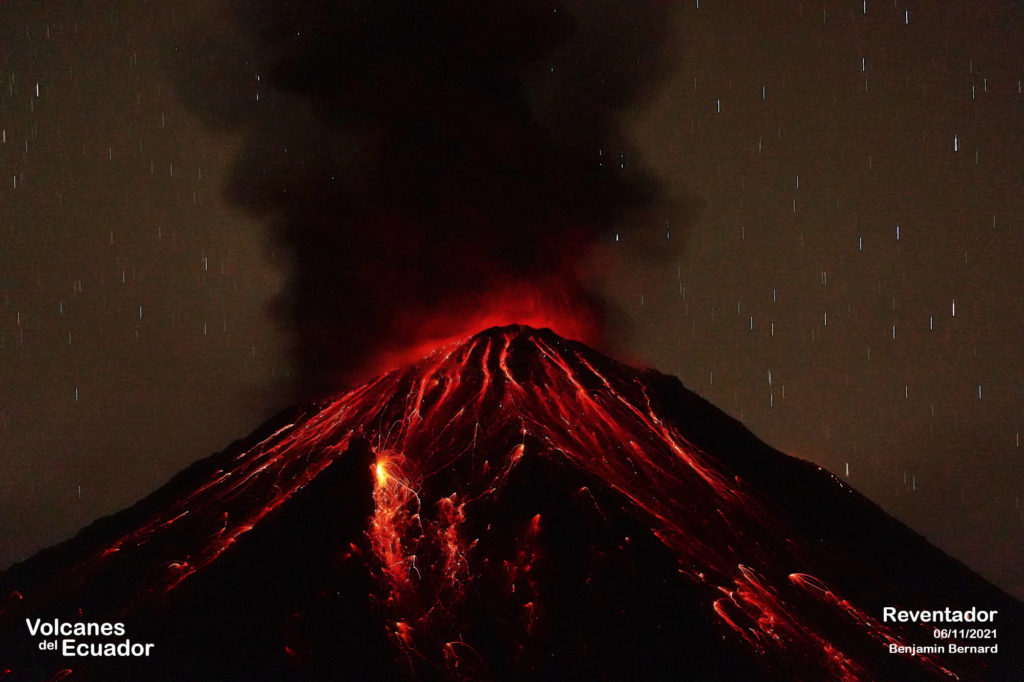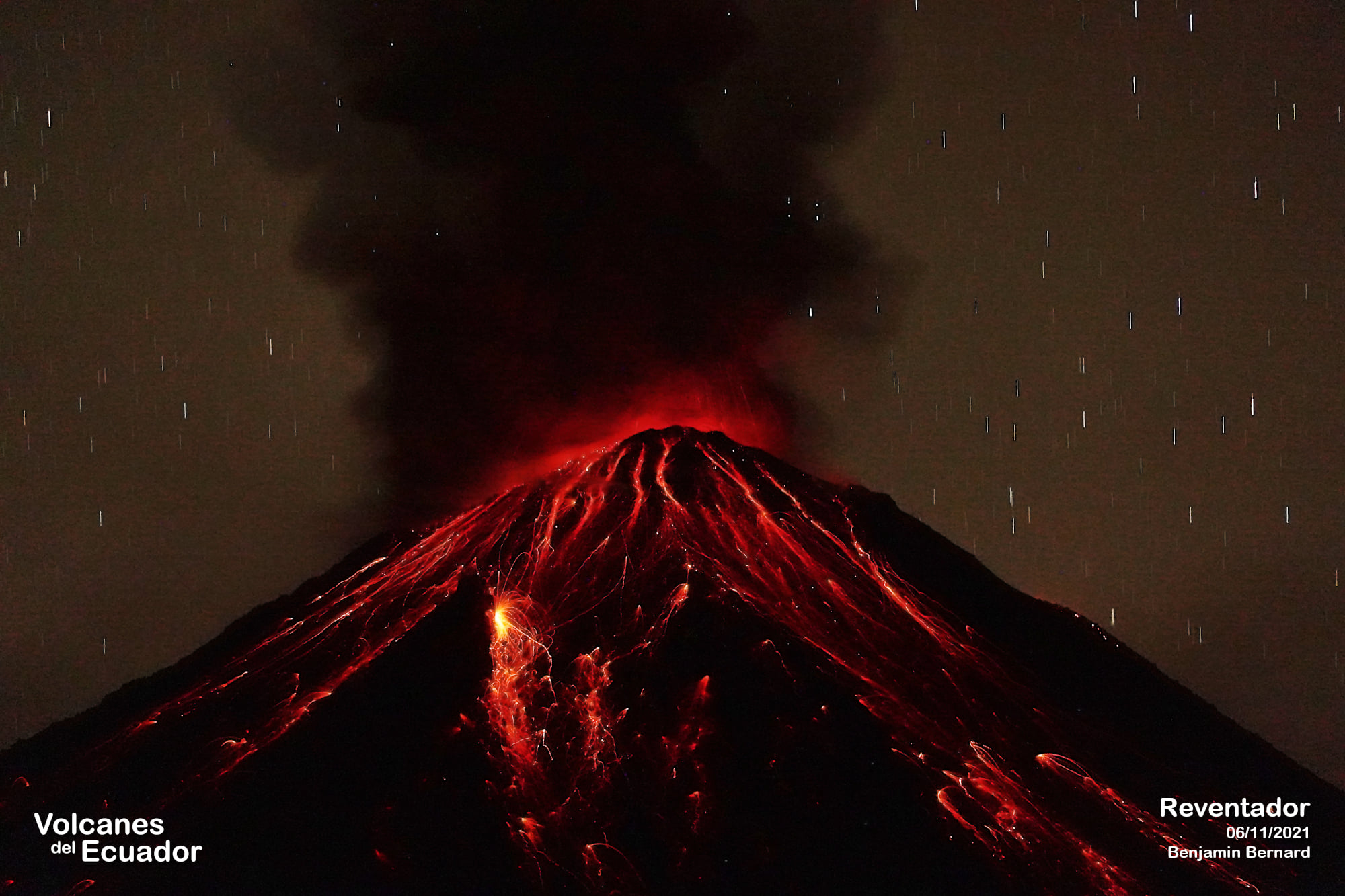 Rains / Lahars:
Moderate rains were recorded last night on satellite images, which did not generate lahars.
Emission / ash column:
In the afternoon and the night of yesterday the volcano was cleared most of the time, it was possible to observe a continuous emission more than 1000 meters above the crater in a West, North and South-East direction, the VAAC issued 3 reports of ash emission 988 meters above the summit, in a West, North and South-East direction.
Other monitoring parameters:
There are no thermal alerts regarding the Reventador.
Observation:
At night, it was possible to observe several episodes of incandescence in the crater, with the rolling of boulders on the southern flank up to 400 meters below the summit. Since hours of the morning until now the volcano is completely cloudy.
Alert level: Orange.
Source : IGEPN
Photo : Benjamin Bernard.
Hawaii , Kilauea :
19°25'16 » N 155°17'13 » W,
Summit Elevation 4091 ft (1247 m)
Current Volcano Alert Level: WATCH
Current Aviation Color Code: ORANGE
Activity Summary: 
Kīlauea volcano is erupting from a single vent in the western wall of Halemaʻumaʻu crater. The lava lake remains active in the western portion of the crater, with reduced activity over the past day. All recent lava activity remains confined within Halemaʻumaʻu crater in Hawai'i Volcanoes National Park.
Summit Observations:
The eruption of lava continues from the western vent in Halema'uma'u crater, with reduced vigor over the past day. Deflationary tilt began yesterday evening around 9 p.m. and continues this morning. Earthquake activity remains below background. The most recent measurement of sulfur dioxide (SO2) emission rate on December 9, 2021, was approximately 3500 tonnes per day.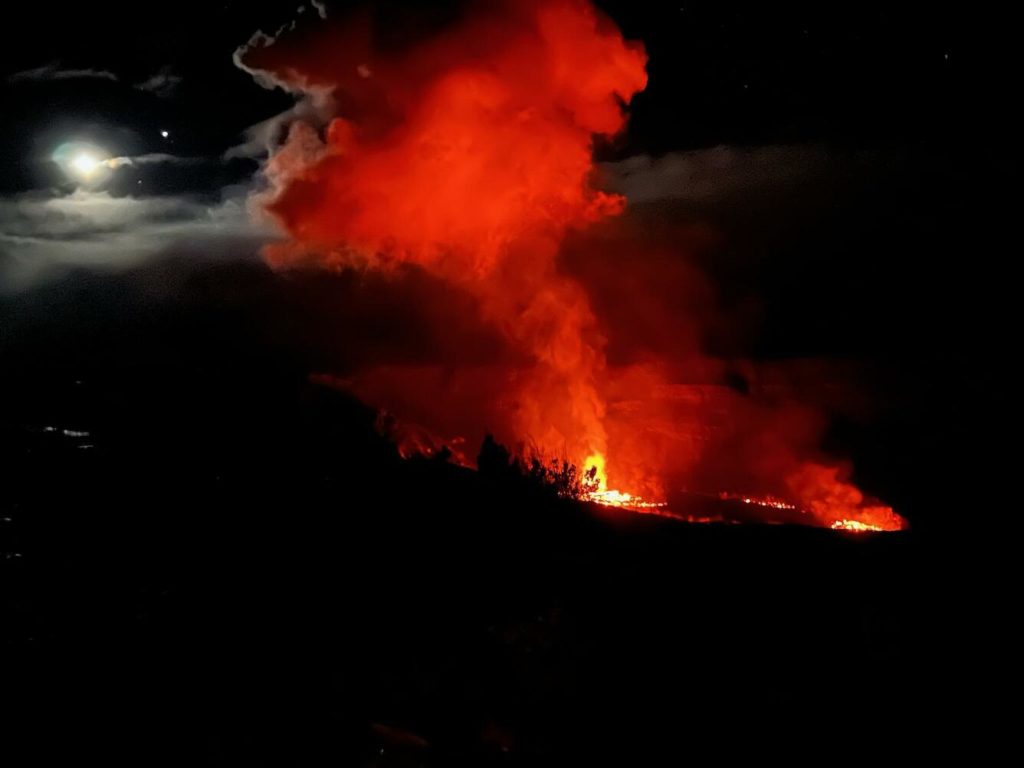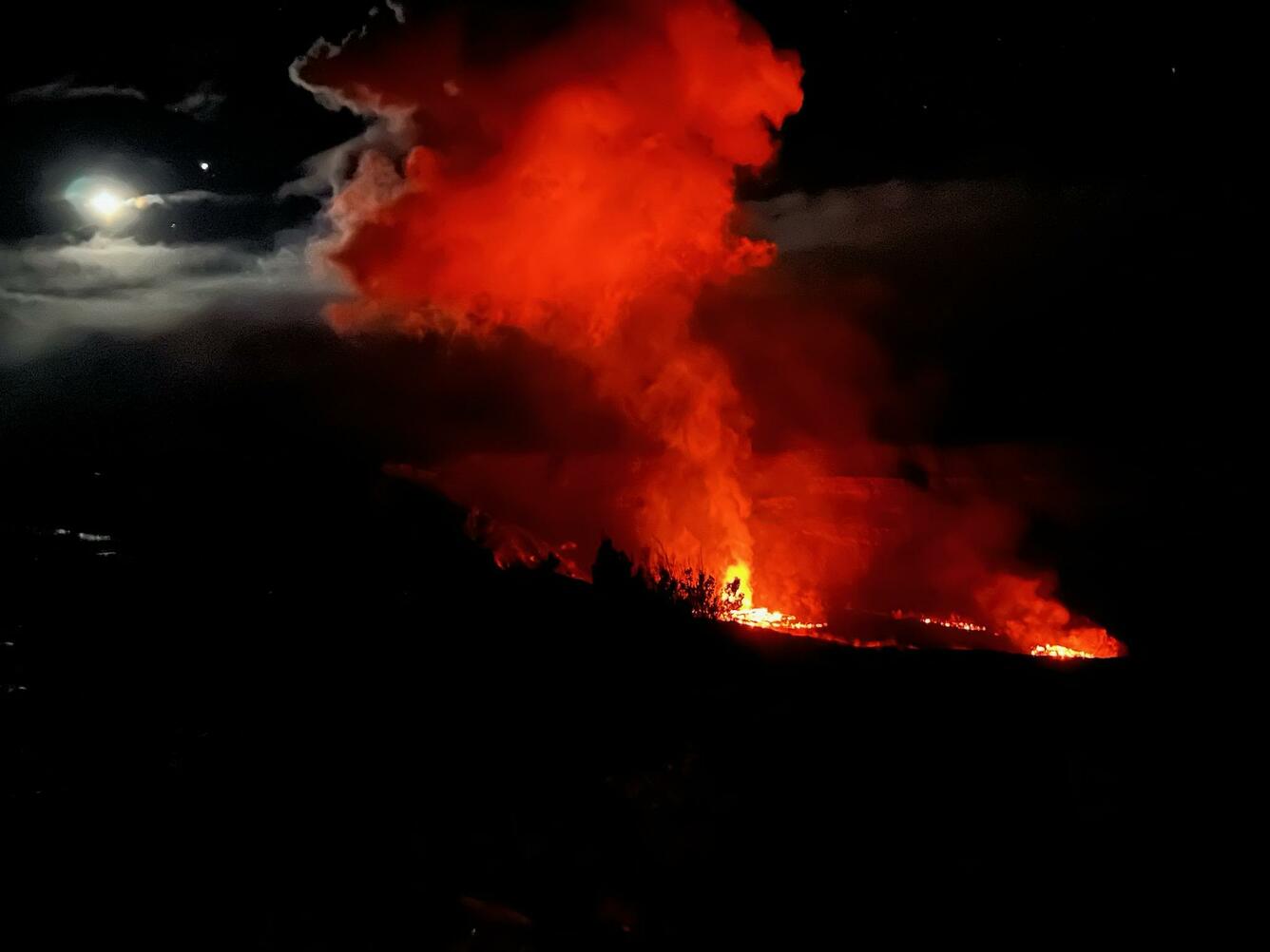 The eruption in Halema'uma'u crater, at the summit of Kīlauea, continues. This photograph, taken on the evening of December 8 from the Keanakākoʻi overlook within Hawai'i Volcanoes National Park, shows the eruption plume backlit by the moon. The most recent measurement of sulfur dioxide (SO2) emission rates on December 9, 2021, was approximately 3,500 tonnes per day
Halemaʻumaʻu Lava Lake Observations:
Lava continues to erupt from a single vent in the western wall of Halemaʻumaʻu crater, supplying lava into the lava lake that is contained within the western portion of the crater. Lake activity has decreased significantly over the past day, associated with deflationary tilt and reduced seismic tremor, similar to the events preceding the brief pause last week. Spattering continues within a small lava pond at the vent, and sporadic ooze-outs of lava are present along the solidified lake margins. The lake has seen a total increase of about 65 meters (213 ft) since lava emerged on September 29. The total erupted volume since the beginning of the eruption was estimated to be about 30 million cubic meters (7.8 billion gallons) on November 16.
Source : HVO.
Photo : USGS/ C. Gansecki .