July 26, 2021. EN. Democratic Republic of Congo : Nyiragongo , Kamchatka : Sheveluch , New Zealand : White Island , Indonesia : Semeru , Ecuador : Reventador .
July 26 , 2021.
Democratic Republic of Congo , Nyiragongo :
SERVICE COMMUNIQUE, Goma, July 24, 2021.
The Volcanological Observatory of Goma (OVG) informs the entire population of Goma and its surroundings that this afternoon of this Saturday, July 24, 2021, a fall of dust (volcanic ash) is observed over a large part of the area. around the Nyiragongo volcano.
These ashes come from the collapse of part of the crust of the central crater of the Nyiragongo volcano. This event has no relation to a certain eruptive activity of the volcano which could worry the public.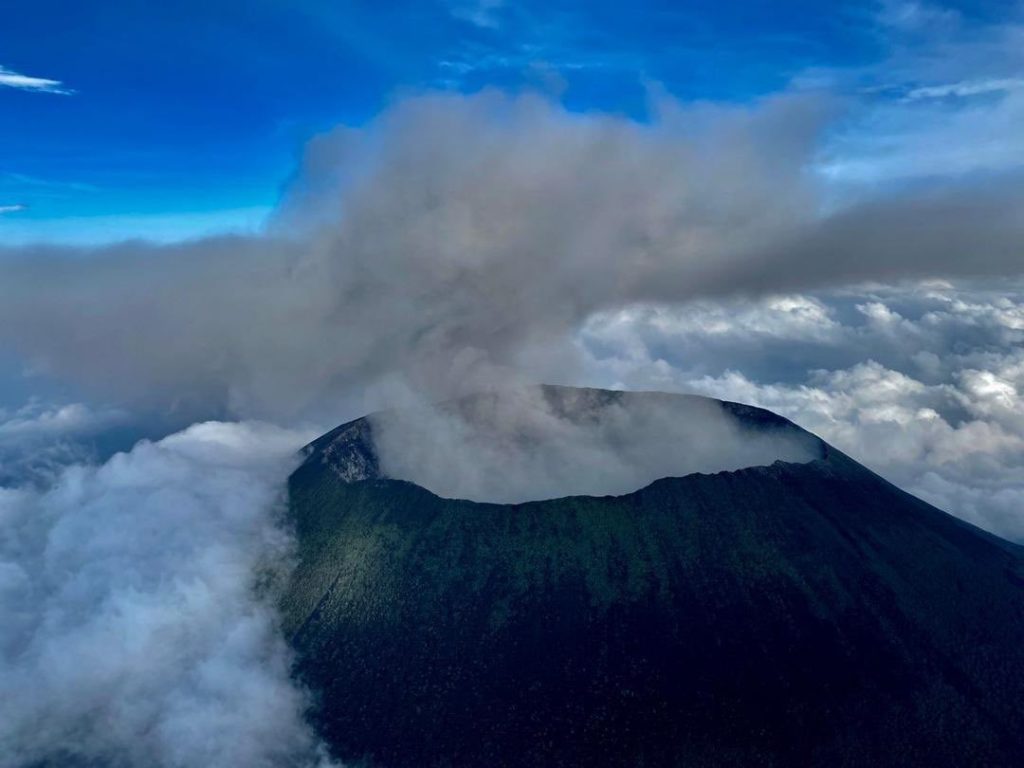 The OVG then asks everyone to observe the rules of hygiene by carefully covering food and dishes as well as to avoid the use of rainwater as drinking water. He reassures you that he adequately monitors any situation relating to the activity of the active volcanoes of Virunga.
Source :Directeur Général de l'OVG.
Photo : Goma Fleva.
Kamchatka , Sheveluch :
VOLCANO OBSERVATORY NOTICE FOR AVIATION (VONA)
Issued: July 26 , 2021
Volcano: Sheveluch (CAVW #300270)
Current aviation colour code: ORANGE
Previous aviation colour code: orange
Source: KVERT
Notice Number: 2021-75
Volcano Location: N 56 deg 38 min E 161 deg 18 min
Area: Kamchatka, Russia
Summit Elevation: 3283 m (10768.24 ft), the dome elevation ~2500 m (8200 ft)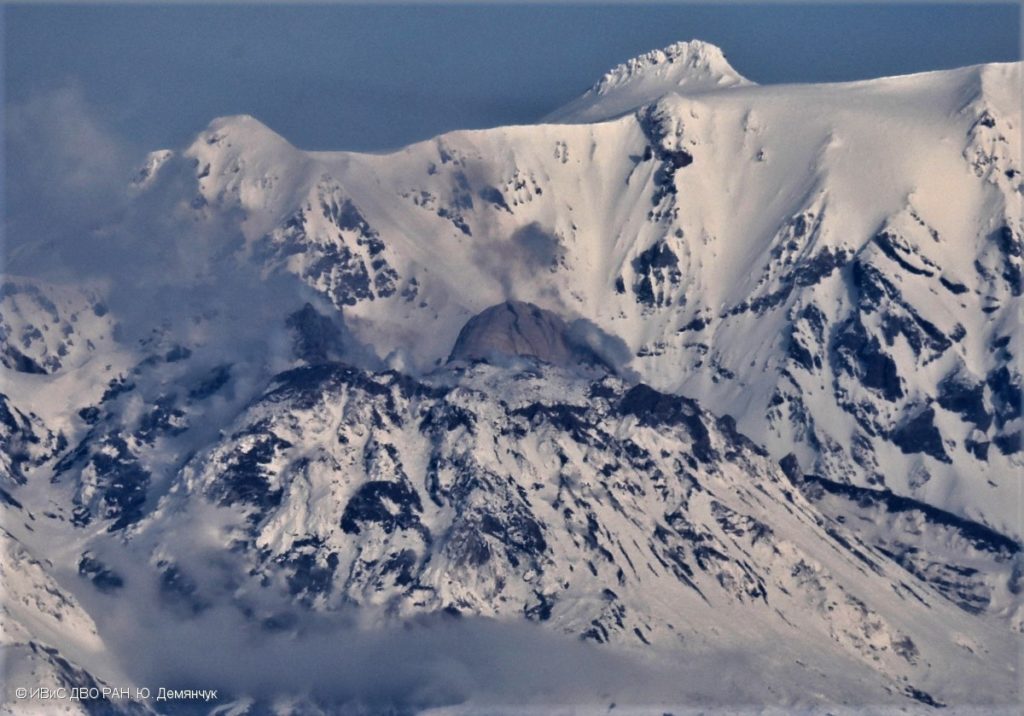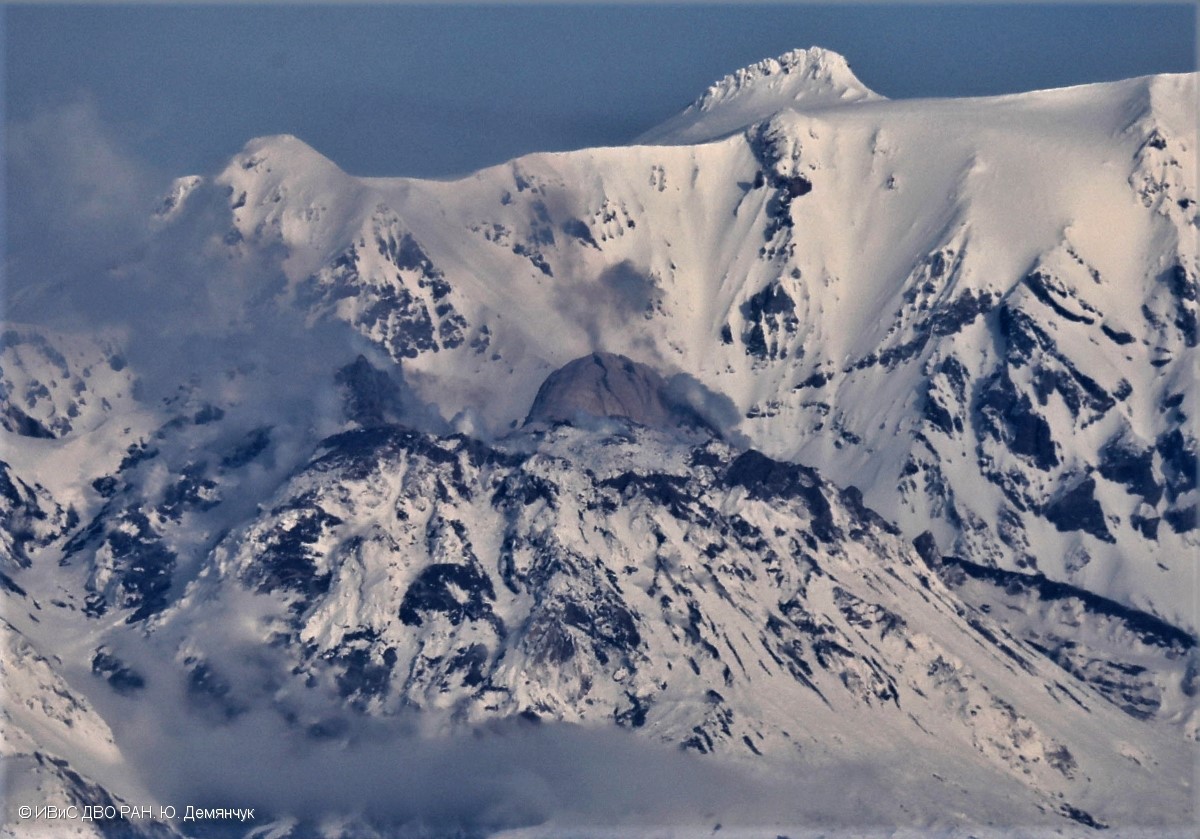 The lava block Dolphin in the eastern part of the lava dome of Sheveluch volcano began to destruction under the pressure of a new portion of lava
Volcanic Activity Summary:
Activity of the volcano has increased from 19:20 UTC on 25 July, 2021. According to video data, strong gas-steam emission containing some amount of ash continues at the volcano. The collapses of the lava dome blocks, and small explosions are observing. The Dolphin lava block is probably being actively destroyed. Satellite data showed a gas-steam plume containing some amount of ash is extending to the east from the volcano.
The extrusive eruption of the volcano continues. Ash explosions up to 10-15 km (32,800-49,200 ft) a.s.l. could occur at any time. Ongoing activity could affect international and low-flying aircraft.
Volcanic cloud height:
3500 m (11480 ft) AMSL Time and method of ash plume/cloud height determination: 20210726/0155Z – Video data
Other volcanic cloud information:
Distance of ash plume/cloud of the volcano: 42 km (26 mi)
Direction of drift of ash plume/cloud of the volcano: E / azimuth 90 deg
Time and method of ash plume/cloud determination: 20210726/0130Z – Himawari-8
Source : Kvert .
Photo : Yu. Demyanchuk, IVS FEB RAS.
New Zealand , White Island :
Continued heat flow and changes in gas composition indicate increased unrest at Whakaari/White Island. Volcanic Alert Level raised to Level 2. Published: Mon Jul 26 2021 2:30 PM
Volcanic Alert Level is raised to 2
Aviation Colour Code is raised to Yellow
Persistent observations of night glow on the web cameras indicate continued emission of high-temperature gases. Continued decline of the carbon dioxide to sulphur dioxide ratio points to ongoing degassing of fresh magma. The Volcanic Alert Level has been raised to 2 and the Aviation Colour Code to Yellow. This also acknowledges the uncertainty about what is driving current activity at the volcano.
Elevated levels of gas emissions continue but the ratio of carbon dioxide to sulphur dioxide has decreased. A more detailed evaluation of this observation supports the presence of magma at shallow depth.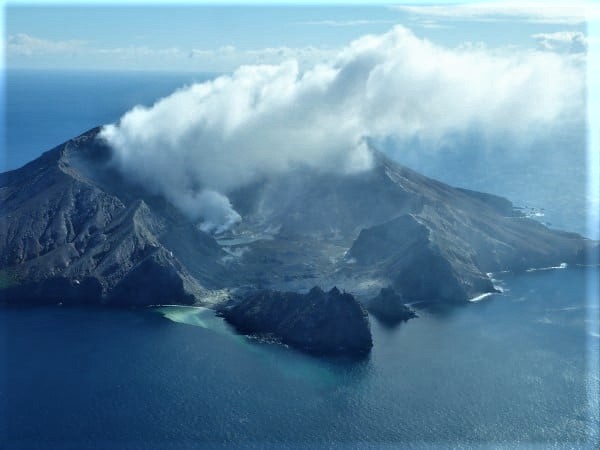 Last week's observation and thermal infrared (IR) measurement flight reported very hot gas (498 to 654°C) being emitted from some of the vents on the 2019 lava extrusion.
The observation of night glow on our web cameras has continued since June 30 and is ongoing.
Tremor and volcano-seismicity has remained low and ground deformation shows an overall pattern of subsidence, with some variability.
There is still large uncertainty about the mechanisms driving the current activity. Most scenarios are consistent with a slightly increased level of unrest at Whakaari/White Island and we have therefore raised the Volcanic Alert Level to 2 (moderate to heightened unrest) and the Aviation Colour Code to Yellow. There are no obvious signs of eruptive activity.
The Volcanic Alert Level reflects the current level of volcanic unrest or activity and is not a forecast of future activity. While Volcanic Alert Level 2 is mostly associated with volcanic unrest hazards (including discharge of steam and hot volcanic gases, earthquakes, landslides and hydrothermal activity), potential for eruption hazards also exists and eruptions can still occur with little or no warning.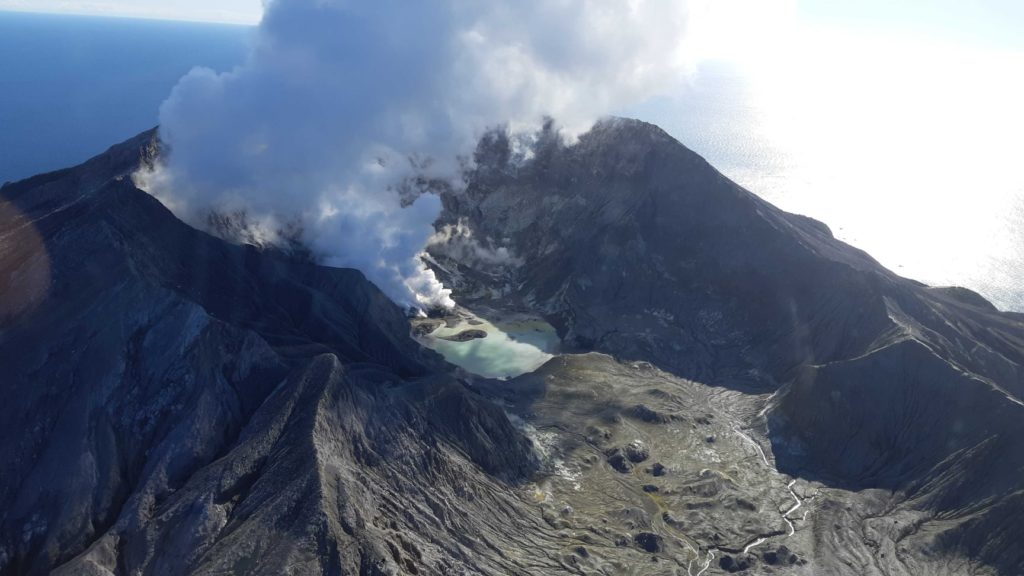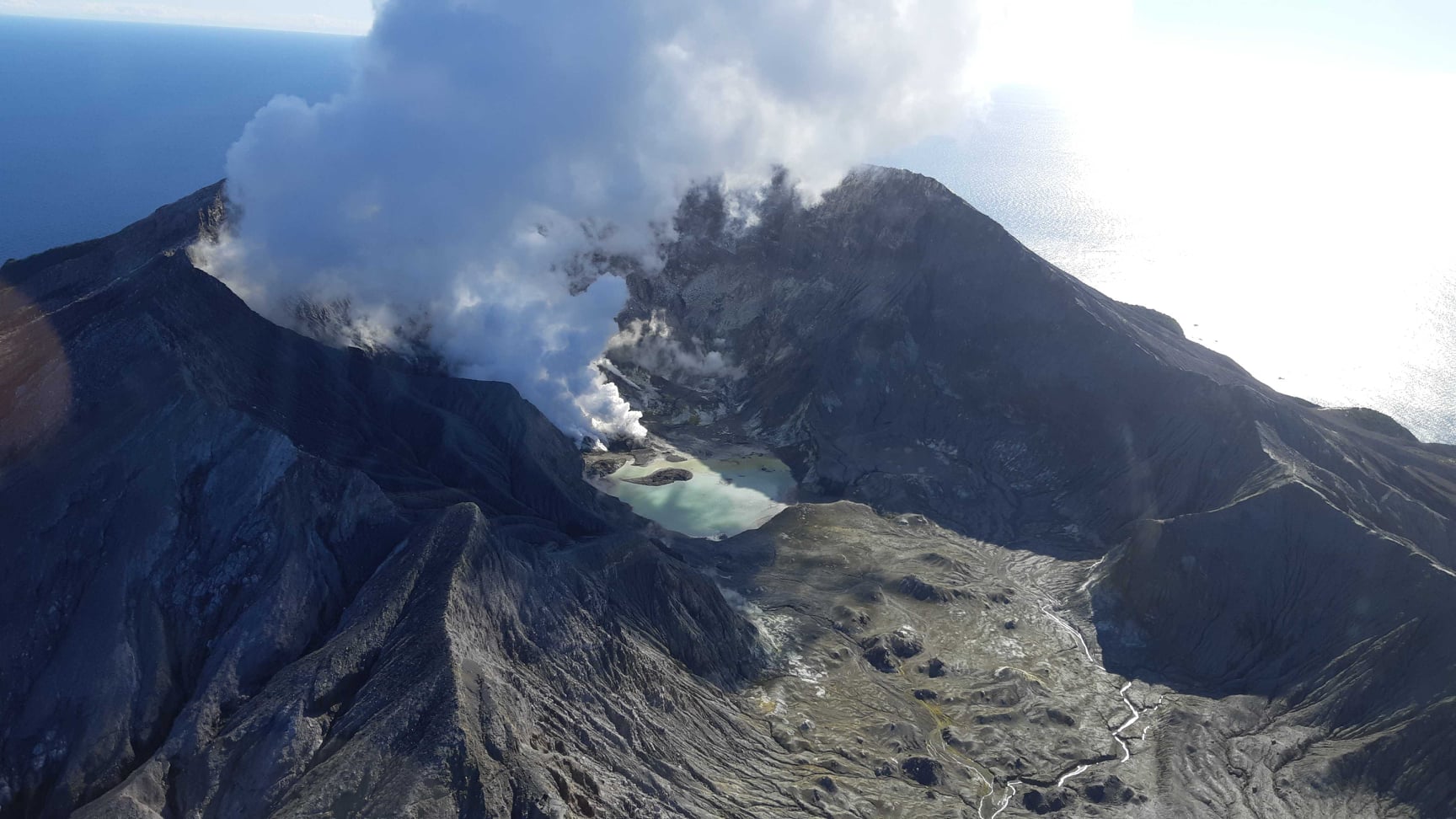 GNS Science and the National Geohazards Monitoring Centre continue to monitor Whakaari for further changes in unrest.
Our monitoring equipment has degraded to the point we can no longer provide real-time monitoring of Whakaari/White Island.
We are relying on satellite data, inconsistent GPS data, regular gas and observation flights (weather permitting) and two webcams, one of which is significantly degraded.
We are continuing to work on options to restore our monitoring ability.
Source : Geonet /Yannik Behr / Duty Volcanologist .
Photos : Geonet .
Indonesia , Semeru :
VOLCANO OBSERVATORY NOTICE FOR AVIATION – VONA
Issued : July 25 , 2021
Volcano : Semeru (263300)
Current Aviation Colour Code : ORANGE
Previous Aviation Colour Code : orange
Source : Semeru Volcano Observatory
Notice Number : 2021SMR42
Volcano Location : S 08 deg 06 min 29 sec E 112 deg 55 min 12 sec
Area : East java, Indonesia
Summit Elevation : 11763 FT (3676 M)
Volcanic Activity Summary :
Eruption with volcanic ash cloud at 07h20 UTC (14h20 local).
Volcanic Cloud Height :
Best estimate of ash-cloud top is around 13683 FT (4276 M) above sea level, may be higher than what can be observed clearly. Source of height data: ground observer.
Other Volcanic Cloud Information :
Ash cloud moving to southwest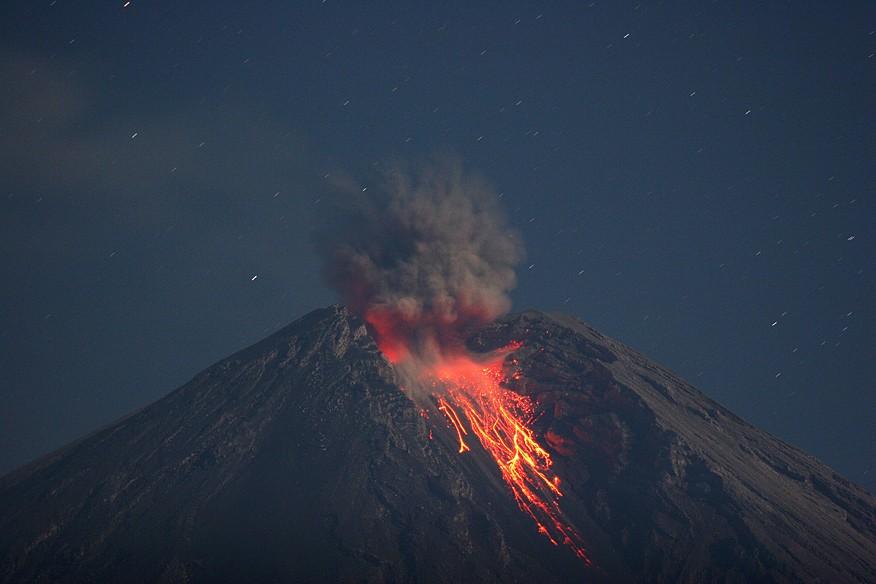 Remarks :
Seismic activity is characterized by eruption, avalanche and gas emission earthquakes
The level of activity has been level II (WASPADA) since May 2, 2012. Mount Semeru (3,676 m above sea level) has experienced intermittent eruptions. There are explosive and effusive eruptions, producing lava flows towards the southern and southeastern slopes, as well as projections of incandescent rocks around the summit crater.
The volcano is clearly visible until it is covered by fog. No smoke from the crater was observed. The weather is sunny to cloudy, the winds are weak to moderate in the North, North-East, South and South-West. The air temperature is around 21-29 ° C.
According to the seismographs of July 25, 2021, it was recorded:
59 earthquakes from explosions / eruptions
7 earthquakes of emissions
8 harmonic tremors
2 distant tectonic earthquakes
Source : Magma Indonésie , PVMBG.
Photo : M. Rietze , wikipedia , licence creative common .
Ecuador , Reventador :
DAILY REPORT OF THE STATE OF THE REVENTADOR VOLCANO, Sunday July 25, 2021.
Information Geophysical Institute – EPN.
Surface activity level: High, Surface trend: No change.
Internal activity level: Moderate, Internal trend: No change.
Seismicity: From July 24, 2021, 11: 00h to July 25, 2021, 11: 00h:
Explosions (EXP): 54 events
Long period type events (LP): 45
Emission tremor (TREMI): 5.
Harmonic Tremor (TRARM): 1.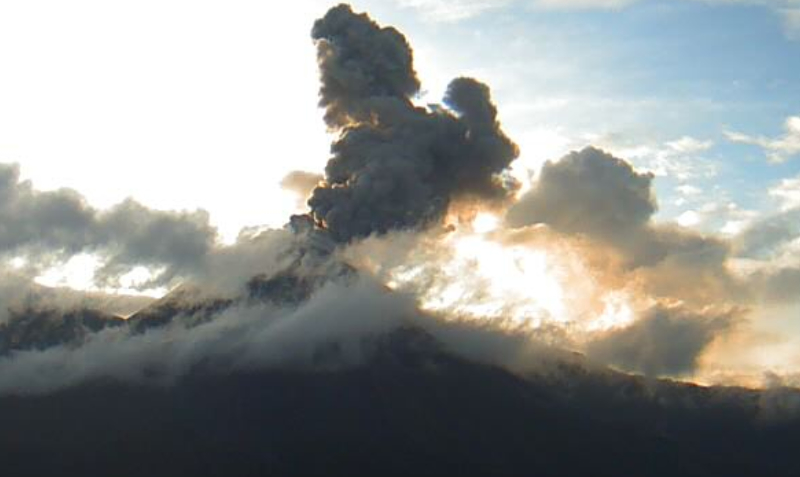 Rains / lahars: There has been no rain in the area for the past 24 hours.
Emission / ash column: During the afternoon and night of yesterday several emissions of steam, gas and ash were observed up to a height of 1000 m and directions of dispersion oscillating between the North East and North West.
Other monitoring parameters: No thermal alerts have been recorded in the last 24 hours.
Observations: Last night, an incandescence was observed in the crater. During the morning the area remained cloudy
Alert level: Orange.
Source et photo : IG-EPN