January 12, 2020. EN . Philippines : Taal , Alaska : Shishaldin , Kamchatka : Karymsky , Ecuador / Galapagos : Sierra Negra .
January 12 , 2020 .
Philippines , Taal :
TAAL VOLCANO BULLETIN 12 January 2020 02:30 PM
This serves as notice for the raising of the alert status of Taal from Alert Level 1 (abnormal) to Alert Level 2 (increasing unrest).
Taal Volcano is manifesting increased level of activity:
1. Visual Observation: Increased steaming activity in at least five spots inside the Main Crater has been observed at around 1300H today with the largest activity comprised by a phreatic explosion that generated a plume approximately 100 meters high. This activity is still ongoing as of this issuance.
2. Volcanic Earthquake Activity: Since 28 March 2019, Taal volcano seismic network has manifested moderate to high level of seismic activity. Some of these earthquakes were felt with intensity ranging from Intensity I (Scarcely Perceptible) to Intensity III (Weak Shaking) in the barangays of Calauit, Balete, Sitio Tibag, Pira-Piraso, and Buco, Talisay, Alas-as and Pulangbato, San Nicolas, Batangas. Often, these felt earthquakes are accompanied by rumbling sounds. Today, three felt earthquake events were recorded at 0735H, 1043H and 1400H. A seismic swarm has started at around 1100H and ongoing as of 1410H.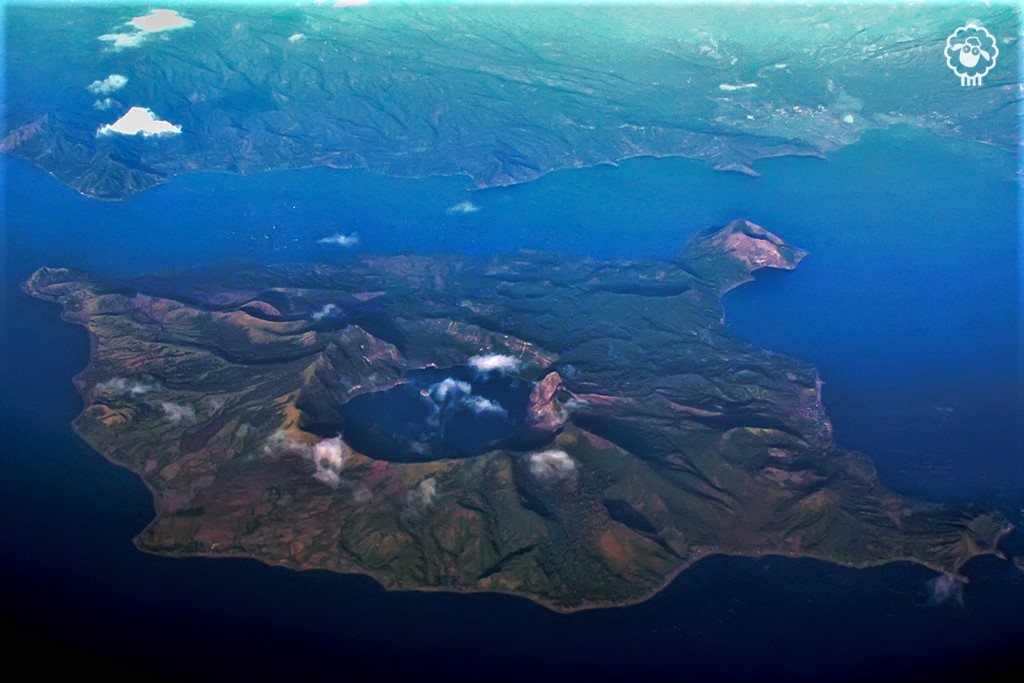 3. Ground Deformation: Cumulative elevation changes of the volcanic edifice based on precise leveling (PL) measurements this March 2019 indicate that it has slightly inflated relative to November 2018 after a period of general deflation since 2016. Slight inflation of the edifice starting on January 2019 was also recorded by continuous Global Positioning Systems (GPS) after a period of general deflation since 2016.
4. Gas Emission: Dissolved carbon dioxide (CO2) concentrations in Taal Main Crater Lake (MCL) based on continuous measurements have been gradually increasing since February 2019, indicating a slight increase in the input of volcanic CO2 degassing from the hydrothermal system into the lake.
In view of the above, DOST-PHIVOLCS is now raising the alert status of Taal from Alert Level 1 to Alert Level 2. This means that there is probable magmatic intrusion that may or may not lead to an eruption. The public is reminded that the Main Crater should be strictly off-limits because sudden steam explosions can occur and high concentrations of lethal volcanic gases can be released. The northern portion of the Main Crater rim, in the vicinity of Daang Kastila Trail, can also become hazardous when fumarolic or degassing activity along existing fissures suddenly increases. Furthermore, the public is also reminded that the entire Volcano Island is a Permanent Danger Zone (PDZ), and permanent settlement in the island is strongly not recommended. In view of the ongoing phreatic activity in the Main Crater, PHIVOLCS advises precautionary evacuation of Taal Volcano Island pending observation of the volcano's condition within the next 48 hours.
Source : Phivolcs .
Photo : Talisay, Batangas.
Alaska , Shishaldin :
54°45'19 » N 163°58'16 » W,
Summit Elevation 9373 ft (2857 m)
Current Volcano Alert Level: WATCH
Current Aviation Color Code: ORANGE
The eruption of Shishaldin Volcano that began in late July 2019 continues with short-duration explosive activity from the summit crater and effusion of lava flows on the upper flanks of the volcano.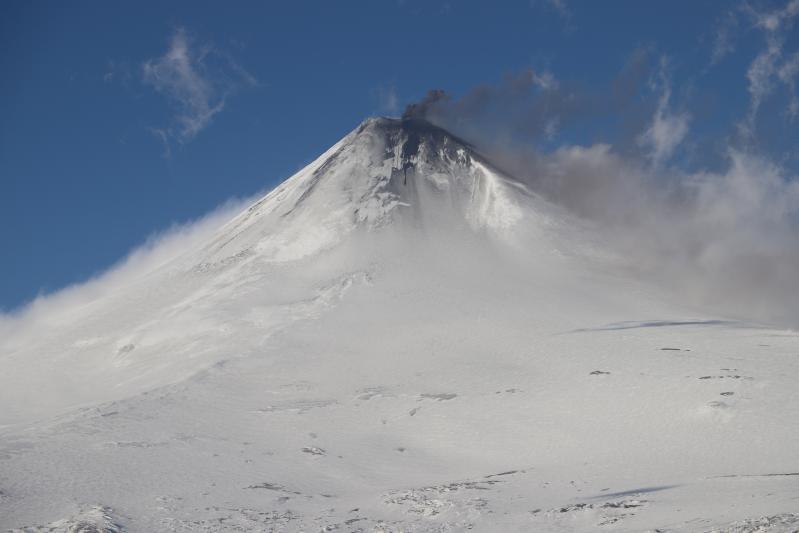 On Tuesday, January 7, the most sustained explosive activity of the eruptive sequence thus far generated an ash plume that drifted over 200 km to the east-northeast, deposited trace ash fall on Cold Bay, and caused several flight cancellations. Tuesday's explosive activity started at about 5:00 AKST that morning and lasted until about noon, consisted of continuous ash emissions, and was detected in seismic, infrasound, and lightning data. The activity from 9:00 to 12:00 AKST produced a more ash-rich plume that was detected with multiple satellites, and a sulfur dioxide plume was also detected by satellite-based sensors. In response to this activity, AVO raised the Aviation Color Code to RED and Alert Level to WARNING, lowering it to ORANGE/WATCH on Tuesday evening.
Since this explosive eruption on Tuesday, elevated surface temperatures have been observed in most clear and partly-cloudy satellite views, indicating continued effusion of lava. Seismicity has decreased, but remains above background.
Thus far, the 2019 eruption has produced lava flows, pyroclastic flows, lahars (mudflows), and minor ash fallout on the flanks of the volcano. For most of the current eruption, ash emissions have been restricted to the immediate vicinity of the volcano and altitudes of less than 15,000 ft asl. As shown by Tuesday's event, more powerful explosions could occur with little warning and produce higher ash clouds that may pose a hazard to aircraft.
Shishaldin is monitored by local seismic and infrasound sensors, satellite data, web cameras, a telemetered geodetic and tilt network, and distant infrasound and lightning networks.
Shishaldin volcano, located near the center of Unimak Island in the eastern Aleutian Islands, is a spectacular symmetric cone with a base diameter of approximately 16 km (10 mi). A 200-m-wide (660 ft) funnel-shaped summit crater typically emits a steam plume and occasional small amounts of ash. Shishaldin is one of the most active volcanoes in the Aleutian volcanic arc, with at least 54 episodes of unrest including over 24 confirmed eruptions since 1775. Most eruptions are relatively small, although the April-May 1999 event generated an ash column that reached 45,000 ft above sea level.
Source : AVO.
Photos : Schaefer, Janet , Joseph Korpiewski, U.S. Coast Guard.
Kamchatka , Karymsky :
VOLCANO OBSERVATORY NOTICE FOR AVIATION (VONA).
Issued: January 09 ,2020 .
Volcano: Karymsky (CAVW #300130)
Current aviation colour code: GREEN
Previous aviation colour code: yellow
Source: KVERT
Notice Number: 2020-07
Volcano Location: N 54 deg 2 min E 159 deg 26 min
Area: Kamchatka, Russia
Summit Elevation: 4874.08 ft (1486 m)
Volcanic Activity Summary:
A moderate gas-steam activity of the volcano continues. According to satellite data, a weak thermal anomaly over the volcano continues to noting from time to time. Ash explosions were observing on 24 September, 2019, last time; the weak thermal anomaly – on 17 December. 2019; the volcano was quiet or obscured by clouds from 17 December, 2019. KVERT continues to monitor Karymsky volcano.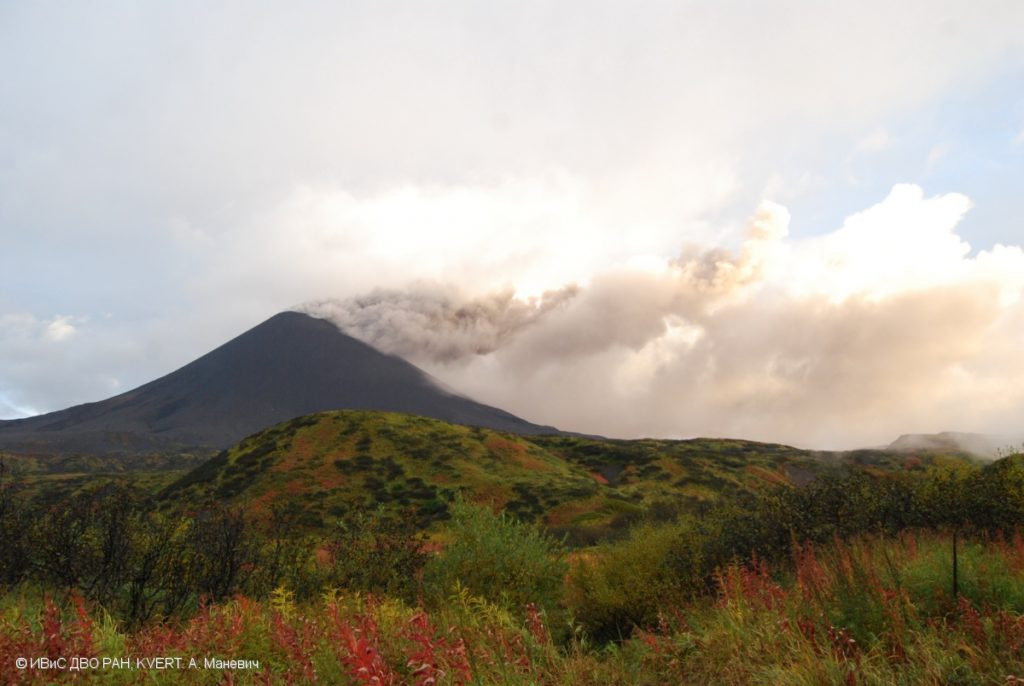 The explosive activity of Karymsky volcano at 19:20 UTC on 09 September, 2019.
A moderate gas-steam activity of the volcano continues. The danger of ash explosions up to 13,100-19,700 ft (4-6 km) a.s.l. is remain. Ongoing activity could affect low-flying aircraft.
Volcanic cloud height:
NO ASH CLOUD PRODUSED
Other volcanic cloud information:
NO ASH CLOUD PRODUSED
Source : Kvert
Photo : A. Manevich, IVS FEB RAS, KVERT . ( 219) .
Ecuador / Galapagos , Sierra Negra :
Gravimetric measurement campaign on the Sierra Negra volcano
The Sierra Negra volcano, located on Isabela Island in the Galapagos province, is located 23 km southeast of the center of the town of Puerto Villamil. On June 26, 2018, a new eruptive process began and its activity continued until mid-August of the same year, with the emission of lava flows mainly directed towards the northern part.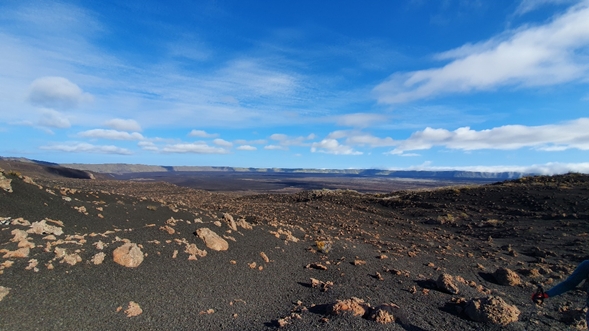 Fig. 1: Caldera of the Sierra Negra volcano, with the lava emitted during the eruptive process of 2005 and the new lava emitted during the 2018 process. View towards the West. The vertical distance from the bottom of the caldera to the rim is 800 meters. (Photo: M. Encalada Simbaña IG-EPN).
Between November 24 and December 5, 2019, technicians from the Geophysical Institute of the National Polytechnic School (IG-EPN) conducted a monitoring campaign with a Scintrex CG-5 microgravimeter, geochemical sampling and maintenance of the network of ash counters, all linked to the eruptive process of the Sierra Negra volcano.
The campaign carried out around and inside the caldera of the Sierra Negra volcano consisted of several measurement points located on the North, North-East, East and South-West flanks. The objective was to measure the local gravitational field, associated with the eruptive process of the volcano. Using the gravimeter, we can perceive the tiny variations in gravity associated with mass changes produced during the eruptive process of a volcano.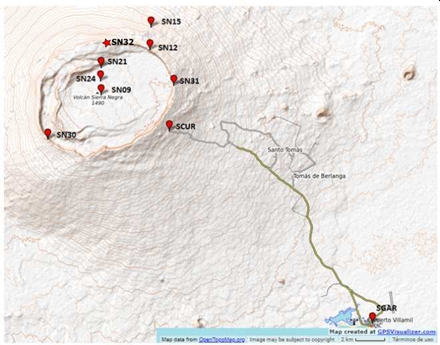 Fig. 2 Location map of the points where the gravimetric measurements were taken.
During the campaign, 8 routes were carried out, 4 to the northeast part of the volcano, 4 to the southwest side and one inside the caldera, with a total of 42 measurement points.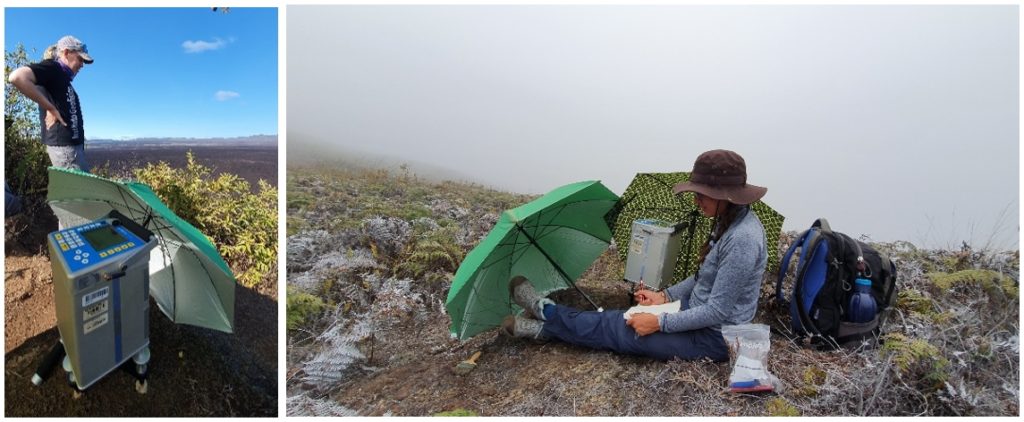 Fig. 3: Staff of the Geophysical Institute performing microgravimeter measurements on the northeast and southwest flanks of the Sierra Negra volcano respectively (Photos: M. Encalada Simbaña and E. Gaunt IG-EPN).
On the other hand, maintenance of the ash collectors installed on the slopes of the Sierra Negra volcano and inside the caldera was also carried out.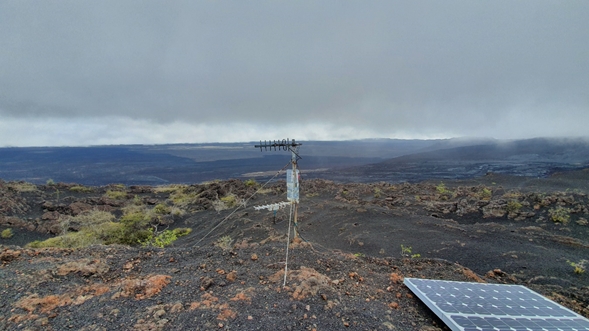 Figure 4. Cendrometer installed at the Volcán Chico seismic station located on the eastern flank of the Sierra Negra volcano. (Photo: M. Encalada Simbaña IG-EPN).
The Geophysical Institute of the National Polytechnic School maintains permanent monitoring of the volcanic activity presented by the Sierra Negra volcano and will promptly report any anomaly.
Source : Institut géophysique iGEPN , École nationale polytechnique