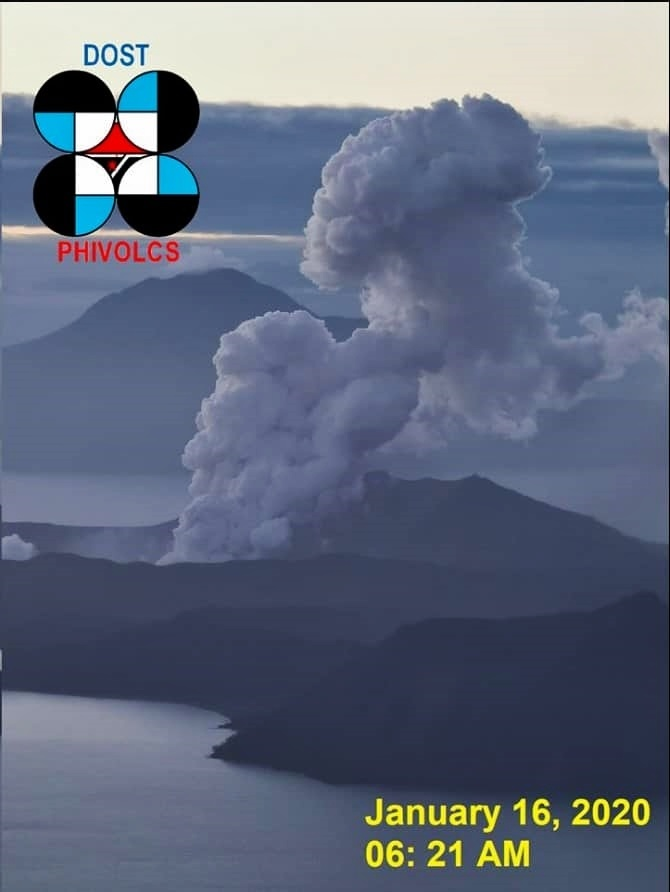 January 17, 2020. EN . Philippines : Taal , Alaska : Shishaldin , Indonesia : Dukono , Hawaii : Mauna Loa , Chile : Nevados of Chillan .
January 17 , 2020 .
Philippines , Taal :
ERUPTION UPDATE FOR TAAL VOLCANO ALERT LEVEL 4 (HAZARDOUS ERUPTION IMMINENT): 16 JANUARY 2020 05:00 PM
Taal Volcano's activity in the last eight (8) hours has been generally characterized by weak emission of steam-laden plumes 800 meters high from the Main Crater that drifted to the general southwest. A total of nine (9) discrete weak explosions were recorded by the Taal Volcano Network.
No additional fissures were mapped and reported. Existing ones are in the identified barangays of Lemery, Agoncillo, Talisay, and San Nicolas in Batangas Province as indicated in the January 15, 2020 5:00 PM update. Receding of Taal Lake water has been observed in Talisay, Laurel, Alitagtag and Lemery in Batangas Province.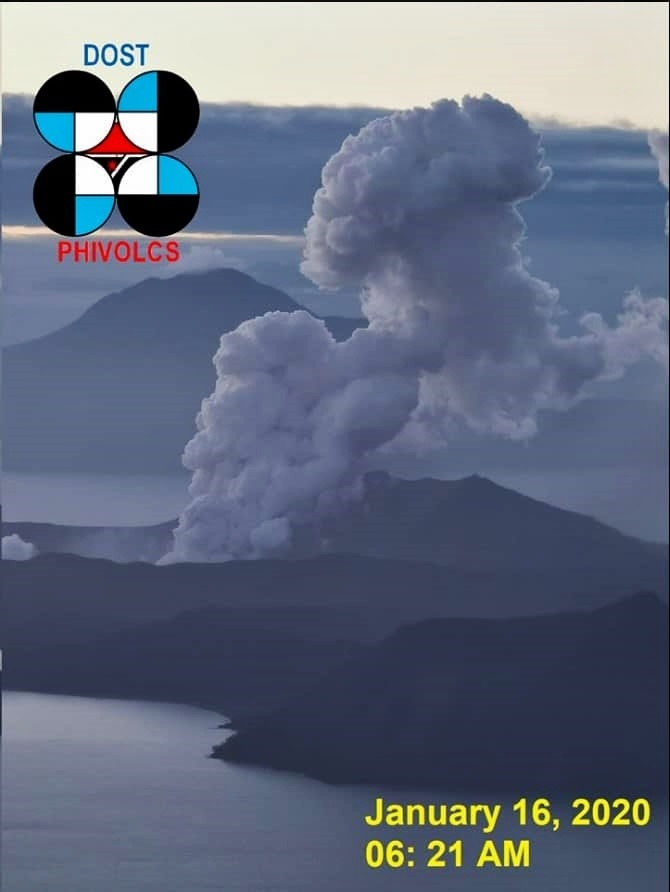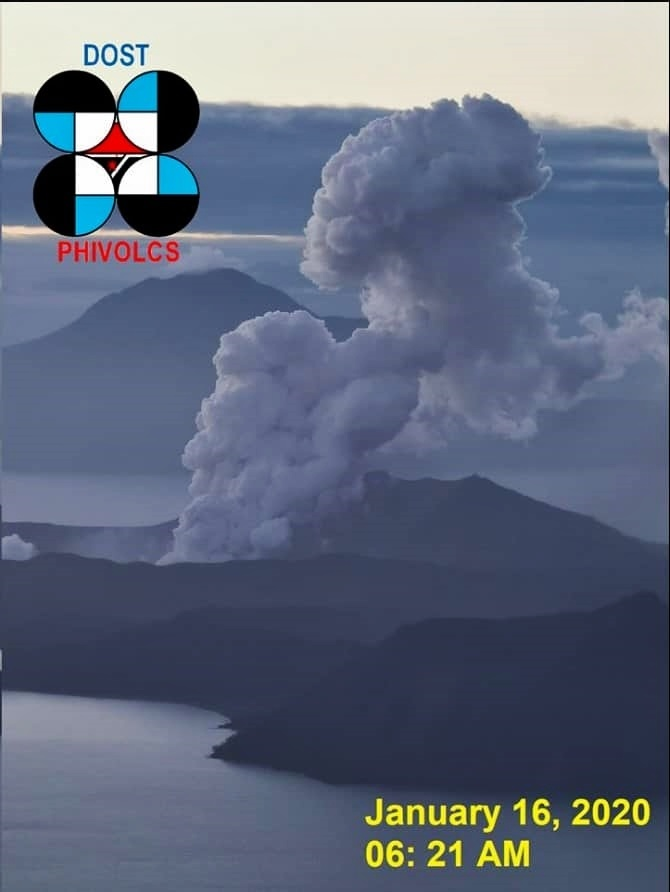 The Philippine Seismic Network plotted a total of five hundred ninety-five (595) volcanic earthquakes since 1:00 PM, January 12, 2020. One hundred seventy-six (176) of these were felt with intensities ranging from Intensity I to V. Since 5:00 AM to 3:00 PM today, there were thirty (30) volcanic earthquakes plotted, including one (1) earthquake which was felt at Intensity I. This signifies continuous magmatic intrusion beneath the Taal edifice, which may lead to further eruptive activity.
TAAL VOLCANO BULLETIN 17 January 2020 8:00 A.M.
Activity in the Main Crater in the past 24 hours has been characterized by steady steam emission and infrequent weak explosions that generated dark gray ash plumes 100 to 800 meters tall and dispersed ash southwest to west of the Main Crater.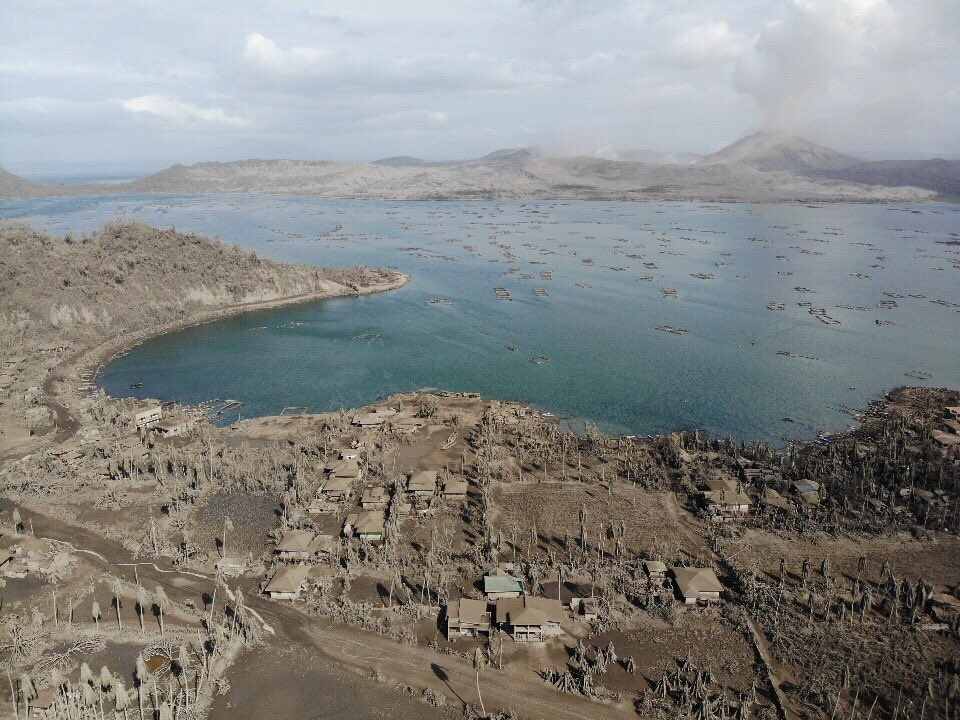 Taal – Agoncillo, east of Lake Taal, covered by the ashes of the eruption, 15.01.2020.
Existing fissures identified in barangays of Lemery, Agoncillo, Talisay, and San Nicolas in Batangas Province have been observed to widen by a few centimeters. A steaming fissure has been newly observed on the northern slopes of Taal Volcano Island. Receding of the shoreline has been observed around the whole of Taal Lake.
The Philippine Seismic Network plotted a total of six hundred thirty-four (634) volcanic earthquakes since 1:00 PM, January 12, 2020. One hundred seventy-four (174) of these registered at magnitudes M1.2 – M4.1 and were felt at Intensities I – V. Since 5:00 AM on January 16, 2020 until 5:00 AM today, there were sixty-five (65) volcanic earthquakes plotted, two (2) of these registered at magnitudes M1.3 -M3.1 and were both felt at Intensity I. The Taal Volcano Network recorded nine hundred forty-four (944) volcanic earthquakes including twenty-nine (29) low-frequency earthquakes. Such intense seismic activity likely signifies continuous magmatic intrusion beneath the Taal edifice, which may lead to further eruptive activity.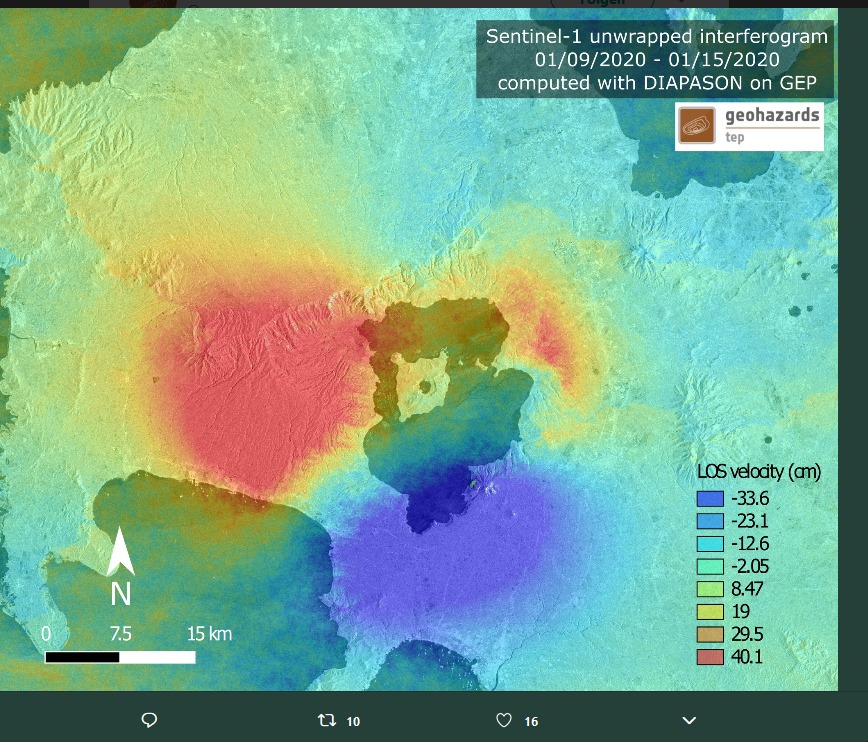 Sentinel 1 graphic showing the uplift and subsidence movements of the Taal volcano. Values are in centimeters.
Alert Level 4 still remains in effect over Taal Volcano. This means that hazardous explosive eruption is possible within hours to days. DOST-PHIVOLCS strongly reiterates total evacuation of Taal Volcano Island and high-risk areas as identified in the hazard maps within the 14-km radius from Taal Main Crater and along the Pansipit River Valley where fissuring has been observed. Residents around Taal Volcano are advised to guard against the effects of heavy and prolonged ashfall. Civil aviation authorities must advise pilots to avoid the airspace around Taal Volcano as airborne ash and ballistic fragments from the eruption column pose hazards to aircraft.
DOST-PHIVOLCS is continually monitoring the eruption and will update all stakeholders of further developments.
Source : Phivolcs.
Graphique : Sentinel 1 via Mike Schüler .
Photos : Phivolcs , Gaston Chino GMA news via Bernard Duyck
Alaska , Shishaldin :
54°45'19 » N 163°58'16 » W,
Summit Elevation 9373 ft (2857 m)
Current Volcano Alert Level: WATCH
Current Aviation Color Code: ORANGE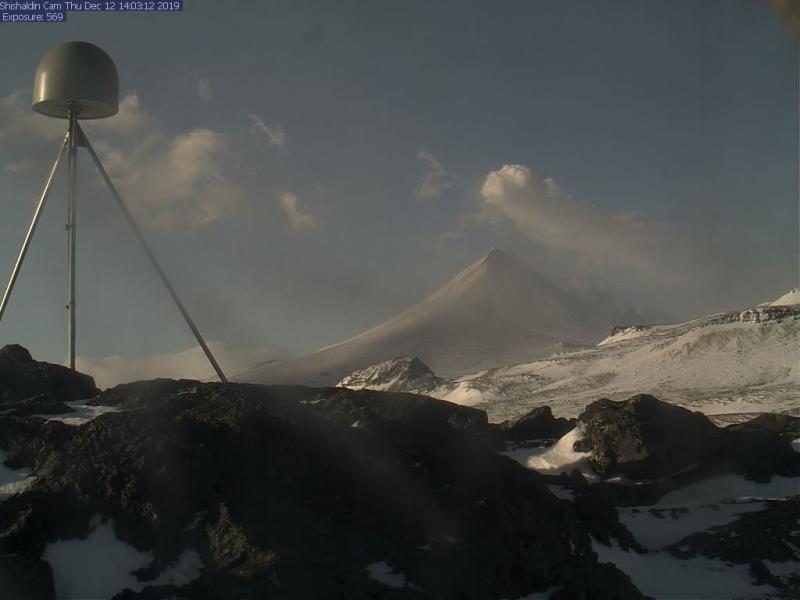 No significant eruptive activity occurred over the past day. Seismicity remains above background, and no activity was observed in satellite and webcam images. Although the present levels of seismicity and eruptive activity are reduced, it remains possible for unrest to escalate at any time and additional lava flows, lahars, and ash-producing eruptive events may occur.
Shishaldin is monitored by local seismic and infrasound sensors, satellite data, web cameras, a telemetered geodetic network, and distant infrasound and lightning networks.
Source : AVO.
Indonesia, Dukono :
VOLCANO OBSERVATORY NOTICE FOR AVIATION – VONA.
Issued: January 16 , 2020.
Volcano: Dukono (268010)
Current Aviation Colour Code: ORANGE
Previous Aviation Colour Code: orange
Source: Dukono Volcano Observatory
Notice Number: 2020DUK05
Volcano Location: N 01 deg 41 min 35 sec E 127 deg 53 min 38 sec
Area: North Maluku, Indonesia
Summit Elevation: 3933 FT (1229 M)
Volcanic Activity Summary:
Eruption with volcanic ash cloud at 23h45 UTC (08h45 local).
Volcanic Cloud Height:
Best estimate of ash-cloud top is around 5853 FT (1829 M) above sea level, may be higher than what can be observed clearly. Source of height data: ground observer.
Other Volcanic Cloud Information:
Ash-cloud moving to east.
Remarks:
Eruption and ash emission is continuing.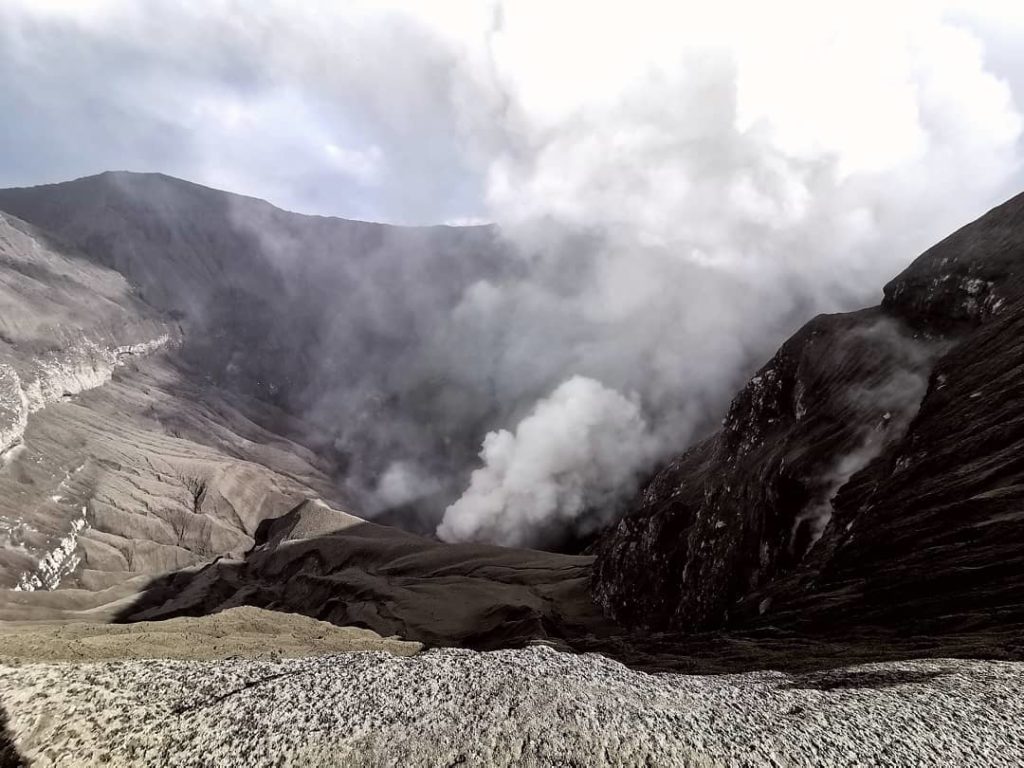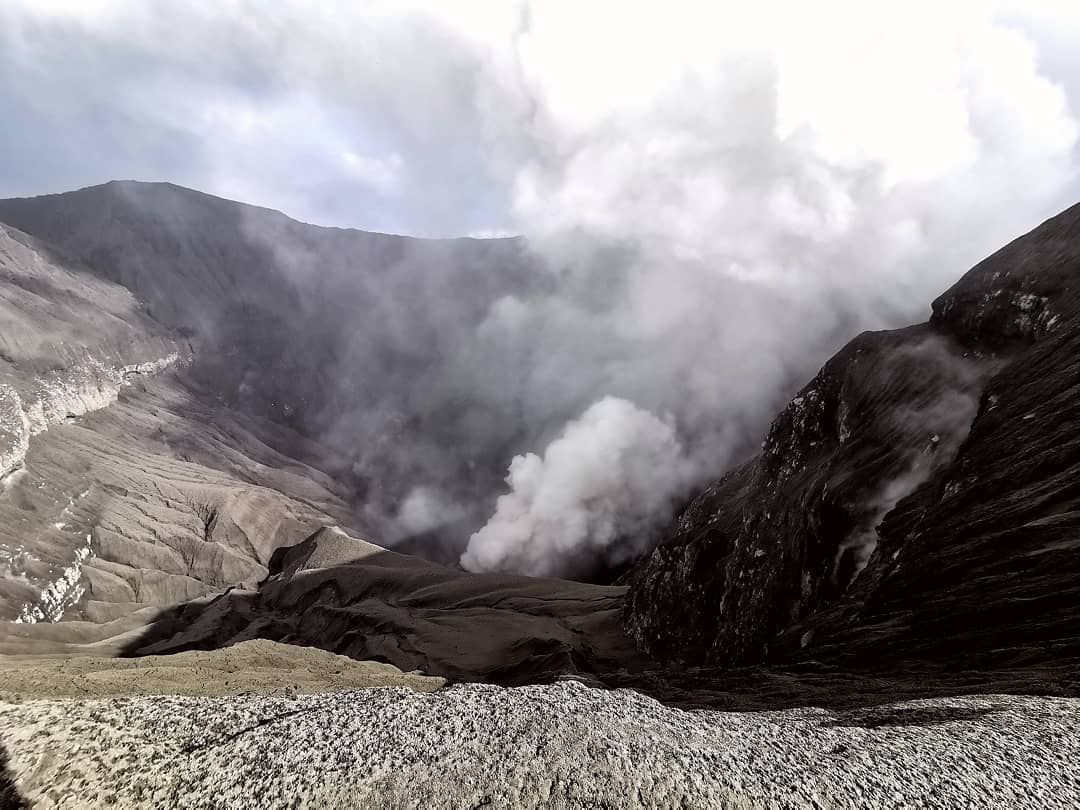 Level II activity level (WASPADA). G. Dukono (1 229 m above sea level) experiences a continuous eruption. The last eruption occurred on January 7, 2020 with the height of the eruption column not observed.
The volcano is clearly visible until it is covered with fog. The smoke from the crater is observed white / gray in color with a strong, thick intensity, about 200-400 meters above the summit. The weather is sunny to cloudy, the winds are weak to moderate in the East and the Southeast. The activity of the crater was observed in the morning and in the evening as the smoke moved towards the Southeast.
According to the seismographs of January 16, 2020, it was recorded:
2 distant tectonic earthquake.
Continuous tremor 1 time, amplitude 0.5 to 4 mm (dominant value of 1 mm)
Recommendation:
(1) The community around G. Dukono and visitors / tourists must not move, climb and approach the crater of Malupang Warirang within a radius of 2 km.
(2) Since volcanic ash eruptions occur periodically and the distribution of ash follows the wind direction and speed, so that the ash is not fixed, it is recommended that the community around G. Dukono always bring masks / nose covers and mouths to use when needed. in order to avoid the threat of volcanic ash in the respiratory system.
Source : Magma indonesie . PVMBG .
Photo : Rainwater Media via Sherine France.
Hawaii , Mauna Loa :
19°28'30 » N 155°36'29 » W,
Summit Elevation 13681 ft (4170 m)
Current Volcano Alert Level: ADVISORY
Current Aviation Color Code: YELLOW
Activity Summary:
Mauna Loa Volcano is not erupting. Rates of deformation and seismicity have not changed significantly over the past week and remain above long-term background levels.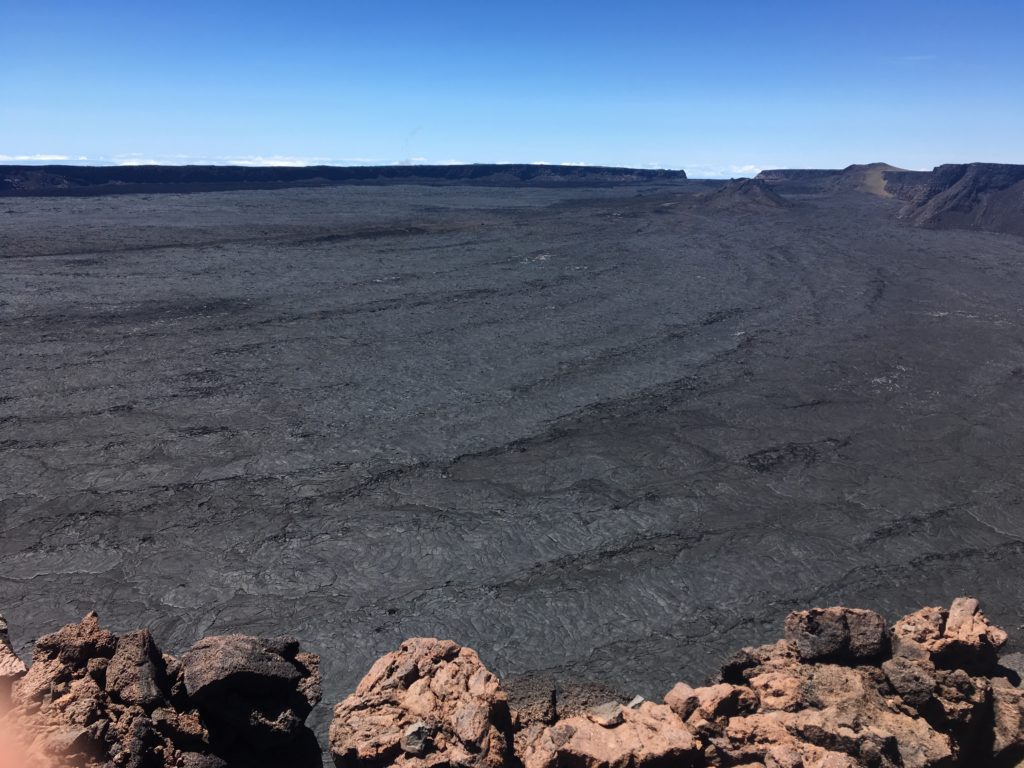 HVO staff visited the summit of Mauna Loa on foot to repair the webcam on April 24. The weather was perfectly clear and views of the caldera floor showed nothing unusual.
Observations:
During the past week, HVO seismometers recorded 52 small magnitude earthquakes beneath the upper elevations of the volcano. Most earthquakes occurred at shallow depths of less than 5 km (~3 miles) beneath the volcano.
Global Positioning System (GPS) and Interferometric Synthetic Aperture Radar (InSAR) measurements show continued slow summit inflation, consistent with magma supply to the volcano's shallow storage system.
Gas concentrations at the Sulphur Cone monitoring site on the Southwest Rift Zone remain stable. Fumarole temperatures as measured at both Sulphur Cone and the summit have not changed significantly.
Source : HVO .
Chile , Nevados of Chillan :
Volcanic Activity Report (RAV) Volcanological Observatory of the South Andes – Ovdas, Ñuble Region, January 16, 2020 4:00 p.m.
Evaluated period from January 15 (15:00 HL) to January 16 (15:00 HL).
Previous alert level: ORANGE
Current alert level: ORANGE
Seismic activity: Over the past 24 hours, the instrumental monitoring network of the Nevados de Chillán volcanic complex has recorded volcano-tectonic (VT) and long period (LP) type seismicity, releasing seismic energy at low levels.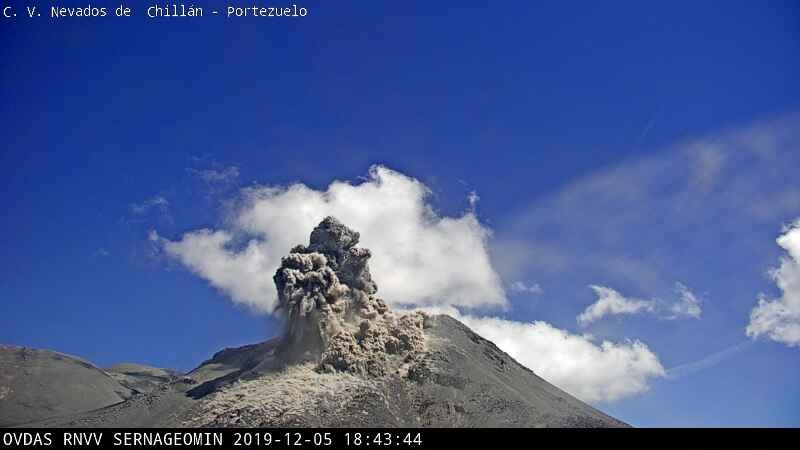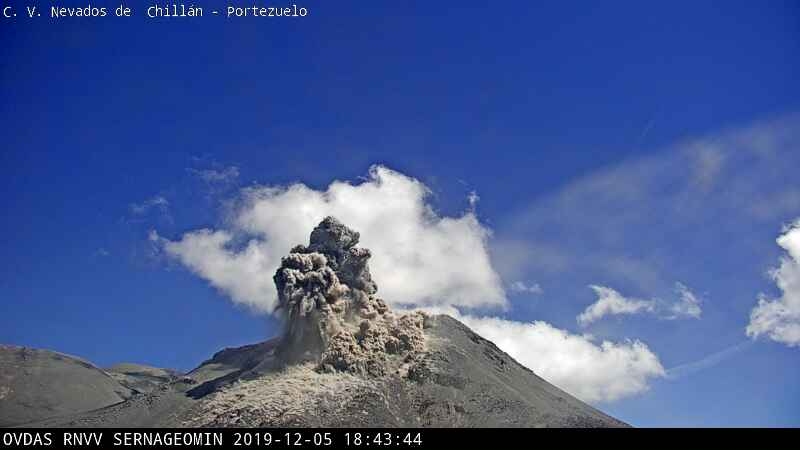 Observations: The VT earthquake with the highest energy was located 3.7 km south-east (SE) of the active crater, at a depth of 3.0 km.
Passive gas outflow is recorded in some areas of the active crater.
Other comments:
The MIROVA group has not reported any thermal anomalies associated with the volcanic complex.
The infrasound sensors did not record signals associated with the explosions.
The network of GNSS stations which allows to measure the deformation of the volcanic complex of Nevados de Chillán, continues to register an inflationary process, evidenced by the lengthening of the control lines which cross the active crater and the elevation of the 5 monitoring stations . The strongest vertical climb was recorded at the station located 1.5 km west of the active crater, the maximum value of which reached approximately 12 cm in the past 30 days, at a rate of 1.87 ± 0.28 cm / month. Control line elongation rates show a maximum value of 1.0 ± 0.06 cm / month for the past 30 days. The maximum elongation was approximately 7.0 cm.
Source : Sernageomin .
Photo : OVDAS ( archive 2019)