August 24, 2019. EN. Alaska : Shishaldin , Mexico : Colima , Colombia : Nevado del Huila , Indonesia : Anak Krakatau , Italy : Stromboli .
August 24 , 2019 .
Alaska , Shishaldin :
54°45'19 » N 163°58'16 » W,
Summit Elevation 9373 ft (2857 m)
Current Volcano Alert Level: WATCH
Current Aviation Color Code: ORANGE
Low-level eruption continues at Shishaldin. Seismicity remains elevated with steady tremor recorded continuously throughout the week. Satellite data have shown elevated surface temperatures at the summit crater most days over this past week. A spatter cone has grown in and partially filled the summit crater. Last Saturday, a video taken by NOAA during an overflight showed repetitive minor explosive activity within the summit crater, typical of a low-level eruption. It remains possible that activity could increase rapidly and with little warning.
Shishaldin is monitored by local seismic and infrasound sensors, satellite data, a web camera, a telemetered geodetic network, and distant infrasound and lightning networks.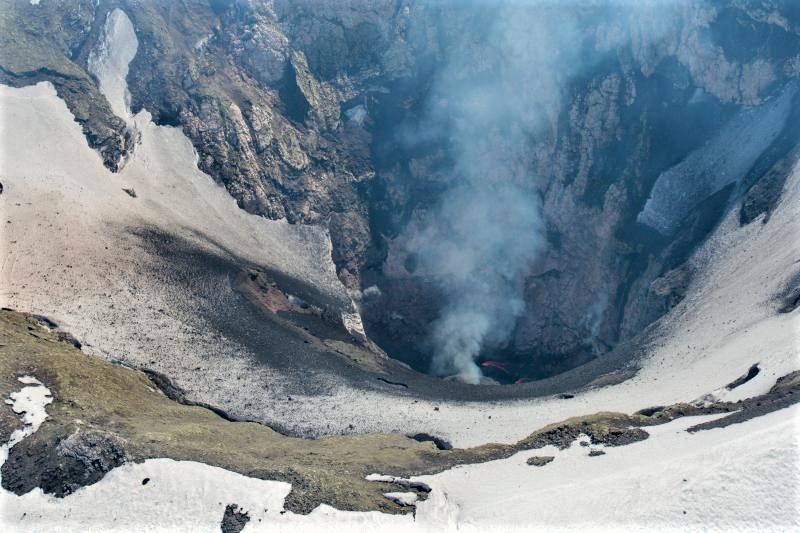 Lava and a small spatter cone inside the summit crater at Shishaldin. Photo taken during a helicopter overflight by Alaska Volcano Observatory field teams on July 23, 2019.
Shishaldin volcano, located near the center of Unimak Island in the eastern Aleutian Islands, is a spectacular symmetric cone with a base diameter of approximately 16 km (10 mi). A 200-m-wide (660 ft) funnel-shaped summit crater typically emits a steam plume and occasional small amounts of ash. Shishaldin is one of the most active volcanoes in the Aleutian volcanic arc, with at least 54 episodes of unrest including over 24 confirmed eruptions since 1775. Most eruptions are relatively small, although the April-May 1999 event generated an ash column that reached 45,000 ft above sea level.
Source : AVO.
Photo : Ketner, Dane.
Video : AVO.
Mexico , Colima :
Weekly technical bulletin of the activity of the volcano of Colima
Date: August 23, 2019 Bulletin No. 135
Seismic activity:
During the past week, 8 high frequency events (HF), 1 long period type event (LP), 15 landslides, 1 explosion and 8.0 min of low amplitude tremort were automatically recorded. There were also 2 small lahars in the Montegrande ravine.
Visual observations:
Intermittent steam and gas emissions mainly from the northeast crater continued to be recorded over the period). When clouds allowed, the fixed thermal camera located to the south of the volcano detected thermal anomalies related to fumarole activity produced during the week.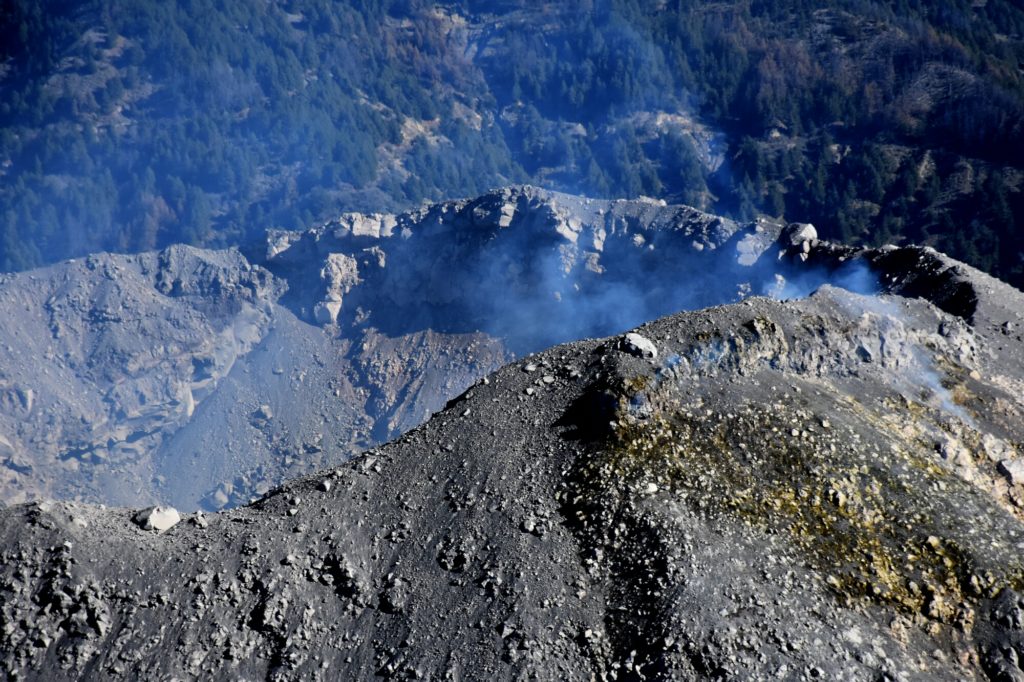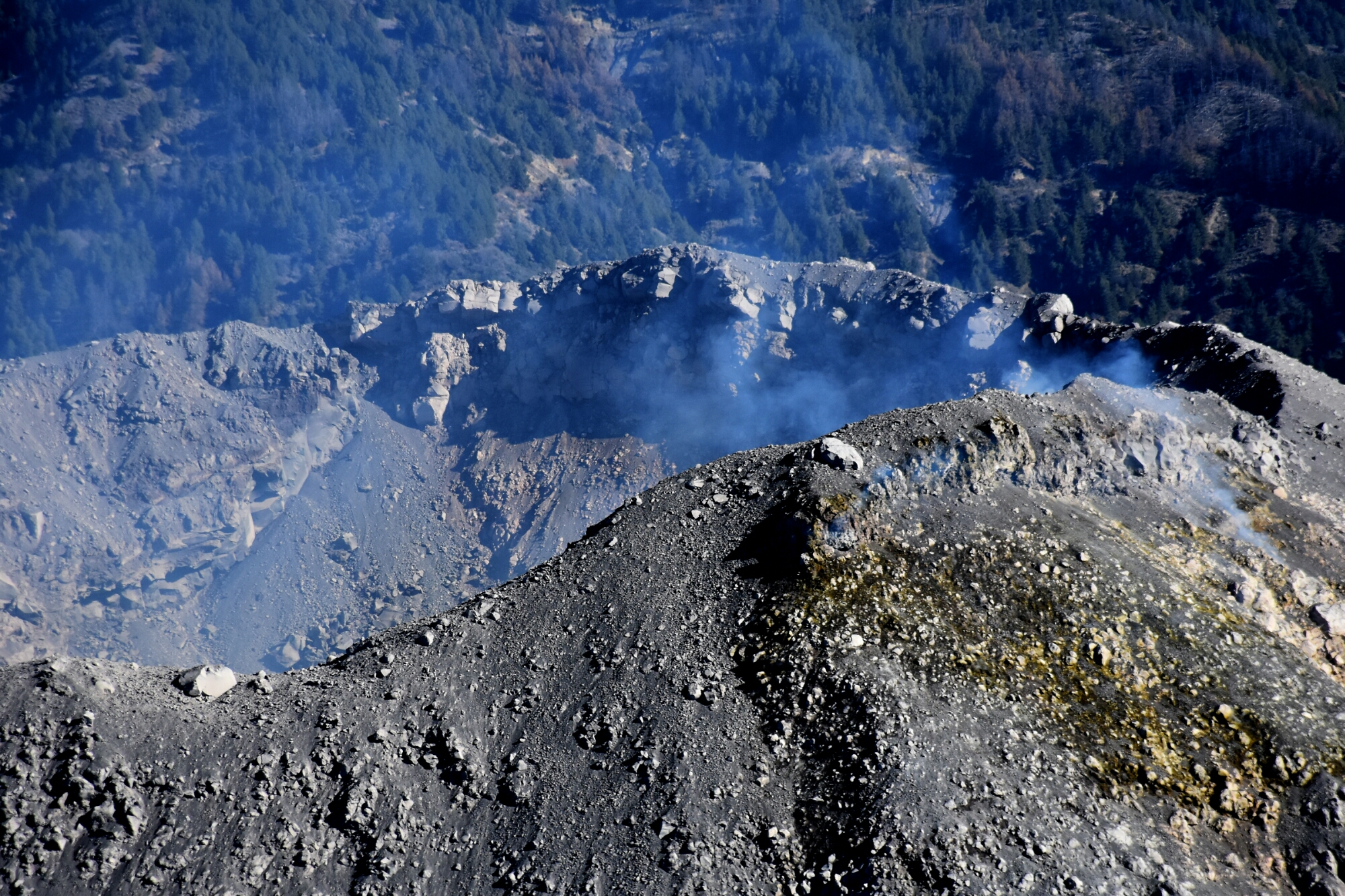 Geochemistry:
No SO2 flow measurements were performed during the last week.
Remote perception:
No thermal anomalies detected by the MIROVA satellite system were observed during the last week.
Diagnostic:
The volcano maintains an explosive activity of low intensity. The occurrence of these events indicates that the gas probably associated with the moving magma has reached surface levels. This activity can continue and increase in intensity over the following days or weeks. The staff in charge of monitoring the volcano monitors any changes and developments in the activity.
Source : UCOL.
Photo : Protección Civil Jalisco Uepcbj
Colombia , Nevado del Huila :
Weekly bulletin of the activity of the Nevado del Huila volcano.
The level of activity of the volcano continues at: Yellow Level of activity or (III): changes in the behavior of volcanic activity.
According to the analysis and evaluation of the information obtained through the surveillance network of the Nevado del Huila volcano, from 13 to 19 August 2019, the COLOMBIAN GEOLOGICAL SERVICE – Volcanological and Seismological observatory of Popayán informs that:

During the evaluated period, 143 seismic events were recorded, of which 82 were related to rock fracturing processes (type VT) and 61 to fluid dynamics in volcanic conduits. Of these, 62 have been cataloged as long period type events (LP type).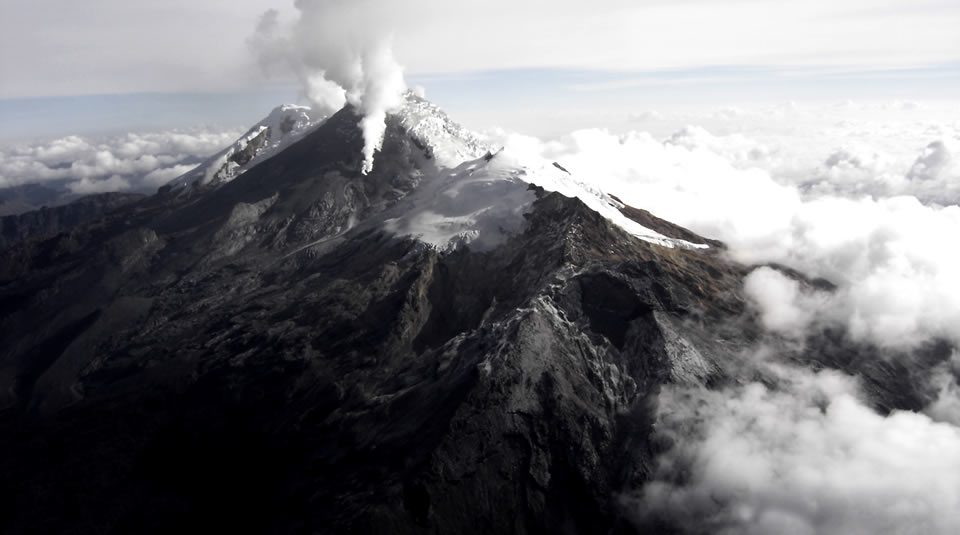 
The images obtained during the week by the webcams of Caloto, Tafxnú, Maravillas and La Palma showed a weak degassing of the volcanic system. 
Sensors for monitoring soil deformation, magnetic fields and infrasound waves have not recorded any changes associated with changes in volcanic activity.  On 16 August, a mobile measure of SO2 emissions was carried out. A column was detected between the cities of Tunía and Mondomo (Cauca Department). The calculated flow was 1289 t / day, with a dispersion towards the north-west side of the Nevado del Huila volcano.
Therefore, it is concluded that the volcano continued to exhibit stable behavior during the evaluated period. The Colombian geological service remains attentive to the evolution of the volcanic phenomenon and will inform in due time any changes that may occur.
Source : SGC
Photo : Parque Nacional.
Indonesia , Anak Krakatau:
Level of activity at level II (Waspada), since March 25, 2019. G. Anak Krakatau (157 m altitude) has experienced an increase in its volcanic activity since June 18, 2018, which was followed by a series of eruptions from September 2018 to February 2019. In July 2019, eruptions still occur but the intensity decreases. Between yesterday and this morning, the volcano was covered by fog. The smoke from the crater is not observed.
The seismographs of 23 August 2019 recorded:
1 earthquake of eruption
Continuous tremor with a dominant amplitude of 26 mm
Recommendation: People / tourists are not allowed to approach the crater within 2 km.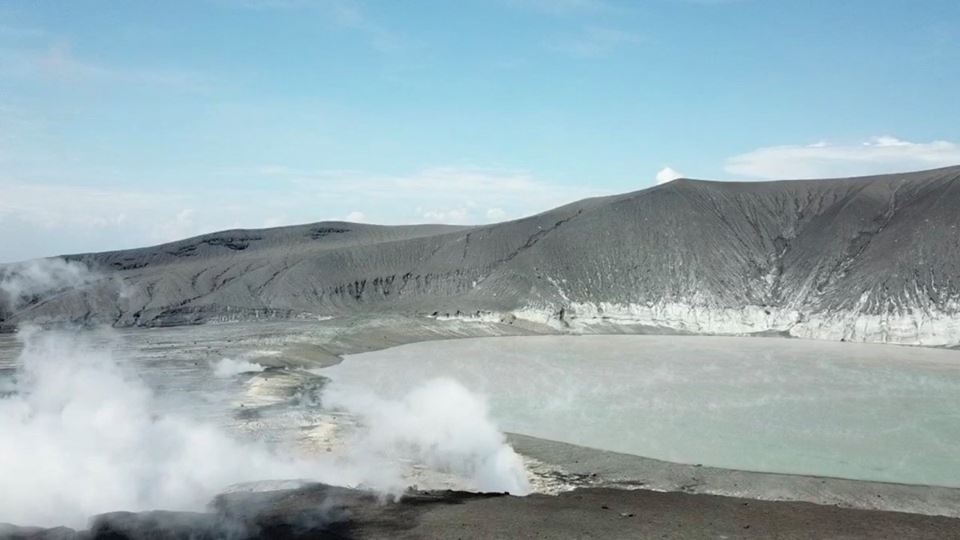 VOLCANO OBSERVATORY NOTICE FOR AVIATION – VONA.
Issued: August 23 ,2019
Volcano: Anak Krakatau (262000)
Current Aviation Colour Code: ORANGE
Previous Aviation Colour Code: orange
Source: Anak Krakatau Volcano Observatory
Notice Number: 2019KRA151
Volcano Location: S 06 deg 06 min 07 sec E 105 deg 25 min 23 sec
Area: Lampung, Indonesia
Summit Elevation: 502 FT (157 M)
Volcanic Activity Summary:
Eruption with ash clouds at 19:22 UTC (02:22 local time). The eruption lasted for 160 seconds.
Volcanic Cloud Height:
Ash-cloud is not visible
Other Volcanic Cloud Information:
Anak Krakatau volcano is not clear.
Remarks:
Eruption recorded on seismogram with maximum amplitude 41 mm and duration 160 second.
Source : VMBG , Magma Indonésie.
Photo : James reynolds via wulkanyswiata.blogspot.com.
Italy , Stromboli :
ZONE OF THE CRATERS OF STROMBOLI SUMMIT, August 23, 2019
Strombolian activity on the terrace of the Stromboli crater has slightly decreased compared to the last days. In this area, many small eruptive openings open, as shown in the photo taken this morning during surveillance activities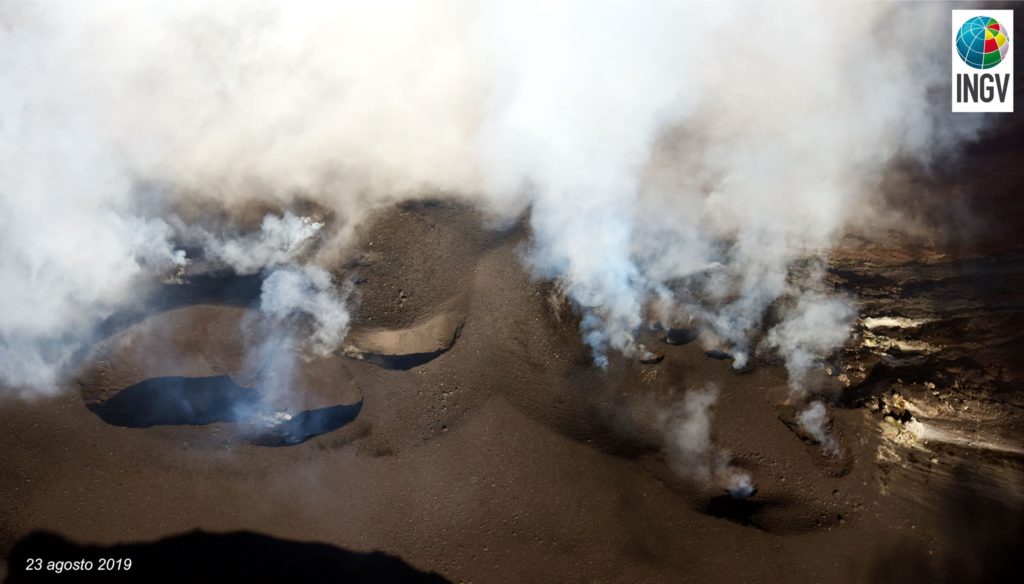 On this impressive view of the crater terrace of Stromboli from the helicopter of the coastguard of Catania, in flight this morning of 23 August 2019 with the volcanologists Stefano Branca and Luigi Lodato of the INGV-Osservatorio Etneo, we note the numerous active mouths in the two main areas of the crater, the Center-Sud zone on the left and the North zone on the right. After the strong paroxysmal explosion of July 3, 2019, Stromboli remained in a state of intense activity, both explosive and effusive, but in recent days, eruptive activity has decreased slightly.
Sources: Ingv Vulcani. Boris Behncke.