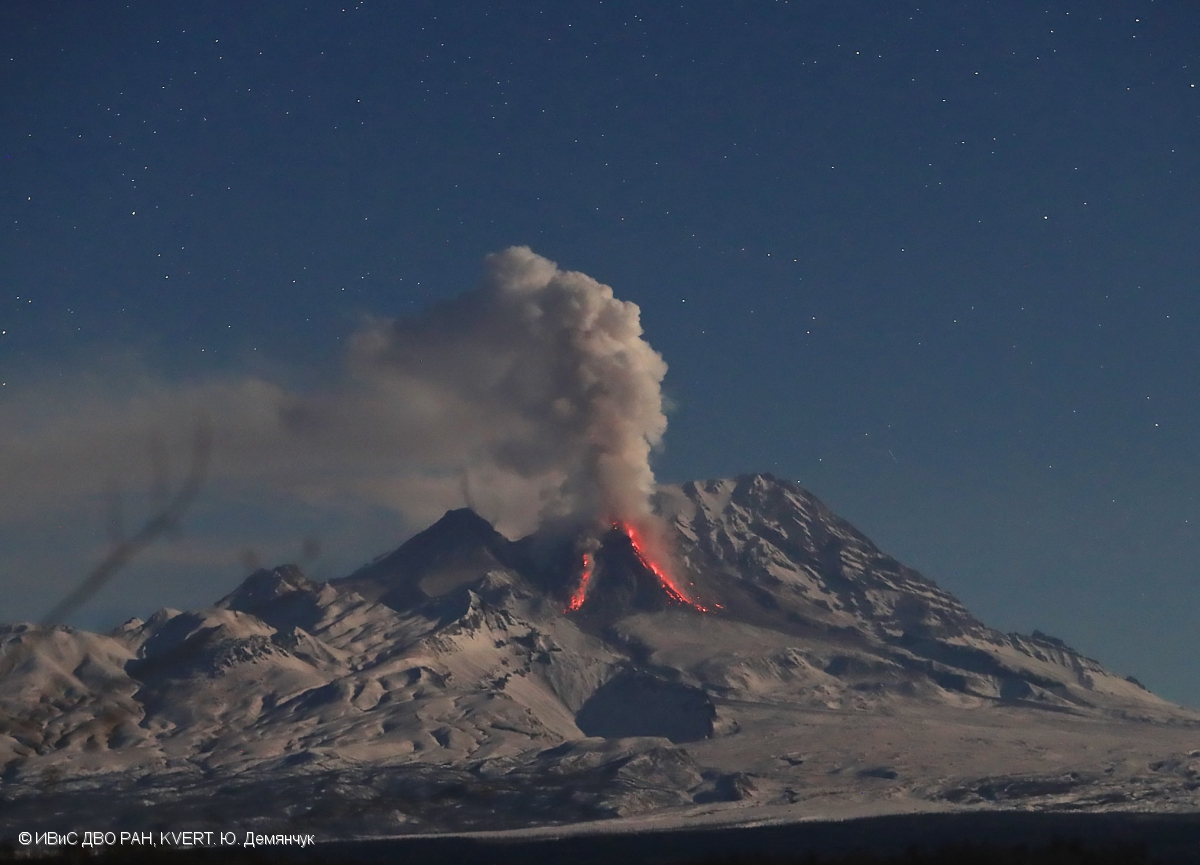 April 13 , 2019 . EN . Indonesia : Merapi , Kamchatka : Sheveluch , Philippines : Taal , Guadeloupe : Soufriere , Mexico : Popocatepetl .
April 13 , 2019 .
Indonesia , Merapi :
Mount Merapi Activity Report, April 5-11, 2019.
I. RESULTS OF OBSERVATION
Visual
The weather around Mount Merapi is generally sunny in the morning while in the afternoon, until the night, the weather is cloudy and foggy. Thin to thick white smoke with low pressure and a maximum height of 200 m was observed from the Merapi observation post at Babadan on April 5, 2019 at 07:00.
The morphological analysis of the crater area based on photographs of the Southeast sector revealed no significant change. Annex 1.a presents the morphological analysis of the crater through a photo taken from 10 April to 3 April 2019 at the Kalitengah Lor station. The volume of the lava dome is based on an aerial photography analysis with a drone made on April 9, 2019 with 466,000 m3. Since January 2019, the volume of the lava dome has been relatively constant due to the fact that most magma extrusions collapse directly into the upper parts of Kali Gendol as hot cloud avalanches. Annex 1.b presents the topographic image of the crater from the analysis of the drone photo and the cross-section of the north-southwestern lava dome.
In one week, there were 5 times more avalanche clouds with a maximum slip distance of 1100 m leading to the superior part of Kali Gendol.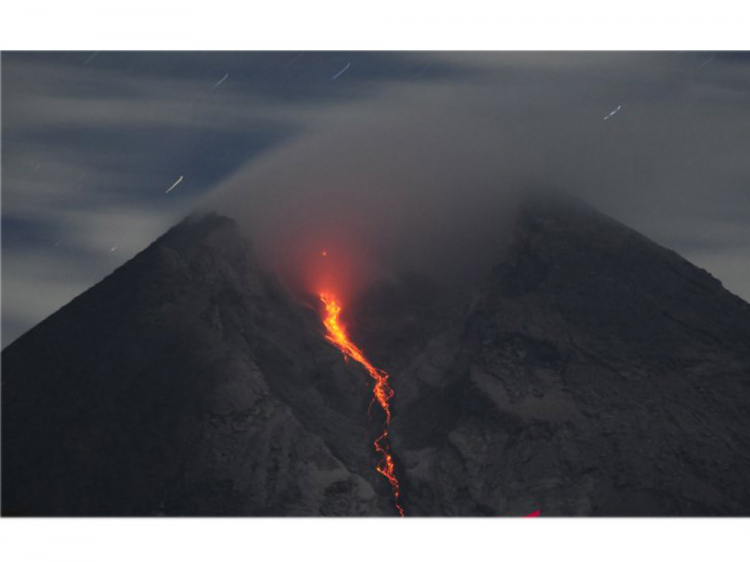 Seismicity:
In this week, the seismicity of Mount Merapi has been recorded:
5 earthquakes of hot clouds (AP),
18 emission earthquakes (DG),
1 shallow volcanic earthquake (VTB),
19 multiple phase events (MPs),
159 avalanche earthquake (RF),
5 low frequency earthquake (FL)
13 tectonic earthquakes (TT).
The intensity of seismicity this week has decreased compared to last week.
Deformation:
The deformation of Mount Merapi, monitored by EDM and GPS this week, showed no significant change.
Rain and lahars:
This week, rain fell around Mount Merapi with a rainfall intensity of 29 mm / hour for 180 minutes, measured at the observation post of the Babadan Merapi on April 5, 2019. No cases of lahars were reported. or additional flow in rivers originating in Merapi.
II. CONCLUSION
Based on the results of the visual and instrumental observations, it was concluded that:
1. The lava dome is currently in a stable state with a relatively low growth rate.
2. The volcanic activity of Mount Merapi is still quite high and is at the activity level « WASPADA ».
Source : BPPTKG.
Photo : Antara Foto/ Aloysius Jarot Nugroho , 30/1/2019 .
Kamchatka , Sheveluch :
VOLCANO OBSERVATORY NOTICE FOR AVIATION (VONA).
Issued: April 13 , 2019
Volcano:Sheveluch (CAVW #300270)
Current aviation colour code:ORANGE
Previous aviation colour code:orange
Source:KVERT
Notice Number:2019-78
Volcano Location:N 56 deg 38 min E 161 deg 18 min
Area:Kamchatka, Russia
Summit Elevation:10768.24 ft (3283 m), the dome elevation ~8200 ft (2500 m)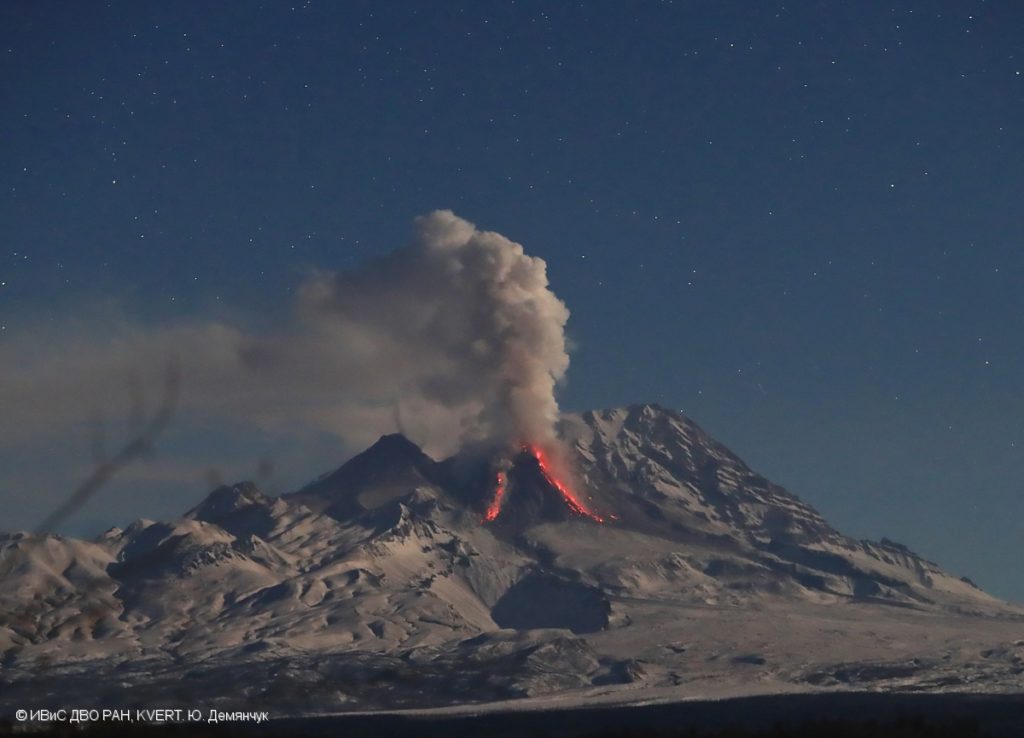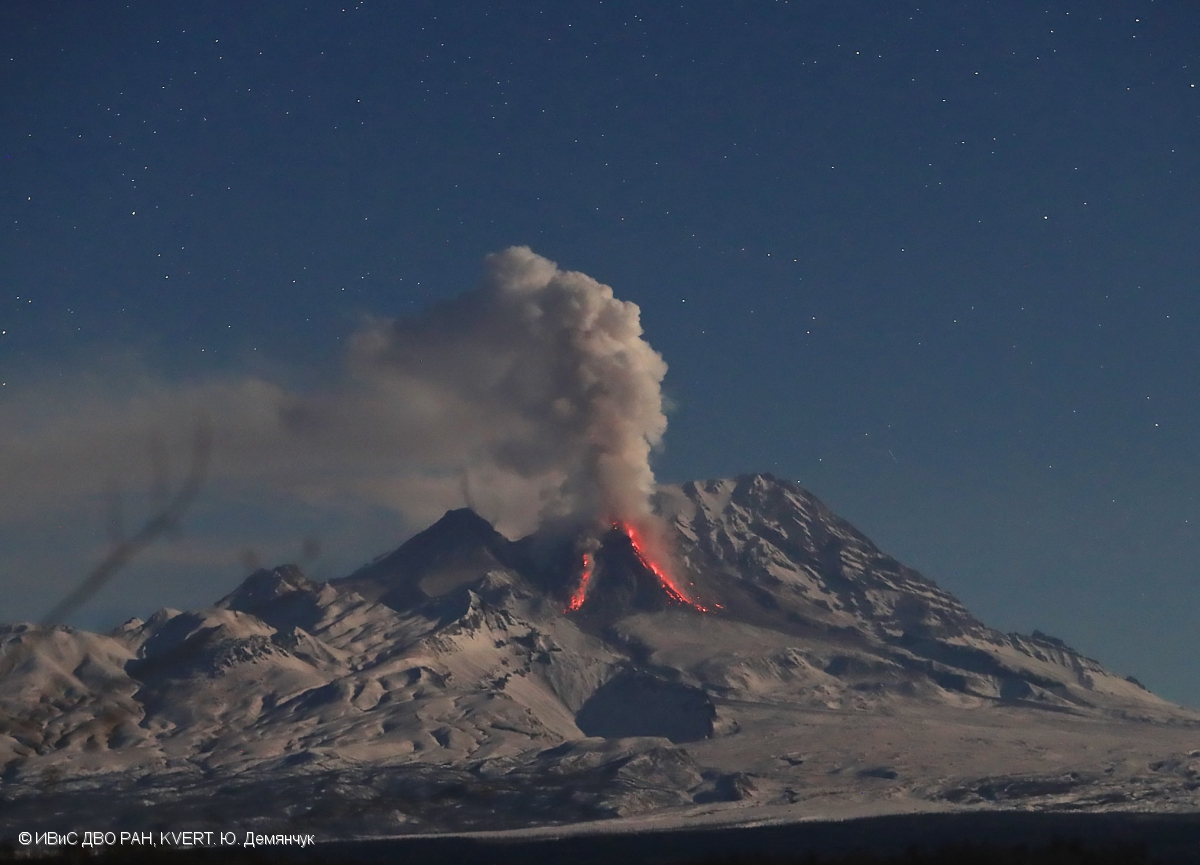 A growth of the lava dome continues (a viscous lava blocks extrude out on the northern part of it), a strong fumarolic activity and an incandescence of the dome blocks and hot avalanches accompanies this process.
Volcanic Activity Summary:
According to video and satellite data, a gas-steam plume with some amount of ash continues to drift to the east from the volcano.
Explosive-extrusive eruption of the volcano continues. Ash explosions up to 32,800-49,200 ft (10-15 km) a.s.l. could occur at any time. Ongoing activity could affect international and low-flying aircraft.
Volcanic cloud height:
11480 ft (3500 m) AMSL Time and method of ash plume/cloud height determination: 20190413/0137Z – Video data
Other volcanic cloud information:
Distance of ash plume/cloud of the volcano: 43 mi (70 km)
Direction of drift of ash plume/cloud of the volcano: ESE / azimuth 110 deg
Time and method of ash plume/cloud determination: 20190413/0023Z – MODIS TERRA (31m32).
Source : Kvert
Photo : Yu. Demyanchuk. IVS FEB RAS, KVERT.
Philippines , Taal :
Seismicity continues on the Taal:
TAAL VOLCANO BULLETIN 13 April 2019 8:00 A.M.
Taal Volcano's seismic monitoring network recorded five (5) volcanic earthquakes during the past 24 hours. Field measurements on 11 April 2019 at the eastern sector of the Main Crater Lake yielded an increase in water temperature from 31.7°C to 31.9°C, a decrease in water level from 0.41 meter to 0.31 meter and increase in acidity from pH 2.67 to pH 2.95. Ground deformation measurements through precise leveling surveys from March 18 to 27, 2019 indicated slight inflation of the edifice consistent with recent results from continuous GPS data.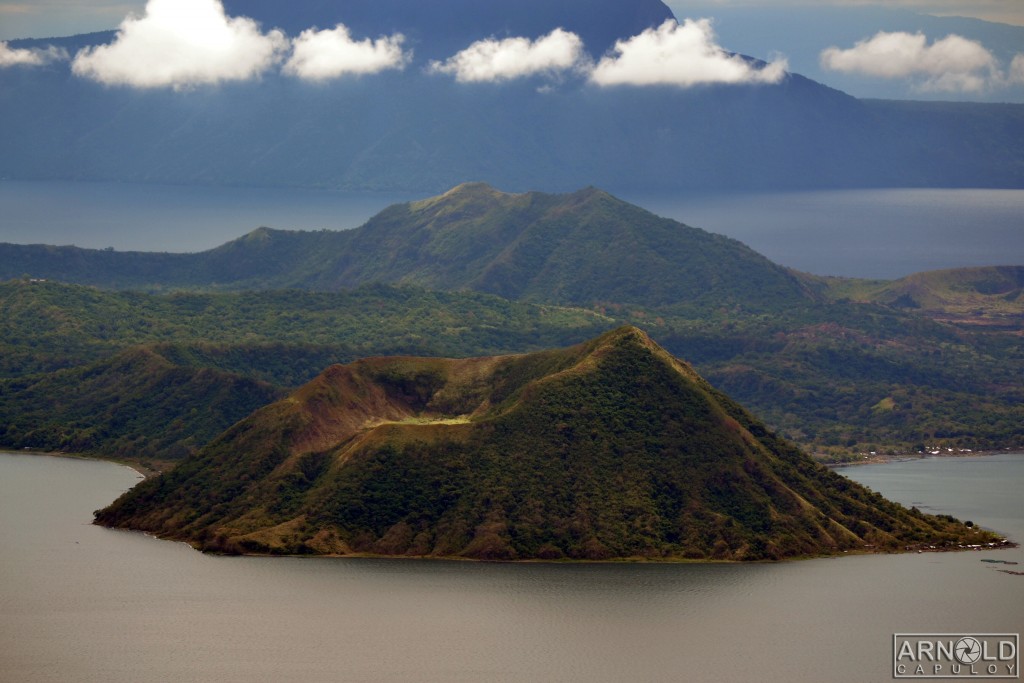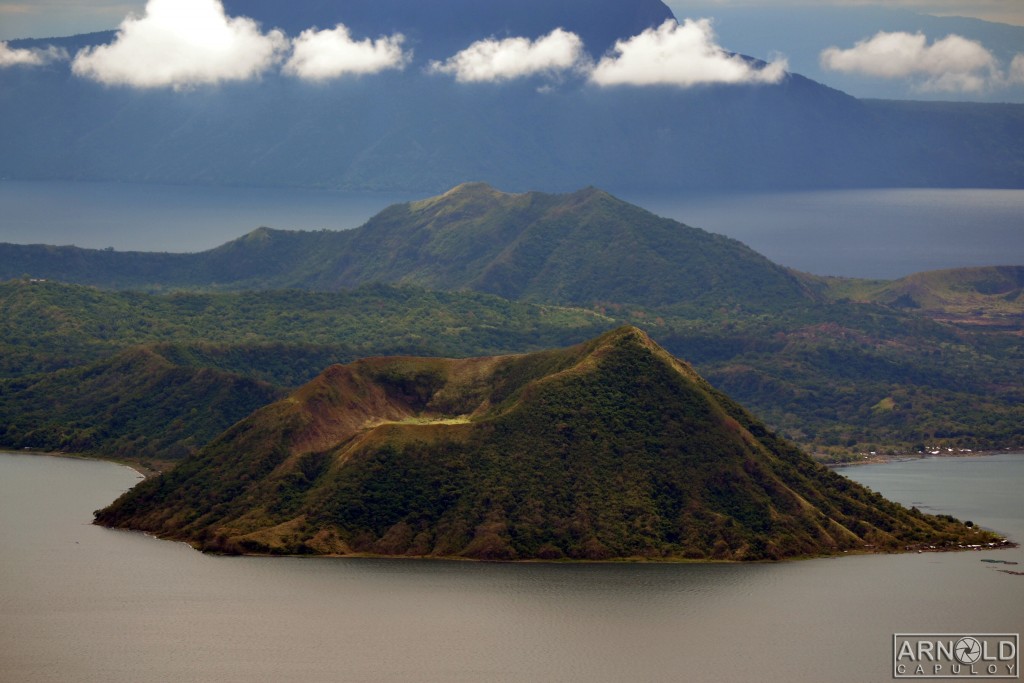 Alert Level 1 remains in effect over Taal Volcano. This means that hazardous eruption is not imminent. The public, however, is reminded that the Main Crater should be strictly off-limits because sudden steam explosions may occur and high concentrations of toxic gases may accumulate. The northern portion of the Main Crater rim, in the vicinity of Daang Kastila Trail, may also become hazardous when steam emission along existing fissures suddenly increases. Furthermore, the public is also reminded that the entire Volcano Island is a Permanent Danger Zone (PDZ), and permanent settlement in the island is strongly not recommended.
Source : Phivolcs
Photo : A. Capuloy.
La Guadeloupe , La Soufrière :
Sequence of earthquakes in the Soufriere area of Guadeloupe – Basse Terre.
The sequence of volcanic earthquakes that began in the La Soufrière volcano area on Friday, April 5, 2019 at 22:53 local time (Saturday, April 6, 2019 at 2:53, UTC time *) ended on Wednesday, April 10 at 11:15 pm ( time universal time *, TU). During this sequence 258 earthquakes were recorded.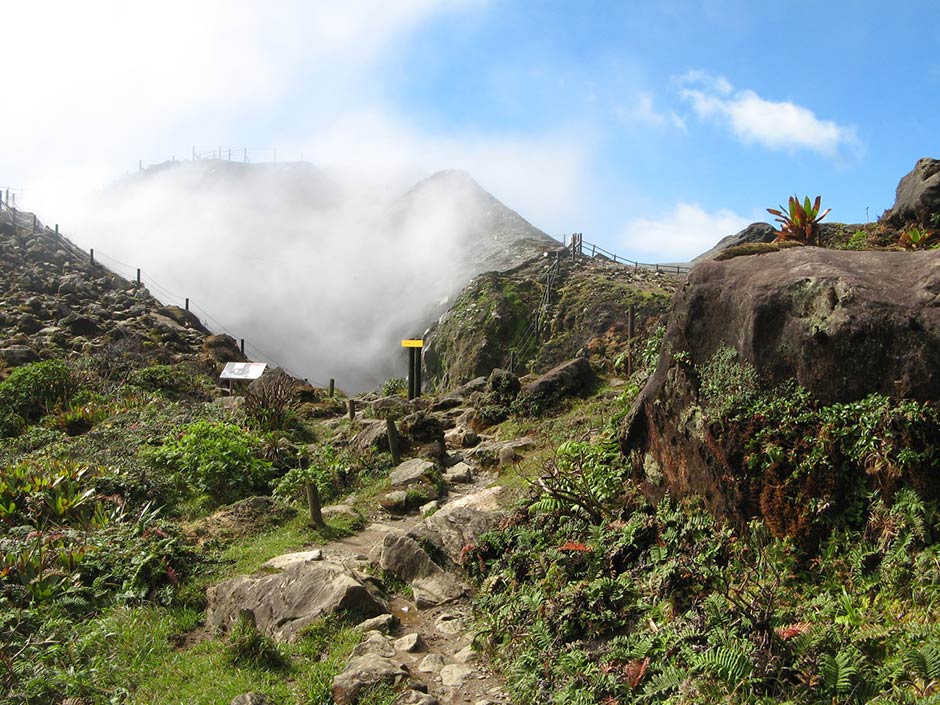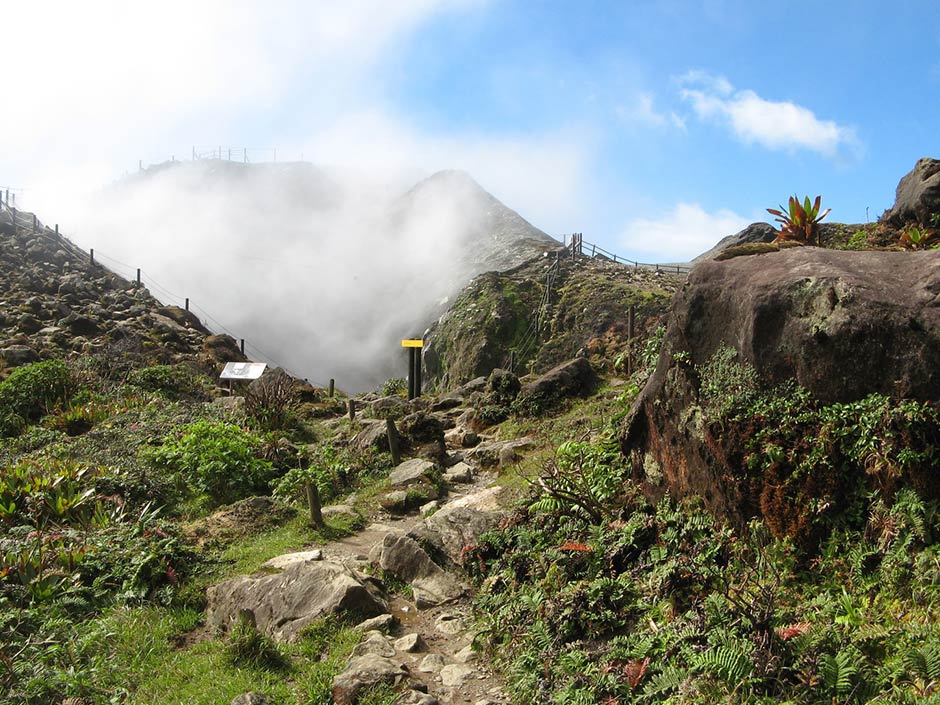 The earthquakes were of very small magnitude (M <1). The events are located at a depth of <2.5 km under the summit of the dome of La Soufrière. No earthquakes were reported felt by the population.
The alert level remains: yellow, vigilance.
Source : Direction de l'OVSG-IPGP
Photo : pp.aircaraibes.com
Mexico , Popocatepetl :
April 12, 11:00 am (April 12, 4:00 pm GMT)
In the last 24 hours, according to the monitoring systems of the Popocatépetl volcano, 16 exhalations have been identified, some of which accompanied by volcanic gases and light amounts of ash.
In addition, 211 minutes of low amplitude tremor and three volcano-tectonic earthquakes were recorded yesterday at 20:55, 20:56 and 21:10, with a calculated magnitude of 2.4, 1.6 and 2.1, respectively.
During the morning and at the time of this report, there is a slight emission of volcanic gases in the north-east direction.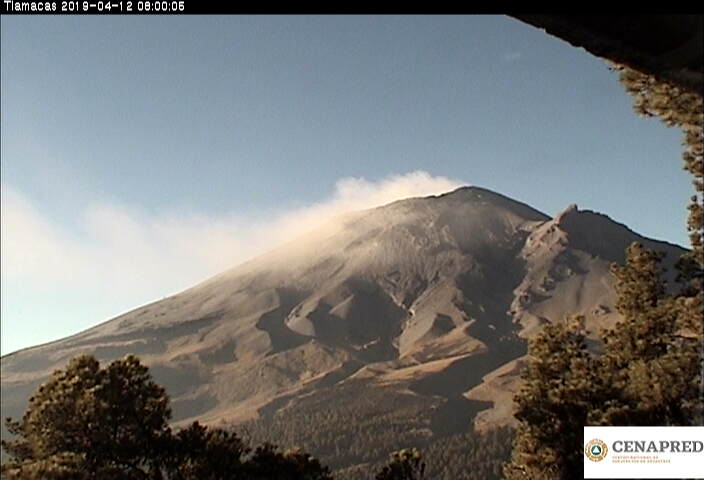 On April 8, with the support of the Federal Police (PF), experts from the National Center for Disaster Reduction (CENAPRED) and the Institute of Geophysics of the National Autonomous University of Mexico (UNAM), a reconnaissance flight was performed to evaluate the conditions of the crater of Popocatepetl.
During the overflight, it was not possible to corroborate or rule out the presence of a new lava dome due to intense cloudiness, in addition to high vapor and gas emissions in the crater area . However, the monitoring of the volcano Popocatépetl is carried out continuously over 24 hours . Any change of activity will be reported quickly.
Source : Cenapred .