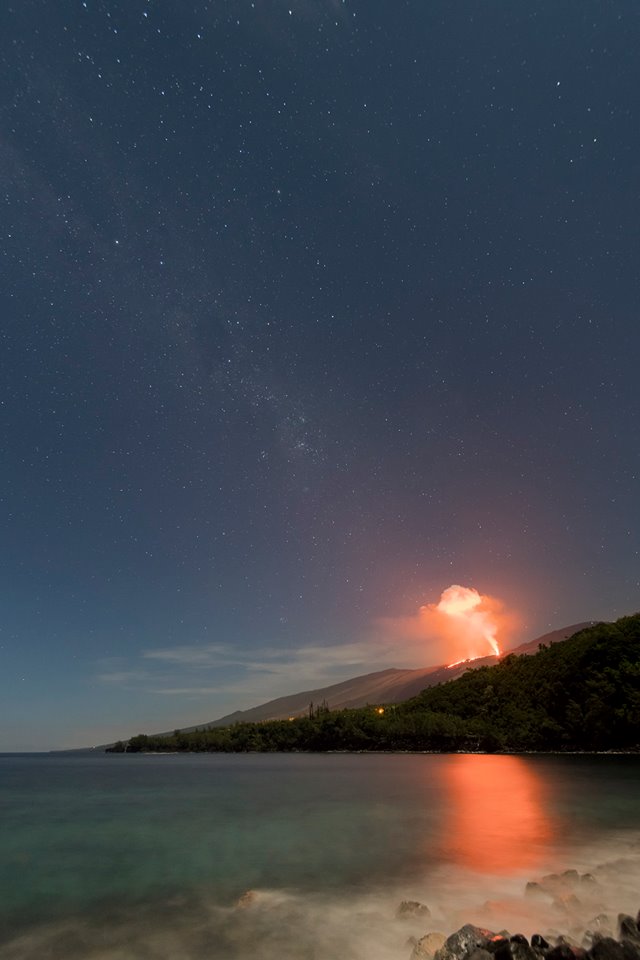 February 25 , 2019. EN. La Réunion : Piton de la Fournaise , Indonesia : Merapi , Kamchatka : Karymsky , Philippines : Mayon .
February 25 , 2019.
La Réunion , Piton de la Fournaise :
Activity Bulletin from Sunday, February 24, 2019 to 14:30 (local time).
The eruptive activity that resumed on February 19, 2019 at Piton de la Fournaise around 7:10 pm local time continues. Despite some fluctuations, the intensity of the eruptive tremor (indicator of the intensity of the eruption) remains relatively constant (Figure 1)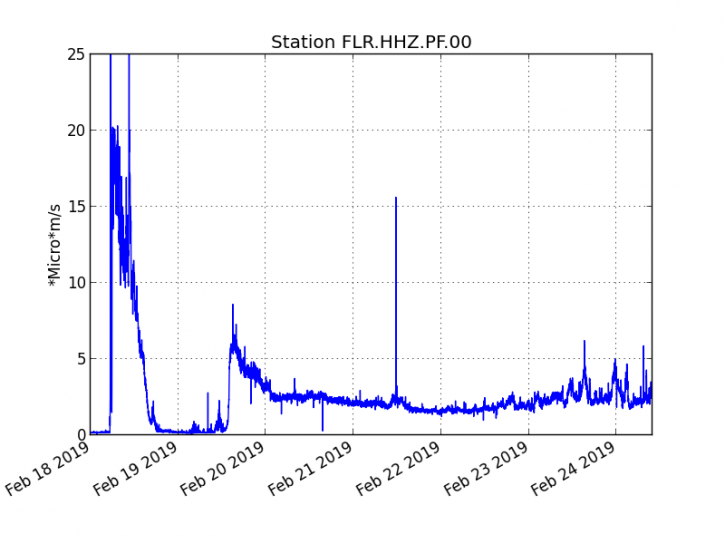 Figure 1: Evolution of the RSAM (indicator of the volcanic tremor and the intensity of the eruption) between 09:48 (05.48 UTC) February 18 and 14.00 (10:00 UTC) February 24 on the seismic station of FLR. (© OVPF / IPGP)
– Over the last 36 hours, 10 superficial superficial volcano-tectonic earthquakes (above sea level) have been recorded.
– After a deflation of the building related to the transfer of magma that occurred on 18/02/2019, the deformations of the summit zone do not show any particular signals.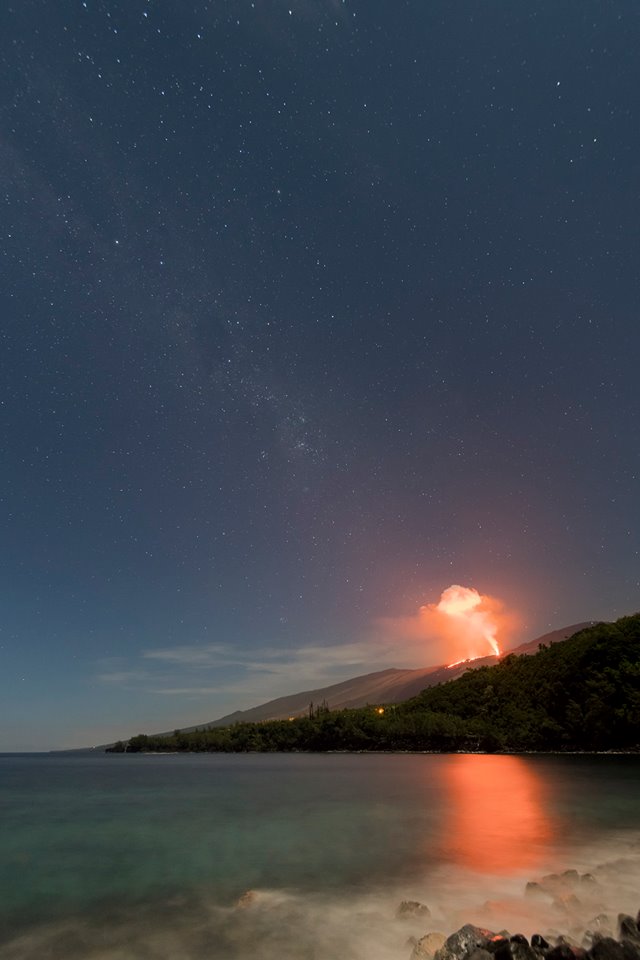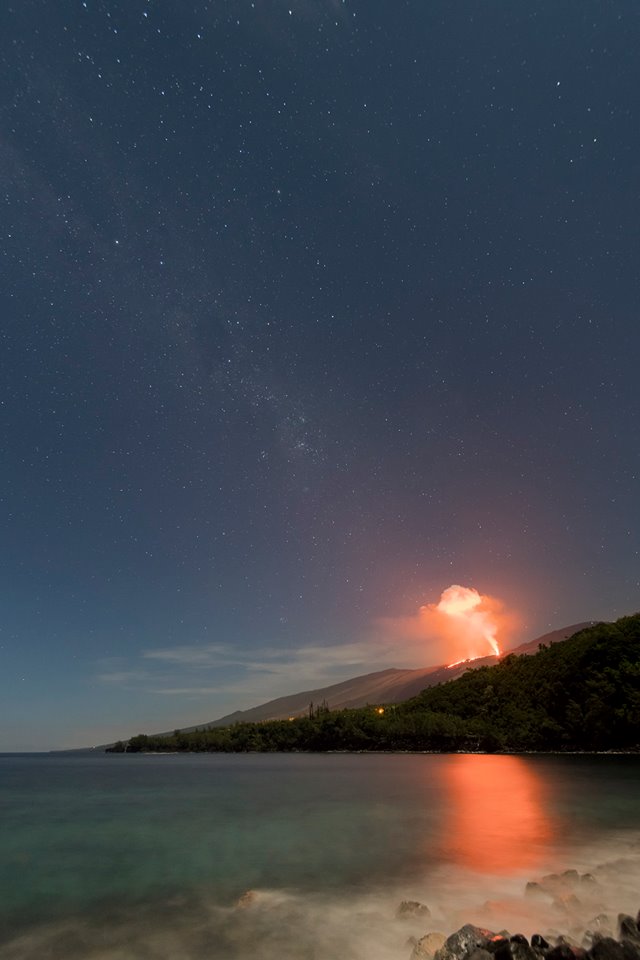 – The CO2 concentrations in the near-field soil (gîte du volcan area) remain high.
– Over the last 36 hours, surface flows estimated from satellite data, via the HOTVOLC platform (OPGC – University of Auvergne), fluctuated between 2.5 and 13 m3 / s.
Observations from the OVPF webcam located in Piton des Cascades show that the casting front has not progressed very little since February 21 (Figure 2).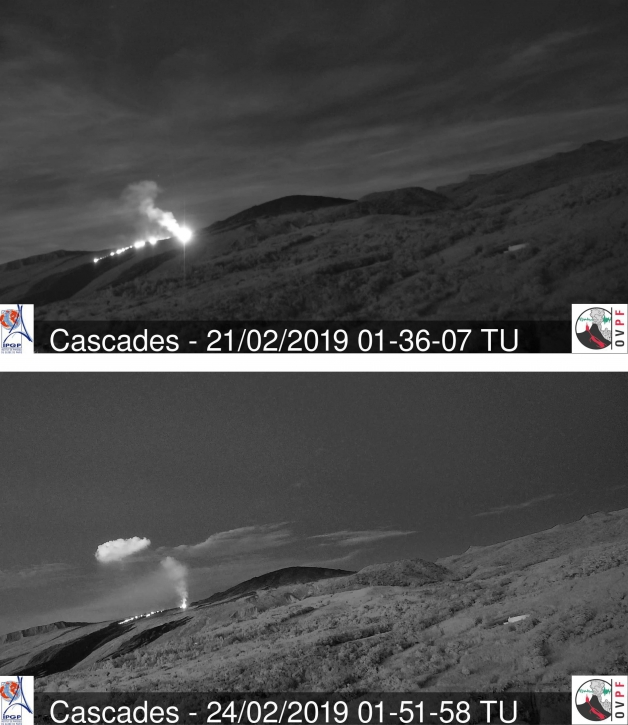 Alert level: Alert 2-2
Source : OVPF
Photo : Xavier Agnus via Sherine France.
Indonesia , Merapi :
REPORT ON THE ACTIVITIES OF MERAPI, 15-21 February 2019.
I. RESULTS OF OBSERVATION
Visual
The weather is sunny in the morning and in the evening and the foggy afternoon. The observed smoke is white, thick, with low gas pressure. The maximum height of 375 m is observed from the observation post of Mount Merapi at Babadan on February 15, 2019.
Morphological analysis based on photographs of the Southeast sector revealed no morphological changes. Annex 1.a presents the morphological analysis of the summit made by the Kalitengah Lor camera station.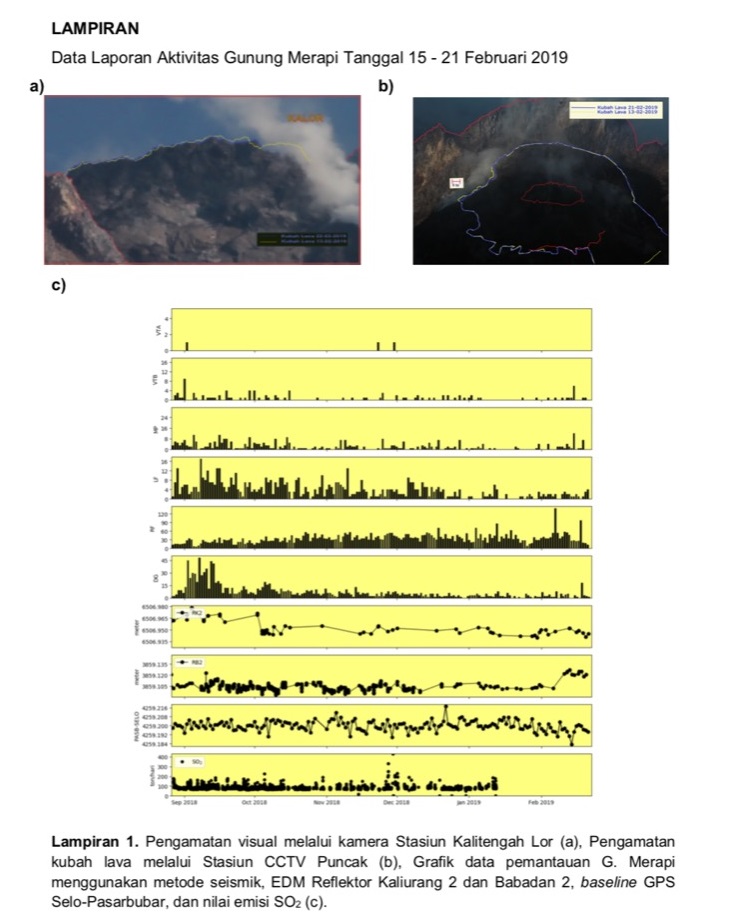 The volume of the lava dome was relatively stable compared to the previous week's data. Most of the lava extrusion that occurs immediately falls in the upper part of the Kali Gendol. Annex 1.b shows the lava dome seen from the Puncak camera station.
Seven avalanche clouds were observed on 18 February 2019 towards Kali Gendol. Hot avalanches occurred at 6:05, 6:13, 6:24, 6:25, 6:28, 7:32 and 2:21 pm, slip distances varied between 200 and 1,000 m, with an amplitude varying around 18 – 35 mm and duration of 28 – 93 seconds .
Seismicity
During this week, seismographs of Mount Merapi recorded 7 chuads (PF) cloud earthquakes, 28 emission earthquakes (DGs), 8 superficial volcanic earthquakes (VTB), 22 Multiple Phase (MP) earthquakes, 226 emission earthquakes (RF), 13 low frequency earthquakes (LF) and 10 tectonic earthquakes (TT). This week, VTB, MP, RF, LF, DG earthquakes have increased in number, while TT-type earthquakes have tended to decrease.
Deformation
The deformation of G. Merapi that was monitored by EDM and GPS this week did not show any significant change.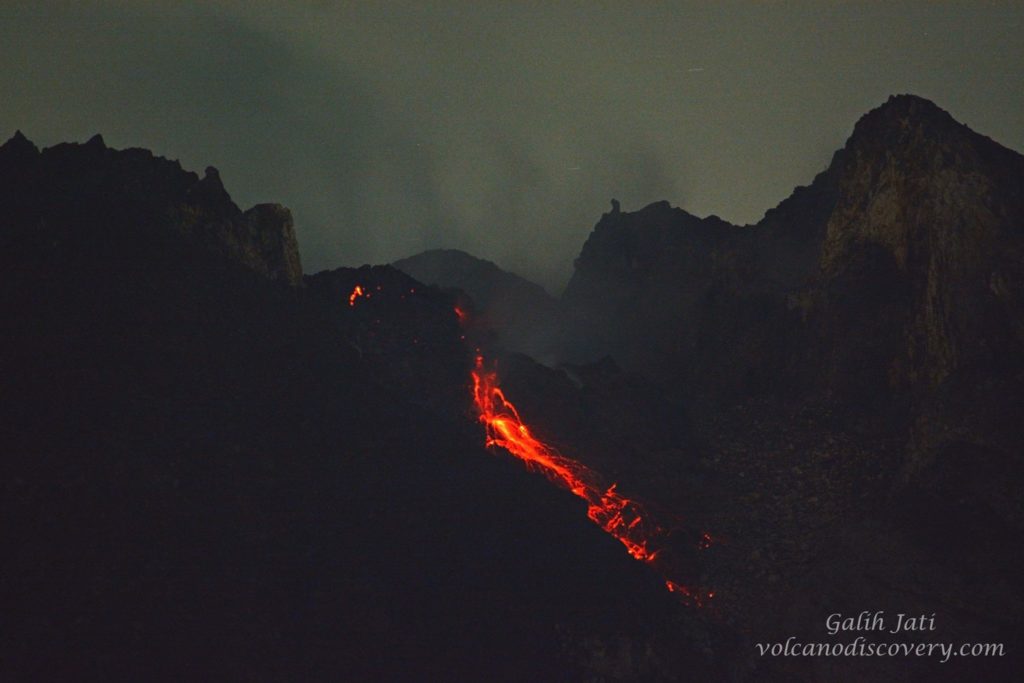 SO2 emissions
The DOAS (Differential Optical Absorption Spectroscopy) measurement up to January 12, 2019, gave an average value of maximum SO2 emissions from Mount Merapi at 89.57 tonnes / day, still within normal limits. While this week, DOAS emissions could not be measured.
Rain and lahars
This week, it was raining around Mount Merapi with a rainfall intensity of 57 mm / hour for 70 minutes at Pos Selo on February 19, 2019. No cases of lahars and increased flow in the rivers below Mount Merapi. has been reported.
Source : BPPTKG.
Photo : Yohannes Tyas Galih Jati / Volcanodiscovery
Kamchatka , Karymsky :
VOLCANO OBSERVATORY NOTICE FOR AVIATION (VONA).
Issued: February 25 , 2019 .
Volcano:Karymsky (CAVW #300130)
Current aviation colour code:ORANGE
Previous aviation colour code:orange
Source:KVERT
Notice Number:2019-40
Volcano Location:N 54 deg 2 min E 159 deg 26 min
Area:Kamchatka, Russia
Summit Elevation:4874.08 ft (1486 m)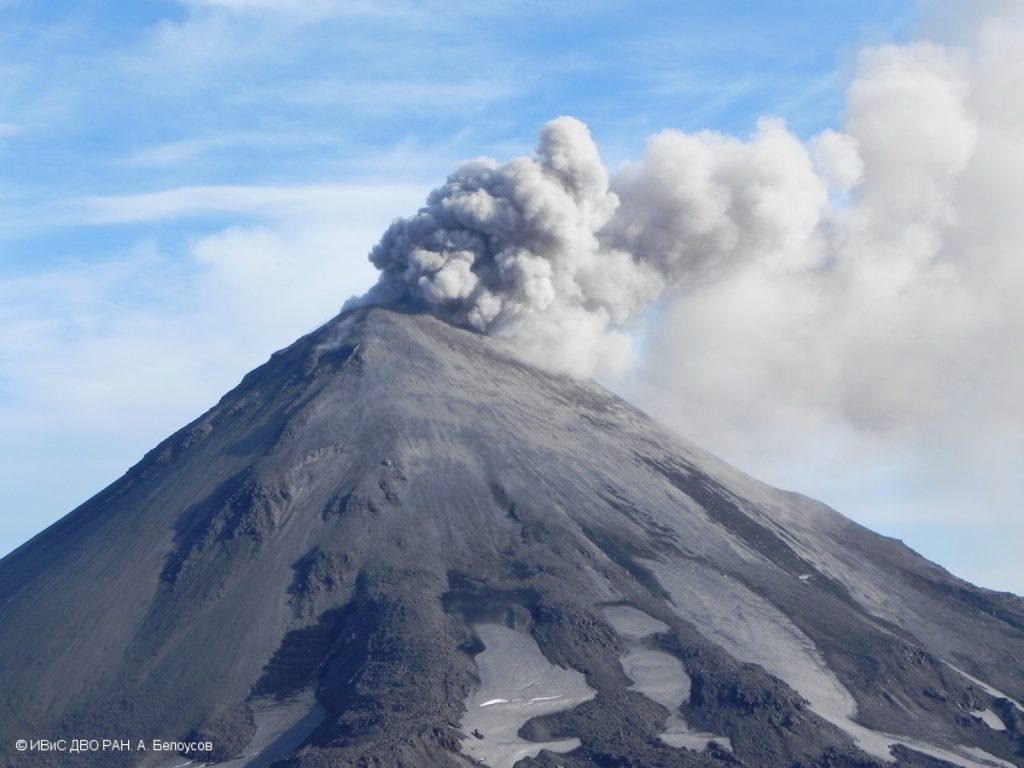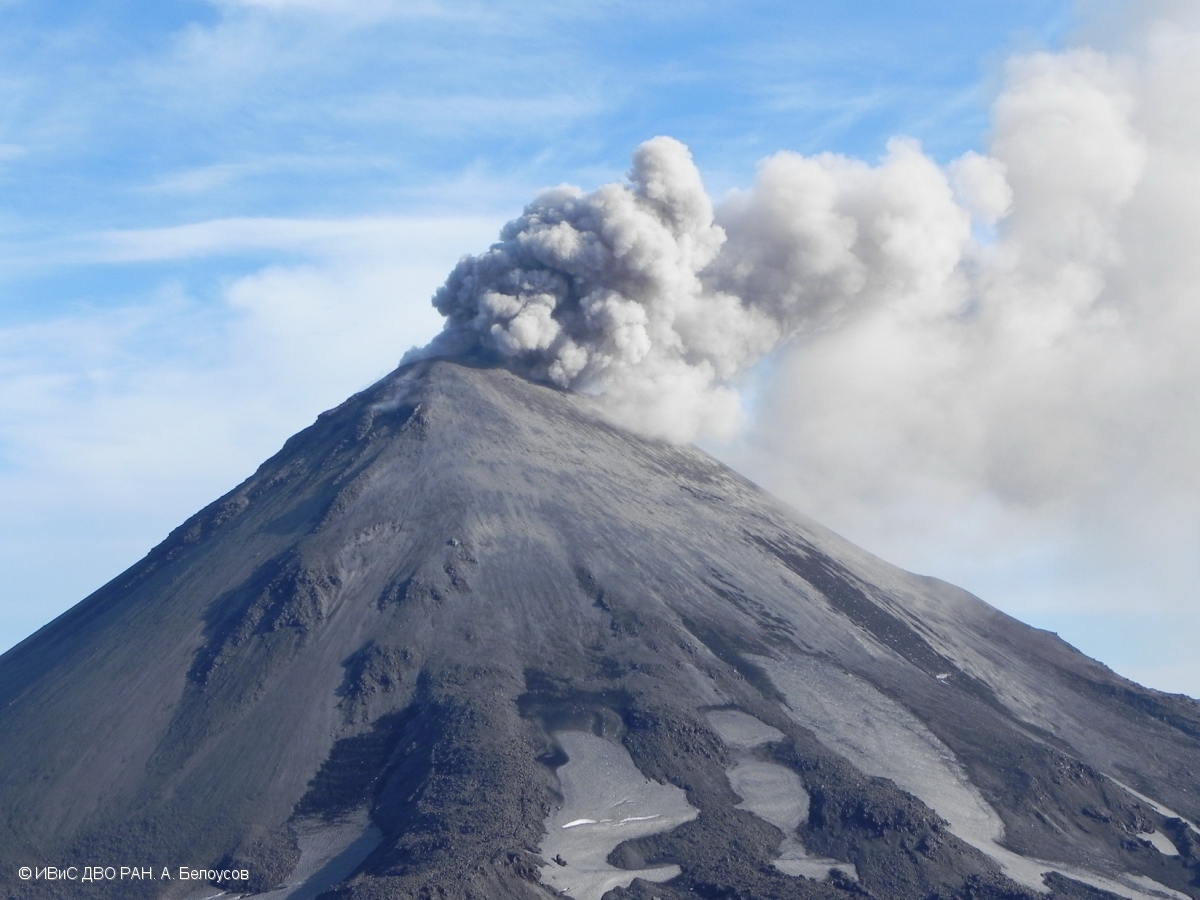 Volcanic Activity Summary:
Satellite data shows an ash plume is extending for about 80 km to the south-east from Karymsky volcano.
A moderate eruptive activity of the volcano continues. Ash explosions up to 13,100-19,700 ft (4-6 km) a.s.l. could occur at any time. Ongoing activity could affect low-flying aircrafts.
Volcanic cloud height:
9840 ft (3000 m) AMSL Time and method of ash plume/cloud height determination: 20190225/0253Z – MODIS AQUA (31m32)
Other volcanic cloud information:
Distance of ash plume/cloud of the volcano: 50 mi (80 km)
Direction of drift of ash plume/cloud of the volcano: ESE / azimuth 122 deg
Time and method of ash plume/cloud determination: 20190225/0253Z – MODIS AQUA (31m32)
Source : Kvert
Photo : A. Belousov, IVS FEB RAS , 18/7/2017 .
Philippines , Mayon :
MAYON VOLCANO BULLETIN 25 February 2019 08:00 A.M.
Mayon Volcano's seismic monitoring network recorded six (6) volcanic earthquakes during the 24-hour observation period. Moderate emission of white steam-laden plumes that crept downslope before drifting west-southwest was observed. Fair crater glow from the summit could be observed at night. Sulfur dioxide (SO2) emission was measured at an average of 1,041 tonnes/day on 23 February 2019. Precise leveling data obtained on 25 January-03 February 2019 indicate a slight deflation of the edifice relative to 08-13 December 2018. However, continuous GPS and electronic tilt data show inflation of the mid-slopes since June 2018.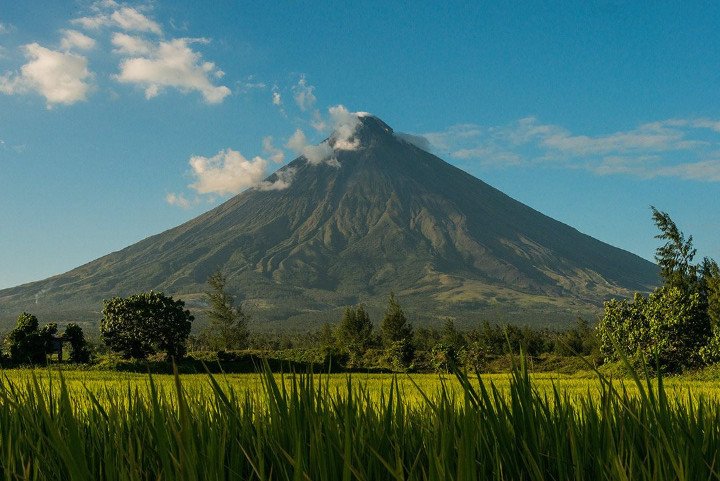 Alert Level 2 currently prevails over Mayon Volcano. This means that Mayon is at a moderate level of unrest. DOST-PHIVOLCS reminds the public that sudden explosions, lava collapses, pyroclastic density currents or PDCs and ashfall can still occur and threaten areas in the upper to middle slopes of Mayon. DOST-PHIVOLCS recommends that entry into the six kilometer-radius Permanent Danger Zone or PDZ and a precautionary seven kilometer-radius Extended Danger Zone or EDZ in the south-southwest to east-northeast sector, stretching from Anoling, Camalig to Sta. Misericordia, Sto. Domingo must be strictly prohibited. People residing close to these danger areas are also advised to observe precautions associated with rockfalls, PDCs and ashfall. Active stream/river channels and those identified as perennially lahar-prone areas on all sectors of the volcano should also be avoided especially during extreme weather conditions when there is heavy and prolonged rainfall. Civil aviation authorities must advise pilots to avoid flying close to the volcano's summit as airborne ash and ballistic fragments from sudden explosions and PDCs may pose hazards to aircrafts.
Source : Phivolcs
Photo : Auteur Inconnu