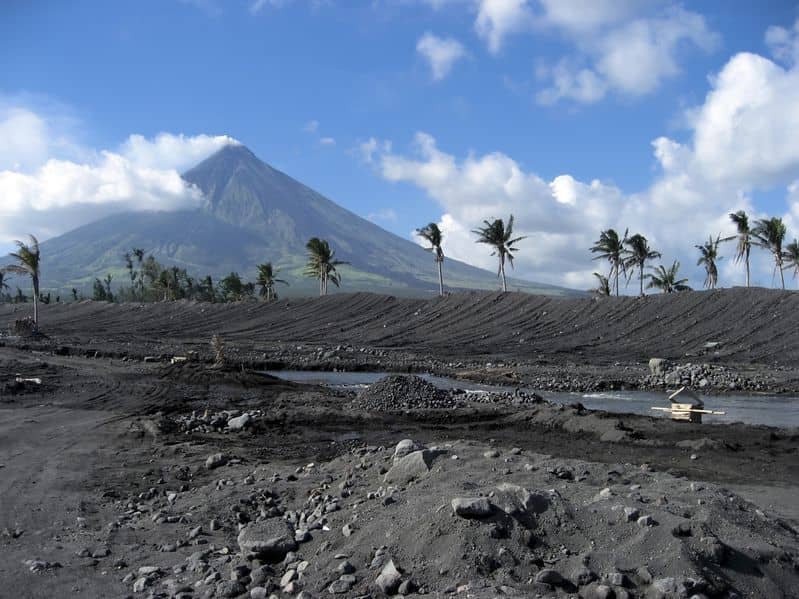 November 28 , 2018.
Colombia , Chiles / Cerro Negro :
Weekly activity bulletin of volcanoes Chiles and Cerro Negro.
The activity level of the volcanoes is maintained at the level: YELLOW LEVEL ■ (III): CHANGES IN THE BEHAVIOR OF THE VOLCANIC ACTIVITY
Following the activity of the CHILE volcanoes and CERRO NEGRO, the COLOMBIAN GEOLOGICAL SERVICE (SGC) reports that:
Between 20 and 26 November 2018, seismic activity in the Chiles – Cerro Negro volcano region recorded an increase in the number of seismic events, from 602 to 3706, most of which were recorded from 24 November at 9:10 pm . Seismic energy has also increased by two orders of magnitude compared to the previous week. The prevalence of seismicity related to rock fracturing inside the volcanic building (volcano-tectonic earthquakes) with a local magnitude up to M 2.3 continues. These events are located southwest of the Chiles volcano, at a maximum distance of 8 km, depths between 2.5 and 8 km below the summit (4 700 m altitude).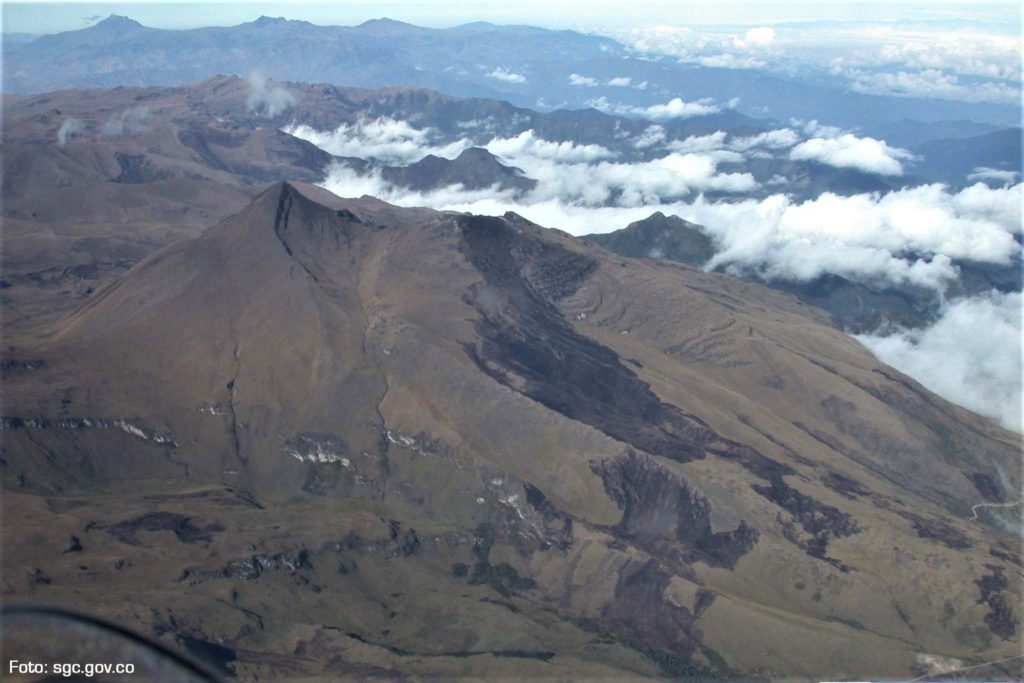 Temperatures in hot springs continue to show values similar to those measured in recent weeks.
The Colombian Geological Service and the Institute of Geology of the National Polytechnic School of Ecuador closely monitor the evolution of this seismic activity and the volcanic phenomenon and inform in a timely manner on the detected changes.
Source : SGC
Photo : SGC
Alaska , Veniaminof :
56°11'52 » N 159°23'35 » W,
Summit Elevation 8225 ft (2507 m)
Current Volcano Alert Level: WATCH
Current Aviation Color Code: ORANGE
Veniaminof volcano continues to erupt with effusion of a lava flow from the cone in the ice-filled summit caldera. Satellite views of the volcano over the past day indicate elevated surface temperatures from the active lava effusion, and seismicity remains elevated with continuous, low-amplitude tremor. Ash and steam emissions were not clearly observed in cloudy webcam and satellite views, but acoustic waves from Veniaminof volcano have been recorded by regional infrasound sensors over the past 12 hours, suggesting that low-level emissions continue. Trace ashfall is possible in nearby communities under favorable wind conditions.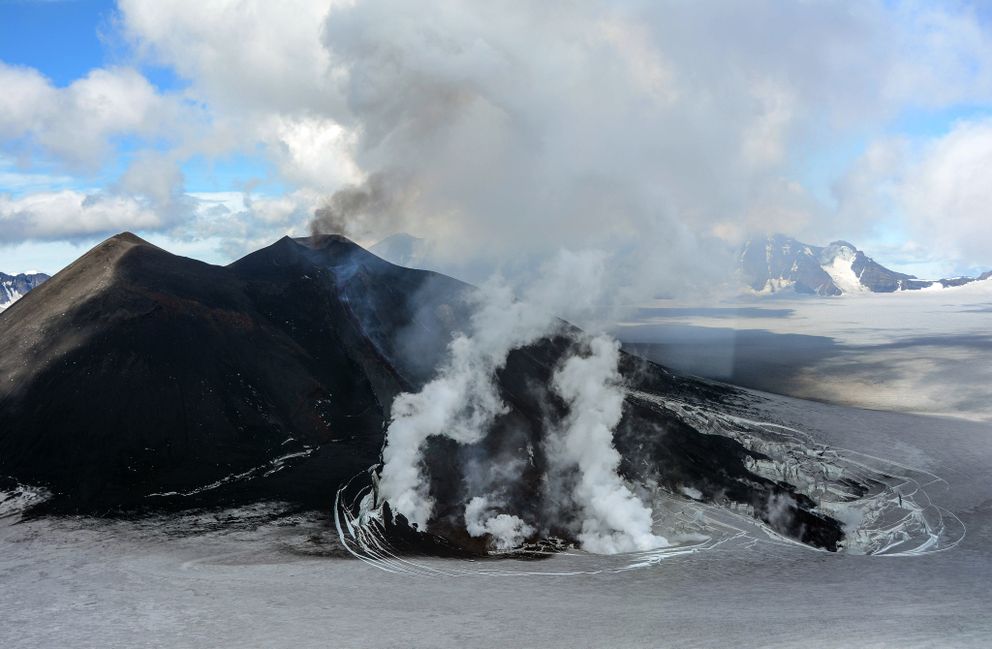 Veniaminof volcano is monitored with a local real-time seismic network, which will typically allow AVO to detect changes in unrest that may lead to a more significant explosive eruption. AVO combines seismic, infrasound, lightning, and satellite data for rapid detection of such events.
Source : AVO.
Photo : C Waythomas
Philippines , Mayon :
MAYON VOLCANO BULLETIN 28 November 2018 08:00 A.M.
Mayon Volcano's seismic monitoring network recorded two (2) volcanic earthquakes during the past 24 hours. One of these was related to a phreatic eruption event at 05:33 AM yesterday that generated a 500-meter grayish ash plume before drifting southwest. Weak to moderate emission of white steam-laden plumes that rose 500 meters before drifting west-southwest, southwest and west-northwest was observed most of the day. Faint to fair crater glow from the summit could be observed at night. Sulfur dioxide (SO2) emission was measured at an average of 1996 tonnes/day on 27 November 2018. Precise leveling data obtained on 22-31 October 2018 indicate inflation of the edifice in the southeast sector while the north sector indicate short-term deflation relative to 30 August to 3 September 2018. The volcano generally remains inflated relative to 2010 baselines. Electronic tilt data further show pronounced inflation of the mid-slopes beginning 25 June 2018, possibly due to aseismic magma intrusion deep beneath the edifice.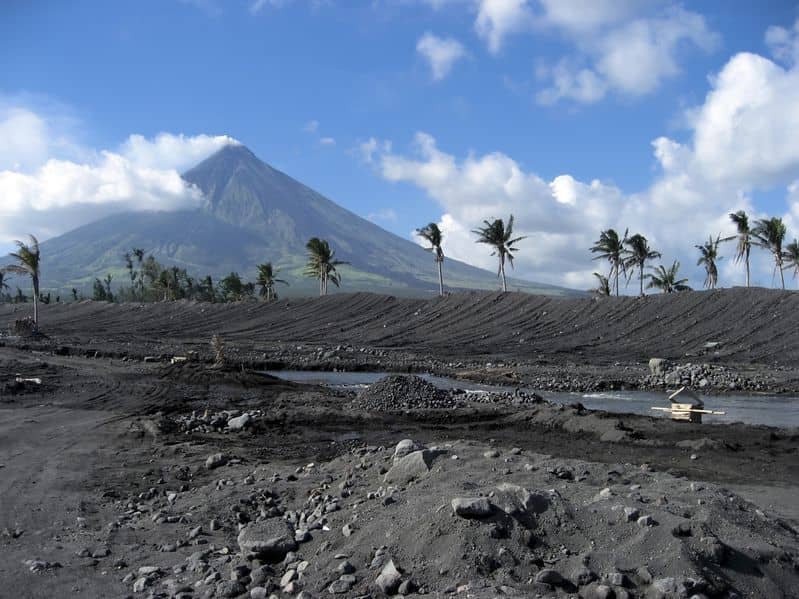 Alert Level 2 currently prevails over Mayon Volcano. This means that Mayon is at a moderate level of unrest. DOST-PHIVOLCS reminds the public that sudden explosions, lava collapses, pyroclastic density currents or PDCs and ashfall can still occur and threaten areas in the upper to middle slopes of Mayon. DOST-PHIVOLCS recommends that entry into the six kilometer-radius Permanent Danger Zone or PDZ and a precautionary seven kilometer-radius Extended Danger Zone or EDZ in the south-southwest to east-northeast sector, stretching from Anoling, Camalig to Sta. Misericordia, Sto. Domingo must be strictly prohibited. People residing close to these danger areas are also advised to observe precautions associated with rockfalls, PDCs and ashfall. Civil aviation authorities must advise pilots to avoid flying close to the volcano's summit as airborne ash and ballistic fragments from sudden explosions and PDCs may pose hazards to aircrafts.
Source : Phivolcs
Hawaii , Kilauea :
19°25'16 » N 155°17'13 » W,
Summit Elevation 4091 ft (1247 m)
Current Volcano Alert Level: ADVISORY
Current Aviation Color Code: YELLOW
Activity Summary:
Kīlauea Volcano is not erupting. Rates of seismicity, deformation, and gas release have not changed significantly over the past week. Deformation signals are consistent with refilling of the middle East Rift Zone.
Observations:
HVO monitoring during the past week shows low rates of seismicity at the summit and East Rift Zone (ERZ). Earthquakes continue to occur primarily at Kīlauea's summit and south flank areas.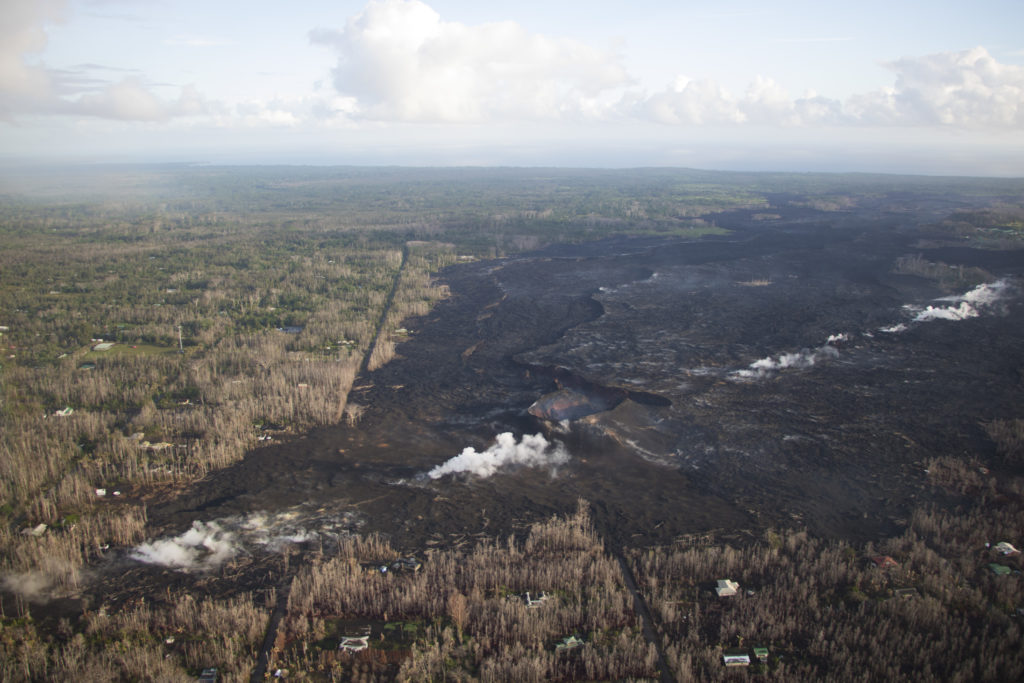 No significant changes were observed on today's overflight of the Lower East Rift Zone. This photo, looking north, shows the eastern portion of Leilani Estates subdivision, now covered by lava. The Fissure 8 cone, which was active for two months, is visible near the center of the photo, with its large drained channel extending north. White steam originates from residual heat in the fissure system.
In the ERZ, tiltmeters near Puʻu ʻŌʻō and farther east reveal little change over the last week. At the summit, tiltmeters recorded a small DI (deflation-inflation) sequence mid-week, followed by slow deflation.
Two weeks ago, sulfur dioxide gas emissions averaged 25 tonnes/day at the summit and 75 tonnes/day at Puʻu ʻŌʻō. There was no sulfur dioxide detected by our instruments in the lower ERZ. New gas measurements are expected soon.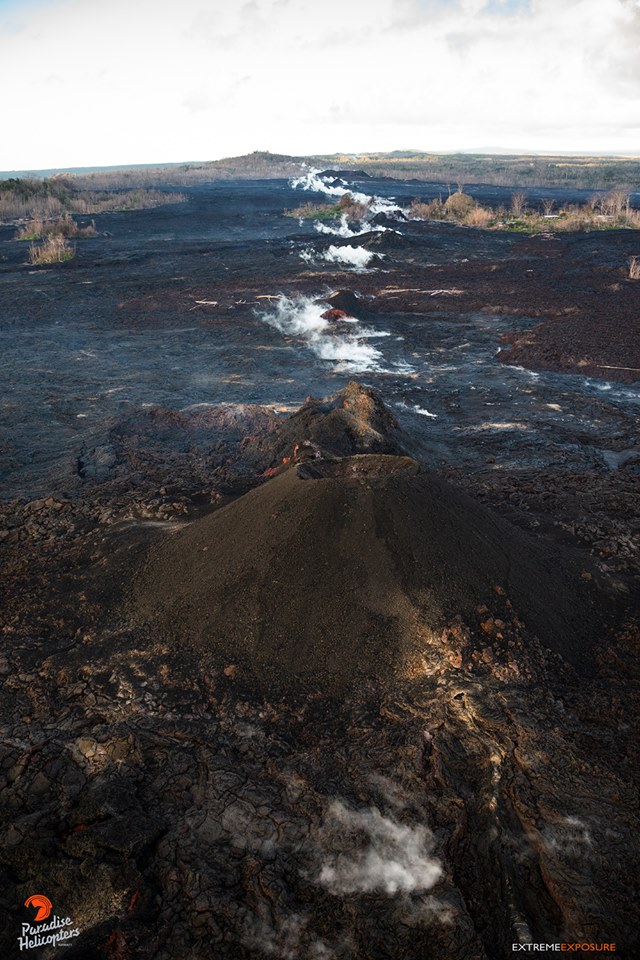 Cones are prominent along the lower east rift zone in Leilani Estates, and continue to vent gas.
Hazards are still present in the lower East Rift Zone (LERZ) eruption area and at the Kīlauea summit. Residents and visitors near recently active fissures and lava flows should stay informed, heed Hawaii County Civil Defense and National Park warnings, and be prepared, if necessary, to self-evacuate in the unlikely event of renewed activity. Please note that Hawaii County maintains a closure of the entire flow field and the vents and prohibits access to the area unless authorized through Civil Defense.
The Hawaiian Volcano Observatory (HVO) continues to closely monitor Kīlauea's seismicity, deformation, and gas emissions for any sign of reactivation, and maintains visual surveillance of the summit and the East Rift Zone. HVO will continue to issue a weekly update (every Tuesday) and additional messages as warranted by changing activity.
Source : HVO
Photos : HVO , Bruce Omori .
Indonesia , Karangetang :
VOLCANO OBSERVATORY NOTICE FOR AVIATION – VONA.
Issued: November 26 , 2018
Volcano: Karangetang (267020)
Current Aviation Colour Code: ORANGE
Previous Aviation Colour Code: yellow
Source: Karangetang Volcano Observatory
Notice Number: 2018KAR02
Volcano Location: N 02 deg 46 min 48 sec E 125 deg 24 min 22 sec
Area: North Sulawesi, Indonesia
Summit Elevation: 5709 FT (1784 M)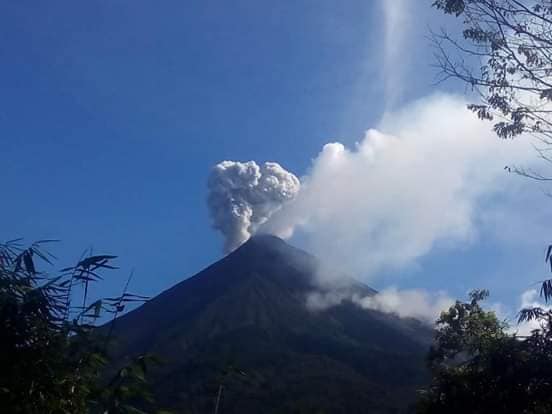 Volcanic Activity Summary:
Eruption with volcanic ash cloud at 05h14UTC (13h14 local). Eruption and ash emission is continuing.
Volcanic Cloud Height:
Best estimate of ash-cloud top is around 7309 FT (2284 M) above sea level, may be higher than what can be observed clearly. Source of height data: ground observer.
Other Volcanic Cloud Information:
Grey ash coloured has been observed. Direction of the ash cloud cannot be determined clearly due to heavy cloud.
Source : Magma Indonésie .
Photo : Galang Paita via Sherine France