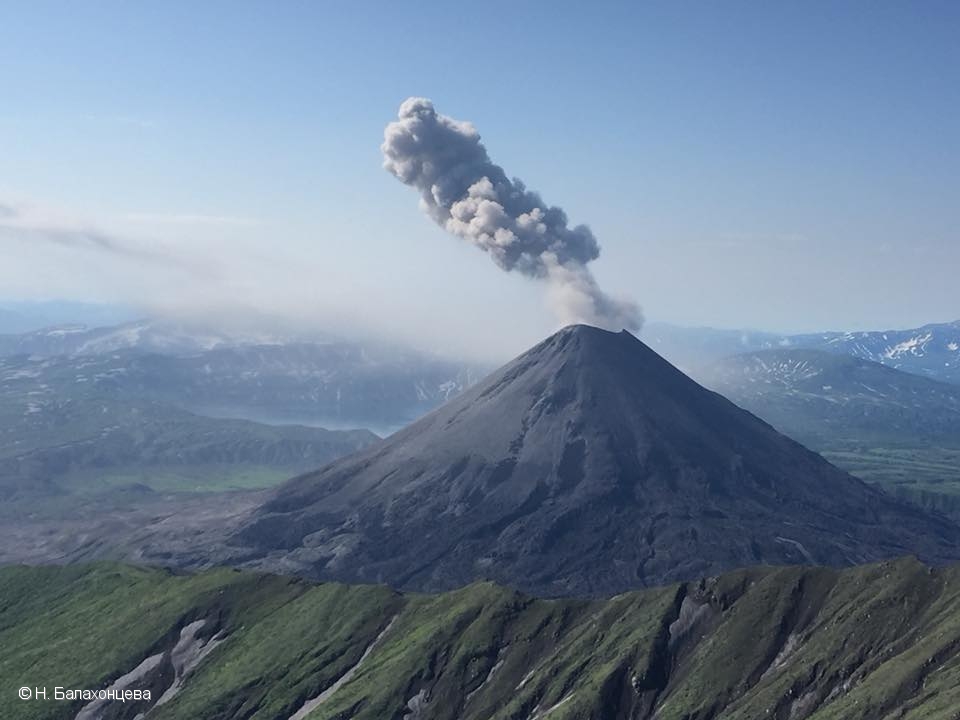 July 30 , 2018.
Kamchatka , Karymsky :
54.05 N, 159.44 E;
Elevation 4874 ft (1486 m)
Aviation Colour Code is ORANGE
A moderate eruptive activity of the volcano continues. Ash explosions up to 13,100-19,700 ft (4-6 km) a.s.l. could occur at any time. Ongoing activity could affect low-flying aircrafts.
A moderate eruptive activity of the volcano continues. Satellite data by KVERT showed an ash cloud drifted for about 100 km to the south-east from the volcano on 20 July;a thermal anomaly registered over the volcano on 25 and 27 July, the volcano was obscured by clouds on the other days of week.
VOLCANO OBSERVATORY NOTICE FOR AVIATION (VONA).
Issued: July 30 , 2018
Volcano:Karymsky (CAVW #300130)
Current aviation colour code:ORANGE
Previous aviation colour code:orange
Source:KVERT
Notice Number:2018-66
Volcano Location:N 54 deg 2 min E 159 deg 26 min
Area:Kamchatka, Russia
Summit Elevation:4874.08 ft (1486 m)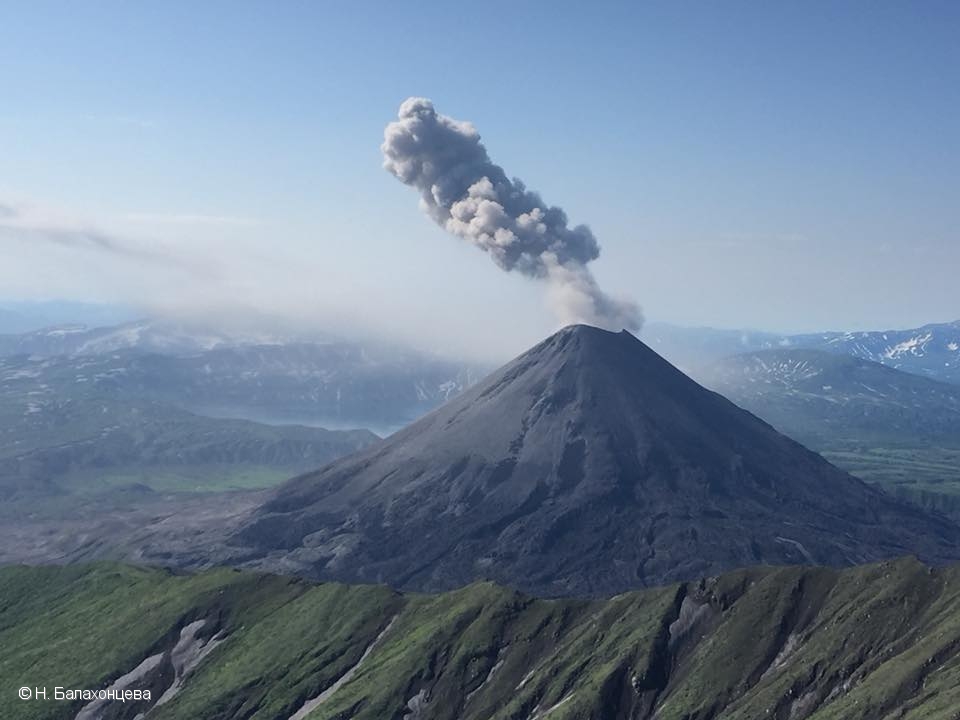 Volcanic Activity Summary:
Ash emission from the volcano continues. According to satellite data, ash plume drifted for about 92 km to the north-east from the volcano.
A moderate eruptive activity of the volcano continues. Ash explosions up to 13,100-19,700 ft (4-6 km) a.s.l. could occur at any time. Ongoing activity could affect low-flying aircrafts.
Volcanic cloud height:
4920-5904 ft (1500-1800 m) AMSL Time and method of ash plume/cloud height determination: 20180730/0330Z – Himawari-8
Other volcanic cloud information:
Distance of ash plume/cloud of the volcano: 57 mi (92 km)
Direction of drift of ash plume/cloud of the volcano: ENE / azimuth 57 deg
Time and method of ash plume/cloud determination: 20180730/0330Z – Himawari-8
Source : Kvert.
Vidéo : Александр Островский.
Photo : N. Balakhontseva , 28/7/2018.
Indonesia , Lombok :
A quake occurred on Sunday, July 29, 2018 at 17:47:39. According to information provided by BMKG, the main epicenter is located at coordinates 8.26 ° LS and 116.55 ° East, with a magnitude of 6.4 SR at 10 km depth, 28 km northwest from East Lombok. So far, this earthquake has been followed by 118 more earthquakes with magnitude range M5.7 – M2.1. The shock was strongly felt in the region of Lombok and Lombok North. This zone is composed of alluvial rocks and degradable volcanic deposits, thus reinforcing the seismic violence. The intensity of the seismic shock is estimated to reach MMI VI-VII.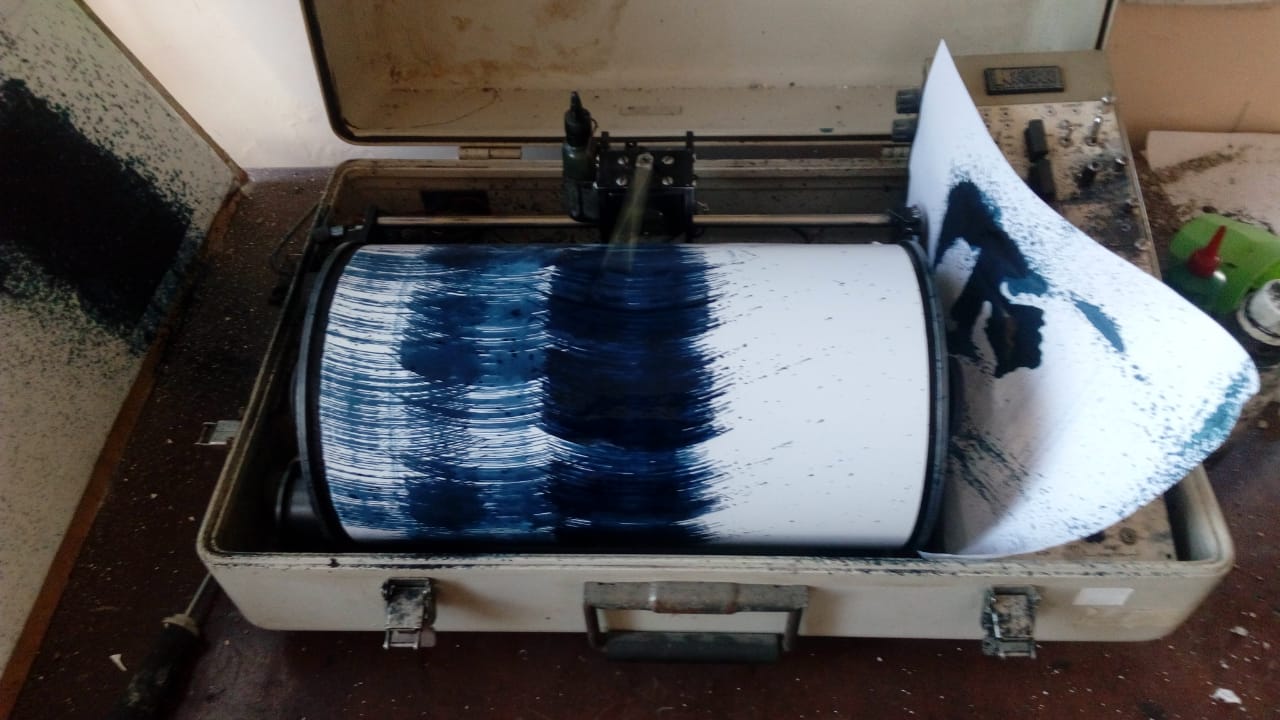 This earthquake caused damage and casualties. According to BNPB information, there are 10 dead, 40 wounded and dozens of damaged buildings.
This earthquake was felt at Pos PGA Rinjani on the intensity of MMI VI and caused damage to the post building. So far, there has been no increase in activity of G. Rinjani related to the earthquake.
PVMBG Emergency Response Team:
– The geological agency immediately goes to East Lombok and North Lombok to:
1) Mapping of the impact of seismic events (damage to buildings, land displacements, ground cracks, and if there is liquefaction and avalanches).
2) Identification of local soil characteristics through micro-tremor measurements
3) Provide technical recommendations related to geological damage.
4) Direct socialization to the community and coordination with the provincial government of NTB and East Lombok Regency and other related institutions.
Recommendations
(1) Communities are encouraged to remain calm and follow the instructions and information of the local government and BPBD NTB. Do not be fooled by irresponsible questions about earthquakes and tsunamis
2) Replicas generally have lower amplitudes than major earthquakes, but people must remain vigilant.
Source : Centre de volcanologie et de géologie de l'atténuation des risques géologiques – KESDM
Hawaï , Kilauea :
Sunday, July 29, 2018, 11:29 AM HST (Sunday, July 29, 2018, 21:29 UTC)
19°25'16 » N 155°17'13 » W,
Summit Elevation 4091 ft (1247 m)
Current Volcano Alert Level: WARNING
Current Aviation Color Code: ORANGE
Kīlauea Volcano Lower East Rift Zone
Fissure 8 continues to erupt lava into the channel leading northeastward from the vent. No overflows were reported this morning and the channels are near full. At the coast, the south edge of the lava flow has not advanced westward in the past day, and remains less than 175 m (0.1 mi) from the Pohoiki boat ramp in Isaac Hale Park. The active ocean entry is a few hundred meters (yards) to the east of this lava flow edge.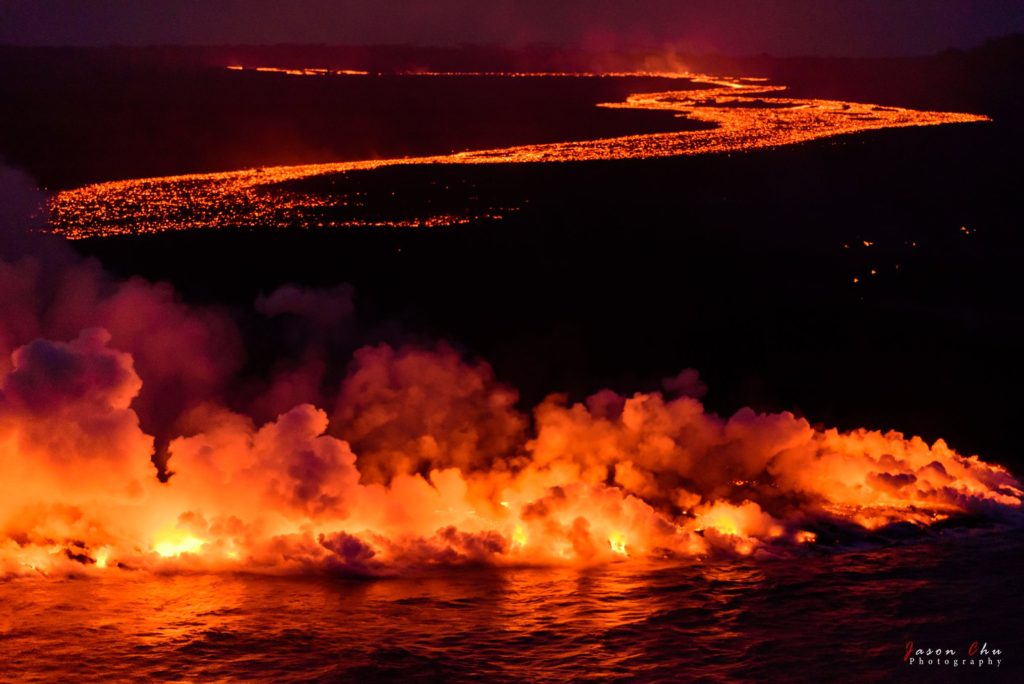 No other fissures are active this morning.
Kīlauea Volcano Summit:
The most recent collapse event occurred at 02:37 a.m. HST July 28, and was similar in character and magnitude to previous events. Seismicity is slowly increasing since Saturday morning's collapse event and, as of this posting, is 25-35 earthquakes per hour.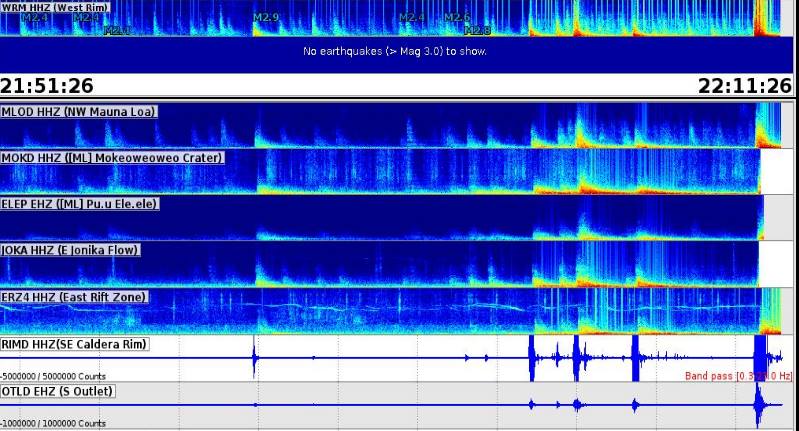 Collapse Explosion at 12:10pm (7/29/2018)

There has been a summit collapse recorded at Halema'ma'u generating a M5.3 quake.
A surge could be generated at fissure 8 in 1-2hrs.
Source : HVO
Photo : Jason K. Chu. Dane DuPont.
La Réunion , Piton de la Fournaise :
21 ° 14'38 « S
55 ° 42'29 « E
Altitude: 2632m
Alert level: Backup.
Seismology:
– Number of landslides of 29-07-2018: 4
Areas affected by landslides:
Summit cone
Enclos
– The number of volcano-tectonic earthquakes (VT) from 29-07-2018: 5
Area concerned by the VTs:
Summit cone
– Volcanano-tectonic earthquake of greater magnitude of 29-07-2018:
Duration: 4.4 s
Magnitude of duration: 0.42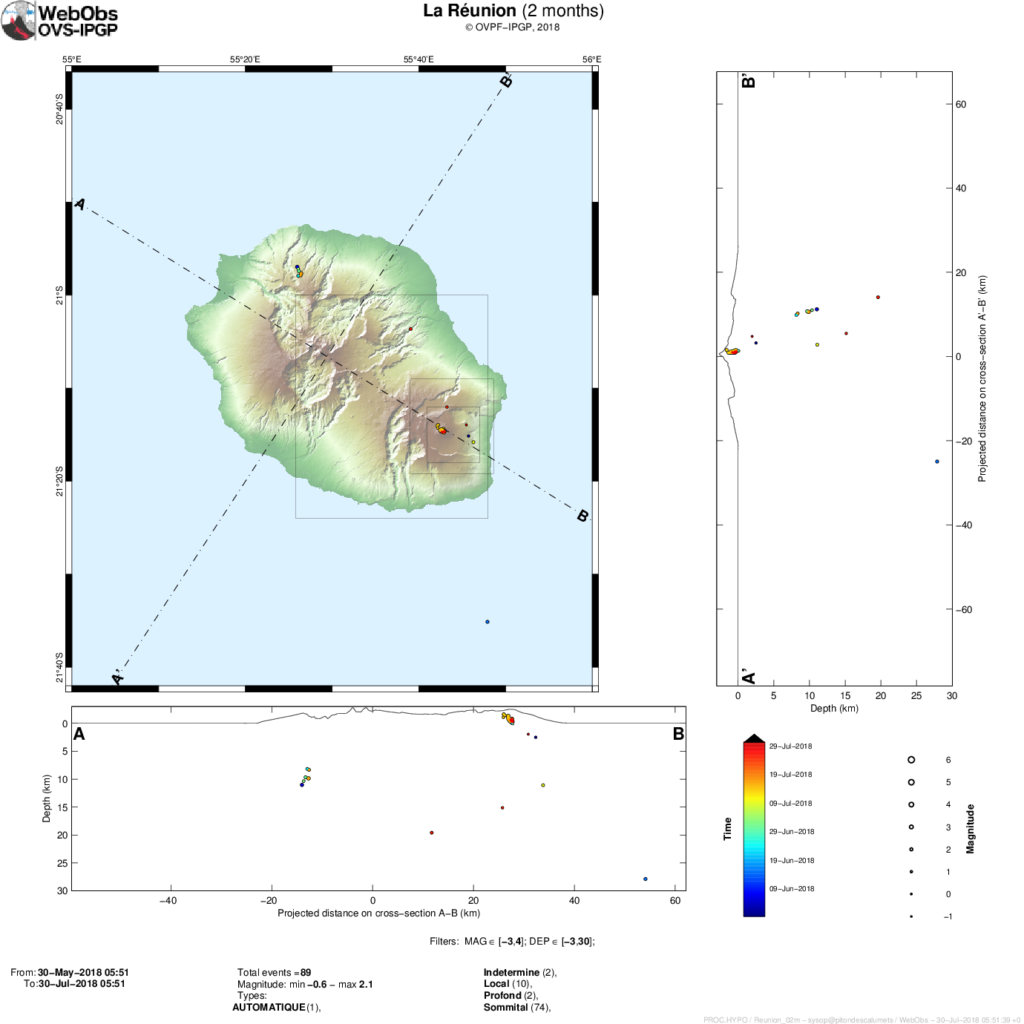 Location map (epicentres) and North-South and East-West sections (showing the depth location, hypocentres) of recorded earthquakes located by the OVPF-IPGP over 2 months under Réunion. Only localizable earthquakes have been represented on the map.
The observatory records seismic events not shown on this map because they are not localizable due to their low magnitude.
To see the number of earthquakes detected by the observatory's networks, you can refer to its last Activity Bulletin.
Deformities
– The GPS of the zone summit record an inflation, witnessing the putting in pressure of a superficial source.
– GPS in the far field record inflation, witnessing the setting in pressure of a deep source.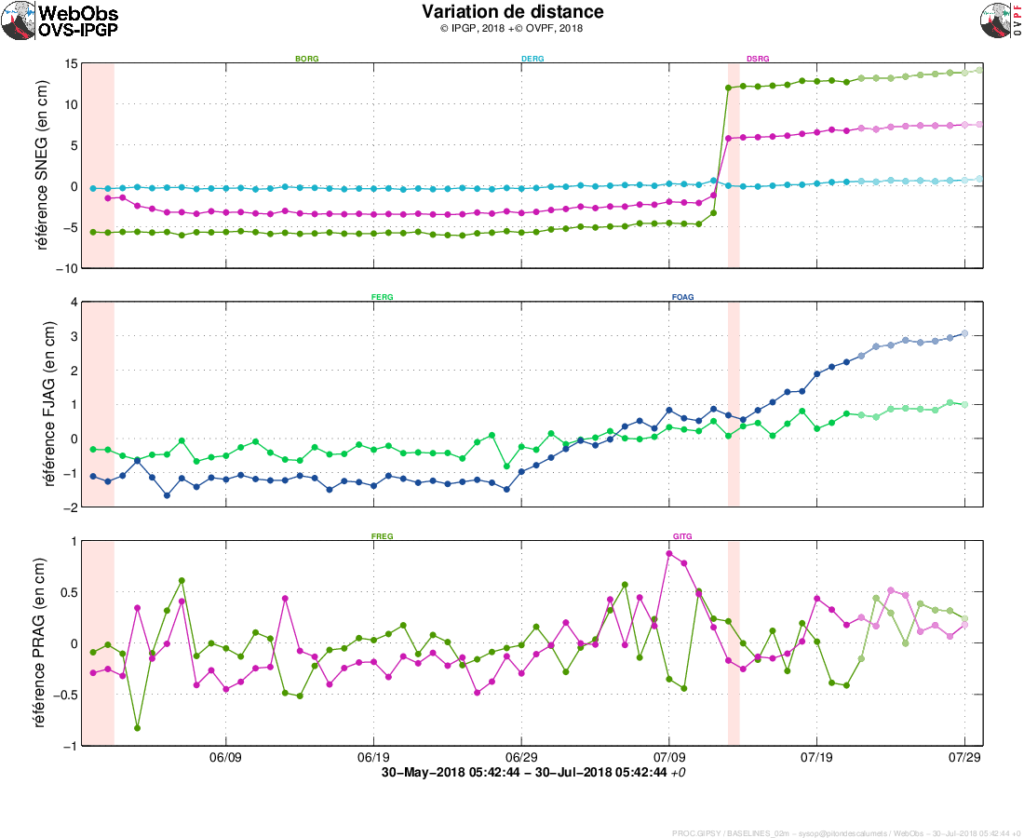 Illustration of the deformation over 2 months. Here are shown baselines (variation of distance between two GPS receivers) crossing the Piton de la Fournaise building, at the top (at the top), at the base of the terminal cone (in the middle) and in the far field (at the bottom ) (see location on the associated maps). A rise is synonymous with elongation and therefore swelling of the volcano; conversely, a decrease is synonymous with contraction and therefore deflation of the volcano. Any periods colored in light pink correspond to eruptions.
Geochemistry
Concentrations of H2S and SO2 in top emissions: near or below the limit of detection.
Source : OVPF
Photo : Jean Guichard