March 13 , 2018. EN. Campi Flegréi , Sabancaya , Mayon , Ebeko , Stromboli , Kick Em Jenny .
March 13 , 2018.
Campi Flegréi , Italy:
Italy – Many small earthquakes have rocked the port city of Pozzuoli in the Gulf of Naples in recent hours. More than 30 earthquakes were recorded between 2 pm and 4 pm According to the observatory of the Vesuvian volcano, the strongest of these earthquakes reached the magnitude of M 2.4. Several have reached the magnitude of M 1.8 and M 1.4. The evaluation is still in progress.
The epicenter of these earthquakes focused on the Antiniana district north-east of the Solfatara crater.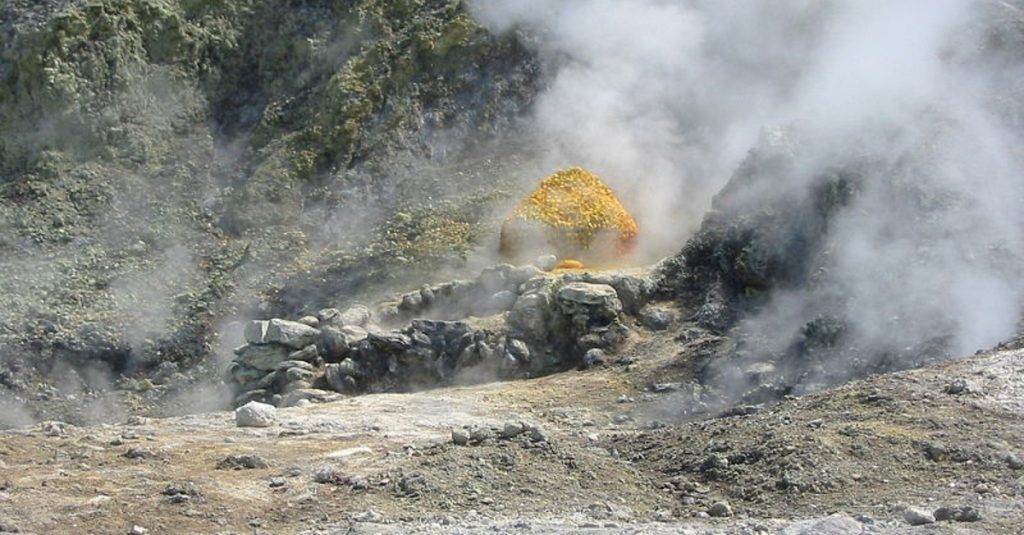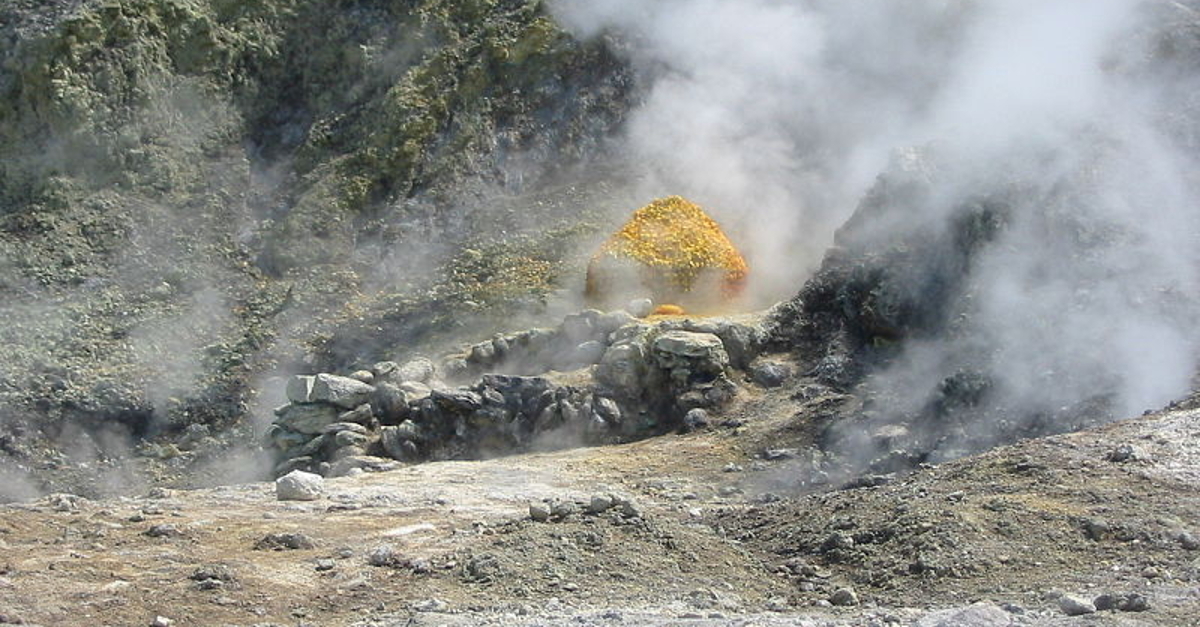 However, major earthquakes have been felt throughout the city.
Since the depth of the earthquakes caused by Campi Flegrei volcano activity was very low (about 1 to 2 kilometers), many small earthquakes were felt.
There is no report of damage caused by earthquakes.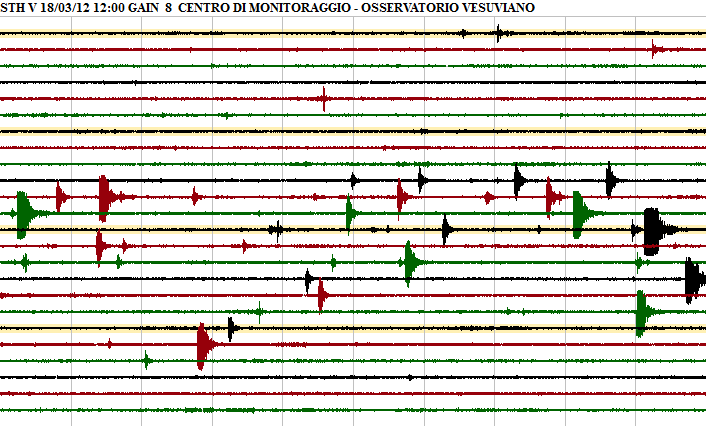 Due to hydrothermal activities and soil deformations around Pozzuoli, there are always smaller earthquakes. In the past, the activities were partly so scary that the city had to be evacuated for fear of a volcanic eruption. Nothing has happened yet. The last eruption took place in 1538 and at that time it formed the ash cone that is now Monte Nuovo in the district of Arco Felice.
Source : erdbebennews.de .
Sabancaya , Peru :
The explosive activity remains similar compared to the previous period, recording an average rate of 10 explosions / day. Events associated with fluid movements (Long Period type) and ash emissions (Tremor type) continue to predominate. The earthquakes associated with the rise of the magma (Hybrids type) continue to be low in number and energy.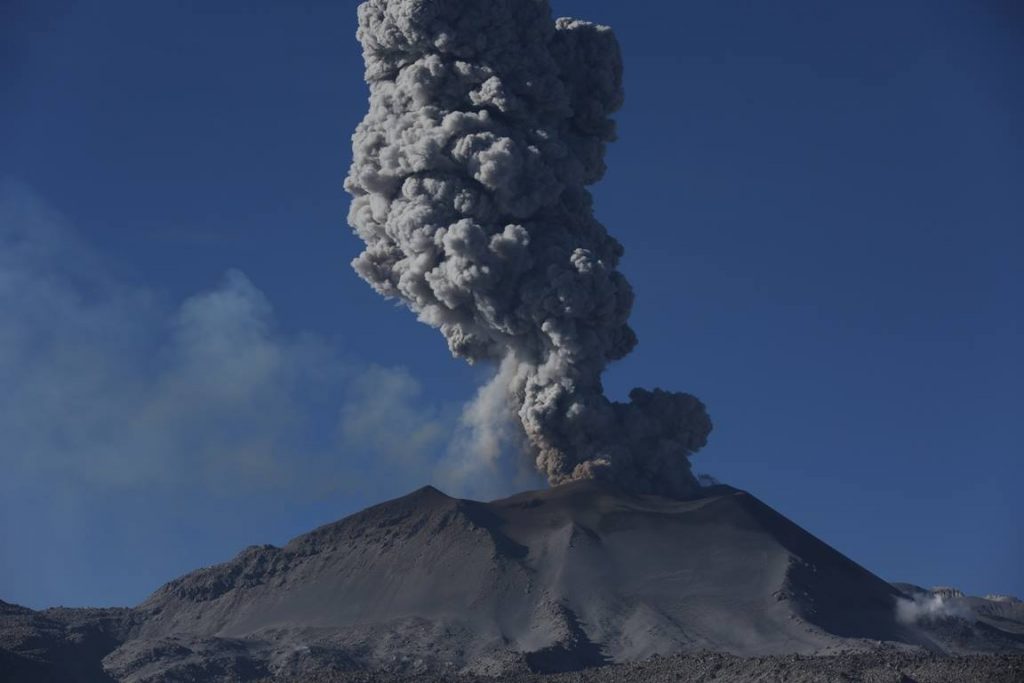 
Eruptive columns of gas and ash reached a maximum height of about 5350 m above the crater. The dispersion of these materials occurred within a radius of about 30 km, mainly to the North, Northwest, West and Southwest. 
The volcanic deformation recorded during the last week is stable.
The volcanic gas (SO2) flow recorded on March 9 has a maximum value of 2396 tons / day, a value considered large. 
No thermal anomalies were recorded according to the MIROVA system.
In general, eruptive activity maintains moderate levels.
Source : IGP
Mayon , Philippines :
MAYON VOLCANO BULLETIN 13 March 2018 08:00 A.M.
Mayon's activity in the past 24 hours was characterized by general quiescence, weak degassing from the summit crater and gravity-driven lava flow. Weak to moderate emission of light gray to white steam-laden plumes that rose to 100 meters before drifting southwest and west-northwest occurred throughout the day. Lava flows could be observed at night to be moving downslope on the Miisi,Bonga and Basud Gullies within 3.3 kilometers, 4.5 kilometers and 1.9 kilometers of the crater, respectively.
A total of twenty-six (26) volcanic earthquakes and fifty three (53) rockfall events were recorded by Mayon's seismic monitoring network. Sulfur dioxide (SO2) emission was measured at an average of 2,060 tonnes/day on 08 March 2018. Deflation of the lower flanks that began on 20 February is still being recorded by electronic tilt, although a period of slight inflation was recorded by Precise Leveling (PL) surveys on 03 – 06 March 2018. Overall ground deformation data indicate that the edifice is still swollen or inflated relative to pre-eruption baselines.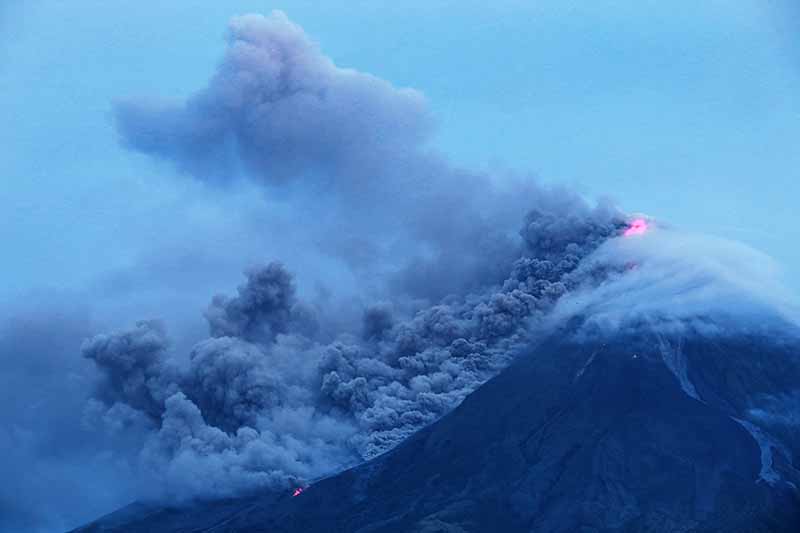 Alert Level 3 currently prevails over Mayon Volcano. This means that although Mayon's unrest continues, there is a decreased likelihood of hazardous explosive eruption to occur. PHIVOLCS-DOST reminds the public of sudden explosions, lava collapses, pyroclastic density currents or PDCs and ashfall can still occur and threaten areas in the upper to middle slopes of Mayon. PHIVOLCS-DOST recommends that entry into the six kilometer-radius Permanent Danger Zone or PDZ and a precautionary seven kilometer-radius Extended Danger Zone or EDZ in the south-southwest to east-northeast sector, stretching from Anoling, Camalig to Sta. Misericordia, Sto. Domingo, must be strictly prohibited. People residing close to these danger areas are also advised to observe precautions associated with rockfalls, PDCs and ashfall. Active river channels and those perennially identified as lahar prone areas in the southern and eastern sectors should also be avoided especially during bad weather conditions or when there is heavy and prolonged rainfall. Civil aviation authorities must advise pilots to avoid flying close to the volcano's summit as airborne ash and ballistic fragments from sudden explosions and PDCs may pose hazards to aircrafts.
PHIVOLCS-DOST is closely monitoring Mayon Volcano's activity and any new significant development will be immediately communicated to all stakeholders.
Source : Phivolcs
Ebeko , Kuriles Islands, Russia :
VOLCANO OBSERVATORY NOTICE FOR AVIATION (VONA).
Issued: March 13 , 2018.
Volcano:Ebeko (CAVW #290380)
Current aviation colour code:ORANGE
Previous aviation colour code:orange
Source:KVERT
Notice Number:2018-28
Volcano Location:N 50 deg 41 min E 156 deg 0 min
Area:Northern Kuriles, Russia
Summit Elevation:3791.68 ft (1156 m)
Volcanic Activity Summary:
According to visual data by volcanologists from Severo-Kurilsk, explosions sent ash up to 2.7 km a.s.l.; ash plume is drifting to the north-east from the volcano.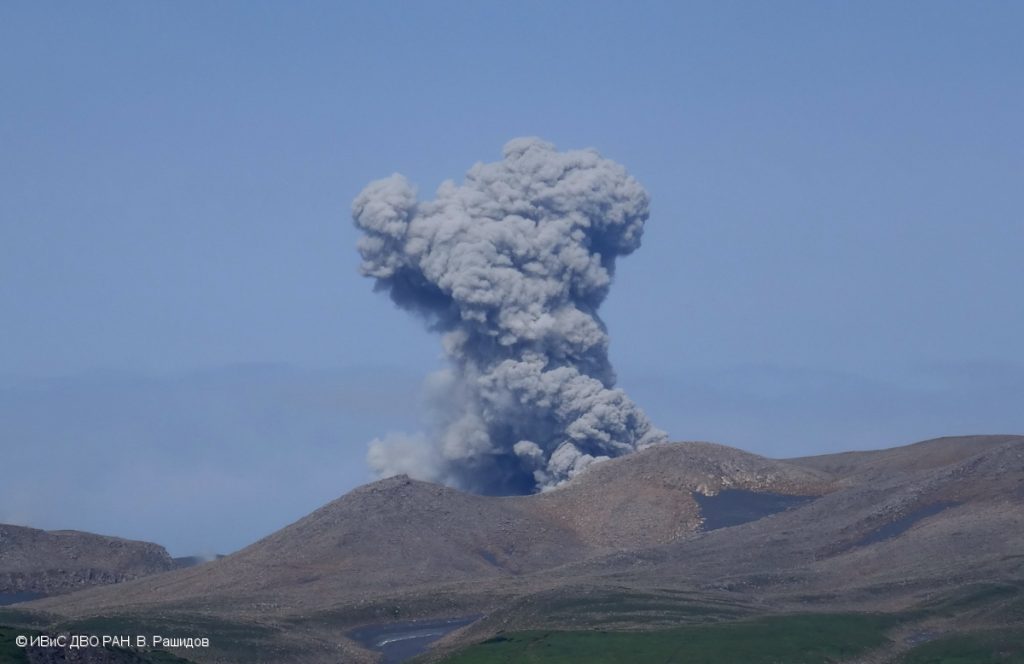 Volcanic cloud height:
8200-8856 ft (2500-2700 m) AMSL Time and method of ash plume/cloud height determination: 20180312/2340Z – Visual data
Other volcanic cloud information:
Distance of ash plume/cloud of the volcano: 6 mi (10 km)
Direction of drift of ash plume/cloud of the volcano: NE
Time and method of ash plume/cloud determination: 20180312/2340Z – Visual data
Source : Kvert.
Photo : V. Rashidov, IVS FEB RAS , 10/8/2017.
Stromboli , Italy :
On March 7, 2018, a violent explosion occurred in one of the mouths in the northern part of the Stromboli crater terrace. A first explosion, which occurred at 1:48 local time, emitted a cloud of abundant ash mixed with incandescent material and lava blocks that fell back into the summit area, especially along the Sciara del Fuoco. The ash reached a height of over 350 m above the mouth and formed a plume heading north-east and covering the northern part of the crater area. About 35 seconds after the first, a second explosion of lesser intensity occurred, still from the same mouth. In this case, more coarse ash and material (lapilli and bombs) were emitted and reached a height of about 100 m above the mouth. The duration of the sequence was about 40 seconds.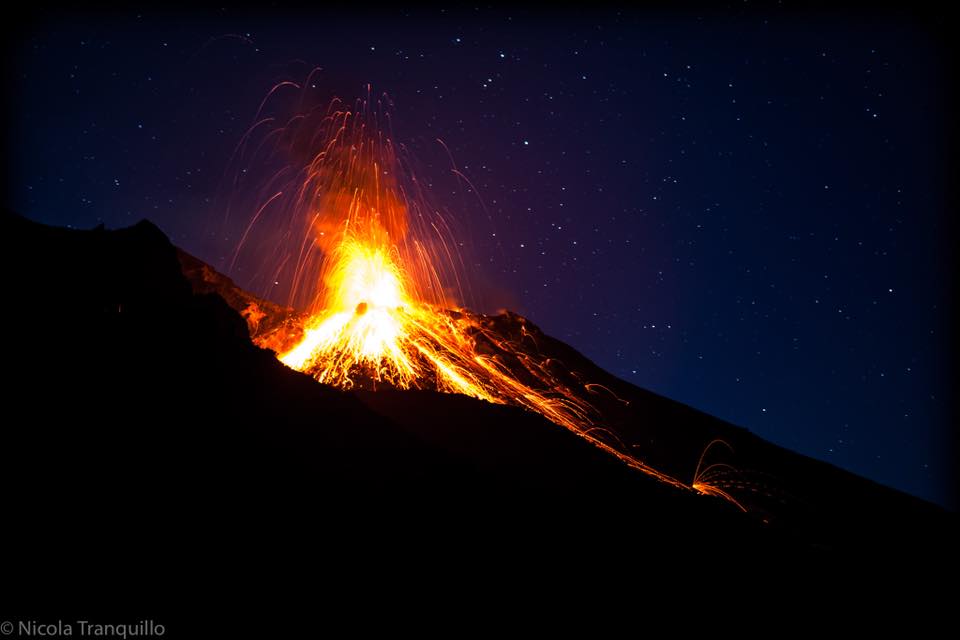 Violent explosive sequences, such as the one described, occurred recently (July 26, October 23, November 1 and December 1, 2017). These are more violent explosions than those of Ordinary Strombolian activity, during which coarse material and ashes are emitted, which falls back into the area of the summit.
These events, occasional and unpredictable, abruptly interrupt ordinary Strombolian activity. However, they are part of the volcanic phenomenology typical of the activity of the Stromboli summit characterized by explosions of variable energy.
The activity of Stromboli is permanently monitored by the National Institute of Geophysics and Volcanology (INGV) through its sections of Catania, Naples and Palermo.
Source : INGV.
Photo : Nicolas Tranquillo
Kick Em Jenny , Grenada :
An Orange alert has been issued for the Kick Em Jenny Volcano ( Submarine volcano ) , due to heightened activity.
Grenada's National Disaster Management Agency (NaDMA) through the technical support provided by the University of the West Indies Seismic Research Center in Port-of –Spain, Trinidad issued an advisory on Tuesday indicating that the alert level has been raised from Yellow to Orange.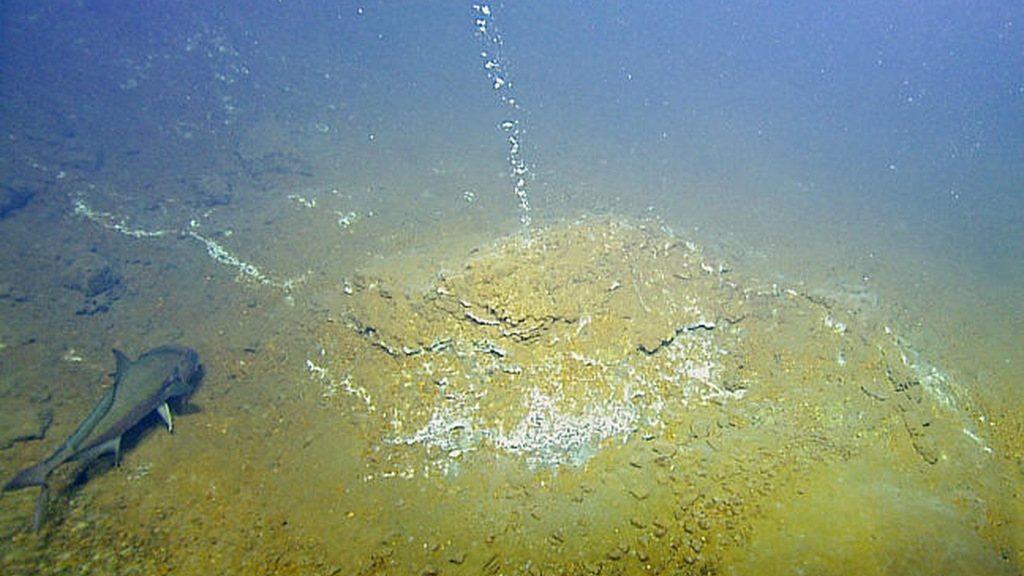 The statement said that with this increase in the alert level, ships and other marine operators are asked to observe the exclusion zone of 5 km/3.1miles.
NaDMA in collaboration with the University of the West Indies Seismic Research Center will continue to monitor the activities of Kick em' Jenny and will update the public as necessary, the release said.
Source : Looptt.