January 23, 2022. EN. Alaska : Great Sitkin , Indonesia : Semeru , La Martinique Island : Mount Pelee , Mexico : Popocatepetl , Hawaii : Mauna Loa .
January 23 , 2022.
Alaska , Great Sitkin :
52°4'35 » N 176°6'39 » W,
Summit Elevation 5709 ft (1740 m)
Current Volcano Alert Level: WATCH
Current Aviation Color Code: ORANGE
Lava effusion from a vent within the summit crater of Great Sitkin Volcano continues at a slow rate. The overall level of seismicity is very low. Weakly elevated surface temperatures consistent with lava effusion were detected in satellite data when the volcano was not obscured by cloud cover. Imagery on Monday, January 17 showed ongoing effusion and spreading around the crater source and continued advancement of lava flows down the south and west flanks. Steaming was present in web camera views and noted by local observers on Saturday, January 15.
Erupted lava has overtopped the summit crater rim and is flowing into small valleys on the south, west, and north flanks of the volcano. The terrain is steep in these areas, and blocks of lava could detach from the terminus of the flow lobes without warning and form small rock avalanches in these valleys. Such avalanches may liberate ash and gas and could travel several hundred meters beyond the lava flows; they would be hazardous to anyone in those areas.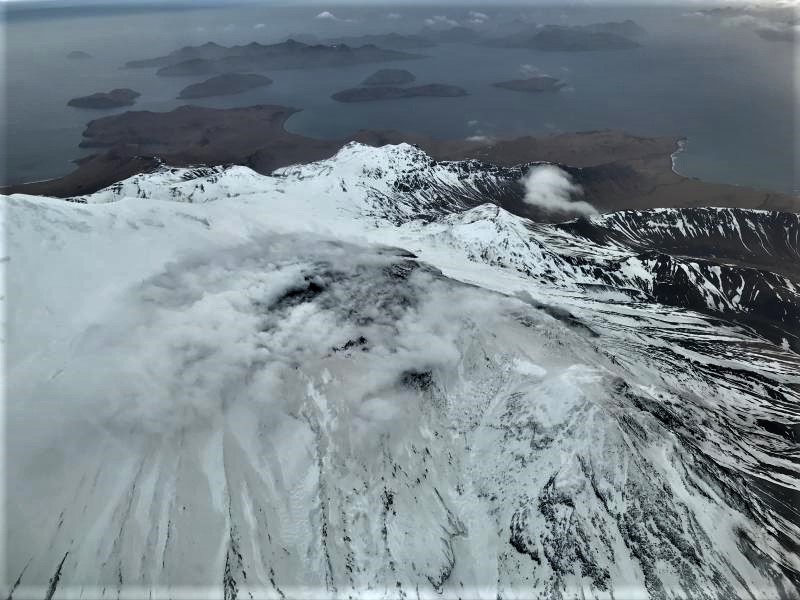 Photo of Great Sitkin Volcano taken during Alaska Airlines flight 187 from Adak to Anchorage on Sunday, December 19, 2021.
Great Sitkin is monitored by local seismic and infrasound sensors, satellite data, web cameras, and remote infrasound and lightning networks.
Great Sitkin Volcano is a basaltic andesite volcano that occupies most of the northern half of Great Sitkin Island, a member of the Andreanof Islands group in the central Aleutian Islands. It is located 43 km (26 miles) east of the community of Adak. The volcano is a composite structure consisting of an older dissected volcano and a younger parasitic cone with a 3 km-diameter summit crater. A steep-sided lava dome, emplaced during the most recent significant eruption in 1974, occupies the center of the crater. That eruption produced at least one ash cloud that likely exceeded an altitude of 25,000 ft above sea level. A poorly documented eruption occurred in 1945, also producing a lava dome that was partially destroyed in the 1974 eruption. Within the past 280 years a large explosive eruption produced pyroclastic flows that partially filled the Glacier Creek valley on the southwest flank.
Source : AVO.
Photo : First Officer Joseph Leman, submitted by Captain Dave Clum.
Indonesia , Semeru :
The volcano is clearly visible until it is covered by fog. Smoke from the main crater is white/gray with moderate to high intensity about 300 meters above the summit. The weather is sunny to rainy, the wind is light to moderate in the North, North-East and South.
At night, an incandescence is observed.
Earthquakes are related to magma and tectonic activity.
– 33 earthquakes of eruptions/explosions
– 4 avalanche earthquakes
– 26 emission earthquakes
– 6 harmonic tremors
– 1 deep volcanic earthquake
– 1 distant tectonic earthquake
– 3 flood earthquakes.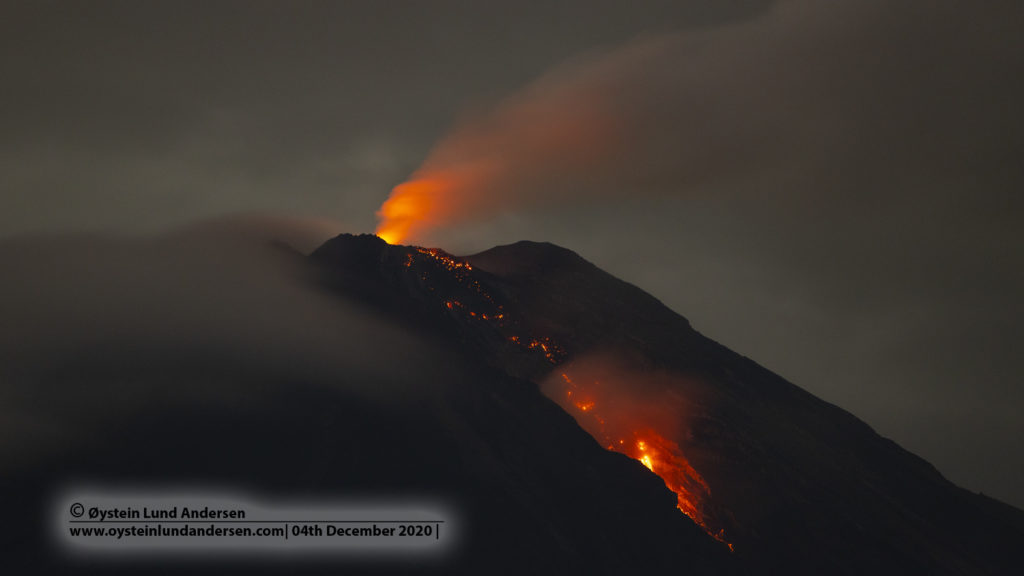 VOLCANO OBSERVATORY NOTICE FOR AVIATION – VONA
Issued : January 22 , 2022
Volcano : Semeru (263300)
Current Aviation Colour Code : ORANGE
Previous Aviation Colour Code : orange
Source : Semeru Volcano Observatory
Notice Number : 2022SMR12
Volcano Location : S 08 deg 06 min 29 sec E 112 deg 55 min 12 sec
Area : East java, Indonesia
Summit Elevation : 11763 FT (3676 M)
Volcanic Activity Summary :
Eruption with volcanic ash cloud at 02h11 UTC (09h11 local). Eruption and ash emission is continuing.
Volcanic Cloud Height :
Best estimate of ash-cloud top is around 12403 FT (3876 M) above sea level, may be higher than what can be observed clearly. Source of height data: ground observer.
Other Volcanic Cloud Information :
Ash-cloud moving to north
Sources : PVMBG , Magma Indonésie .
Photo : Oystein Lund Andersen .
La Martinique Island , Mount Pelée :
Weekly report on the activity of Mount Pelée for the period from January 14 to 21, 2022.
Between January 14, 2022 at 4 p.m. (UTC) and January 21, 2022 at 4 p.m. (UTC), the OVSM recorded at least 28 volcano-tectonic earthquakes including:
-27 earthquakes of magnitude less than or equal to 0.7 and located inside the volcanic edifice between 3.0 and 1.0 km deep below the surface. This superficial volcano-tectonic seismicity is associated with the formation of micro-fractures in the volcanic edifice.
-1 earthquake of magnitude equal to 1.5, located about 3.7 km southeast of Le Pécheur, about 26 km deep. This earthquake could be associated with the fracturing inside the Caribbean plate located under the volcanic edifice.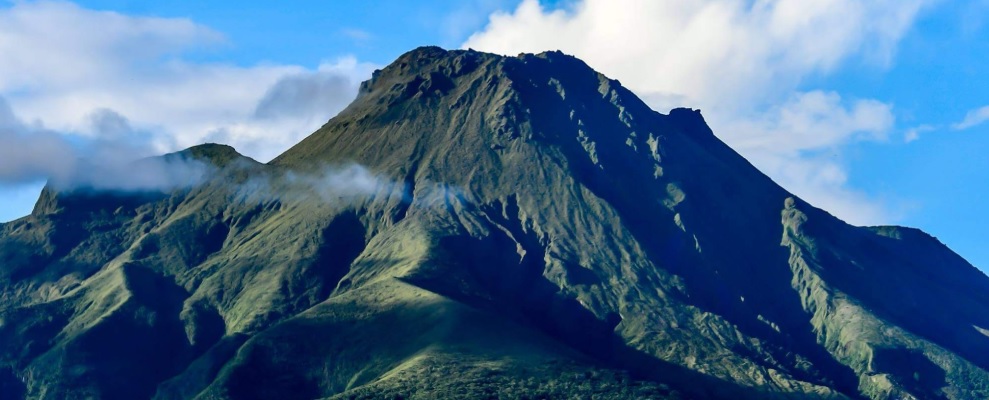 None of these earthquakes were felt by the population.
The zone of degassing at sea at shallow depth between St Pierre and le Prêcheur is still observed. The IGP took fluid samples in order to understand the origin of this degassing and to assess its possible relationship with the Mount Pelée hydrothermal system.
Vegetation is regrowing at the level of the main zone of degraded vegetation which is observed on the southwestern flank of Mount Pelee, between the upper Claire river and the Chaude river. However, new areas of deteriorated and dead vegetation have been detected by analysis of satellite images in the upper Claire River and near the Hot Springs.
The alert level remains YELLOW: vigilance.
Source :Management of the OVSM IPGP.
Photo : Ville-Saintemarie.
Mexico , Popocatepetl :
January 22, 11:00 (January 22, 17:00 GMT)
During the last 24 hours, according to the monitoring systems of the Popocatépetl volcano, 29 low intensity exhalations have been identified, accompanied by volcanic gases and small amounts of ash.
During the morning and at the time of this report, a slight emission of volcanic gases is observed in a northeasterly direction.
CENAPRED urges NOT TO APPROACH the volcano and especially the crater, because of the danger of falling ballistic fragments and, in case of heavy rains, to stay away from the bottom of the ravines because of the danger of mudslides and of debris.
The Popocatépetl volcanic warning light is in YELLOW PHASE 2.
Source : Cenapred .
Photo : Cenapred ( archive).
Hawaii , Mauna Loa :
19°28'30 » N 155°36'29 » W,
Summit Elevation 13681 ft (4170 m)
Current Volcano Alert Level: ADVISORY
Current Aviation Color Code: YELLOW
Activity Summary:
Mauna Loa volcano is not erupting. Rates of seismicity remain slightly elevated above long-term background levels, but have not changed significantly over the past week. Other Mauna Loa monitoring data streams—ground deformation, gas concentrations, visual appearance in webcams—show no significant changes.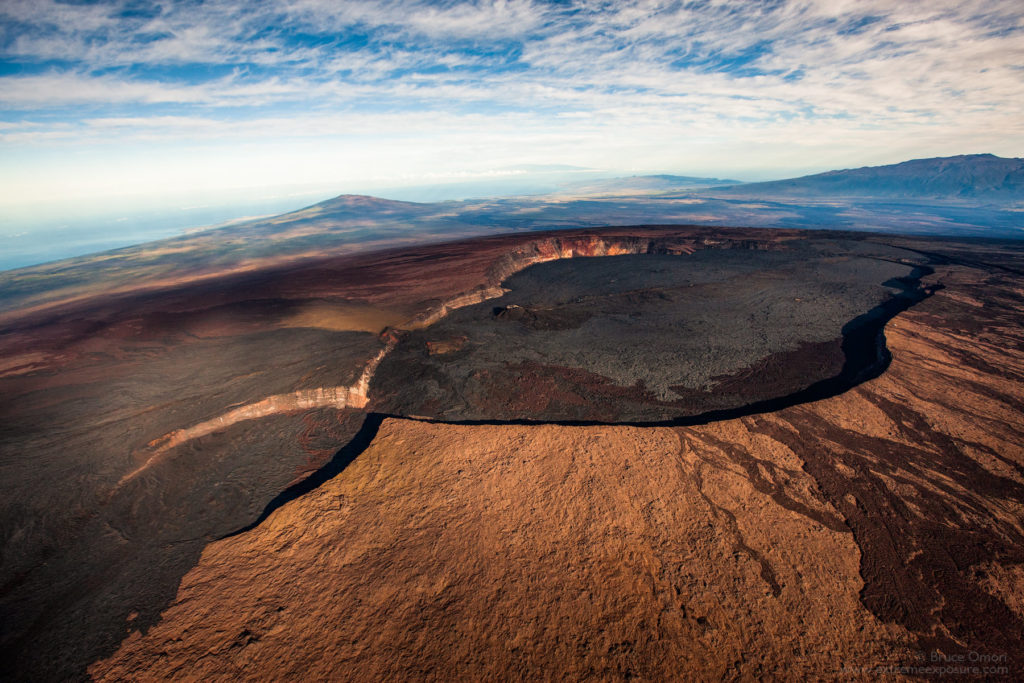 Observations:
During the past week, HVO seismometers recorded approximately 60 small-magnitude (below M2.5) earthquakes below the summit and upper-elevation flanks of Mauna Loa. The majority of these earthquakes occurred at shallow depths less than 10 kilometers (6 miles) below sea level.
Global Positioning System (GPS) measurements show very low rates of deformation in the summit region continuing through the past week.
Gas concentrations and fumarole temperatures at the summit and at Sulphur Cone on the Southwest Rift Zone remain stable.
Webcam views have shown no changes to the volcanic landscape on Mauna Loa over the past week.
Source : HVO
Photo : Bruce Omori .