March 08 , 2021. EN. Iceland : Reykjanes Peninsula , Italy / Sicily : Etna , Indonesia : Sinabung , Mexico : Popocatepetl , Ecuador : Sangay .
March 08 , 2021 .
Iceland , Reykjanes Peninsula :
Increased seismic tremor measured southwest of Keilir at Reykjanes Peninsula ,3.3.2021
Updated 03.03. at 19.00
At 14:20 today a sudden increase in seismic tremor was detected throughout most of Iceland's national seismic network. At the time of writing, the tremor continues although its intensity has reduced slightly. The tremor, which comprises many small, overlapping earthquakes, is sourced from a region 2 km southwest of Keilir on the Reykjanes Peninsula. Similar bursts of tremor have been observed ahead of previous volcanic eruptions in Iceland. Magma movements are a likely cause for the ongoing signal, and it is possible that an effusive (lava-producing) eruption could occur close to Keilir. However, at the time of writing, no volcanic eruption is occurring on the Reykjanes Peninsula.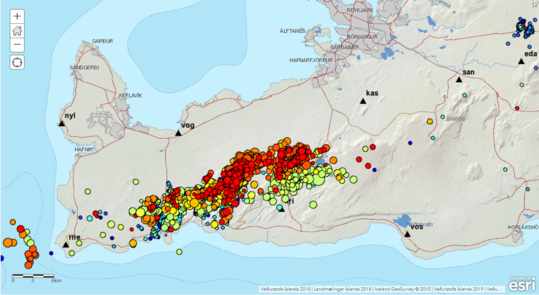 Analysis of various sensor and satellite-based monitoring data continues at pace, with further spaceborne radar images becoming available late this evening. As a precaution for domestic and international air travel, the volcanic aviation colour code for the Reykjanes Peninsula has been elevated from yellow (elevated unrest) to orange (heightened unrest). The orange alert represents the third-highest level, with red reserved for an imminent or ongoing volcanic eruption.
Source : Vedur Is
Carte : Lísa Forsídumynd.
Italy / Sicily , Etna :
Press release on ETNA's activity, 07 March 2021, 15:45 (14:45 UTC).
The National Institute of Geophysics and Volcanology, Osservatorio Etneo, reports that as of around 12:10 UTC, surveillance cameras show that the explosive activity at the Southeast Crater (SSC) has ceased. However, due to the cloud cover, it was not possible to observe the lava flows that took place in the upper part of the Valle del Bove. Strombolian intracrater activity continues at the level of the Voragine, Bocca Nuova and Northeast craters.
In addition, from 2:00 p.m. UTC, the amplitude of the volcanic tremor is at average values and its location is close to the crater of Bocca Nuova.
The infrasound events are few and low energy localized in correspondence with the crater of Bocca Nuova.
Data from soil deformation monitoring networks did not show any other significant changes from what had been reported in previous updates.
Further updates will be communicated shortly.
Source : INGV .
Photo : Boris Behncke.
Indonesia , Sinabung :
VOLCANO OBSERVATORY NOTICE FOR AVIATION – VONA.
Issued : March 07 , 2021
Volcano : Sinabung (261080)
Current Aviation Colour Code : ORANGE
Previous Aviation Colour Code : orange
Source : Sinabung Volcano Observatory
Notice Number : 2021SIN13
Volcano Location : N 03 deg 10 min 12 sec E 98 deg 23 min 31 sec
Area : North Sumatra, Indonesia
Summit Elevation : 7872 FT (2460 M)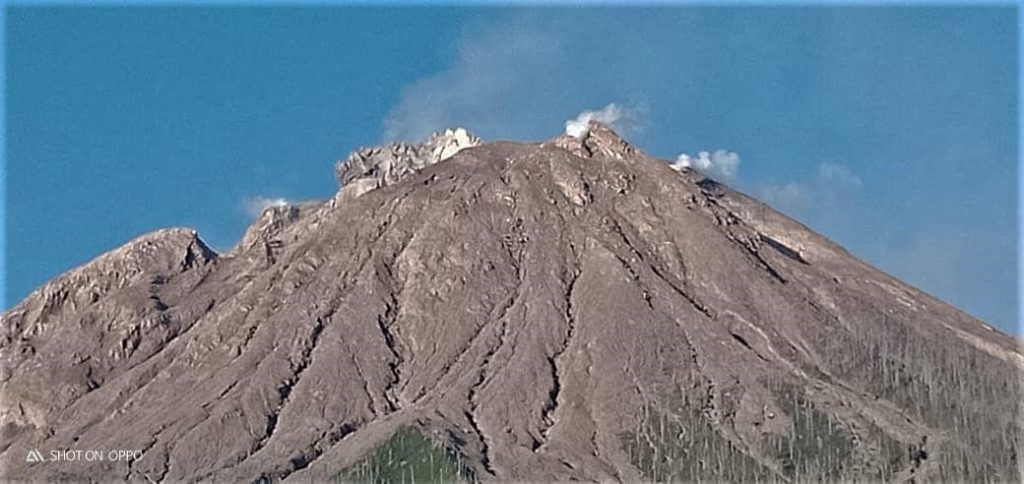 Volcanic Activity Summary :
Eruption with ash clouds at 12:01 UTC (19:01 local time). The eruption lasted for 189 seconds.
Volcanic Cloud Height :
Best estimate of ash-cloud top is around 11072 FT (3460 M) above sea level, may be higher than what can be observed clearly. Source of height data: ground observer.
Other Volcanic Cloud Information :
Ash cloud is moving to NW
Remarks :
Seismic activity is characterized by the Deep Volcanic Earthquake, Low Frequency Earthquake, and Hybrid Earthquake.
Source : Magma Indonesia .
Photo : Jeremia Bangun Jeremia Jeremia.
Mexico , Popocatepetl :
March 07, 11:00 a.m. (March 07, 5:00 p.m. GMT)
During the last 24 hours, according to the monitoring systems of the Popocatépetl volcano, 34 exhalations and 406 minutes of tremor have been identified, accompanied by emissions of water vapor, volcanic gases and small amounts of ash.
Since this morning and at the time of this report, intermittent emissions of volcanic gases and sometimes ash have been observed, which disperse in a south-southwest direction.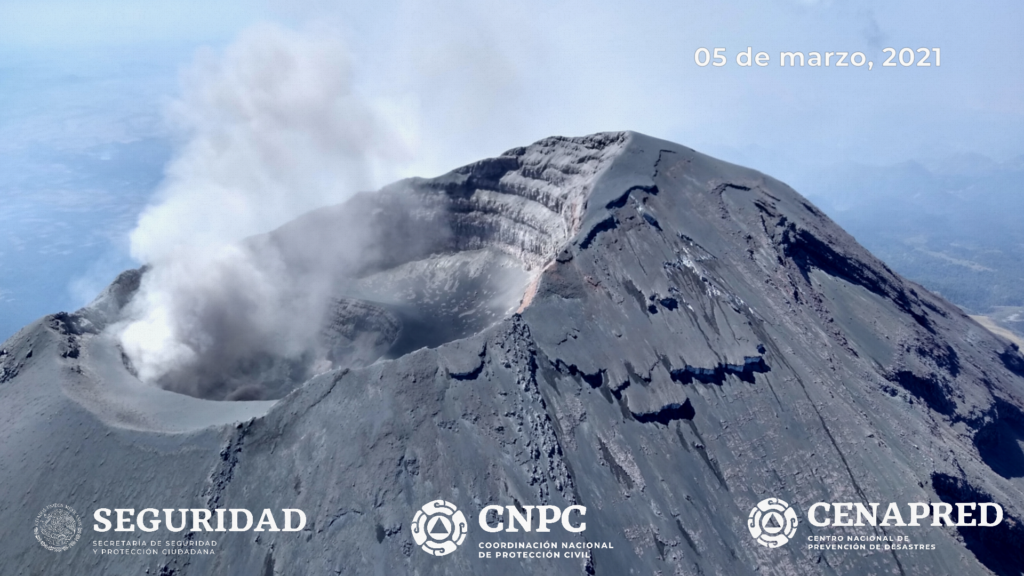 As part of the monitoring of the Popocatépetl volcano, experts from the Institute of Geophysics of the National Autonomous University of Mexico (UNAM) and the National Center for Disaster Reduction (CENAPRED), carried out an overview, with the support of the National Guard, March 5, 2021. It has been observed that the internal crater maintains a diameter of 360 to 390 meters and an approximate depth of 150 to 180 meters, which is covered with various fragmented materials (tephra). Likewise, it was confirmed that there was no lava dome inside the crater.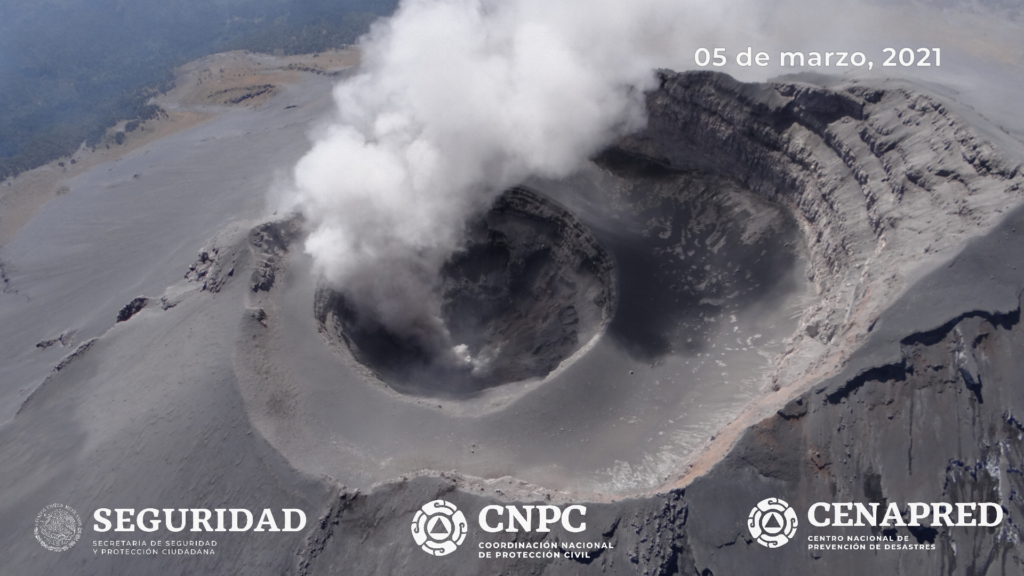 CENAPRED urges not to go as close as possible to the volcano and in particular to the crater, because of the danger posed by the fall of ballistic fragments and, in the event of heavy rains, to stay away from the bottom of the ravines due to the danger of mudslides.
The volcanic alert level of Popocatépetl is in PHASE 2 YELLOW.
Source et photos: Cenapred.
Ecuador , Sangay :
DAILY REPORT OF THE STATE OF THE SANGAY VOLCANO, Sunday March 7, 2021.
Surface activity level: High, Surface trend: No change.
Internal activity level: High, Internal trend: No change.
Seismicity: From March 6, 2021, 11:00 a.m. to March 07, 2021, 11:00 a.m .:
There is no seismicity data because the SAGA reference station has transmission problems
Rains / lahars:
No rainy episodes were recorded in the area.
** In the event of heavy rains, these could re-mobilize the accumulated materials, generating mudslides and debris that would descend the sides of the volcano and flow into the adjacent rivers. **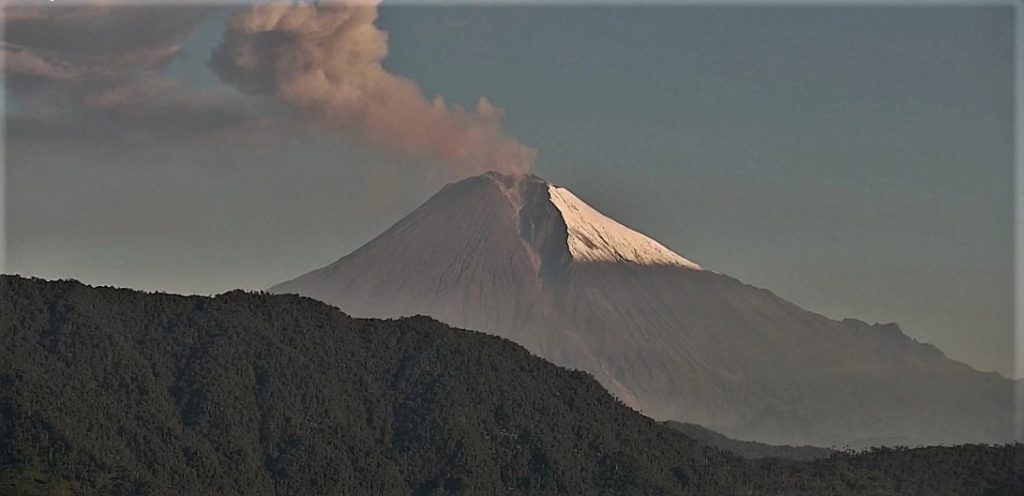 Ash Emission / Column: In the past 12 hours, the VAAC has reported 2 ash emission alerts, with altitudes above 2000 meters above crater level, one heading west and the other towards the West-South-West.
Other monitoring parameters: During the last 24 hours, there are no reports of thermal alerts regarding the Sangay volcano.
Observations: Most of the time, the volcano remained cloudy without being able to observe the activity at the surface level. Reports of ash falls have been received in Guayaquil, General Antonio Elizalde, Simón Bolívar, Milagro, San Jacinto de Yaguachi, El Triunfo, Daule, Samboróndon, Coronel Marceliño Maridueña, Durán, Naranjito, Alfredo Baquerizo Morí, Playas, Guamoteeno, Alausí , Pallatanga, Chunchí and Colta, this according to the SNGRE.
Alert level: yellow.
Sources : INSTITUTE OF GEOPHYSICS / NATIONAL SCHOOL OF POLYTECHNIQUE.
Photo : IGEPN.