January 10, 2021. EN . Russia / Kurile Islands : Ebeko , Hawaii : Kilauea , Guatemala : Santiaguito , Mexico : Popocatepetl .
January 10 , 2021 .
Russa / Kurile Islands , Ebeko :
VOLCANO OBSERVATORY NOTICE FOR AVIATION (VONA).
Issued: January 10 , 2021
Volcano: Ebeko (CAVW #290380)
Current aviation colour code: ORANGE
Previous aviation colour code: orange
Source: KVERT
Notice Number: 2021-06
Volcano Location: N 50 deg 41 min E 156 deg 0 min
Area: Northern Kuriles, Russia
Summit Elevation: 3791.68 ft (1156 m)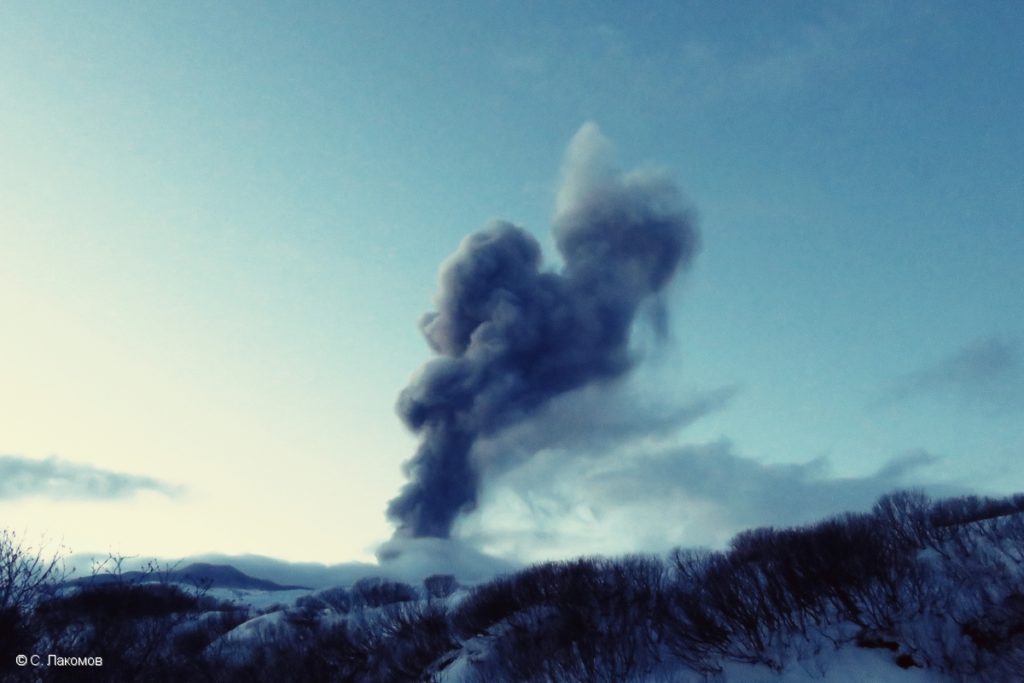 The explosive event of Ebeko volcano on 19 December, 2020.
Volcanic Activity Summary:
A moderate eruptive activity of the volcano continues. According to visual data by volcanologists from Severo-Kurilsk, explosion sent ash up to 2.8 km a.s.l., an ash cloud is drifting to the northeast of the volcano.
This activity continues. Ash explosions up to 19,700 ft (6 km) a.s.l. could occur at any time. Ongoing activity could affect low-flying aircraft and airport of Severo-Kurilsk.
Volcanic cloud height:
9184 ft (2800 m) AMSL Time and method of ash plume/cloud height determination: 20210110/0326Z – Visual data
Other volcanic cloud information:
Distance of ash plume/cloud of the volcano: 3 mi (5 km)
Direction of drift of ash plume/cloud of the volcano: NE
Time and method of ash plume/cloud determination: 20210110/0326Z – Visual data
Source : Kvert .
Photo : S. Lakomov , 19/12/2020.
Hawaii , Kilauea :
19°25'16 » N 155°17'13 » W,
Summit Elevation 4091 ft (1247 m)
Current Volcano Alert Level: WATCH
Current Aviation Color Code: ORANGE
Activity Summary:
Lava activity is confined to Halemaʻumaʻu with lava erupting from vents on the northwest side of the crater. Friday afternoon (Jan. 8), the lava lake was 194 m (636 ft) deep and perched above its western edge but stagnant along its eastern edge. SO2 emission rates were still elevated.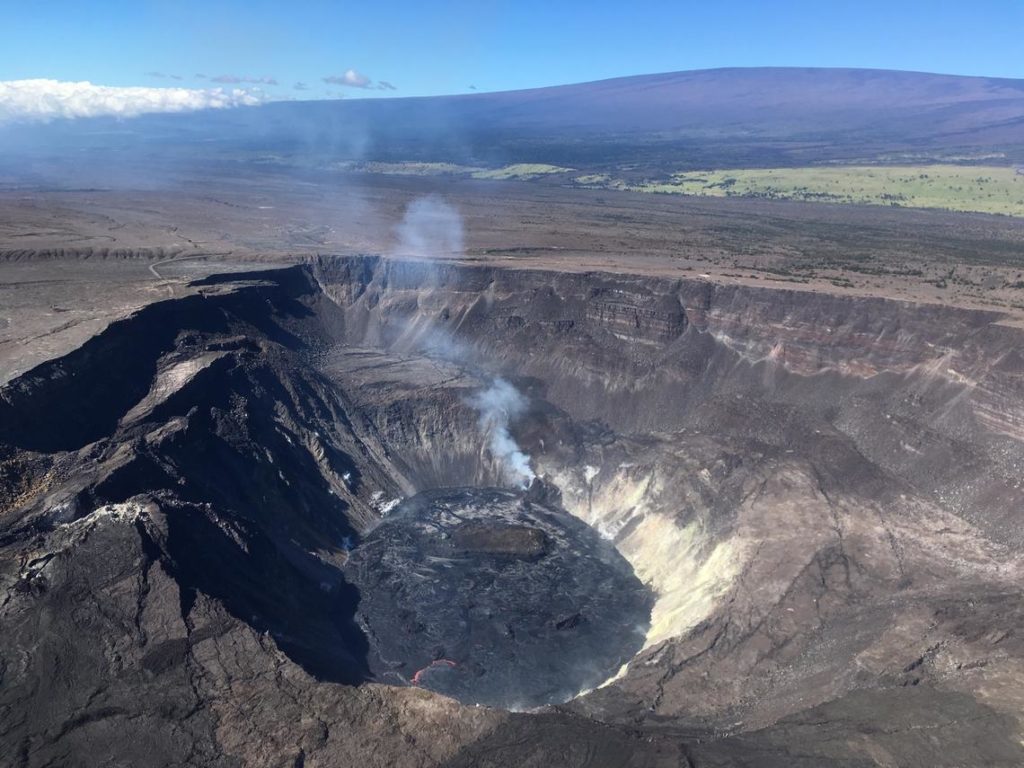 During an overflight of Kīlauea summit today (January 7, 2021) at approximately 10:30 a.m. HST, HVO geologists captured this image of the growing lava lake within Halemaʻumaʻu. Sunny weather allowed for clear views of Mauna Loa, to the west.
Summit Observations:
Summit tiltmeters recorded weak deflationary tilt since Jan. 1 with a brief, but temporary, steepening of the deflationary trend overnight between Jan. 6 and 7. Seismicity remained elevated but stable, with steady elevated tremor and a few minor earthquakes.
Halemaʻumaʻu lava lake Observations:
The west vents glowed from the top of two small cones plastered on the northwest wall of Halemaʻumaʻu crater. Over the past 24 hours, lava was flowing from the west vents through a crusted channel into the lake.
As of Wednesday (Jan. 6), the lake was still perched at least 1-2 m (1-2 yds) above its narrow edges along the western borders but more of the eastern part of the lake appeared to be stagnant this morning with lava crusts being progressively pulled beneath the liquid surface.
Measurements Friday afternoon (Jan. 1) showed that the island's edges were about 6 m (20 ft) above the lake surface. Friday afternoon, (Jan. 8), the west end of the island was measured as 9 m (10 yds) with the high point 23 m (25 yds) above the lake surface; the island may be rising.
The ongoing eruption at Kīlauea Volcano is not affecting Mauna Loa.
Source : HVO .
Photo : USGS photo by M. Patrick.
Guatemala , Santiaguito :
Activity:
The OVSAN observatory reports a degassing column at an altitude of 3,100 meters (10,171 feet) moving towards the southwest. Explosions with eruptive columns 3400 meters above sea level (11155 feet), avalanches of boulders and ash are recorded mainly towards the western and southwest flanks. However, these can also be generated towards the South and South-East flanks.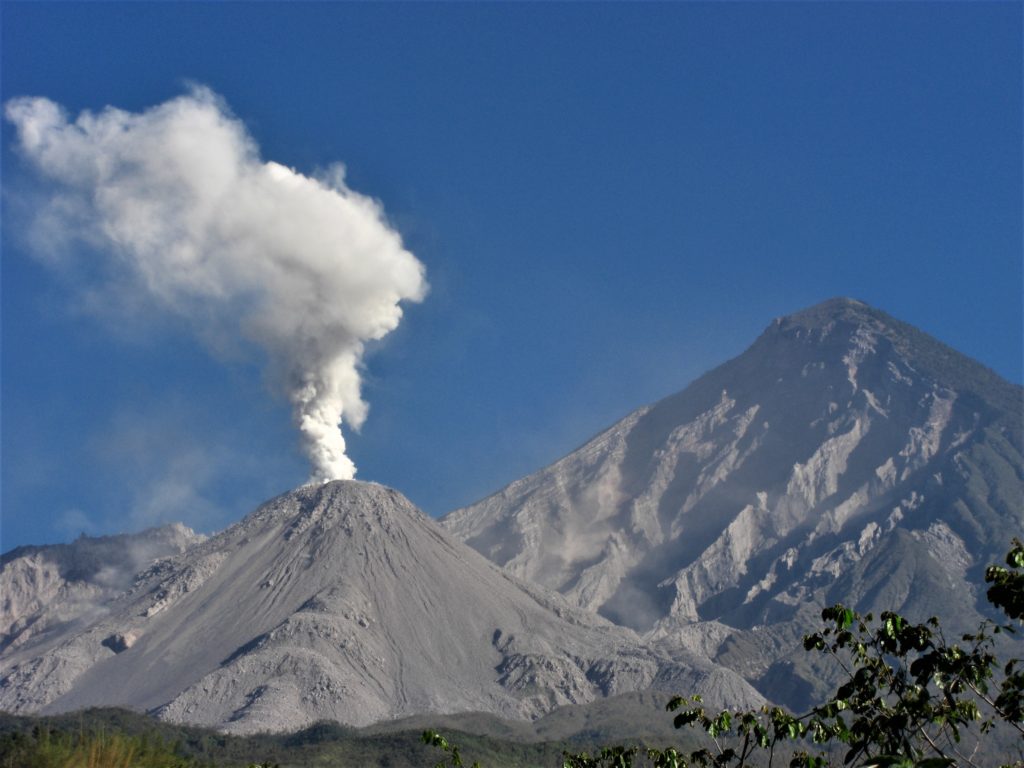 The path of the ejected materials reaches the base of the dome and causes fine particles of ash to fall on the volcanic perimeter, maintaining an environment with suspended ash. Due to the location of the block lava flow in the dome of the Caliente dome in a West-South-West direction, the appearance of boulder and ash avalanches in that same direction, as well as the emission of pyroclastic flows over long distances, is not excluded. For short periods, it is possible to hear sounds similar to those of an airplane turbine, due to the prolonged degassing in the Caliente dome.
(The recommendations of the special BESAN bulletin n ° 121-2020 remain in force).
Source : Insivumeh
Photo : Annie Winson , earthobservatory.sg
Mexico , Popocatepetl :
January 09, 11:00 a.m. (January 09, 5:00 p.m. GMT)
During the last 24 hours, through the monitoring systems of the Popocatépetl volcano, 11 exhalations and 862 minutes of tremor have been identified, accompanied by emissions of water vapor, volcanic gases and ash.
The National Center for the Operation of Communication and Civil Protection (CENACOM) yesterday reported a slight fall of ash in the municipalities of San Salvador el Verde and San Nicolás de los Ranchos, Puebla.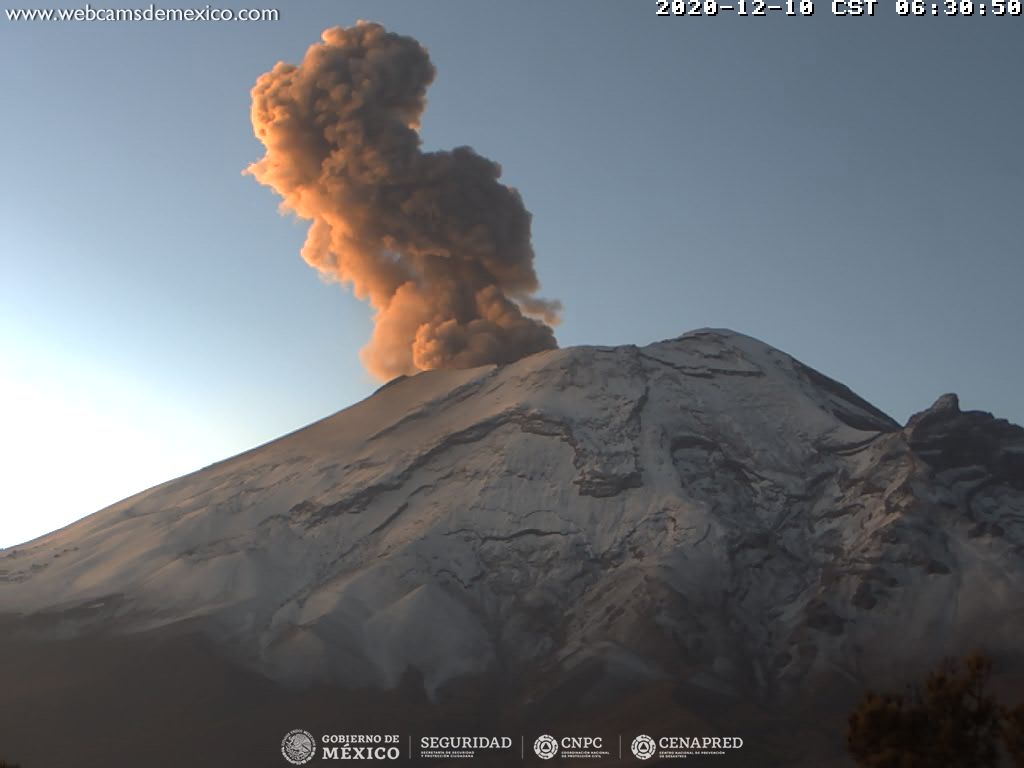 At the time of this report, there is an intermittent emission of volcanic gases dispersed in an east-northeast direction.
CENAPRED urges NOT TO APPROACH the volcano and especially the crater, because of the danger posed by the fall of ballistic fragments and, in the event of heavy rains, to stay away from the bottom of the ravines because of the danger of lava flows. mud.
The Popocatépetl volcanic alert semaphore is on YELLOW PHASE 2.
Source et photo : Cenapred .