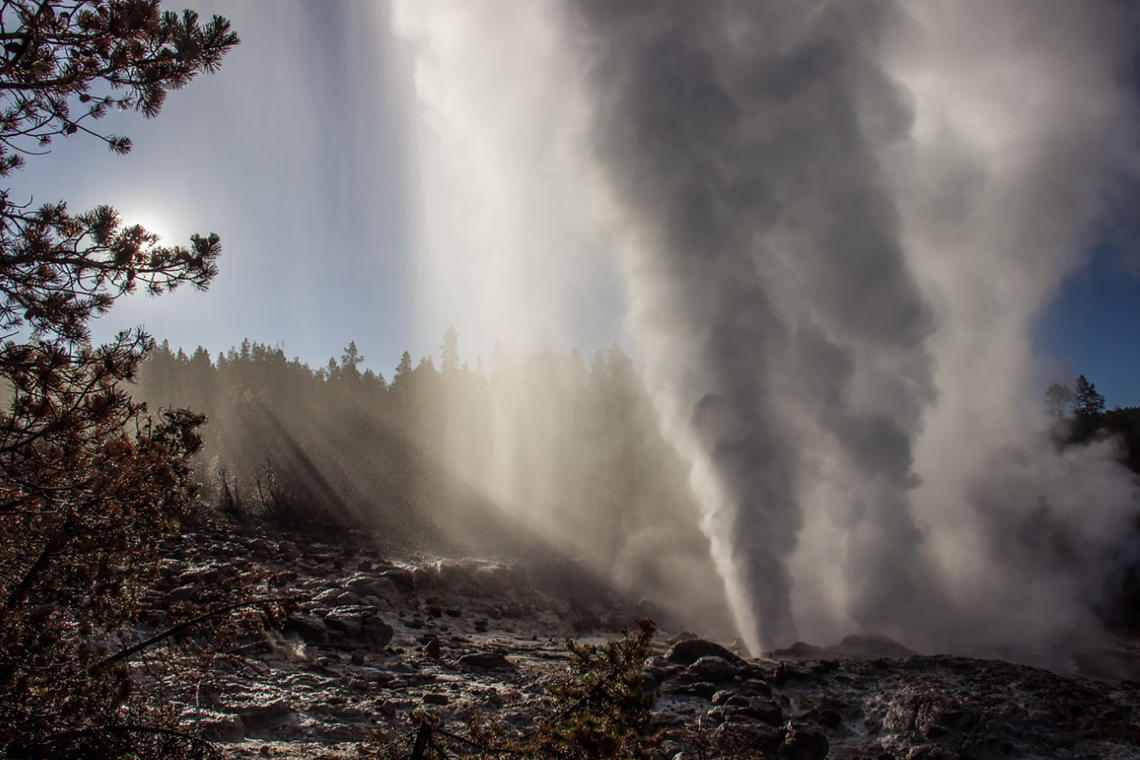 October 02 , 2023.
United – States , Yellowstone :
Sunday, October 1, 2023, 8:59 AM MDT (Sunday, October 1, 2023, 14:59 UTC)
44°25'48 » N 110°40'12 » W,
Summit Elevation 9203 ft (2805 m)
Current Volcano Alert Level: NORMAL
Current Aviation Color Code: GREEN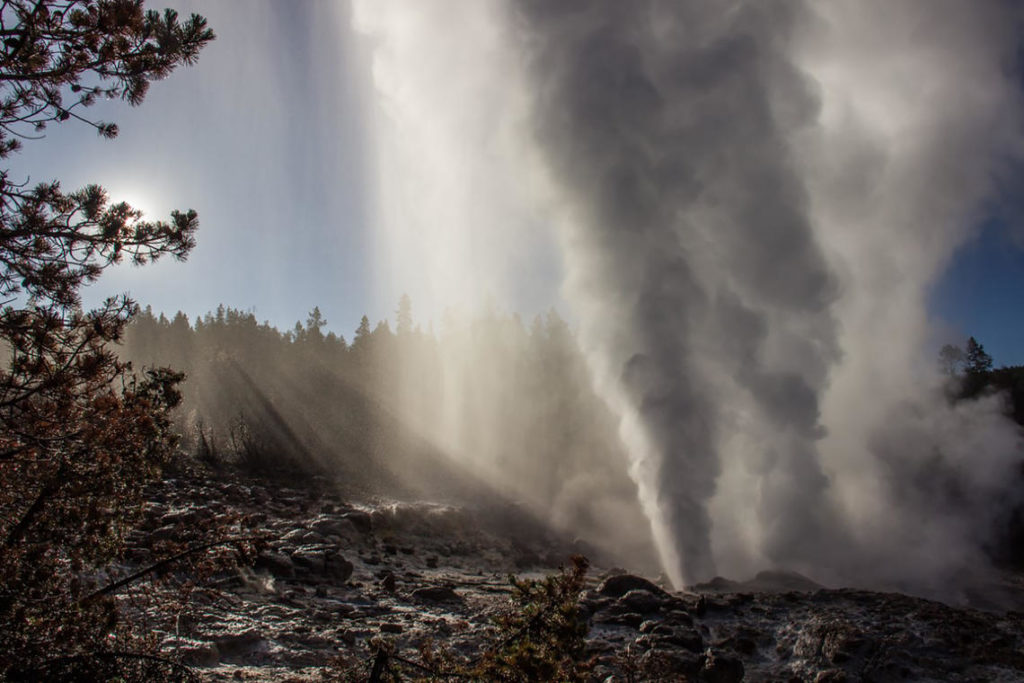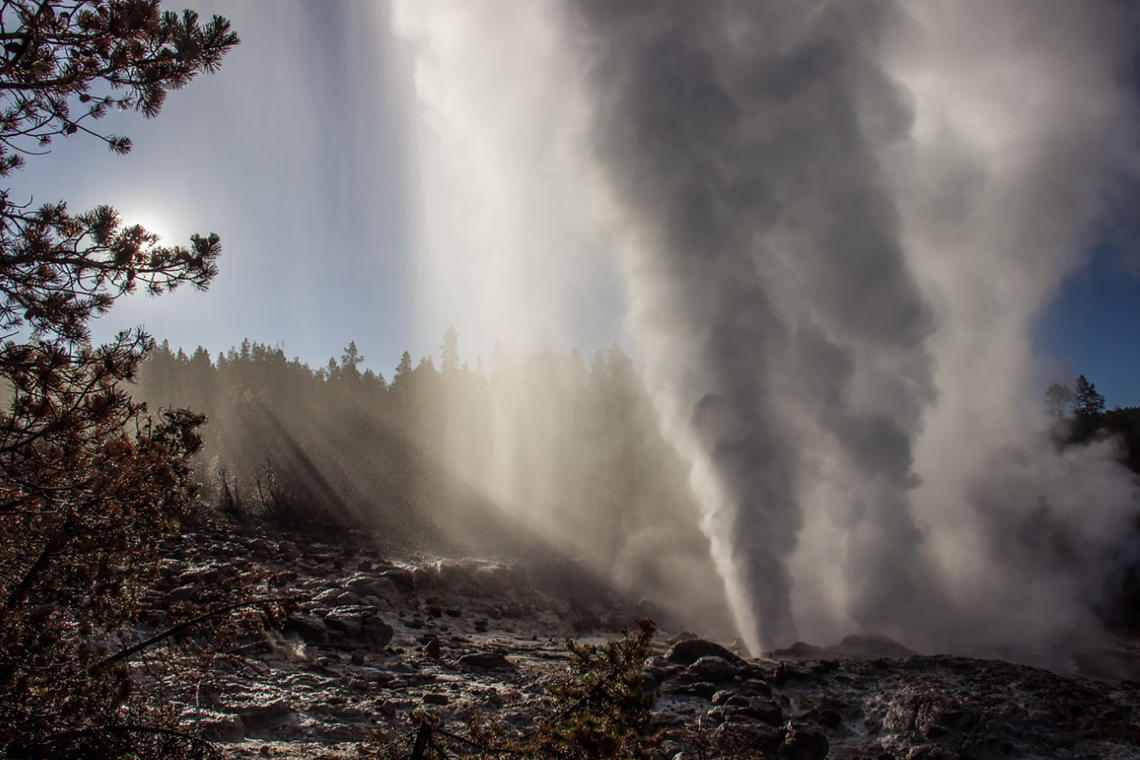 Recent Work and News
Steamboat Geyser did not have a major eruption in September, but minor eruptions starting in late September indicate that the geyser is likely to erupt in the coming weeks. There have been six major water eruptions of the geyser so far in 2023.
Yellowstone Volcano Observatory scientists remained busy thoughout the month as the summer season started to come to a close. Field work included completing the installation of a combined seismic, infrasound, GPS, and weather station at Norris Geyser Basin, maintenance of the seismic and GPS networks, recovery of the seasonally deployed semi-permanent GPS stations (they will be redeployed in May, after the winter snows have mostly melted), collection of gas and water samples from around the park, maintenance of the continuous gas monitoring equipment near Mud Volcano, investigations of hydrothermal areas throughout the park, and geological studies that aim to better understand Yellowstone's history of glaciation and hydrothermal explosions.
Seismicity
During September 2023, the University of Utah Seismograph Stations, responsible for the operation and analysis of the Yellowstone Seismic Network, located 87 earthquakes in the Yellowstone National Park region. The largest event of the month was a minor earthquake of magnitude 2.8 located about 11 miles northeast of West Yellowstone, Montana, on September 10 at 4:28 PM MDT.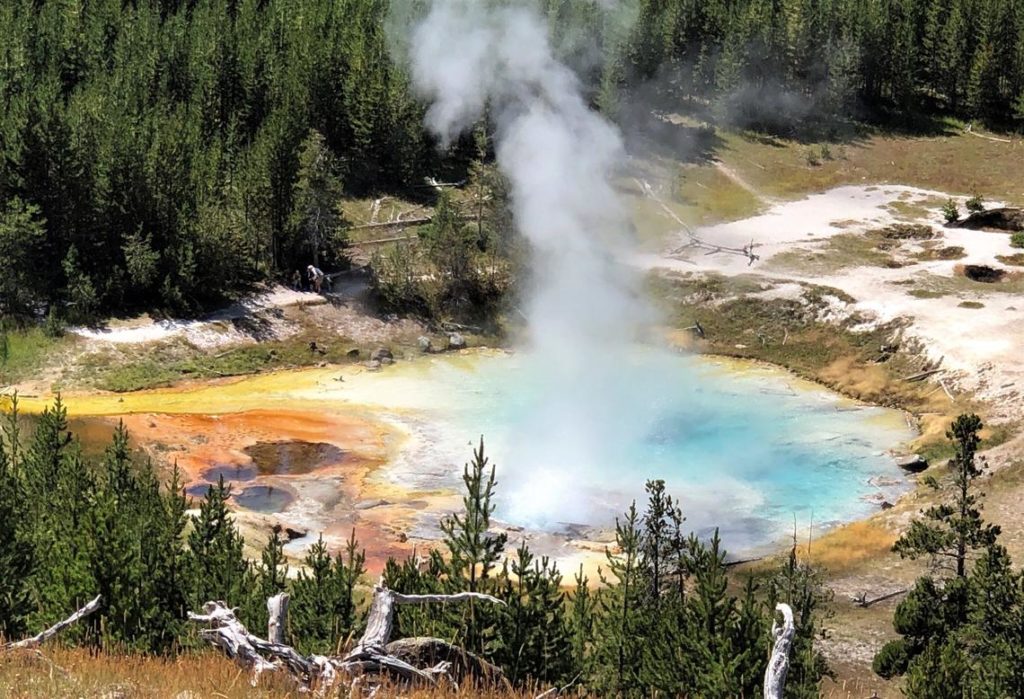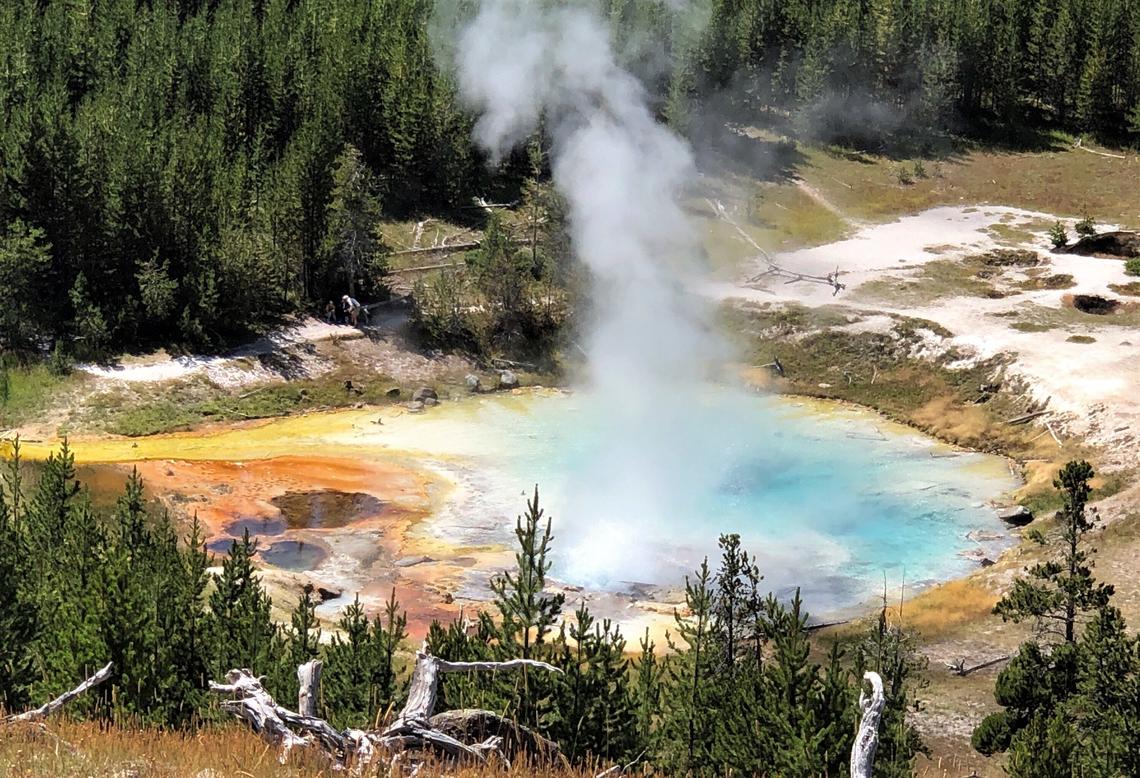 September seismicity in Yellowstone was marked by one swarm of 12 earthquakes, located approximately 11 miles northeast of West Yellowstone, Montana, that occurred September 9–11. The largest earthquake in the sequence is also the largest of the month (described above).
Yellowstone earthquake activity is currently at background levels.
Ground Deformation
During the month of September, continuous GPS stations in Yellowstone Caldera continued to record a pause in long-term ground subsidence, which has been ongoing since 2015 at rates of a few centimeters (about 1–2 inches) per year. A small amount of seasonal uplift of about 1 cm (0.4 in) has been recorded as water from snowmelt and runoff percolates into the subsurface, causing the ground to swell like a wet sponge—a style of deformation that occurs each summer—although all of that seasonal uplift occurred during May–July, with no change in August and September. A GPS station near Norris Geyser Basin has recorded about 1 cm (0.4 in) of uplift since July, probably as a result of seasonal groundwater changes.
Source : YVO
Photos : steamboat_Mara Reed , Pat Shanks/ Imperial Geyser.
La Réunion , Piton de la fournaise :
Press release from the Paris Institute of Globe Physics / Piton de la Fournaise Volcanological Observatory, October 1, 2023 – 8:30 p.m. local time – 4:30 p.m. UTC
Earthquake felt
On Sunday October 1, 2023, at 7:46 p.m. (local time – 3:46 p.m. UT), an earthquake was felt by residents of the island, mainly in the north of the island and the Salazie sector.
This earthquake was recorded by the seismometers of the Piton de la Fournaise Volcanological Observatory. The first analyzes of this earthquake made it possible to locate it, at a depth of 28 km, 8 km southwest of Saint-Clotilde. Its magnitude was measured at 2.4 on the Richter scale.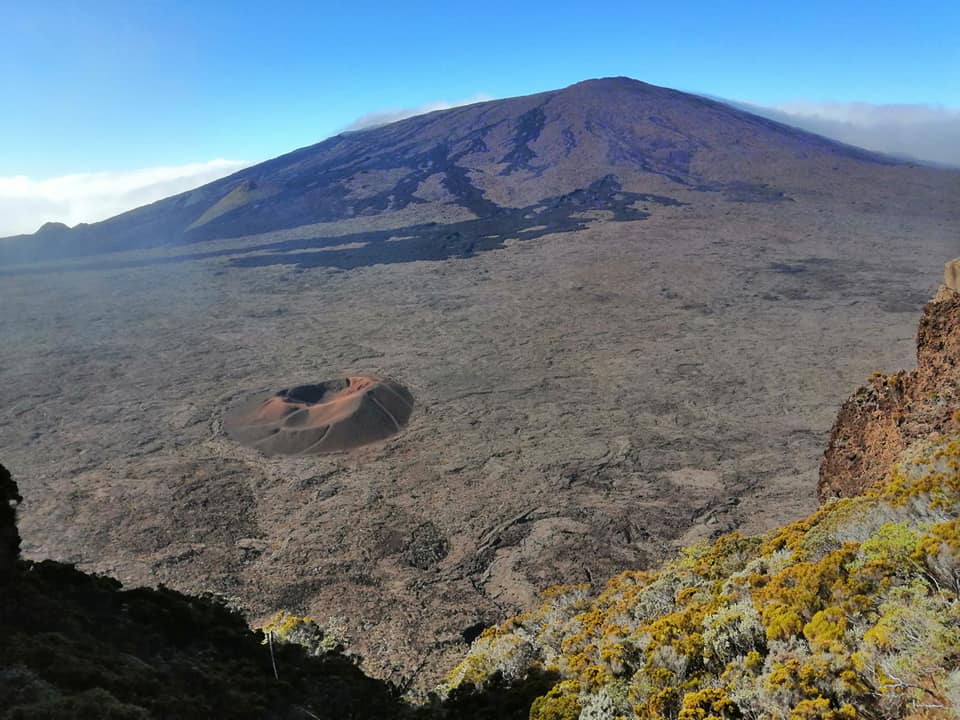 OVPF staff are working to refine the location calculations for this event. Also information regarding location and intensity could evolve marginally.
This type of event, felt by the population, is recorded several times a year. This event is isolated and is of tectonic origin. To date, this earthquake has not been followed by aftershocks.
Call for testimonials on felt earthquakes: the real intensities (effects of an earthquake in a given location) can only be correctly determined by collecting testimonies. If you felt this earthquake, even slightly, you are invited to report it to the BCSF (French Central Seismological Bureau) on the site http://www.franceseisme.fr/
Source : OVPF
Photo : Nath Duverlie
Indonesia , Ibu :
An eruption of Mount Ibu occurred on Monday 2 October 2023 at 09:26 WIT with the height of the ash column observed at ±1,100 m above the summit (±2,425 m above sea level) . The ash column was observed to be gray with thick intensity, oriented towards the North. This eruption was recorded on a seismograph with a maximum amplitude of 28 mm and a duration of 60 seconds.
VOLCANO OBSERVATORY NOTICE FOR AVIATION – VONA
Issued : October 02 , 2023
Volcano : Ibu (268030)
Current Aviation Colour Code : ORANGE
Previous Aviation Colour Code : orange
Source : Ibu Volcano Observatory
Notice Number : 2023IBU037
Volcano Location : N 01 deg 29 min 17 sec E 127 deg 37 min 48 sec
Area : North Maluku, Indonesia
Summit Elevation : 4240 FT (1325 M)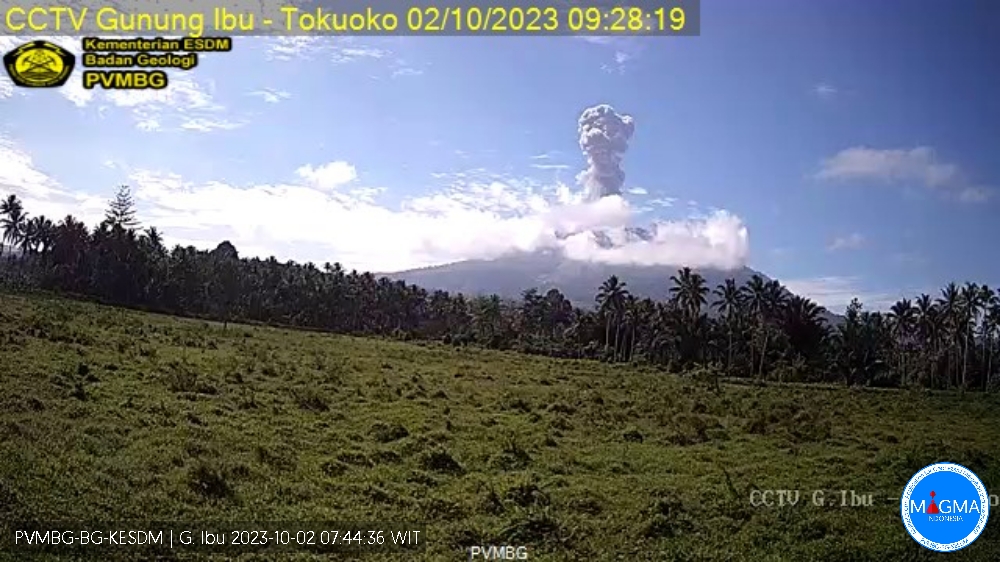 Volcanic Activity Summary :
Eruption with volcanic ash cloud at 00h26 UTC (09h26 local).
Volcanic Cloud Height :
Best estimate of ash-cloud top is around 7760 FT (2425 M) above sea level or 3520 FT (1100 M) above summit. May be higher than what can be observed clearly. Source of height data: ground observer.
Other Volcanic Cloud Information :
Ash cloud moving to north. Volcanic ash is observed to be gray. The intensity of volcanic ash is observed to be thick.
Remarks :
Eruption recorded on seismogram with maximum amplitude 28 mm and maximum duration 60 second.
Source et photo : Magma Indonesie.
Ecuador , Sangay :
DAILY REPORT ON THE STATE OF THE SANGAY VOLCANO, Sunday October 1, 2023.
Information Geophysical Institute – EPN.
Surface activity level: High, Surface trend: No changes
Internal activity level: High, Internal trend: No changes
Seismicity: From September 30, 2023, 11:00 a.m. to October 1, 2023, 11:00 a.m.:
The number of seismic events recorded at the reference station over the past 24 hours is shown below. The level of seismic activity of the volcano remains high.
Explosion Event (EXP): 662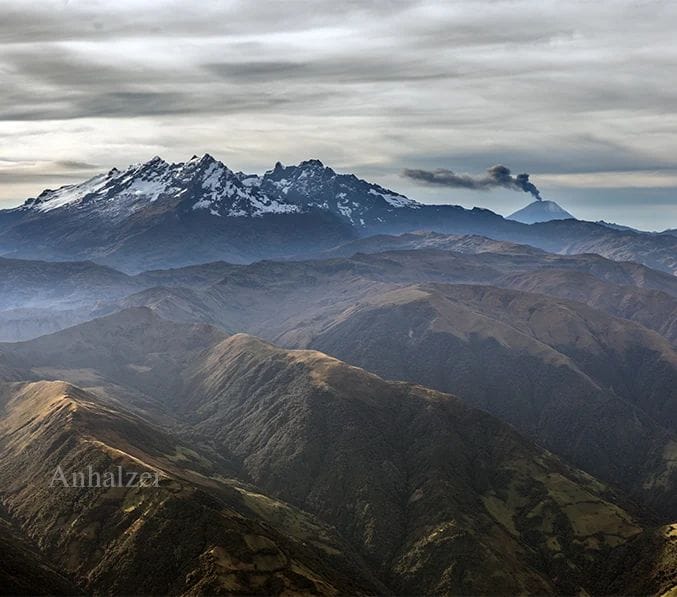 Precipitation/Lahars:
No rain was recorded in the volcano area. *In the event of heavy rains, these could remobilize the accumulated materials, generating mud and debris flows which would descend the sides of the volcano and flow into adjacent rivers.
Emissions/ash column:
According to the camera system, since yesterday afternoon, 5 gas and ash emissions have been observed, with heights between 200 and 1,500 meters above the level of the crater, in the West and South-West directions. Washington's VAAC agency issued 4 alerts detecting ash plumes reaching an approximate height of 1,170 meters above the crater level, all heading west.
Other monitoring parameters:
The FIRMS satellite system detected 1 thermal anomaly, while the MIROVA-MODIS satellite system detected 1 moderate thermal anomaly. Finally, the MIROVA-VIIRS satellite system recorded 2 weak thermal anomalies.
Observation:
Yesterday afternoon, the volcano remained cloudy. From the night until this morning, according to the camera systems, it was possible to observe several episodes of incandescence, with material descending through the southeast ravine of the volcano up to 1,800 meters below the level of the crater. From the early morning hours until this report was released, the volcano remained partially clear.
Alert level: Orange.
Source : IGEPN.
Photo :  Jorge Anhalzer
Guatemala , Santiaguito :
Weather conditions: Clear weather.
Wind: East.
Precipitation: 27.2 mm.
Activity:
The Santa María-Santiaguito Volcanic Complex Observatory reports activity in the Caliente dome, with abundant degassing of water vapor and other magmatic gases 800 meters above the dome. During the night and early morning, incandescence was observed in the dome. Small to moderate explosions occur at a rate of 1 to 2 per hour and raise columns of water vapor and ash to heights of 700 to 1000 meters above the dome and cause flows of blocks and rocks to descend. ashes mainly towards the West and South-West flanks of the Caliente dome, leaving its gullies marked with gray ashes, which reach the base of the dome.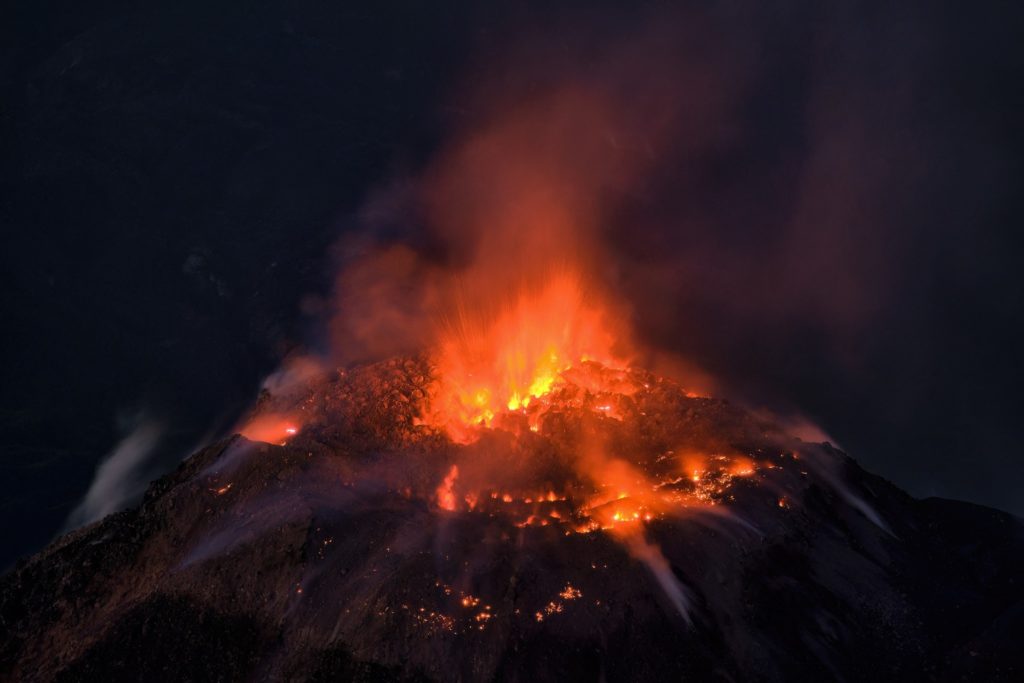 The material from these flows accumulates in the promontory of the lava flow. The descent of these flows produces faint noises perceptible in areas close to the domes. Detachment of boulders from the dome and occasional lava flows continue. The west and southwest wind can cause ash falls on San Marcos Palajunoj and Loma Linda. It is recommended not to approach the lava flow in the Zanjón Seco and San Isidro channels, due to the intense heat it emits and the collapses that still occur on its edges, which could cause burns and other serious injuries to those who come near it. Activity remains at a high level and continues to accumulate material in an unstable manner in the dome of the Caliente dome, as well as along the lava flow, so there remains the possibility that with explosions or under the effect of gravity, some of this material collapses and long-distance pyroclastic flows are generated towards the South-West, South and East.
Source : Insivumeh
Photo : Thomas Spinner via FB .