February 27, 2023. EN . Indonesia : Karangetang / Kerinci , Ecuador : Cotopaxi , Alaska : Trident , Italy : Stromboli , Chile : Hudson .
February 27,  2023.
Indonesia , Karangetang / Kerinci :
The Karangetang volcano on Siau Island continues to emit hot clouds.
According to the report from the Karangetang Volcano (PGA) observation post in Salili village, on Saturday (25/2/2022), there were two hot cloud avalanches.
The first hot cloud descended at 1:20 p.m. WITA and the second around 4:40 p.m. WITA. These two hot cloud avalanches lead to Batuawang River in Bebali village, East Siau district. PGA Karangetang Post chief Yudia Tatipang confirmed the incident. He asked the people of Karangetang to be vigilant.
"The recommendations have not changed and residents are still prohibited from doing activities in the danger zone," Yudia explained.
Yudia revealed that according to the observations, there was an increase in the sliding distance of the lava avalanches, while the direction was always the same.
"Towards Batang River it reaches 1800 meters, towards Kali Beha Barat and Timbelang it reaches 1750 meters and towards Kali Batuawang and Kahetang it reaches 1500 meters," he explained.
So far, Yudia said, the condition of Karangetang Volcano is still at level three or on alert. Residents are also prohibited from doing activities within 2.5 km of the main crater. « Also in the South and South-East sectors up to 3.5 km. « The inhabitants of the banks of the river are also advised to beware of flooding from lahars because a lot of lava is stuck in the river », he said. -he declares.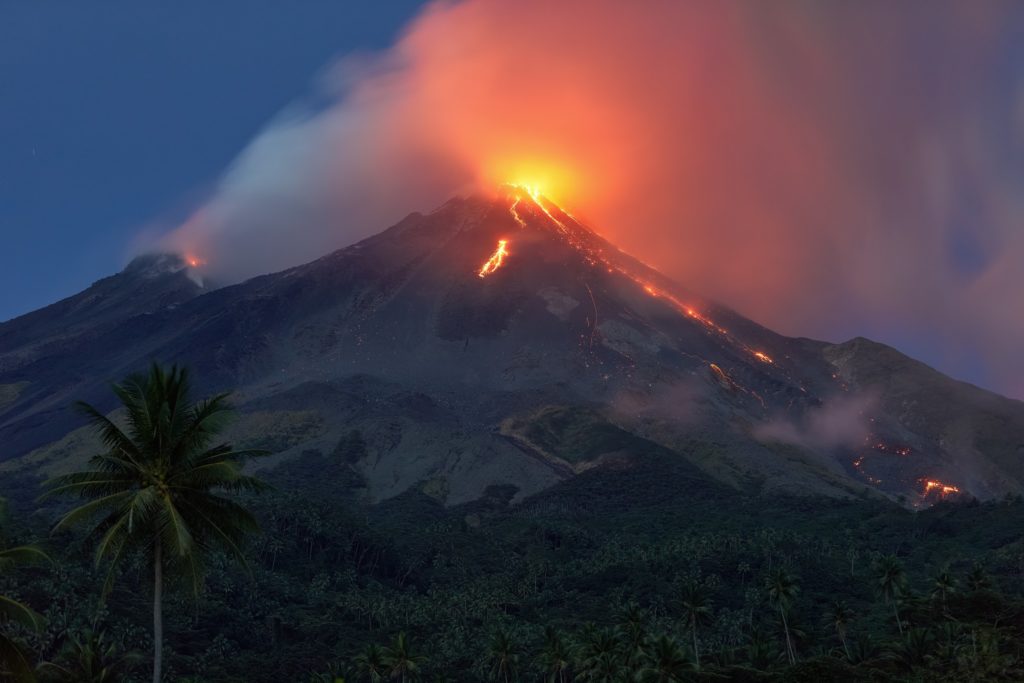 Following the lava avalanche impact from Karangetang Volcano, the Sitaro Islands Regency Government has currently evacuated 28 people from Kola Kola Hamlet, Bebali Village to an evacuation site at Ulu Siau Museum .
Kerinci Volcano:
VOLCANO OBSERVATORY NOTICE FOR AVIATION – VONA
Issued : February 26 , 2023.
Volcano : Kerinci (261170)
Current Aviation Colour Code : ORANGE
Previous Aviation Colour Code : orange
Source : Kerinci Volcano Observatory
Notice Number : 2023KER016
Volcano Location : S 01 deg 41 min 49 sec E 101 deg 15 min 50 sec
Area : Jambi, West Sumatra, Indonesia
Summit Elevation : 12176 FT (3805 M)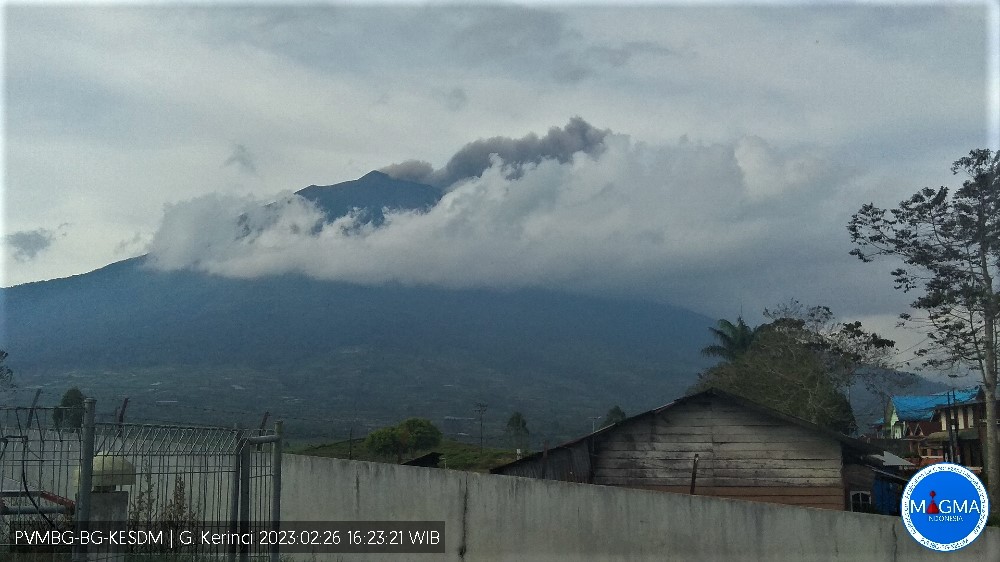 Volcanic Activity Summary :
Eruption with volcanic ash cloud at 09h25 UTC (16h25 local).
Volcanic Cloud Height :
Best estimate of ash-cloud top is around 12656 FT (3955 M) above sea level or 480 FT (150 M) above summit. May be higher than what can be observed clearly. Source of height data: ground observer.
Other Volcanic Cloud Information :
Ash cloud moving to east. Volcanic ash is observed to be gray. The intensity of volcanic ash is observed to be thick.
Remarks :
Eruption and ash emission is continuing.
Source : Zonautara.
Photo : webcam pga. Andi volcanist ( https://www.facebook.com/andi.guidevolcanism). Magma Indonesia.
Ecuador , Cotopaxi :
DAILY REPORT OF THE STATE OF COTOPAXI VOLCANO, Sunday February 26, 2023.
Information Geophysical Institute – EPN.
Surface Activity Level: Moderate, Surface Trend: Unchanged.
Internal activity level: Moderate, Internal trend: No change.
Seismicity: From February 23, 2023, 11:00 a.m. to February 24, 2023, 11:00 a.m.:
For seismicity statistics, there are 24 hours of transmission from the reference station.
Emission Tremor (TREMI) 3
Long Period (LP): 45
Volcano-tectonics ( VT): 1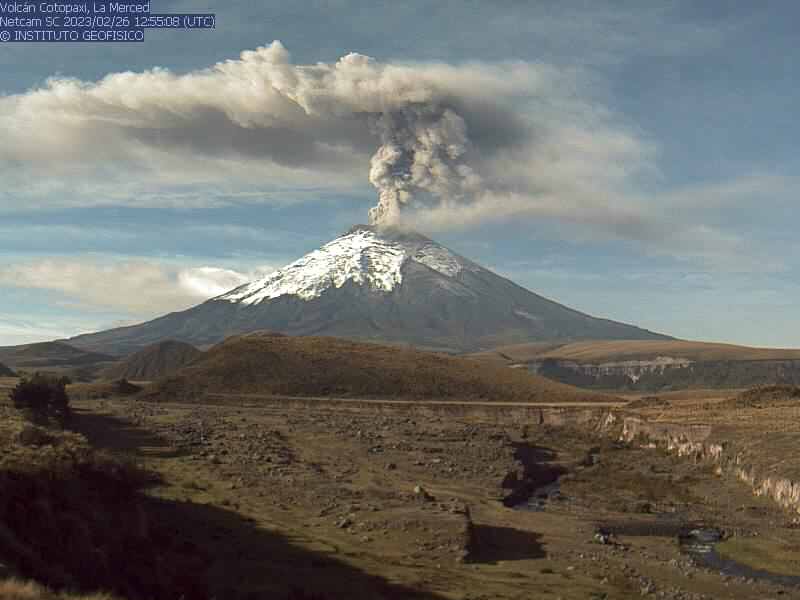 Rains / Lahars:
There are no reports of rain.
Emission / Ash Column:
During the morning, gas and water vapor emissions were observed with heights of up to 500 meters above crater level in a westerly direction.
Other Monitoring Parameters:
The FIRMS and MIROVA satellite systems have not recorded any thermal alerts in the past 24 hours.
Observation:
Since the beginning of the morning, the sky has been mostly clear, which made it possible to observe the reported emissions.
Alert level: Yellow.
Source et photo : IGEPN
Alaska , Trident :
58°14'3″ N 155°6'9″ W,
Summit Elevation 3599 ft (1097 m)
Current Volcano Alert Level: ADVISORY
Current Aviation Color Code: YELLOW
Elevated earthquake activity at Trident Volcano continues with dozens of small earthquakes detected in the past 24 hours. No significant activity was seen in partly cloudy to clear web camera or satellite imagery.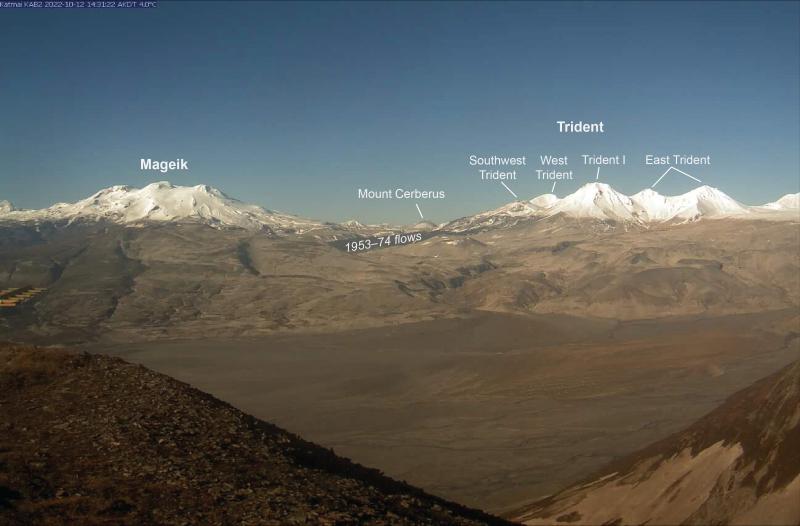 Annotated clear day webcam image from AVO site KAB2 looking northwest at Mageik and Trident volcanoes.
The current period of seismic unrest began on August 24, 2022. Increases in seismic activity have been detected previously at Trident Volcano and other similar volcanoes, with no subsequent eruptions. We expect additional shallow seismicity and other signs of unrest, such as gas emissions, elevated surface temperatures, and surface deformation to precede any future eruption, if one were to occur.
AVO monitors Trident Volcano with a local network of seismometers, a webcam, remote sensing data, and regional infrasound and lightning networks.
Source : AVO
Photo : Loewen, Matt / Alaska Volcano Observatory / U.S. Geological Survey
Italy , Stromboli :
Statement on Stromboli activity, February 27, 2023, 07:33 (06:33 UTC).
The National Institute of Geophysics and Volcanology, Osservatorio Etneo, announces that analysis of surveillance cameras shows that an overflow of lava is in progress from the North Crater area, which began around 06:00 UTC. Regarding the volcanic tremor, no significant variation is observed and it remains in the range of medium-low values. From the tilt network data, no variation is detected.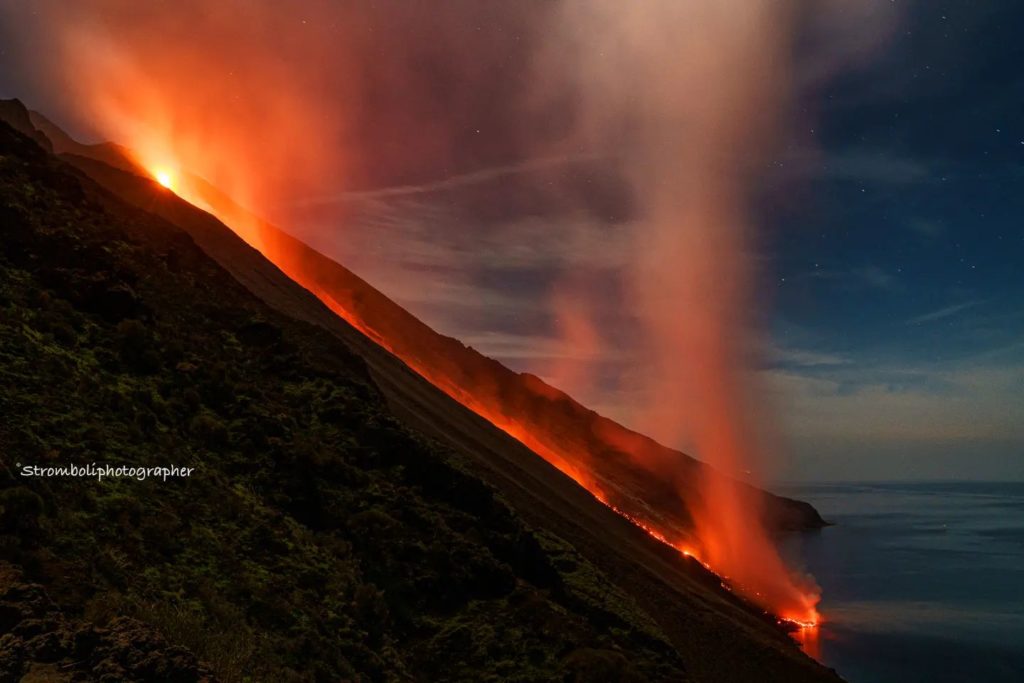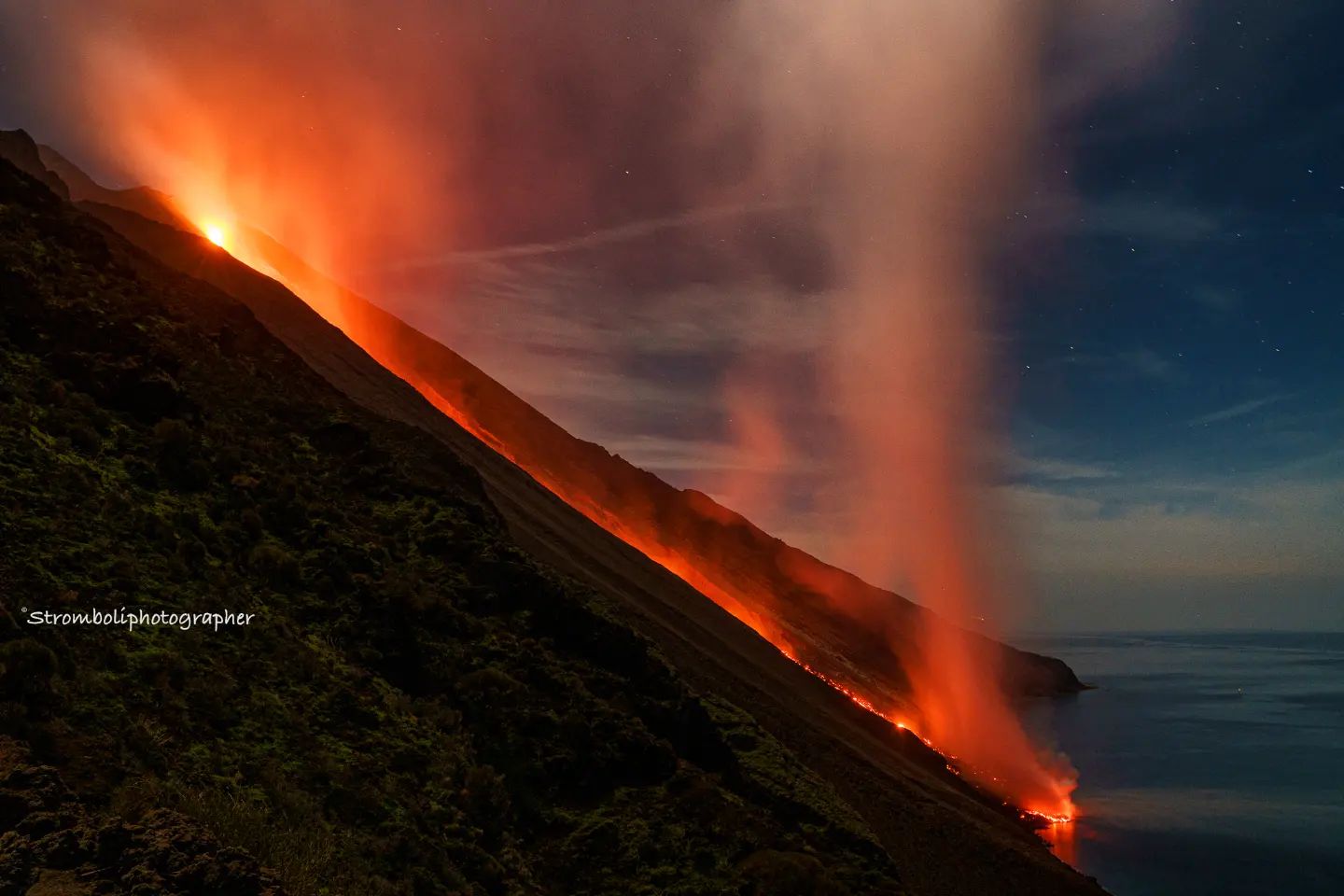 Further updates will be communicated soon.
Source : INGV.
Photo : Archive Stromboli stati d'animo.
Chile , Hudson :
Special Report on Volcanic Activity (REAV), Aysen Del General Carlos Ibanez Del Campo area, Hudson volcano, February 26, 2023, 7:12 a.m. local time (mainland Chile).
The National Service of Geology and Mines of Chile (Sernageomin) publishes the following PRELIMINARY information, obtained through the monitoring equipment of the National Volcanic Monitoring Network (RNVV), processed and analyzed at the Volcanological Observatory of the Southern Andes ( Ovdas):
On Sunday February 26, 2023, at 06:53 local time (09:53 UTC), the monitoring stations installed near the Hudson volcano recorded an earthquake associated with both rock fracturing (volcano-tectonic type) and fluid dynamics in the volcanic system (hybrid type).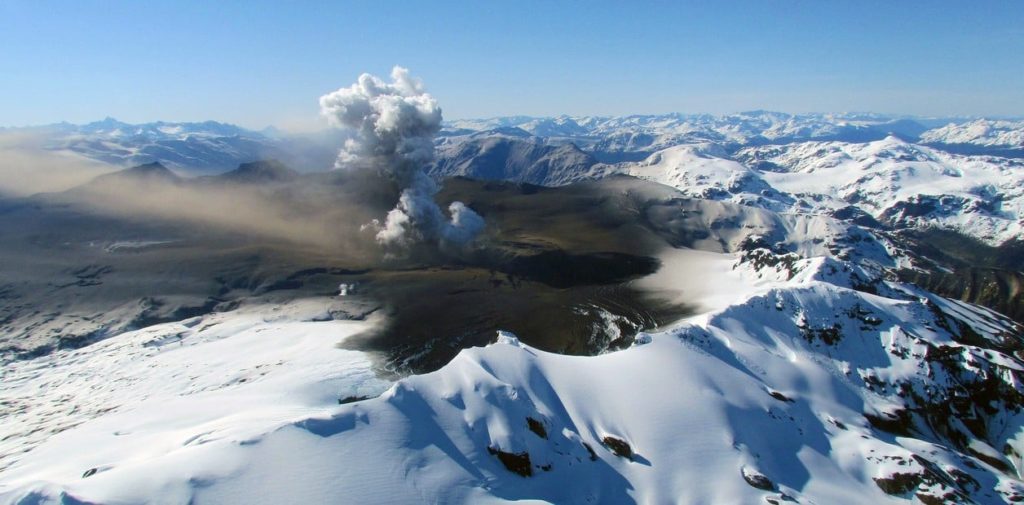 The characteristics of earthquakes after their analysis are as follows:
ORIGINAL TIME: 06:53 local time (09:53 UTC)
LATITUDE: 45.903°S
LONGITUDE: 72.945°E
DEPTH: 1.1 km
LOCAL MAGNITUDE: 3.0
REDUCED DISPLACEMENT: 1462 (cm*cm)
COMMENTS:
Following the event, no changes in the seismic behavior of the volcano were recorded.
The volcanic technical alert remains at the Green level.
Sources :  Sernageomin.
Photo :  Clarin.