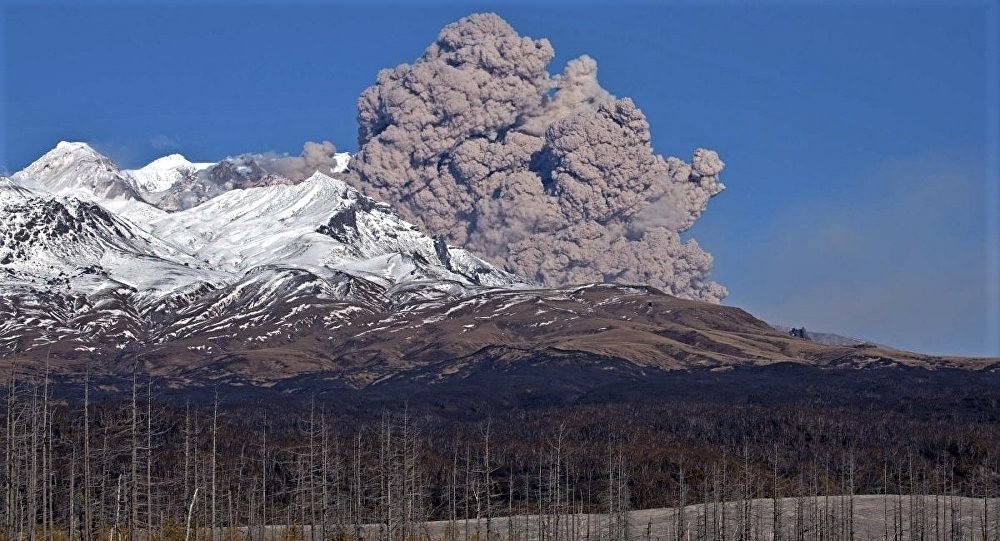 February 02 , 2023.
Vanuatu , Epi :
The Wellington VAAC reported that a low-level plume of ash and sulfur dioxide from a new eruption at Epi was identified in satellite data at 0730 on 31 January. According to the Vanuatu Meteorology and Geo-Hazards Department (VMGD) residents saw steaming at the ocean's surface in the area over the vents at around 0748, and phreatic explosions that ejected steam and tephra 100 m above the water. The Alert Level was raised to 1 (on a scale of 0-5) and the public was warned to stay 10 km away from the East Epi submarine volcano. Observers reportedly saw a growing cone from ongoing ash emissions. The VAAC noted that the eruption was short-lived and had ceased by 1548; the ash had dissipated.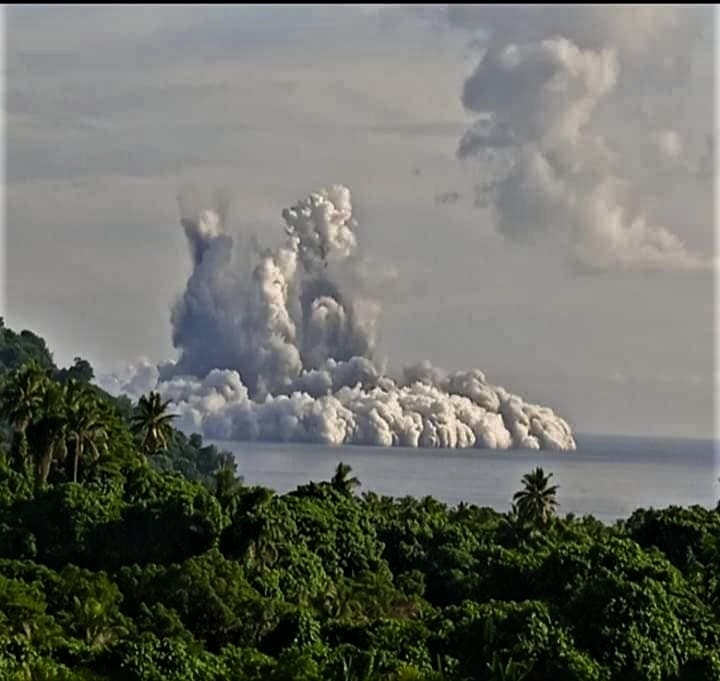 Three submarine cones, Epi A, Epi B, and Epi C, and smaller cones and craters, are located 10-16 km NNE from the summit of Epi Island and are aligned along the N rim of an inferred caldera. Epi B is the shallowest of the seamounts and has been historically active, most recently in February 2004. A March 2004 bathymetric survey revealed that Epi B was about 300 m tall, with a diameter of about 1.8 km at the base. The summit crater was about 150 m in diameter and the crater floor was at a depth of 90 m. The highest point was on the NW rim of the summit crater, at a depth of 34 m.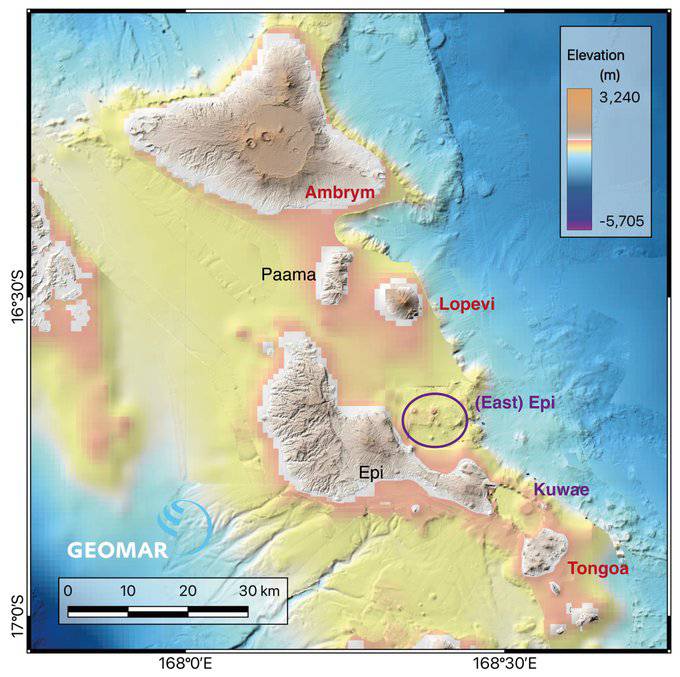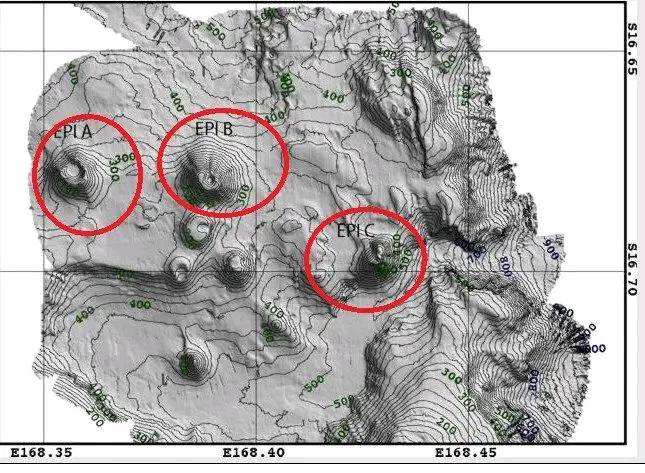 Information concerning submarine volcanoe east of Epi.
Tsunami systems within the Tsunami Warning Center (TWC) has not picked up this activity. However, such erruptions has the potential to create tsunami waves. The TWC advices that people over Epi and the Sheperd groups are advice to be observance and stay away from coastal areas. The TWC will issue further information on this erruption when more data is made avaible.
Sources : Vanuatu Meteorology and Geo-Hazards Department (VMGD), Wellington Volcanic Ash Advisory Center (VAAC) , GVP.
Photos : Terence Malapa , Patrice Zwenger.
Kamchatka , Sheveluch :
VOLCANO OBSERVATORY NOTICE FOR AVIATION (VONA)
Issued: February 02 , 2023
Volcano: Sheveluch (CAVW #300270)
Current aviation colour code: ORANGE
Previous aviation colour code: orange
Source: KVERT
Notice Number: 2023-20
Volcano Location: N 56 deg 38 min E 161 deg 18 min
Area: Kamchatka, Russia
Summit Elevation: 3283 m (10768.24 ft), the dome elevation ~2500 m (8200 ft)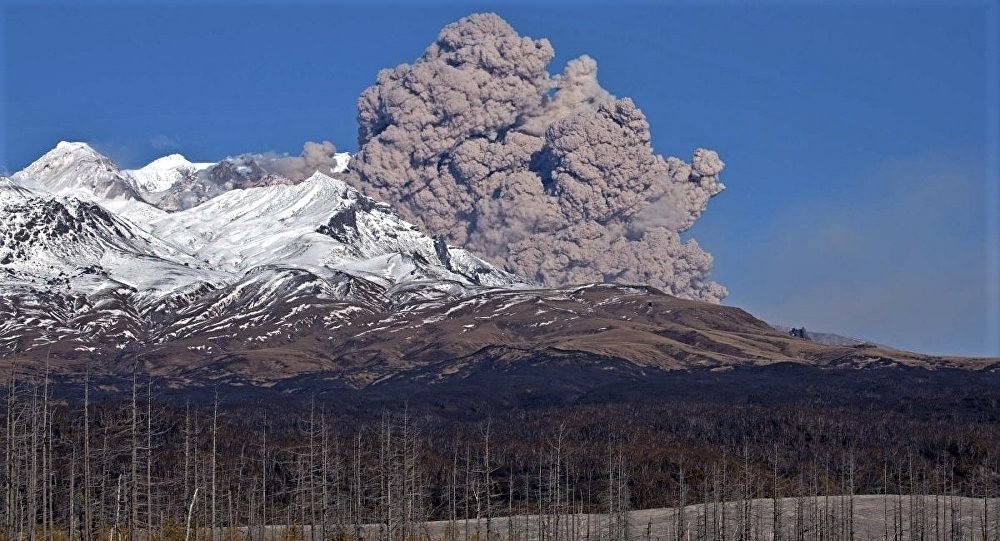 Volcanic Activity Summary:
The growth of the lava dome continues, a strong fumarole activity, an incandescence of the lava dome, sometimes explosions, and hot avalanches accompanies this process. Videodata by KVERT showed an ash cloud from hot avalanches rose up to 5/5 km a.s.l. and is drifting to the southeast of the volcano.
The extrusive eruption of the volcano continues. Ash explosions up to 10-15 km (32,800-49,200 ft) a.s.l. could occur at any time. Ongoing activity could affect international and low-flying aircraft.
Volcanic cloud height:
5500 m (18040 ft) AMSL Time and method of ash plume/cloud height determination: 20230202/0131Z – Video data
Other volcanic cloud information:
Distance of ash plume/cloud of the volcano: 5 km (3 mi)
Direction of drift of ash plume/cloud of the volcano: SE
Time and method of ash plume/cloud determination: 20230202/0131Z – Video data
Source : Kvert.
Photo : Yu Demyanchuck ( archive).
United -States , Yellowstone :
Wednesday, February 1, 2023, 10:31 AM MST (Wednesday, February 1, 2023, 17:31 UTC)
44°25'48 » N 110°40'12 » W,
Summit Elevation 9203 ft (2805 m)
Current Volcano Alert Level: NORMAL
Current Aviation Color Code: GREEN
Recent Work and News
Steamboat Geyser started 2023 with two major water eruptions during the past month, on January 5 and January 28.
No field work is occurring in the park at this time, but planning is underway for another busy field season once the snow starts to melt later this year.
Seismicity
During January 2023, the University of Utah Seismograph Stations, responsible for the operation and analysis of the Yellowstone Seismic Network, located 75 earthquakes in the Yellowstone National Park region. The largest event of the month was a minor earthquake of magnitude 2.5 located about 19 miles south-southeast of West Thumb in Yellowstone National Park on January 5 at 11:19 AM MST. This event was part of a small swarm of 11 earthquakes that occurred during January 5–6.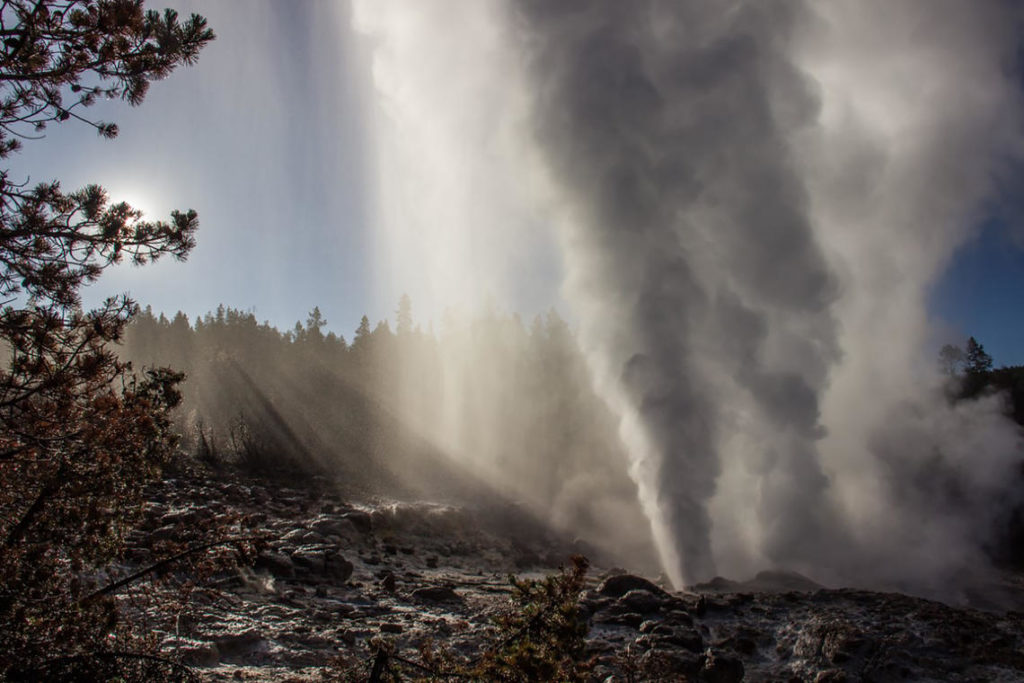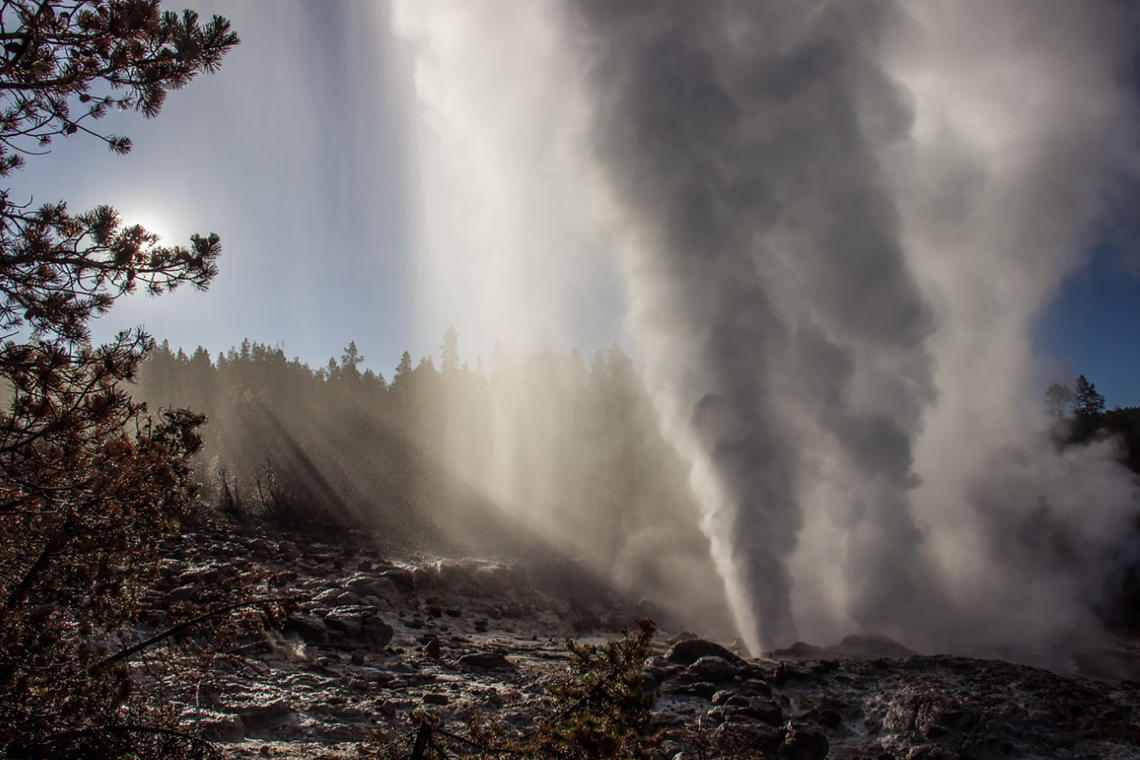 In addition, 28 earthquakes were added to the ongoing seismicity that began last summer about 14 miles south-southwest of Mammoth Hot Springs in Yellowstone National Park. The largest earthquake of the month in this sequence, a magnitude 2.0 event, occurred on January 22 at 10:38 PM MST.
Earthquake sequences like these are common and account for roughly 50% of the total seismicity in the Yellowstone region.
Yellowstone earthquake activity is currently at background levels.
Ground Deformation
Continuous GPS stations in Yellowstone Caldera continued to record gradual subsidence at a rate of 2–3 centimeters (1 inch) per year, which has been ongoing since 2015. No significant deformation has been recorded in the area of Norris Geyser Basin since the end of last summer. In late January, snow and ice accumulation on GPS antennas due to a winter storm that impacted the region caused apparent subsidence of 1–3 centimeters, but this does not represent real ground motion and will recover itself once the antennas are free of snow/ice. Several similar weather events have impacted GPS time series this winter.
Source : YVO.
Photo : Steamboat Geyser / Mara Reed.
Japan , Asosan :
JMA reported that the amplitude of volcanic tremor signals at Asosan increased at around 1200 on 30 January and then increased again around 1220 and remained high. At 1330 JMA raised the Alert Level to 2 (on a scale of 1-5) and warned the public to stay at least 1 km away from the crater. White plumes were visible rising 300 m above the crater rim.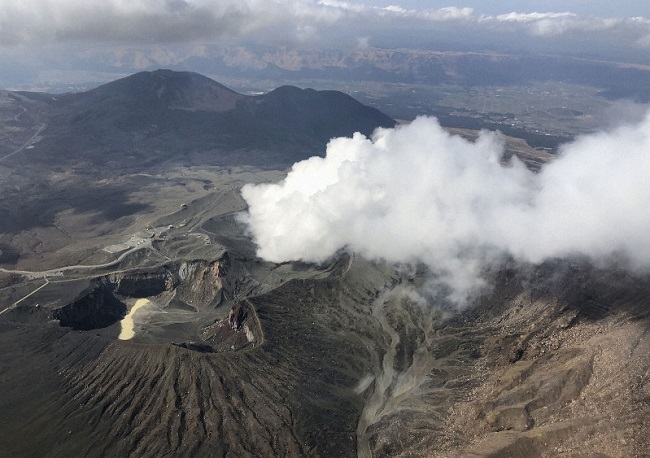 The 24-km-wide Asosan caldera was formed during four major explosive eruptions from 300,000 to 90,000 years ago. These produced voluminous pyroclastic flows that covered much of Kyushu. The last of these, the Aso-4 eruption, produced more than 600 km3 of airfall tephra and pyroclastic-flow deposits. A group of 17 central cones was constructed in the middle of the caldera, one of which, Nakadake, is one of Japan's most active volcanoes. It was the location of Japan's first documented historical eruption in 553 CE. The Nakadake complex has remained active throughout the Holocene. Several other cones have been active during the Holocene, including the Kometsuka scoria cone as recently as about 210 CE. Historical eruptions have largely consisted of basaltic to basaltic-andesite ash emission with periodic strombolian and phreatomagmatic activity. The summit crater of Nakadake is accessible by toll road and cable car, and is one of Kyushu's most popular tourist destinations.
Source :Japan Meteorological Agency (JMA) , GVP.
Photo : Kyodonews.
Colombia , Cerro Machin :
Cerro Machín volcano activity level bulletin.
The activity level continues at the yellow activity level or (III): changes in the behavior of volcanic activity.
Regarding the monitoring of the activity of the Cerro Machín volcano, the COLOMBIAN GEOLOGICAL SERVICE reports that:
Over the past week, recording of seismic activity related to rock fracturing in the volcanic edifice has continued. This seismic activity increased in number of earthquakes recorded and decreased in seismic energy released compared to the previous week.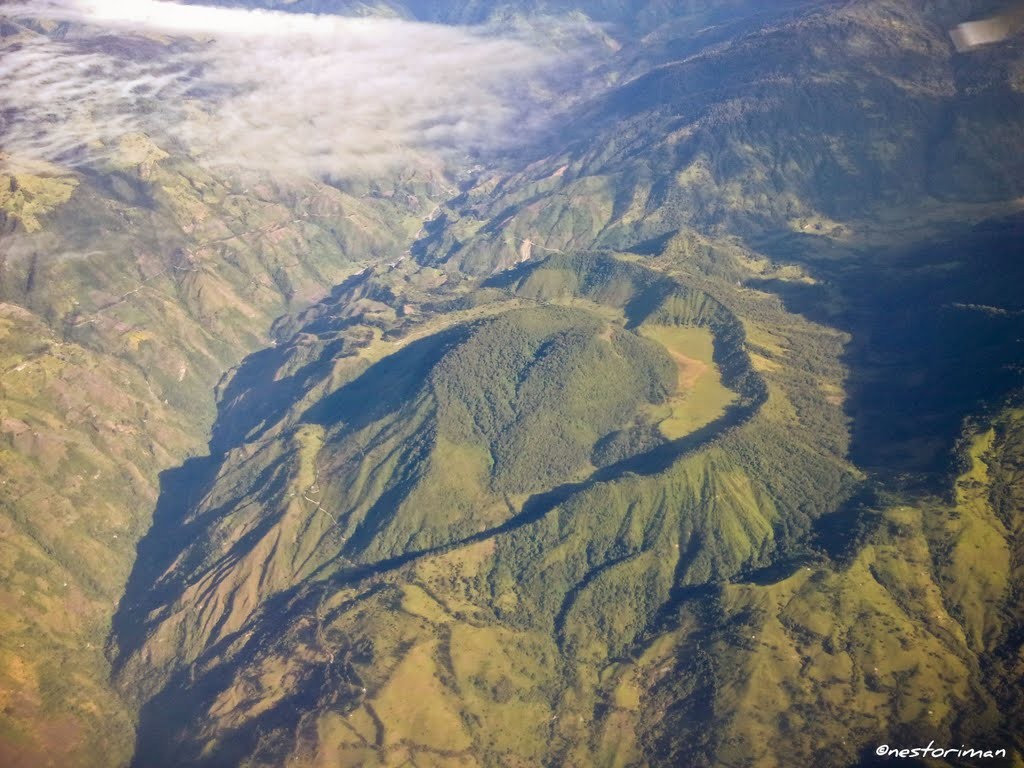 The seismic increase was recorded between January 26 at 22:00 (local time) and January 27 at 04:00 (local time) when 778 earthquakes occurred to the West, Southwest and South of the main dome , in a depth range of 1.7 km to 4.8 km. Two more energetic earthquakes stand out at 23:51 (local time) on January 26 and at 00:41 (local time) on January 27 with magnitudes of 2.3 and 2.2 ML (local magnitude), located 0.8 km to the south from the main dome, at depths of 3.7 and 3.9 km, respectively, the second of which was reported as felt by locals near the volcano.
The other parameters used for the complete diagnosis of volcanic activity did not show significant changes during the evaluated period.
It is recalled that increases in seismic activity and felt earthquakes are considered in the yellow activity level or (III), i.e. changes in volcanic activity, and that these do not do not in themselves represent a change in activity level.
Source : SGC
Photo : Nestoriman
Japan , Nishinoshima :
The Japan Coast Guard reported that during an overflight of Nishinoshima on 25 January scientists observed intermittent activity and small, blackish-gray plumes rising 900 m from the central part of the crater. The fumarolic zone on the E flank and base of the cone had expanded and emissions had intensified. Dark brown discolored water was visible all around the volcanic island.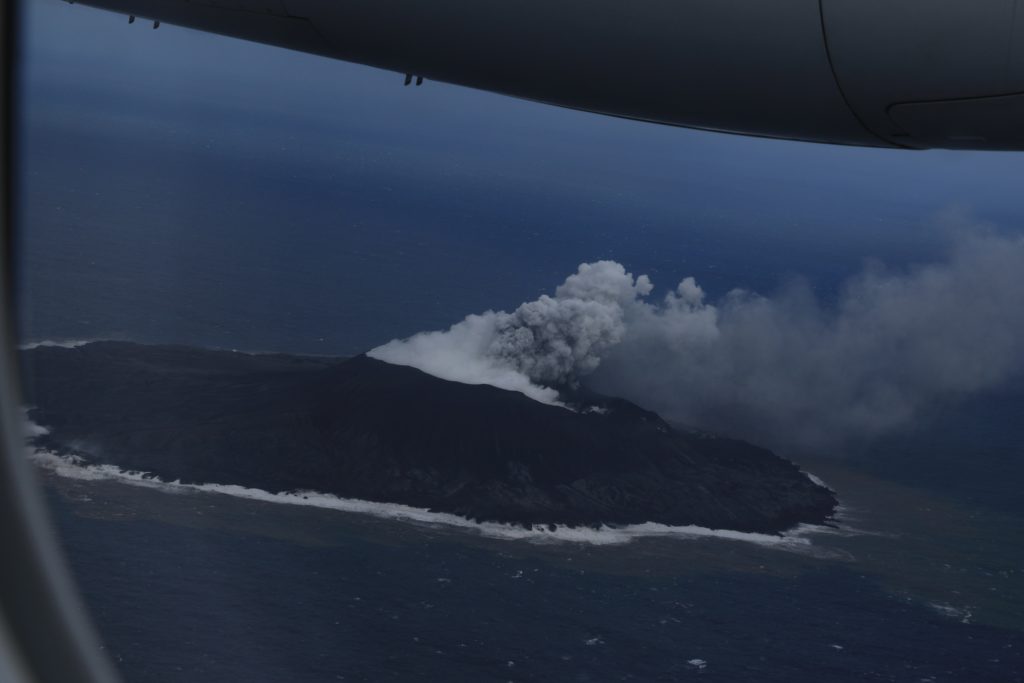 The small island of Nishinoshima was enlarged when several new islands coalesced during an eruption in 1973-74. Another eruption that began offshore in 2013 completely covered the previous exposed surface and enlarged the island again. Water discoloration has been observed on several occasions since. The island is the summit of a massive submarine volcano that has prominent satellitic peaks to the S, W, and NE. The summit of the southern cone rises to within 214 m of the sea surface 9 km SSE.
Source : GVP , Japan Coast Guard
Photo :Japan Coast Guard