September 27, 2022 . EN. La Réunion : Piton de la Fournaise , Russia / Kuril Islands : Alaid , Peru : Sabancaya , Hawaii : Mauna Loa , Alaska : Pavlof .
September 27 , 2022 .
La Réunion , Piton de la Fournaise :
Press release, Paris Institute of Earth Physics, Piton de la Fournaise Volcanological Observatory, September 26, 2022 – 5:00 p.m. (local time) – 1:00 p.m. (UTC time)
Ongoing eruption
The eruption started on 09/19/2022 around 07:48 local time continues. The amplitude of the eruptive tremor (indicator of surface lava emission) has remained generally stable over the past 24 hours, at around 20% of its initial amplitude (Figure 1).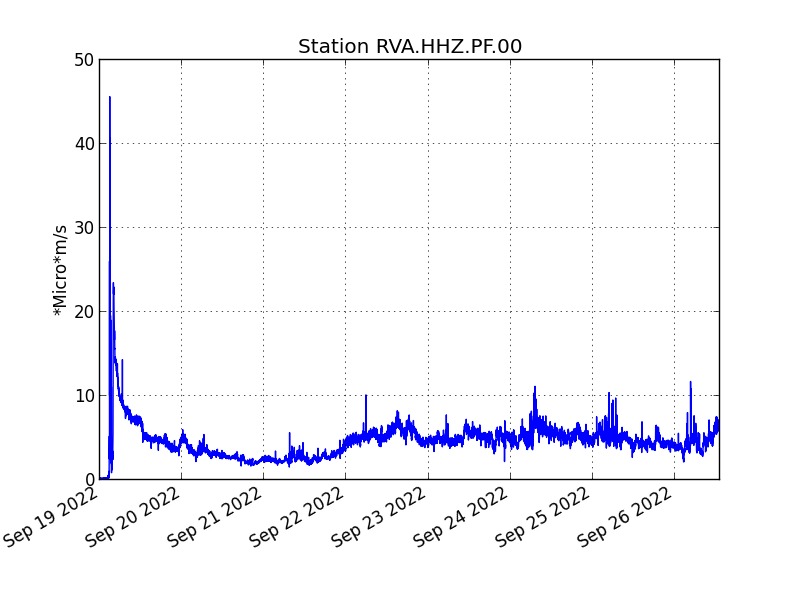 Evolution of the RSAM (indicator of a surface lava emission) since 09/19/2022 00:00 UTC time (04:00 local time) on the RVA seismological station located at the Rivals crater (© OVPF / IPGP).
– No volcano-tectonic earthquake has been recorded directly above the summit area over the past 24 hours.
– Over the last 72 hours, no significant deformation has been recorded.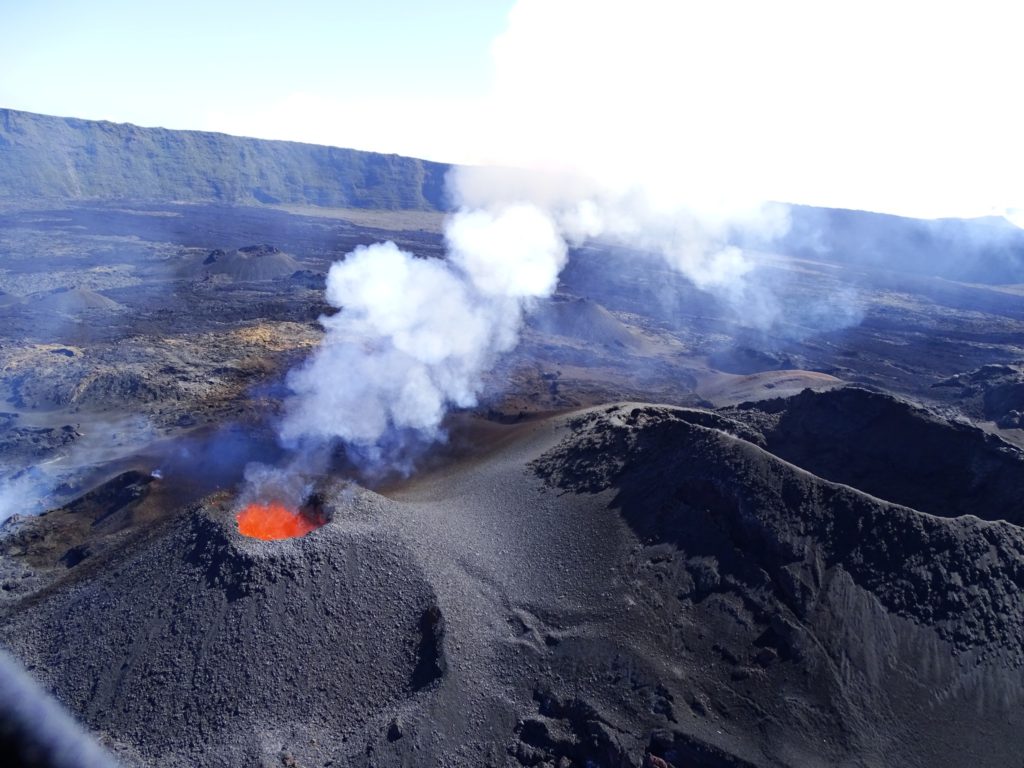 The lava flow estimates established by satellite method on the HOTVOLC (OPGC – Clermont Auvergne University) and MIROVA (University of Turin) platforms indicate an average flow over the last 24 hours that is relatively stable and low, with a peak estimated at 8 m3/ s.
The images from the OVPF-IPGP webcam located at Piton de Bert showed this morning 09/26/2022:
– still significant degassing at the eruptive site and low-amplitude lava projections (Figure 3);
– a gas plume still directed towards the south-west quarter as also observed on satellite data in recent days;
– a lava flow activity still mainly through lava tunnels as observed yesterday by infrared imagery according to 2 main flow arms, oriented respectively east-south-east and south-east;
– several resurgences of lava visible at the level of the tunnels.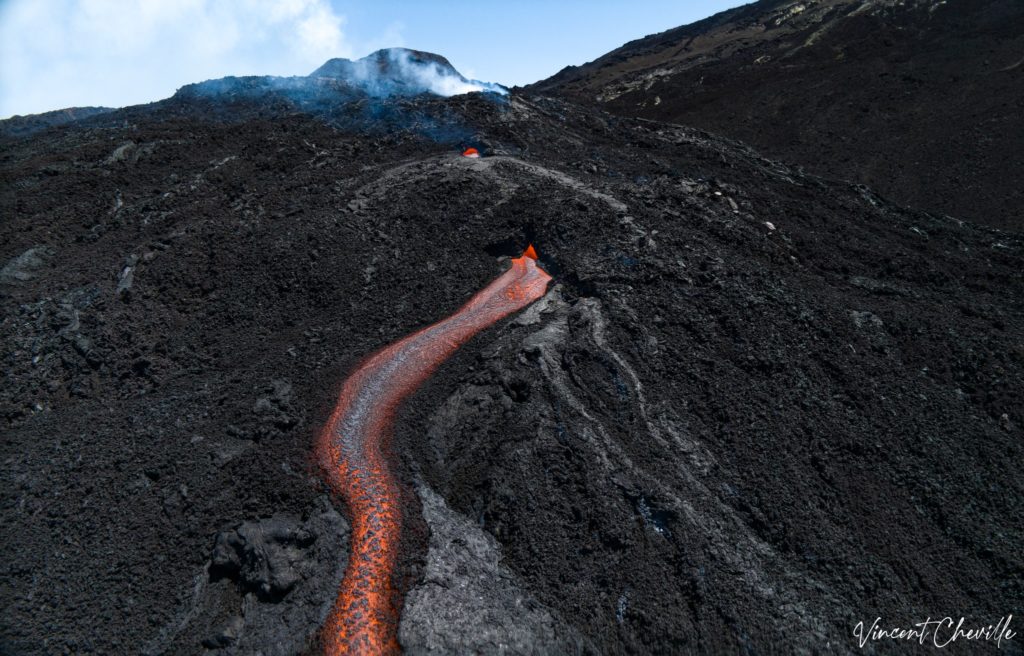 An overview performed this afternoon confirmed the following points:
– A closed cone has formed around the remaining active vent;
– The plume is pushed by the wind towards the South-West;
– The flow is divided into 2 arms extending respectively towards the East-South-East and the South-East;
– The most active flow extends east-southeast towards the crater Château-Fort ;
– The end of this flow located around 1850 m altitude and about 1 km southeast of the castle is no longer active;
– Visible active flows (resurgences) remain confined to the first km of flows from the vent.
Alert level: Alert 2-1 (eruption in the Enclos without any particular threat to the safety of people, property or the environment).
Source : Direction OVPF / IPGP.
Photos : OVPF , Vincent Cheville / Tunnel de lave Réunion
Russia / Kuril Islands , Alaid :
VOLCANO OBSERVATORY NOTICE FOR AVIATION (VONA)
Issued: September 26 , 2022
Volcano: Alaid (CAVW #290390)
Current aviation colour code: ORANGE
Previous aviation colour code: orange
Source: KVERT
Notice Number: 2022-124
Volcano Location: N 50 deg 51 min E 155 deg 33 min
Area: Northern Kuriles, Russia
Summit Elevation: 2339 m (7671.92 ft)
Volcanic Activity Summary:
Moderate eruptive activity of the volcano continues. An ash plume extended about 140 km to the east-south-east from the volcano.
Moderate eruptive activity of the volcano continues. Ash explosions up to 6 km (19,700 ft) a.s.l. could occur at any time. Ongoing activity could affect low-flying aircraft.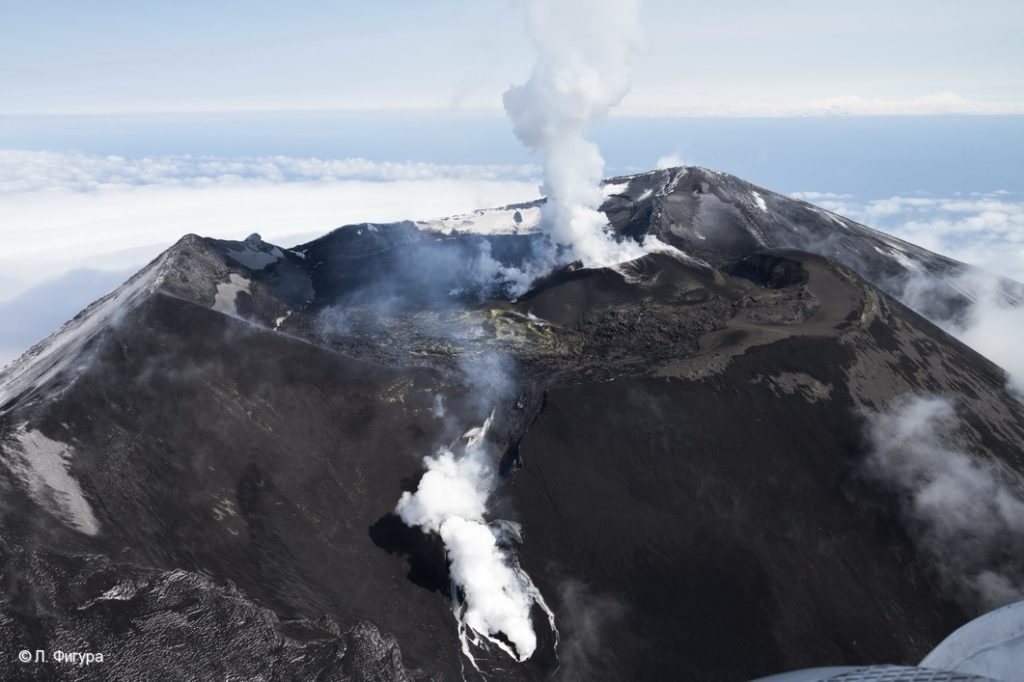 Explosive-effusive eruption of Alaid volcano continues: the summit crater of the volcano filled with fresh lava, a cinder cone grows in its southern part, a lava flow effuses in the south-western volcanic flank. ( Date: 28/4/2016 )
Volcanic cloud height:
2500-3000 m (8200-9840 ft) AMSL Time and method of ash plume/cloud height determination: 20220926/1958Z – Meteor M-2-2 5m6
Other volcanic cloud information:
Distance of ash plume/cloud of the volcano: 140 km (87 mi)
Direction of drift of ash plume/cloud of the volcano: ESE / azimuth 121 deg
Time and method of ash plume/cloud determination: 20220926/1958Z – Meteor M-2-2 5m6
Source : Kvert.
Photo : L. Fugura
Peru , Sabancaya :
Analysis period: from September 19, 2022 to September 25, 2022, Arequipa, September 26, 2022.
Alert level: ORANGE
The Geophysical Institute of Peru (IGP) reports that the eruptive activity of the Sabancaya volcano remains at moderate levels, that is to say with the recording of an average of 50 daily explosions, with columns of ash and of gas up to 1.8 km altitude above the summit of the volcano and their subsequent dispersion. Therefore, for the following days, no significant change is expected in eruptive activity.
The IGP recorded and analyzed the occurrence of 323 earthquakes of volcanic origin, associated with the circulation of magmatic fluids inside the Sabancaya volcano. An average of 50 explosions was recorded daily, in addition to recording Volcano-Tectonic (VT) type events associated with rock fracturing inside the Sabancaya volcano.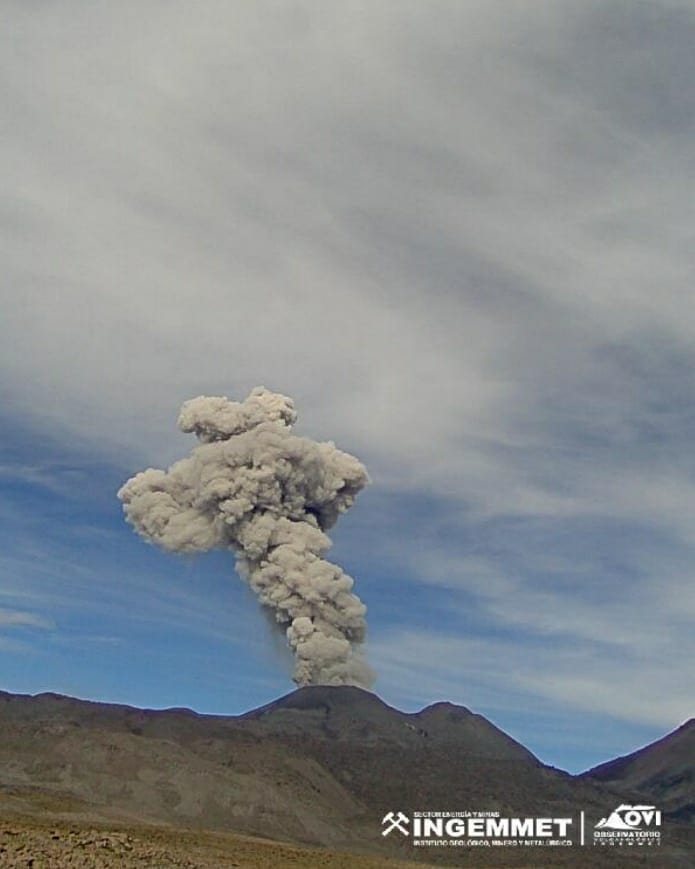 Monitoring the deformation of the volcanic structure using GNSS techniques (processed with fast orbits) does not show any significant anomalies. However, in general, an inflation process was observed in the northern sector (surroundings of the Hualca Hualca volcano). Visual surveillance identified columns of gas and ash up to 1.8 km above the summit of the volcano, which were dispersed towards the eastern, southeastern and northeastern sectors of Sabancaya . Satellite recordings have identified the presence of 10 thermal anomalies, with a maximum value of 18 MW, associated with the presence of a lava body on the surface of the volcano's crater.
RECOMMENDATIONS
• Keep the volcanic alert level orange.
• Do not approach within a radius of less than 12 km from the crater.
Source : Cenvul
Photo : Ingemmet
Hawaii , Mauna Loa :
19°28'30 » N 155°36'29 » W,
Summit Elevation 13681 ft (4170 m)
Current Volcano Alert Level: ADVISORY
Current Aviation Color Code: YELLOW
A small seismic swarm is ongoing beneath the summit of Mauna Loa volcano. Since 2 a.m. HST on 09/23/2022, the U.S. Geological Survey's Hawaiian Volcano Observatory has recorded over 38 earthquakes beneath the summit caldera region with most earthquakes in a cluster about 3.1 mi (5 km) wide and -1.2 to 0.6 mi (-2 to 1 km) below the surface. These earthquakes may result from changes in the magma storage system and/or may be part of normal re-adjustments of the volcano due to changing stresses within it. HVO continues to monitor Hawaiian volcanoes for any changes.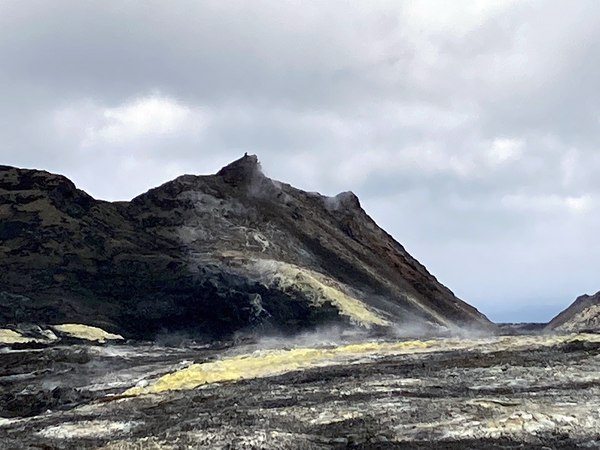 Sulphur Cone, high on the Southwest Rift Zone of Mauna Loa, was blanketed by sulfur crystals when it was named in 1921. A subsequent visit noted that molten sulfur had flowed down the flank of the cinder and spatter cone. The remnants of that yellow flow can be seen here on the flank of the cone. Heating along the fissure of the voluminous 1950 eruption of Mauna Loa may have melted the accumulated sulfur around the Cone creating molten flows.
According to HVO Scientist-in-Charge Ken Hon, « Seismic activity beneath Mauna Loa has been gradually increasing over the past two months. Small earthquake swarms are considered a normal part of this increase in activity. Currently there are no indications that magma is moving toward the surface and other monitoring systems are displaying normal behavior. Levels of seismicity and deformation remain below those recorded during the winter of 2021. HVO will continue to closely monitor this activity and report any significant changes. »
Source : HVO.
Photo : USGS / T. Elias.
Alaska , Pavlof :
55 ,25'2″ N 161, 53'37 » W,
Summit Elevation 8261 ft (2518 m)
Current Volcano Alert Level: WATCH
Current Aviation Color Code: ORANGE
Pavlof continues to erupt minor amounts of lava from the vent just below the summit on the east flank. Seismic tremor was variable over the past day. No explosions or ash emissions were detected. A small gas plume was sometimes visible in web camera images during periods of clear weather.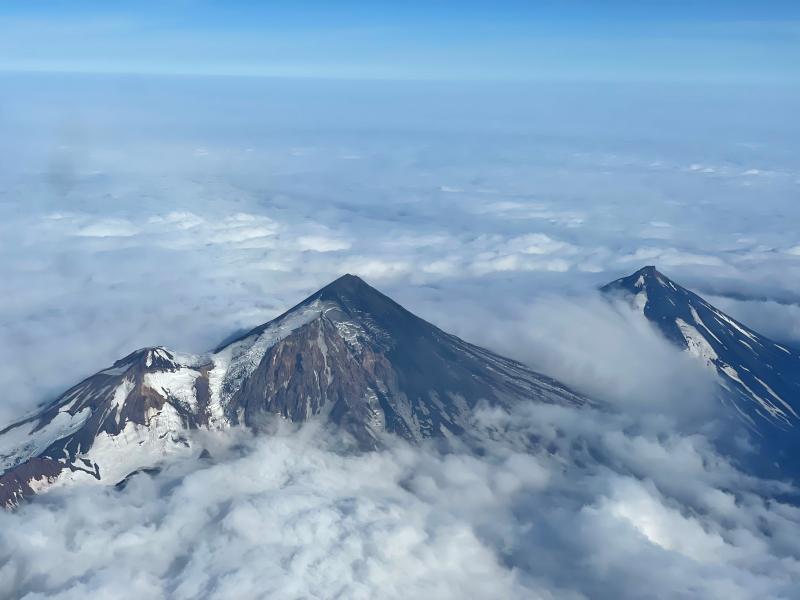 Small explosions associated with the current eruption could happen at any time and may be accompanied by small ash plumes within the immediate vicinity of the volcano. The level of unrest at Pavlof can change quickly and the progression to more significant eruptive activity can occur with little or no warning.
Pavlof is monitored by local seismic and infrasound sensors, satellite data, web cameras, and regional infrasound and lightning networks.
Source : AVO.
Photo : Ben David Jacob.