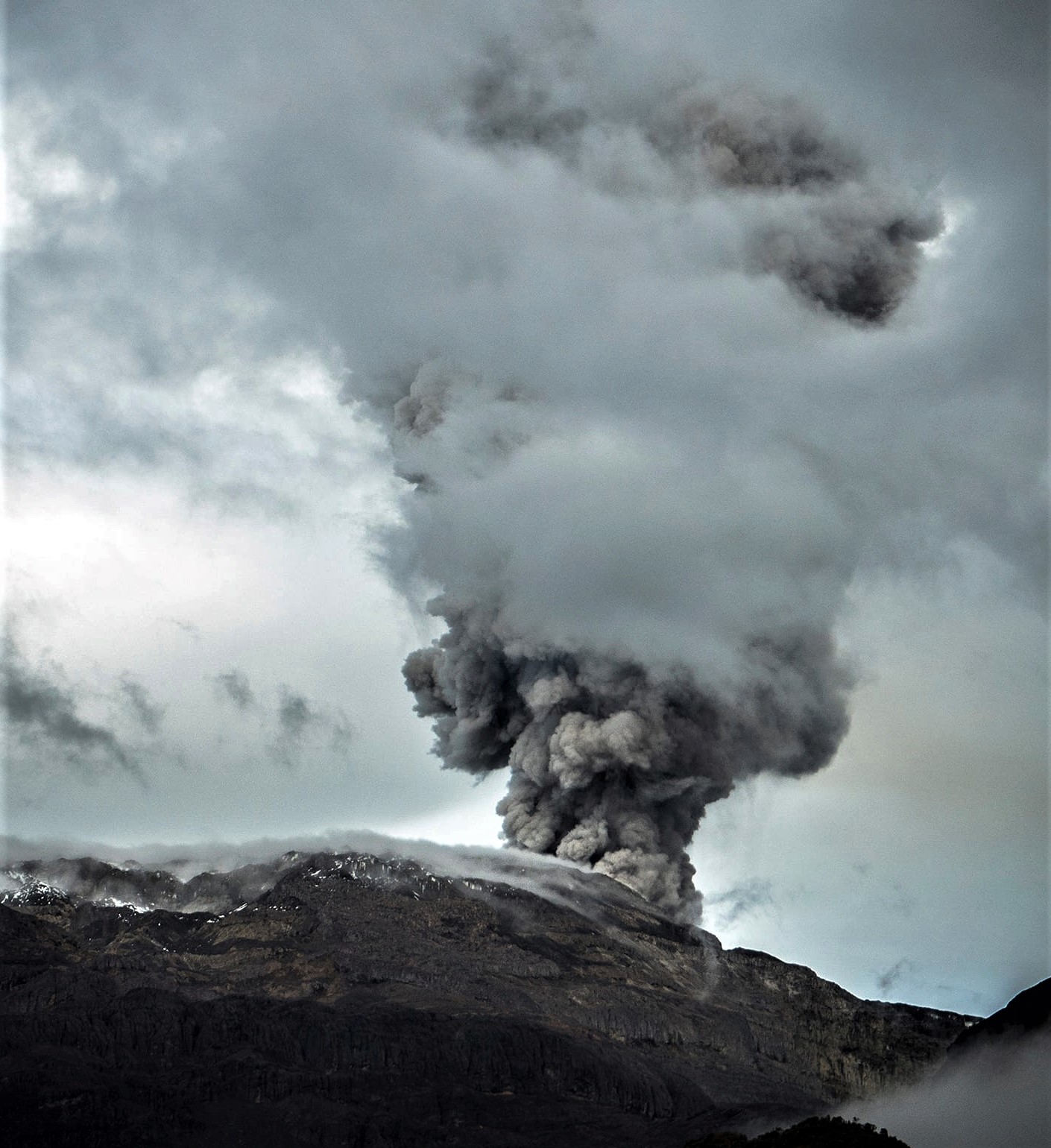 April 21 , 2022.
Alaska , Semisopochnoi :
51°55'44 » N 179°35'52 » E,
Summit Elevation 2625 ft (800 m)
Current Volcano Alert Level: WATCH
Current Aviation Color Code: ORANGE
Low-level eruptive activity continues. Seismic activity was slightly elevated over the last day with several small explosions detected on the local geophysical network. Continuous, low-level, ash-poor emissions were observed web camera images over the past day. More energetic ash plumes were occasionally observed in web camera images but these remained at low altitudes. No activity was observed in mostly clear satellite images.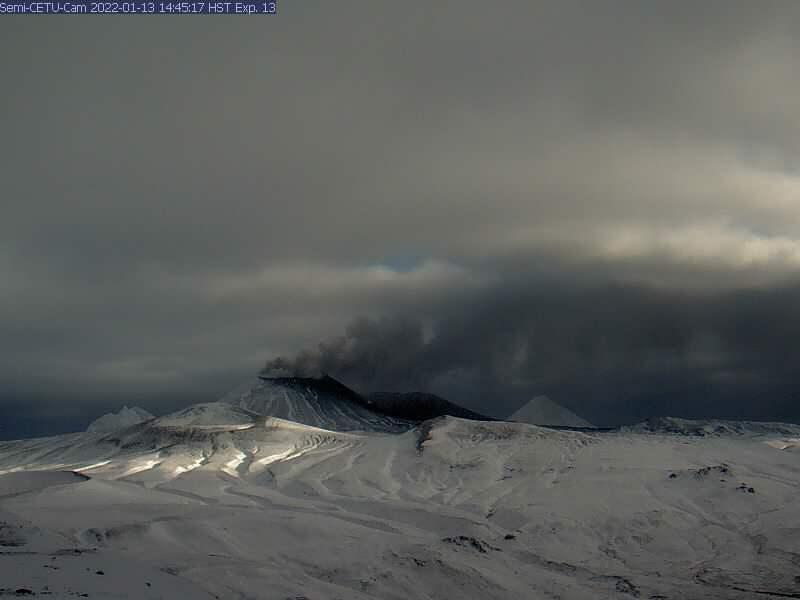 Small eruptions producing minor ash deposits within the vicinity of the active north crater of Mount Cerberus and ash clouds usually under 10,000 ft (3 km) above sea level have characterized the recent activity. Small explosions and associated ash emissions may continue and could be difficult to detect, especially when thick cloud cover obscures the volcano.
Semisopochnoi is monitored by local seismic and infrasound sensors, satellite data, web cameras, and remote infrasound and lightning networks.
Source : AVO.
Photo : Alaska Volcano Observatory / U.S. Geological Survey
Japan , Asosan :
JMA reported that no eruptions had been recorded at Asosan after the end of the last eruption in October 2021. Crater incandescence, which had been occasionally visible since December 2021, was absent beginning on 27 February. Deflation began around 27 February but stabilized in April. Observations of the crater from 17 March revealed that it had deepened, compared to pre-eruption conditions, and that water had returned. Sulfur dioxide emissions had increased to 1,600 tons per day on 25 March, but four observations made during 29 March-12 April showed values in the range of 800-1,200 tons per day.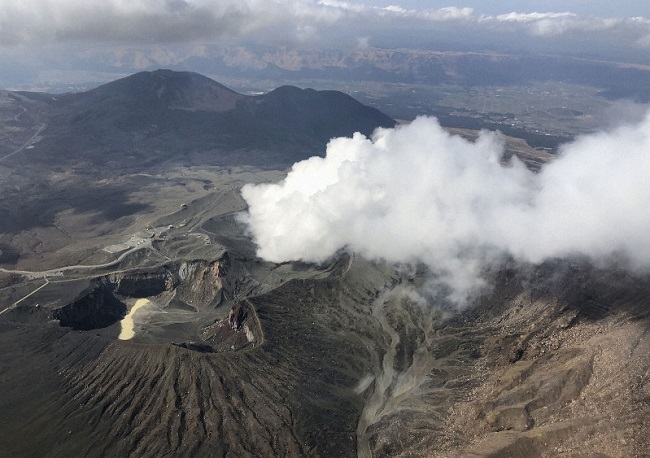 Though these values were higher than those measured in September 2021, before the eruption, they represented a decreasing trend. During a field visit on 7 April scientists observed white emissions rising from Nakadake Crater and gray pools of hot water on the crater floor. A hot spring was active on the S side of the pools. The area of the water represented about 40 percent of the crater floor and the water temperature was 71 degrees Celsius. JMA lowered the Alert Level to 1 (on a scale of 1-5) on 15 April, noting that the likelihood of an eruption affecting an area within a radius of 1 km had decreased.
Source : Agence météorologique japonaise (JMA) , GVP.
Photo : Kyodonews.
Indonesia , Anak Krakatau :
VOLCANO OBSERVATORY NOTICE FOR AVIATION – VONA
Issued : April 20 , 2022
Volcano : Anak Krakatau (262000)
Current Aviation Colour Code : ORANGE
Previous Aviation Colour Code : orange
Source : Anak Krakatau Volcano Observatory
Notice Number : 2022KRA38
Volcano Location : S 06 deg 06 min 07 sec E 105 deg 25 min 23 sec
Area : Lampung, Indonesia
Summit Elevation : 502 FT (157 M)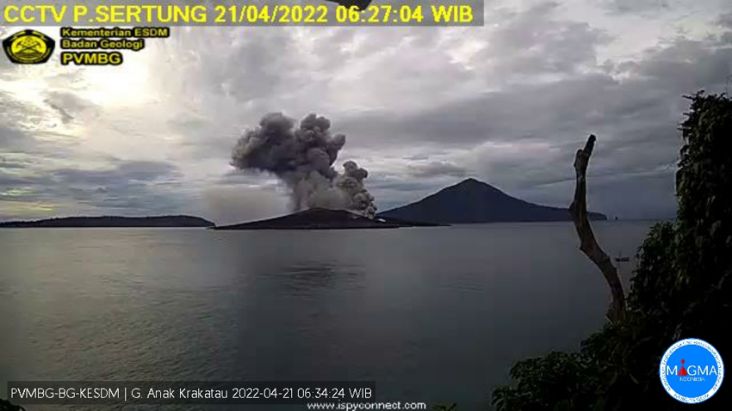 Volcanic Activity Summary :
Eruption with ash clouds at 23:21 UTC (06:21 local time). The eruption lasted for 75 seconds
Volcanic Cloud Height :
Best estimate of ash-cloud top is around 3062 FT (957 M) above sea level, may be higher than what can be observed clearly. Source of height data: ground observer.
Other Volcanic Cloud Information :
Visuals directly from the cctv were observed eruptions with the color of the thick black eruption smoke 800m from the top of the volcano, the wind direction slowly to the east.
Remarks :
Eruption recorded on seismogram with maximum amplitude 50 mm and maximum duration 75 second.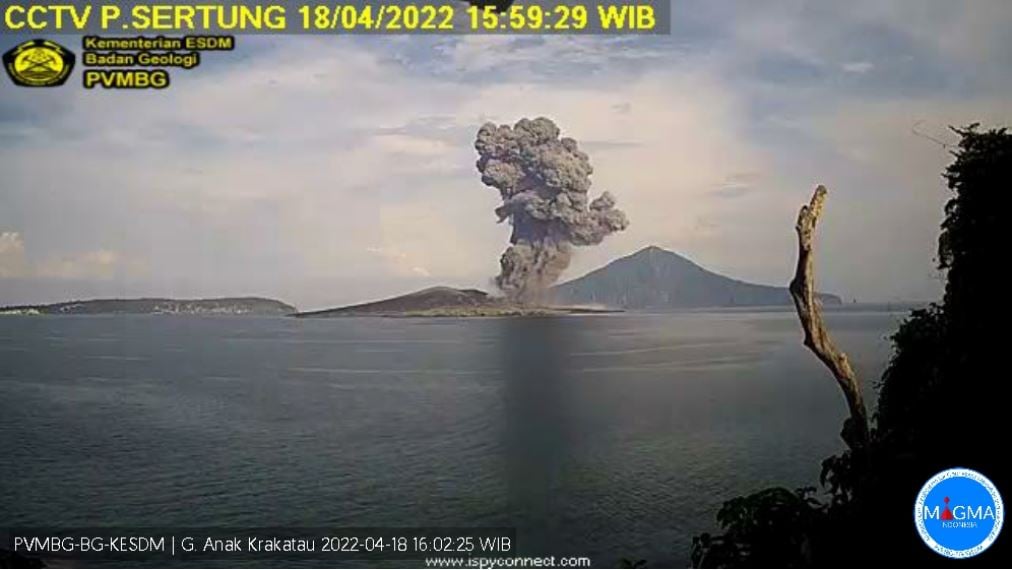 PVMBG reported that several ash emissions from Anak Krakatau were visible in webcam images and described by observers during 15 and 17-19 April. The ash plumes were variably whitish gray, gray, and black, with all but one characterized as dense. Events at 03h27, 10h34, and 18h37 on 15 April produced ash plumes that rose 0.7-1 km above the summit and drifted SW. Ash plumes at 09h25, 18h30, and 22h15 on 17 April rose 500-800 m above the summit and drifted SW; Strombolian activity produced the ash plume at 18h30. On 18 April events at 03h58, 04h19, 07h14, 12h46, 13h30, and 15h58 generated ash plumes that rose as high as 2 km and drifted SW. Ash plumes were visible on 19 April, rising 50-500 m above the summit and drifting SE and NE. The Alert Level remained at 2 (on a scale of 1-4), and the public was warned to stay at least 2 km away from the crater.
Sources : PVMBG , GVP.
Colombia , Nevado del Ruiz :
Weekly activity bulletin Nevado Volcano del Ruiz.
The activity level continues at the yellow activity level or (III): changes in the behavior of volcanic activity.
Regarding the monitoring of the activity of the Nevado Volcano of Ruiz Volcano, the Colombian Geological Service informs that:
The seismicity associated with rock fracturing increased in the number of earthquakes and in the seismic energy released, compared to the previous week. This seismic activity was located mainly in the Arenas crater and in the northwest and west sectors of the volcano and, to a lesser extent, in the southeast and southwest sectors.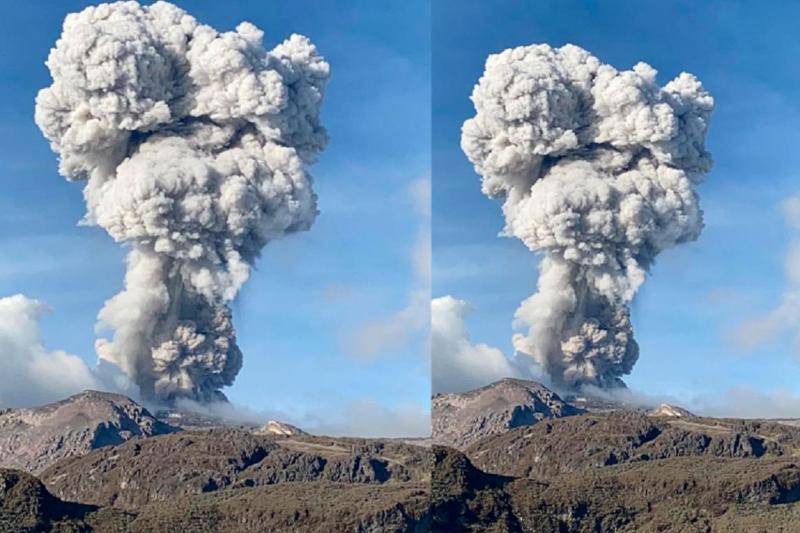 The depth of the earthquakes ranged between 0.2 and 6.2 km. The maximum magnitude recorded during the week was 1.6 ml (local magnitude), corresponding to the April 14 earthquake at 6:30 a.m. (local time), located in the Arenas crater, at a depth of 1.7 km. The occurrence of an increase in this type of seismic activity is highlighted. The earthquakes were located 5.7 km west of Arenas Crater. The maximum magnitude presented during this increase was 1.4 ml (local magnitude) corresponding to the earthquake recorded on April 19 at 04:20 (local time).
The recording of various « Drumbeat » type episodes, of low seismicity at the energy level is highlighted, associated with the fracturing of the rocks. This seismicity has been linked to the processes of ascent, location growth and evolution of a lava dome within the crater.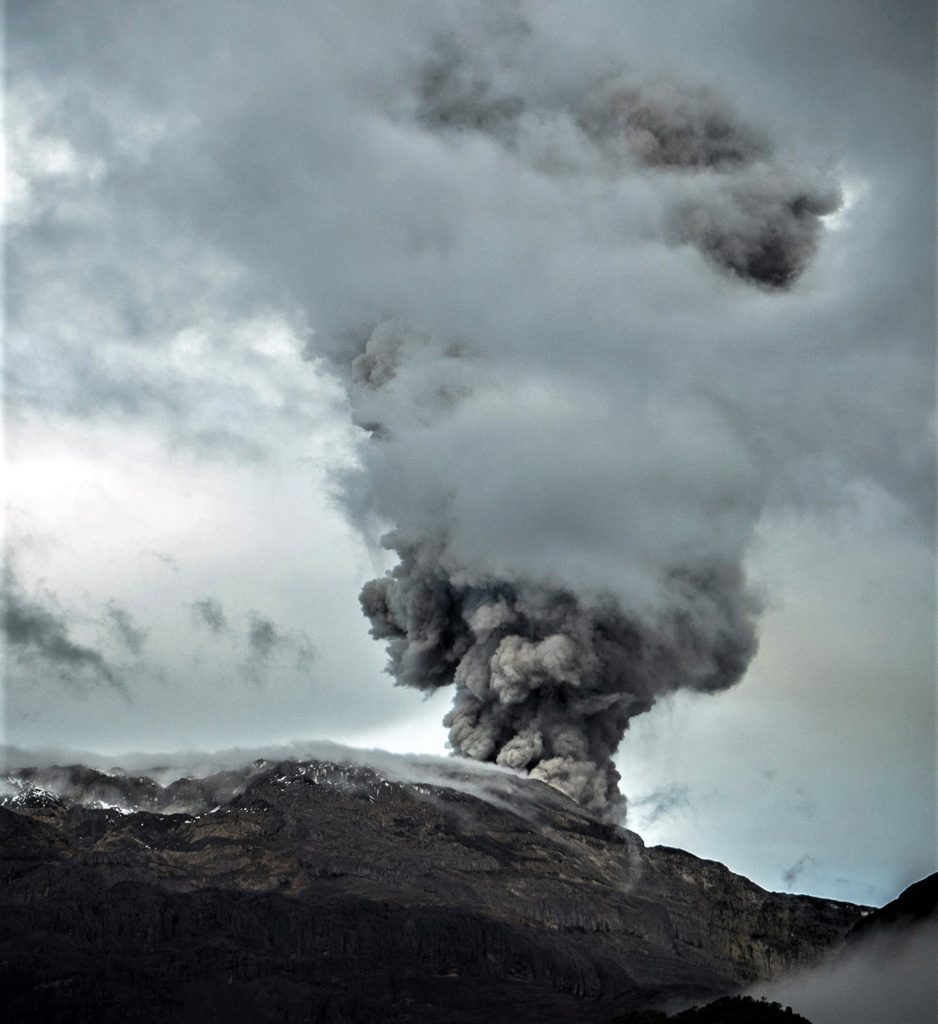 Seismicity related to fluid dynamics inside volcanic conduits increased in number of earthquakes and seismic energy released, compared to the previous week. This seismic activity was characterized by the occurrence of continuous volcanic tremors (TC), pulsed tremors (TR), long-period (LP) and very long-period (VLP) earthquakes. In general, these signals exhibited low to moderate energy levels and variable spectral content. Most of these earthquakes were located in the Arenas crater. Some of them were associated with gas and ash emissions that have been confirmed by the cameras installed in the volcano area, by reports from officials of the Los Nevados National Natural Park and the Colombian Geological Service, in addition to a visual appreciation in different places around the area of ​​influence of the volcano. Similarly, changes in the relative temperature of the material emitted by the FLIR cameras (Thermal Cameras) of the SGC multi-parameter volcanic monitoring network have been observed.
Source : SGC.
Photo : Servicio Geológico Colombiano / El Nuevo Día. Álex Palacio .
Hawaii , Kilauea :
19°25'16 » N 155°17'13 » W,
Summit Elevation 4091 ft (1247 m)
Current Volcano Alert Level: WATCH
Current Aviation Color Code: ORANGE
Activity Summary:
The summit eruption of Kīlauea Volcano, within Halemaʻumaʻu crater, continued over the past 24 hours. All recent activity has been confined to the crater and current data indicate that this scenario is likely to continue. No significant changes have been noted in the summit or East Rift Zone.
Halemaʻumaʻu crater Lava Lake Observations:
Eruption of lava from the western vent into the active lava lake and onto the crater floor continued over the past 24 hours. The active part of the lava lake showed continuous surface activity. Surface lava flow activity was much reduced over the past 24 hours, consistent with past behavior during times of deflationary tilt. Nonetheless, breakouts continue along the margins of the crater to the north, northeast, and south. Since the beginning of this eruption on September 29, 2021, the crater floor has seen a total rise of about 99 meters (325 feet).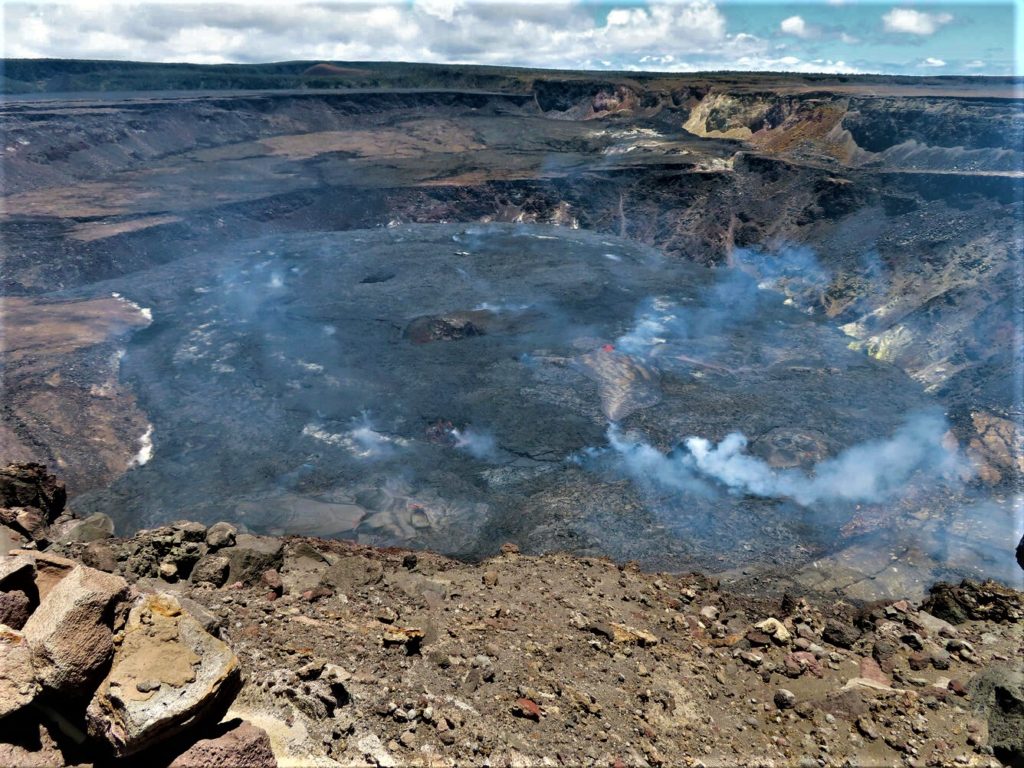 USGS photo taken by J.M. Chang from the western rim of Halema'uma'u.
Summit Observations:
As of 9am today, summit tiltmeters continued to record a deflationary trend that started yesterday morning, consistent with the beginning of a summit Deflation-Inflation (DI) event. Recent DI events have lasted from hours up to about 2 days; as such a return to inflationary tilt could occur within the day. Volcanic tremor remains above background levels, though is very slightly reduced as is typical during times of deflationary tilt. A sulfur dioxide (SO2) emission rate of approximately 2,200 tonnes per day (t/d) was measured on April 18, 2022.
Source : HVO.
Photo : USGS / J.M. Chang