November 22, 2021. EN. Spain / La Palma : Cumbre Vieja , Dominica : Boiling Lake , Indonesia : Semeru , Indonesia : Ili Lewotolok , Chile : Nevados de Chillan .
November 22 , 2021 .
Spain / La Palma , Cumbre Vieja :
November 21, 2021 09:00 UTC. Eruptive activity continues on La Palma.
Since the last declaration, 52 earthquakes have been located in the area affected by the volcanic reactivation of Cumbre Vieja, four of which were felt by the population.
The locations of earthquakes are divided into two groups according to their depth, a first group at 10-15 km and a second group with depths greater than 30 km. Yesterday at 10:19 UTC, an earthquake of magnitude 4.6 mbLg was recorded at a depth of 37 km, and felt by the population with a maximum intensity of IV-V (EMS) in the epicentral zone.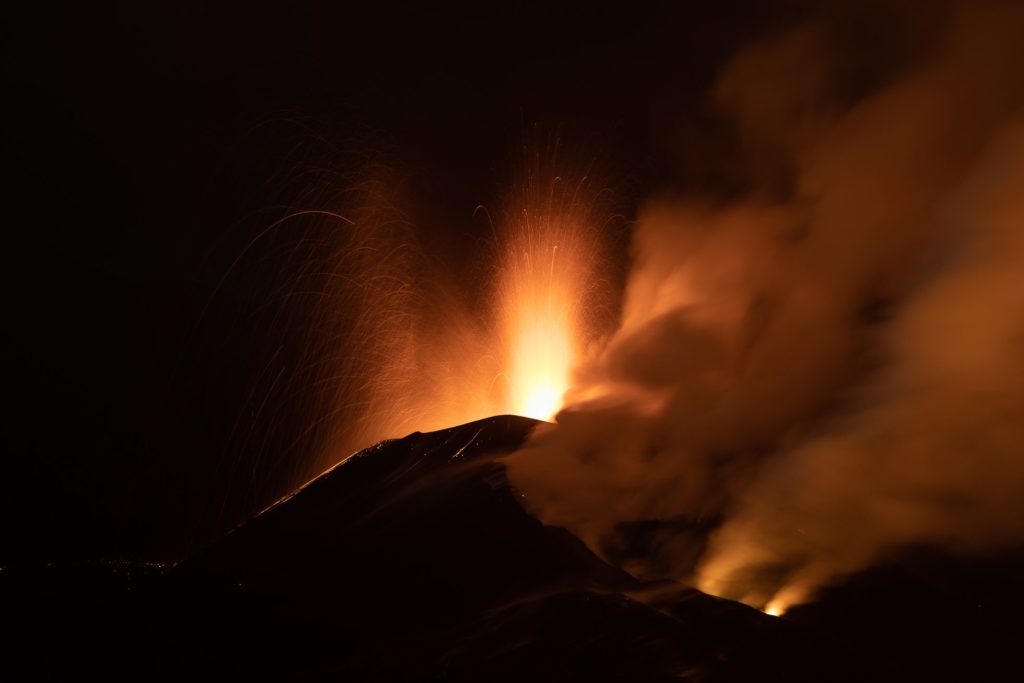 The tremor signal continues in a low value range with fluctuations over the last few hours.
The island's network of permanent GNSS stations shows a complete elevation reversal recorded between November 17 and 19, a partial westward deformation reversal and a southerly deformation consolidation at station LP03 , which is closest to the eruptive centers.
In the rest of the stations, the slight deflation possibly linked to the deep seismicity has stabilized.
Strombolian activity continues with pulses of pyroclast and ash emission.
Throughout this Sunday there were several lava flow overflows of the lake from the main cone.
The predominantly southerly and westerly wind will direct the ash plume towards the airport, which is unfavorable for aviation activity in the next 24 or 48 hours.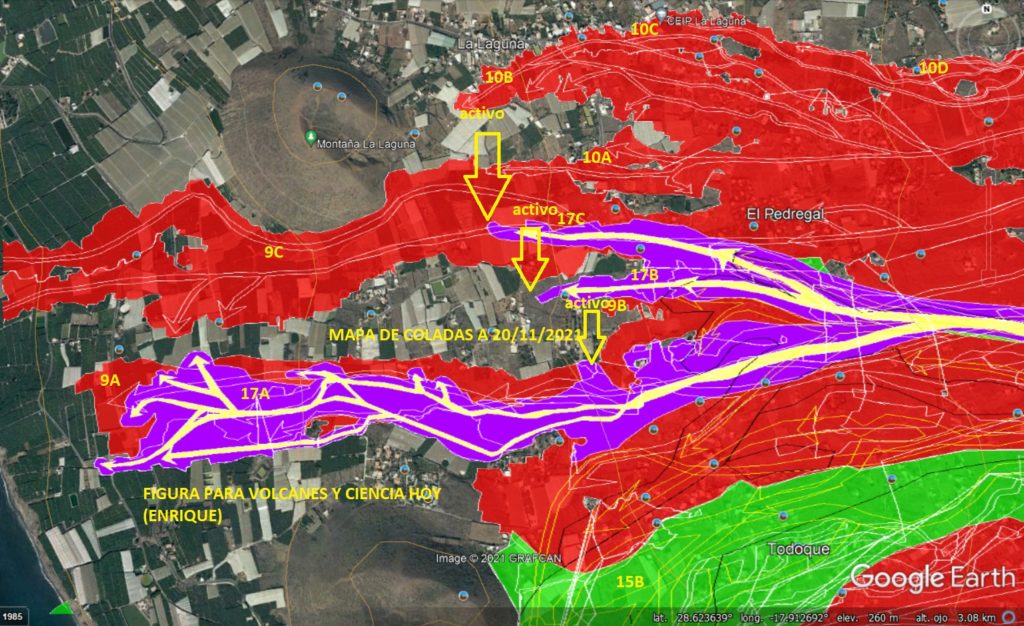 Seismicity continues at intermediate depths in the same areas. The maximum magnitude was 4.2 and corresponds to an earthquake that occurred on Saturday at 7.20 p.m. and was 35 kilometers deep. Tremor remains at low levels although with variations.
Sulfur dioxide from the volcanic plume continues at high levels. The volcano emits between 7,000 and 18,000 tonnes per day, although it maintains a declining trend.
Source : IGN es , El Pais .
Photos : Albert Garcia / El Pais .
Carte : Volcanes y Ciencia Hoy .
Dominica , Boiling Lake :
Water levels at the Boiling Lake, Dominica, have changed significantly in recent days, a phenomenon that has occurred several times since 1876. A local tour guide visiting the Boiling Lake on 18 November, first reported unusual activity and water levels at the lake. Scientists of The UWI Seismic Research Centre (SRC), who are currently conducting field work in Dominica, will visit the lake on Monday 22 November to make further observations and measurements, if possible. They will be accompanied by staff of the Forestry, Wildlife & Parks Division.
The Boiling Lake is a volcano-hydrothermal feature located in an area next to the Valley of Desolation in southern Dominica. The lake levels have dropped dramatically and been restored at least eight (8) times in the past. The last draining episode occurred on 8 November, 2016 with the lake returning to its normal state by 10 January, 2017.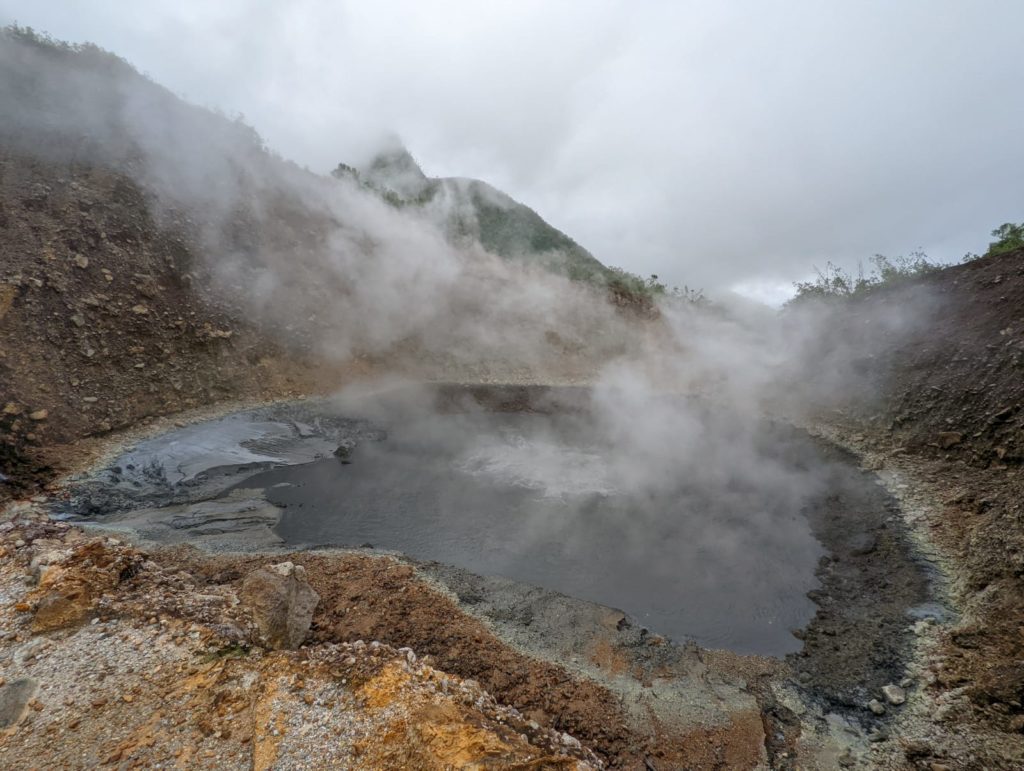 The historical record, as well as the present day volcano-monitoring network, suggests that the past episodes reflected local changes in the volcano-hydrothermal system. The observed changes in water levels and activity at the Boiling Lake are not necessarily related to increased volcanic activity in the area. However, during these episodes harmful gases, such as Carbon Dioxide, can be released and small steam explosions may also occur. People should, therefore, avoid visiting the immediate area until the activity has subsided.
The Valley of Desolation and the Boiling Lake itself are considered sites of interest for locals and visitors to Dominica. They have been part of the Morne Trois Pitons National Park, a UNESCO World Heritage Site since 1987.
The UWI-SRC monitors the Boiling Lake as part of its volcano monitoring programme in Dominica and updates the Office of Disaster Management (ODM) when significant changes are observed.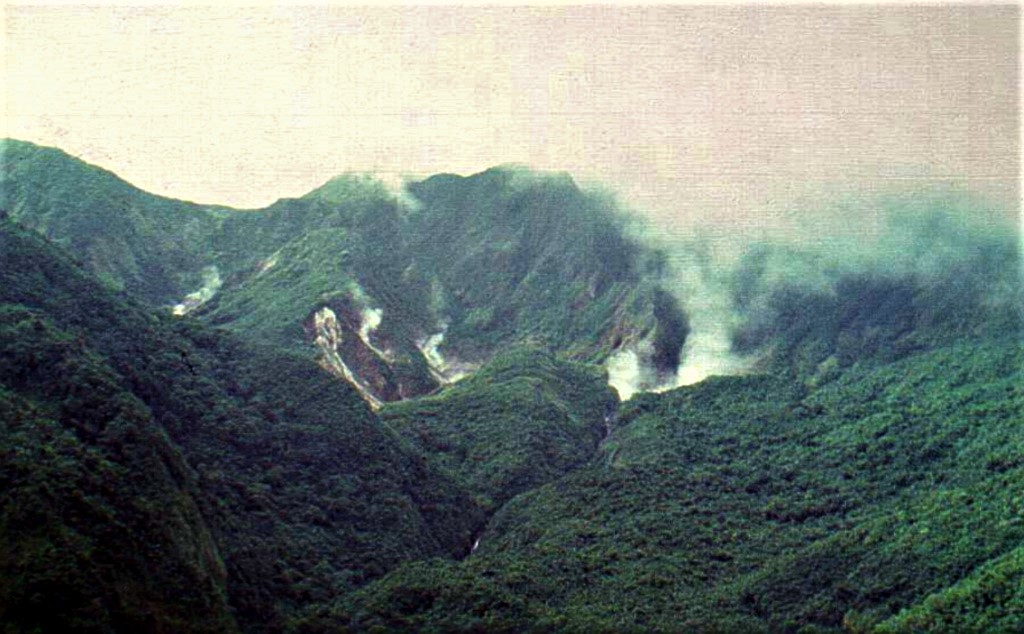 Morne Watt (Watt Mountain) volcano lies SE of the Trois Piton/Micotrin lava-dome complex in SE Dominica, E of the capital city of Roseau. The two best-known volcanic features on Dominica, the Valley of Desolation and the Boiling Lake thermal areas, lie on the flank; both are major tourist attractions within the national park. Morne Anglais stratovolcano lies 4 km SW of Morne Watt. Soufrière Hills volcano, with dated pyroclastic-flow producing eruptions ~10,000 years ago, lies 3 km E. A major eruption from Morne Watt producing pyroclastic flows occurred ~1300 years ago. A moderately large phreatic explosion took place at the Valley of Desolation thermal area NE of Morne Watt in 1880, when ash fell over a 4-km-wide sector at the coast, 10 km from the vent. A smaller phreatic explosion occurred in July 1997, when ashfall was confined to the Valley of Desolation area. These mark the only known historical eruptions on the island.
Sources : UWI , GVP.
Photos : Chadi Symes /18 November, 2021 , Paul Jackson, 1998 (Seismic Research Unit, University of West Indies).
Indonesia , Semeru :
VOLCANO OBSERVATORY NOTICE FOR AVIATION – VONA
Issued : November 21 , 2021
Volcano : Semeru (263300)
Current Aviation Colour Code : ORANGE
Previous Aviation Colour Code : orange
Source : Semeru Volcano Observatory
Notice Number : 2021SMR69
Volcano Location : S 08 deg 06 min 29 sec E 112 deg 55 min 12 sec
Area : East java, Indonesia
Summit Elevation : 11763 FT (3676 M)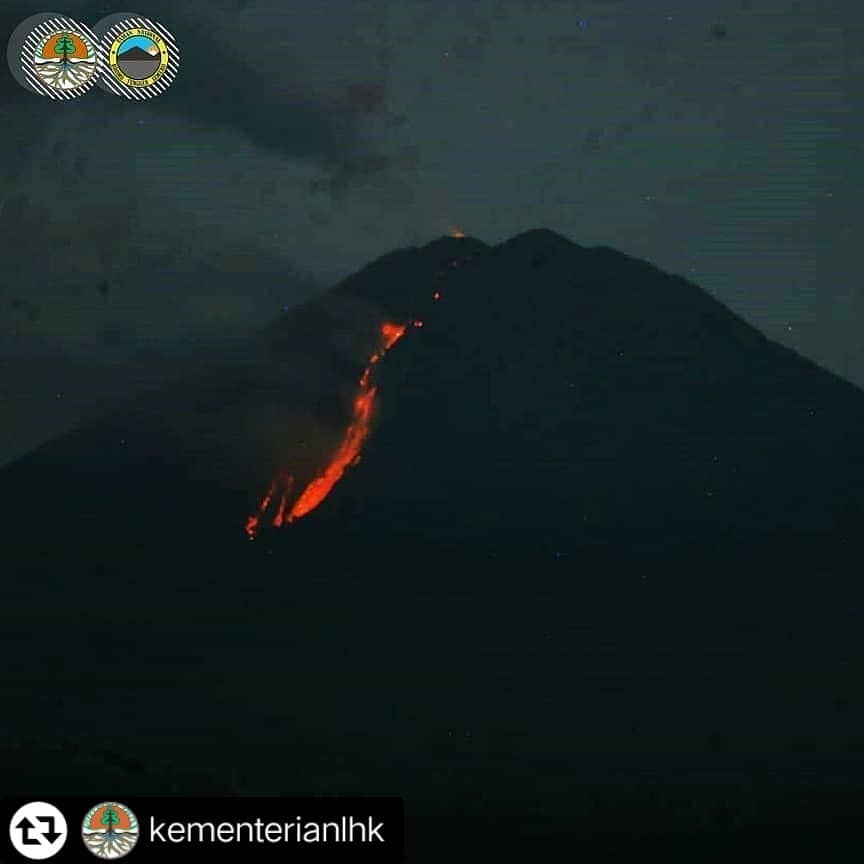 Volcanic Activity Summary :
Eruption with volcanic ash cloud at 05h07 UTC (22h07 local)
Volcanic Cloud Height :
Best estimate of ash-cloud top is around 13363 FT (4176 M) above sea level, may be higher than what can be observed clearly. Source of height data: ground observer.
Other Volcanic Cloud Information :
Ash-cloud moving to southwest
The seismicity of Mount Sinabung showed:
– 59 eruption / explosion earthquakes
– 5 earthquakes of emissions
– 3 distant tectonic earthquakes
– 1 flood tremor
Sources : Magma Indonésie , PVMBG.
Photo : PusatPengendalian Pembangunan EkoregionJawa
Indonesia , Ili Lewotolok :
Mount Ili Lewotolok in Lembata Regency of East Nusa Tenggara (NTT) erupted again at 11:47 local time, Monday, November 22, reported the Volcanology and Geological Hazard Mitigation Center (PVMBG).
"There was an eruption of Mount Ili Lewotolok on November 22, spewing an ash column of 2,000 meters above the summit," said Head of the Mount Ili Lewotolok Monitoring Post Stanis Ara Kian in Lembata, Monday.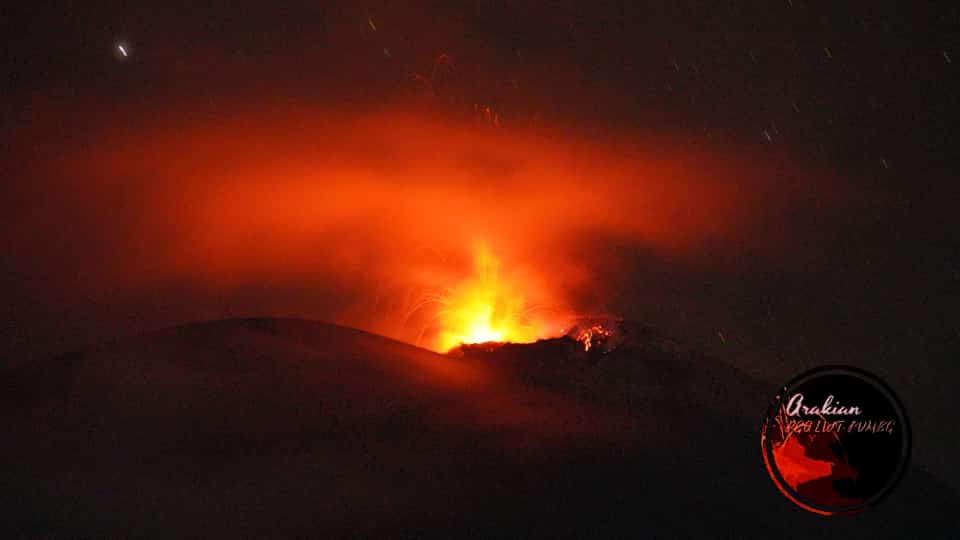 The report also said that the thick ash was white and grey leaning towards the southwest of the mountain top with an altitude of 3,423 meters above sea level.
"This eruption was recorded on a seismogram at a maximum amplitude of 35.5 mm and lasted approximately two minutes and 16 seconds," Stanis added. The eruption continued with thick black smoke.
At present, the mountain's volcanic activity is at alert status level III (Siaga or watch). The public, including residents near the mountain and tourists, are recommended to stay away from the mountain. Hiking activities are also prohibited.
Source : Tempo .co.
Photo : @InfoBencan/twitter / volcanodiscovery
Chile , Nevados de Chillan :
Special Report on Volcanic Activity (REAV), Ñuble region, Nevados de Chillán volcanic complex, November 21, 2021, 4:42 a.m. local time (Continental Chile).
The National Service of Geology and Mines of Chile (Sernageomin) publishes the following PRELIMINARY information, obtained thanks to the monitoring equipment of the National Volcanic Monitoring Network (RNVV), processed and analyzed at the Volcanological Observatory of the Southern Andes ( Ovdas):
On Sunday, November 21, 2021, at 04:37 local time (07:37 UTC), the monitoring stations installed near the volcanic complex of Nevados de Chillán recorded an earthquake associated with the fracturing of rocks (volcano-tectonic type VT) in the volcanic system .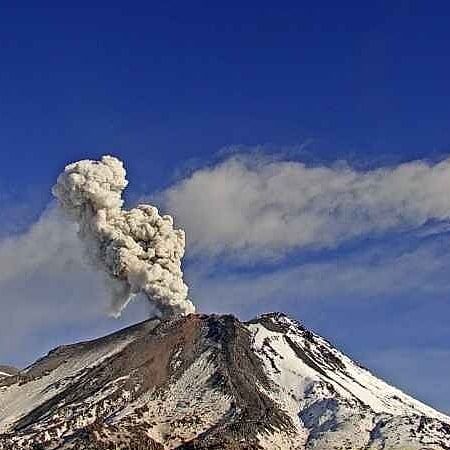 The characteristics of earthquakes after their analysis are as follows:
ORIGINAL TIME: 04:37 local time (07:37 UTC)
LATITUDE: 36.870 ° S
LONGITUDE: 71.346 ° W
DEPTH: 3.9 km
LOCAL MAGNITUDE: 3.4 (Ml)
OBSERVATIONS:
No surface activity associated with this event is observed.
The volcanic technical alert remains at the Yellow level.
Source : Sernageomin.
Photo : Sernageomin