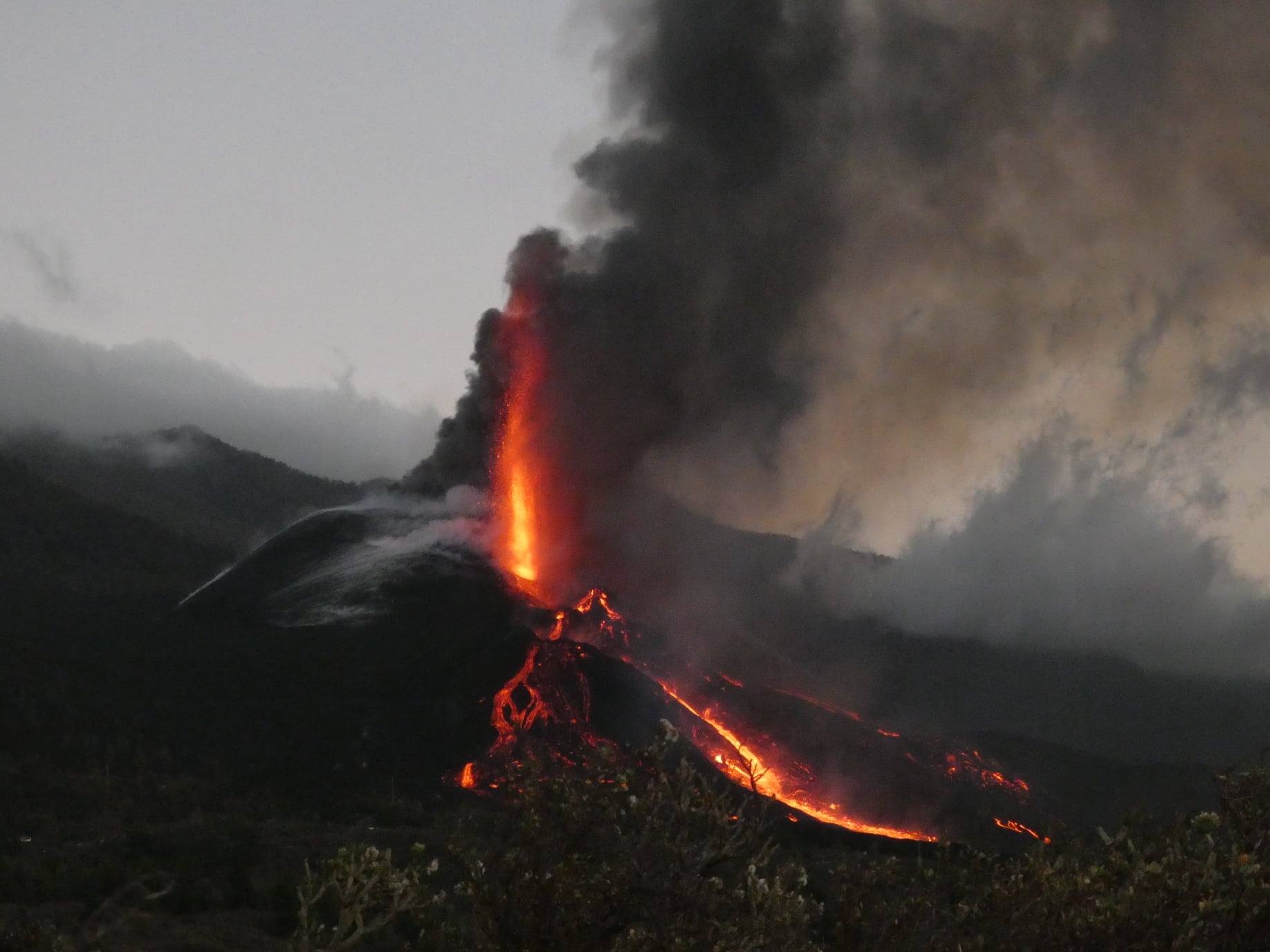 October 26, 2021. EN. Spain / La Palma : Cumbre Vieja , Peru : Sabancaya , Alaska : Semisopochnoi , Kamchatka : Karymsky , Italy : Stromboli , Philippines : Taal .
October 26 , 2021 .
Spain / La Palma , Cumbre Vieja :
A partial collapse of the cone occurred this Monday morning on the volcano on the island of La Palma. This leaves uncovered an important source of lava, as reported by the Volcanological Institute of the Canary Islands (Involcan). « We are in a moment of renewed activity, » informed Involcan spokesperson David Calvo.
In statements to Efe, Calvo said the gas emission is « nonsense » as it reached 50,000 tonnes of sulfur dioxide. The volcano has emitted more lava since last weekend, since two cracks opened on one side of the cone and a new mouth.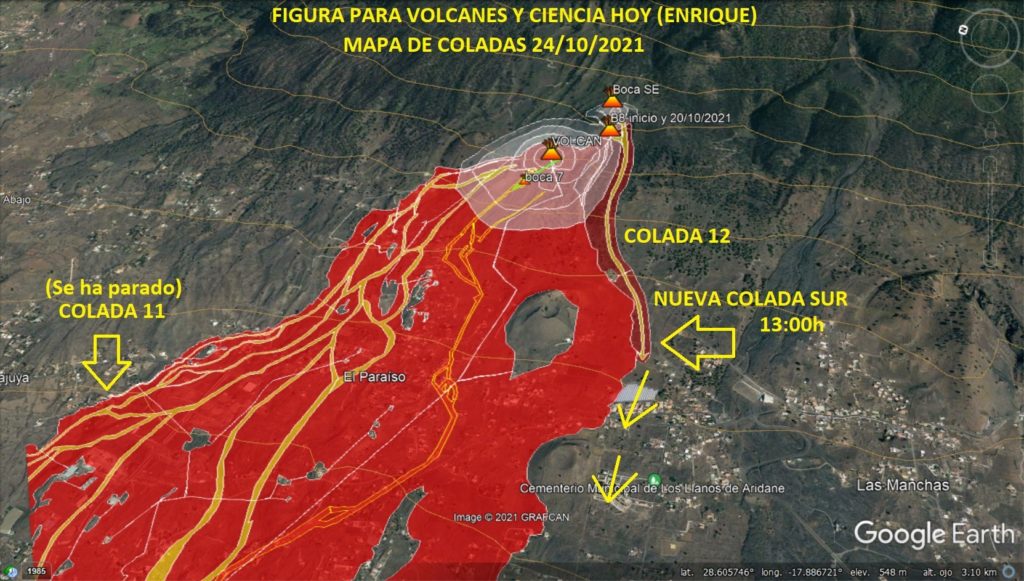 Calvo explained that one of the volcano's mouths « evacuates its lava » to the south, through areas it had not crossed before, such as the neighborhood of El Corazoncillo and the cemetery of Las Manchas, in the municipality of Los Llanos de Aridane. The spokesperson for Involcan indicated that now it was necessary to see where the lava flows are projected, if they are going again towards the districts of Todoque and La Laguna, if they see others again or if they go to a new place. . He also reported that some flows have widened to such an extent that they themselves have marked out a « brutal » perimeter, up to 3 kilometers, making it « a bit of a safe zone ».
October 25, 2021, 08:00 UTC. Eruptive activity continues on La Palma:
Since the last declaration, 274 earthquakes have been located in the area affected by the volcanic reactivation of Cumbre Vieja. 24 of these earthquakes were felt by the population, with a maximum intensity in epicentral zone IV (EMS98) for 4 earthquakes.
Of all the earthquakes, 110 have a magnitude equal to or greater than 3.0 mbLg and 4 of them have a magnitude of 4.0 mbLg, which is the maximum magnitude of the period considered.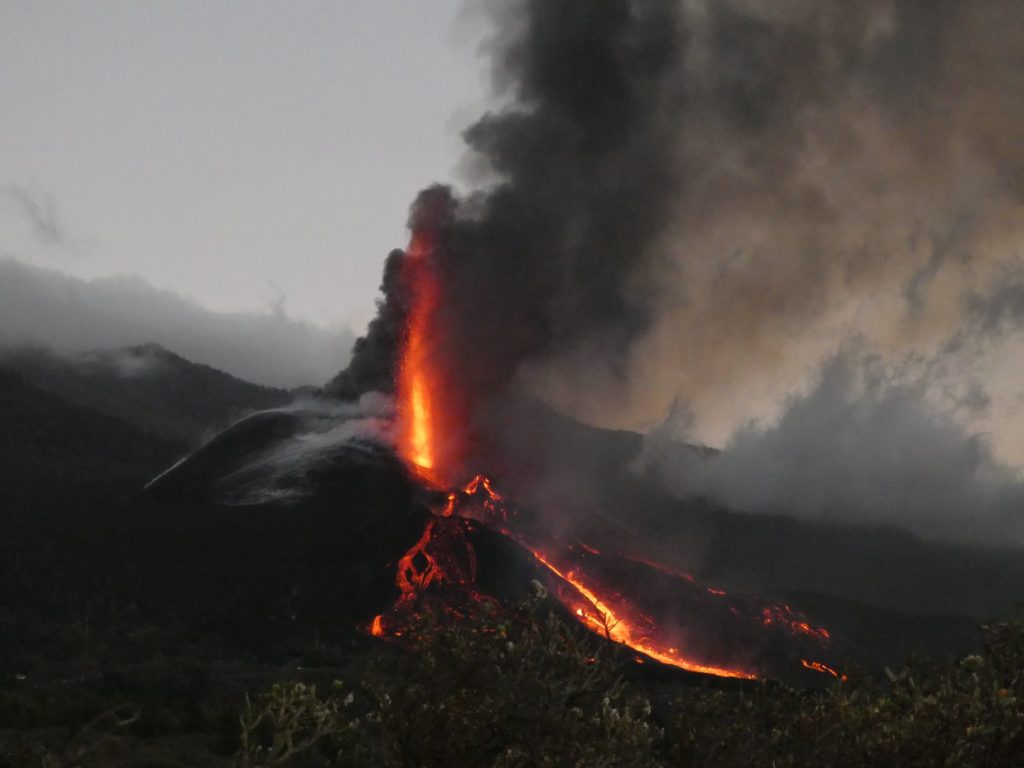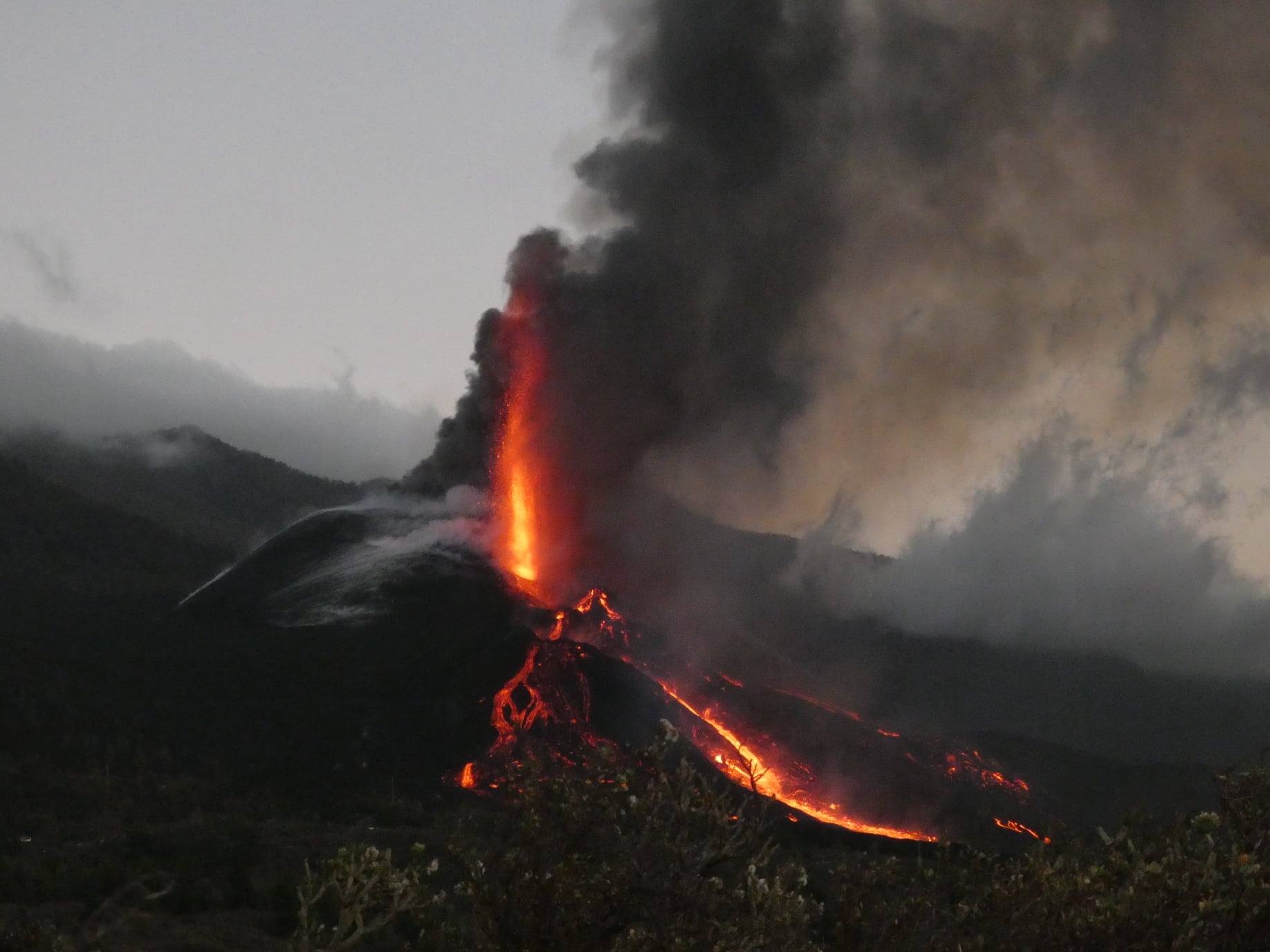 Only 3 earthquakes were located at depths of about 30 km, the rest of the hypocenters of the period are located at a shallower depth, about 12 km
The amplitude of the volcanic tremor signal has increased considerably, with many intensifying pulses.
The height of the emission column measured at 07:45 UTC is estimated at 3,800 m.
The island's network of permanent GNSS stations still does not show a clear tendency to warp from stations closest to eruptive centers, while at more distant stations a slight deflation is maintained, possibly related to deep seismicity. .
The earthquakes will continue and may increase in intensity, as María José Blanco, spokesperson for the Canary Islands Volcanic Emergency Plan (Pevolca) scientific committee, explained on Monday. During the sixth week of the eruption, the Canary Islands Volcanological Institute (Involcan) reported the opening of a new mouth in the early afternoon. The images published by Involcan show an « impressive lava overflow ». Since the eruption began, the volcano has emitted magma from 10 points, of which at least five remain active.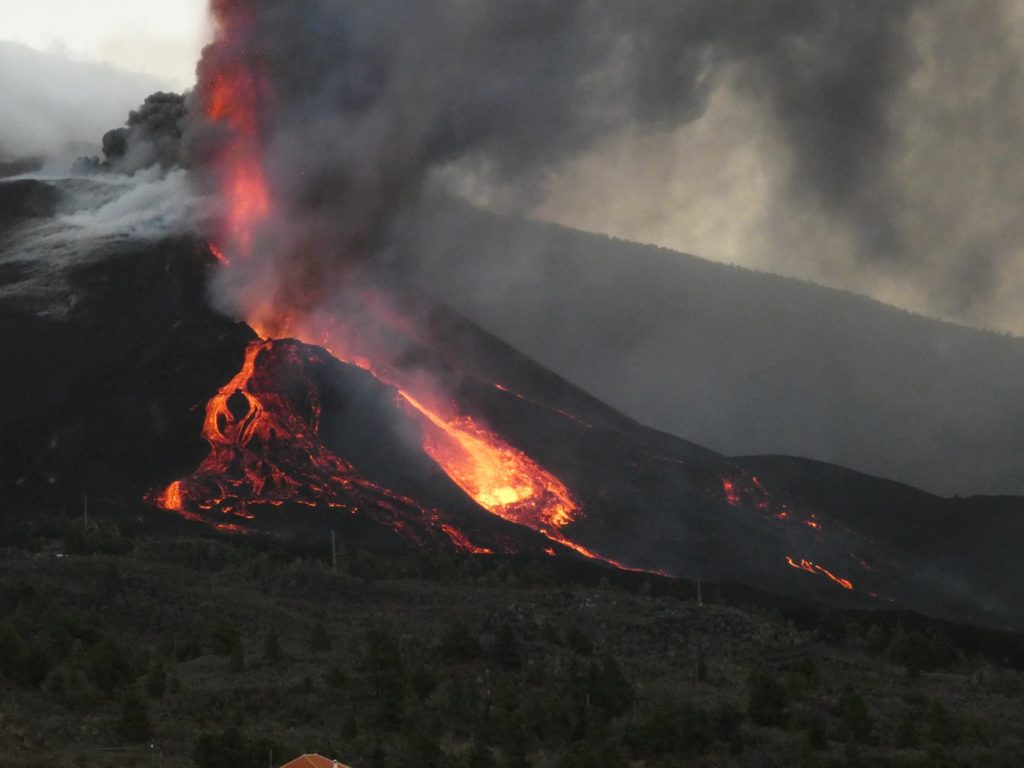 The Canary Islands Volcanological Institute (Involcan) reported a new collapse that was recorded after 7:30 p.m. (Canary Island time) in Cumbre Vieja. "A few minutes ago, the cone broke and caused more lava overflows and landslides that generated flows," Involcan said in a tweet. This collapse in the cone comes on top of two others that were recorded in the region on Monday, and have caused a sharp increase in lava flows.
Source : El Pais, IGN es.
Photos : Micha Fürer .
Peru , Sabancaya :
Analysis period: October 18, 2021 to October 24, 2021, Arequipa, October 25, 2021.
Alert level: ORANGE
The Geophysical Institute of Peru (IGP) reports that the eruptive activity of the Sabancaya volcano remains at moderate levels, that is to say with the recording of an average of 34 daily explosions, with columns of ash and gas up to 3.5 km altitude above the summit of the volcano and their consequent dispersion. Therefore, for the following days, no significant change is expected in eruptive activity.
The IGP recorded and analyzed the occurrence of 843 earthquakes of volcanic origin, associated with the circulation of magmatic fluids within the Sabancaya volcano. An average of 34 explosions was recorded daily. During this period, Volcano-Tectonic (VT) earthquakes associated with rock fractures were located mainly in the Northwest, Northeast and North of Sabancaya and presented magnitudes between M 2.0 and M 3.5.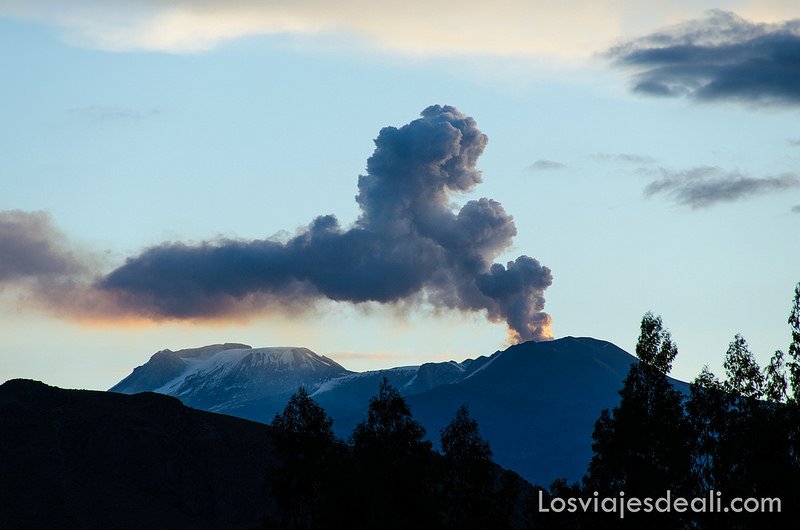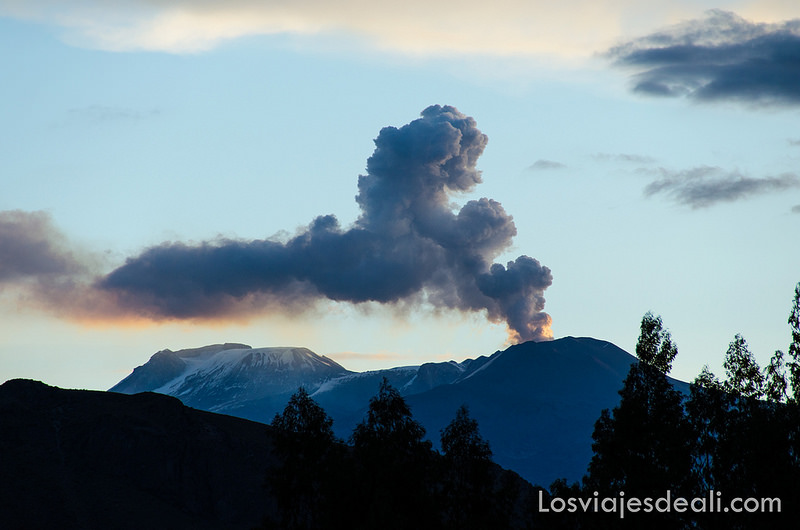 The monitoring of the deformation of the volcanic structure using GNSS techniques (processed with fast orbits) does not present any significant anomalies. However, in general, an inflation process was observed in the northern sector (around the Hualca Hualca volcano). The visual surveillance made it possible to identify columns of gas and ash up to 3.5 km altitude above the summit of the volcano, which were scattered towards the South-West, South, South-East, North and North sectors. North – East of Sabancaya. Satellite recordings have identified the presence of 7 thermal anomalies (maximum value of 4 MW) associated with the presence of a lava body on the surface of the volcano's crater.
RECOMMENDATIONS
• Keep the volcanic alert level in orange.
• Do not approach within a radius of 12 km from the crater.
Source : IGP.
Photo : Losviajesdeali. com.
Alaska , Semisopochnoi :
51°55'44 » N 179°35'52 » E,
Summit Elevation 2625 ft (800 m)
Current Volcano Alert Level: WATCH
Current Aviation Color Code: ORANGE
Eruptive activity continues at the north crater of Mount Cerberus. Explosions and tremor were detected in seismic and infrasound data over the past day. Low level (<10,000 ft) ash emissions and robust steam plumes were observed in partly cloudy web camera imagery during the past 24 hours. Satellite views were partly cloudy and showed the eruptive plume extending approximately 30 km to the east of the volcano.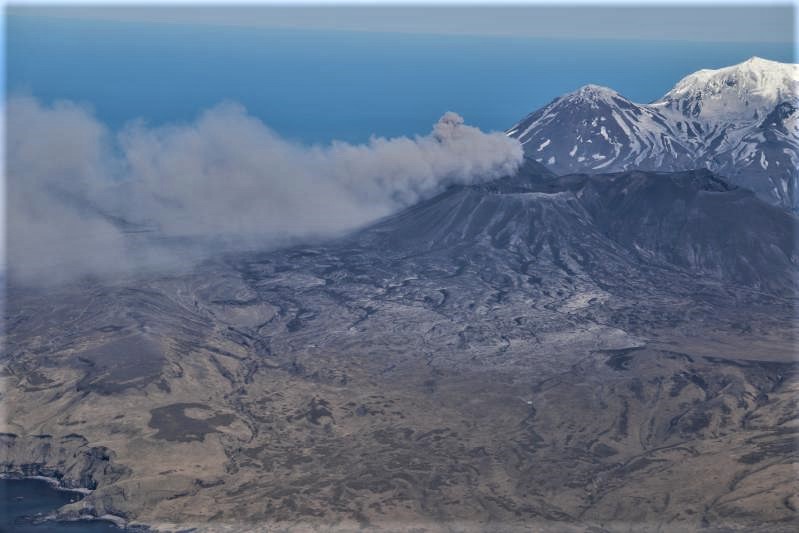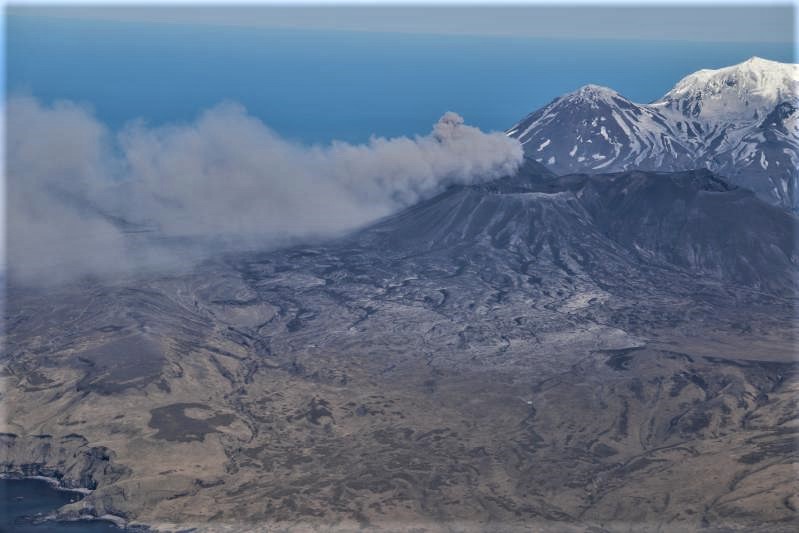 Small eruptions producing minor ash deposits within the vicinity of the active north crater of Mount Cerberus and ash clouds usually under 10,000 feet above sea level have characterized the recent activity, which shows no signs of abating. Small explosions may continue to occur and could be difficult to detect, especially during poor weather conditions.
Semisopochnoi Island is monitored by local seismic and infrasound sensors, satellite data, web cameras, and remote infrasound and lightning networks.
Source : AVO.
Photo : Dietterich, Hannah / Alaska Volcano Observatory / U.S. Geological Survey
Kamchatka , Karymsky :
VOLCANO OBSERVATORY NOTICE FOR AVIATION (VONA)
Issued: October 26 , 2021
Volcano: Karymsky (CAVW #300130)
Current aviation colour code: ORANGE
Previous aviation colour code: orange
Source: KVERT
Notice Number: 2021-127
Volcano Location: N 54 deg 2 min E 159 deg 26 min
Area: Kamchatka, Russia
Summit Elevation: 1486 m (4874.08 ft)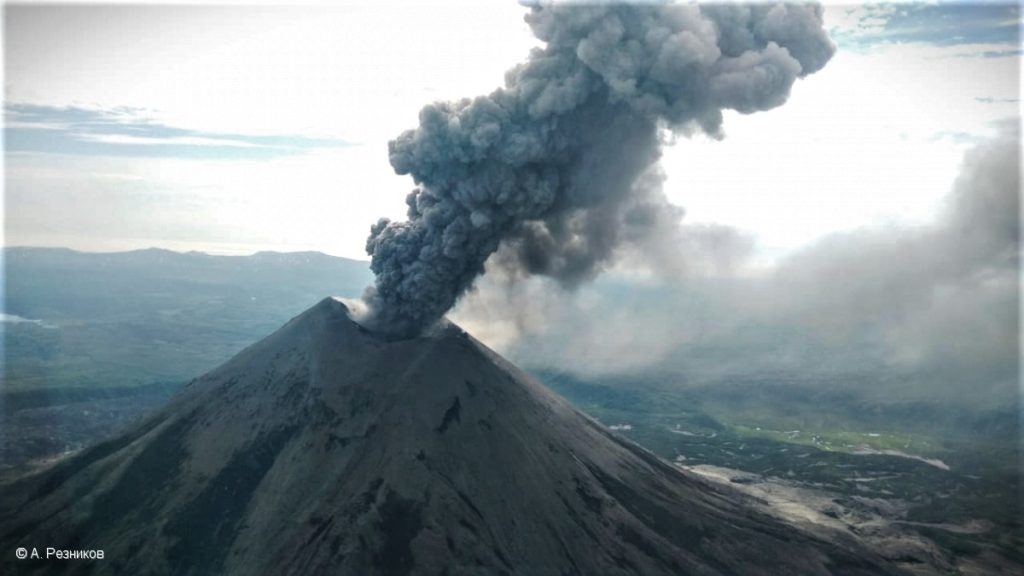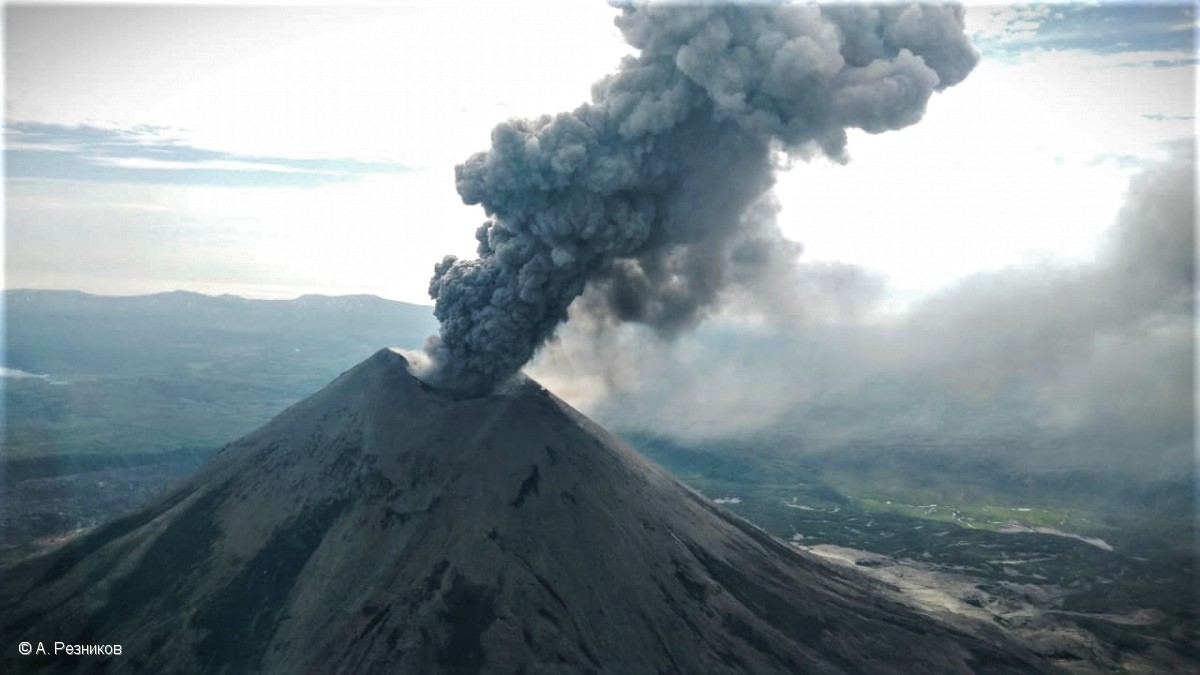 Volcanic Activity Summary:
A moderate eruptive activity of the volcano continues. Satellite data by KVERT showed: explosions sent ash up to 2.5 km a.s.l., ash plume is extending for 44 km to the east of the volcano.
This activity continues. Ash explosions up to 7-8 km (23,000-26,200 ft) a.s.l. could occur at any time. Ongoing activity could affect international and low-flying aircrafts.
Volcanic cloud height:
2500 m (8200 ft) AMSL Time and method of ash plume/cloud height determination: 20211026/0410Z – Himawari-8
Other volcanic cloud information:
Distance of ash plume/cloud of the volcano: 44 km (27 mi)
Direction of drift of ash plume/cloud of the volcano: E / azimuth 91 deg
Time and method of ash plume/cloud determination: 20211026/0510Z – Himawari-8
Start time of explosion and how determined: 20211026/0410Z – Satellite data
Source : Kvert.
Photo : A. Reznikov / Kvert.
Italy , Stromboli :
Communication on the activity of STROMBOLI, October 25, 2021,20:10 (18:10 UTC).
The National Institute of Geophysics and Volcanology, Osservatorio Etneo, announces that at 17:28 UTC a seismic signal lasting about 3 minutes was recorded, associated with a landslide event, observed at all seismic stations from Stromboli. No change in the other seismic parameters is observed.
Due to adverse weather conditions, direct observation of the phenomenon is not possible.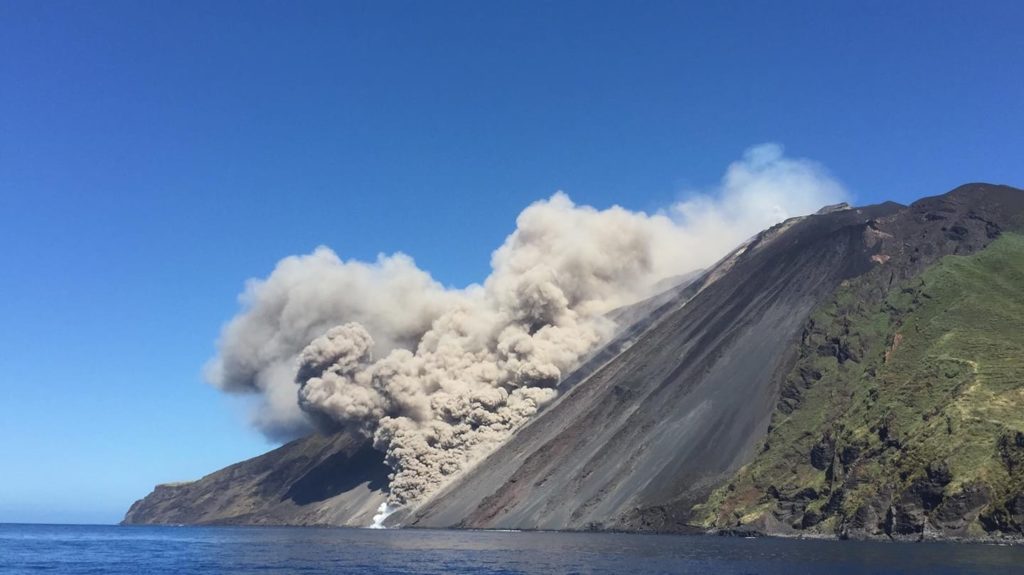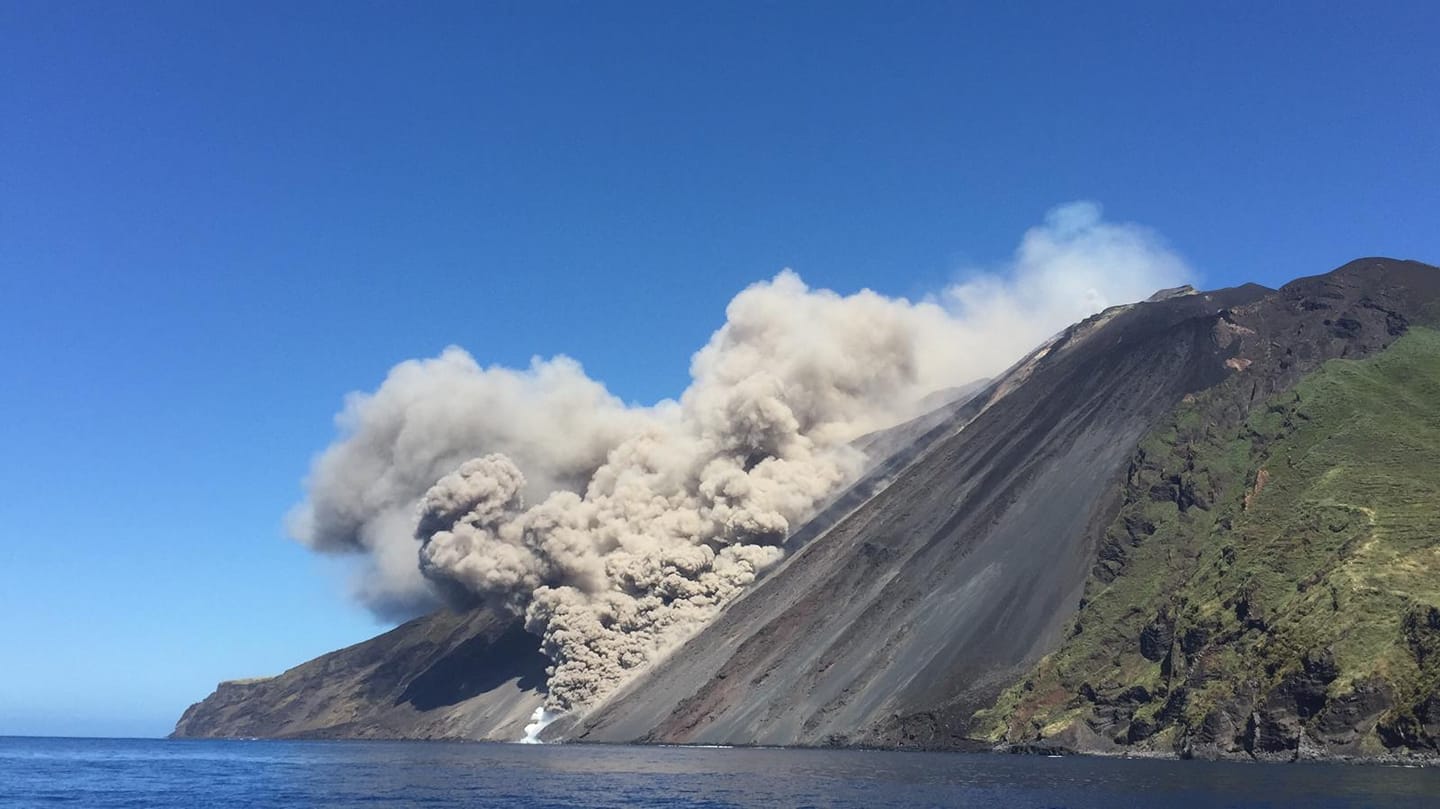 At 21:58 (19:58 UTC), the settings return to normal activity.
Further updates will be communicated shortly.
Source : INGV.
Photo : Ashàra ( archive Mai 2021) .
Philippines , Taal :
TAAL VOLCANO BULLETIN 26 October 2021 8:00 AM
In the past 24-hour period, the Taal Volcano Network recorded fifty-seven (57) volcanic earthquakes, including thirty-four (34) volcanic tremor events having a duration of one (1) to three (3) minutes, twenty-one (21) low-frequency volcanic earthquakes, and a low-level background tremor that has persisted since 7 July 2021.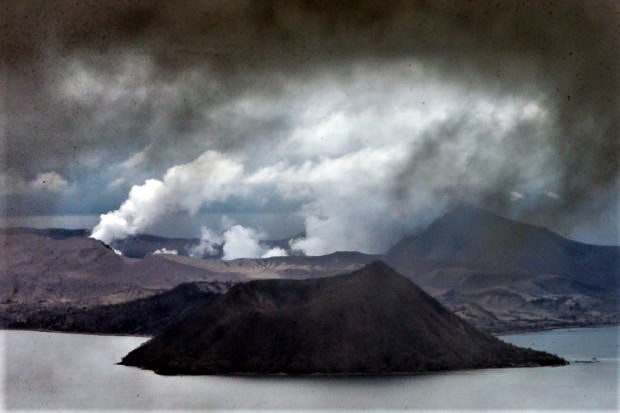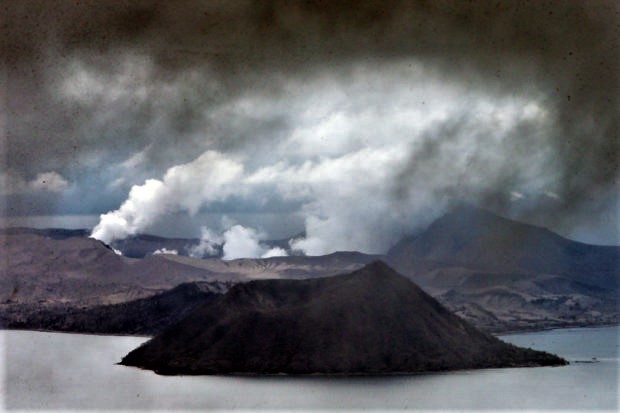 Activity at the Main Crater was dominated by upwelling of hot volcanic fluids in its lake which generated plumes 1500 meters tall that drifted southwest. Sulfur dioxide (SO2) emission averaged 8,325 tonnes/day on 24 October 2021. Based on ground deformation parameters from electronic tilt, continuous GPS and InSAR monitoring, Taal Volcano Island has begun inflating in August 2021 while the Taal region continues to undergo very slow extension since 2020.
Source : Phivolcs
Photo : EDWIN BACASMAS ( Archive )