October 08 , 2021. EN. Hawaii : Kilauea , Spain / La Palma : Cumbre Vieja , Philippines : Taal, Alaska : Semisopochnoi , Indonesia : Ili Lewotolok .
October 08 , 2021.
Hawaii , Kilauea :
19°25'16 » N 155°17'13 » W,
Summit Elevation 4091 ft (1247 m)
Current Volcano Alert Level: WATCH
Current Aviation Color Code: ORANGE
Activity Summary:  
Kīlauea volcano is erupting. As of this morning, October 7, 2021, lava continues to erupt from two vents; one along the floor and one in the western wall of Halemaʻumaʻu crater. All lava activity is confined within Halemaʻumaʻu crater in Hawai'i Volcanoes National Park. Seismicity and volcanic gas emission rates remain elevated.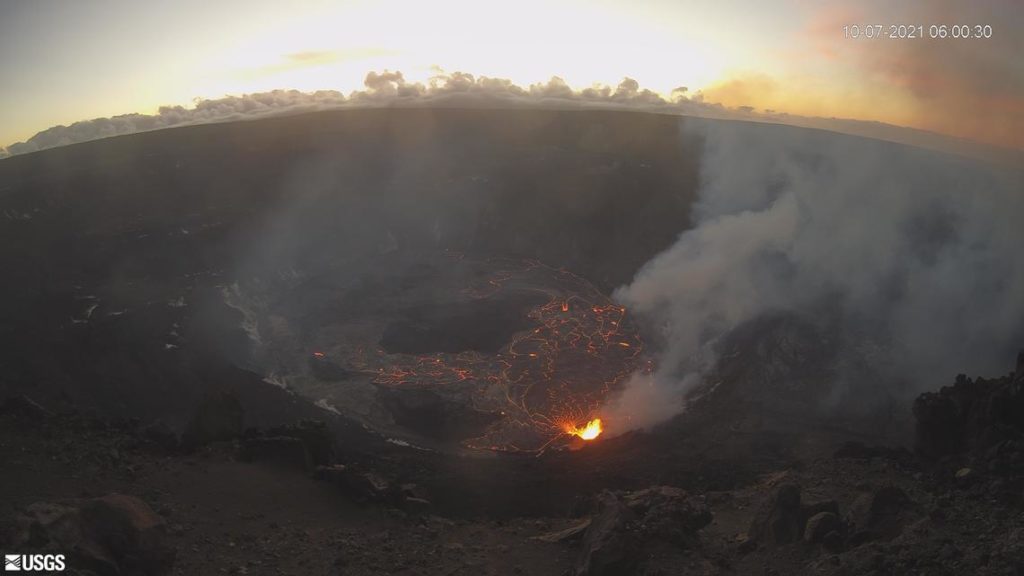 Summit Observations:  
Sulfur dioxide (SO2) emission rates remain high, with a measured emission rate of approximately 7,000 tonnes per day on October 6, 2021. Seismicity remains elevated but stable. Summit tiltmeters continue to record deflationary tilt.
Halemaʻumaʻu Lava Lake Observations:
Lava continues to erupt from two vents within Halemaʻumaʻu crater. Over the past 24 hours, the lava lake level rose approximately 1 meter (3 ft) with a total rise of about 32 meters (105 ft) since lava emerged on September 29. The total thickness of lava filling Halemaʻumaʻu is now 258 meters (846 ft) with a lake surface elevation of approximately 775 meters (2543 ft) above sea level. The west vent continues to have the most vigorous fountain with sustained lava fountain heights of about 12 meters (39 ft). The lava lake is now above the base of the vent and the fountain has built a spatter rampart around most of it. Another vent continues to be active in the southern part of the lake with lava fountain heights averaging 1 meter (3 ft) above the lake surface .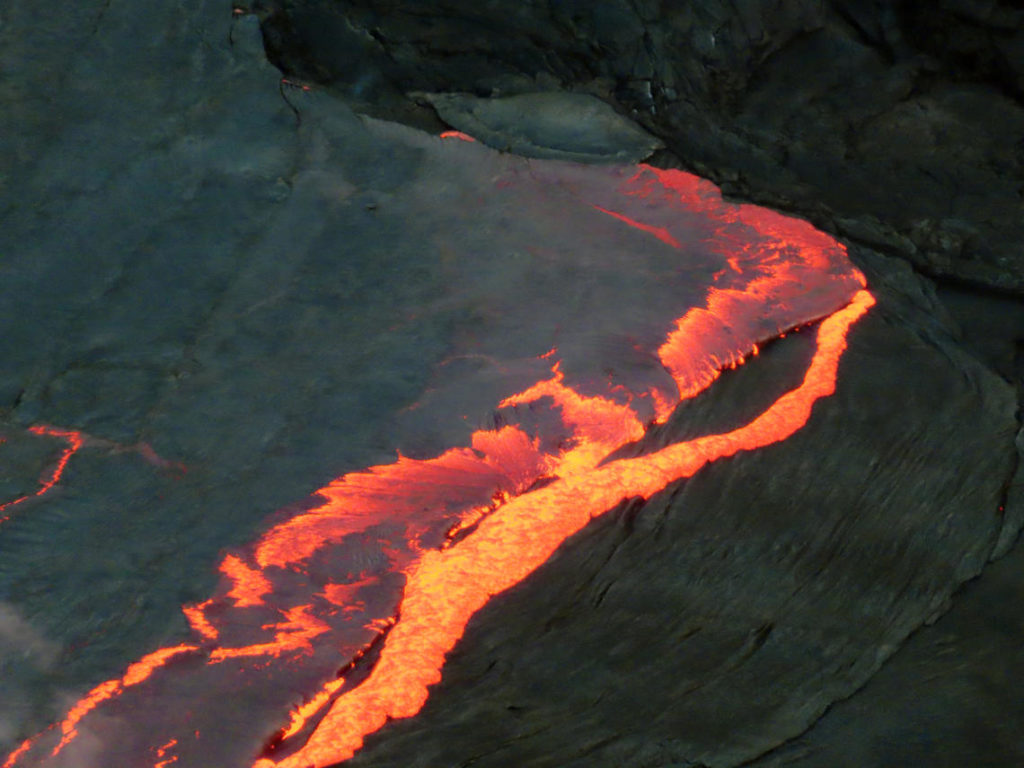 A large crustal submersion event in the ongoing Halema'uma'u crater eruption occurred in the late afternoon on October 6, 2021. This photo was taken from the northwest rim of the crater looking east.
Due to the location of vents, the lava lake is not level across its surface. Areas closer to the vent in the western part are about 2 m (7 ft) higher in elevation compared to the north and south part of the lake and 4 m (7 ft) higher than the east end of the lava lake. Crustal foundering, a process by which cooled lava crust on the lake surface sinks into the hot underlying lake lava, is observed on the active surface of the lava lake. The active lava lake surface is perched 1-2 meters (3-7 ft) above a 20-meter-wide (66 ft) ledge that extends outward to the Halemaʻumaʻu crater wall. The central island and several of the smaller eastern islets from the 2020 lava lake are now visible on the lake surface. All the smaller islets became submerged at the beginning of the eruption, but have gradually emerged since. The central island shows a dark ring marking of cooled lava from partial submersion at the beginning of the eruption.
Source : HVO.
Photos : USGS webcam , USGS/ K. Lynn
Spain / La Palma , Cumbre Vieja :
A new tongue of lava reaches the sea through the beaches of Los Guirres and El Charcón.
The technical director of the Canary Islands Volcanic Emergency Plan (Pevolca), Miguel Ángel Morcuende, reported this Wednesday after the meeting of the Pevolca expert committee that a new lava tongue has been created and has reached the sea. "At the end of the existing flow, about 350 meters from the coast, there was a fork and the flow ended up flowing between Los Guirres beach and El Charcón. This situation started to be noticed yesterday at 5:00 pm and razed other banana plantations and destroyed several hangars and some buildings, « he explained. In view of this, the volcanologist of the National Geographic Institute, María José Blanco, added that he is « a branch of the main flow that flowed further south », which reached the delta that formed during the eruption of the San Juan volcano. in 1949 between the beach of Los Guirres and the beach of El Charcón. This forced the evacuation of the population as well as emergency scientists and technicians in s the La Bombilla region.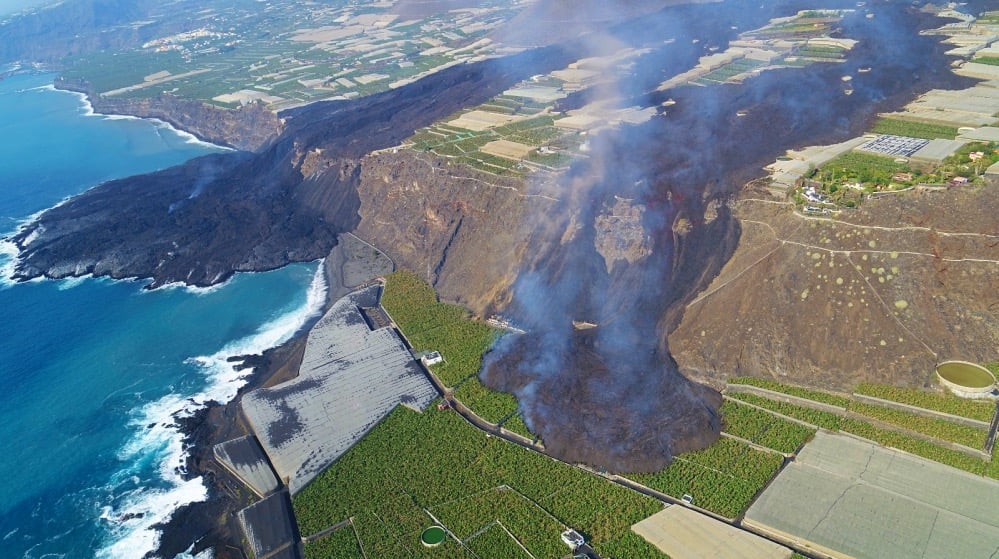 The new lava tongue that separated from the main flow and reached Las Hoyas and El Charcon, destroyed nearly 10 new hectares of green space, which includes houses, water reservoirs and other constructions. , as well as banana trees. In total, the lava flows from the volcano have already affected 431 hectares.
The activity has become more explosive in recent hours. The director of the National Geographical Institute of the Canaries, Maria Jose Blanco, said there has been a deterioration in air quality due to weather conditions and weak wind, making it difficult to dilute the cloud ash and sulfur dioxide. This situation, he said, will continue until Saturday, October 9, and affects the operation of La Palma airport, which closed its activities on Thursday, Aena said.
An earthquake recorded at 12:17 this Thursday of magnitude 4.3 « was felt with an intensity III practically throughout the island ». Blanco explained that over the past 24 hours, the number of earthquakes has increased as well as the maximum magnitude observed, but the seismicity recorded on the island of La Palma continues to be located in the area where it is located. is produced on September 11 and 12, at depths between 10 and 15 kilometers, and also at greater depths. It is precisely the great depths, like the 35 kilometers deep at which this latest 4.3 earthquake occurred, that causes experts to downplay the importance. "At the moment, we have no data that would make us think that a new emission center could appear," explained Pevolca's technical director, Miguel Ángel Morcuende, "since no new deformation of the terrain has occurred. is registered, and it still is.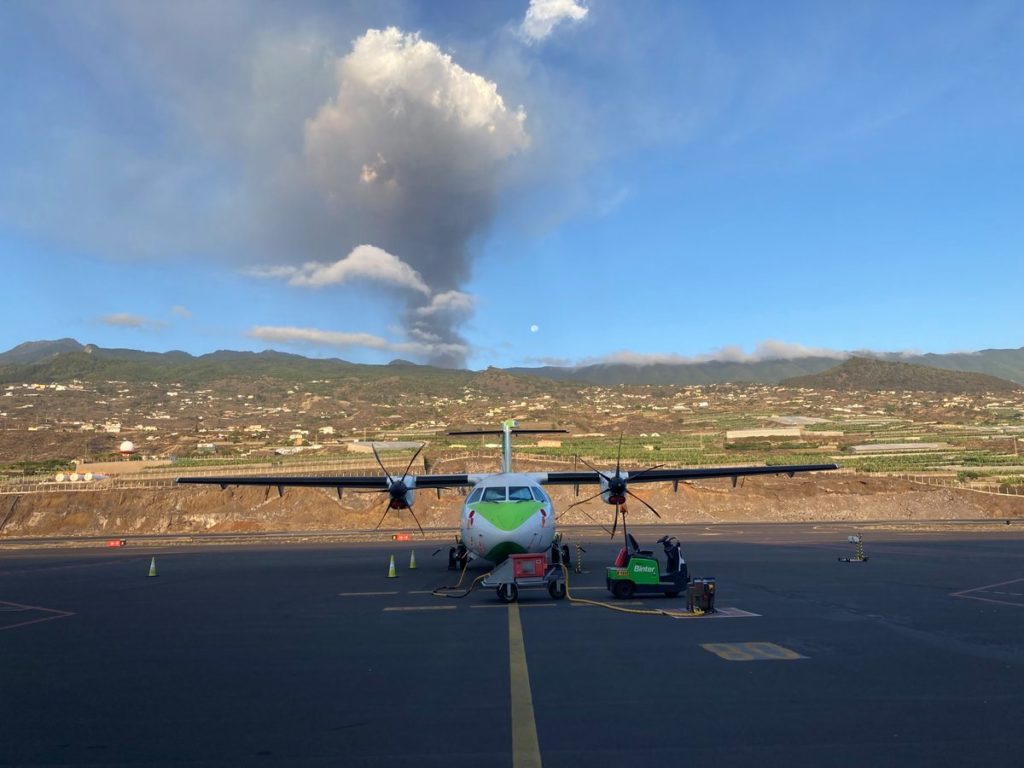 During the day on Wednesday, sulfur dioxide values remained at low levels except for a one-off episode in El Paso and Los Llanos at 10 a.m., explained the director of the National Geographic Institute of Canaries, Maria José Blanco, this Thursday following the meeting of the Canary Islands Volcanic Emergency Plan (Pevolca). Tonight, she continued, « there has been a large increase in sulfur dioxide concentrations at the Tazacorte, Los Llanos and El Paso stations, this being more intense in this increase, where a value Hourly maximum of 667 micrograms / cubic meter was measured at seven in the morning, exceeding the alert threshold set at 500 on two consecutive occasions.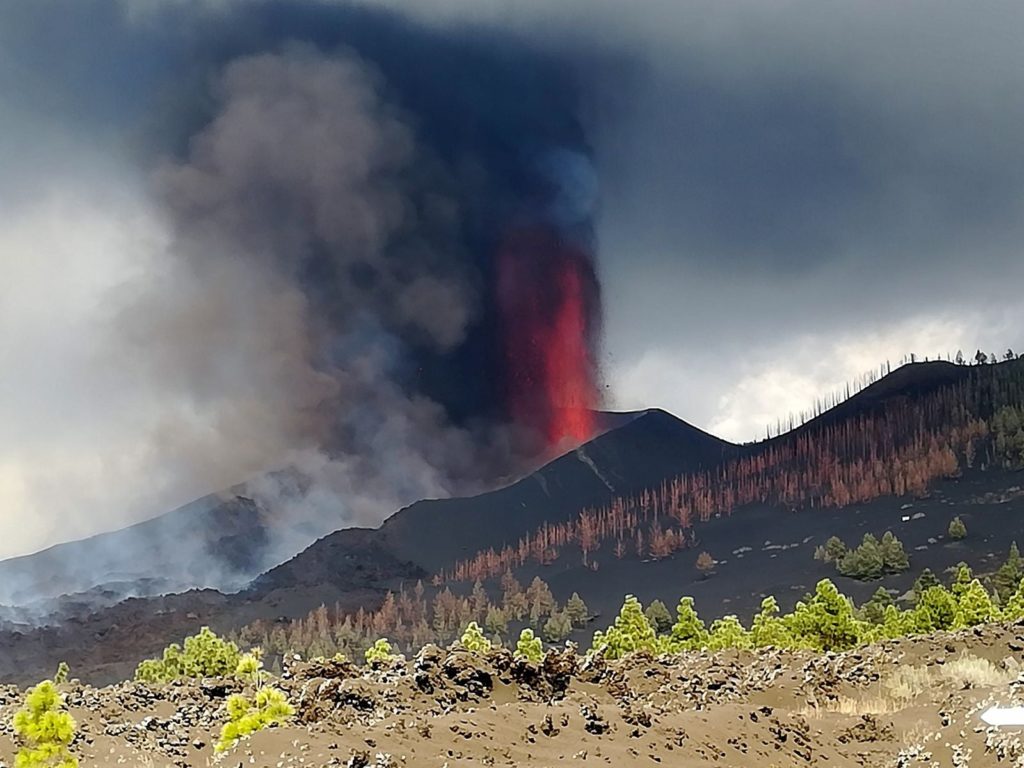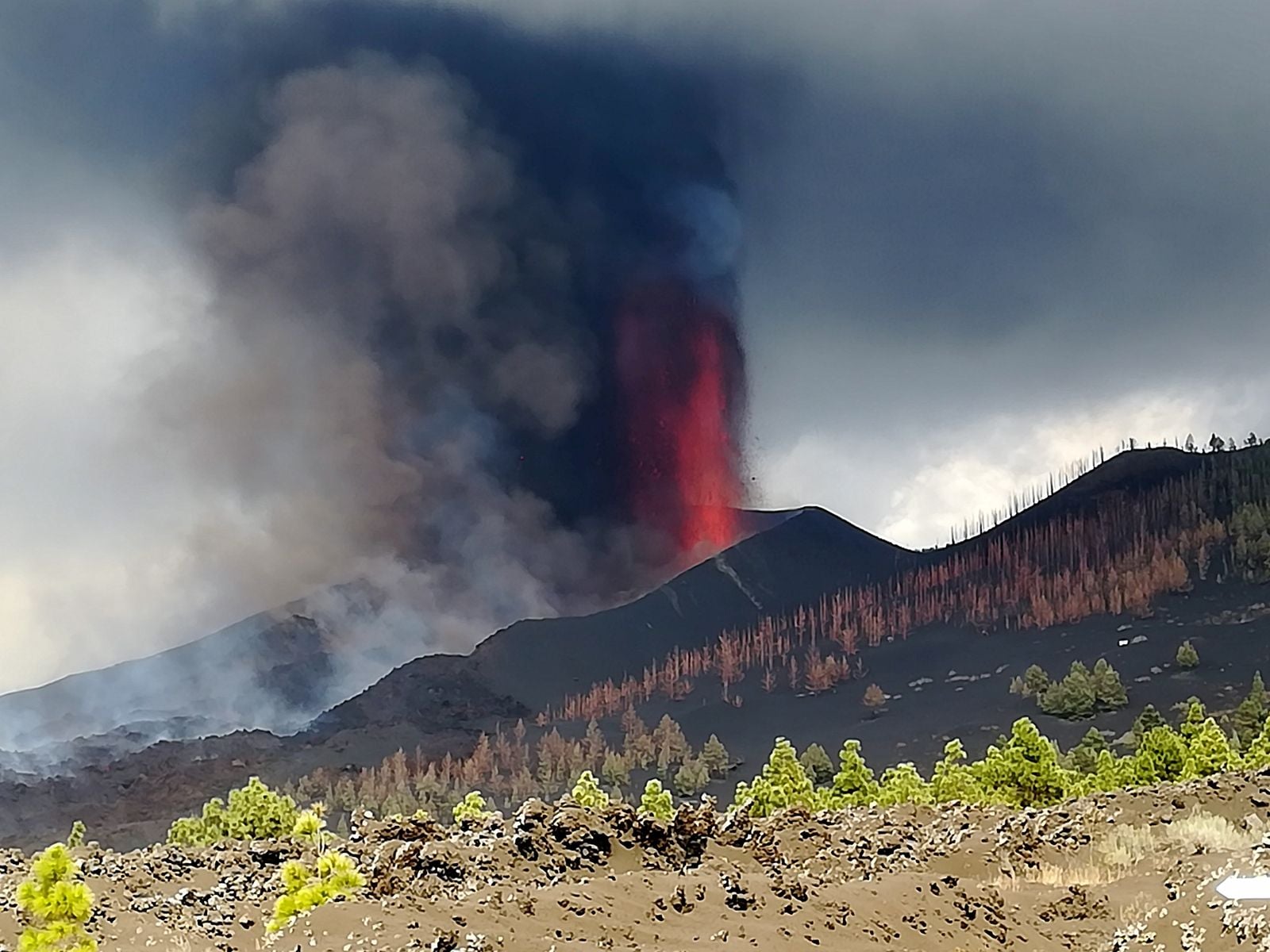 Another earthquake, of magnitude 3.8, is recorded southwest of Villa de Mazo
The National Geographic Institute recorded an earthquake with a magnitude of 3.8 southwest of Villa de Mazo, on the island of La Palma, at a depth of 37 kilometers. The movement took place at 3:26 p.m. in the Canaries and was felt by the population, indicates the IGN in a press release. This Thursday, there were other tremors in the same area, one in 4.3 also southwest of Villa de Mazo, 35 kilometers deep, recorded at 12:17, also felt by the population. This earthquake, the largest since the eruption began on September 19, was followed by three others of magnitude 3.3, 3.4 and 3.3 located northeast of the municipality of Fuencaliente and at a depth which oscillates between 12 and 14 kilometers. To date, there have been over 60 seismic movements on the island.
Sources : IGN , El Pais .
Photos : LMV Volcanology Team , aviaçào tv , La Palma Ahora.com. El Pais.
Philippines , Taal :
PHIVOLCS reported that sulfur dioxide emissions at Taal averaged 8,854 tonnes/day beginning on 27 September, and peaked on 5 October at 25,456 tonnes/day which was the highest ever sulfur dioxide gas flux recorded at the volcano. On 27 September the number of daily volcanic earthquakes significantly decreased. During 27 September-5 October upwelling of hot volcanic fluids in the lake was visible and gas-and-steam plumes rose as high as 3 km above the lake. The report noted that a sudden increase in inflation below Taal Volcano Island was recorded in August. The Volcano Alert Level remained at a 2 (on a scale of 0-5). PHIVOLCS reminded the public that the entire Taal Volcano Island is a Permanent Danger Zone (PDZ) and that boating on Taal Lake was prohibited.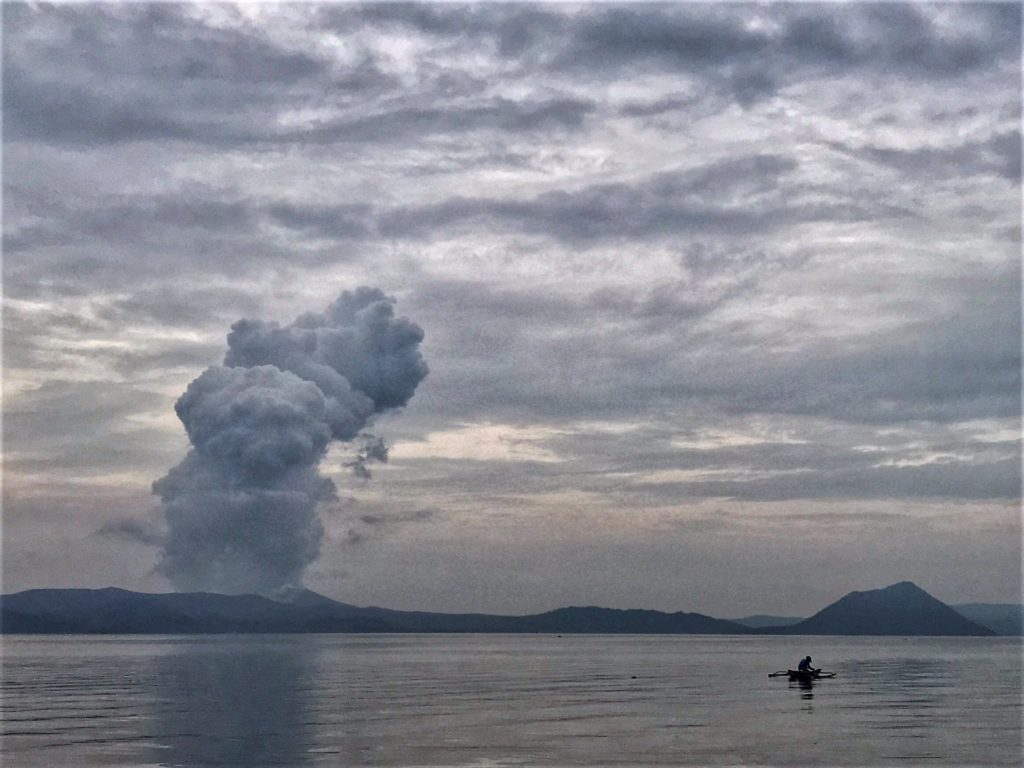 TAAL VOLCANO BULLETIN 08 October 2021 8:00 AM
In the past 24-hour period, the Taal Volcano Network did not detect any volcanic earthquake but a low-level background tremor has persisted since 7 July 2021. Activity at the Main Crater was dominated by upwelling of hot volcanic fluids in its lake which generated plumes 1,200 meters tall that drifted northeast. Sulfur dioxide (SO2) emission averaged 9,635 tonnes/day on 07 October 2021. In addition, vog was observed over Taal Volcano and vicinity. Based on ground deformation parameters from electronic tilt, continuous GPS and InSAR monitoring, Taal Volcano Island has begun inflating in August 2021 while the Taal region continues to undergo very slow extension since 2020.
Sources : GVP , Phivolcs.
Photo : Rizal M
Alaska , Semisopochnoi :
51°55'44 » N 179°35'52 » E,
Summit Elevation 2625 ft (800 m)
Current Volcano Alert Level: WATCH
Current Aviation Color Code: ORANGE
Seismicity has remained elevated with intermittent bursts of activity and at least two explosions were detected in infrasound data over the past day. No new ash clouds were observed in satellite data and observations by local web cameras have been obscured by clouds.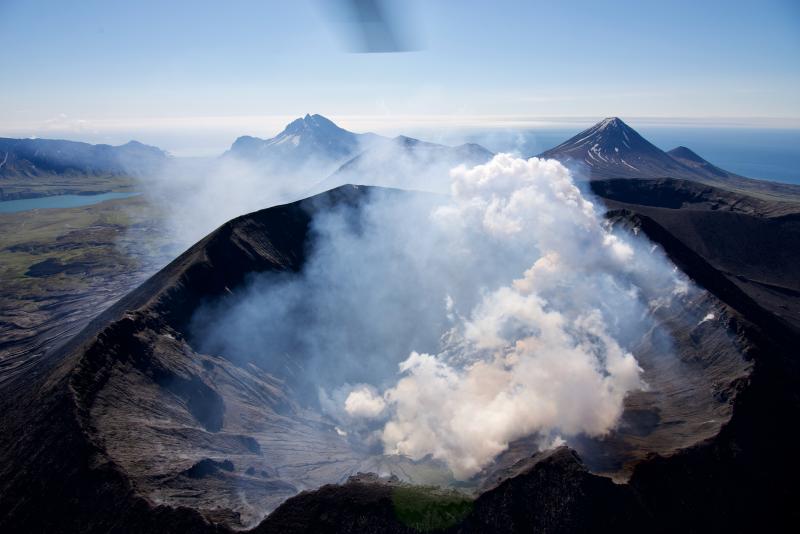 Small eruptions producing minor ash deposits within the vicinity of the active north crater of Mount Cerberus and ash clouds usually under 10,000 feet above sea level have characterized the recent activity, which shows no signs of abating. Small explosions may continue to occur and could be difficult to detect, especially during poor weather conditions.
Semisopochnoi Island is monitored by local seismic and infrasound sensors, satellite data, web cameras, and remote infrasound and lightning networks.
Source : AVO
Photo : Read, Cyrus / Alaska Volcano Observatory / U.S. Geological Survey.
Indonesia , Ili Lewotolok :
VOLCANO OBSERVATORY NOTICE FOR AVIATION – VONA
Issued : October 07 , 2021
Volcano : Ili Lewotolok (264230)
Current Aviation Colour Code : ORANGE
Previous Aviation Colour Code : orange
Source : Ili Lewotolok Volcano Observatory
Notice Number : 2021LEW44
Volcano Location : S 08 deg 16 min 19 sec E 123 deg 30 min 18 sec
Area : East Nusa Tenggara, Indonesia
Summit Elevation : 4554 FT (1423 M)
Volcanic Activity Summary :
Eruption with volcanic ash cloud at 09h28 UTC (17h28 local). Eruption and ash emission is not continuing.
Volcanic Cloud Height :
Best estimate of ash-cloud top is around 6474 FT (2023 M) above sea level, may be higher than what can be observed clearly. Source of height data: ground observer.
Other Volcanic Cloud Information :
Ash-cloud moving to West
Remarks :
Seismic activity is characterized by continuous volcanic tectonic earthquake.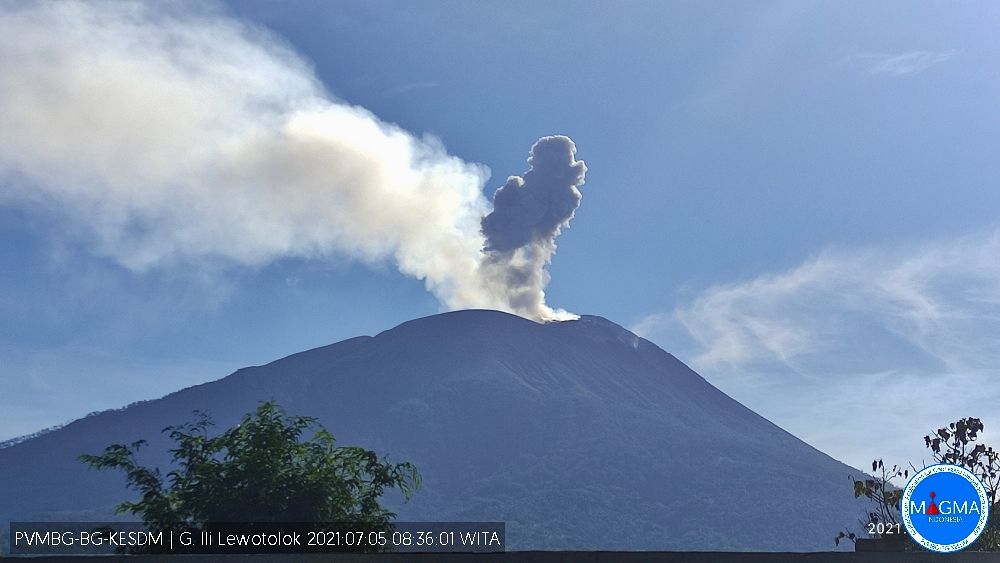 Level of activity at level III (Siaga) since November 29, 2020 at 1:00 p.m. WITA.
The last eruption occurred on October 5, 2021, resulting in an eruption column height of 500 m. It is observed that the color of the emission column goes from white to gray.
The volcano was clearly visible until it was covered in fog. The smoke from the crater is white / gray with low to moderate intensity, about 100-600 meters above the summit. The weather is sunny, the wind is weak to strong in the North, West and Northwest. The air temperature is approximately 23.2 to 35.1 ° C. An eruption was observed at a height of 300-500 meters, the color of the smoke was white / gray. The eruption was accompanied by a burst of incandescent lava about 300 meters to the southeast, rumbling and a weak to loud explosion sound.
According to the seismographs of October 7, 2021, it was recorded:
25 earthquake eruptions / explosions
82 emission earthquakes
1 harmonic tremor
84 non-harmonic tremors
1 distant tectonic earthquake
Continuous tremor, amplitude 0.5-1 mm (mainly 0.5 mm)
Sources : Magma Indonésie , PVMBG.
Photo : Archive PVMBG.