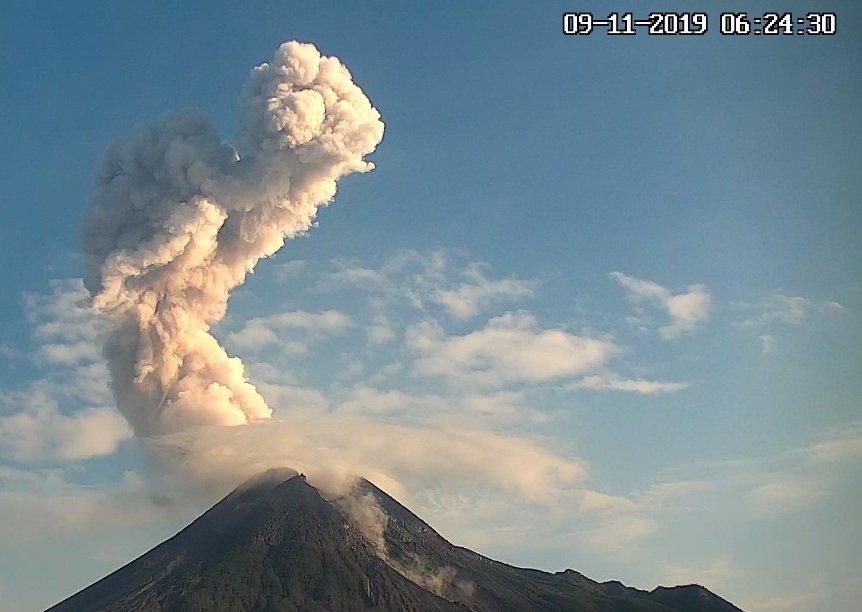 November 16, 2019. EN. Alaska : Cleveland , Alaska : Shishaldin , Indonesia : Merapi , Mexico : Popocatepetl .
November 16 , 2019.
Alaska , Cleveland :
AVO/USGS Volcanic Activity Notice
Current Volcano Alert Level: ADVISORY
Previous Volcano Alert Level: WATCH
Current Aviation Color Code: YELLOW
Previous Aviation Color Code: ORANGE
Issued: Friday, November 15, 2019, 12:16 PM AKST
Source: Alaska Volcano Observatory
Location: N 52 deg 49 min W 169 deg 56 min
Elevation: 5676 ft (1730 m)
Area: Aleutians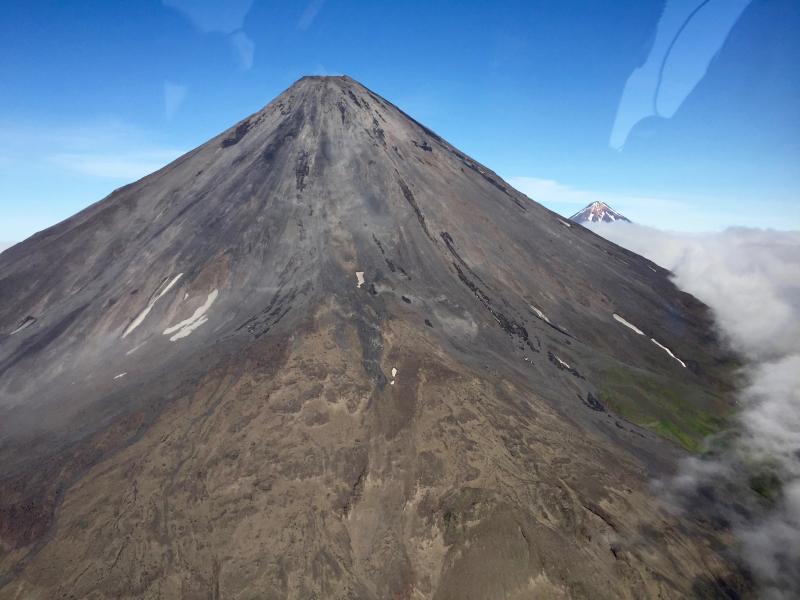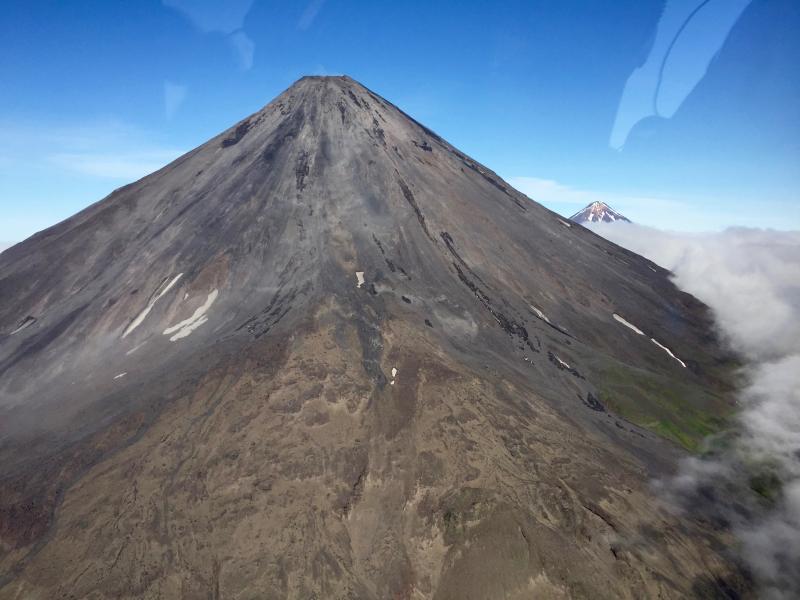 The east flank of Mount Cleveland with the summit of Carlisle Volcano in the background.
Volcanic Activity Summary:
Satellite data over the past week and regional seismic and infrasound data show no evidence of eruptive activity. Thus, AVO is lowering the Aviation Color Code to YELLOW and the Volcano Alert Level to ADVISORY.
Future explosions at Cleveland are likely. They occur without warning and typically produce relatively small volcanic ash clouds that dissipate within hours; however, more significant ash emissions are possible.
Recent Observations:
[Volcanic cloud height] None
[Other volcanic cloud information] n/a
Remarks:
Cleveland volcano is monitored by only two seismic stations, which restricts AVO's ability to detect precursory unrest that may lead to an explosive eruption. Rapid detection of an ash-producing eruption may be possible using a combination of seismic, infrasound, lightning, and satellite data.
Source : AVO.
Photo : Lyons, John .
Alaska , Shishaldin :
54°45'19 » N 163°58'16 » W,
Summit Elevation 9373 ft (2857 m)
Current Volcano Alert Level: WATCH
Current Aviation Color Code: ORANGE
Low-level eruption continues at Shishaldin Volcano. Satellite and web camera images over the past week showed intermittent advance of active lava flows on the north, northeastern, and southeastern flanks, as well as volcanic debris flow (lahar) deposits extending downslope from the lavas as they melt surrounding snow and ice. These lava flows extend up to about 1.2 km (0.7 miles) from the summit and debris flow runout was at least 5.5 km (3.4 miles), with a large branched network of debris flows extending to the northeast.
Web camera and pilot views have captured minor ash emissions from low-level summit explosions and local collapses of unstable deposits of accumulated lava. One of these ash plumes reached up to 12,000 ft on November 11. Thin ash deposits from these events were observed extending ~5 km (3.1 miles) the northeast and at least 3 km (1.9 miles) to the south-southeast. Seismicity was variable throughout the week, with periods of high amplitude tremor related to lava effusion interspersed with periods of no tremor and occasional discrete seismic events.
Shishaldin is monitored by local seismic and infrasound sensors, satellite data, a web camera, a telemetered geodetic and tilt network, and distant infrasound and lightning networks.
Source : AVO.
Vidéo : USFWS/Bruce Butler via Sherine France.
Indonesia , Merapi :
ACTIVITY REPORT OF MONT MERAPI, 8th – 14th November 2019.
RESULTS OF OBSERVATION
Visuals:
The weather around Mount Merapi is usually sunny in the morning, while the afternoons and evenings are foggy. There is a white smoke, thin / thick with low pressure. The maximum smoke height of 450 m was observed from the observation post of Mount Merapi de Selo on November 8, 2019 at 05:30.
On November 9, 2019 at 06:21, an eruption was recorded on a seismogram with an amplitude of 65 mm and a duration of 160 seconds. A hot cloud of avalanche has slipped for about 2 km towards K. Gendol. The column of eruption smoke was ± 1,500 m above the summit.
The morphological analysis of the crater area based on photographs of the Southeast sector revealed no significant morphological changes. The volume of the lava dome based on aerial photo analysis with drones on October 30, 2019 was 416,000 m3.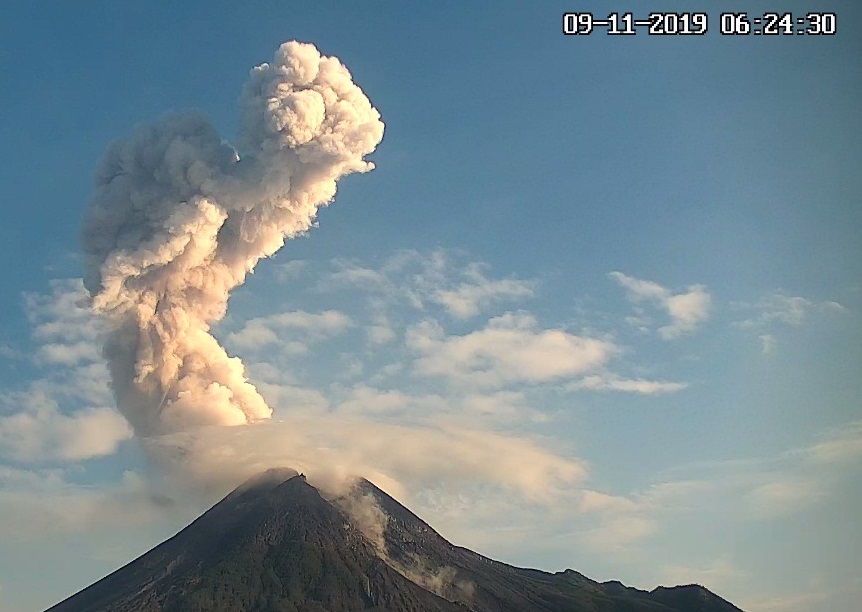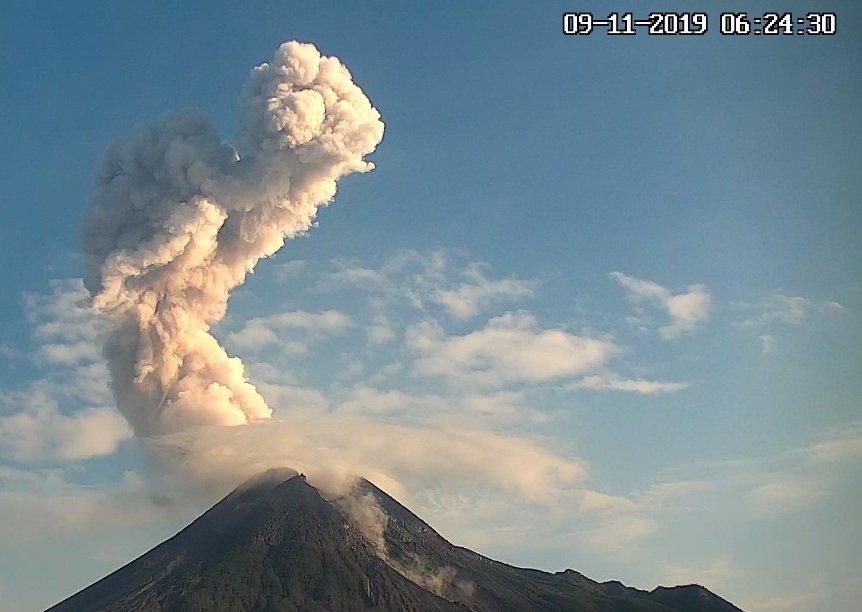 Seismicity:
This week, the seismicity of Mount Merapi recorded:
1 earthquake of eruption.
7 earthquakes (DG),
23 deep volcanic earthquakes (VTA),
10 shallow volcanic earthquake (VTB),
51 multiple phase events (MPs),
12 avalanche earthquakes (RF),
13 low frequency earthquakes (LF)
12 tectonic earthquakes (TT).
This week's seismic intensity is higher than last week.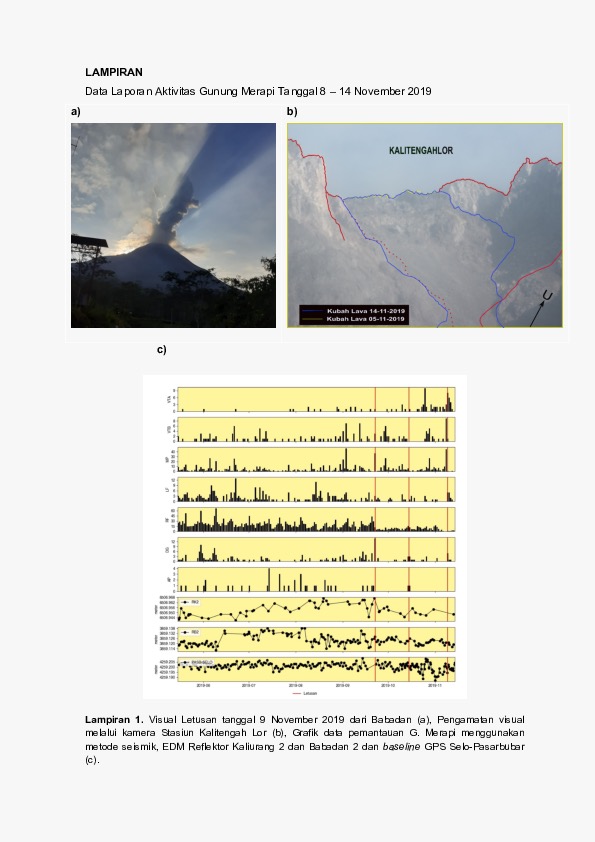 Deformation:
The deformation of G. Merapi, monitored by EDM and GPS this week, showed no significant change.
Rain and lahars:
This week, there was rain at the Mount Merapi observation post with a 26-mm / hour rain intensity for 25 minutes at Kaliurang Station on November 10, 2019. There was no warning signal. lahars nor additional flow in the rivers spilling from Mount Merapi.
Conclusion:
Based on the results of the visual and instrumental observations, it was concluded that:
1. The lava dome is currently in a stable state with relatively low growth rates.
2. The volcanic activity of Mount Merapi is still quite high and is determined by the level of activity « WASPADA ».
3. The potential hazard is today in the form of hot clouds resulting from the collapse of the lava dome and explosions of volcanic material resulting from explosive eruptions.
Source : BPPTKG.
Mexico , Popocatepetl :
November 15, 11:00 am (November 15, 17:00 GMT)
According to the monitoring systems of the Popocatepetl volcano, 206 exhalations have been identified, accompanied by gas and occasionally light amounts of ash. In addition, 58 minutes of low amplitude tremor were recorded.
In the morning and until the moment of this report, a constant emission of volcanic gases dispersed towards the North-East is observed.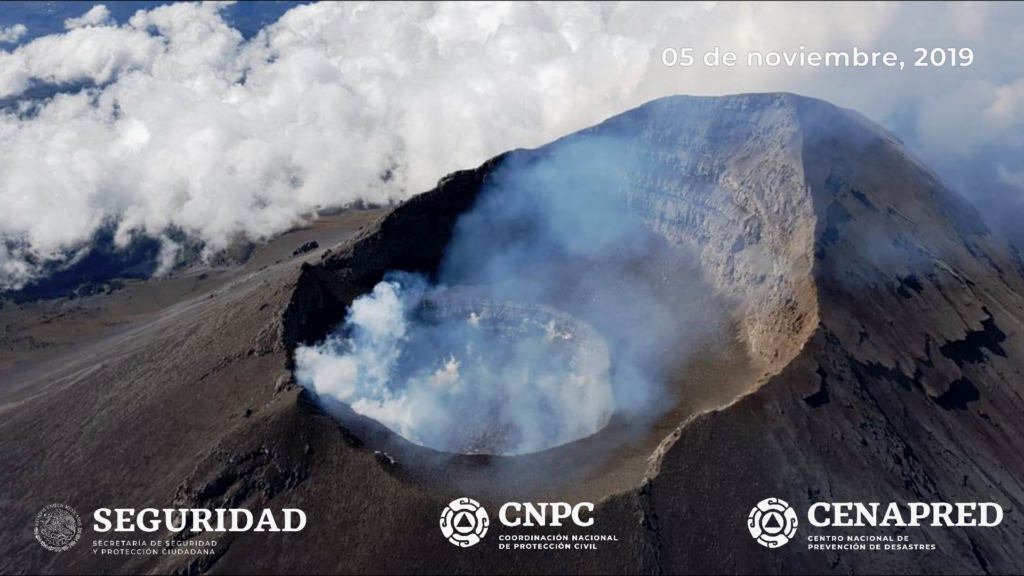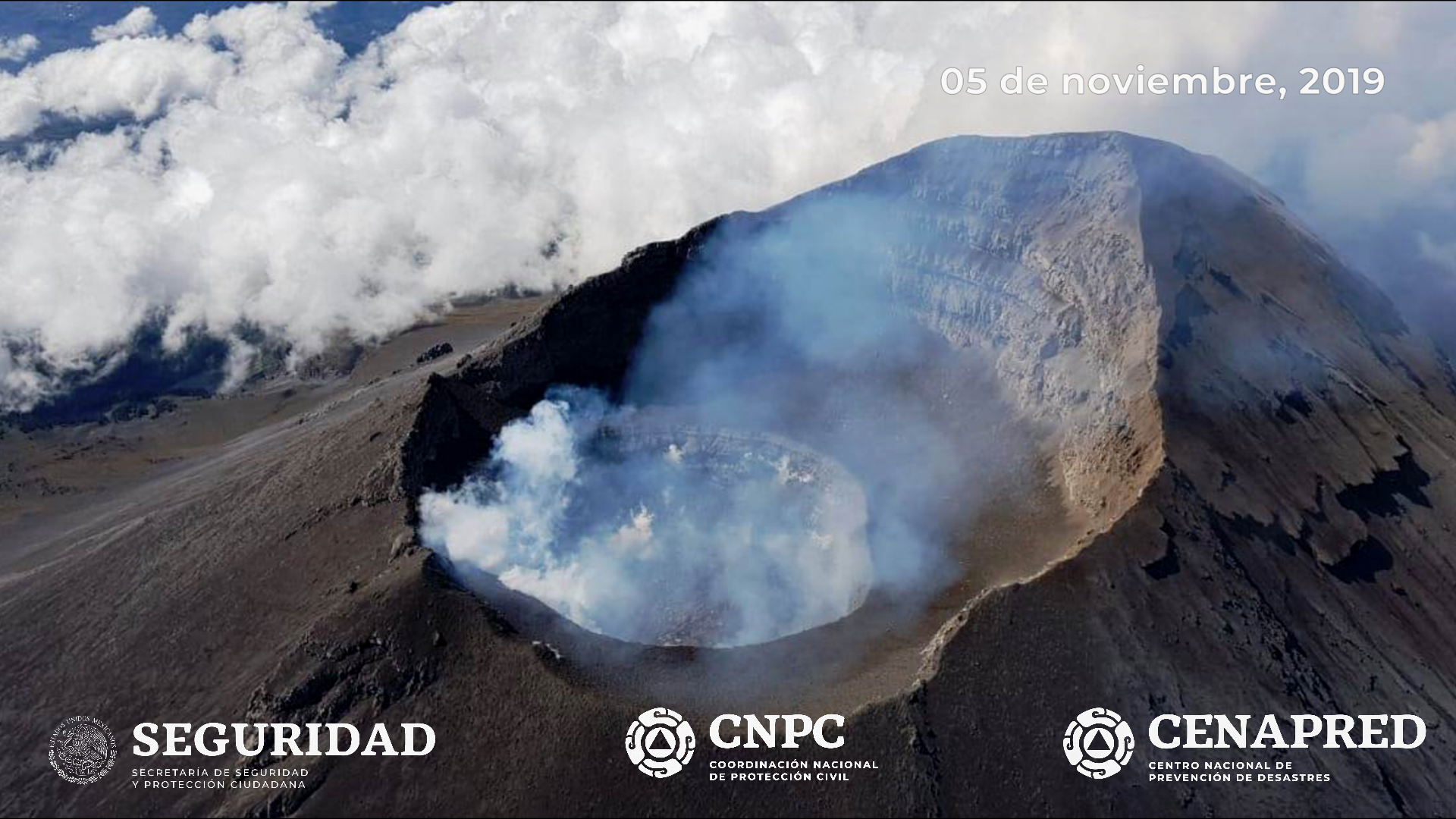 On November 5th, with the support of the National Guard, a reconnaissance flight was made to the crater of the Popocatépetl volcano. During this overview, specialists from the National Center for Disaster Reduction (CENAPRED) of the National Coordination of Civil Protection and researchers from the UNAM Institute of Geophysics were able to observe the formation of the dome no 85 with a diameter of 210 m and 80 m thick, with an irregular surface. The inner crater has a diameter of 350 m and an approximate depth of 90 m.
Any changes in the activity of the volcano will be reported as soon as possible.
CENAPRED urges NOT to approach the volcano and in particular the crater, because of the risk of falling ballistic fragments, and in case of heavy rains to stay away from the bottom of the ravines due to the risk of mudslides and debris.
The warning light of Popocatépetl is in YELLOW PHASE 2.
Source : Cenapred .