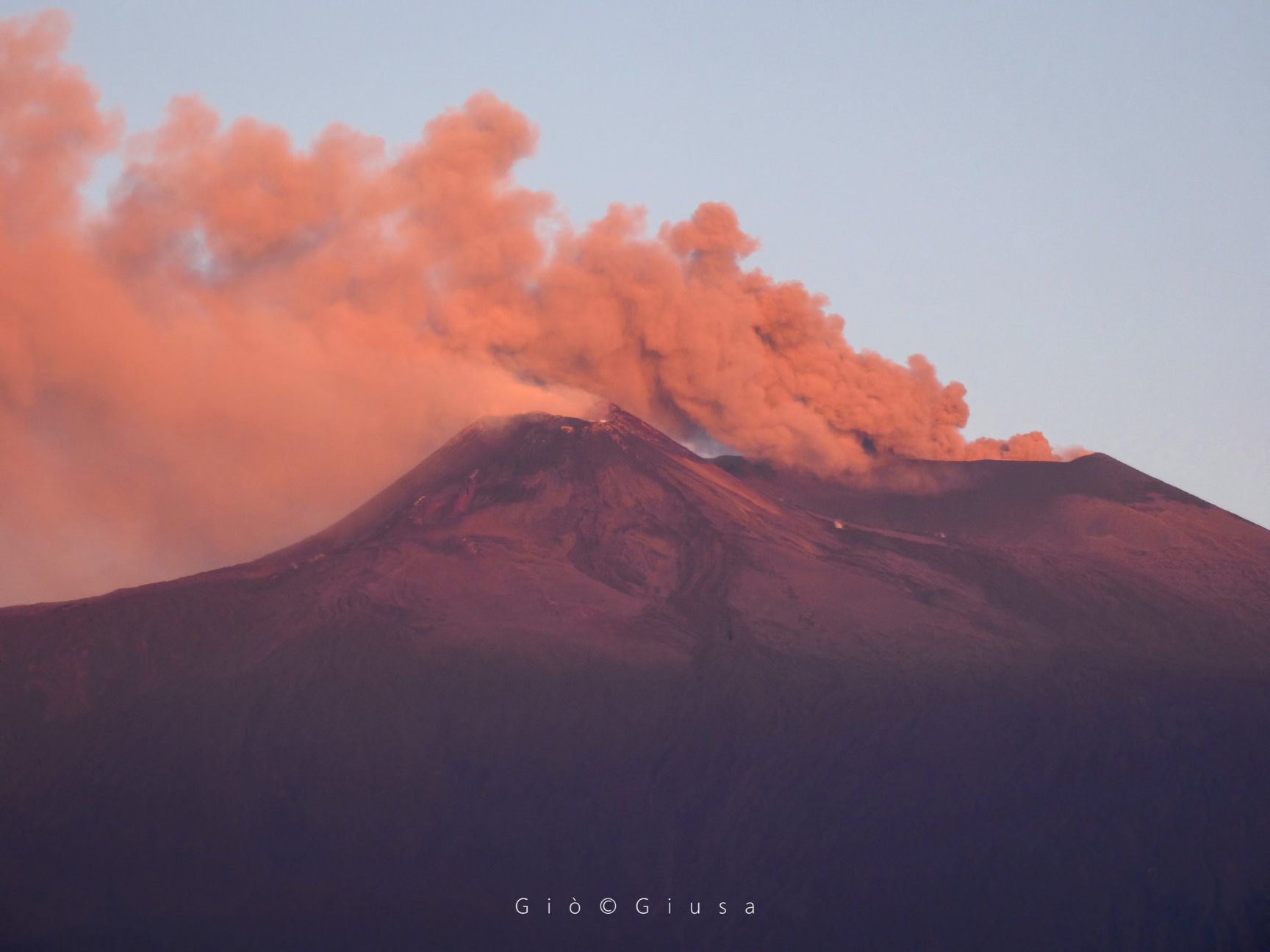 November 06 , 2019 .
La Réunion , Piton de la Fournaise :
Seismicity:
In October 2019, the OVPF recorded in the Piton de la Fournaise massif in total: 
1265 superficial volcano-tectonic earthquakes (0-2 km deep) beneath the summit craters; 
10 deep earthquakes (> 2 km deep); 
234 collapses (in the Crater Dolomieu, at the level of the Enclos Fouqué ramparts and on the flows set up between October 25 and 27).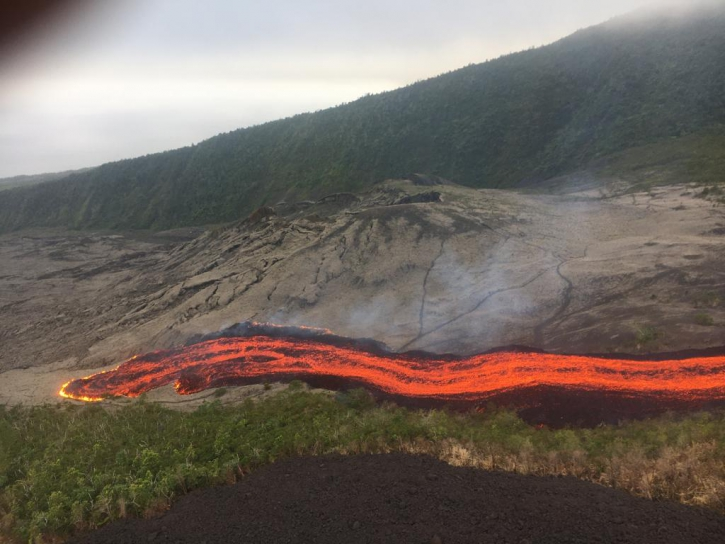 The volcano-tectonic activity under the Piton de la Fournaise summit in October 2019 was mainly marked by two seismic crises. The first seismic crisis took place on 21 October and lasted about 40 minutes (207 earthquakes recorded on 21 October); this crisis was accompanied by deformation signifying a departure of magma from the superficial magmatic reservoir which then aborted under the summit zone. The second seismic crisis took place on 25 October and preceded the eruption of 25-27 October 2019 (827 earthquakes recorded on 25 October). During this seismic crisis, the earthquakes were located under the south-eastern edge of the summit, under the east flank of the volcano and at the level of the zone where the eruptive fissures opened after about 10.25 of seismic crisis.
During the 14 days preceding the eruption, from 11 to 25 October, a progressive increase in seismicity was recorded under the summit zone, from 6 superficial volcano-tectonic earthquakes on 11 October to a maximum of 32 and 19 volcanic earthquakes. superficial tectonics on October 17th and 20th. Following the first seismic crisis, seismicity continued at a similar level with respectively 10, 24 and 24 superficial volcano-tectonic earthquakes recorded on 22, 23 and 24 October.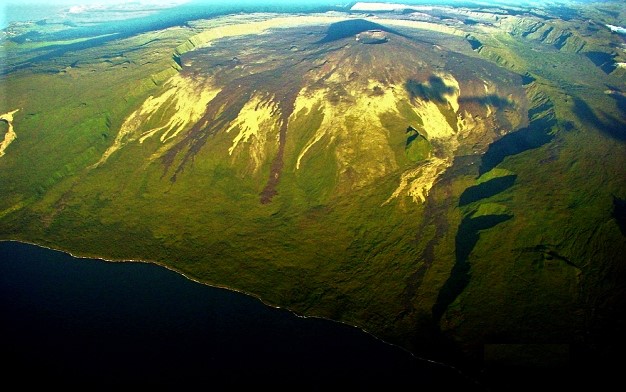 Deformation:
After a shutdown since early September, inflation (swelling) of the building resumed around October 11, 2019. The seismic crisis of October 21 was accompanied by deformation signifying a departure of magma from the reservoir which then aborted under the summit area. In cumulative between October 11 and 24 an elongation of about 3 cm max. of the summit area has been recorded. This phase of inflation is linked to a pressurization of the superficial magmatic reservoir located at a depth of 1.52 km below the summit, and preceded the eruption of October 25-27.
The injection of the dyke leading to the eruption was accompanied by rapid deformations, of the order of ten cm max. on the permanent network of GPS stations.
Following the eruption of October 25-27, inflation (swelling) of the building resumed immediately.
…/…
Source : OVPF.
Read the full article : http://www.ipgp.fr/sites/default/files/ovpf_20191104_bullmensu.pdf
Photos : PGHM / OVPF , OVPF .
Italy / Sicily , Etna :
Weekly bulletin from 28/10/2019 to 03/11/2019 (date of issue 11/05/2019).
SUMMARY OF THE STATUS OF THE ACTIVITY:
In light of the surveillance data, we highlight:
1) VOLCANOLOGICAL OBSERVATIONS: Strombolian intra-crateric activity in the craters of Bocca Nuova, Voragine and in the crater of the North-East. Emissions of ash from the Northeast Crater and Voragine Crater. Ordinary degassing activity in the New Southeast Crater, with occasional small ash emissions.
2) SISMOLOGY: Low seismic activity due to fracturing; amplitude of volcanic tremor variable between medium and high levels.
3) INFRASTRUCTURE: Generally moderate activity, with a higher frequency of events on certain days of the week.
4) DEFORMATIONS: The inclination and GPS networks did not show any significant changes in the trends previously reported.
5) GEOCHEMISTRY: SO2 flows are at an average level. There are no updates available for the flow of CO2 from the ground. The latest data were based on average outgassing values. The partial pressure of CO2 in the soil does not show any significant changes. There is no update related to the helium isotope ratio (latest data available from October 15). The last values ​​were at medium-high values.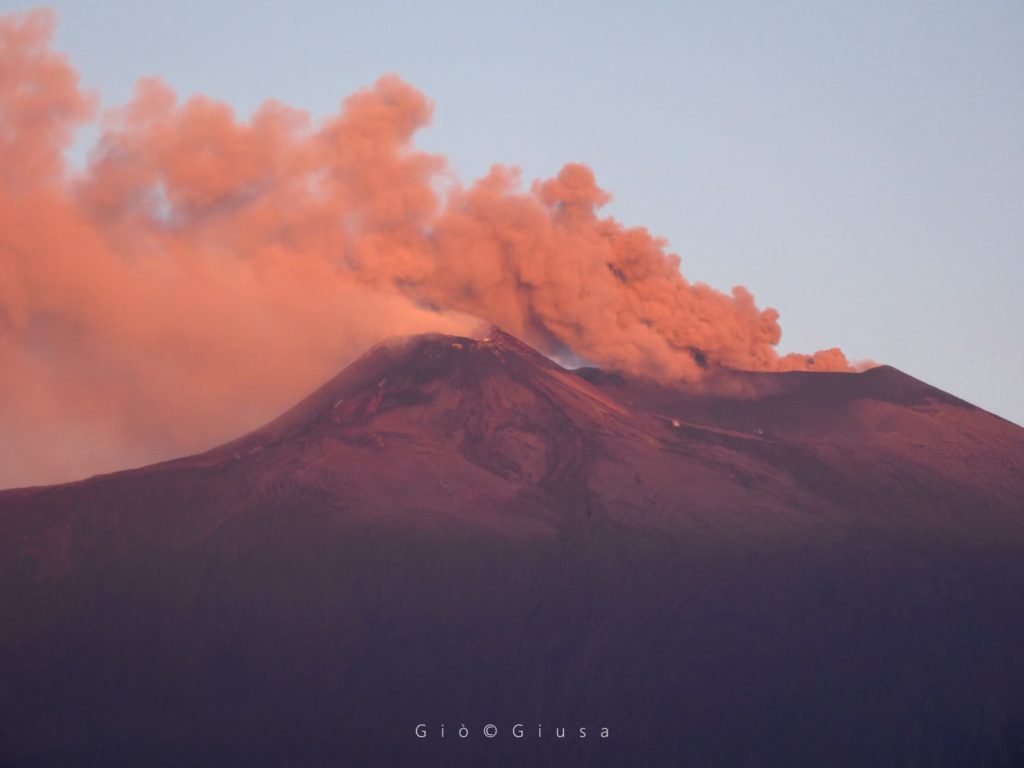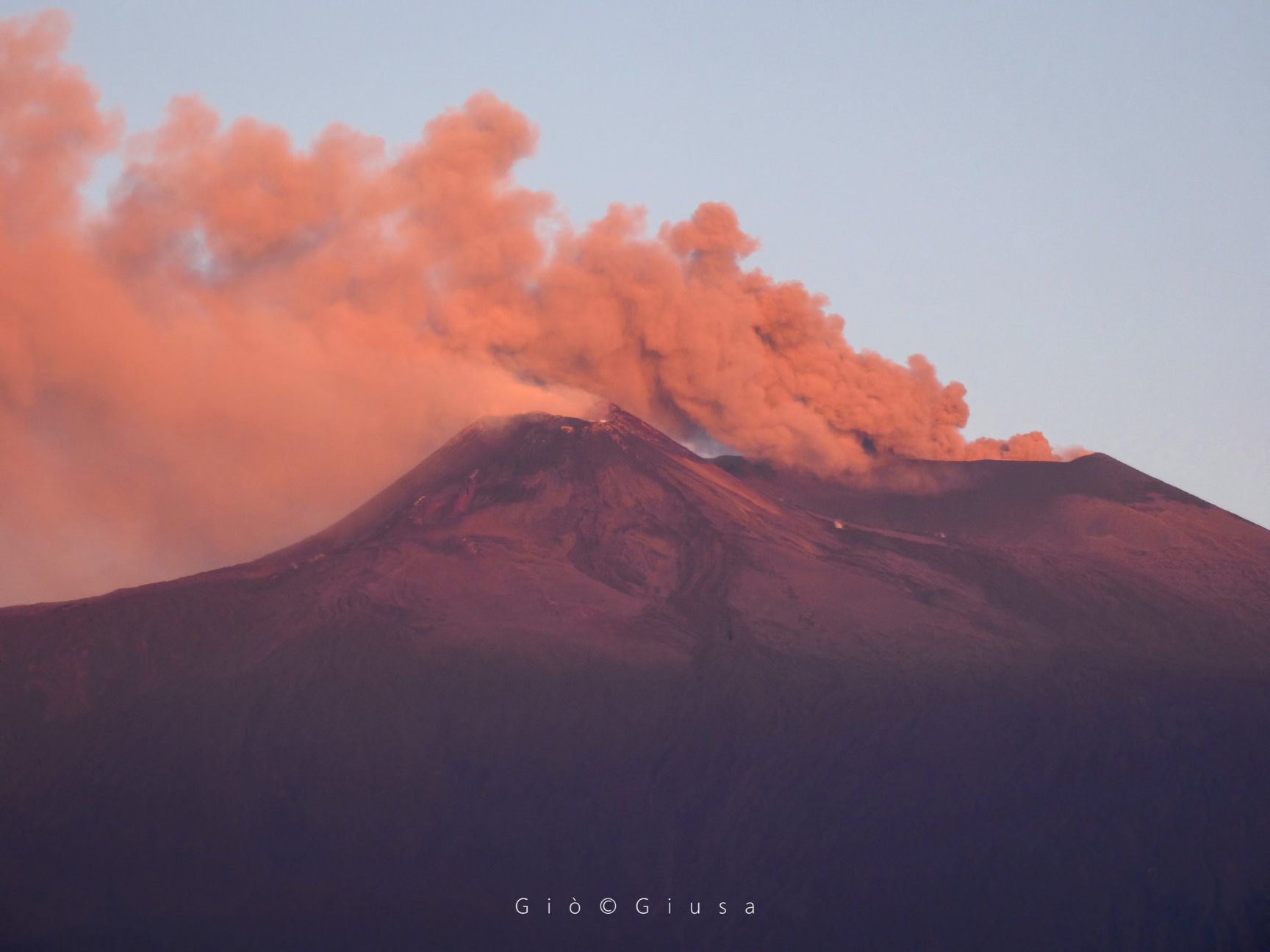 VOLCANOLOGICAL OBSERVATIONS.
The monitoring of volcanic activity of Etna during the week of October 28 to November 3, 2019 was carried out using surveillance cameras of the INGV – Catania Section, Osservatorio Etneo (INGV-OE) and through inspections conducted in the summit area. During the period under review, Etna activity was characterized by Strombolian activity in the craters of Voragine, Bocca Nuova and the Northeast, accompanied by modest ash expulsions, as well as ordinary degassing of variable intensity of all the craters of the summit.
The Northeast crater and the Voragine crater were characterized by Strombolian intra-crateric activity, sometimes accompanied by modest ash emissions that dispersed rapidly near the summit area. The Strombolian activity of Voragine resulted in the launch of incandescent materials at heights above the edge of the crater. At the Bocca Nuova Crater, explosive Intraspecific Strombolian activity from multiple vents at the bottom of the crater has been observed, accompanied by the launching of coarse material at heights sometimes exceeding the edge of the crater itself.
Finally, the New Crater of the Southeast showed an intense degassing of the mouth present at its summit and fumaroles present on the edges and the walls of the cone. Small ash emissions were sometimes observed and fell near the eruptive apparatus.
Sismicité:
Au cours de la semaine en question, caractérisée par un dégagement d'énergie sismique nettement inférieur à celui de la semaine précédente, seuls trois séismes de magnitude locale (Ml) égaux ou supérieurs à 2 ont été enregistrés . Les deux événements les plus énergétiques (Ml = 2,3 et 2,2) se sont produits dans la zone des cratères centraux, à une profondeur comprise entre 1 et 3 km sous le niveau de la mer .
Tremor volcanique:
L'amplitude moyenne du tremor volcanique, bien que ne présentant pas de changements significatifs par rapport à la semaine précédente, a montré une légère tendance à la hausse, avec des valeurs se situant à des niveaux moyens à élevés . Les sources du tremor étaient situées au-dessous des cratères du sommet, dans une plage de hauteur comprise entre 2 700 et 2 900 m au-dessus du niveau de la mer.
Source : INGV.
Read the full article : file:///C:/Users/Utilisateur/AppData/Local/Packages/Microsoft.MicrosoftEdge_8wekyb3d8bbwe/TempState/Downloads/Bollettinoetna20191105%20(1).pdf
Vidéo : Gio Giusa.
Photo : Gio Giusa .
Alaska , Pavlof :
AVO/USGS Volcanic Activity Notice .
Current Volcano Alert Level: NORMAL
Previous Volcano Alert Level: ADVISORY
Current Aviation Color Code: GREEN
Previous Aviation Color Code: YELLOW
Issued: Wednesday, November 6, 2019, 10:46 AM AKST
Source: Alaska Volcano Observatory
Location: N 55 deg 25 min W 161 deg 53 min
Elevation: 8261 ft (2518 m)
Area: Alaska Peninsula
Volcanic Activity Summary:
The Alaska Volcano Observatory is reducing the Aviation Color Code to GREEN and the Alert Level to NORMAL. Small explosion signals from Pavlof were detected on October 19, 2019 on the infrasound network located at Sand Point and on the on the local seismic and infrasound network. Since that time there have not been additional signs of unrest in any of the monitoring data. Pavlof is now considered to have returned to background levels of activity.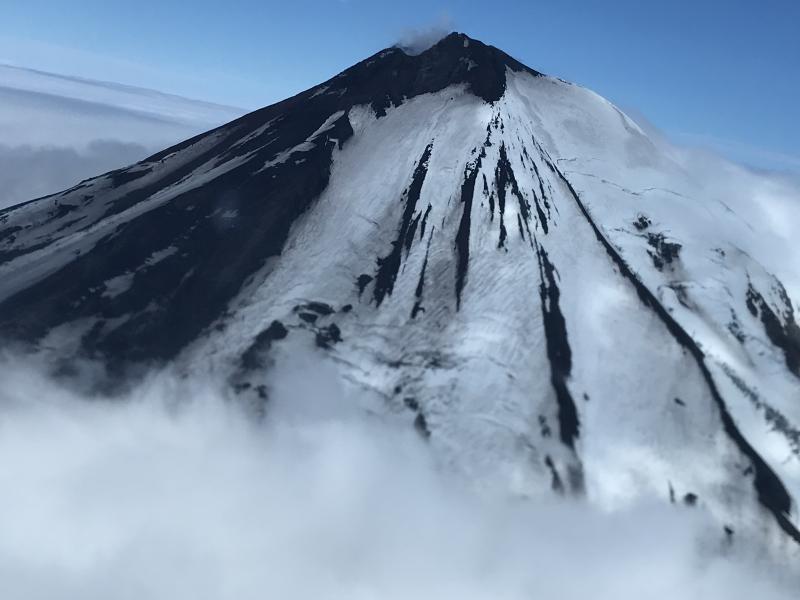 Recent Observations:
[Volcanic cloud height] None
[Other volcanic cloud information] None
[Lava flow/dome] None
[Lava flow] None
Remarks:
Pavlof Volcano is a snow- and ice-covered stratovolcano located on the southwestern end of the Alaska Peninsula about 953 km (592 mi) southwest of Anchorage. The volcano is about 7 km (4.4 mi) in diameter and has active vents on the north and east sides close to the summit. With over 40 historic eruptions, it is one of the most consistently active volcanoes in the Aleutian arc. Eruptive activity is generally characterized by sporadic Strombolian lava fountaining continuing for a several-month period. Ash plumes as high as 49,000 ft ASL have been generated by past eruptions of Pavlof, and during the March 2016 eruption, ash plumes as high as 40,000 feet above sea level were generated and the ash was tracked in satellite data as distant as eastern Canada. The nearest community, Cold Bay, is located 60 km (37 miles) to the southwest of Pavlof.
Source : AVO.
Photo : Mulliken, Katherine , 21 Juillet 2018.
Metis Shoal / Lateiki , Tonga Islands :
19.18°S, 174.87°W
Elevation 43 m
GeoNet reported that by 1 November the eruption at Metis Shoal (Lateiki) had formed an elongated island, with no visible evidence of the old 1995 dome. According to a news article the new island is about 100 m wide and 400 m long, and had emerged at a location 120 m away from the former island. The article noted that the eruption had ceased.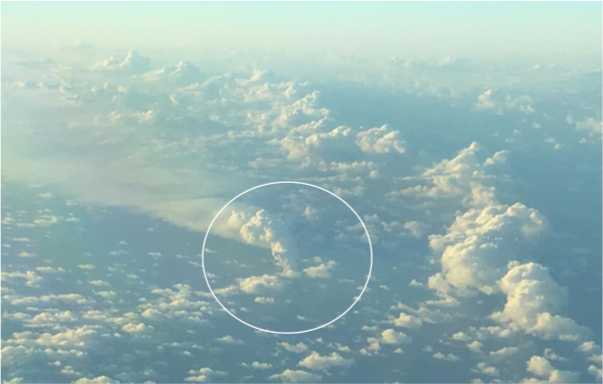 Metis Shoal, a submarine volcano midway between the islands of Kao and Late, has produced a series of ephemeral islands since the first confirmed activity in the mid-19th century. An island, perhaps not in eruption, was reported in 1781 and subsequently was eroded away. During periods of inactivity following 20th-century eruptions, waves have been observed to break on rocky reefs or sandy banks with depths of 10 m or less. Dacitic tuff cones formed during the first 20th-century eruptions in 1967 and 1979 were soon eroded beneath the sea surface. An eruption in 1995 produced an island with a diameter of 280 m and a height of 43 m following growth of a lava dome above the surface.
A new bigger island has formed following an eruption at Lateiki Island (aka Metis Shoal) last month 13 – 31 October, The remnants of the former island have submerged.
The island is located between Kao and Late in the Ha'apai group of Tonga.
Satelite imagery of the new island was released today in a new report by the Tonga Geological Service of the Ministry of Lands, Survey and Natural Resources. Geologist Taaniela Kula said the new island is estimated to be about 100m wide and 400m long, and emerges 120m to the west of its submerged predecessor. The report says that the new Lateiki island is three times bigger than the original. The original Lateiki island, was formed in by an eruption in 1995. There have been many previous eruptions.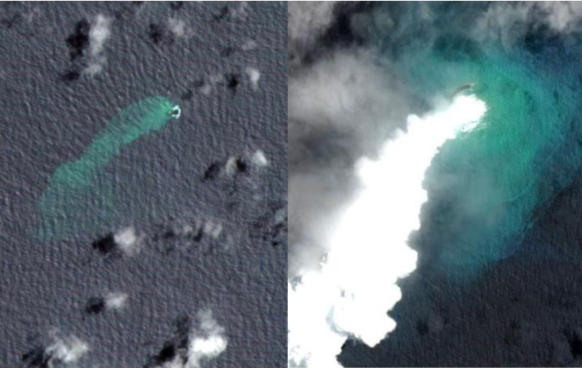 The latest eruption was first reported to the Tonga Meteorological Services (TMS) at Fua'amotu on the morning of 14 October by a Tongan vessel MV Ngutulei. Further reports and of photos of the island were made by aircrafts from Real Tonga and Air New Zealand, and by the Matafonua Lodge on Foa island, Ha'apai.
Potential Hazards
The report advised that although the eruption had ceased, Lateiki may still be emitting gas such as sulphur dioxide, carbon dioxide and hydrogen sulphide causing the discoloration of seawater.
Sources: GVP , GeoNet, Matangi Tonga Online.
Photos : Lateiki Island / Metis Shoal matangitonga.to .
Indonesia , Anak Krakatau :
VOLCANO OBSERVATORY NOTICE FOR AVIATION – VONA.
Issued: November 07 , 2019
Volcano: Anak Krakatau (262000)
Current Aviation Colour Code: ORANGE
Previous Aviation Colour Code: orange
Source: Anak Krakatau Volcano Observatory
Notice Number: 2019KRA197
Volcano Location: S 06 deg 06 min 07 sec E 105 deg 25 min 23 sec
Area: Lampung, Indonesia
Summit Elevation: 502 FT (157 M)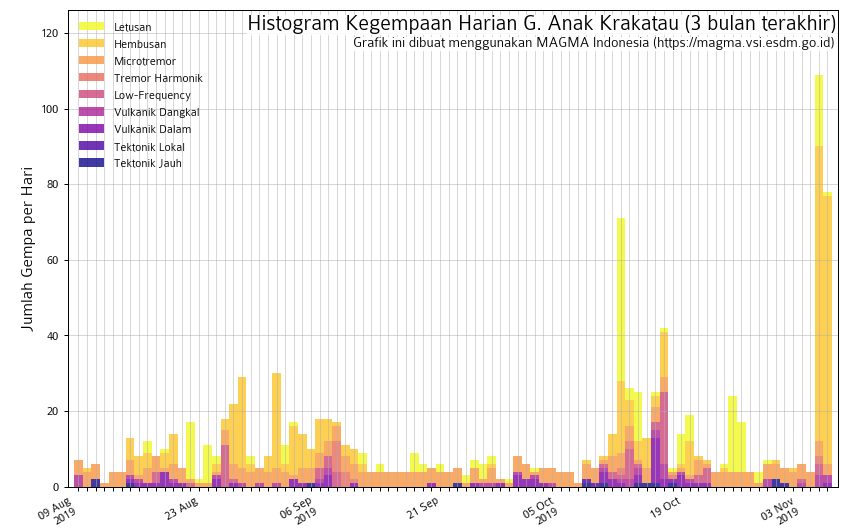 Volcanic Activity Summary:
recorded eruption at 00:34 UTC (07:34 local )
Volcanic Cloud Height:
Ash-cloud is not visible
Other Volcanic Cloud Information:
visually from cctv crater seen volcanic ash moving to north, volcanic ash white-gray thick 150 meters high from the bottom of the crater.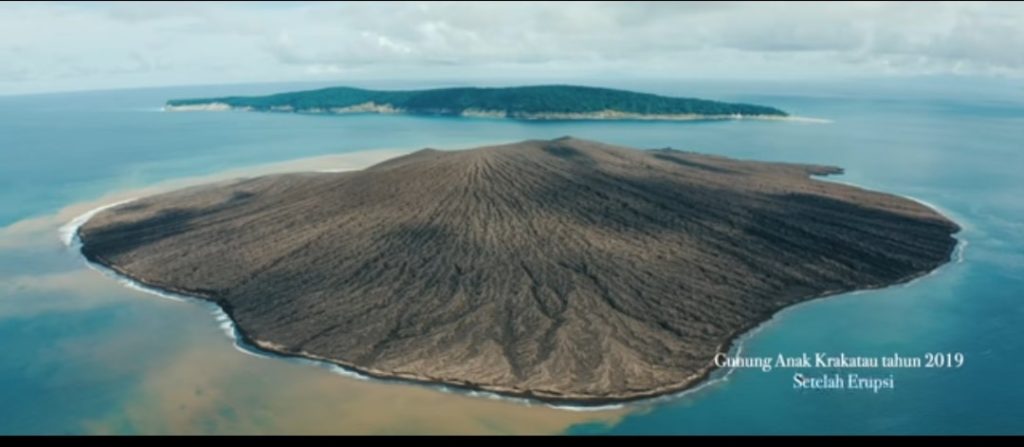 Remarks:
Eruption recorded on seismogram with maximum amplitude 40 mm and duration 43 second.
Source : Magma Indonésie .
Graph : Magma Indonésie .
Photo : Ahmed Wahyu.