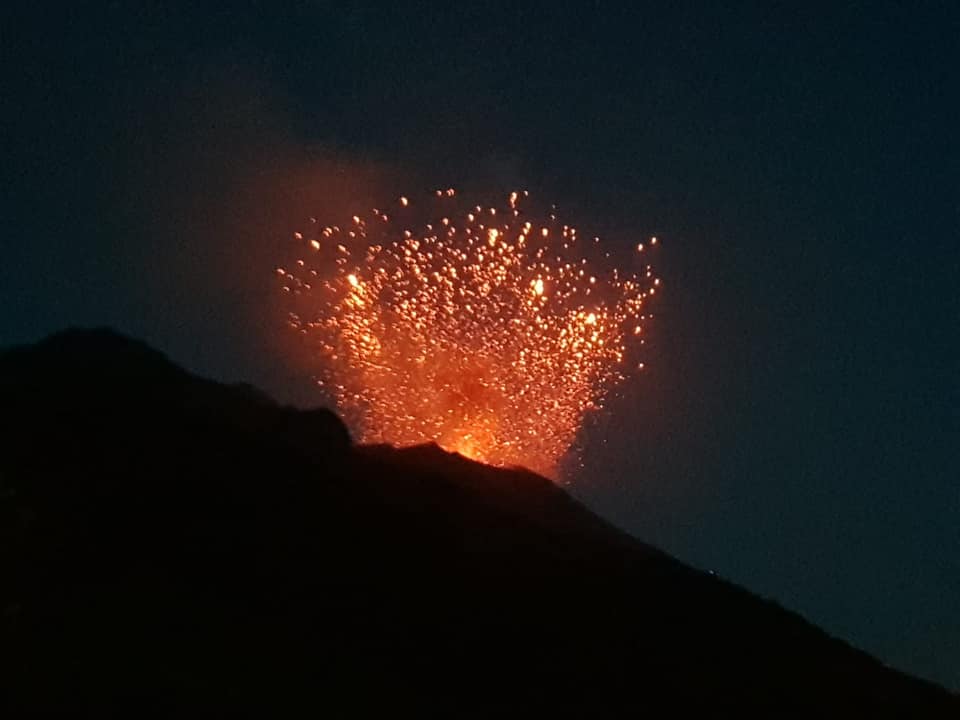 July 17, 2019. EN. Italy : Stromboli , Italy / Sicily : Etna , Hawaii : Kilauea , Colombia : Chiles / Cerro Negro , New Zealand : Lake Taupo .
July 17 , 2019.
Italy , Stromboli :
Latest communiqué from the INGV-Osservatorio Etneo on the activity of #Stromboli, 16 July 2019, 08:16 h UTC (10:16 local time)
The Istituto Nazionale di Geofisica e Vulcanologia, Osservatorio Etneo, reports that based on observations made with the surveillance cameras at 400 m elevation on the north rim of the Sciara del Fuoco and by INGV staff in the field on the island, explosive activity and lava overflows continue from the crater terrace. During the night and on the early morning of today, observations were hampered by weather clouds.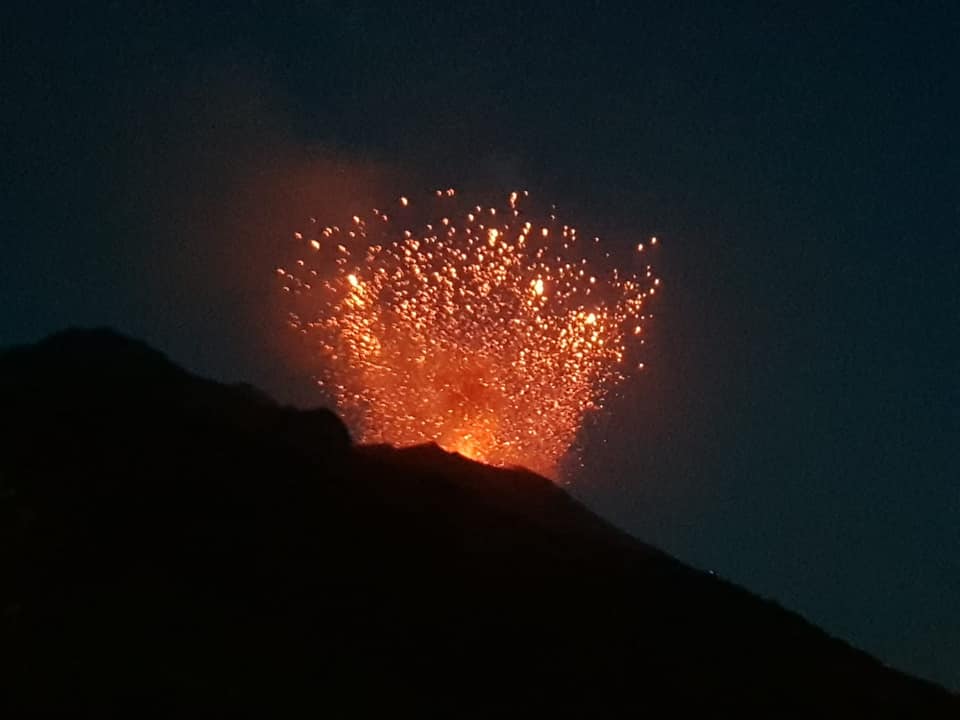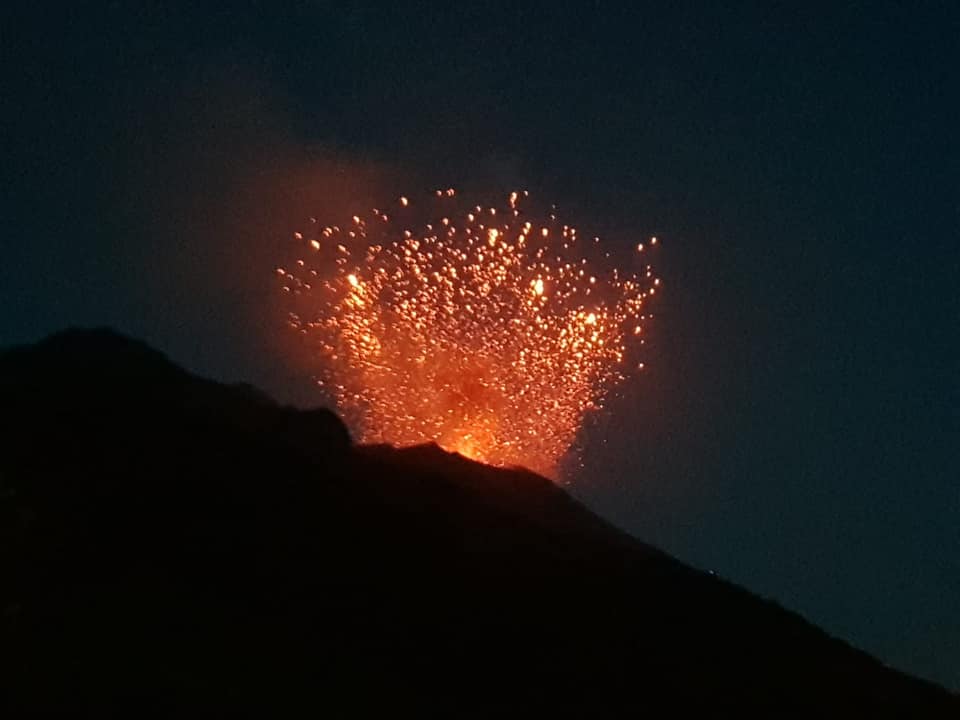 Explosive activity during the evening of yesterday was quite intense and was punctuated by a particularly strong explosion from the Central-Southern crater area at 19:09 UTC (21:09 local time). During the following hours the explosive activity decreased, and through the time of posting of this update, the explosive activity is less intense than during the previous days.
Effusive activity has been limited to the Central-Southern crater area, and has likewise shown a decrease, with active flows advancing only in the upper part of the Sciara del Fuoco. Sliding of hot material from the lava fronts continued to shed material down the Sciara to the coastline.
Seismic activity during the past 24 hours has been marked by a decrease in the mean amplitude of the explosive events, whereas the volcanic tremor does not show significant variations.
Source : INGV Vulcani
Photos : Axel Timm
Italy / Sicily , Etna :
The mild, intermittent explosive activity initiated at Etna's New Southeast Crater on 14 July 2019 is continuing. Many of the explosions eject modest quantities of incandescent material, and all produce small plumes of ash. The activity is not showing any tendency of increasing or decreasing, and the volcanic tremore amplitude remains at relatively low levels.
There is no clear trend in this activity (and not even in the volcanic tremor, the amplitude of which fluctuates at fairly low levels), which seems to be unwilling to increase or decrease.
The video was recorded from our home in Tremestieri Etneo (20 km south of the craters of the summit), on the morning of July 16, 2019.
Source : INGV Vulcani , Boris Behncke
Hawaï , Kilauea :
19°25'16 » N 155°17'13 » W,
Summit Elevation 4091 ft (1247 m)
Current Volcano Alert Level: NORMAL
Current Aviation Color Code: GREEN
Activity Summary:
Kīlauea Volcano is not erupting. Monitoring data continue to show steady rates of seismicity and ground deformation, low rates of sulfur dioxide emission, and only minor geologic changes since the end of eruptive activity in September 2018.
As of June 25, Kīlauea Volcano has been at NORMAL/GREEN.
Kīlauea remains an active volcano, and it will erupt again. Although we expect clear signs prior to the next eruption, the time frame of warning may be short.
Although not currently erupting, at and uprift of the 2018 lower East Rift Zone eruptive fissures, there are areas of persistently elevated ground temperatures and minor release of gases. These include steam (water), very small amounts of hydrogen sulfide, and carbon dioxide. These conditions are expected to be long-term. Similar conditions following the 1955 eruption continued for years to decades after the end of activity.
Observations:
Monitoring data have shown no significant changes in volcanic activity over the past week. Rates of earthquake activity or seismicity across the volcano remain low. Real-time sulfur dioxide emission rates are low at the summit and are below detection limits at Puʻu ʻŌʻō and the Lower East Rift Zone.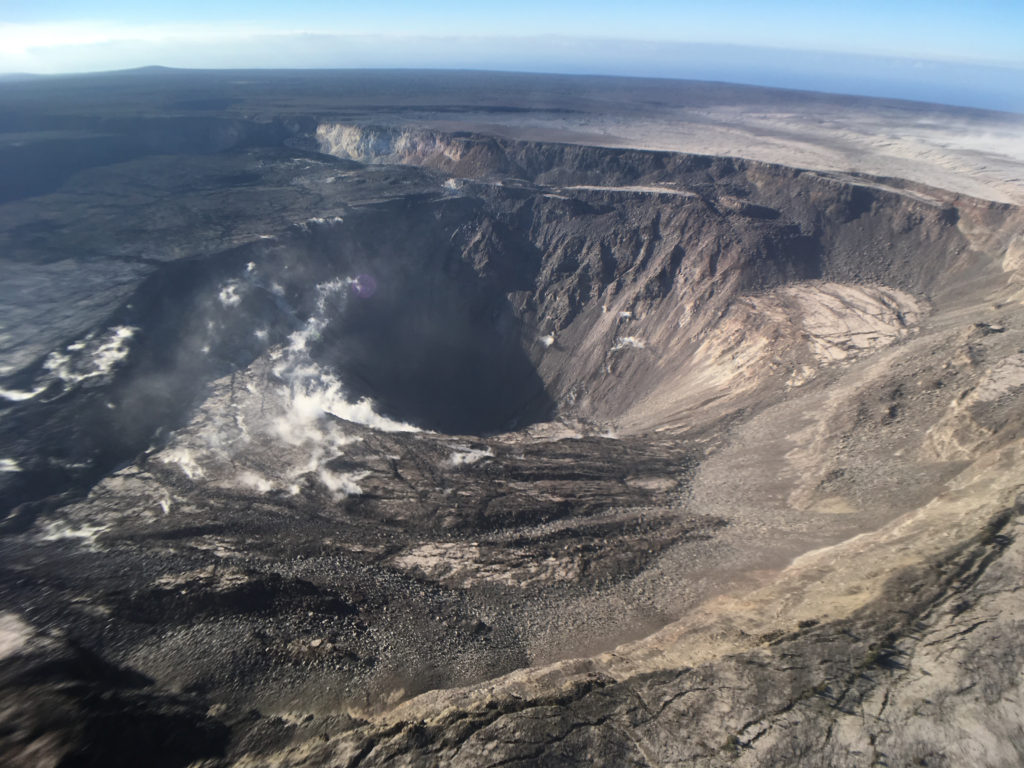 Since early March, GPS stations and tiltmeters at the Kīlauea summit have recorded deformation consistent with slow magma accumulation within the shallow portion of the Kīlauea summit magma system (1-2 km or approximately 1 mile below ground level). However, gas measurements have yet to indicate significant shallowing of magma. HVO continues to carefully monitor all data streams at the Kīlauea summit for important changes.
Further east, GPS stations and tiltmeters continue to show motions consistent with slowed refilling of the deep East Rift Zone magmatic reservoir in the broad region between Puʻu ʻŌʻō and Highway 130 over recent weeks. While the significance of this pattern is unclear, monitoring data do not suggest any imminent change in volcanic hazard for this area. In addition to motion along the East Rift Zone, the south flank of Kīlauea continues to creep seaward at elevated rates following the May 4, 2018 M6.9 earthquake near Kalapana. HVO continues to carefully monitor all data streams along the Kīlauea East Rift Zone and south flank for important changes.
Source : HVO
Video : Doing Hawaii .
Photo : HVO
Colombia , Chiles /Cerro Negro :
Weekly activity bulletin of Chiles and Cerro Negro volcanoes
The activity level of volcanoes continues at the level: YELLOW LEVEL ■ (III): CHANGES IN THE BEHAVIOR OF THE VOLCANIC ACTIVITY.
Following the activity of the CHILES and CERRO NEGRO volcanoes , the COLOMBIAN GEOLOGICAL SERVICE (SGC) reports that:
Between 9 and 15 July 2019, seismic activity in the Chiles – Cerro Negro volcano region again recorded a considerable increase, mainly reflected by the occurrence of volcano-tectonic earthquakes (associated with fracture of rock materials in the volcanic building), rising from 363 earthquakes the previous week to 2039 during this period, most of which have been recorded since July 12.
The seismic energy released by these events has gradually decreased, especially in recent days. This seismicity was located mainly in the south and southwest of the volcanic complex, at epicentral distances of less than 8 km from the summit of Chiles, at depths of up to 10 km and at a maximum local magnitude of M2.5 on the Richter scale. No recorded earthquakes were felt by residents of the zone of influence of the volcanic complex Chiles – Cerro Negro. Other geophysical and geochemical parameters of volcanic monitoring did not show significant variations.
The Colombian Geological Service and the Institute of Geophysics of the National Polytechnic School of Ecuador are attentive to the evolution of the volcanic phenomenon and inform in a timely manner of observed changes. Due to the fluctuating and permanent development of seismic activity in the region of these volcanoes, the possibility of occurrence of earthquakes with higher energy levels than those reported can not be ruled out.
Source : SGC.
Photo : hablemosdevolcanes.com.
New Zealand , Lake Taupo :
Lake Taupo earthquake swarm , Published: Wed Jul 17 2019 5:00 PM
Earthquake activity near Lake Taupo usually gets people's attention. Here's some information about the latest swarm. Let's be clear though, New Zealand's favourite volcano is not about to erupt!
Volcano Duty Officer Steven Sherburn has the latest:
"We've located over 160 quakes in the Taupo area over the last week (since 10 July), with eight of these being between M3.1 and M3.8. Earthquakes in the Lake Taupo area are typically shallower than 10 km, and the recent events are no different".
Earthquakes registered in the last week 10-17 July 2019 at Lake Taupo: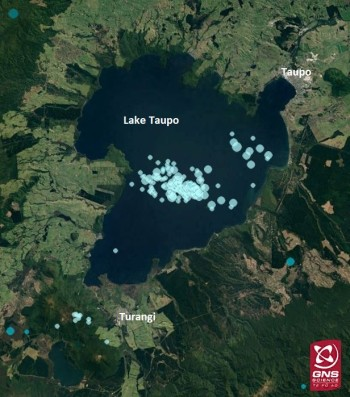 Several of the quakes have been felt locally, although most have been too small to be felt. The earthquake activity this week has been grouped in three places, two under the lake and the third about 6 km south of Turangi, as you can see in the image above.
"We see activity like this at Taupo on a fairly regular basis. Quake swarms are common in the Taupo Volcanic Zone, and several are recorded each year. Larger ones have lasted weeks-to-months and have included many hundreds of earthquakes. In terms of quakes under the lake, this number of quakes isn't unprecedented. In the last year we've registered over 1,000 quakes in the lake area".
The most likely scenario for this recent swarm is that these quakes will die down without fanfare. We've already seen a decline in quakes in this area over the last day.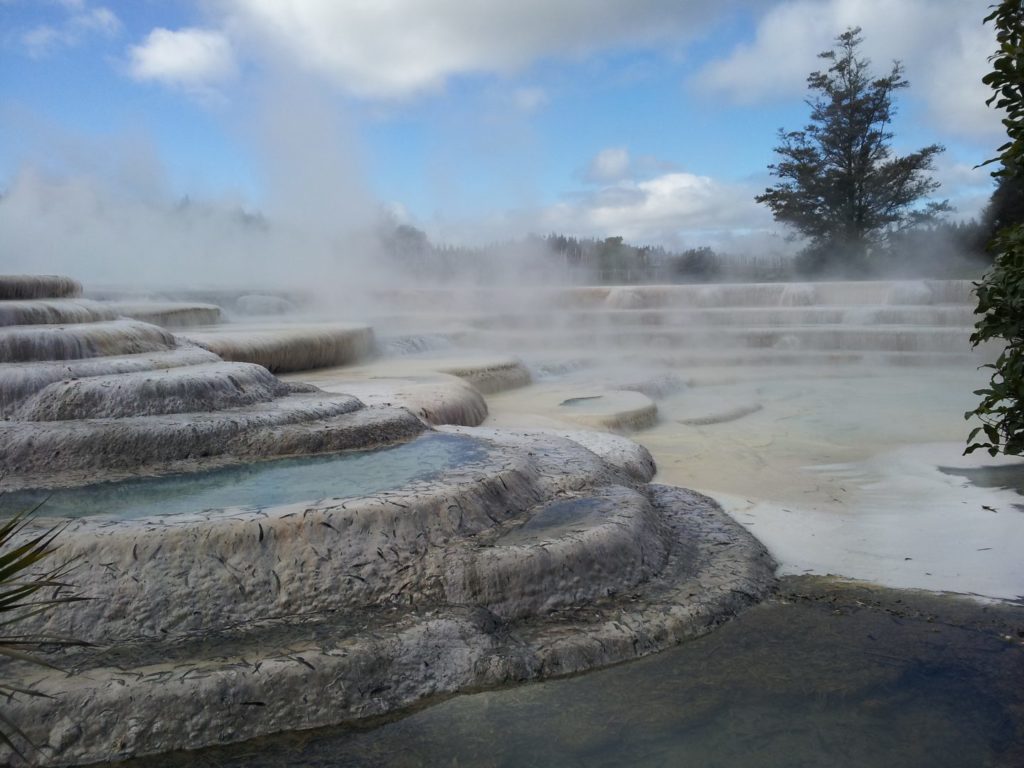 Wairakei Terraces
"Currently, there are no indications that the earthquakes are related to potential volcanic activity, or that the volcano is showing any signs of unrest. We will let you know if any of our monitoring data suggests otherwise. Taupo is not the kind of volcano that could erupt without warning. It could have years of unrest and still not erupt. We know that it will erupt again sometime in the future, but right now there is nothing to worry about."
A little more about Lake Taupo
Lake Taupo is a large caldera volcano with several dormant vents. A caldera volcano is a volcanic crater that usually forms after a large eruption that empties the magma chamber below. The structural support is lost, leaving a large depression. These are often filled by water, like Lake Taupo. There are eight calderas throughout the Taupo Volcanic Zone.
Source : Information scientifique – Steven Sherburn et Brad Scott / Geonet.
Photos : Geonet , chillandfrisko.fr. Wairakei Terraces