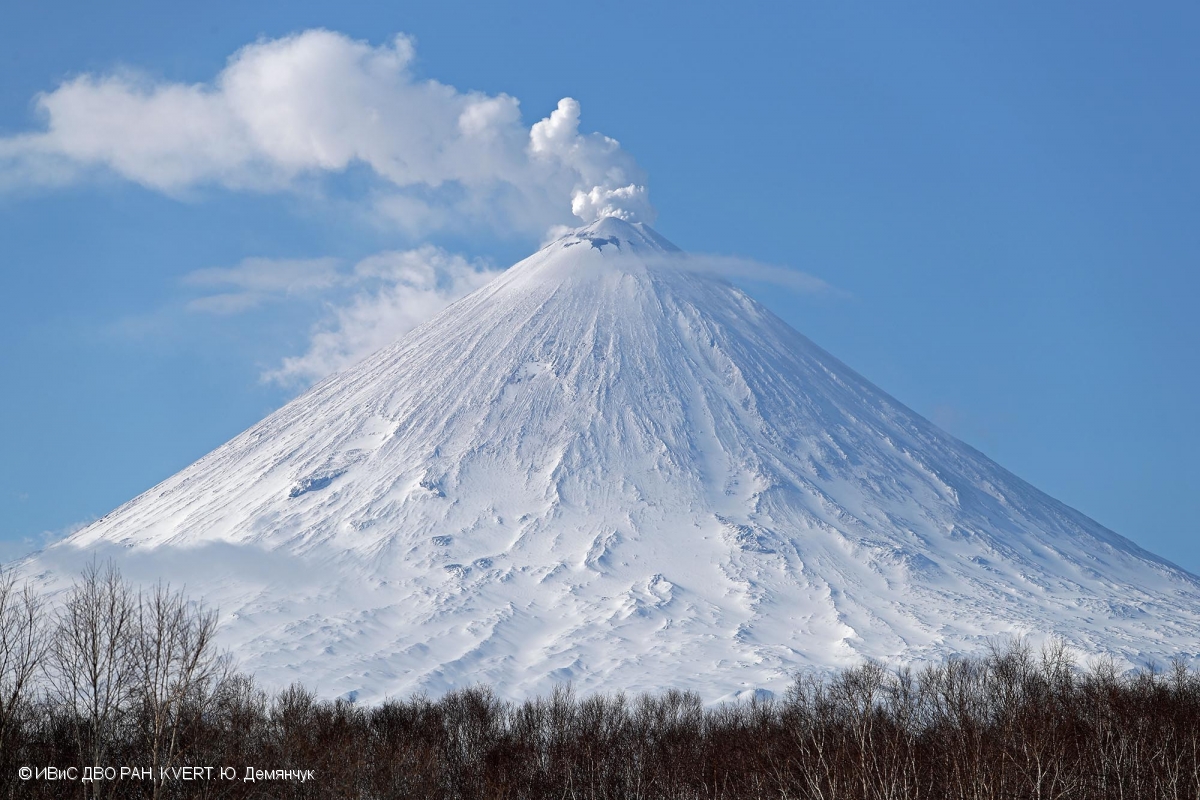 April 22, 2019. EN . Kamchatka : Klyuchevskoy , Philippines : Taal , Indonesia : Agung , Ecuador : Reventador .
April 22 , 2019 .
Kamchatka , Klyuchevskoy :
VOLCANO OBSERVATORY NOTICE FOR AVIATION (VONA).
Issued: April 21 , 2019
Volcano:Klyuchevskoy (CAVW #300260)
Current aviation colour code:ORANGE
Previous aviation colour code:yellow
Source:KVERT
Notice Number:2019-83
Volcano Location:N 56 deg 3 min E 160 deg 38 min
Area:Kamchatka, Russia
Summit Elevation:15580 ft (4750 m)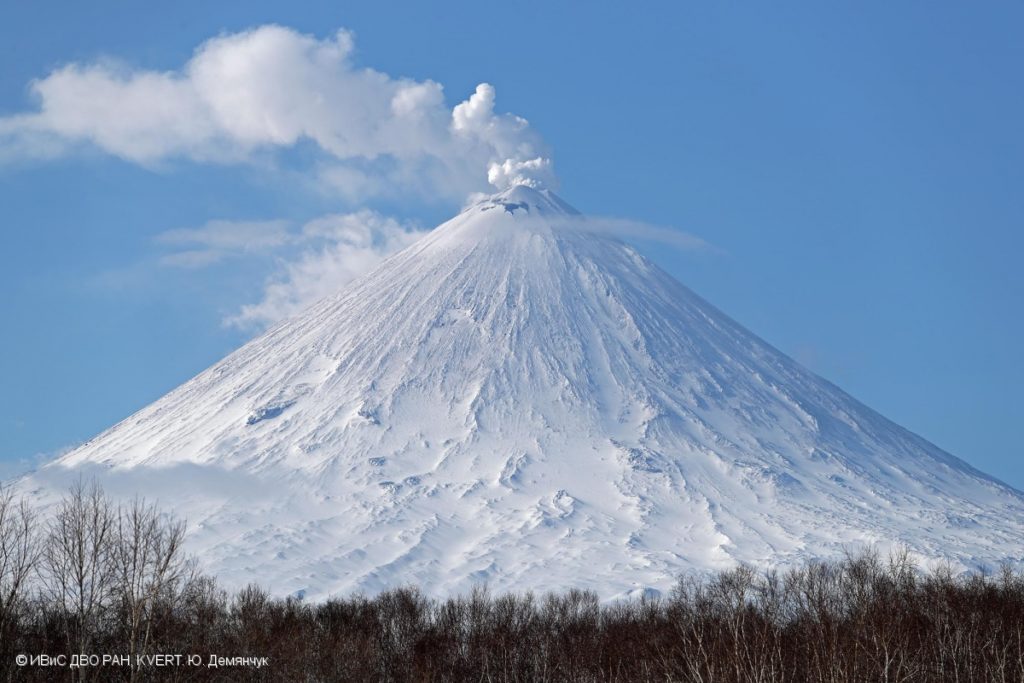 The fumarole activity of Klyuchevskoy volcano on 15 April, 2018.
Volcanic Activity Summary:
Activity of the volcano increased. Gas-steam plumes containing some amount of ash drifting to the different directions from the volcano began to observing from 08 April, 2019. Today an amount of ash in the gas-steam plume significantly increased. Ash plume continues to drift to the east from the volcano.
The explosive eruption of the volcano continues. Ash explosions up to 19,700-26,200 ft (6-8 km) a.s.l. could occur at any time. Ongoing activity could affect international and low-flying aircraft.
Volcanic cloud height:
18040 ft (5500 m) AMSL Time and method of ash plume/cloud height determination: 20190421/2355Z – Video data
Other volcanic cloud information:
Distance of ash plume/cloud of the volcano: 81 mi (130 km)
Direction of drift of ash plume/cloud of the volcano: E / azimuth 87 deg
Time and method of ash plume/cloud determination: 20190421/2340Z – Himawari-8
Source : Kvert.
Photo : Yu. Demyanchuk. IVS FEB RAS, KVERT, 15/4/2018.
Philippines , Taal :
TAAL VOLCANO BULLETIN 22 April 2019 8:00 A.M.
Taal Volcano's seismic monitoring network recorded nine (9) volcanic earthquakes during the 24-hour observation period. Field measurements on 18 April 2019 at the western sector of the Main Crater Lake yielded an increase in water temperature from 31.3°C to 32.8°C, a decrease in water level from 0.34 meter to 0.25 meter and decrease in acidity from pH 2.85 to pH 2.98. Ground deformation measurements through precise leveling surveys from March 18 to 27, 2019 indicated slight inflation of the edifice consistent with recent results from continuous GPS data.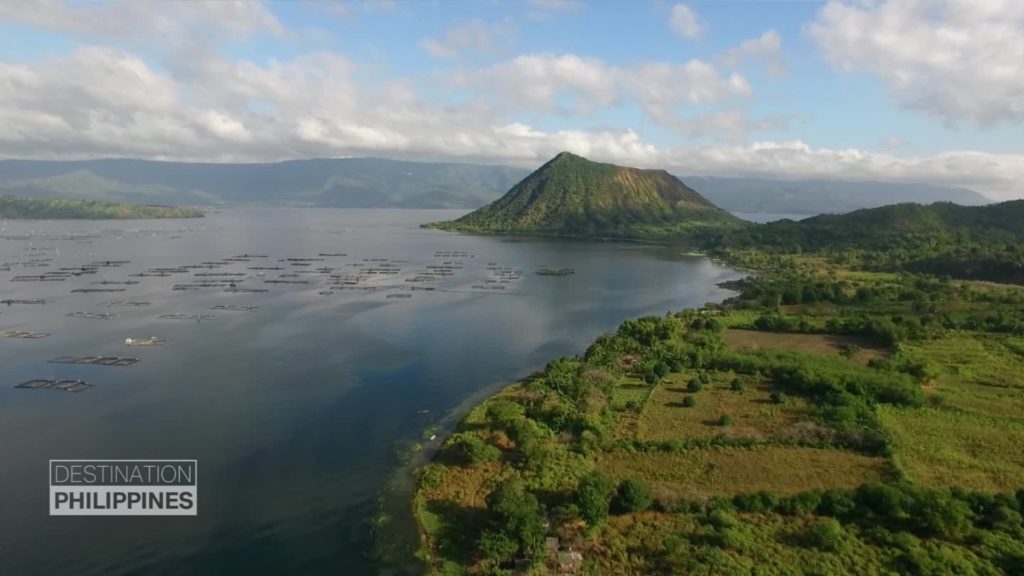 Alert Level 1 remains in effect over Taal Volcano. This means that hazardous eruption is not imminent. The public, however, is reminded that the Main Crater should be strictly off-limits because sudden steam explosions may occur and high concentrations of toxic gases may accumulate. The northern portion of the Main Crater rim, in the vicinity of Daang Kastila Trail, may also become hazardous when steam emission along existing fissures suddenly increases. Furthermore, the public is also reminded that the entire Volcano Island is a Permanent Danger Zone (PDZ), and permanent settlement in the island is strongly not recommended.
Source : Phivolcs.
Photo : Destination Philippines.
Indonesia , Agung :
VOLCANO OBSERVATORY NOTICE FOR AVIATION – VONA.
Issued: April 21 , 2019
Volcano: Agung (264020)
Current Aviation Colour Code: ORANGE
Previous Aviation Colour Code: red
Source: Agung Volcano Observatory
Notice Number: 2019AGU18
Volcano Location: S 08 deg 20 min 31 sec E 115 deg 30 min 29 sec
Area: Bali, Indonesia
Summit Elevation: 10054 FT (3142 M)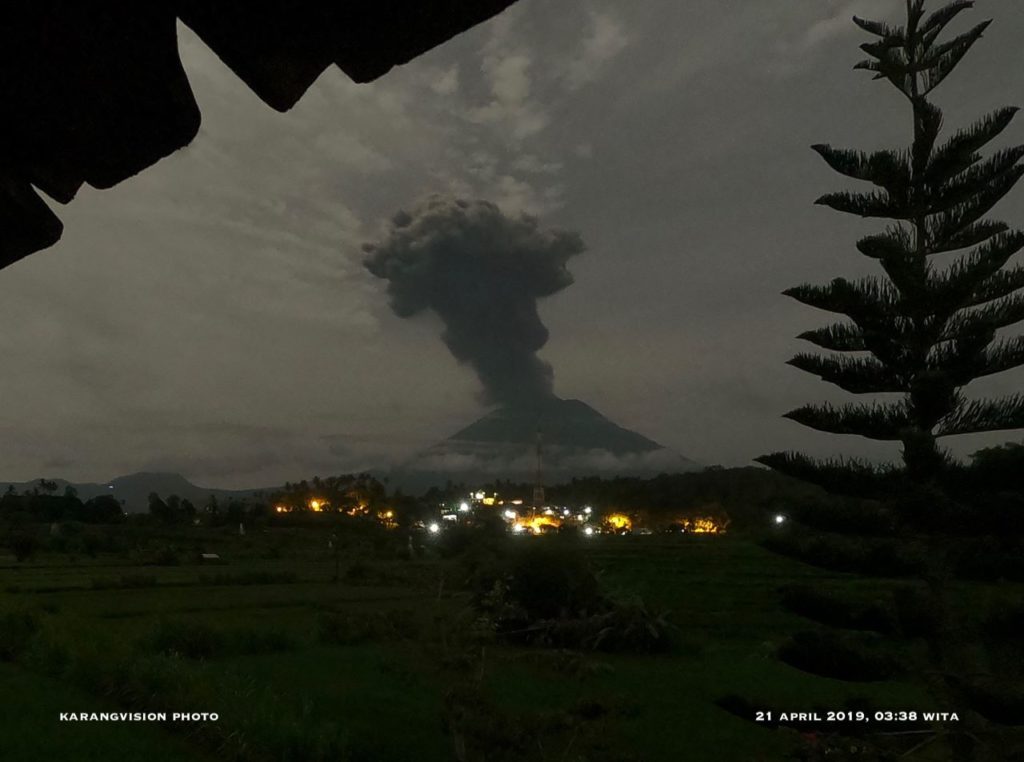 Volcanic Activity Summary:
Eruption has ceased.
Volcanic Cloud Height:
Ash-cloud is not visible
Other Volcanic Cloud Information:
Eruption has ceased.
Remarks:
Seismic activity remains high.
A RED VONA code was previously published for: Eruption with volcanic ash cloud at 10:56 UTC (18:56 local). The eruption and ash emissions do not continue. The best ash cloud summit estimate was about 6 902 M (19654 FT) above sea level.
An eruption of Mount Agung in Bali occurred on April 21, 2019 at 18:56, the height of the ash column being observed at ± 3,000 m above the summit (± 6,142 m above sea level) . The column of ash was gray, of thick intensity and inclined towards the West. This eruption was recorded on a seismogram of maximum amplitude of 25 mm and a duration of ± 1 minute 22 seconds.
Currently, G. Agung is at Level III (SIAGA) with recommendations:
(1) The communities around Mount Agung and mountaineers / visitors / tourists must not climb and perform any activity in the estimated danger zone, ie in all areas within 4 km radius of Mount Crater. Agung. The estimated risk area is dynamic and continues to be evaluated. It can be modified at any time to follow the most recent observation data from G. Agung.
(2) Communities that reside and move around the rivers that flow from the Gunung Agung must be aware of the potential secondary hazard in the form of descent of lahars that may occur especially during the rainy season and if the material of eruption is still deposited in the area of ​​the summit.
Sources : Magma Indonésie , PVMBG.
Vidéo : Jacqueline Zwahlen.
Photo : Karangvision .
Ecuador , Reventador :
Emissions over one thousand meters on the volcano Reventador.
Quito, April 20 (EFE) .- Emissions over one thousand meters above crater level have been recorded over the past few hours on the Reventador volcano, located about 90 kilometers from the Ecuadorian capital, Quito.
According to the Institute of Geophysics of the National Polytechnic, several shows were observed between the afternoon of Friday and Saturday morning.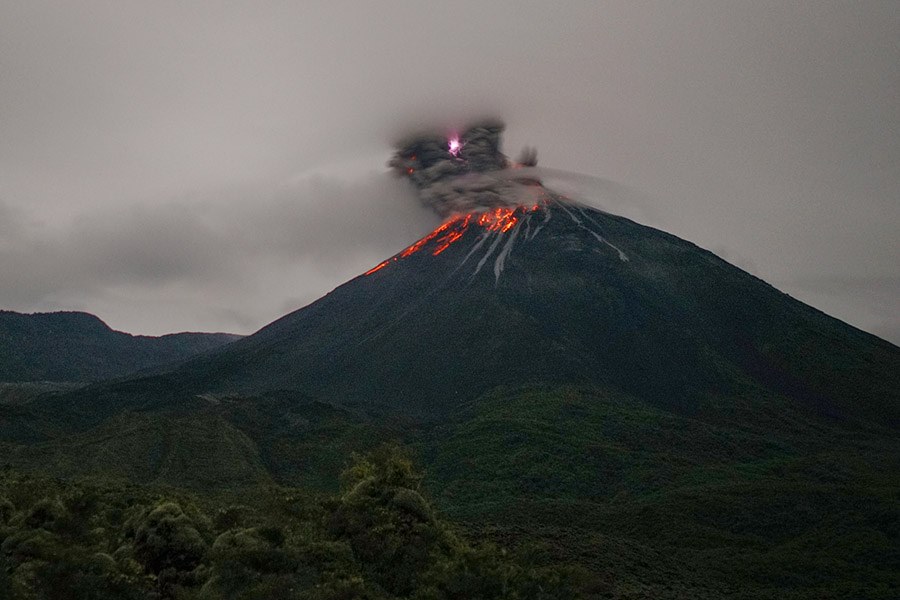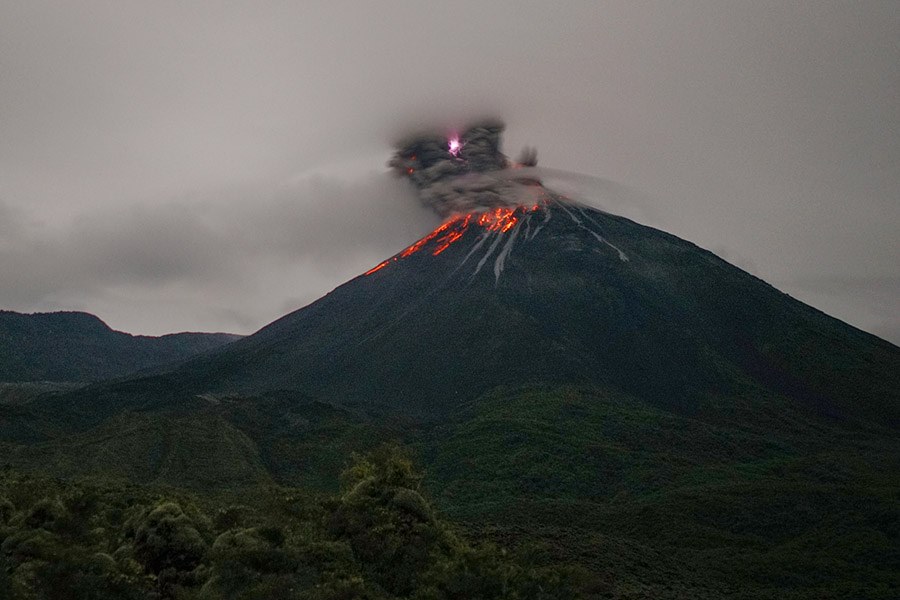 He added that the direction of the emissions oscillated between the West and the North-West.
During the night, an incandescence was observed in the crater, accompanied by projection of blocks up to 600 meters under the summit.
The Institute of Geophysics has noted that the volcano, which is on orange alert, maintains a « high » surface activity.
In November 2002, an eruption of this volcano had created a large cloud of ashes which, under the effect of the winds, had moved to Quito and covered several parts of the capital.
The Reventador volcano is located on a spur of the eastern branch of the Andean mountain range, which disappears at the beginning of the Amazon basin.
At 3,560 meters above sea level, this volcano began its current eruptive process in 2002 and is characterized by explosions, gas and ash emissions, lava flows and lahars.
Source : EFE / larepublica.ec
Photo : Martin Rietze.