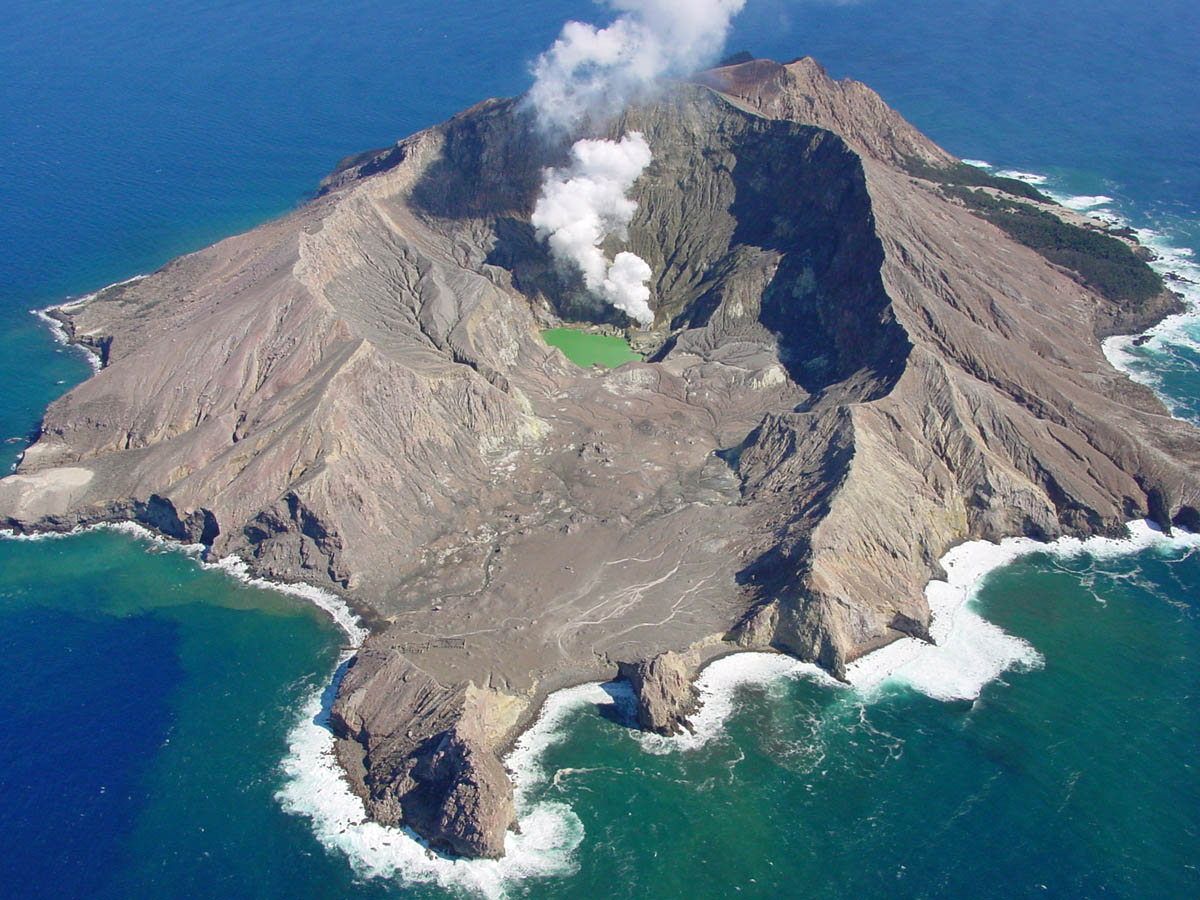 April 16, 2019 . EN . Peru : Sabancaya , Philippines : Taal , Indonesia : Anak Krakatau , New Zealand : White Island .
April 16, 2019 .
Peru , Sabancaya :
An average of 35 explosions / day was recorded. The activity associated with fluid movements (long period type) continues to predominate. On the other hand, the earthquakes associated with the rise of the magma (hybrid type) remain very few and not very energetic. 
The columns of gas and eruptive ash reached a maximum height of about 3,100 m above the crater. The dispersion of these materials occurred within a radius of about 20 km, mainly east – southeast and southwest. 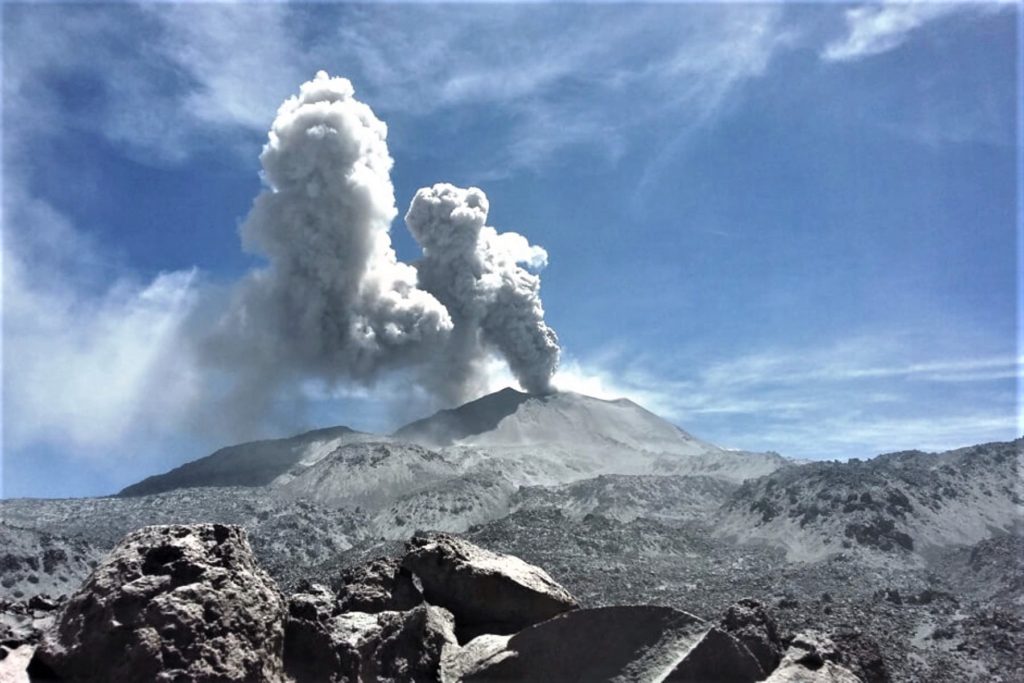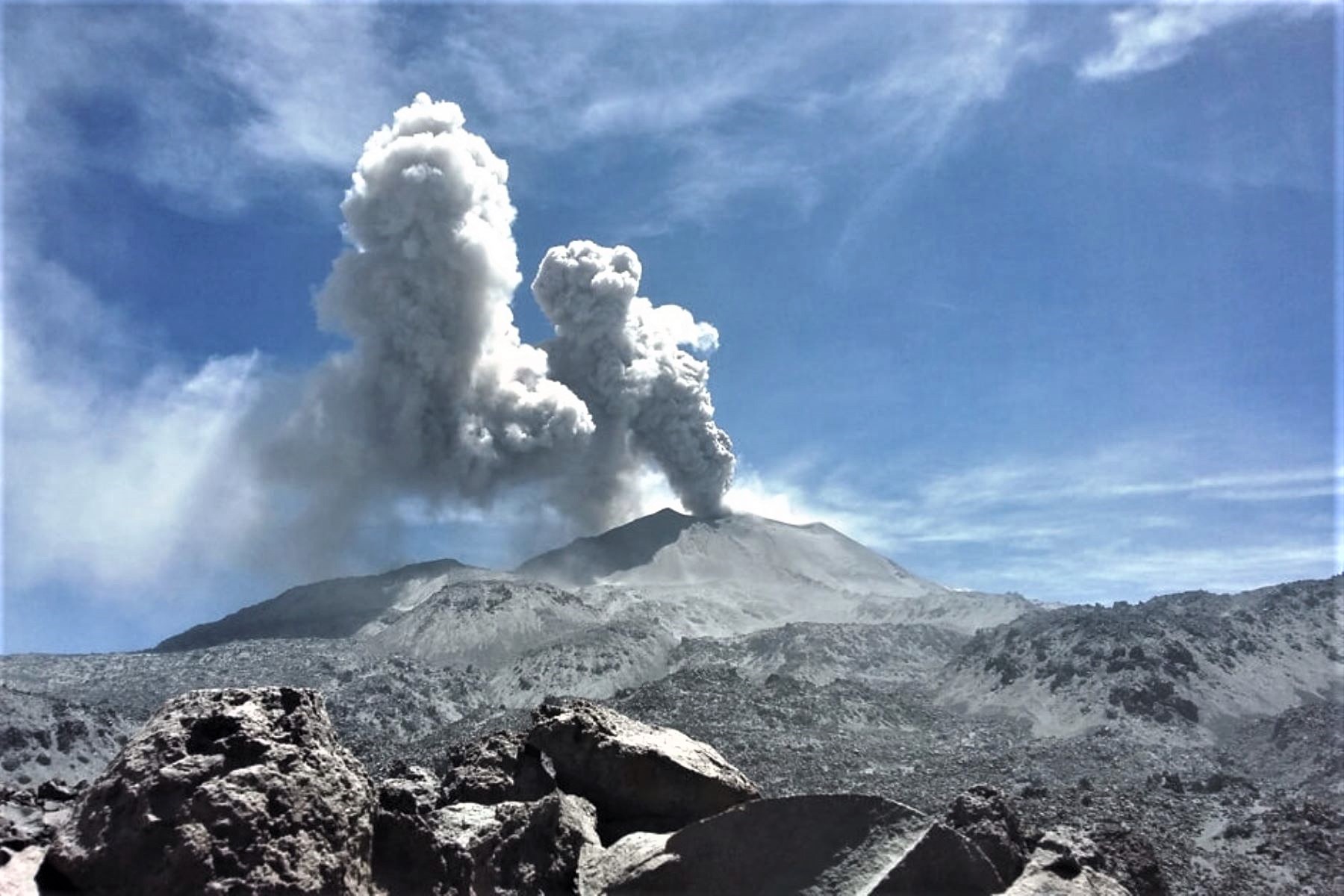 The volcanic gas (SO2) flow recorded on April 12 a maximum value of 2385 tons / day, a value considered important. 
Five thermal anomalies were recorded according to the MIROVA system, with values between 1 and 22 MW VRP (Radiated Volcano Energy).
Eruptive activity maintains moderate levels. No significant changes are expected in the coming days.
Source : IGP.
Photo : ingemmet
Philippines , Taal :
TAAL VOLCANO BULLETIN 16 April 2019 8:00 A.M.
Taal Volcano's seismic monitoring network recorded six (6) volcanic earthquakes during the past 24 hours. Field measurements on 11 April 2019 at the eastern sector of the Main Crater Lake yielded an increase in water temperature from 31.7°C to 31.9°C, a decrease in water level from 0.41 meter to 0.31 meter and decrease in acidity from pH 2.67 to pH 2.95. Ground deformation measurements through precise leveling surveys from March 18 to 27, 2019 indicated slight inflation of the edifice consistent with recent results from continuous GPS data.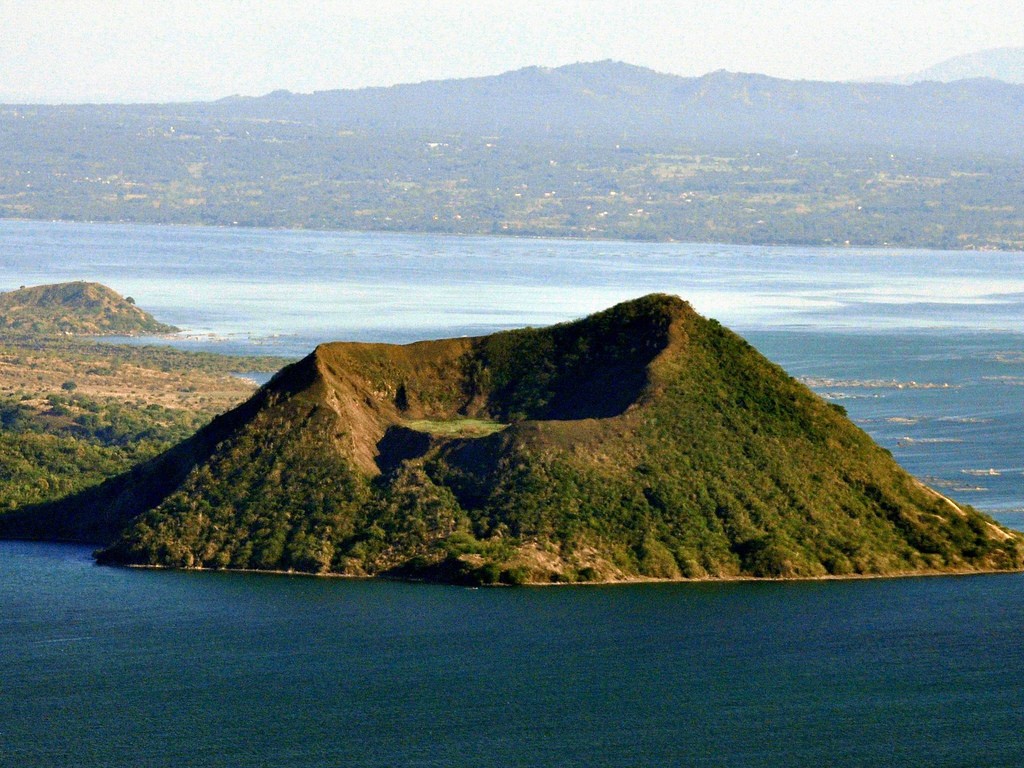 Alert Level 1 remains in effect over Taal Volcano. This means that hazardous eruption is not imminent. The public, however, is reminded that the Main Crater should be strictly off-limits because sudden steam explosions may occur and high concentrations of toxic gases may accumulate. The northern portion of the Main Crater rim, in the vicinity of Daang Kastila Trail, may also become hazardous when steam emission along existing fissures suddenly increases. Furthermore, the public is also reminded that the entire Volcano Island is a Permanent Danger Zone (PDZ), and permanent settlement in the island is strongly not recommended.
Source : Phivolcs
Photo : Auteur inconnu.
Indonesia , Anak Krakatau :
VOLCANO OBSERVATORY NOTICE FOR AVIATION – VONA .
Issued: April 15 , 2019 .
Volcano: Anak Krakatau (262000)
Current Aviation Colour Code: ORANGE
Previous Aviation Colour Code: orange
Source: Anak Krakatau Volcano Observatory
Notice Number: 2019KRA51
Volcano Location: S 06 deg 06 min 07 sec E 105 deg 25 min 23 sec
Area: Lampung, Indonesia
Summit Elevation: 502 FT (157 M)
Volcanic Activity Summary:
Eruption with ash clouds at 16h58 UTC (23h58 local time). The eruption lasted for 57 seconds.
Volcanic Cloud Height:
Ash-cloud is not visible
Other Volcanic Cloud Information:
0
Remarks:
Eruption recorded on seismogram with maximum amplitude 55 mm and maximum duration 57 second.
Level of activity level II (Waspada), since March 25, 2019. G. Anak Krakatau (167 m altitude) has increased its volcanic activity since June 18, 2018 which was followed by a series of eruptions from September 2018 to February 2019. In April 2019, eruptions still occur but of decreasing intensity.
Since yesterday and until this morning, the volcano was clearly visible until it was covered with fog. The smoke from the crater is not observed.
The seismograph of April 15, 2019 recorded:
1 eruption earthquake
5 Low frequency earthquakes
1 earthquake emission
2 shallow volcanic earthquakes
Continuous Tremor with a dominant amplitude of 2 mm
Recommendation:
People / tourists are not allowed to approach the crater within 2 km.
Source : Magma Indonésie , PVMBG
Video : Earth Uncut TV , 12 janv. 2019
New Zealand , White Island :
Whakaari/White Island crater lake level drops and is unlikely to overflow.
Published: Tue Apr 16 2019 2:30 PM
Volcanic Alert BulletinWI – 2019/01
Tue Apr 16 2019 2:00 PM; White Island Volcano
Volcanic Alert Level remains at 1
Aviation Colour Code remains at Green
As at April 13, 2019 the crater lake is about 13 metres below overflow, which is 2 metres lower than the peak level reached earlier this year in January.
The crater lake at Whakaari/White Island started to steadily fill and grow in early 2018. We indicated in November 2018 that if that continued it may reach overflow around June 2019. This is now unlikely to happen as since late January 2019 the water level of the lake has been falling.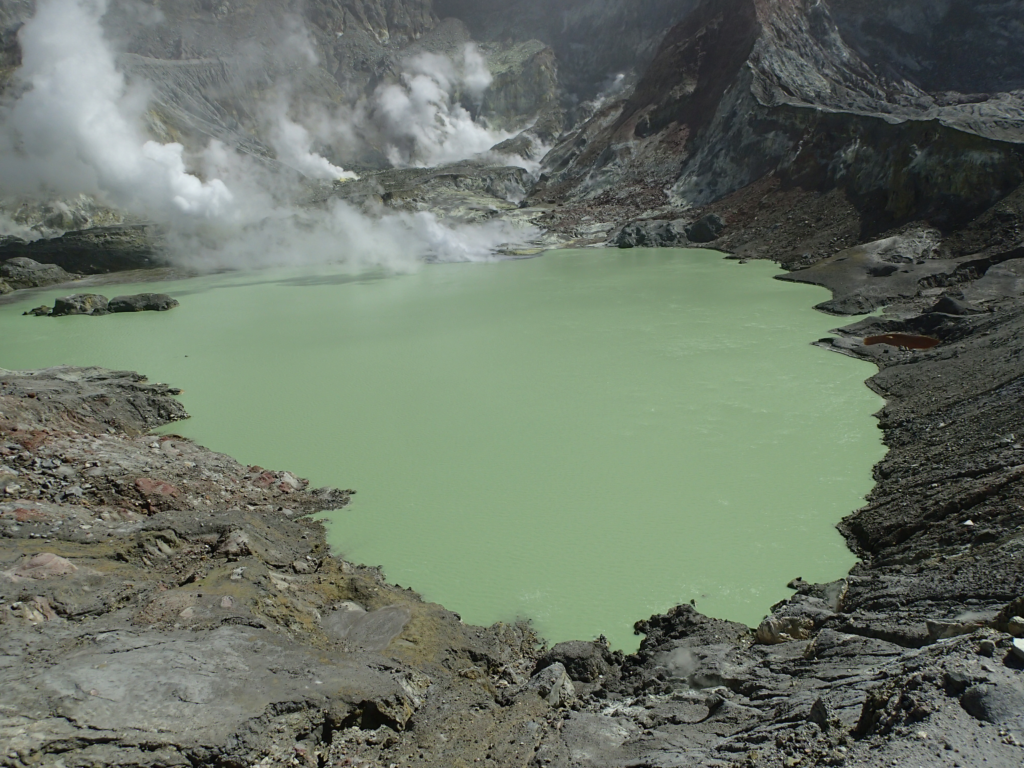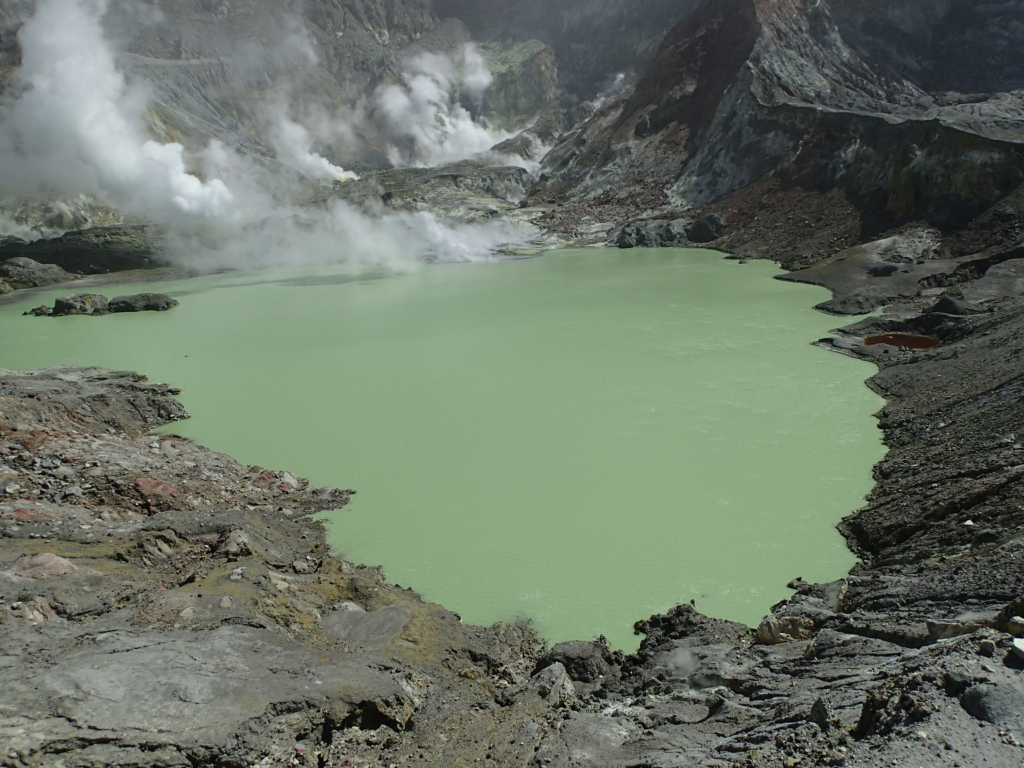 The current crater lake at Whakaari/White Island formed following an eruption in April 2016 that removed the previous lake and excavated the crater floor by about 13 metres. Significant crater lakes have formed on 4 occasions at Whakaari/White Island in the last 16 years but never reached overflow. In February-March of 2006, the lake got to within about 1 metre of overflow, before receding as the lake heated and was evaporated away. An overflowing lake would impact the crater floor and potentially the dynamics of the hydrothermal system.
Monitoring data recorded over the past few months and observations made during recent visits to the island confirm volcanic activity remains at a steady and generally low level. The lake temperature has risen to over 60°C, which is not surprising considering the number of drowned fumaroles which are contributing heat and steam to the lake. The gas-rich vents on the western side of the active crater (the Dome area) remain under water. The temperature of Fumarole Zero (the hottest accessible fumarole) remains steady around 120-130 °C. The regional seismic activity near the island (10-50 km away) has been elevated, however, the volcanic tremor levels remain low. The SO2 gas flux, a key indicator for magma movement, generally remains within the range of the past years, with the exception of occasional higher values.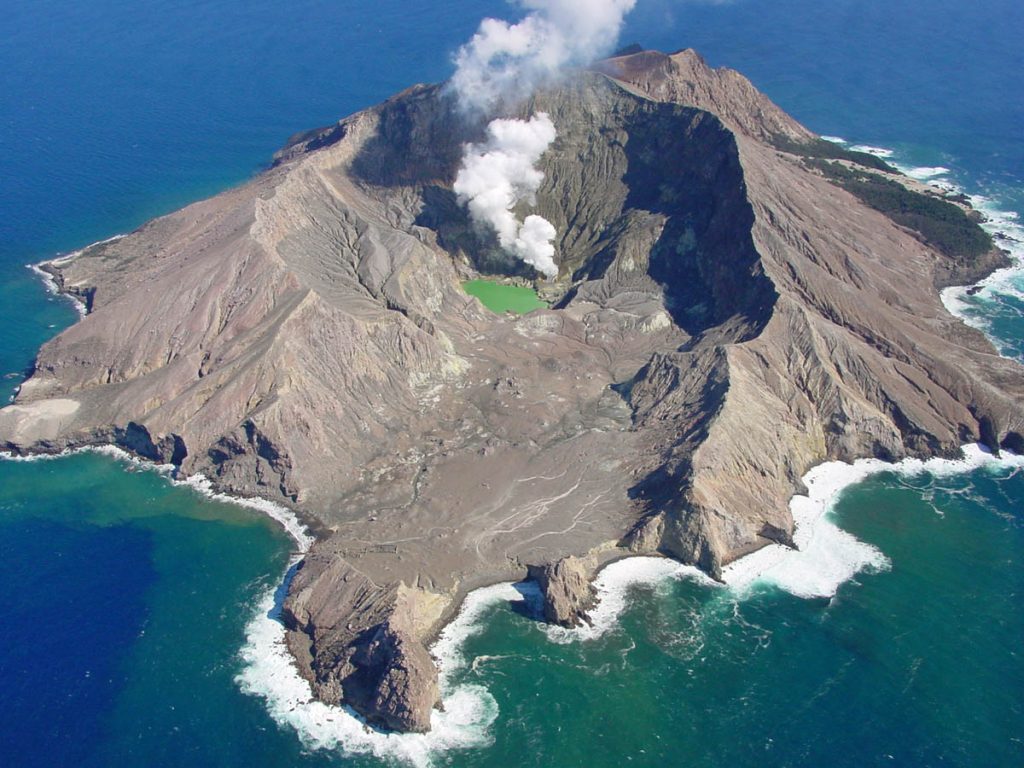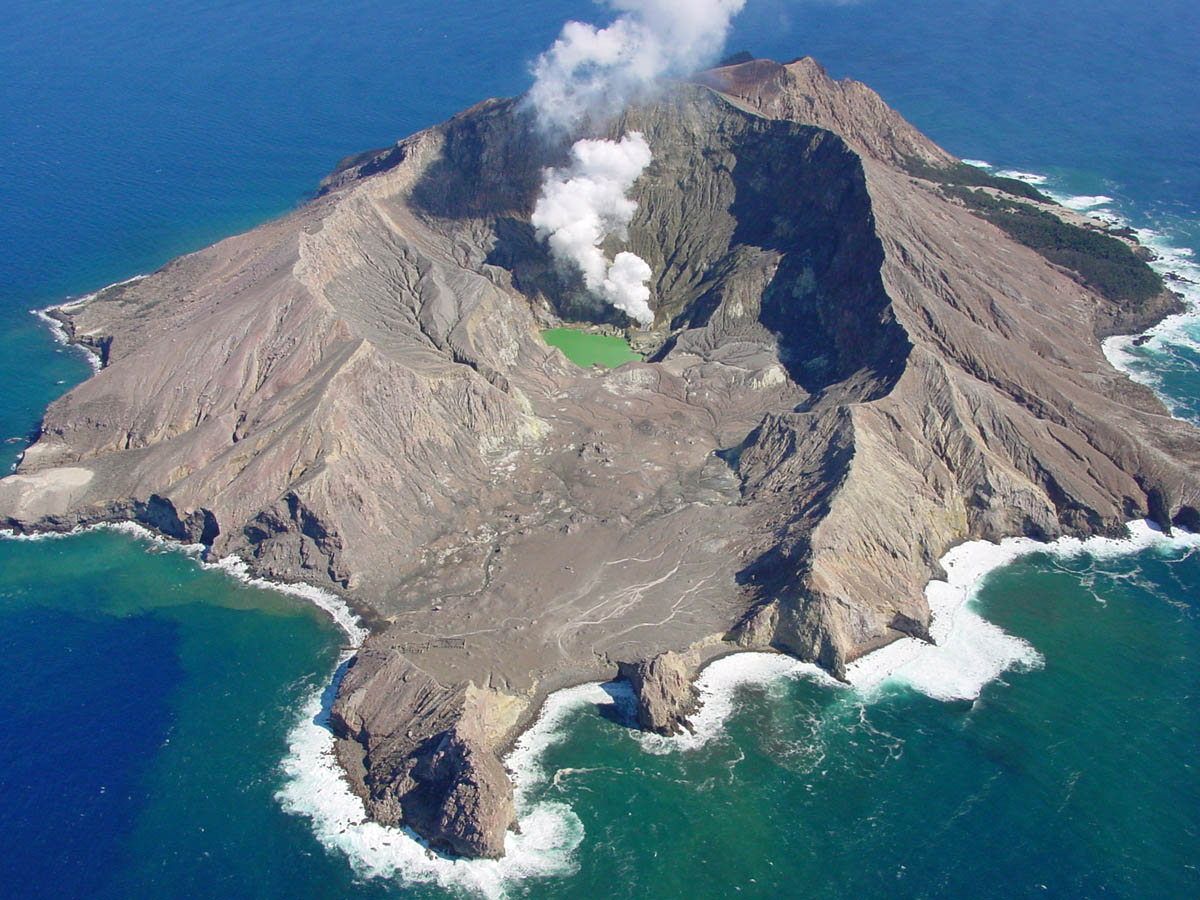 There is currently no substantial change in the level of volcanic activity at Whakaari/White Island. Crater lakes have formed in the past and can be associated with other variations in geothermal activity at the surface.
Our observations are consistent with minor volcanic unrest and the Volcanic Alert Level remains at 1 while the Aviation Colour Code stays at Green.
While Volcano Alert Level 1 is mostly associated with environmental hazards, eruptions can still occur with little or no warning. GNS Science continues to closely monitor Whakaari/White Island and our other active volcanoes.
Source : Yannik Behr , Volcanologue de service
Photos : GNS Science