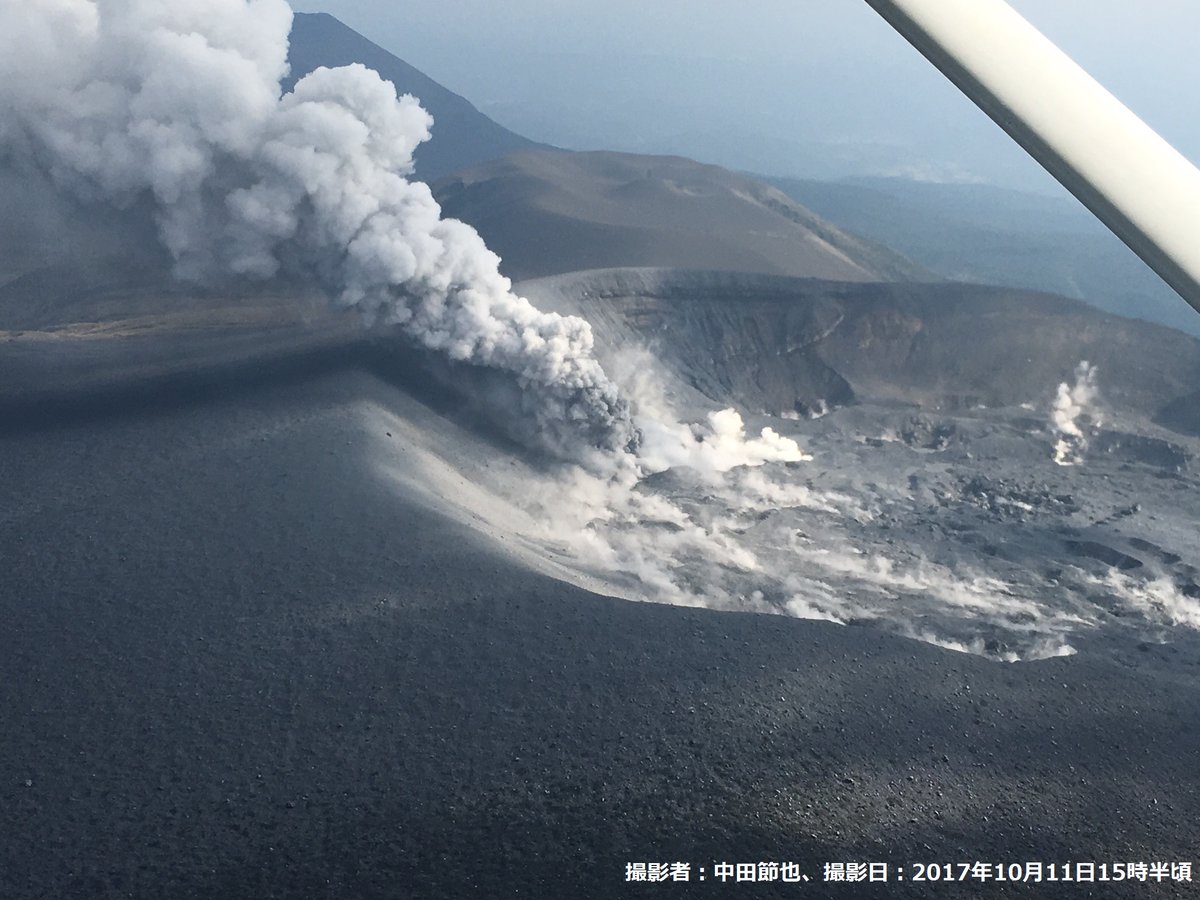 March 03 , 2018. EN. Shinmoedake , Cleveland , Mayon , Fuego , Ibu .
March 03 , 2018.
Shinmoedake , Japan :
More minor eruptions hit Kyushu's Mount Shinmoe , Mar 2, 2018
MIYAZAKI – Eruptions continued Friday at Mount Shinmoe, a volcano in the Kirishima mountain range straddling Miyazaki and Kagoshima prefectures, after a series of minor eruptions occurred on Thursday, the Meteorological Agency said.
The agency said it detected a plume rising about 300 meters above the crater at one point. On Thursday, the agency issued a warning for areas within 3 kilometers of the crater, up from the 2-km radius covered by the previous warning. Large volcanic rocks could reach a point about 3 km from the crater, it said.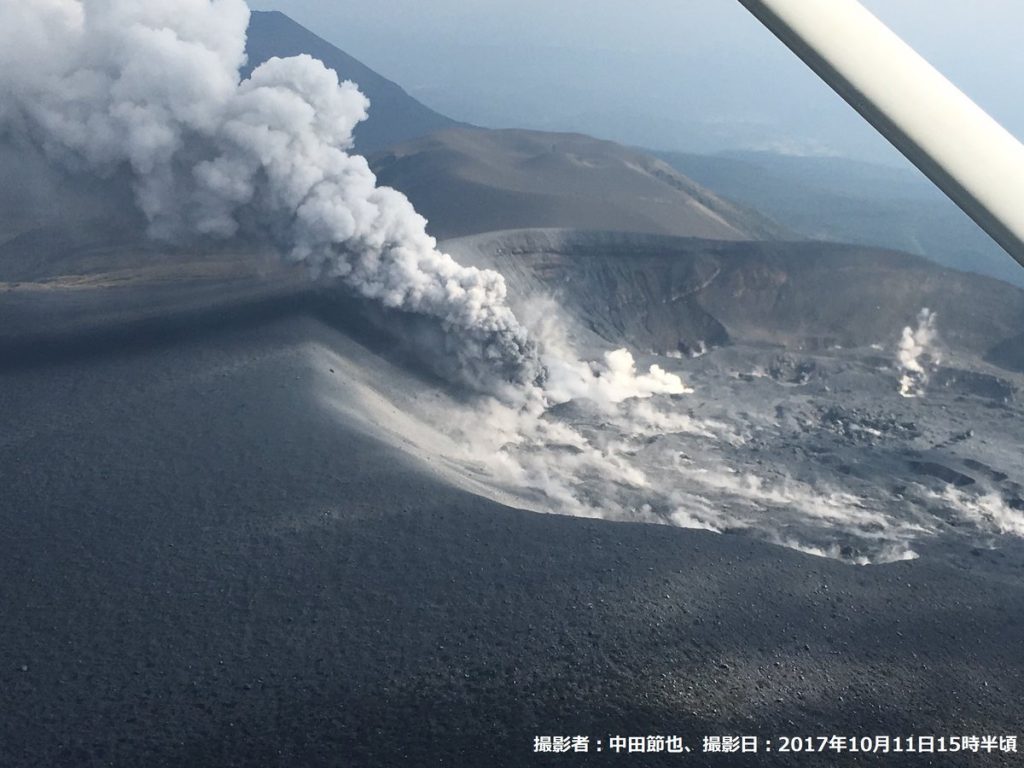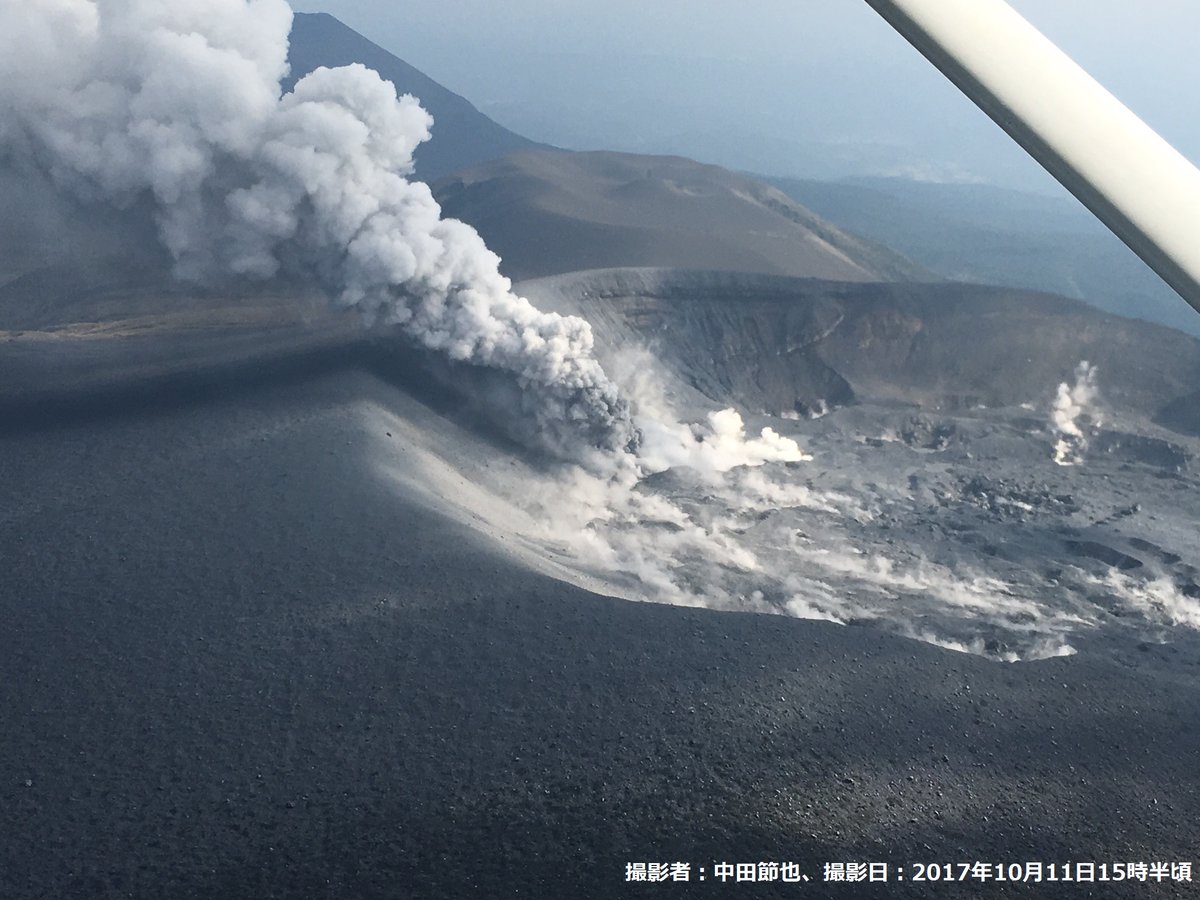 The agency kept its volcanic alert for the 1,421-meter-high Mount Shinmoe at Level 3, warning against approaching the entire volcano.
The warning areas include parts of the town of Takaharu and the city of Kobayashi, both in Miyazaki, and part of the city of Kirishima in Kagoshima.
Volcanic tremors continued from around 8:15 a.m. Thursday, the agency said, adding that eruptions may have started afterward.
The agency received a report of volcanic ash fall from the Takaharu Municipal Government at around 11 a.m. Thursday.
Volcanic activity at Mount Shinmoe could become stronger, the agency warned, noting that the amount of volcanic gas from the mountain has surged to about 5,500 tons per day.
In January 2011, an explosive eruption occurred at the volcano for the first time in 52 years. The volcanic activity subsided in September that year.
The agency raised the volcanic alert for Mount Shinmoe to Level 3 from Level 2 on Oct. 11 last year as the volcano erupted for the first time in about six years. Eruptions occurred intermittently until Oct. 17.
Source : Japantimes
Cleveland , Alaska :
AVO/USGS Volcanic Activity Notice
Current Volcano Alert Level: WATCH
Previous Volcano Alert Level: ADVISORY
Current Aviation Color Code: ORANGE
Previous Aviation Color Code: YELLOW
Issued: Friday, March 2, 2018, 6:38 AM AKST
Source: Alaska Volcano Observatory
Notice Number:
Location: N 52 deg 49 min W 169 deg 56 min
Elevation: 5676 ft (1730 m)
Area: Aleutians
Unrest continues at Cleveland Volcano. An explosion was detected in seismic and infrasound data this morning (14:57 UTC 2 Mar). This event generated a small volcanic cloud that drifted to the ENE at an altitude of approximately 15,000 ft asl. Prior to today's explosion, elevated surface temperatures were observed in satellite data several times over the past week (Feb. 28, Mar. 1, and Mar. 2). Other than during today's explosion, little activity has been observed in seismic and infrasound data over the past week.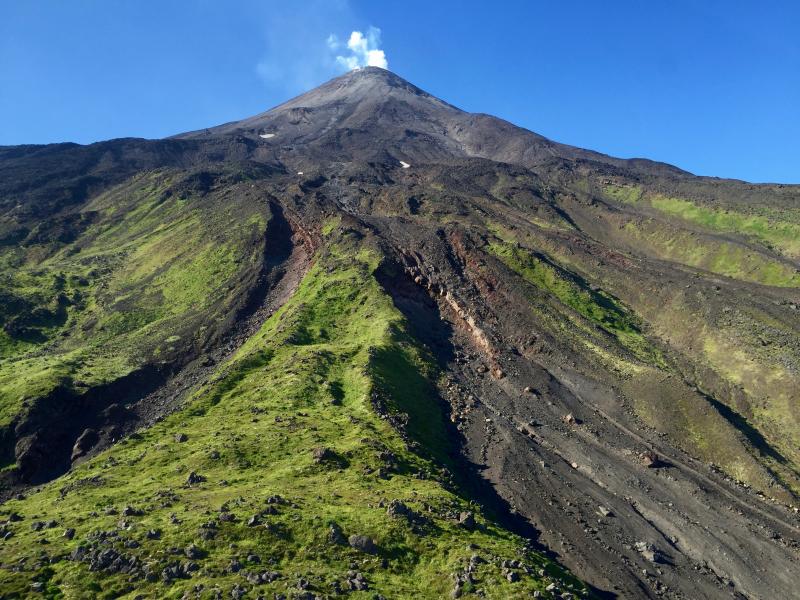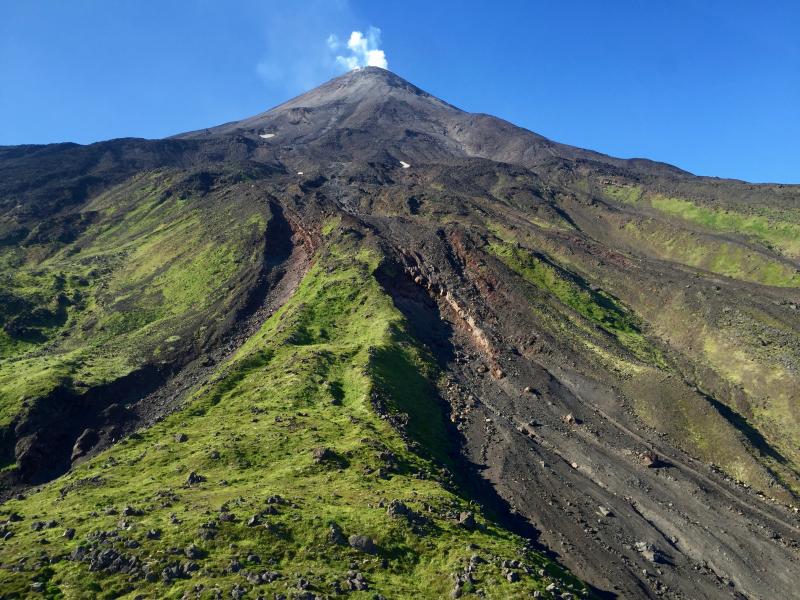 Volcanic Activity Summary:
Local seismic and infrasound sensors recorded a small explosion today at 14:57 UTC (05:57 AKST). No other significant activity was detected. A volcanic cloud was observed heading ENE at an altitude of about 15,000 ft.
Explosions from Cleveland typically produce relatively small volcanic ash clouds that dissipate within hours; however, more significant ash emissions are possible.
Cleveland volcano is monitored with a limited real-time seismic network, which inhibits AVO's ability to detect precursory unrest that may lead to an explosive eruption. Rapid detection of an ash-producing eruption may be possible using a combination of seismic, infrasound, lightning, and satellite data.
Recent Observations:
[Volcanic cloud height] None
[Other volcanic cloud information] n/a
Source : AVO
Photo : July 25 , 2017 , Lyons, John.
Mayon , Philippines :
MAYON VOLCANO BULLETIN 03 March 2018 08:00 A.M.
Mayon's activity in the past 24 hours was characterized by general quiescence, gravity-driven lava flow and degassing from the summit crater. Throughout the day, intermittent and weak to moderate emission of dirty-white to brownish steam-laden plumes that drifted west-northwest, west-southwest and north-northwest was observed. At night, lava flows were observed to continue moving downslope within 3.3 kilometers, 4.5 kilometers and 900 meters from the crater on the Miisi, Bonga and Basud Gullies, respectively.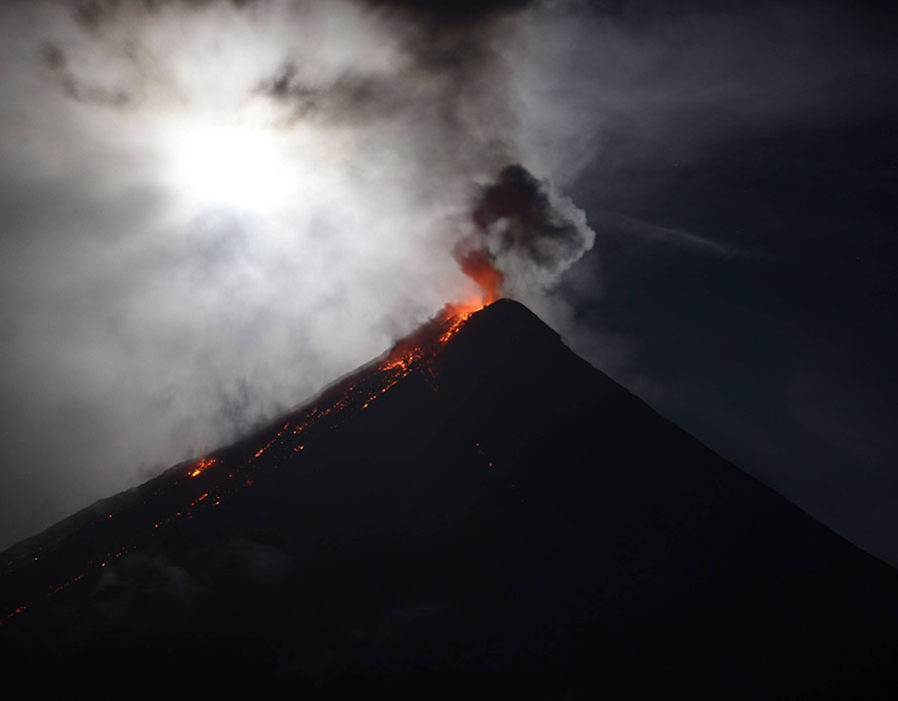 A total of one hundred twenty-seven (127) volcanic earthquakes and nine (9) rockfall events were recorded by Mayon's seismic monitoring network. Sulfur dioxide (SO2) emission was measured at an average of 1,403 tonnes/day on 02 March 2018. Deflation of the lower slopes that began on 20 February is still being recorded by electronic tilt. Nonetheless, overall electronic tilt and continuous GPS data indicate that the edifice is still swollen or inflated relative to November and October 2017, consistent with campaign Precise Leveling data acquired last week.
Alert Level 4 still remains in effect over Mayon Volcano. The public is strongly advised to be vigilant and desist from entering the eight (8) kilometer-radius danger zone, and to be additionally vigilant against pyroclastic density currents, lahars and sediment-laden stream flows along channels draining the edifice. Civil aviation authorities must also advise pilots to avoid flying close to the volcano's summit as ash from any sudden eruption can be hazardous to aircraft.
DOST-PHIVOLCS maintains close monitoring of Mayon Volcano and any new development will be communicated to all concerned stakeholders.
Source : Phivolcs
Fuego , Guatemala :
Type of activity: Vulcanian
Morphology: Composite Stratovolcan
Location: 14 ° 28'54˝ Latitude N; 90 ° 52'54˝ Longitude W.
Height: 3,763msnm
Weather conditions: Cloudy
Wind: North West 3 km / h
Precipitation: 0.0 mm
Activity:
Presence of white fumaroles at an approximate height of 4300 m (14 107 feet) dispersing to the southwest, west and north. It has been reported 3 to 5 low to moderate explosions per hour, expelling columns of gray ash at a height of approximately 4,500 to 4,800 m (14,764 to 15,748 feet) that disperse southwest and west over a distance of 10 to 12 kilometers. Low rumblings are reported. Incandescent pulses during the night at a height between 150 and 200 m above the crater generate weak to moderate avalanches on the crater contour and towards Santa Teresa, Ceniza, Las Lajas and Honda canyons. An incandescence is noted in the evening hours. Falls of fine ash are reported in the communities of Panimache I and II, Morelia, Santa Sofia, El Porvenir, Finca Palo Verde, among others, located in this direction.
Source : Insivumeh
Ibu , Indonesia :
Activity Level at Level II (WASPADA). G. Ibu (1340 m above sea level) has been erupting since 2008.
Since yesterday until this morning visually the top of the volcano was covered with fog. The height of the column of ash from the eruption is not observed. The direction of the wind is oriented towards the East and the North.
According to the seismographs, dated 02 March 2018, it was recorded:
88 earthquake of eruption.
74 earthquake emission.
29 events of the Harmonic Tremor type.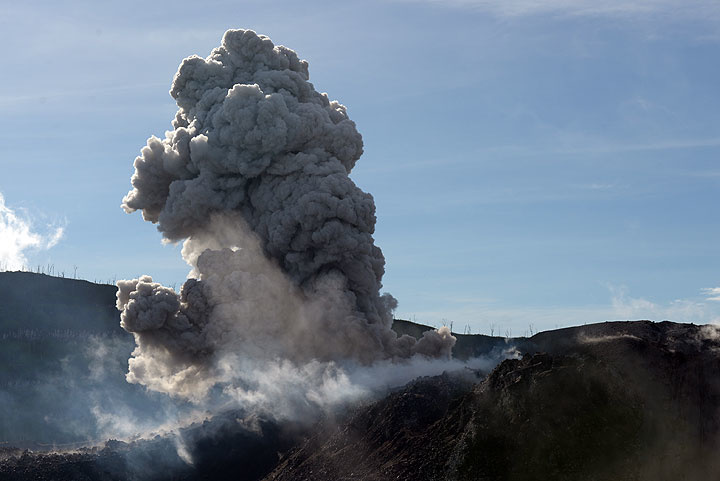 Recommendations:
Communities around G. Ibu and visitors / tourists should not have activity, climb and approach within 2 km, with a sectoral expansion of 3.5 km towards the opening in the northern part of active crater of G. Ibu.
VONA:
The last VONA code sent was the color code ORANGE, published on August 28, 2017 at 06:12 WIT, related eruption with ash height of 1725 m above sea level or 400 m above the peak, column of ash inclined to the North.
Source : VSI