May 12, 2020. EN. Peru : Sabancaya , Alaska : Shishaldin , Indonesia : Semeru , Chile : Nevados of Chillan , Guatemala : Fuego .
May 12 , 2020.
Peru , Sabancaya :
IGP / CENVUL-SAB / BV 2020-0019
Analysis period: May 4-10, 2020
Alert level: orange
The Geophysical Institute of Peru (IGP) reports that the eruptive activity of the Sabancaya volcano remains at moderate levels; that is to say with the continuous recording of explosions with columns up to 3 km in height above the summit of the volcano and consequent emissions of ash and gas. Consequently, for the following days, no significant change is expected regarding its activity.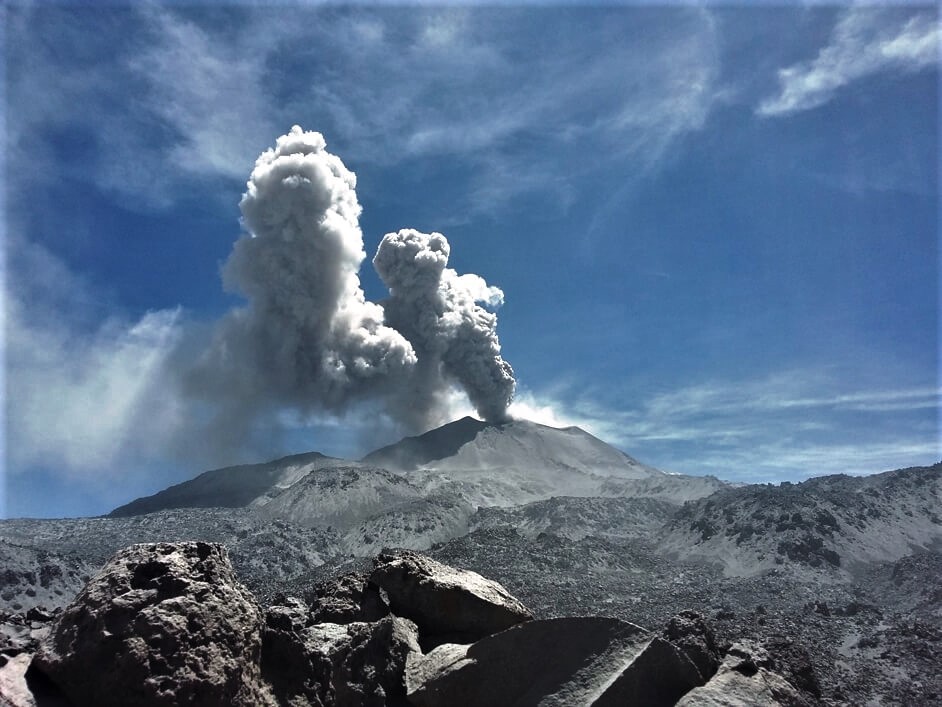 Recommendations:
• Maintenance of the orange volcanic alert level.
• Do not approach within a radius of less than 12 km from the crater. In case of ash fall, cover your nose and mouth with rags or wet masks. Keep doors and windows of houses closed.
• Implement prevention and mitigation actions in the face of an increase in volcanic activity.
Outlook:
• On May 11, the ash is dispersed towards the east and southeast sectors of the volcano. Between May 12 and May 17, the ash will be dispersed towards the Southeast sector. If volcanic explosions were recorded, the ash would be dispersed to the southeast of the volcano at speeds of up to 55 km / h.
Source : Cenvul .
Photo : archive ingemmet.
Alaska , Shishaldin :
54°45'19 » N 163°58'16 » W,
Summit Elevation 9373 ft (2857 m)
Current Volcano Alert Level: ADVISORY
Current Aviation Color Code: YELLOW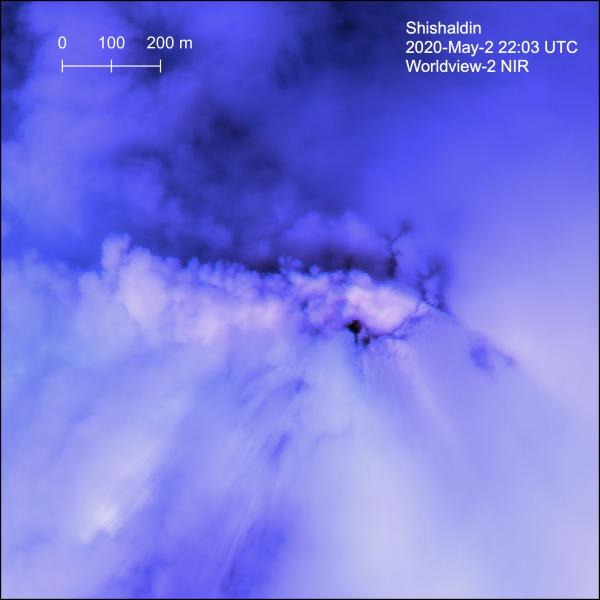 Steam plume at Shishaldin visible in false color near-IR Worldview-2 satellite image.
Unrest continues at Shishaldin, with occasional periods of tremor and low frequency earthquakes detected on the local seismic network. No explosive activity was detected on regional infrasound sensors, however, and satellite and webcam views were cloudy. Although unrest is currently at low levels, activity could escalate with little warning, and additional eruptive activity within the summit crater, lava flows, lahars, and ash-producing eruptive events could occur.
Shishaldin is monitored by local seismic and infrasound sensors, satellite data, web cameras, a telemetered geodetic network, and distant infrasound and lightning networks.
Source : AVO https://avo.alaska.edu/
Photo : Loewen, Matt.
Indonesia , Semeru :
VOLCANO OBSERVATORY NOTICE FOR AVIATION – VONA.
Issued: May 12 , 20200512/0241Z
Volcano: Semeru (263300)
Current Aviation Colour Code: ORANGE
Previous Aviation Colour Code: orange
Source: Semeru Volcano Observatory
Notice Number: 2020SMR43
Volcano Location: S 08 deg 06 min 29 sec E 112 deg 55 min 12 sec
Area: East java, Indonesia
Summit Elevation: 11763 FT (3676 M)
Volcanic Activity Summary:
Eruption with volcanic ash cloud at 02h42 UTC (09h42 local)
Volcanic Cloud Height:
Best estimate of ash-cloud top is around 13043 FT (4076 M) above sea level, may be higher than what can be observed clearly. Source of height data: ground observer.
Other Volcanic Cloud Information:
sh-cloud moving to north.
Remarks:
Eruption recorded on seismogram with maximum amplitudo 20 mm and duration 87 second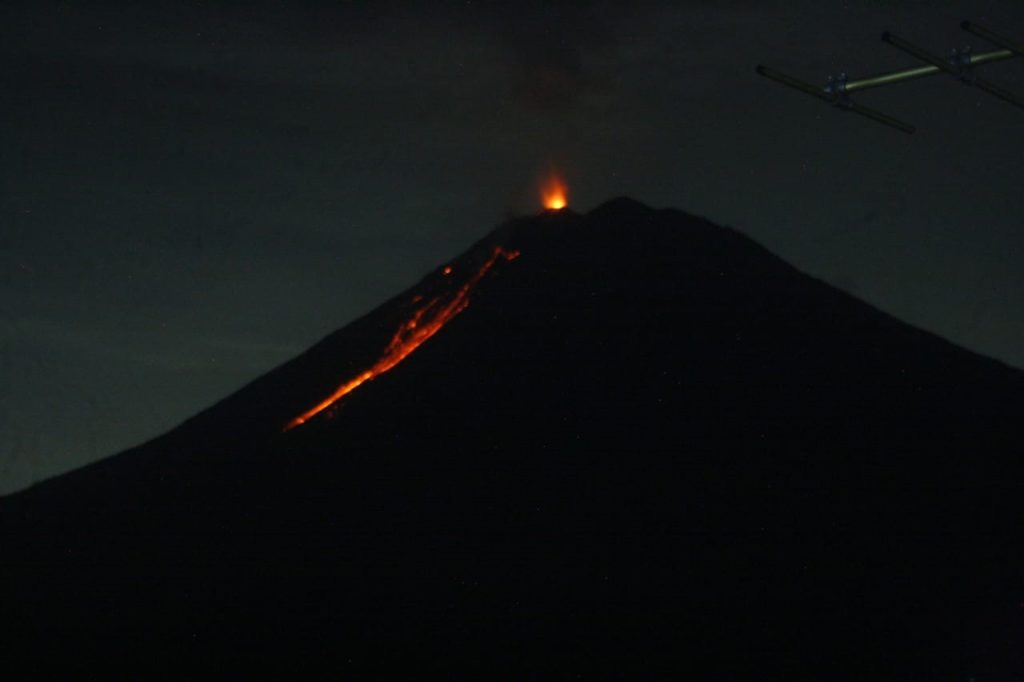 Level of activity at level II (WASPADA). The Semeru volcano (3676 m above sea level) is experiencing a continuous eruption. There are explosive and effusive eruptions, causing lava flows to the south and southeast slopes, as well as eruptions of glowing rocks around the summit crater.
The volcano is clearly visible until it is covered with fog. The eruption still continues. The height of the eruption columns was not observed due to the fog. The weather is sunny / cloudy, the winds are weak towards the North-East and the South.
According to the seismographs of May 11, 2020, it was recorded:
28 blowout / explosion earthquakes
36 emission earthquakes
1 harmonic tremor
3 distant tectonic earthquakes.
Recommendation:
The community must not carry out activities within a radius of 1 km and in the area up to 4 km in the South-South-East slope sector of the active crater which is an opening area of ​​active crater of G. Semeru (Jongring Seloko) as a channel for sliding warm clouds.
Be aware of the presence of the lava dome in the Seloko Jongring crater.
Source : Magma Indonésie , PVMBG .
Photo : PVMBG.
Chile , Nevados de Chillan :
Special volcanic activity report (REAV), region of the Nevados de Chillán volcanic complex, on May 11, 2020 at 8:55 a.m. local time (mainland Chile).
The National Geological and Mining Service of Chile (Sernageomin) discloses the following PRELIMINARY information, obtained with the monitoring equipment of the National Volcanic Monitoring Network (RNVV), processed and analyzed at the South Andes Volcanological Observatory (OVDAS ):
On Monday May 11, 2020 at 08:06 local time (12:06 UTC), the monitoring stations installed near the Nevados de Chillán volcanic complex recorded an earthquake associated with the fracturing of rocks inside the volcanic system (volcano-tectonic type ).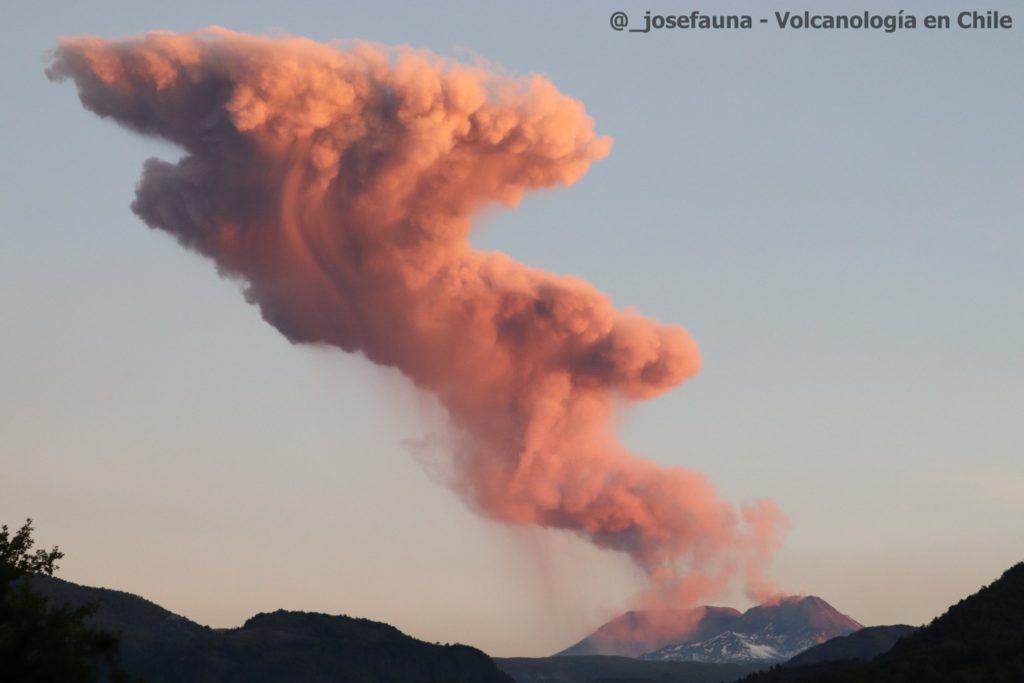 The characteristics of the LP earthquake are as follows:
TIME OF ORIGIN: 8:06 a.m. local time (12:06 p.m. UTC).
LATITUDE: 36 895 ° S
LONGITUDE: 71.339 ° W
DEPTH: 4.5 km
LOCAL MAGNITUDE: 3.0 Ml
OBSERVATIONS:
During this event, no surface activity was recorded.
The volcanic technical alert is maintained at the YELLOW level.
Source : Sernageomin .
Photo : @_josefauna, Volcanologia en Chile.
Guatemala , Fuego :
Type of activity: Vulcanian
Morphology: composite stratovolcano
Location: 14 ° 28'54˝ Latitude N; 90 ° 52'54˝ Longitude W
Height: 3763msnm
Atmospheric conditions: partly cloudy
Wind: North at 5 km / h
Precipitation: 62.7 mm.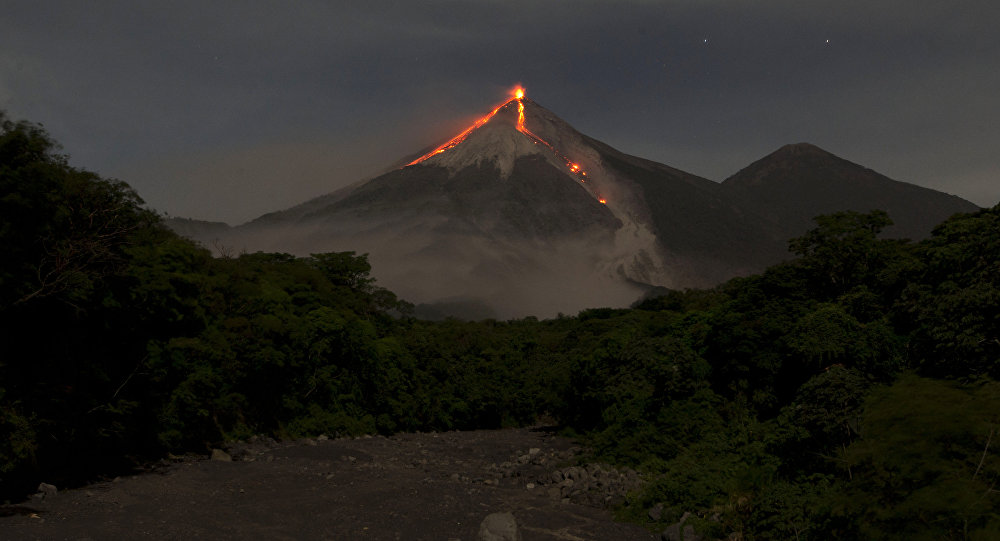 Activity:
Presence of white degassing fumaroles at an altitude of 4300 m moving from West to South and South-West. 7 to 11 low and moderate explosions are generated per hour which expel columns of gray ash at a height of 4,500 to 4,700 m above sea level (14,765 -15,420 feet) scattered over 10 to 15 km to the West, South and South West. During the night and dawn hours, incandescent pulses were observed at 150 – 300 m high with weak, moderate and strong avalanches around the crater, mainly towards the ravines of Seca, Taniluya, Ceniza, Trinidad and Las Lajas. There are weak to moderate rumblings which cause weak shock waves causing vibrations in the houses of the volcanic perimeter, as well as the fall of fine particles of ash in the villages Panimache I, Morelia, Santa Sofía, Palo Verde and others. The lava flow to the Ceniza ravine is 200 m long.
Source : Insivumeh .
Photo : Moises Castillo / Sputnik.