September 07 , 2019. EN. Italy / Sicily : Etna , Hawaii : Kilauea , Mexico : Colima , Alaska : Shishaldin , Indonesia : Merapi .
Septembre 07 ,2019.
Italy / Sicily , Etna :
VOLCANIC ACTIVITY COMMUNIQUE FOR ETNA, 6 SEPTEMBER 2019, 12:27:45 h UTC (= 14:27:45 local time)
The Istituto Nazionale di Geofisica e Vulcanologia, Osservatorio Etneo, reports that the mean volcanic tremor amplitude is showing an increasing trend. In particular, since the second half of August, a slow and gradual rise of the mean amplitude has been recorded, which today, on the peripheric stations of the seismic network, has reached values comparable to those seen shortly before the December 2018 eruption, and higher than those observed before the eruptive episodes of May-July 2019.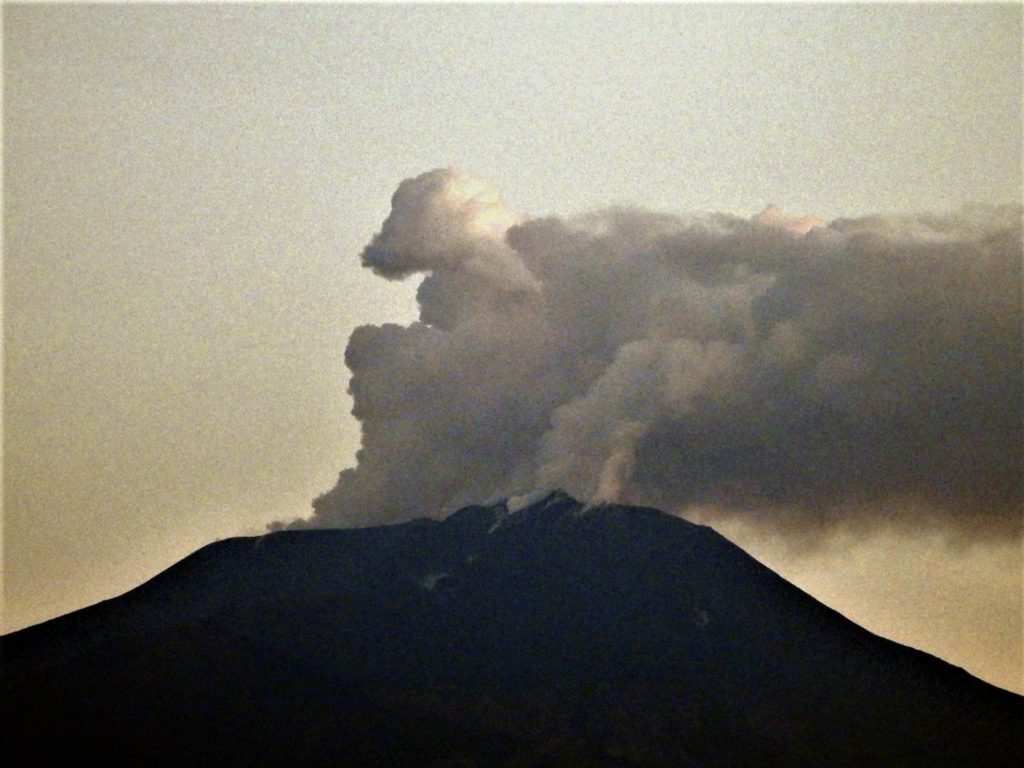 During the past few days, the volcanic tremor source has remained confined to the summit area, mainly below the Southeast Crater – New Southeast Crater system.
As for ground deformation, no significant variations are being observed in the trends of the mean-term temporal series.
Inclement weather is preventing observation of the activity at the summit craters with the visual and thermal surveillance cameras. However, mountain guides report that the characteristic sounds of Strombolian activity and spattering have been heard this morning at the Bocca Nuova crater.
The photo below shows conspicuous degassing from Etna's summit craters at daybreak on 6 September 2019, seen from south.
Source : INGV Vulcani.
Hawaii , Kilauea :
19°25'16 » N 155°17'13 » W,
Summit Elevation 4091 ft (1247 m)
Current Volcano Alert Level: NORMAL
Current Aviation Color Code: GREEN
Activity Summary:
Kīlauea Volcano is not erupting. Monitoring data continue to show steady rates of seismicity and ground deformation, low rates of sulfur dioxide emission, and only minor geologic changes since the end of eruptive activity in September 2018. Water continues to pond at the bottom of Halema'uma'u inside the summit caldera.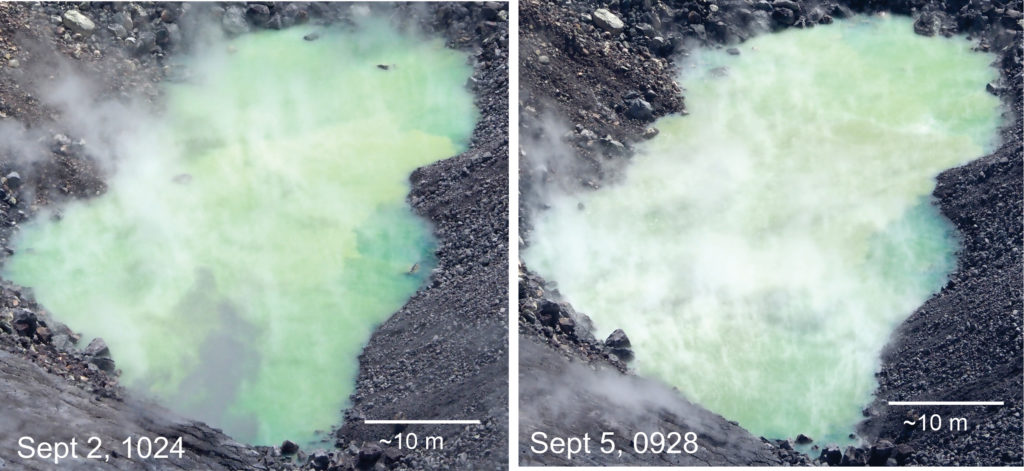 Day-to-day changes in the water level at the bottom of Halema'uma'u are subtle and impossible to accurately measure. But when comparing views of the pond over several days some differences can be seen, as shown in these images. Rocks that were visible in the water on September 2 could no longer be seen today (September 5). Note particularly that two rocks protruding above the water at the top of the September 2 photo are now submerged—evidence that the pond continues to slowly rise. USGS photos by D. Swanson.
Observations:
Monitoring data have shown no significant changes in volcanic activity over the past week. Rates of earthquake activity or seismicity across the volcano remain largely steady. Sulfur dioxide emission rates are low at the summit and are below detection limits at Puʻu ʻŌʻō and the lower East Rift Zone. The pond at the bottom of Halema'uma'u, which began forming on July 25, 2019, continues to slowly expand and deepen.
Although not currently erupting, areas of persistently elevated ground temperatures and minor release of gases are still found in the vicinity of the 2018 lower East Rift Zone fissures. These include steam (water), very small amounts of hydrogen sulfide, and carbon dioxide. These conditions are expected to be long-term. Similar conditions following the 1955 eruption continued for years to decades.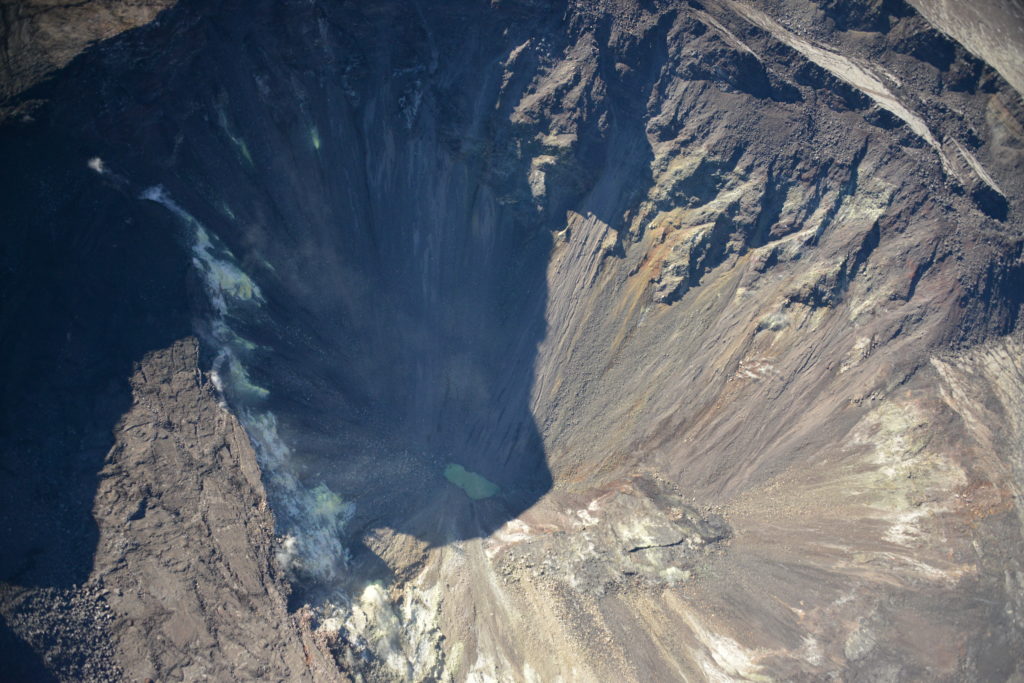 A near-vertical view into Halema'uma'u, with the water pond at the bottom still in the shadow of early morning light. USGS photo by D. Becker, 08-29-2019.
Since early March 2019, GPS stations and tiltmeters at the Kīlauea summit have recorded deformation consistent with slow magma accumulation within the shallow portion of the Kīlauea summit magma system (1-2 km or approximately 1 mile below ground level). However, gas measurements have yet to indicate significant shallowing of magma. HVO continues to carefully monitor all data streams at the Kīlauea summit for important changes.
Further east, GPS stations and tiltmeters continue to show motions consistent with slowed refilling of the deep East Rift Zone magmatic reservoir in the broad region between Puʻu ʻŌʻō and Highway 130. Monitoring data do not suggest any imminent change in volcanic hazard for this area. In addition to motion along the East Rift Zone, the south flank of Kīlauea continues to creep seaward at elevated rates following the May 4, 2018 M6.9 earthquake near Kalapana. HVO continues to carefully monitor all data streams along the Kīlauea East Rift Zone and south flank for important changes.
Source : HVO.
Photos : USGS par D. Swanson. USGS par D. Becker
Mexico , Colima :
Weekly technical bulletin of the activity of the volcano of Colima, Date: September 6, 2019.
Seismic activity:
Last week, 21 high frequency (HF) events, 7 landslides, an explosion and 13.25 minutes of low amplitude tremor were automatically recorded. During this period, there were no long period (LP) events. There were also 2 lahars, one in the Zarco Canyon and one in the Lumbre Canyon.
Visual observations:
Intermittent emissions of steam and gas, mainly from the northeast side of the crater, continued to be recorded during the reporting period. When clouds allowed, the fixed thermal camera located to the south of the volcano detected thermal anomalies related to the fumaroles activity during the last week.
It was also possible to observe, with the help of surveillance cameras, the lahars descending into the ravine of Zarco.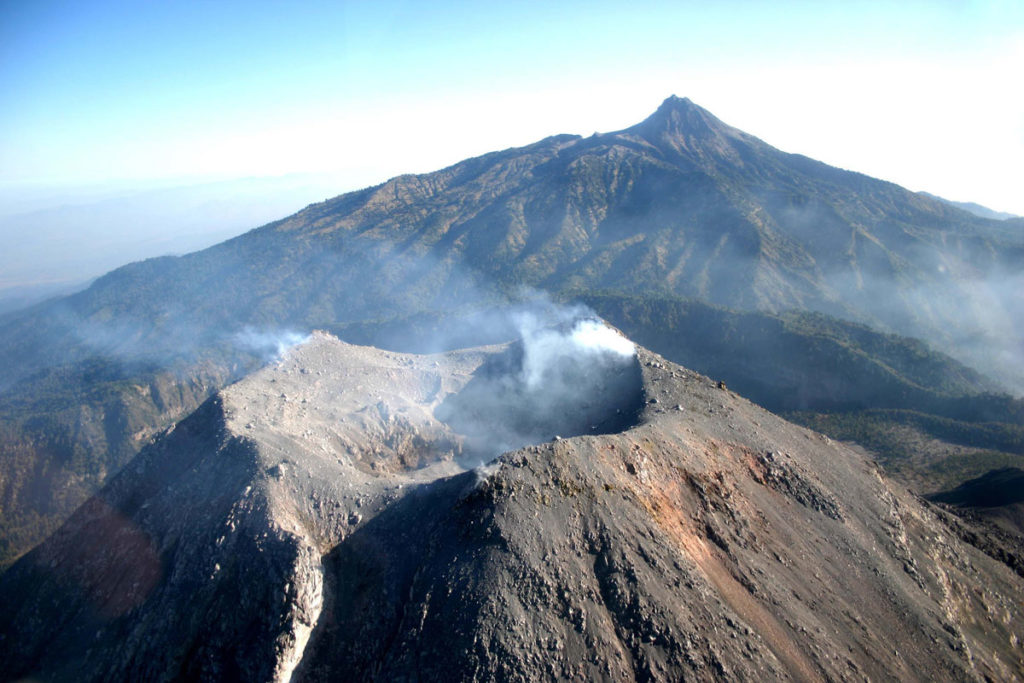 Geochemistry:
No SO2 flow measurements were performed during the last week.
Remote perception:
No thermal anomalies detected by the MIROVA satellite system were observed during the last week.
Diagnostic:
The volcano maintains an explosive activity of low intensity. The occurrence of these events indicates that the gas probably associated with the moving magma has reached surface levels. This activity can continue and increase in intensity over the coming days or weeks. The staff in charge of monitoring the volcano monitors any changes and developments in the activity.
Source : RESCO-CUEV-Facultad de Ciencias Universidad de Colima .
Photo : proceso.com.mx.
Alaska , Shishaldin :
54°45'19 » N 163°58'16 » W,
Summit Elevation 9373 ft (2857 m)
Current Volcano Alert Level: WATCH
Current Aviation Color Code: ORANGE
Low-level eruptive activity within the summit crater continues at Shishaldin. Seismicity remained elevated during the past week and was characterized by steady continuous tremor. Satellite data have shown elevated surface temperatures at the summit crater when views were not obscured by clouds, as well as emissions of sulfur dioxide on September 3. Conditions at the volcano appear to have changed little over the past several weeks, with slight growth in the scoria cone and lava flows within the summit crater.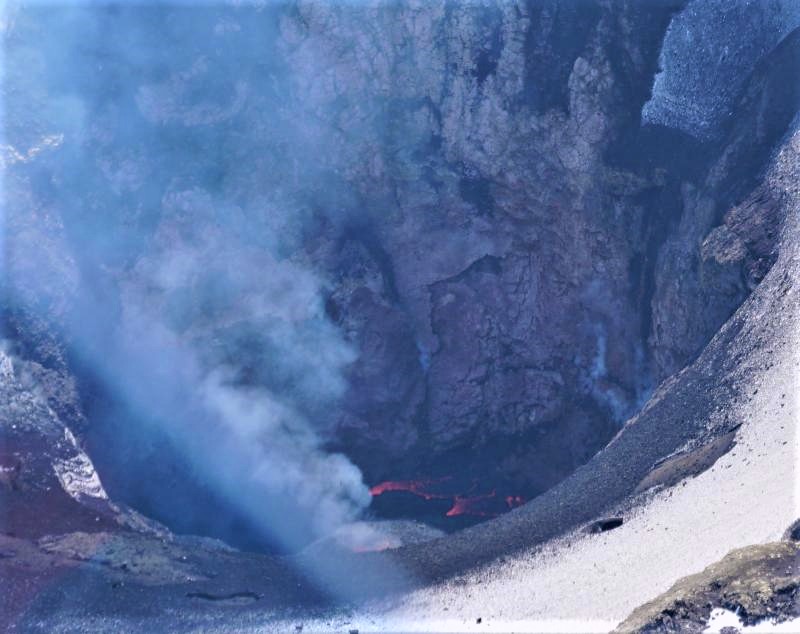 Surface lava within Shishaldin's crater. Photo taken July 23, 2019, by David Fee, UAFGI/AVO.
The low-level lava fountaining and repetitive minor explosive activity within the summit crater observed on August 17, 2019 is likely continuing. Given the present state of unrest of the volcano, it remains possible that activity could increase rapidly with minimal warning.
Shishaldin is monitored by local seismic and infrasound sensors, satellite data, a web camera, a telemetered geodetic network, and distant infrasound and lightning networks.
Source : AVO.
Photo : David Fee, UAFGI / AVO.
Indonesia , Merapi :
MERAPI ACTIVITY REPORT, August 30 – September 5, 2019.
I. RESULTS OF THE OBSERVATION.
visual
The climate around Mount Merapi is generally sunny in the morning, afternoon and evening with fog. There is a white smoke, thin to thick with low pressure. A maximum smoke height of 150 m was observed from the Mount Merapi observation post at Ngepos on August 30, 2019 at 17:28 WIB.
The morphological analysis of the crater area based on photographs of the Southeast sector revealed no significant morphological changes. The volume of the lava dome based on aerial photo analysis with drones on August 8, 2019 was 461,000 m3. Since January 2019, the volume of the lava dome has remained relatively stable as magma extrusion has largely collapsed directly upstream of Kali Gendol in the form of lava avalanches and hot clouds.
Seismicity:
In this week, seismographs of Mount Merapi recorded 7 earthquakes (DG), 2 deep volcanic earthquakes (VTA), 14 shallow volcanic earthquakes (VTB), 106 multiphase earthquakes (MPs), 137 earthquakes. avalanche (RF), 18 low frequency earthquakes (LF) and 8 tectonic earthquakes (TT). This week's seismic intensity is higher than last week.
Deformation:
The deformation of G. Merapi, monitored by EDM and GPS this week, showed no significant change.
Rain and lahars:
This week, no rain or lahars were reported, nor was there any additional runoff into the rivers flowing out of Mount Merapi.
II. CONCLUSIONS AND SUGGESTIONS
Based on the results of the visual and instrumental observations, it was concluded that:
1. The lava dome is currently in a stable state with relatively low growth rates.
2. The volcanic activity of Mount Merapi is still quite high and is determined by the level of activity « WASPADA ».
Source : BPPTKG