February 24 , 2019. EN. La Réunion : Piton de la Fournaise , Alaska : Veniaminof , Chile : Copahue , Indonesia : Anak Krakatau , Guatemala : Fuego .
February 24 , 2019.
La Réunion , Piton de la Fournaise :
Activity Bulletin from Saturday, February 23, 2019 to 13:30 (local time).
The eruptive activity that resumed on February 19, 2019 at Piton de la Fournaise around 7:10 pm local time continues. The intensity of the eruptive tremor (indicator of the intensity of the eruption) is relatively constant since February 20 at 06h local time (Figure 1).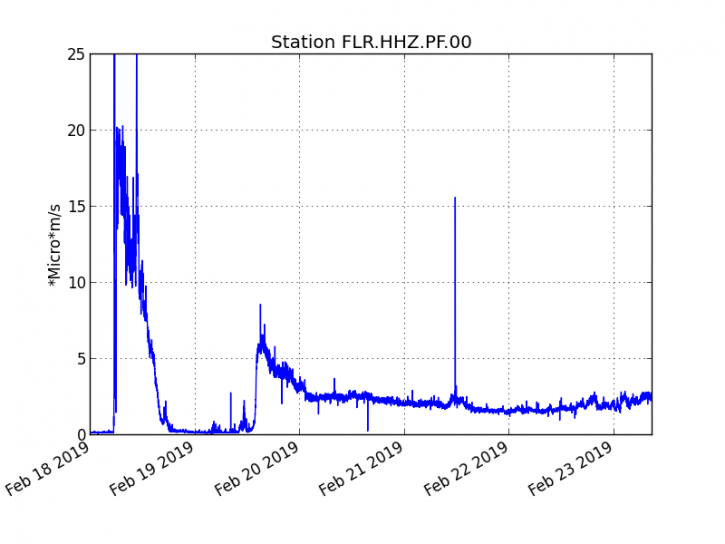 Figure 1: Evolution of the RSAM (indicator of the volcanic tremor and the intensity of the eruption) between 09h48 (05h48 UTC) on February 18th and 13h00 (09h00 UTC) on February 23rd on the seismic station of FLR. (© OVPF / IPGP)
– Over the past 36 hours, 20 upper superficial volcano-tectonic earthquakes (above sea level) have been recorded.
– After a deflation of the building related to the transfer of magma that occurred on 18/02/2019, the deformations of the summit zone do not show any particular signals.
– The CO2 concentrations in the near-field soil (gîte du volcan area) remain high.
– Over the last 36 hours, surface flows estimated from satellite data, via the HOTVOLC platform (OPGC – University of Auvergne), fluctuated between 2.5 and 15 m3 / s (with a peak at 25 m3 / s ).
Accurate mapping of the lava flow on 22 February morning was done by the OVPF from aerial imagery (Figure 2). This map confirms the slow progression of the lava flow since February 21st.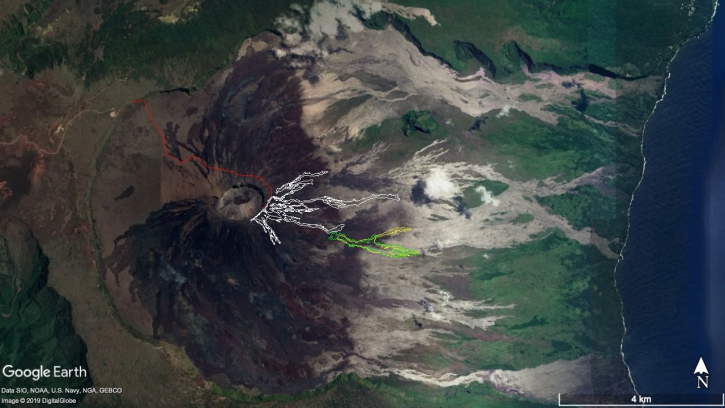 Figure 2: Contours of the lava flows associated with the eruptive phase of 18/02/2019 (in white) and the eruptive phase started on 19/02/2019 (in yellow, contours dated 22/02/2019) determined from aerial images by the OVPF. For comparison the contours dated 19/02/2019 are represented in green (OI2 – Clermont Auvergne University). (© OVPF / IPGP)
Source : OVPF
Video : IP Réunion
Alaska , Veniaminof :
56°11'52 » N 159°23'35 » W,
Summit Elevation 8225 ft (2507 m)
Current Volcano Alert Level: ADVISORY
Current Aviation Color Code: YELLOW
Satellite views over the past data showed weakly elevated surface temperatures consistent with continued cooling of the lava flows. No activity observed in partially cloudy web camera images over the past 24 hours. The level of seismicity remains low.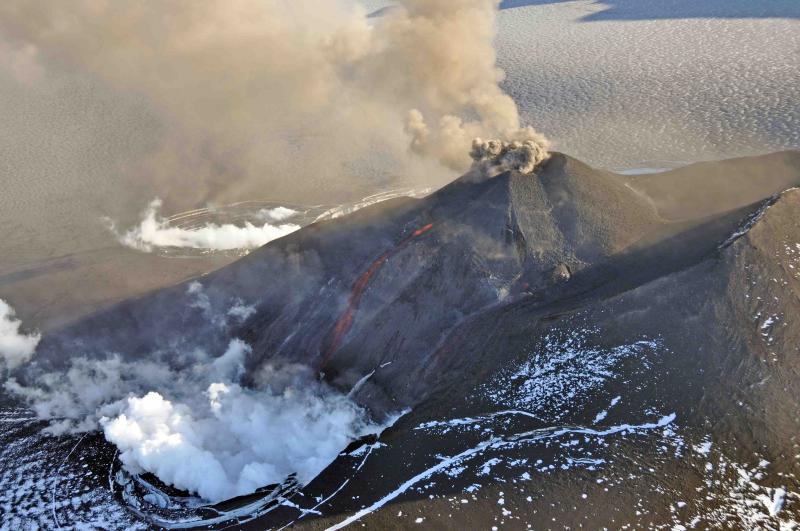 It remains possible for eruptive activity consisting of lava effusion, ash emissions or both to resume at any time without significant precursory seismic events.
Veniaminof volcano is monitored with a local real-time seismic network, which will typically allow AVO to detect changes in unrest that may lead to a more significant explosive eruption. AVO combines seismic, infrasound, lightning, and satellite data for rapid detection of such events.
Source : AVO
Photo : McGimsey, R. G.
Chile , Copahue :
Special Report on Volcanic Activity (REAV), Bio-Bio Region, Copahue Volcano, 23 February 2019, 07:00 Local Time (Continental Chile).
The National Geological and Mining Service of Chile (Sernageomin) publishes the following PRELIMINARY information, obtained through monitoring equipment of the National Volcanic Monitoring Network (NVRN), processed and analyzed at the Volcanological Observatory of the Southern Andes (OVDAS) :
The seismic activity highlighted by the previous reports (REAV) of February 22 at 19:40 (local time) continues. Since the last report, 117 volcano-tectonic events have been recorded, associated with a process of fracturing rocks, among which stands out an earthquake of magnitude M 3.2 located 13.5 Km north-east of the crater. El Agrio.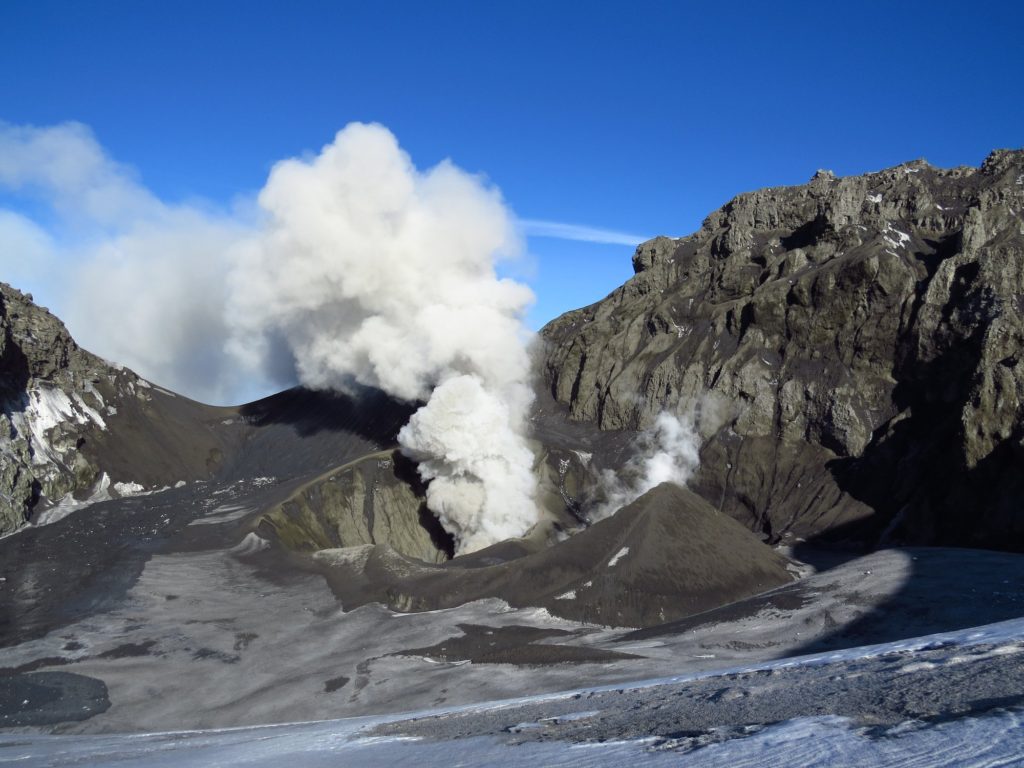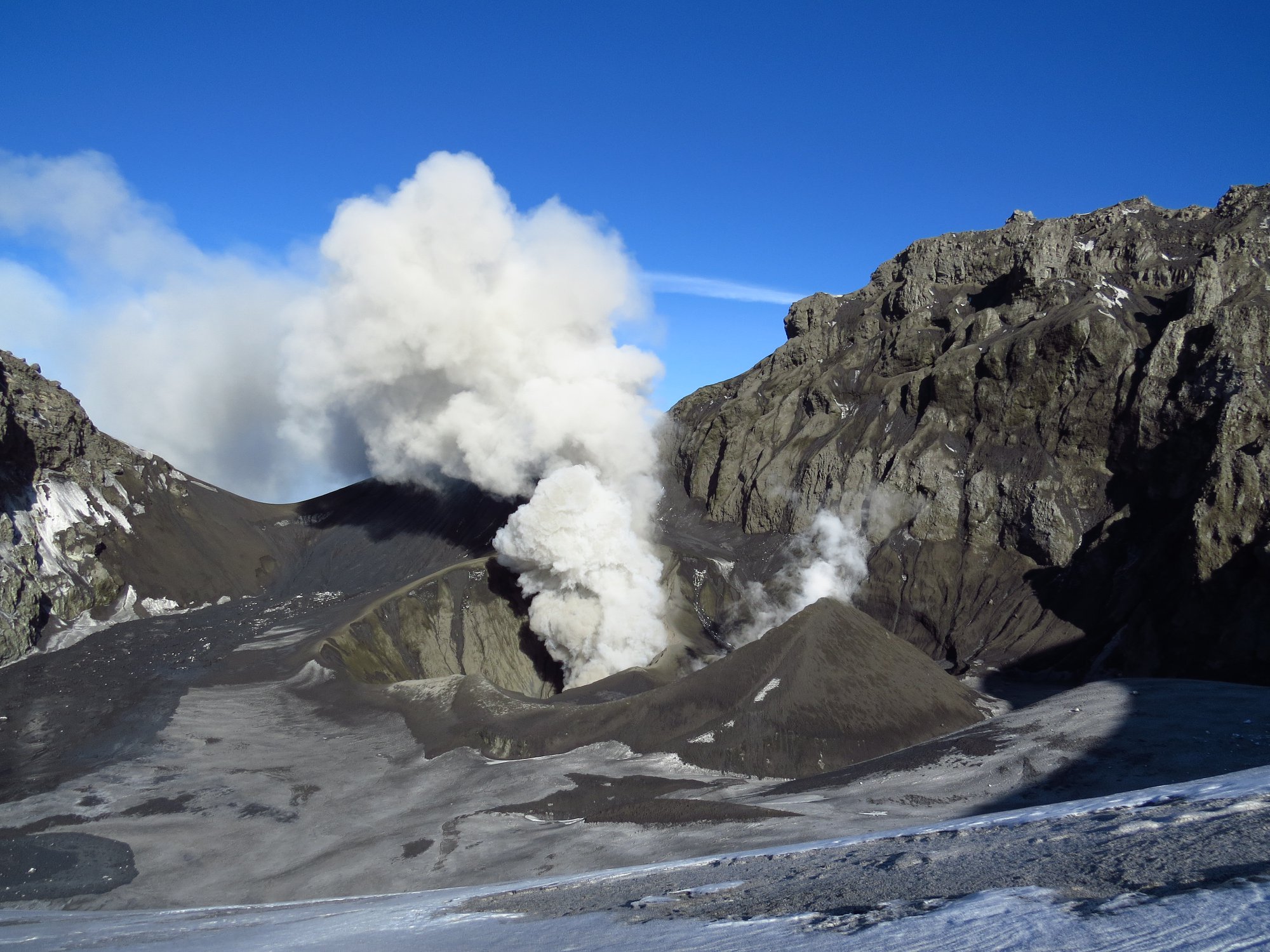 The characteristics of the most important event, after its analysis, are as follows:
TIME OF ORIGIN: 06h16 Local time (GMT -3)
LATITUDE: -37.763 ° S
LONGITUDE: -71.061 ° W
DEPTH: 6.53 KM
LOCAL MAGNITUDE: 3.2 (ML)
OBSERVATIONS:
At the time of issuing this report, the seismic swarm is still being recorded. During the times when it was possible to observe the crater of the volcano, no change in surface activity was noted.
Volcanic Technical Alert Level Remains at Level: Green
Sernageomin continues online monitoring and will inform in a timely manner about any changes observed.
Source : Sernageomin.
Indonesia , Anak Krakatau :
VOLCANO OBSERVATORY NOTICE FOR AVIATION – VONA.
Issued: February 23 , 2019
Volcano: Anak Krakatau (262000)
Current Aviation Colour Code: ORANGE
Previous Aviation Colour Code: orange
Source: Anak Krakatau Volcano Observatory
Notice Number: 2019KRA30
Volcano Location: S 06 deg 06 min 07 sec E 105 deg 25 min 23 sec
Area: Lampung, Indonesia
Summit Elevation: 352 FT (110 M)
Volcanic Activity Summary:
Eruption with ash clouds at 08:25 UTC (15:25 local time). The eruption lasted for 271 seconds.
Volcanic Cloud Height:
Best estimate of ash-cloud top is around 1952 FT (610 M) above sea level, may be higher than what can be observed clearly. Source of height data: ground observer.
Other Volcanic Cloud Information:
Ash cloud is moving to east-north east
Remarks:
Eruption recorded on seismogram with maximum amplitude 25 mm and maximum duration 271 second.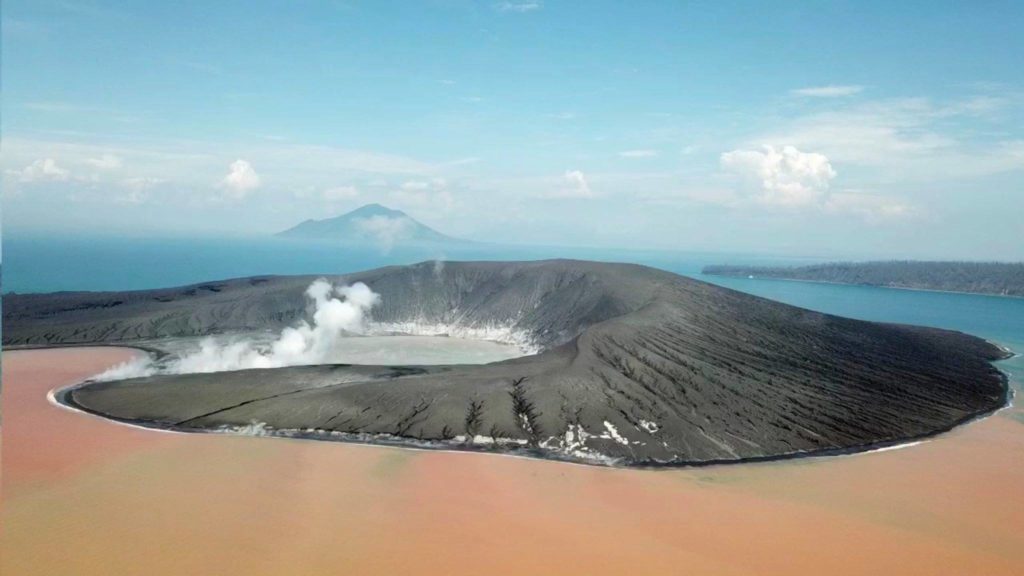 Level of activity level III (SIAGA) since December 27, 2018. The volcanic activity of the Anak Krakatau volcano (155 m altitude) has increased since June 18, 2018.
Since yesterday and until this morning, the volcano was covered with fog. Crater smoke, white in color with low and high intensity, was observed about 100 meters above the summit. The eruption was observed with a height of 500 meters and a color of white smoke.
Through the seismographs, on February 23, 2019, it was recorded:
1 eruption earthquake
6 deep volcanic earthquakes
2 earthquake emission
Tremor continuous amplitude 1-9 mm, dominant value of 1 mm
Recommendation: People / tourists are not allowed to approach the crater within a radius of 5 km.
Source : Magma Indonésie.
Photo : James Reynolds / EarthUncut Tv
Guatemala , Fuego :
Type of activity: Vulcanian
Morphology: Composite Stratovolcano
Geographical location: 14 ° 28'54˝ Latitude N; 90 ° 52'54˝ Longitude O.
Height: 3,763msnm.
Weather conditions: cloudy
Wind: North East at 3 km / h
Precipitation: 0.0 mm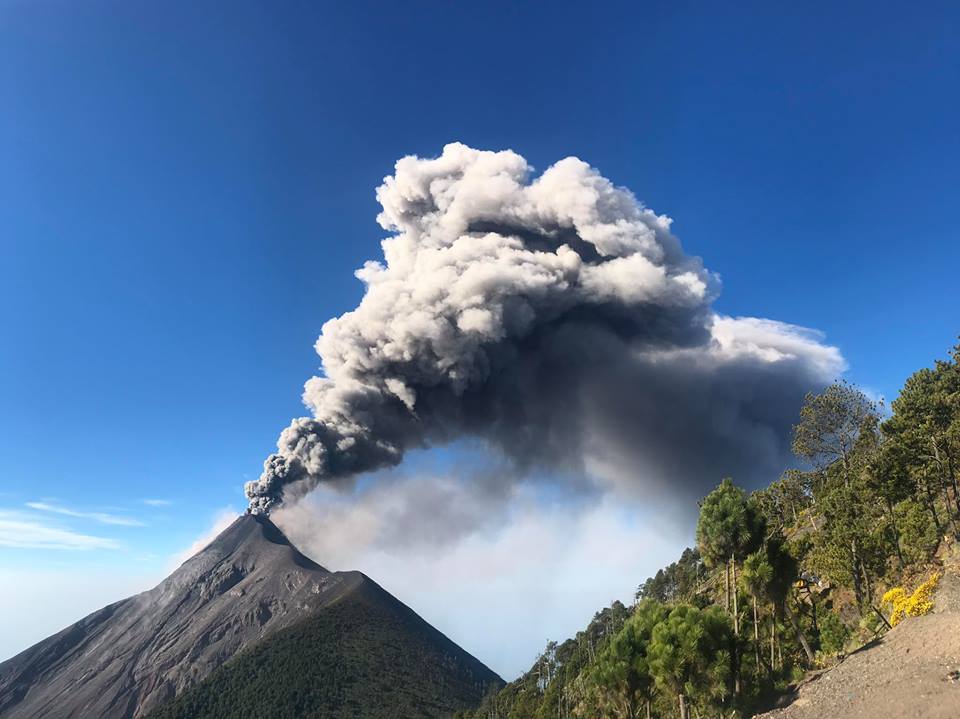 Activity:
Due to weather conditions, there is no visibility at the moment. 11 to 14 moderate explosions per hour are generated by ejecting columns of gray ash at an approximate height of 4600 to 4700 m / l (15092 to 15420 feet) dispersed to the west, north and north-west. Degassing sounds with a time of 2 to 3 minutes are heard. At night and early in the morning, a constant incandescent source was observed at a height of approximately 300 meters. Moderate to strong avalanches on the crater contour to Barrancas Seca, Taniluya, Ceniza, Trinidad, Las Lajas and Honda are recorded. There are ash falls in the communities south of the volcano such as Panimache I and II, Morelia, Santa Sofia, Sangre de Cristo, San Pedro Yepocapa and others located in this direction.
Source : Insivumeh
Photo : Jessica Chicco