July 08 , 2022.
Colombia , Nevado del Ruiz :
Nevado del Ruiz volcano activity bulletin.
The level of activity continues at the Yellow Activity Level or (III): changes in the behavior of volcanic activity.
Regarding the monitoring of the activity of the Nevado del Ruiz volcano, the COLOMBIAN GEOLOGICAL SERVICE reports that:
Seismicity related to fluid dynamics inside volcanic conduits decreased in number of earthquakes, but increased slightly in seismic energy released, compared to the previous week. This seismic activity was characterized by the occurrence of continuous volcanic tremors, tremor pulses, long and very long period type earthquakes. In general, these signals exhibited moderate to low energy levels, variable spectral content, and were located primarily within Arenas Crater. Thanks to the cameras installed in the area of ​​​​the volcano, as well as the report of the officials of the National Natural Park of Los Nevados and the personnel in the field, the confirmation of the gas and ash emissions associated with some of these seismic signals has been made. . Likewise, thanks to the FLIR cameras (thermographic cameras) of the volcanic monitoring network, changes in the relative temperature of the emitted material have been observed.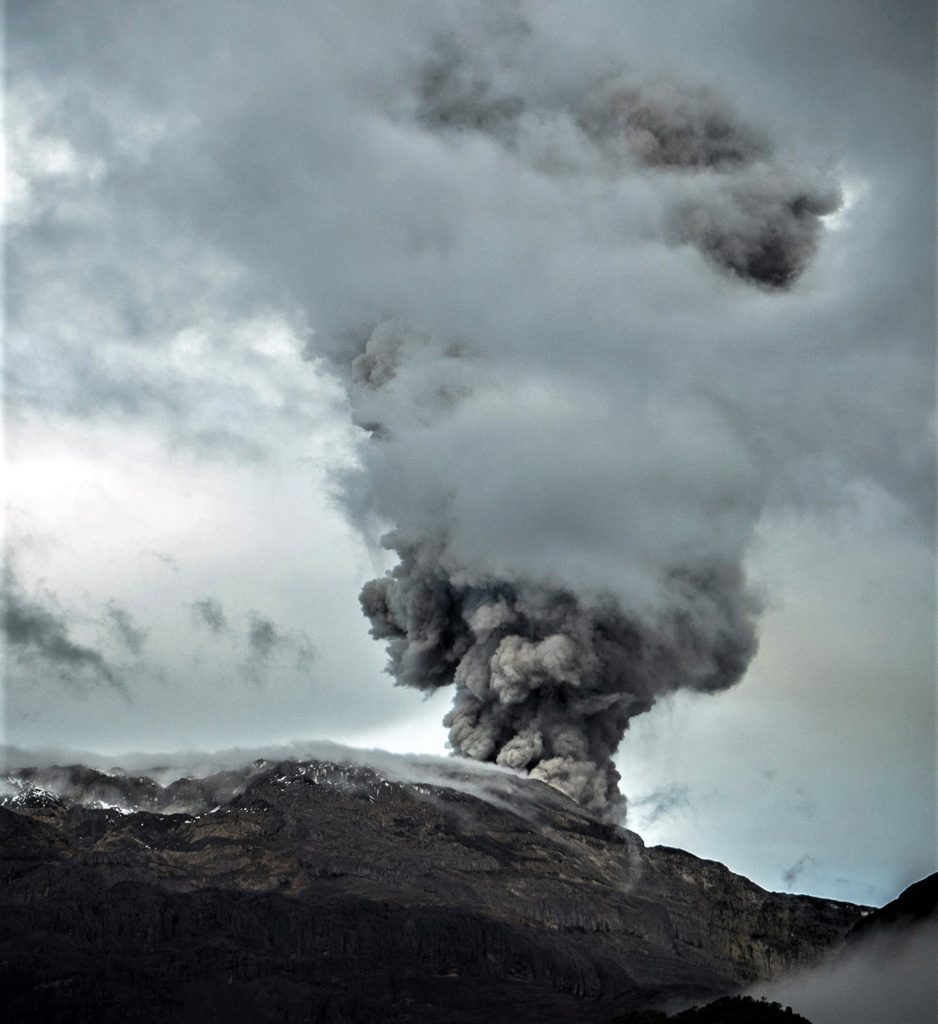 The seismicity associated with rock fracturing maintained similar levels in terms of the number of earthquakes, although it showed an increase in the level of seismic energy released, compared to the previous week.
This seismic activity was located mainly to the southwest of the volcanic edifice, on the border with the Paramillo del Cisne volcano, and to a lesser extent in the Arenas crater and in the northeast and northwest sectors. The depth of the earthquakes varied between 0.5 and 6 km. The maximum magnitude recorded during the week was 1.0 ML (Local Magnitude), corresponding to the earthquake that occurred on July 3 at 09:03 (local time), located 4.8 km southwest of the Arenas crater, at a depth of 3.8 km. The source in the Southwest sector continued to be active during the week and the event of maximum magnitude was recorded in this area.
Source : SGC.
Photo : Álex Palacio
Hawaii , Kilauea :
19°25'16 » N 155°17'13 » W,
Summit Elevation 4091 ft (1247 m)
Current Volcano Alert Level: WATCH
Current Aviation Color Code: ORANGE
Activity Summary:
The summit eruption of Kīlauea Volcano, within Halemaʻumaʻu crater, has continued over the past 24 hours. All recent lava activity has been confined to the crater, and current data indicate that this scenario is likely to continue. No significant changes have been noted at the summit or in either rift zone.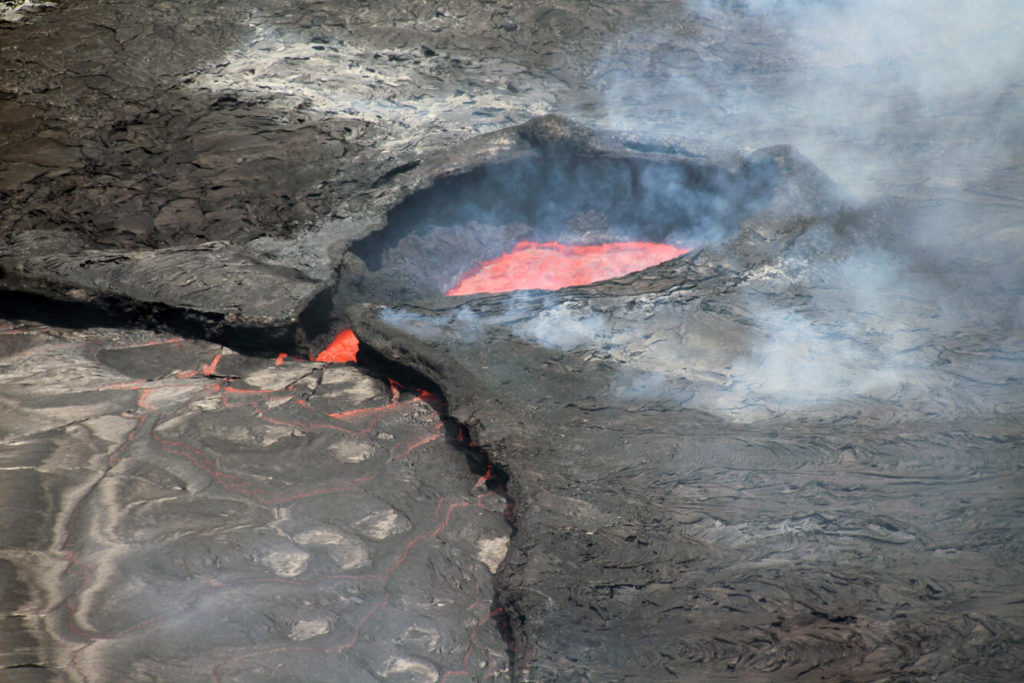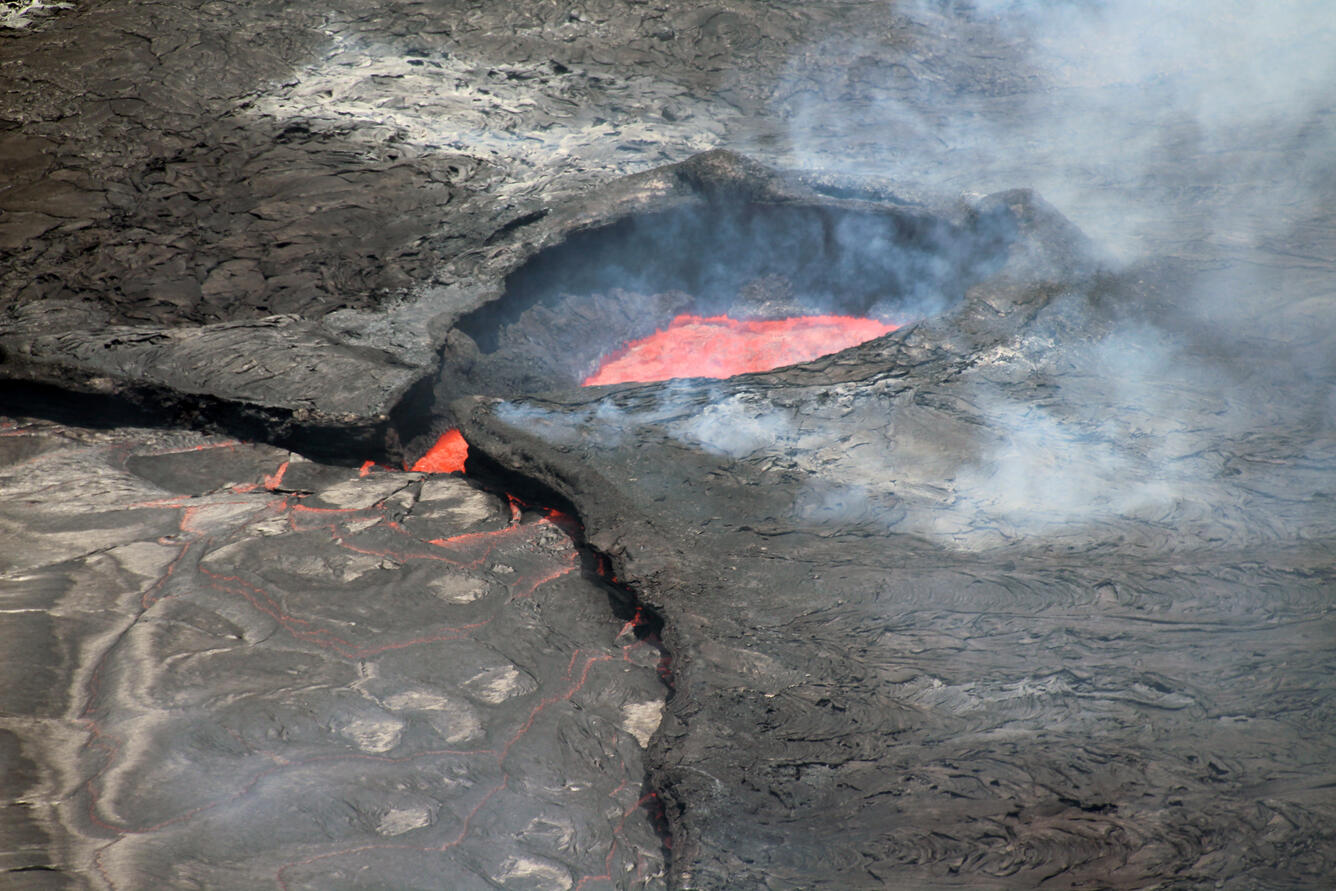 Summit Observations:
Eruption of lava from the Halemaʻumaʻu western vent into the active lava lake has continued over the past 24 hours. The lava level in the lake rose approximately 4 meters (13 feet) yesterday afternoon in association with summit inflation; since then, the lava level has been stable. Overnight webcam views showed low-level spattering at the western vent, reaching heights no more than 10 meters (33 feet) above the vent. A single, relatively small ooze-out of lava has been active to the south of the active lava lake, but no other ooze-outs have been apparent on the remainder of the crater floor. Overflight measurements on June 17, 2022, indicated that the crater floor had seen a total rise of about 120 meters (394 feet) . Summit tiltmeters began tracking sharp inflationary tilt early yesterday afternoon, which continues at a reduced rate this morning, as is the typical progression of a deflation-inflation (DI) event in the summit region. A sulfur dioxide (SO2) emission rate of approximately 720 tonnes per day (t/d) was measured yesterday, July 6, 2022.
Rift Zone Observations:
No unusual activity has been noted along the East Rift Zone or Southwest Rift Zone; steady rates of ground deformation and seismicity continue along both. Measurements from continuous gas monitoring stations downwind of Puʻuʻōʻō in the middle East Rift Zone remain below detection limits for SO2, indicating that SO2 emissions from Puʻuʻōʻō are negligible.
Source : HVO.
Photo : USGS / N. Deligne.
Alaska , Pavlof :
55°25'2″ N 161°53'37 » W,
Summit Elevation 8261 ft (2518 m)
Current Volcano Alert Level: WATCH
Current Aviation Color Code: ORANGE
Pavlof Volcano continues to erupt from the vent on the east flank just below the volcano's summit. As of June 27, the lava flow extends 1250 ft (380 m) downslope of the active vent. Seismic tremor and elevated surface temperatures were observed over the last day and reflect the continued eruption of a small lava flow on the upper part of the volcano. No significant explosions were detected.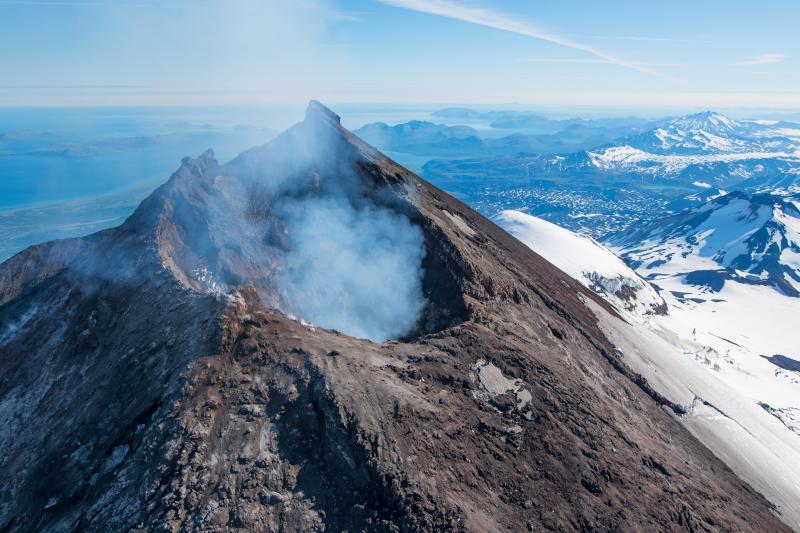 Small explosions associated with the current eruption could happen at any time and may be accompanied by small ash plumes within the immediate vicinity of the volcano. The level of unrest at Pavlof can change quickly and the progression to more significant eruptive activity can occur with little or no warning.
Pavlof is monitored by local seismic and infrasound sensors, satellite data, web cameras, and remote infrasound and lightning networks.
Source : AVO
Photo : Waythomas, Chris Alaska Volcano Observatory / U.S. Geological Survey( 2017).
Indonesia , Ili Lewotolok :
VOLCANO OBSERVATORY NOTICE FOR AVIATION – VONA
Issued : July 07 , 2022
Volcano : Ili Lewotolok (264230)
Current Aviation Colour Code : ORANGE
Previous Aviation Colour Code : orange
Source : Ili Lewotolok Volcano Observatory
Notice Number : 2022LEW26
Volcano Location : S 08 deg 16 min 19 sec E 123 deg 30 min 18 sec
Area : East Nusa Tenggara, Indonesia
Summit Elevation : 4554 FT (1423 M)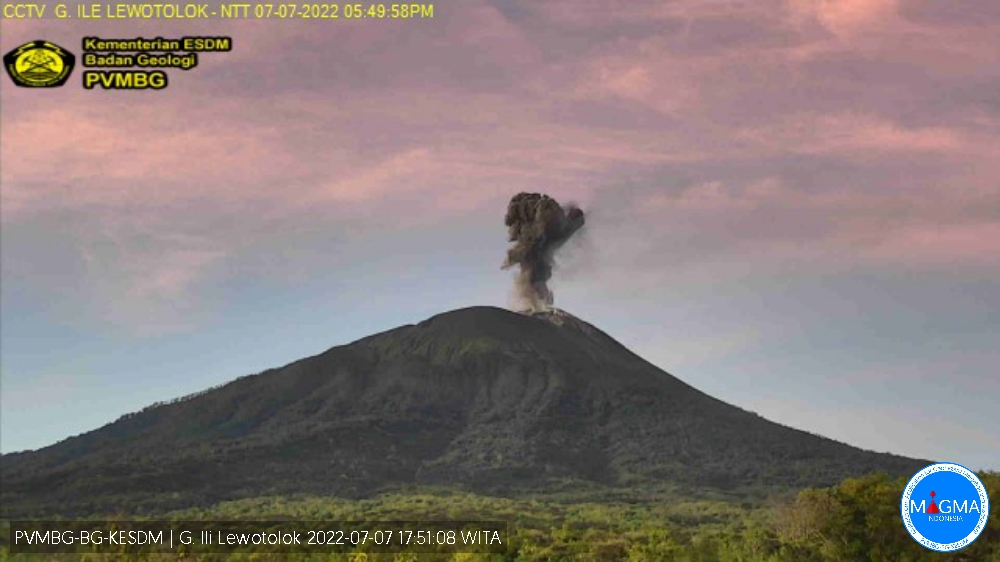 Mount Ili Lewotolok erupted on Thursday July 07, 2022 at 5:48 p.m. WITA with an ash column height observed at ± 700 m above the peak (± 2123 m above sea level). It is observed that the ash column is gray in color with a thick intensity, oriented towards the Southeast. This eruption was recorded on a seismograph with a maximum amplitude of 21.7 mm and a duration of 30 seconds.
Volcanic Activity Summary :
Eruption with volcanic ash cloud at 09h48 UTC (17h48 local). Eruption and ash emission is continuing.
Volcanic Cloud Height :
Best estimate of ash-cloud top is around 6794 FT (2123 M) above sea level, may be higher than what can be observed clearly. Source of height data: ground observer.
Other Volcanic Cloud Information :
Ash-cloud moving to southeast.
Remarks :
Seismic activity is Dominated by gas emission and Volcanic tremor earthquake.
SEISMICITY OBSERVATION
1 earthquake eruption/explosion with an amplitude of 16.2 mm and a duration of 39 seconds.
49 emission earthquakes with an amplitude of 2.1 to 14.8 mm and a duration of 17 to 76 seconds.
4 non-harmonic tremors with an amplitude of 2 to 3.2 mm and a duration of 93 to 121 seconds.
1 continuous tremor with an amplitude of 0.5 mm, dominant value of 0.5 mm.
Source et photo : Magma Indonésie.
Guatemala , Fuego :
Atmospheric conditions : Clear weather.
Wind direction : East.
Precipitation : 1.2 mm.
Activity:
In the crater of the Fuego volcano, we observe weak, moderate and some strong eruptions, in a range of 6 to 8 per hour, accompanied by ash, reaching 4500 to 4700 meters altitude. (14,764 to 15,419 feet), extending West, Southwest over a distance of about 30 miles. Ash falls are reported in the villages of Panimache, Morelia, Yucales, Santa Sofía and others in this area.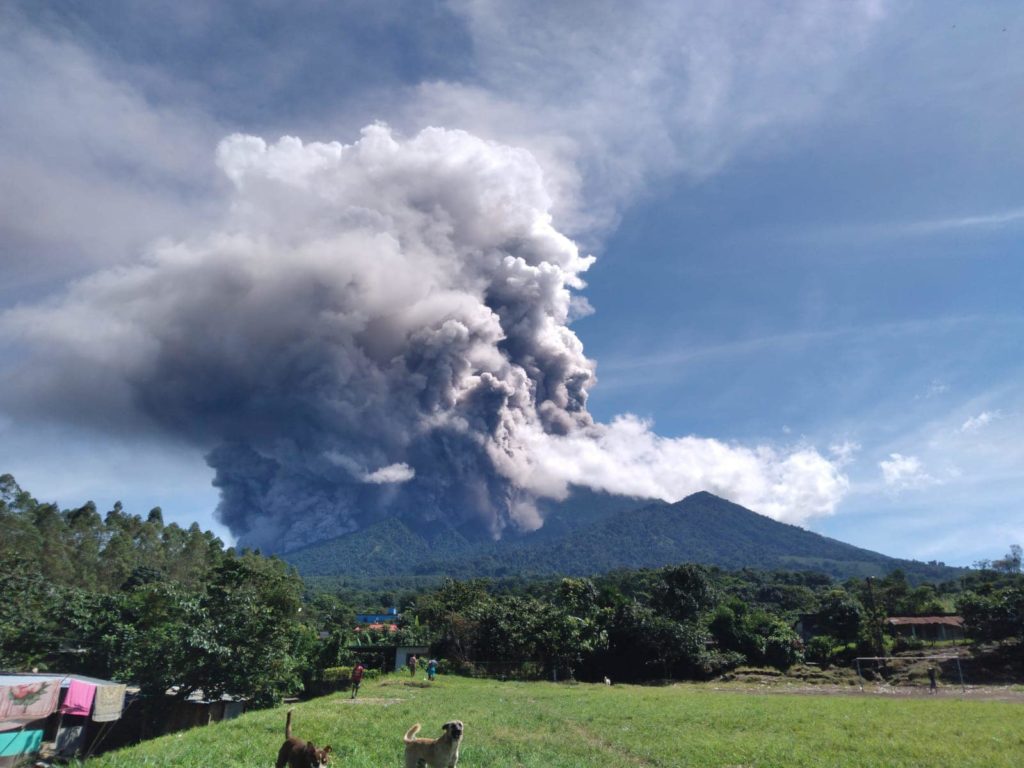 Moderate to strong explosions generate rumblings and shock waves, accompanied by avalanches in the direction of the ravines of Santa Teresa, Ceniza, Trinidad and Las Lajas. Sounds similar to a train locomotive are also heard for periods of 1-3 minutes. The atmospheric conditions in the national territory generate rains on the volcanic complex, which, in combination with the volcanic material, cause moderate to strong lahars, mainly in the ravine of Ceniza and moderate in the ravines of Las Lajas, El Jute, Barranca Honda, Pantaleón, tributaries of the Guacalate and Achiguate rivers.
Source : Insivumeh.
Photo : Comunidad Ceylan – Escuintla