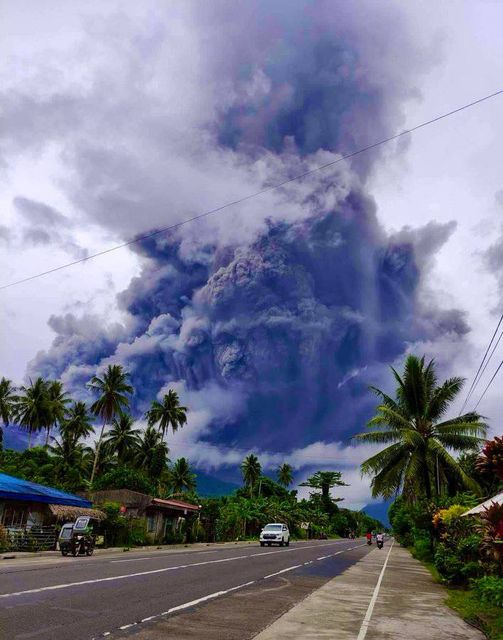 June 05 , 2022. EN. Philippines : Bulusan , Indonesia : Ili Lewotolok , Chile : Laguna del Maule , Hawaii : Mauna Loa , Colombia : Chiles / Cerro Negro .
June 05 , 2022.
Philippines , Bulusan :
This serves as a notice for raising the alert status of Bulusan Volcano from Alert Level 0 (Normal) to Alert Level 1 (Low-level Unrest).
At 10:37 AM today, a phreatic eruption occurred at the Bulusan Volcano summit that lasted approximately 17 minutes and was recorded by seismic and infrasound monitoring by the Bulusan Volcano Network (BVN). The event was poorly visible through cloud cover over the edifice although a steam-rich grey plume at least 1 kilometer tall was observed from Juban, Sorsogon and was subsequently observed to drift west. Ashfall has been reported in Juban and Casiguran, Sorsogon. Prior to the eruption, the BVN recorded 77 volcanic earthquakes in the past 24-hour observation period. Ground deformation data from continuous GPS monitoring indicate that the Bulusan edifice has been inflated since February 2021, while electronic tilt monitoring recorded a sudden but isolated inflation of the southeast lower slopes only since April 2022. These parameters indicate that volcanic processes are underway beneath the edifice that are likely caused by shallow hydrothermal activity.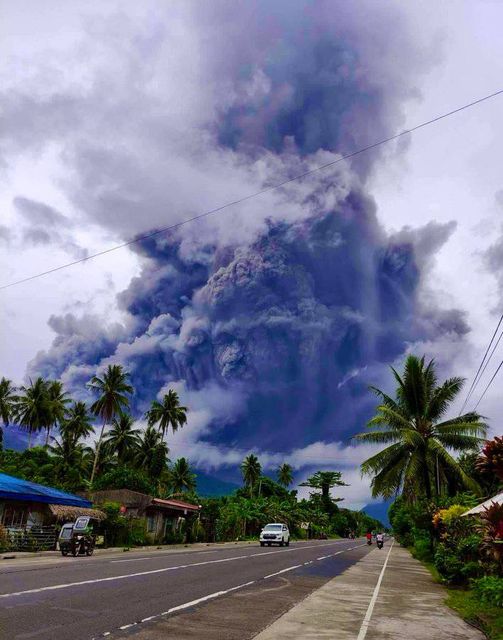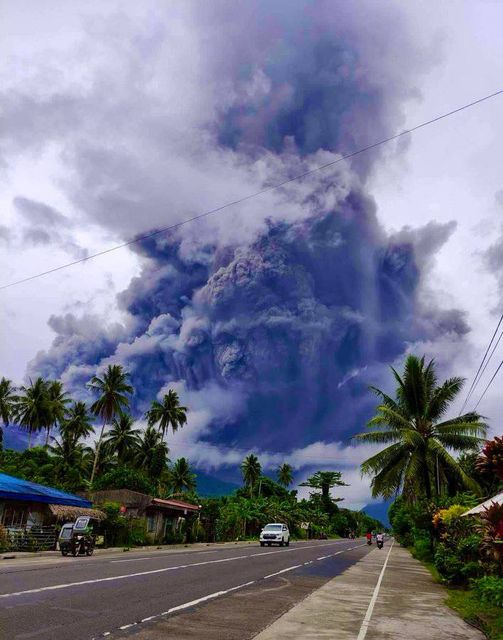 Alert Level 1 status is now raised over Bulusan Volcano, which means that it is currently in an abnormal condition. Local government units and the public are reminded that entry into the 4-kilometer radius Permanent Danger Zone (PDZ) must be strictly prohibited and that vigilance in the 2-kilometer Extended Danger Zone (EDZ) on the southeast sector must be exercised due to the increased possibilities of sudden and hazardous phreatic eruptions. Civil aviation authorities must also advise pilots to avoid flying close to the volcano's summit as ash from any sudden phreatic eruption can be hazardous to aircraft. Furthermore, people living within valleys and along river/stream channels especially on the southeast, southwest and northwest sector of the edifice should be vigilant against sediment-laden stream flows and lahars in the event of heavy and prolonged rainfall should phreatic eruption occur. DOST-PHIVOLCS is closely monitoring Bulusan Volcano's condition and any new development will be communicated to all concerned stakeholders.
Source : Phivolcs
Photo : davellavanesjr
Indonesia , Ili Lewotolok :
VISUAL OBSERVATION
The volcano was clearly visible until it was covered in fog. Smoke from the main crater is white / gray with low, medium to thick intensity, about 300-1300 meters above the summit. The weather is sunny, the wind is weak in the West and in the North-West.
CLIMATOLOGY
The weather is sunny . The air temperature is around 21.4-29°C. Humidity 75.2-84.1%.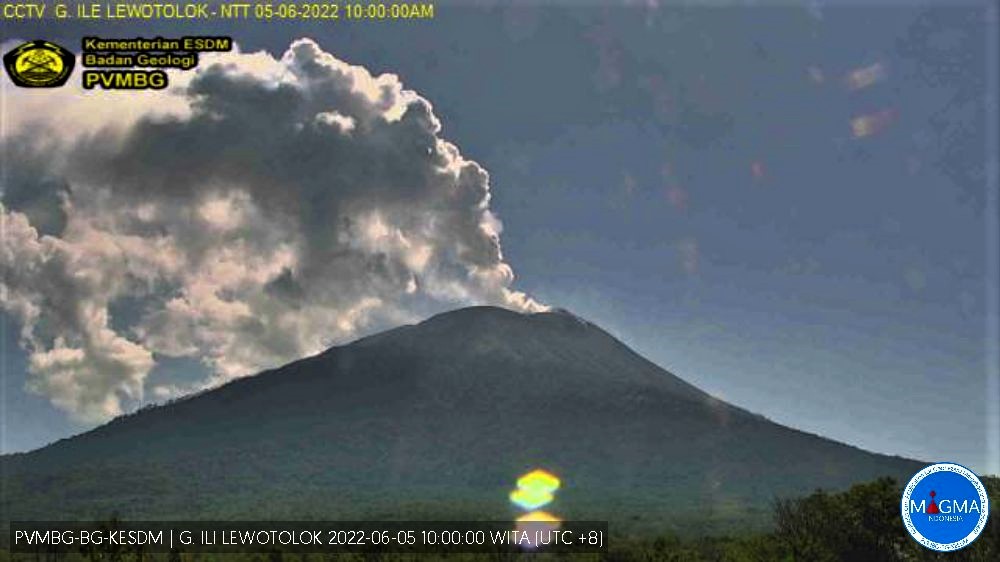 SEISMICITY
1 earthquake eruption/explosion with an amplitude of 10.6 mm, and a duration of 82 seconds.
64 emission earthquakes with an amplitude of 2.2 to 16.3 mm and a duration of 16 to 315 seconds.
26 non-harmonic tremors with an amplitude of 2.3 to 9.6 mm and a duration of 146 to 572 seconds.
2 shallow volcanic earthquakes with an amplitude of 1.9 to 2.6 mm and a duration of 4 to 6 seconds.
4 Deep volcanic earthquakes with an amplitude of 3.5 to 20.6 mm, S-P 0.22 to 0.38 seconds and an earthquake duration of 6 to 12 seconds.
1 continuous tremor with an amplitude of 0.5 mm, dominant value 0.5 mm.
At Activity Level III (SIAGA) The community around G. Ili Lewotolok as well as visitors/mountaineers/tourists are recommended not to engage in activities within 3 km of the summit/crater of G. Ili Lewotolok, and within a radius of 3.5 km for the East and South-East sectors.
Residents of Jontona Village, Lamawolo Village and Lamatokan Village should always be aware of the potential threat of incandescent lava avalanches and hot clouds from the eastern part of the G. Ili Lewotolok summit/crater.
Source et photo : Magma Indonésie .
Chile , Laguna del Maule :
Special Report on Volcanic Activity (REAV), Region del Maule, Laguna del Maule Volcanic Complex, May 17, 2022, 8:30 p.m. local time (mainland Chile)
The National Geology and Mining Service of Chile (Sernageomin) publishes the following PRELIMINARY information, obtained through the monitoring equipment of the National Volcanic Monitoring Network (RNVV), processed and analyzed in the Volcanological Observatory of the Southern Andes (Ovdas) :
On Saturday June 4, at 06:39 local time (10:39 UTC), the monitoring stations installed near the Laguna del Maule volcanic complex recorded a seismic swarm of 150 events associated with the fracturing of the rock (volcano-tectonic type) located at 7 Km from the center of the lagoon.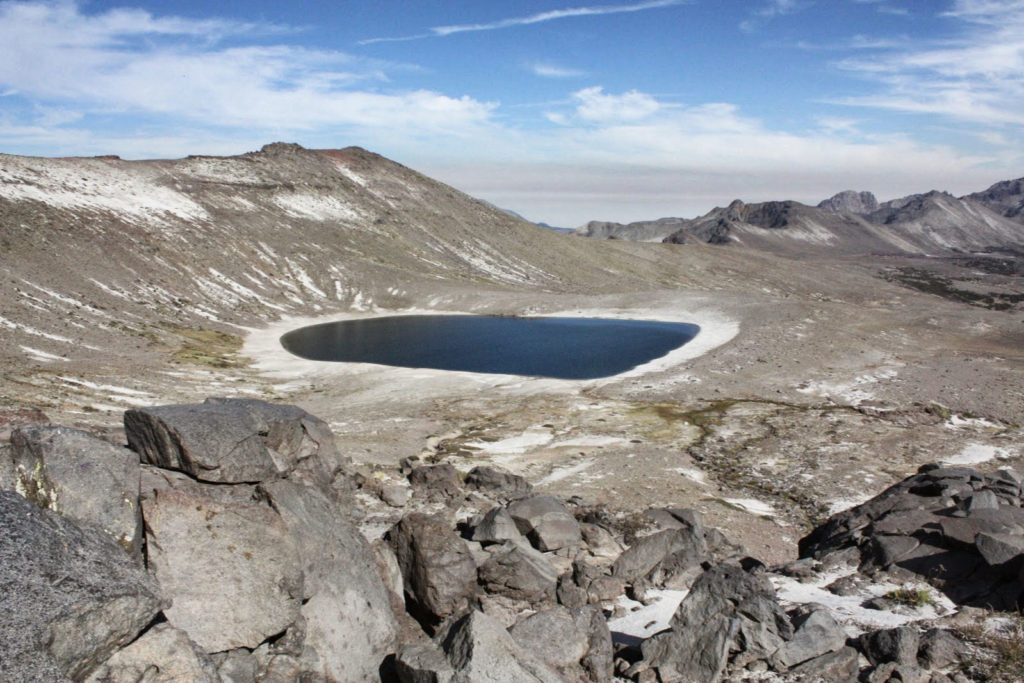 The characteristics of the earthquake after its analysis are as follows:
ORIGINAL TIME: 06:39 local time (10:39 UTC)
LATITUDE: 36.117°S
LONGITUDE: 70.573°W
DEPTH: 3.5 km
LOCAL MAGNITUDE: 2.8 (ML).
COMMENTS:
After the event, volcano-tectonic activity continues. There was no surface activity associated with this event.
The volcanic technical alert remains at the GREEN level.
Source : Sernageomin.
Photo : Dr Katie Keranen.
Hawaii , Mauna Loa :
19°28'30 » N 155°36'29 » W,
Summit Elevation 13681 ft (4170 m)
Current Volcano Alert Level: ADVISORY
Current Aviation Color Code: YELLOW
Activity Summary:
Mauna Loa Volcano is not erupting. Rates of seismicity remain slightly elevated above long-term background levels, but have not changed significantly over the past week. Other Mauna Loa monitoring data streams—ground deformation, gas concentrations, visual appearance in webcams—show no significant changes.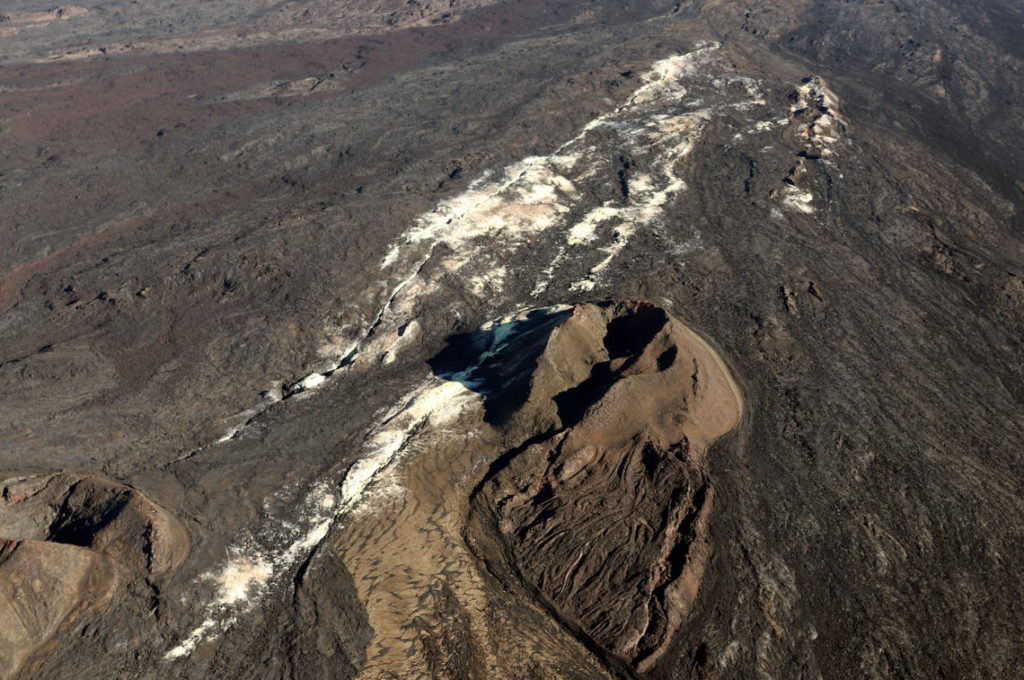 Observations:
During the past week, HVO seismometers recorded approximately 30 small-magnitude (below M3.0) earthquakes below the summit and upper-elevation flanks of Mauna Loa. All of these earthquakes occurred at shallow depths less than 15 kilometers (9 miles) below sea level.
Global Positioning System (GPS) measurements show low rates of deformation in the volcano's summit region continuing through the past week.
Concentrations of sulfur dioxide (SO2), hydrogen sulfide (H2S), and carbon dioxide (CO2), as well as fumarole temperatures, remain stable at both the summit and at Sulphur Cone on the upper Southwest Rift Zone.
Webcam views have shown no changes to the volcanic landscape on Mauna Loa over the past week.
Source : HVO
Photo : HVO ( Sulphur Cone )
Colombia , Chiles / Cerro Negro :
Chiles and Cerro Negro volcanoes weekly activity bulletin
Volcano activity continues at YELLOW LEVEL ■ (III): CHANGES IN THE BEHAVIOR OF VOLCANIC ACTIVITY.
From monitoring the activity of the CHILES AND CERRO NEGRO VOLCANOES, the COLOMBIAN GEOLOGICAL SERVICE (SGC) reports that:
Between May 24 and May 30, 2022, and compared to the immediately preceding week, seismic activity recorded a significant increase in both occurrence and released energy, from 92 to 2,805 events. The increase began on May 27 and continues until the publication of this statement, mainly earthquakes associated with a fracture of solid material inside the volcano, mainly located towards the southern sector of the zone of influence of the Chiles volcano, at distances up to 3.8. km, depths less than 5 km from its summit (4700 m.) and with a maximum local magnitude of 2.3 on the Richter scale.
No manifestation of surface activity was observed, nor significant variations in other parameters of volcanic monitoring.
Source : SGC.
Photo : Travelgrafia/Viajes por Colombia .