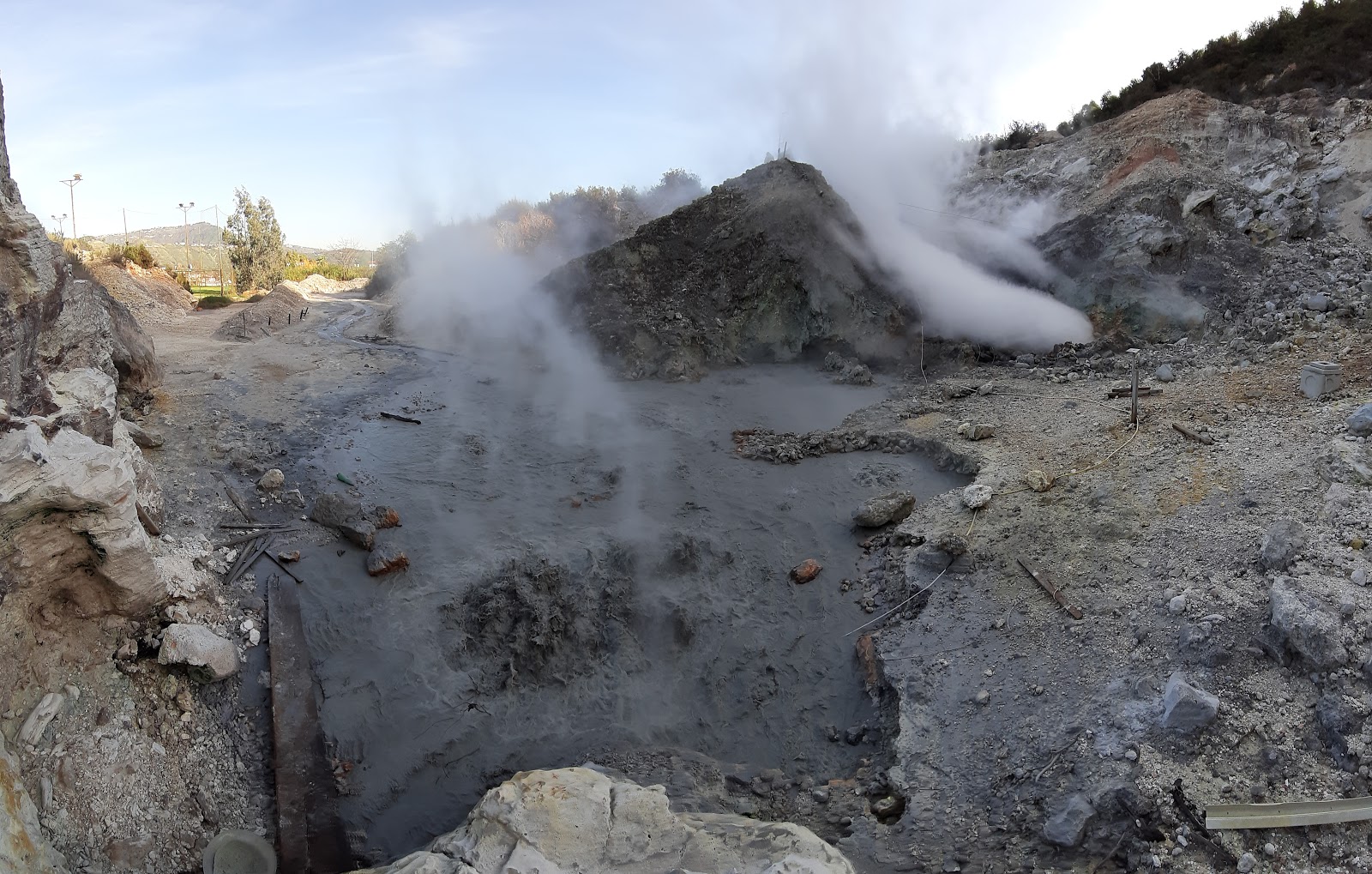 April 22 , 2022 .
Italy , Campi Flegrei :
Weekly Bulletin from April 11, 2022 to April 17, 2022. (Published April 19, 2022)
ACTIVITY STATUS SUMMARY
In the light of the surveillance data, it is highlighted:
1) SEISMOLOGY: In the week of April 11 to 17, 2022, 37 earthquakes were recorded in the Campi Flegrei area (Mdmax = 1.8 ± 0.3).
2) DEFORMATIONS: The average lifting speed value in the maximum deformation zone from December 2021 is about 13 ± 2 mm/month. The lift recorded at the RITE GPS station has been around 88.5 cm since January 2011.
3) GEOCHEMISTRY: The soil CO2 fluxes measured last week did not show any significant changes. The temperature sensor installed in a fumarolic emission at 5 meters
from the main Pisciarelli fumarole showed an average value of ~95°C.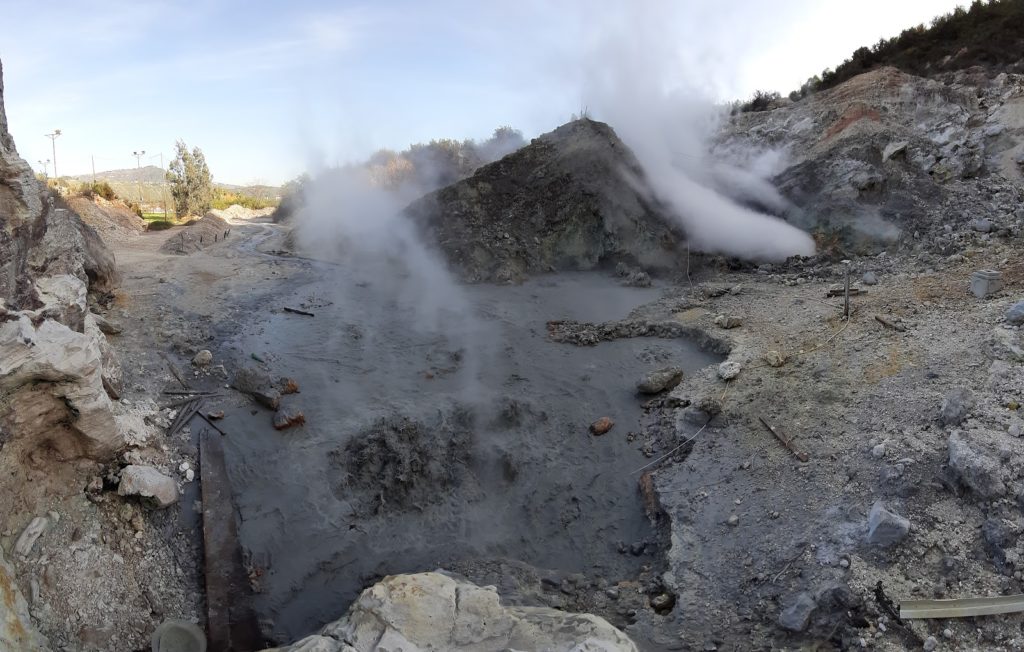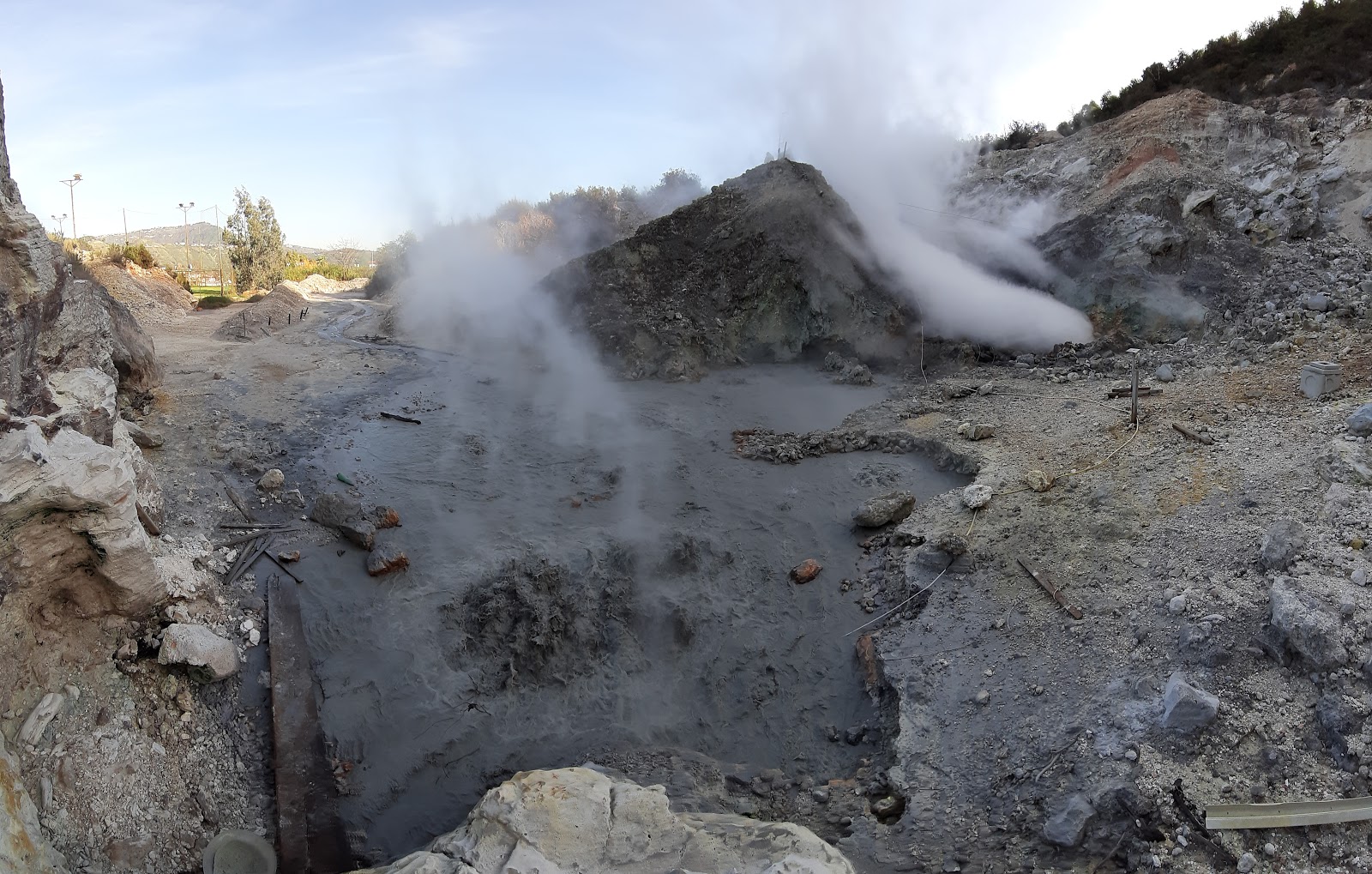 GEOCHEMISTRY
The values of the CO2 flux from the ground recorded continuously by the FLXOV8 station in the Pisciarelli area (north-eastern outer slope of Solfatara), highlight the persistence of the long-term trends already identified previously (see Monthly Bulletins). Soil CO2 fluxes measured last week showed no significant changes from previous periods.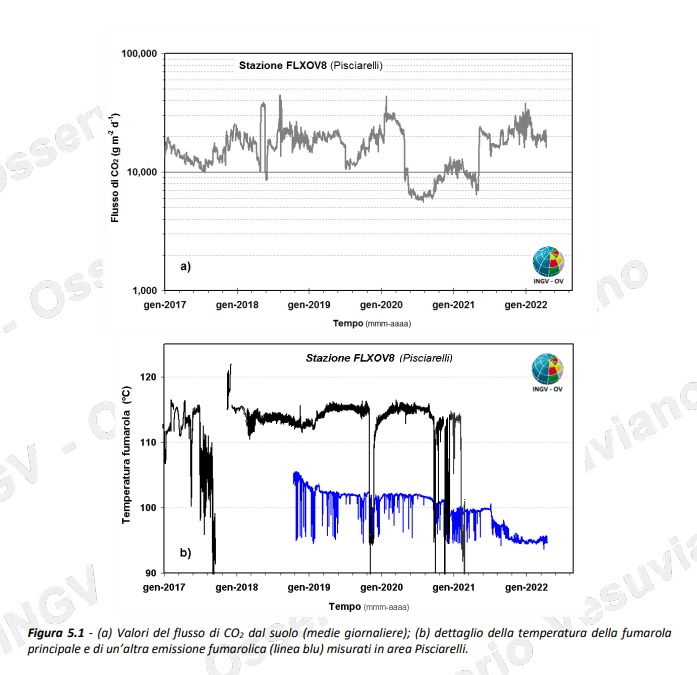 The temperature sensor installed in the main fumarole is no longer functional and will have to be replaced. Due to the macroscopic modifications of the fumarolic zone and the stability of the ground, in compliance with the precautionary principle and in order to operate in complete safety, maintenance activities in the zone are currently suspended. For this reason, the chronogram in figure 5.1b (blue line) shows the temperature values measured continuously from October 2018 in a fumarolic emission in the Pisciarelli zone which is about 5 meters away as the crow flies from the main fumarole (black double). Over the past week, measured values have shown an average value of ~95°C, the boiling value of the emitted fluid.
Source : INGV
Read the article : https://www.ov.ingv.it/index.php/bollettini/bollettini-di-monitoraggio/bollettini/settimanali-dei-campi-flegrei/anno-2022/1083-bollettino-flegrei-2022-04-19/file
Photos : Pisciarelli , Tullio Ricci, dicembre 2019 , INGV.
Papua -New-Guinea , Manam :
Manam volcano eruption, Posted 20 Apr 2022.
Between 16-18 April, the Manam volcano, located in Manam island, approximately 13 km off the northern coast of mainland Papua New Guinea, erupted and the ash plumes reached an estimated height of 13.7 km.
According to UN OCHA, no casualties have been reported, however, the three communities of Baliau, Kuluguma, and Yassa (Manam Island) have been covered by smoke, ash and volcanic products. A 3 cm layer of ash has also affected a number of houses, food gardens, coconut palms, wells and water catchment facilities.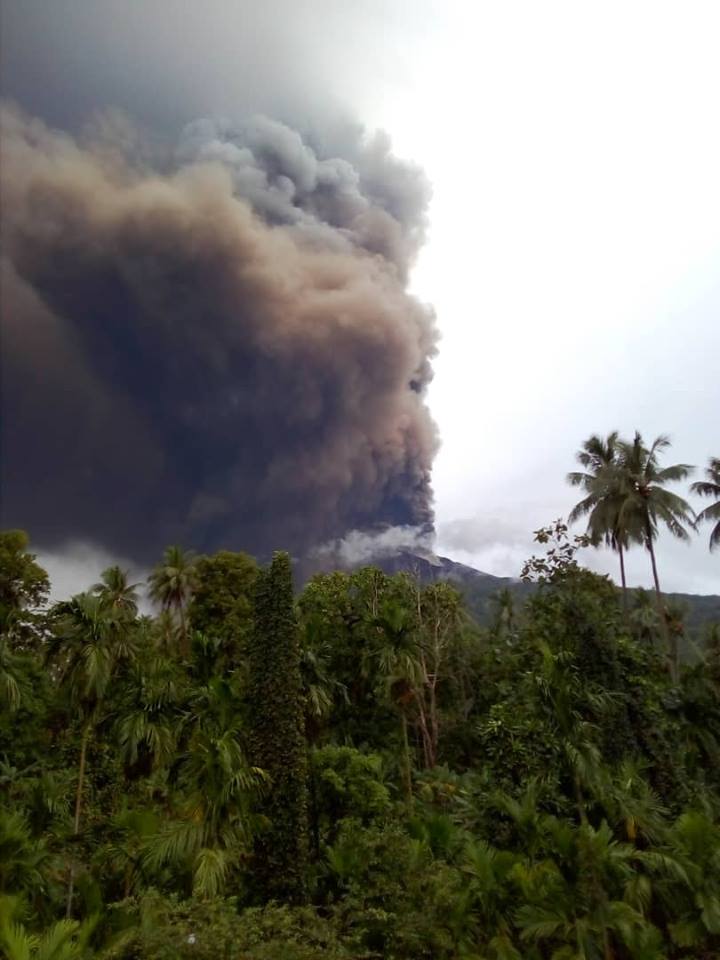 According to the Darwin Volcanic Ash Advisory Centre, a red aviation colour code has been issued on 18 April.
Source : reliefweb.int
Photo : Kessy Sawang ( Archive) :
Alaska , Davidof :
AVO/USGS Volcanic Activity Notice
Current Volcano Alert Level: ADVISORY
Current Aviation Color Code: YELLOW
Issued: Thursday, April 21, 2022, 4:59 PM AKDT
Source: Alaska Volcano Observatory
Notice Number: 2022/A434
Location: N 51 deg 57 min E 178 deg 19 min
Elevation: 1076 ft (328 m)
Area: Aleutians
Volcanic Activity Summary:
A swarm of earthquakes near Davidof volcano that began in late January 2022 has been in a slow decline over the past few weeks. Thus, the Aviation Color Code and Alert Level are being decreased to UNASSIGNED/UNASSIGNED. AVO only assigns color code and alert level values to volcanoes that are sufficiently instrumented to allow us to understand the background state of activity. The closest seismometers to Davidof are approximately 15 km to the east of the volcano on Little Sitkin Island, and are insufficient to allow us to confirm the volcano is at background.
A similar earthquake swarm occurred in December 2021. No signs of unrest associated with either swarm have been observed in satellite images of the volcano. The earthquake activity may be associated with volcanic unrest, or could be due to tectonic activity.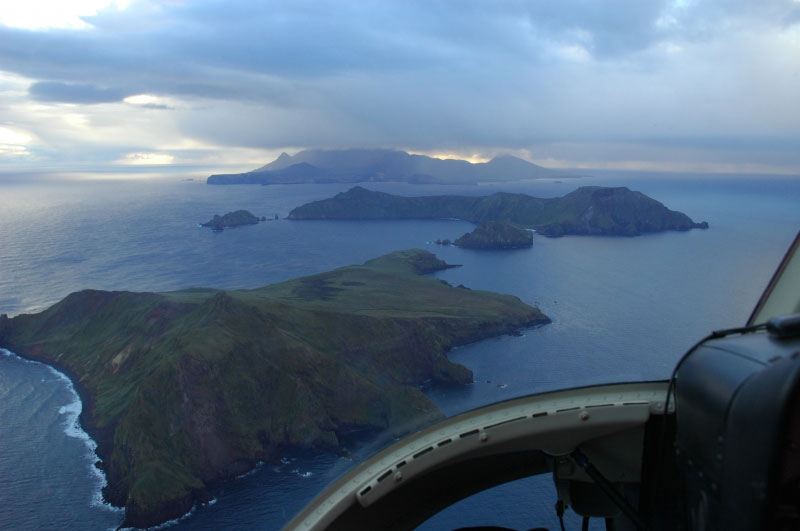 View to the east of Kvostof and Davidof Islands (near and mid ground), Little Sitkin on the horizon. The small islets are Lopy Island (l) and Pyramid Island (r).
Recent Observations:
[Volcanic cloud height] n/a
[Other volcanic cloud information] n/a
Remarks:
Davidof volcano is a mostly submerged stratovolcano in the Rat Islands group in the western Aleutian Islands, about 350 km west of Adak. The subaerial part of the volcano comprises Davidof, Khvostof, Pyramid, and Lopy islands, which encircle Crater Bay, a 2.5 km diameter caldera. The islands are built up from interbedded lava flows and explosive deposits. The volcano has been sparsely studied, but visits by Alaska Volcano Observatory geologists in 2021 documented thick sequences of rhyolite to dacite pyroclastic flow and fall deposits that represent the most recent explosive eruptions. The age of these deposits is unknown, but they appear older than Holocene deposits from nearby Segula and Little Sitkin. There are no known historical eruptions from Davidof.
Source : AVO.
Photo : Neal, C. A. Alaska Volcano Observatory / U.S. Geological Survey.
Kamchatka , Karymsky :
54.05 N, 159.44 E;
Elevation 1486 m (4874 ft)
Aviation Colour Code is ORANGE
A moderate explosive activity of the volcano continues. Ash explosions up to 12 km (39,400 ft) a.s.l. could occur at any time. Ongoing activity could affect international and low-flying aircraft.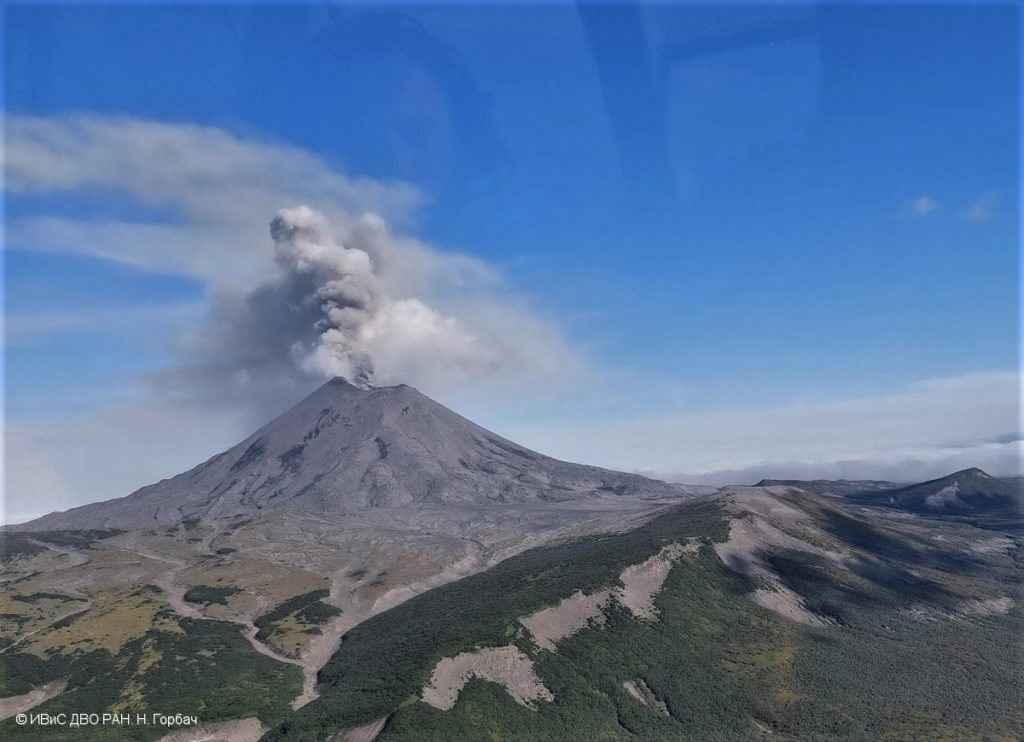 The eruptive activity of the volcano continues. Satellite data by KVERT showed: a powerful explosive event began at 20:05 UTC on 19 April, the ash column rose up to 11 km a.s.l., ash clouds continue to be observed on 21 April at a distance of more than 2000 km to the northeast of the volcano. Ashfalls were noted on the territory of the Kronotsky Reserve (cordons Semyachinsky, Valley of Geysers), and at Cape Nalychevo. In addition, on 17–19 and 21 April, explosions sent ash up to 7.5 km a.s.l., ash plumes and clouds moved for 500 km to the northeast, southwest, southeast, and east of the volcano. A thermal anomaly over the volcano was noted all week.
Source : Kvert
Photo : N. Gorbach, IVS FEB RAS.
Hawaii , Mauna Loa :
19°28'30 » N 155°36'29 » W,
Summit Elevation 13681 ft (4170 m)
Current Volcano Alert Level: ADVISORY
Current Aviation Color Code: YELLOW
Activity Summary:
Mauna Loa Volcano is not erupting. Rates of seismicity remain slightly elevated above long-term background levels, but have not changed significantly over the past week. Other Mauna Loa monitoring data streams—ground deformation, gas concentrations, visual appearance in webcams—show no significant changes.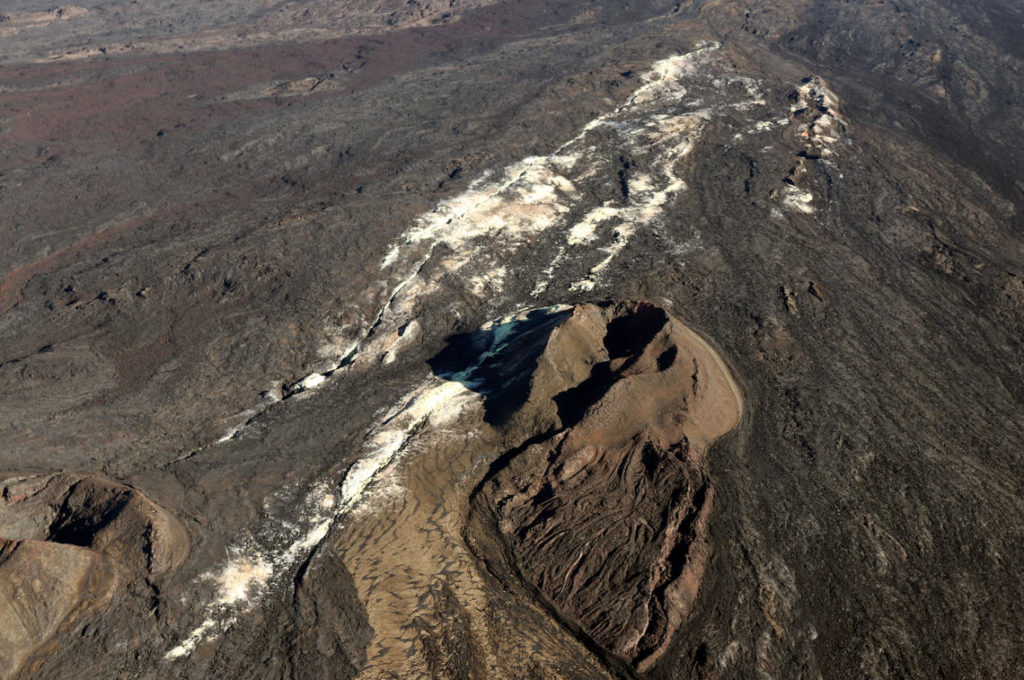 Observations:
During the past week, HVO seismometers recorded approximately 77 small-magnitude (below M3.0) earthquakes below the summit and upper-elevation flanks of Mauna Loa and one M3.5 earthquake below the upper southwest rift on April 19. The majority of these earthquakes occurred at shallow depths less than 15 kilometers (9 miles) below sea level.
Global Positioning System (GPS) measurements show low rates of deformation in the volcano's summit region continuing through the past week.
Concentrations of sulfur dioxide (SO2), hydrogen sulfide (H2S), and carbon dioxide (CO2), as well as fumarole temperatures, remain stable at both the summit and at Sulphur Cone on the upper Southwest Rift Zone.
Webcam views have shown no changes to the volcanic landscape on Mauna Loa over the past week.
Source : HVO.
Photo : Sulphur Cone , usgs
Indonesia , Anak Krakatau :
VOLCANO OBSERVATORY NOTICE FOR AVIATION – VONA
Issued : April 21 , 2022
Volcano : Anak Krakatau (262000)
Current Aviation Colour Code : ORANGE
Previous Aviation Colour Code : orange
Source : Anak Krakatau Volcano Observatory
Notice Number : 2022KRA40
Volcano Location : S 06 deg 06 min 07 sec E 105 deg 25 min 23 sec
Area : Lampung, Indonesia
Summit Elevation : 502 FT (157 M)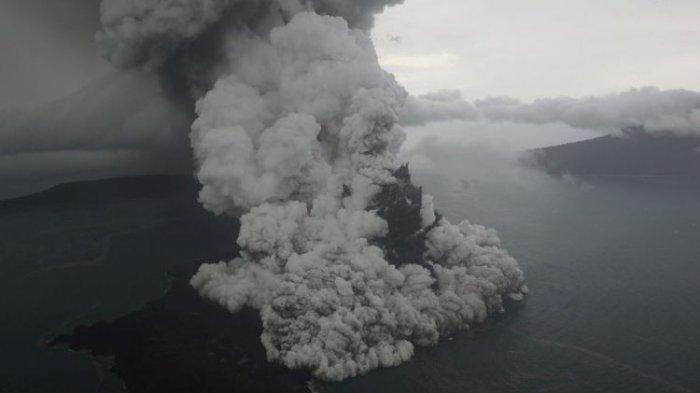 Volcanic Activity Summary :
Eruption with ash clouds at 19:37 UTC (02:37 local time). The eruption lasted for 45 seconds.
Volcanic Cloud Height :
Best estimate of ash-cloud top is around 5302 FT (1657 M) above sea level, may be higher than what can be observed clearly. Source of height data: ground observer.
Other Volcanic Cloud Information :
Visuals directly from the cctv were observed eruptions with the color of the thick black eruption smoke 1500m from the top of the volcano, the wind direction slowly to the southwest.
Remarks :
Eruption recorded on seismogram with maximum amplitude 60 mm and maximum duration 45 second.
Mount Anak Krakatau (GAK) erupted again. The height of the ash column reaches 1,500 meters from the summit.
The eruption occurred today, Friday (4/22), at around 02.37 West Indonesia Time (WIB).
Citing Magma Indonesia, the official application belonging to the Ministry of Energy and Mineral Resources, the ash column was observed to be black with thick intensity towards the southwest.
There was no banging sound during the eruption.
Currently, the status of Mount Anak Krakatau is at Level II or alert.
Sources : Magma Indonésie , batam.tribunnews.com.
Photo : KOMPAS/RIZA FATHONI