May 10 , 2021 .
Russia / Kurile Islands , Ebeko :
VOLCANO OBSERVATORY NOTICE FOR AVIATION (VONA).
Issued: May 09 , 2021
Volcano: Ebeko (CAVW #290380)
Current aviation colour code: ORANGE
Previous aviation colour code: orange
Source: KVERT
Notice Number: 2021-54
Volcano Location: N 50 deg 41 min E 156 deg 0 min
Area: Northern Kuriles, Russia
Summit Elevation: 1156 m (3791.68 ft)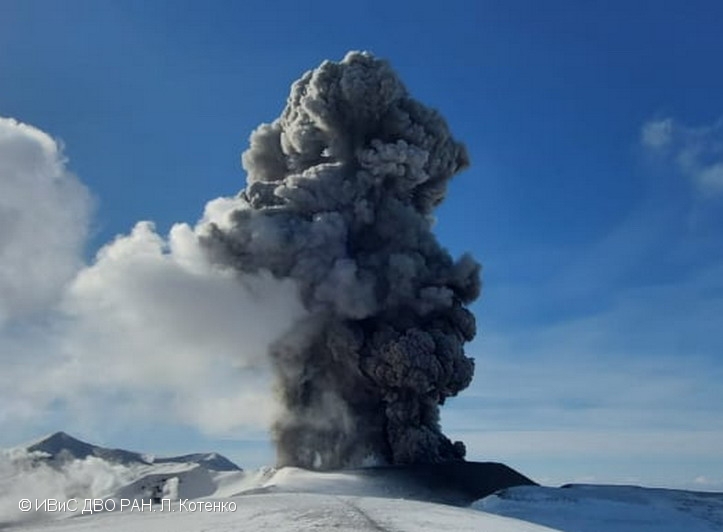 Volcanic Activity Summary:
A moderate eruptive activity of the volcano continues. According to visual data by volcanologists from Severo-Kurilsk, explosion sent ash up to 2.0 km a.s.l., an ash cloud is drifting to the east of the volcano.
This activity continues. Ash explosions up to 6 km (19,700 ft) a.s.l. could occur at any time. Ongoing activity could affect low-flying aircraft and airport of Severo-Kurilsk
Volcanic cloud height:
2000 m (6560 ft) AMSL Time and method of ash plume/cloud height determination: 20210509/2112Z – Visual data
Other volcanic cloud information:
Distance of ash plume/cloud of the volcano: 5 km (3 mi)
Direction of drift of ash plume/cloud of the volcano: E
Time and method of ash plume/cloud determination: 20210509/2112Z – Visual data
Source : Kvert
Photo : L. Kotenko. IVS FEB RAS
La Réunion Island , Piton de la Fournaise :
Press release of May 09, 2021 – 11:15 a.m.
The eruption that started on 04/09/2021 at 7 p.m. (appearance of the tremor) continues. The amplitude of the volcanic tremor (indicator of a surface lava emission) continues its slow decrease initiated
since May 2. However, its amplitude remains significant, still reaching 40% of the maximum amplitude observed during this eruption on April 13.
– The images from the OVPF and OVPF / IRT cameras over the last 24 hours show that:
– the two cones are still active with degassing which is always more marked at the level of the most downstream cone.
– the presence of a lava lake inside the most upstream cone.
– the flow of lava at the exit of the eruptive vents, takes place mainly in tunnels and almost to the upper limit of the large slopes, where resurgences of lava are visible on the surface.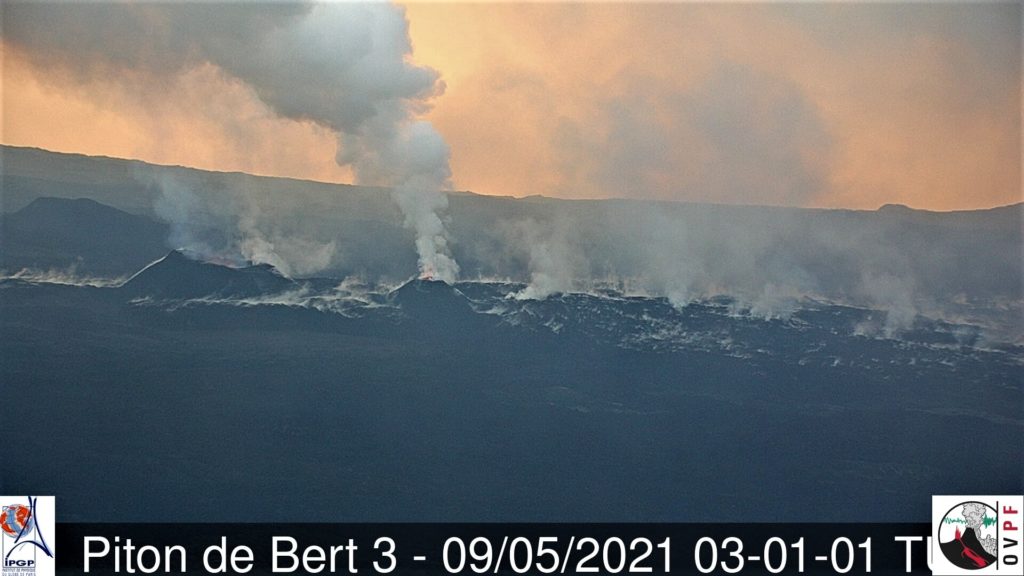 The flow front continues its slow progression in the Grandes Pentes and was located yesterday at around 1200 m altitude
– Over the past 24 hours, 6 superficial volcano-tectonic earthquakes (between sea level and the surface) have been recorded, all located directly above the summit craters.
– The CO2 fluxes in the soil are still increasing in the far field (Plains region) and decreasing in the near field (Volcano Gîte) suggesting that deep recharge is continuing.
– The slight inflation (swelling) of the summit area continues, which testifies to a pressurization of the surface reservoir in accordance with its recharge by deeper magma.
This confirms the interpretation derived from observations of CO2 fluxes in the soil.
Niveau d'alerte : Alerte 2-2
Source : OVPF.
Read the article : https://www.ipgp.fr/sites/default/files/ovpf_20210509_11h15_communique_eruption.pdf
Indonesia , Sinabung :
VOLCANO OBSERVATORY NOTICE FOR AVIATION – VONA.
Issued : May 10 , 2021
Volcano : Sinabung (261080)
Current Aviation Colour Code : ORANGE
Previous Aviation Colour Code : orange
Source : Sinabung Volcano Observatory
Notice Number : 2021SIN70
Volcano Location : N 03 deg 10 min 12 sec E 98 deg 23 min 31 sec
Area : North Sumatra, Indonesia
Summit Elevation : 7872 FT (2460 M)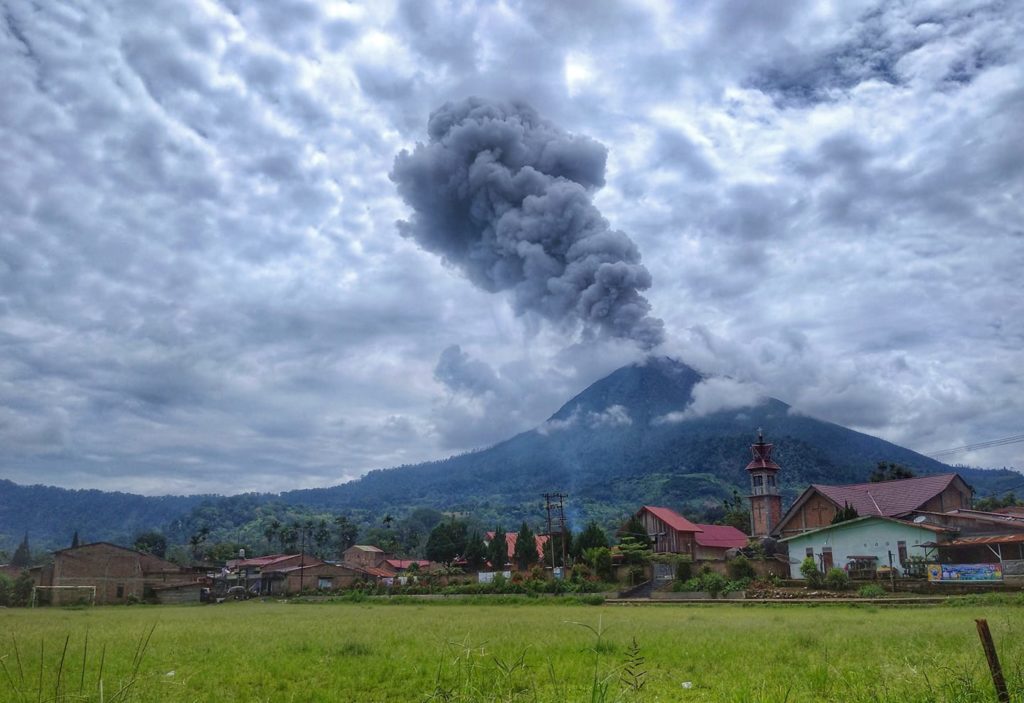 Volcanic Activity Summary :
Eruption with volcanic ash cloud at 00h47 UTC (07h47 local).
Volcanic Cloud Height :
Best estimate of ash-cloud top is around 15872 FT (4960 M) above sea level, may be higher than what can be observed clearly. Source of height data: ground observer.
Other Volcanic Cloud Information : Ash-cloud moving to south – west.
Remarks :
Seismic activity is characterized by the Eruption
The activity level has been at level III (SIAGA) since May 20, 2019 at 10:00 a.m. WIB. Mount Api Sinabung (2460 m above sea level) has been erupting since 2013. The last eruption occurred on May 9, 2021, gray in color with an eruption column height of 500 to 2000 meters above the summit. The volcano is clearly visible until it is covered in fog. The crater emits weak to strong white smoke, about 50-400 meters above the summit. It was observed that the eruption produced a gray eruption column 500 to 2000 meters above sea level. Avalanches were observed with a sliding distance of 1000 meters to the east and south-east. The weather is sunny to rainy, with weak to moderate winds in the North-East, East, South-East, West and North-West.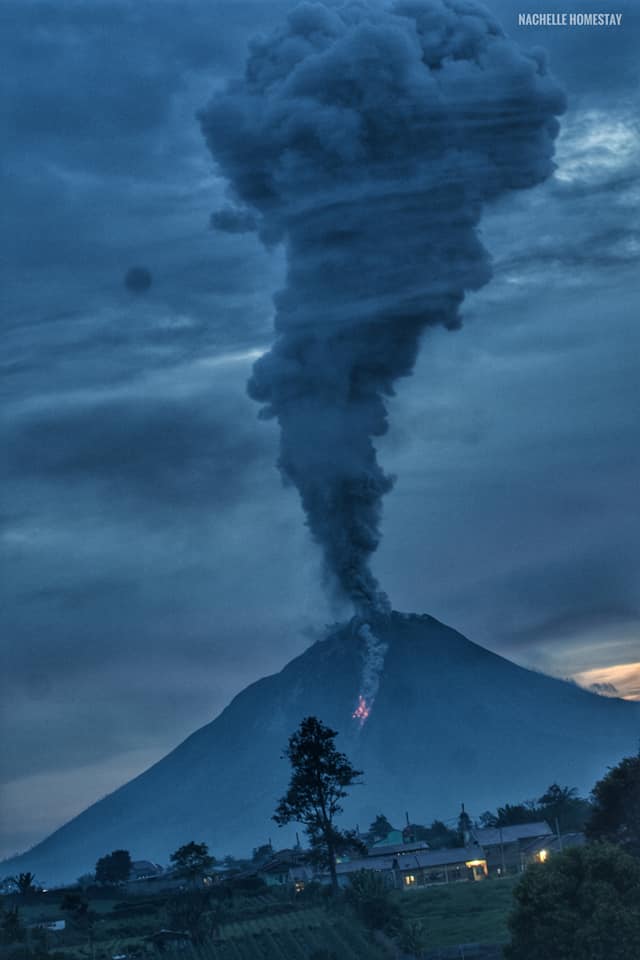 According to the seismographs of May 9, 2021, it was recorded:
3 eruption / explosion earthquakes
196 avalanche earthquakes
8 emission earthquakes
4 low frequency earthquakes
1 hybrid / multi-phase earthquake
1 local tectonic earthquake
Source : Magma indonesie , PVMBG.
Photos : Teger Tiganderket , Nachelle Homestay .
Ecuador , Reventador :
DAILY REPORT OF THE STATE OF THE REVENTADOR VOLCANO, Sunday 09 May 2021.
Information Geophysical Institute – EPN.
Surface activity level: High, Surface trend: No change.
Internal activity level: Moderate, Internal trend: No change.
Seismicity: From May 08, 2021, 11: 00h to May 09, 2021, 11: 00h:
Explosions (EXP): 30 events
Long period type events (LP): 52
Emission tremor (TREMI): 3
Harmonic Tremor (TRARM): 2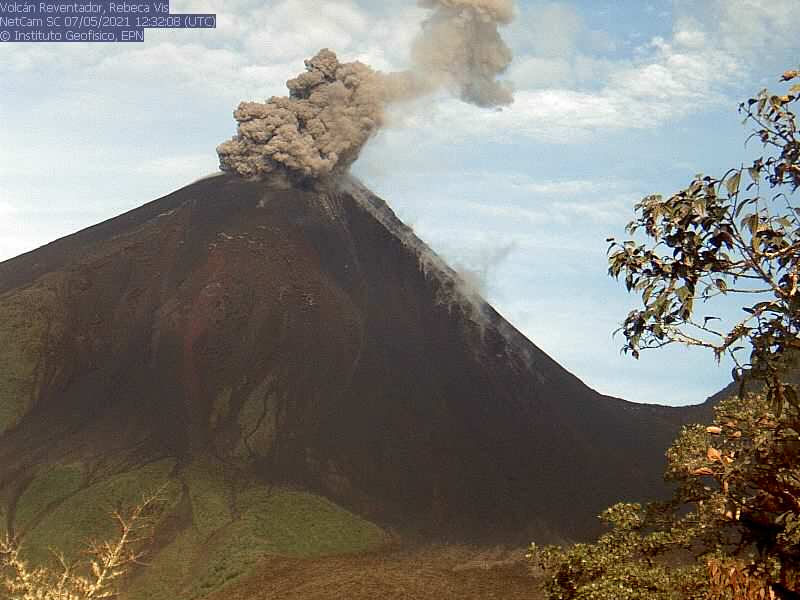 Rains / lahars: Light rains were recorded in the volcano region, according to the Windy satellite.
Emission / ash column: In the afternoon of yesterday, an emission greater than 1000 meters in a north-westerly direction was observed between the clouds. In addition, the VAAC reported two emissions with heights of 988 meters in a northwest direction.
Other monitoring parameters: No thermal alerts have been recorded in the last 24 hours.
Observations: From the morning, the area seems totally cloudy and continues like this until now.
Alert level: Orange
.
Source : IGEPN