May 09 , 2021.
La Réunion Island , Piton de la Fournaise :
Press release of May 08, 2021 – 12:00 p.m.
The eruption that started on 04/09/2021 at 7 p.m. (appearance of the tremor) continues. The amplitude of the volcanic tremor (indicator of a surface lava emission) continues its slow decrease initiated
since May 2. However, its amplitude remains significant, still reaching 40% of the maximum amplitude observed during this eruption on April 13.
– The images from the OVPF and OVPF / IRT cameras over the last 24 hours show that:
• the two cones are still active with a degassing which is always more marked at the level of the most downstream cone,
• the flow of lava at the exit of the eruptive vents, is mainly in tunnels and almost to the upper limit of the large slopes, where resurgences of lava are visible on the surface,
• the flow front continues its slow progression in the Grandes Pentes and was located yesterday at around 1200 m altitude.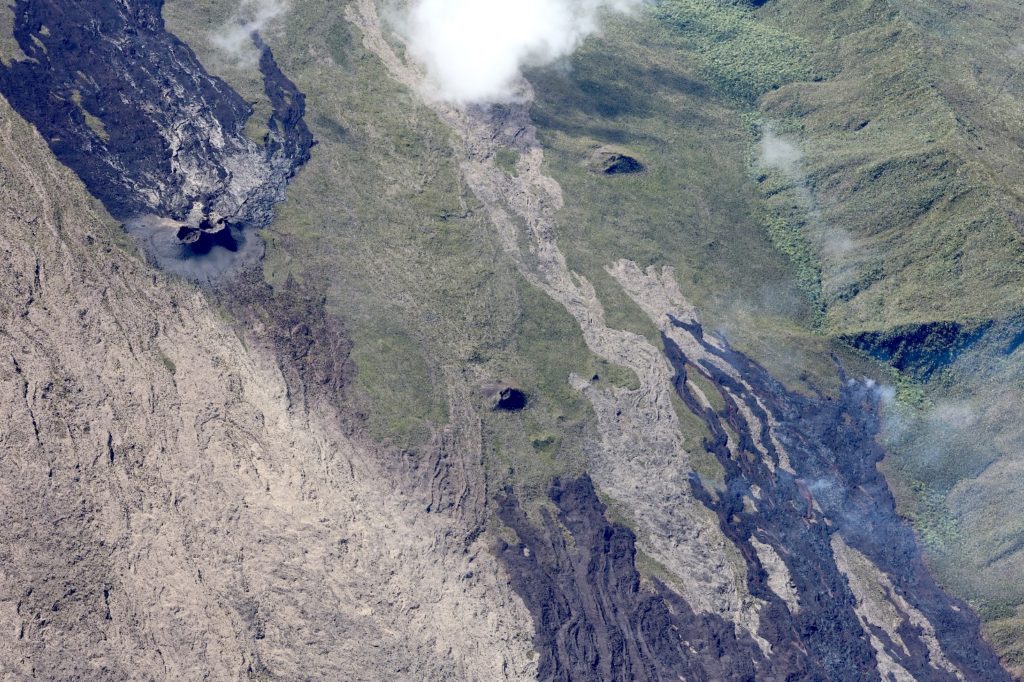 Over the past 24 hours, 3 superficial volcano-tectonic earthquakes (between sea level and the surface) have been recorded, all located directly above the summit craters.
– The CO2 fluxes in the soil are still increasing in the far field (Plains region) and decreasing in the near field (Volcano Gîte) suggesting that deep recharge is continuing.
– The slight inflation (swelling) of the summit area continues, which testifies to a pressurization of the surface reservoir in accordance with its recharge by deeper magma.
This confirms the interpretation derived from observations of CO2 fluxes in the soil.
Alert level: Alert 2-2
Source et photo : OVPF.
Read the article : https://www.ipgp.fr/sites/default/files/ovpf_20210508_12h00_communique_eruption.pdf
Hawaii , Kilauea :
19°25'16 » N 155°17'13 » W,
Summit Elevation 4091 ft (1247 m)
Current Volcano Alert Level: WATCH
Current Aviation Color Code: ORANGE
Activity Summary:
This morning, May 8, the lava lake was 228 m (748 ft) deep and remains stagnant over its eastern half. SO2 emission rates remain elevated at 250 t/day, last measured on May 6.
Summit Observations:
The most recent sulfur dioxide emission rate, measured on May 6, was 250 t/day and continues a trend of decreased emission rates that began in mid-April. This remains elevated compared to rates (less than 100 t/day) in the months before the summit lava lake eruption started on December 20, but is significantly lower than emission rates that averaged over 800 t/day from mid-February to mid-April. Summit tiltmeters recorded minor change over the past 24 hours. Seismicity remains stable, with elevated tremor.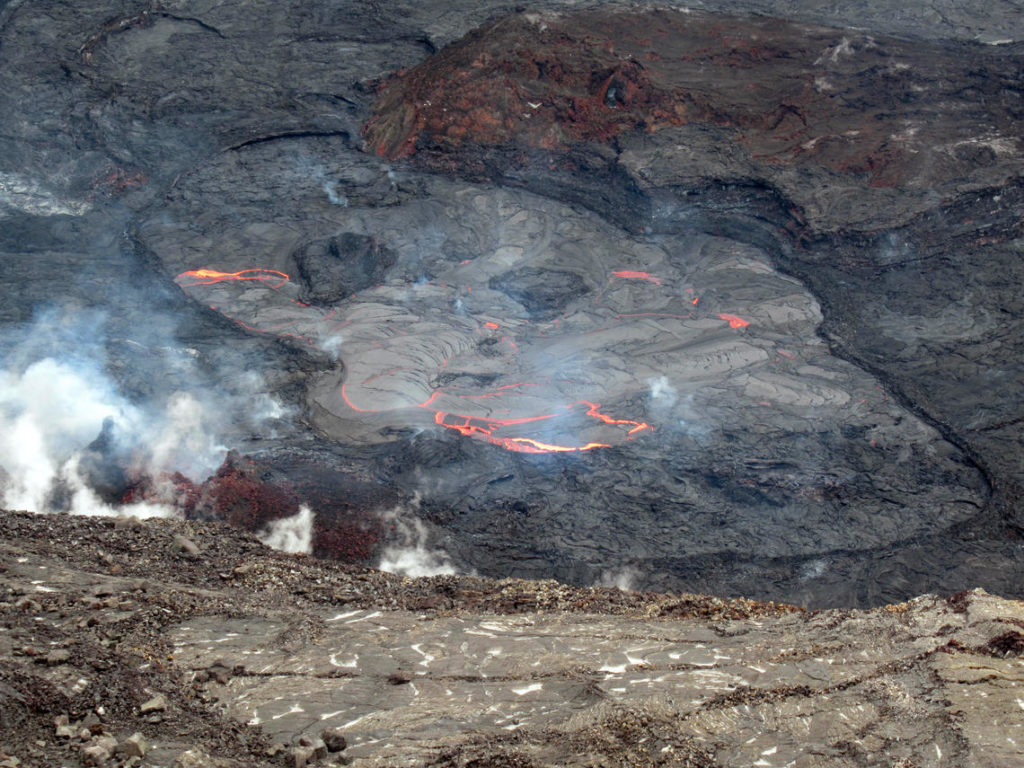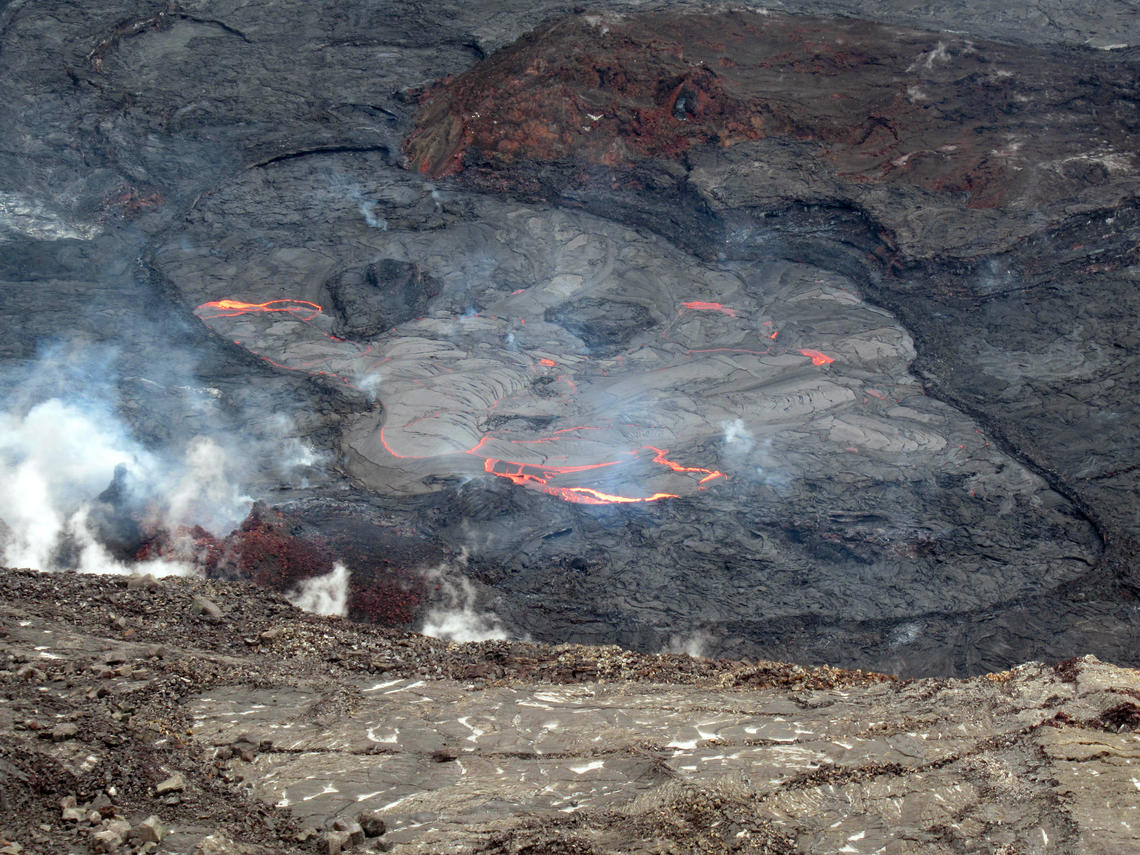 Halemaʻumaʻu Lava Lake Observations:
Lava effusion from the west vent continues to supply the lava lake within Halema'uma'u crater through a submerged inlet to the lake. Lava circulation and intermittent foundering of crust continue in a smaller western portion of the lava lake, and lava has not oozed out along the perimeter of the lake over the past week. The total depth of the lake is 228 m (748 ft) this morning as measured by a continuous laser rangefinder on the active western portion. Stagnant and solidified lava crust covered 93% of the lake surface as measured by thermal mapping on April 16th.
Recent SO2 emission rate measurements suggest that the effusion (eruption) rate has decreased significantly since mid-April. Other decreases in emissions during this eruption have occurred while summit tilt was decreasing, whereas the recent lows in emissions are independent of summit tilt. Drops in SO2 emissions are commonly related to decreases in lava supply, but other possibilities also exist. It is common for eruptions to wax and wane or pause completely. It is unclear if the current decrease in activity will continue and conditions around Halema'uma'u crater remain hazardous. HVO continues to monitor Kīlauea volcano closely for additional signs of changes in activity.
Source : HVO.
Photo : ,USGS / J.M. Chang.
Indonesia , Semeru :
Level of activity at level II (WASPADA). The Semeru volcano (3676 m above sea level) is continuously erupting. Explosive and effusive eruptions are recorded, leading to lava flows towards the south and south-eastern slopes, as well as explosions of incandescent rocks around the summit crater.
The volcano was clearly visible until it was covered in fog. Smoke from the crater was not observed. The eruption was observed to be white and gray with an eruption column rising about 400 meters above the summit moving south. Avalanches were observed with a sliding distance of 200 to 700 meters towards Kobokan. The weather is sunny to cloudy, with weak winds to the North, North-East, East and South.
According to the seismographs of May 8, 2021, it was recorded:
27 eruption / explosion earthquakes
2 avalanche earthquakes
12 emission earthquakes
4 distant tectonic earthquakes.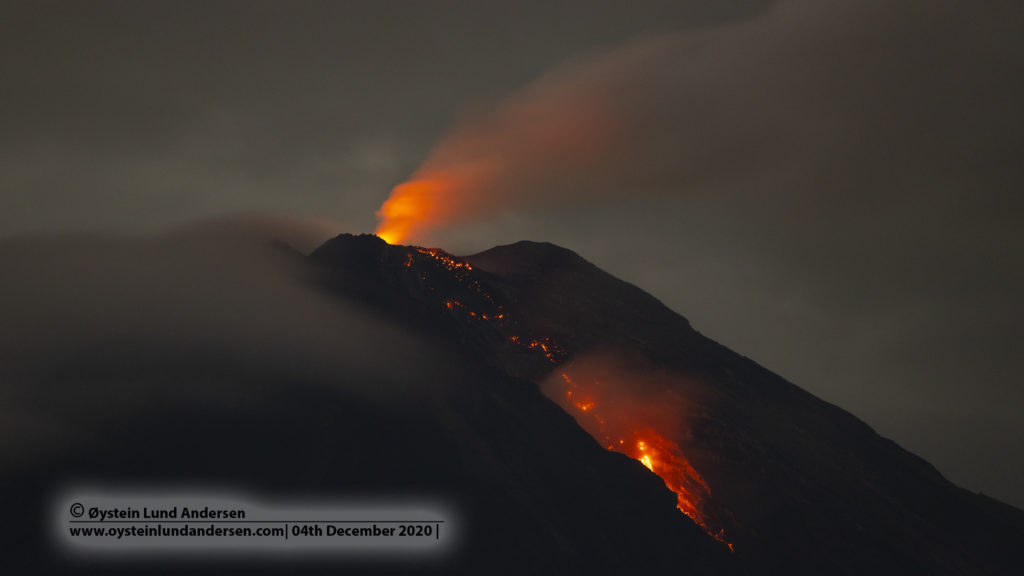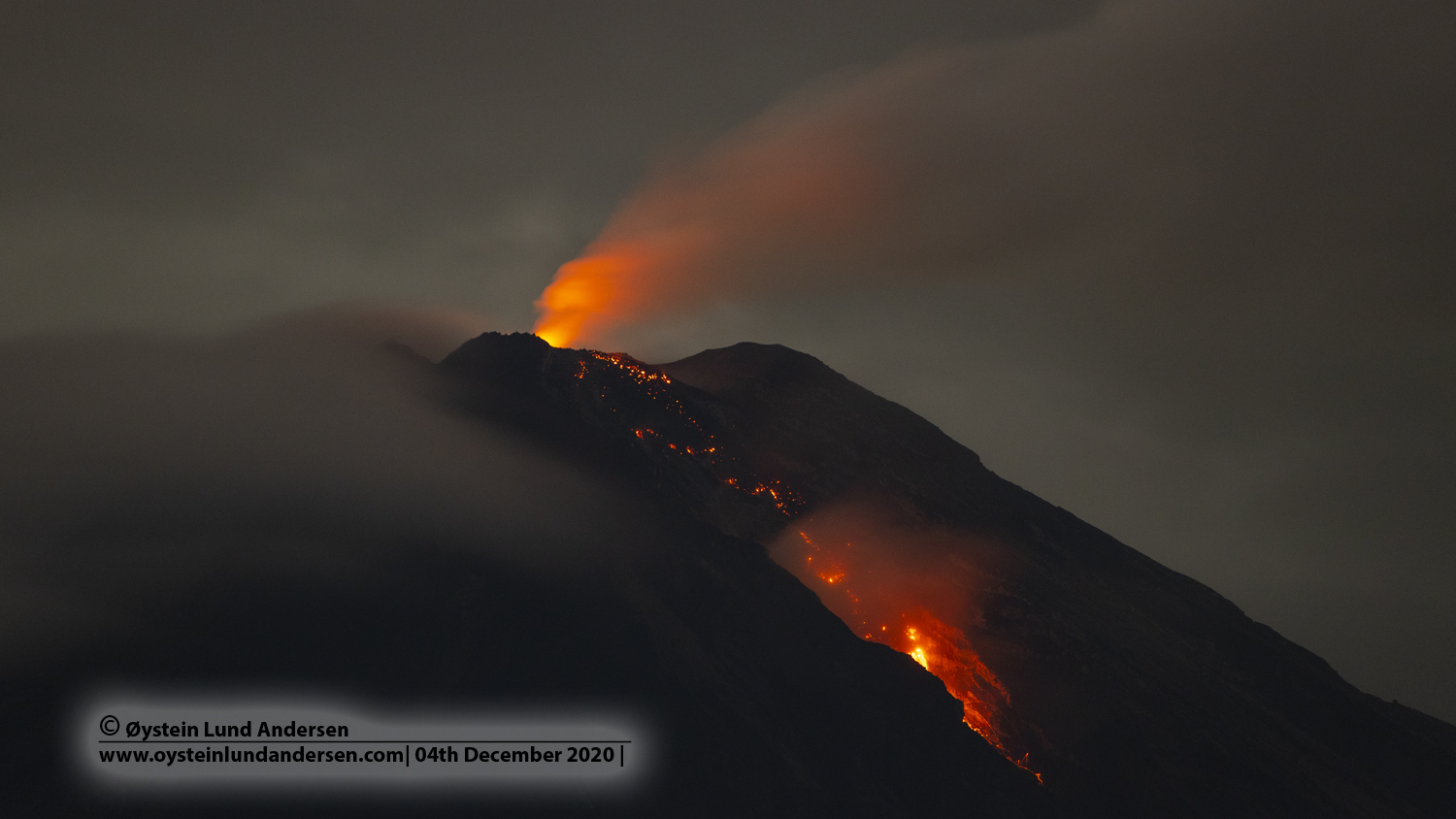 VOLCANO OBSERVATORY NOTICE FOR AVIATION – VONA.
Issued : May 08 , 2021
Volcano : Semeru (263300)
Current Aviation Colour Code : ORANGE
Previous Aviation Colour Code : orange
Source : Semeru Volcano Observatory
Notice Number : 2021SMR20
Volcano Location : S 08 deg 06 min 29 sec E 112 deg 55 min 12 sec
Area : East java, Indonesia
Summit Elevation : 11763 FT (3676 M)
Volcanic Activity Summary :
Eruption with volcanic ash cloud at 21h59 UTC (04h59 local)
Volcanic Cloud Height :
Best estimate of ash-cloud top is around 13363 FT (4176 M) above sea level, may be higher than what can be observed clearly. Source of height data: ground observer.
Other Volcanic Cloud Information :
Ash-cloud moving to south
Source : PVMBG, Magma Indonésie.
Photo : Oystein lund Andersen .
Chile , Nevados de Chillan :
Special Report on Volcanic Activity (REAV), Ñuble region, Nevados de Chillán volcanic complex, May 08, 2021, 5:05 p.m. local time (Continental Chile).
The National Service of Geology and Mines of Chile (Sernageomin) publishes the following PRELIMINARY information, obtained thanks to the monitoring equipment of the National Volcanic Monitoring Network (RNVV), processed and analyzed in the Volcanological Observatory of the Southern Andes ( Ovdas):
On Saturday May 8, at 4:34 p.m. local time (8:34 p.m. UTC), monitoring stations installed near the Nevados de Chillán volcanic complex recorded an earthquake associated with fluid dynamics in the volcanic system (long period type).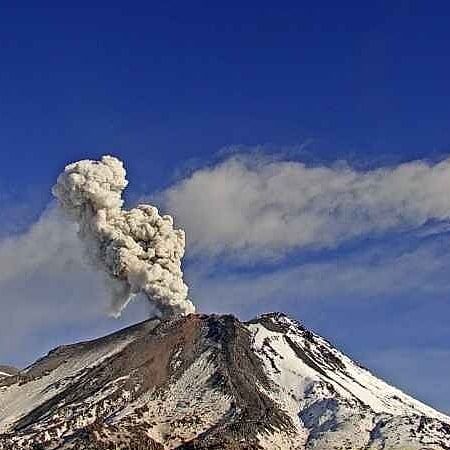 The characteristics of the earthquake after its analysis are as follows:
ORIGINAL TIME: 4:34 p.m. local time (20:34 UTC)
LATITUDE: 36.858 ° S
LONGITUDE: 71.369 ° W
DEPTH: 2.1 km
REDUCED DISPLACEMENT: 526 (cm2)
ACOUSTIC SIGNAL: 4.45 Pa reduced to 1 km.
OBSERVATIONS:
It was not possible to record the surface activity associated with this seismic event due to weather conditions.
The volcanic technical alert remains at the Yellow level.
Source : Sernageomin .
Photo : sernageomin.