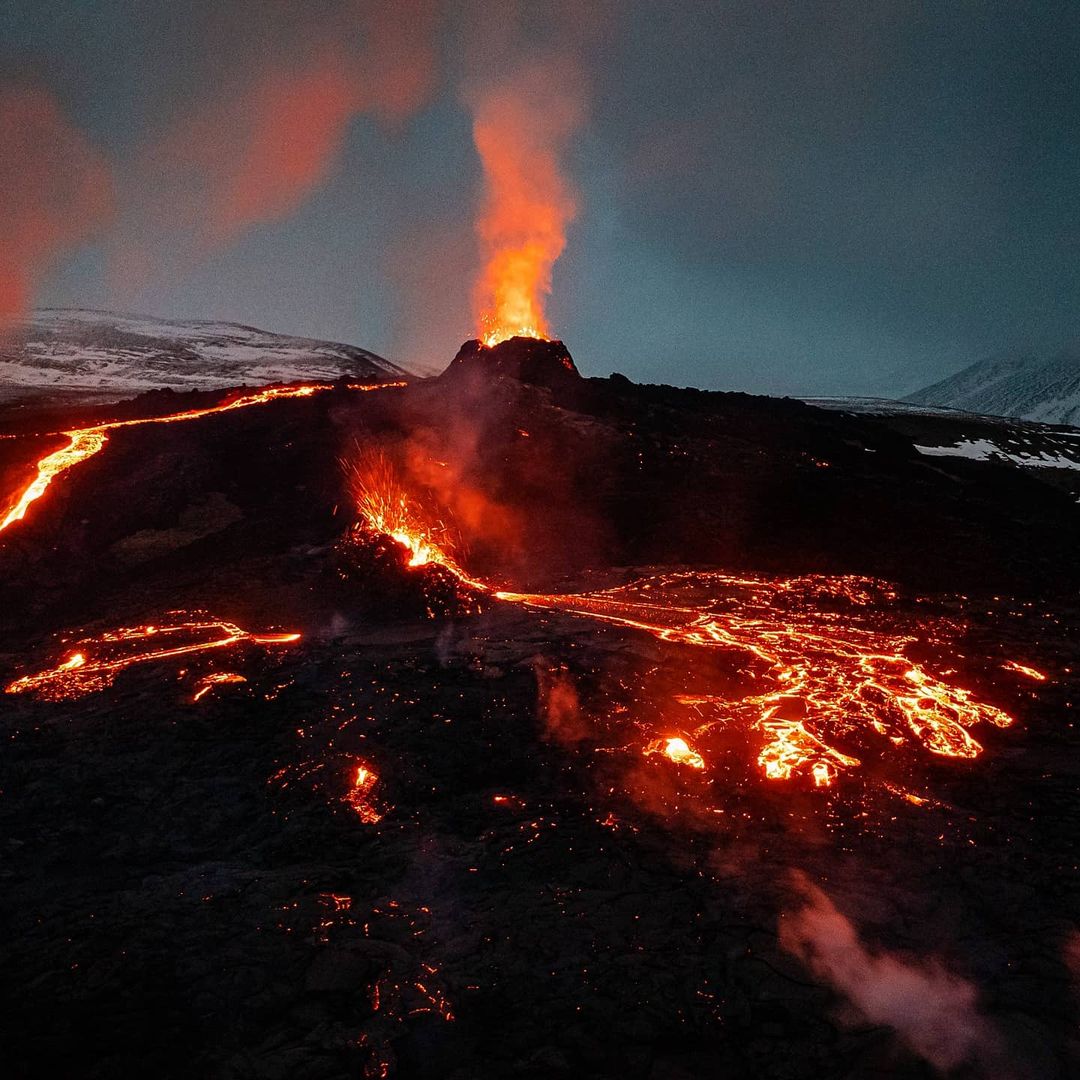 April 22, 2021. EN. Saint Vincent : Soufrière Saint Vincent , Iceland : Geldingadalur , Japan : Sakurajima , Russia / Kurile Islands : Ebeko , La Réunion Island : Piton de la Fournaise .
April 22 , 2021.
Saint Vincent , Soufrière Saint Vincent :
University of the West Indies Seismic Research Centre (UWI-SRC) and National Emergency Management Organisation (NEMO) reported that the explosive eruption at Soufrière St. Vincent (often simply referred to as "La Soufriere") continued during 14-20 April, though at a decreasing frequency. Explosions and pyroclastic flows were reported on 13 April, as well as lahars in the Sandy Bay area. During 14 April seismicity continued to be characterized by episodes of tremor, about 13-15 hours apart, separated by swarms of small, long-period (LP) earthquakes.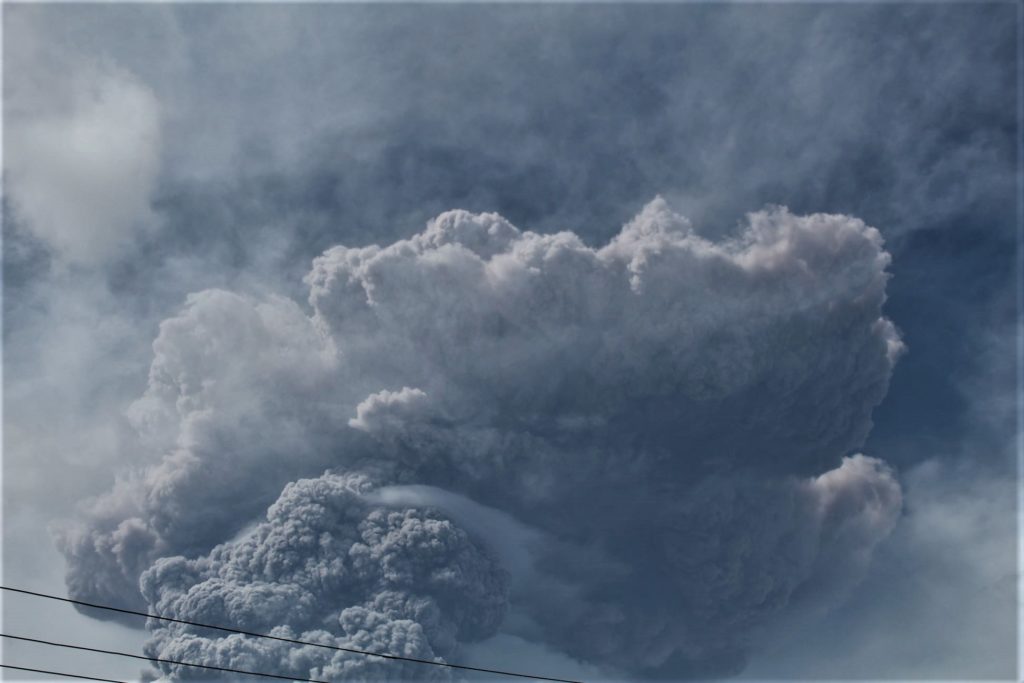 An episode of tremor that began at 1135 was associated with increased explosive activity, though the emissions were gas rich and less energetic than previous events. Another episode of tremor began at 0230 on 15 April along with increased venting. Almost constant swarms of long-period and hybrid events were recorded through the day, punctuated by three brief episodes (less than 30 minutes) of low-level tremor. An episode of tremor began at 2100 and lasted 40 minutes, and was possibly associated with a minor increase in venting. For the first time sulfur dioxide emissions were successfully measured by ground-based instruments; scientists recorded 809 tons per day from a Coast Guard boat along the W coast.
Periods of tremor and near-constant swarms of LP and hybrid events were recorded on 16 April. An explosion at 0615 on 16 April generated an ash plume that rose about 8 km (26,200 ft) a.s.l. and drifted W. A three-minute period of high-level tremor started at the same time and was flowed by over two hours of lower-level tremor. Sulfur dioxide emissions were again measured from the W coast, yielding a flux of 460 tons per day. The rate of LP and hybrid events dropped significantly at 2000. Sulfur dioxide plumes reached India.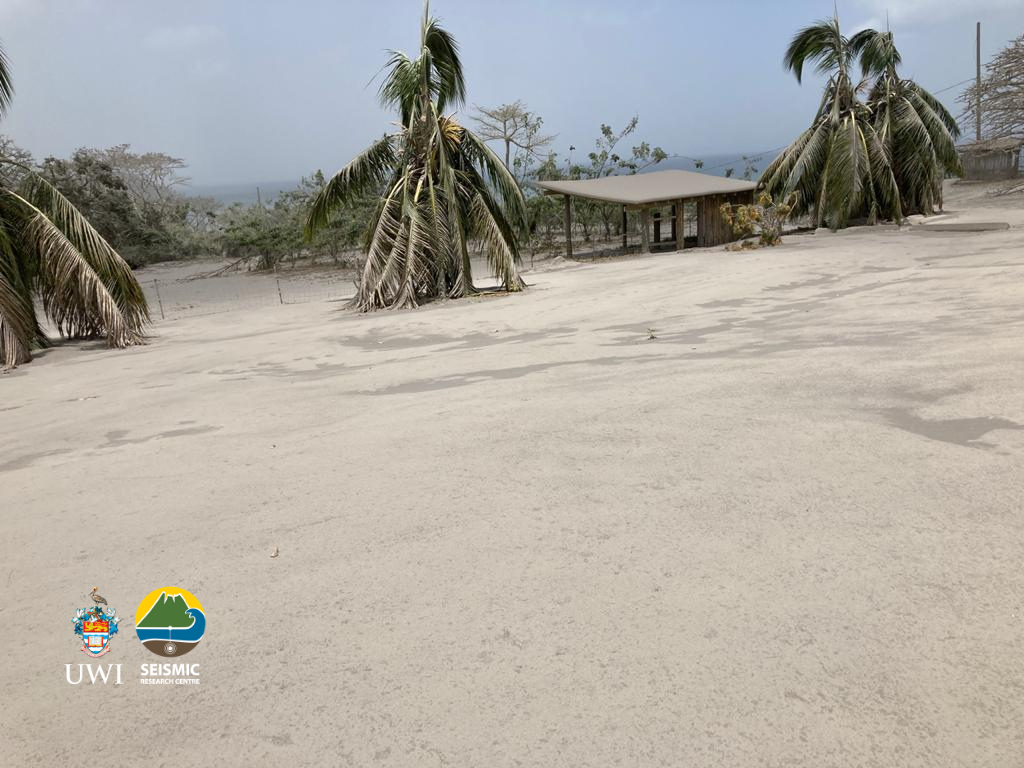 Occasional satellite images of the summit showed a series of changes to the new crater, centered in the SW part of the summit crater. By 17 April an Institut de Physique du Globe de Paris scientist reported that the crater was about 900 m N to S, at least 750 m E to W, and about 100 m deep based on RADAR data. Several vents were either visible or inferred from points of emissions. Sulfur dioxide emissions were 232 and 391 tons per day on 17 and 18 April, respectively. A period of high tremor began at 1649 on 18 April. An explosion produced an ash plume that rose to 8 km (26,200 ft) a.s.l. and drifted S and SW. This explosion occurred 52 hours after the last one and was the 30th since the explosive phase started. The period of tremor lasted until about 2100 and was followed by ongoing small LP and hybrid events. The rates of those events dropped again, at around 0100 on 19 April. One rockfall was detected by the seismic network at 0139, and two were noted the next day. At 0400 on 20 April a lahar was detected by the seismic network and lasted for 30 minutes; it possibly traveled down the SE flank.
During 15-19 April NEMO reported details about the people that have evacuated. The total number of displaced people was 12,775 by 19 April, with 6,208 people in 85 public shelters and 6,567 people (1,800 families) in private shelters. There were no casualties caused by the eruption.
Source : GVP.
Photos : UWI , Saint Vincent & the Grenadines .
Iceland , Geldingadalur :
IMO reported that the fissure eruption in the W part of the Krýsuvík-Trölladyngja volcanic system, close to Fagradalsfjall on the Reykjanes Peninsula, continued during 14-20 April. Lava flowed from about eight vents and the flow field continued to expand; on 14 April a new hiking trail ("A") had been covered. Volcanic gas emissions were at dangerous levels during 14-15 April so the eruption site was closed to the public. At about 1500 on 17 April a new vent was confirmed to have opened. It was small and close to another crater, possibly the one that had opened on 13 April. Lava was not flowing from the northernmost crater (the first that had opened outside Geldingadalur) during 18-20 April.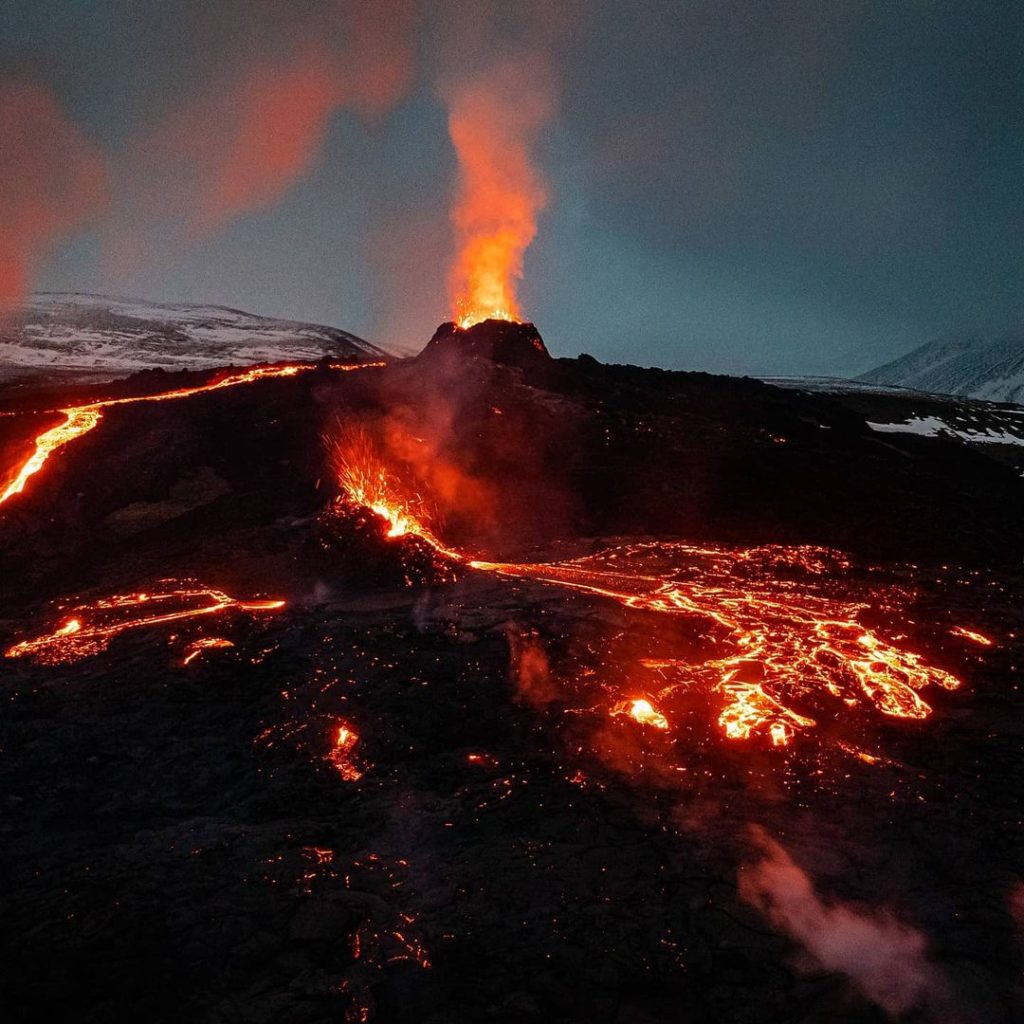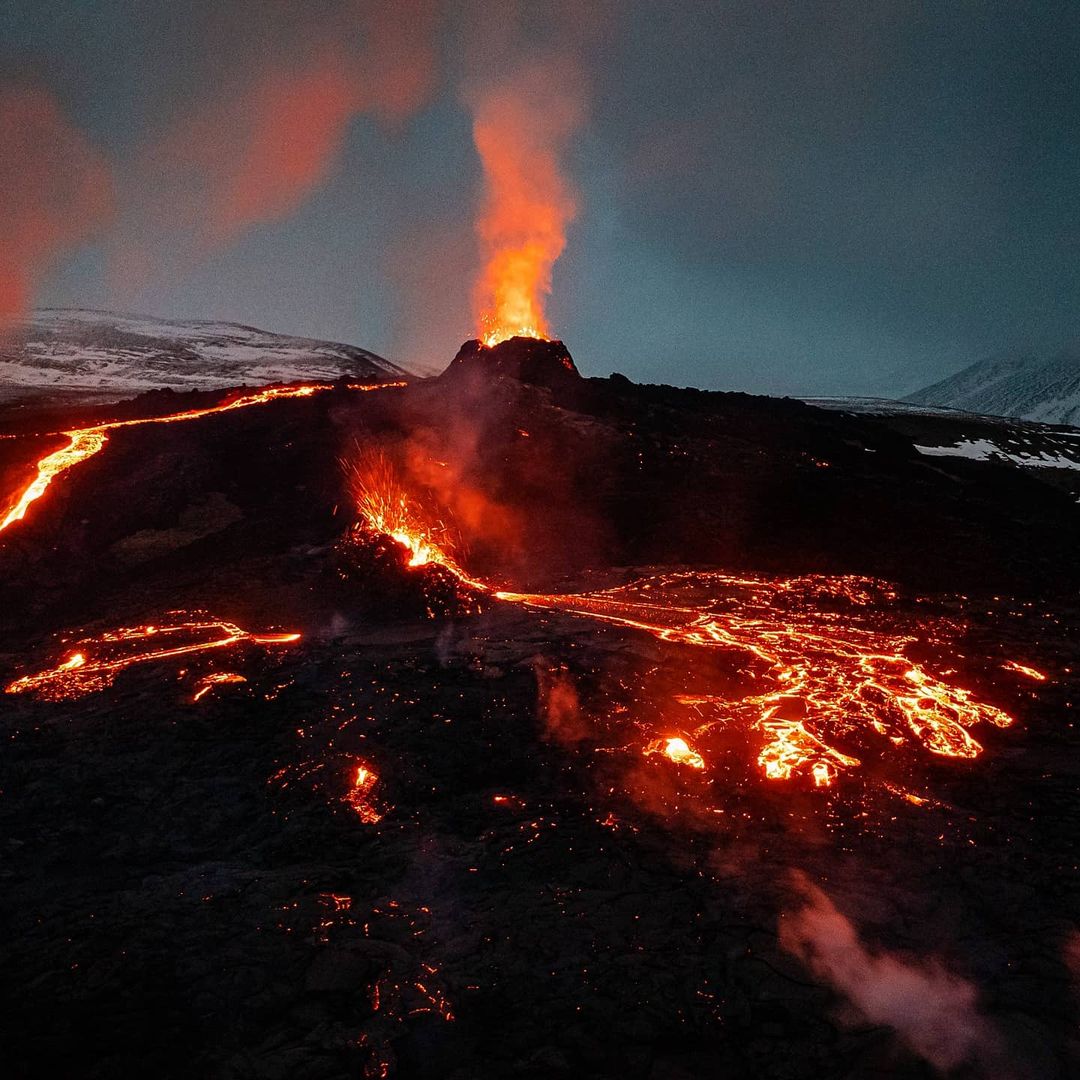 The eruption had been ongoing for 30 days by 17 April. Based on a report from University of Iceland's Institute of Earth Sciences, the average lava-flow rate during the first 17 days of the eruption was 4.5-5 cubic meters per second but had increased to 7 cubic meters per second over the previous 13 days. During 12-18 April the flow rate was closer to 8 cubic meters per second, a slight increase over the recent average. By 19 April the area of the flow field was 0.9 square kilometers and the total volume was over 14 million cubic meters.
IMO warned visitors that new fissures could open without adequate visible warning, especially in an area by Litla-Hrút, just S of Keilir, `where seismicity was concentrated. They also warned of increased gas emissions hazards. The Aviation Color Code remained Orange due to the lack of ash and tephra emissions.
Source : GVP.
Photo : Visit Reykjavik.
Japan , Sakurajima :
JMA reported that during 12-19 April incandescence from Minamidake Crater (at Aira Caldera's Sakurajima volcano) was visible nightly. There was a total of nine explosions and one eruptive event. Ash plumes rose 1-2 km above the summit and bombs were ejected 800-1,300 m away from the crater. The sulfur dioxide emission rate was high at 2,400 tons per day on 12 April. The Alert Level remained at 3 (on a 5-level scale).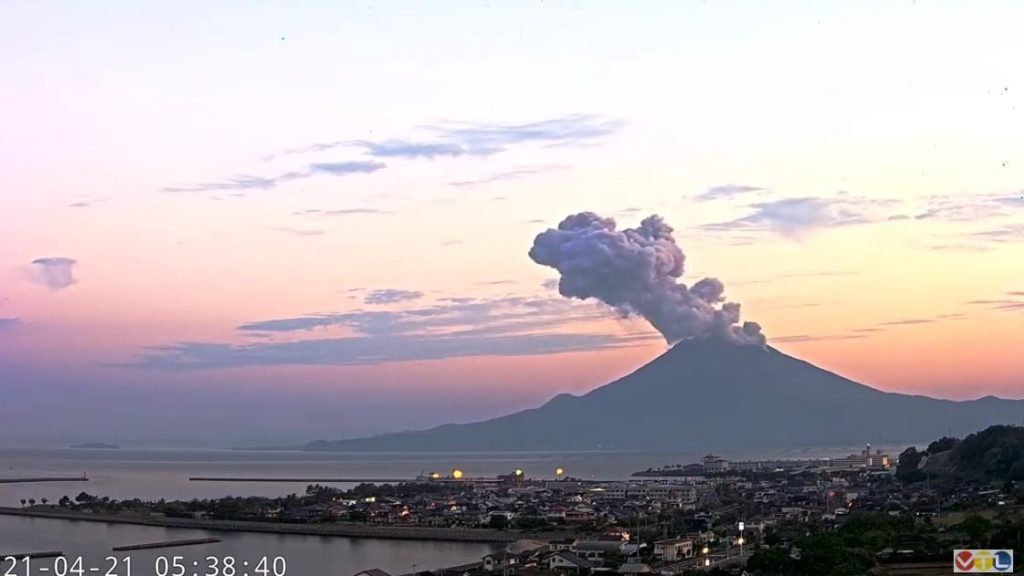 The Aira caldera in the northern half of Kagoshima Bay contains the post-caldera Sakurajima volcano, one of Japan's most active. Eruption of the voluminous Ito pyroclastic flow accompanied formation of the 17 x 23 km caldera about 22,000 years ago. The smaller Wakamiko caldera was formed during the early Holocene in the NE corner of the Aira caldera, along with several post-caldera cones. The construction of Sakurajima began about 13,000 years ago on the southern rim of Aira caldera and built an island that was finally joined to the Osumi Peninsula during the major explosive and effusive eruption of 1914. Activity at the Kitadake summit cone ended about 4850 years ago, after which eruptions took place at Minamidake. Frequent historical eruptions, recorded since the 8th century, have deposited ash on Kagoshima, one of Kyushu's largest cities, located across Kagoshima Bay only 8 km from the summit. The largest historical eruption took place during 1471-76.
Source : GVP.
Photo : VTL via Alicja Szojer.
Russia / Kurile Islands , Ebeko :
VOLCANO OBSERVATORY NOTICE FOR AVIATION (VONA).
Issued: April 18 , 2021
Volcano: Ebeko (CAVW #290380)
Current aviation colour code: ORANGE
Previous aviation colour code: orange
Source: KVERT
Notice Number: 2021-52
Volcano Location: N 50 deg 41 min E 156 deg 0 min
Area: Northern Kuriles, Russia
Summit Elevation: 1156 m (3791.68 ft)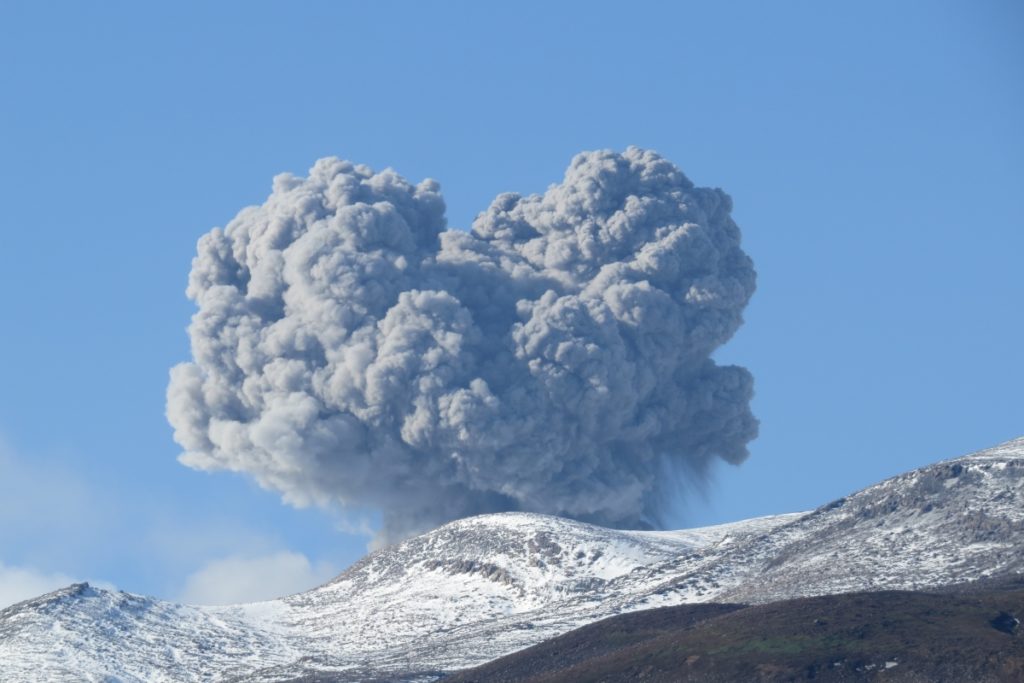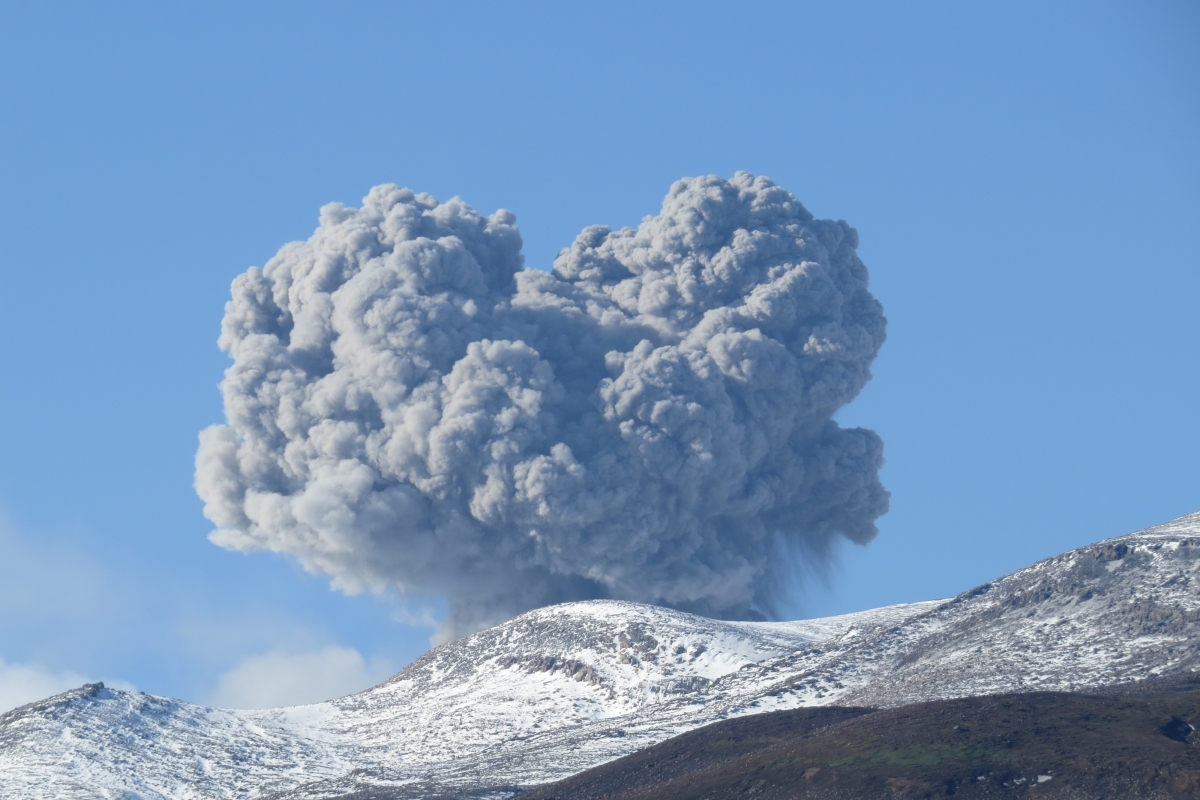 Volcanic Activity Summary:
A moderate eruptive activity of the volcano continues. According to visual data by volcanologists from Severo-Kurilsk, explosion sent ash up to 2.5 km a.s.l., an ash cloud is drifting to the north-east of the volcano.
This activity continues. Ash explosions up to 6 km (19,700 ft) a.s.l. could occur at any time. Ongoing activity could affect low-flying aircraft and airport of Severo-Kurilsk.
Volcanic cloud height:
2500 m (8200 ft) AMSL Time and method of ash plume/cloud height determination: 20210417/0217Z – Visual data
Other volcanic cloud information:
Distance of ash plume/cloud of the volcano: 5 km (3 mi)
Direction of drift of ash plume/cloud of the volcano: NE / azimuth 50 deg
Time and method of ash plume/cloud determination: 20210417/0217Z – Visual data
Source : KVERT
Photo : S. Lakomov , 28/10/2020.
La Réunion Island , Piton de la Fournaise :
Press release of April 21, 2021 – 4:00 p.m.
The eruption that started on 04/09/2021 at 7 p.m. (appearance of the tremor) continues. The intensity of the volcanic tremor (indicator of a surface lava emission) over the last 24 hours has remained relatively stable and comparable to that observed the previous days.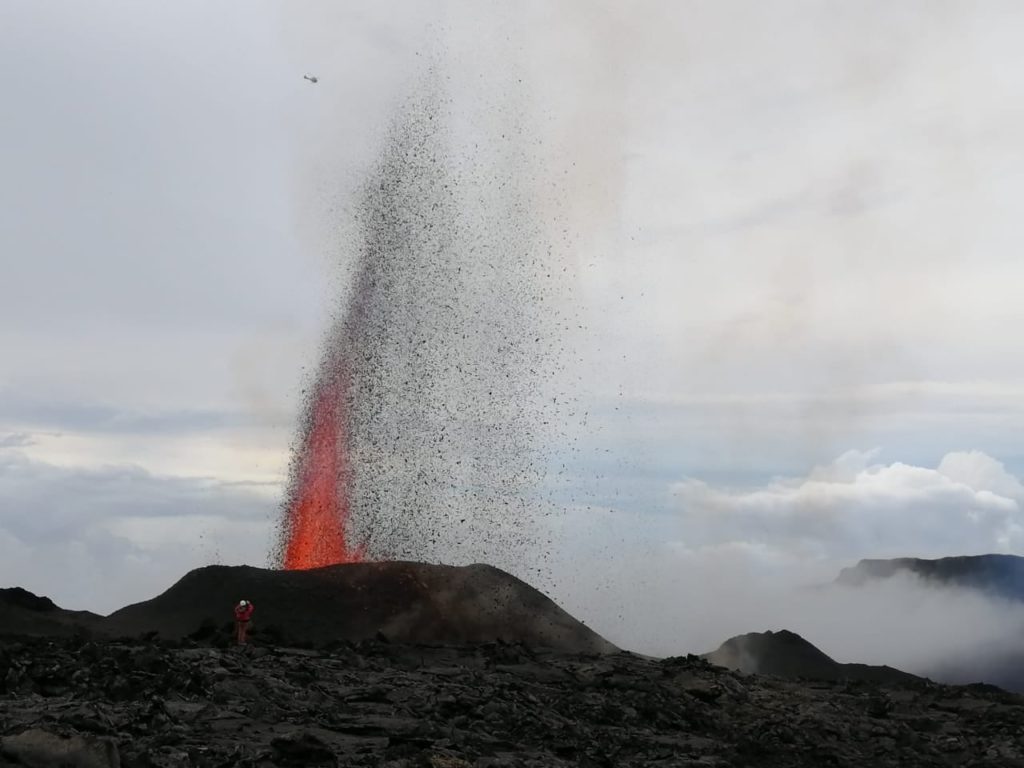 No direct observation of the eruptive site could be made today given the very bad weather conditions on the volcano.
– Over the last 24 hours, 3 superficial volcano-tectonic earthquakes (between sea level and the surface) have been recorded under the summit craters.
– CO2 fluxes in the soil are still increasing both in the far field (Plaine des Cafres and Plaine des Palmistes) and in the near field (Gîte du volcan).
Averaged over the past few days, no significant trend can be seen in the deformations of the building (neither in deflation nor in inflation). It could suggest a flow of magma
deep entering the superficial magmatic reservoir equivalent to the outlet flow of the reservoir which feeds the eruptive site.
Source et photo : OVPF.
Read the article: https://www.ipgp.fr/sites/default/files/ovpf_20210421_16h00_communique_eruption.pdf