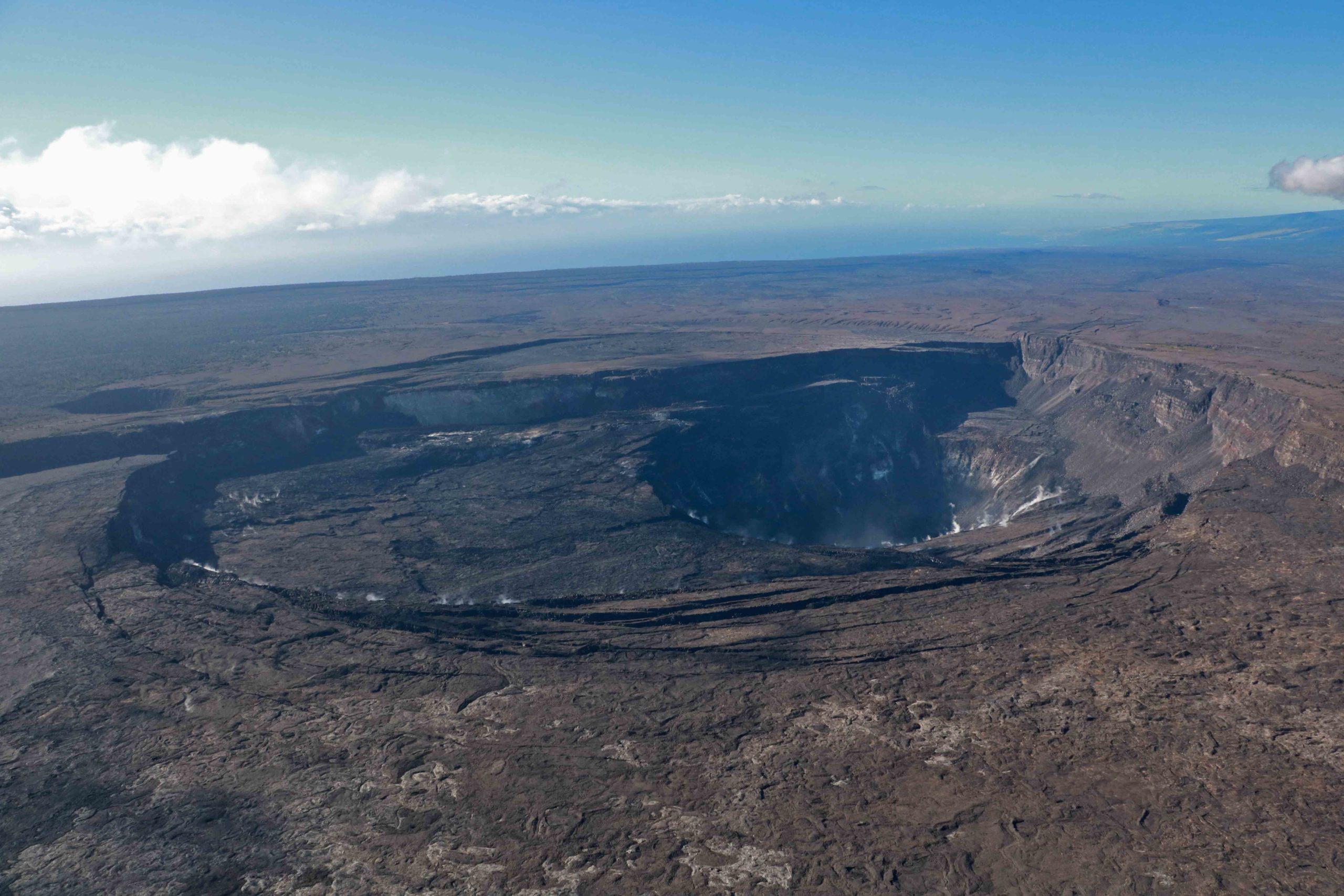 January 10, 2020. EN. Mexico : Popocatepetl , Hawaii : Kilauea , Alaska : Semisopochnoi , El Salvador : Santa Ana (Llamatepec) / San Miguel (Chaparrastique) .
January 10 , 2020 .
Mexico, Popocatepetl :
January 09, 11:00 a.m. (January 09, 5:00 p.m. GMT).
Thanks to the monitoring systems of the Popocatepetl volcano, 268 exhalations composed of water vapor, volcanic gases with a low ash content have been identified. In addition, 90 minutes of tremors were recorded, as well as a volcano-tectonic earthquake recorded yesterday at 10:04 am with a magnitude of 1.4. An explosion was also recorded today at 06:31 h, with a height of the ash column of 3 km, dispersing in the northeast direction and with incandescent materials projected at a distance of 1 km from the edge of the crater.
From the morning, the volcano was visible with emissions of water vapor and gas which are preferentially dispersed towards the North-West.
CENAPRED urges NOT to APPROACH the volcano and especially the crater, because of the danger of falling ballistic fragments, and in case of heavy rain to stay far from the bottom of the ravines because of the danger of mudslides and debris.
The Popocatépetl volcanic signaling light is in YELLOW PHASE 2.
Source : Cenapred .
Video : Webcamdemexico.
Hawaii , Kilauea :
19°25'16 » N 155°17'13 » W,
Summit Elevation 4091 ft (1247 m)
Current Volcano Alert Level: NORMAL
Current Aviation Color Code: GREEN
Activity Summary:
Kīlauea Volcano is not erupting. Monitoring data for December show variable rates of seismicity and ground deformation, low rates of sulfur dioxide emissions, and only minor geologic changes since the end of eruptive activity in September 2018.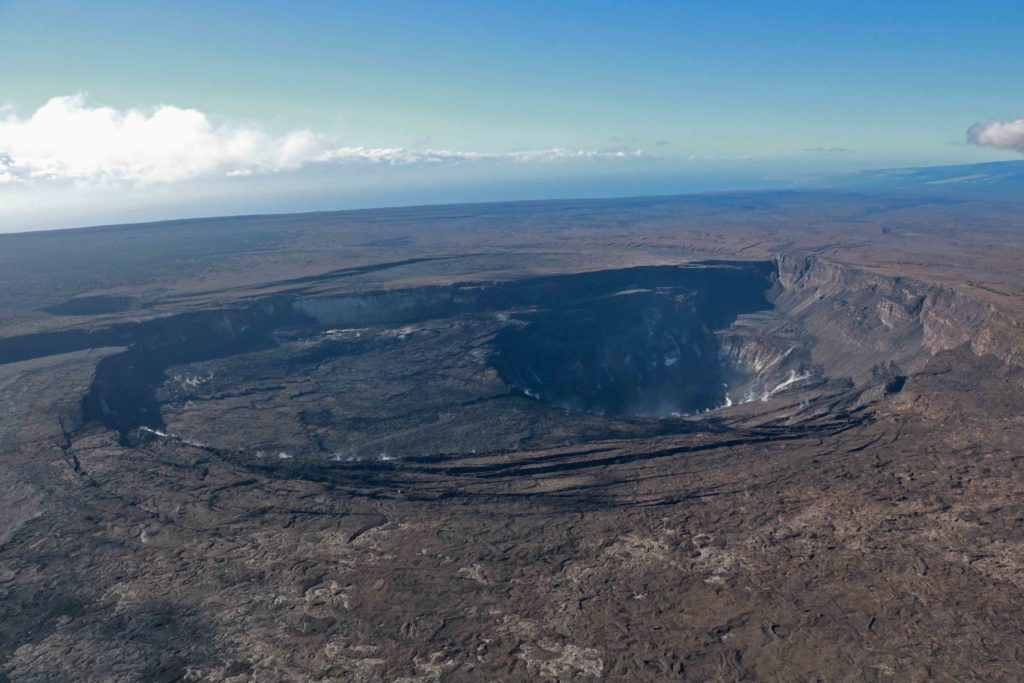 On December 18, Hawaiian Volcano Observatory scientists conducted an overflight of Kīlauea's summit. In this view, looking southwest, large cracks are visible on Kīlauea's caldera floor above and adjacent to the portion of Kīlauea's caldera floor that down-dropped during the summit collapse-events of 2018. During the flight, the Kīlauea summit area was filmed with both thermal and visual cameras. When compared to previously collected imagery, the images collected on December 18 will provide information on changes at Kīlauea's summit. USGS photo by K. Mulliken.
Observations:
Monitoring data have shown no significant changes in volcanic activity during December.
Rates of seismicity over the month were variable but within long term vales. Sulfur dioxide emission rates are low at the summit and are below detection limits at Puʻu ʻŌʻō and the lower East Rift Zone. The pond at the bottom of Halema'uma'u, which began forming on July 25, 2019, continues to slowly expand and deepen. As of early January, dimensons are: 84 meters by 190 meters or approximately 280 feet by 620 feet. Current depth is about 23 meters or 75 feet.
Over the past month, about a dozen deflation-inflation (DI) events occurred beneath the summit, similar to the prior month. Since early March 2019, GPS stations and tiltmeters at the Kīlauea summit have recorded deformation consistent with slow magma accumulation within the shallow portion of the Kīlauea summit magma system (1-2 km or approximately 1 mile below ground level). However, gas measurements show continuing low levels of sulfur dioxide, consistent with no significant shallowing of magma. Some amount of sulfur dioxide is being dissolved into the summit lake; work continues to try and quantify this process.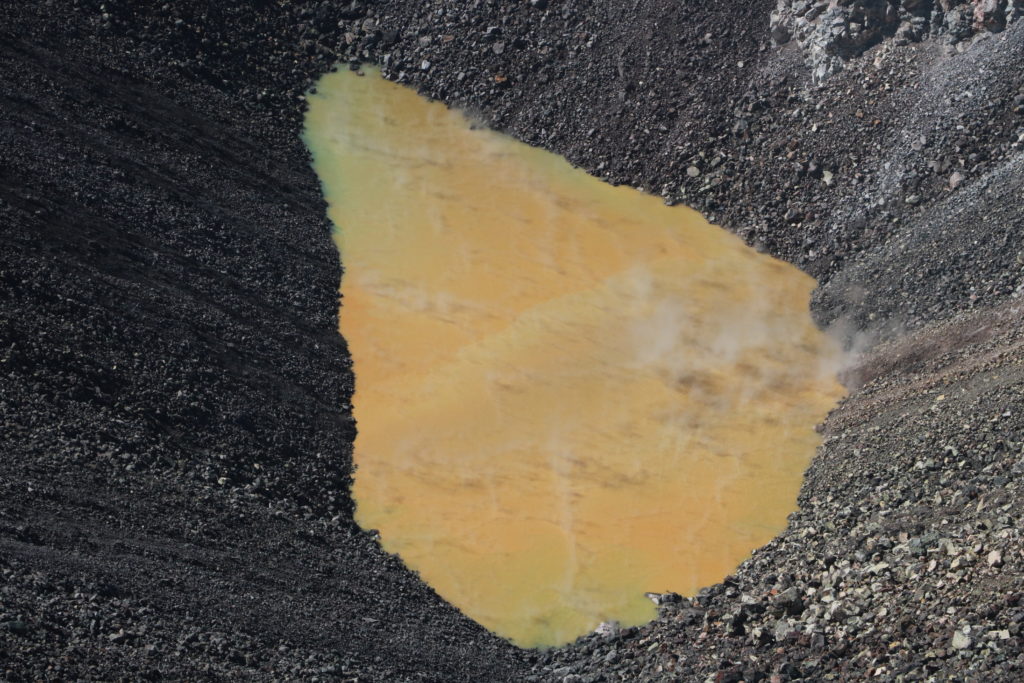 On December 18, HVO geologists landed on Kīlauea's down-dropped block, which formed during the collapse-events of 2018. At this location, east of Halema'uma'u, there was an unobstructed view of Kīlauea's growing summit crater lake. The length of the lake was approximately 189 m (650 ft) in the east-west direction, which is about the length of four Olympic-sized swimming pools. The light bluish-yellow colors of the lake are likely areas of groundwater influx. HVO fieldwork in this closed area of Hawai'i Volcanoes National Park is done with permission of the National Park Service to support public safety and further scientific understanding of Kīlauea Volcano. USGS photo by K. Mulliken.
Farther east, GPS stations and tiltmeters continue to show motions consistent with slowed refilling of the deep East Rift Zone magmatic reservoir in the broad region between Puʻu ʻŌʻō and Highway 130. Monitoring data do not suggest any imminent change in volcanic hazard for this area. In addition to motion along the East Rift Zone, the south flank of Kīlauea continues to creep seaward at elevated rates following the May 4, 2018 M6.9 earthquake near Kalapana. HVO continues to carefully monitor all data streams along the Kīlauea East Rift Zone and south flank for important changes.
Although not currently erupting, areas of persistently elevated ground temperatures and minor release of gases are still found in the vicinity of the 2018 lower East Rift Zone fissures. These include steam (water), very small amounts of hydrogen sulfide, and carbon dioxide. These conditions are expected to be long-term. Similar conditions following the 1955 eruption continued for years to decades.
Source : HVO.
Alaska , Semisopochnoi :
AVO/USGS Volcanic Activity Notice
Current Volcano Alert Level: ADVISORY
Previous Volcano Alert Level: WATCH
Current Aviation Color Code: YELLOW
Previous Aviation Color Code: ORANGE
Issued: Thursday, January 9, 2020, 2:25 PM AKST
Source: Alaska Volcano Observatory
Notice Number: 2020/A17
Location: N 51 deg 55 min E 179 deg 35 min
Elevation: 2625 ft (800 m)
Area: Aleutians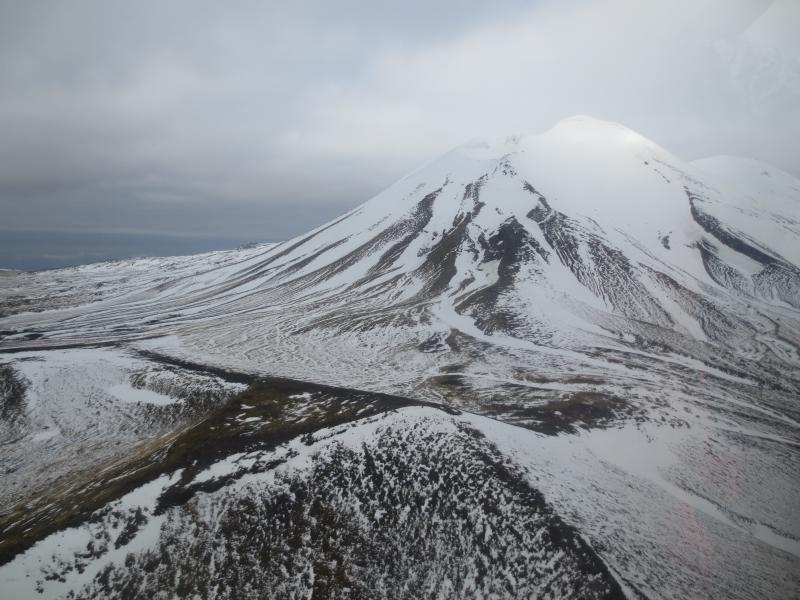 Volcanic Activity Summary:
There has been no explosive activity observed at Semisopochnoi since December 19, 2019. Seismic tremor had decreased over the subsequent weeks with the last observation of seismic tremor on December 29, 2019. Seismicity has continued to decline, but remains above background. Thus, the Aviation Color Code is lowered to YELLOW and the Alert Level to ADVISORY.
Recent Observations:
[Volcanic cloud height] No cloud observed
[Other volcanic cloud information] No cloud observed
Remarks:
Semisopochnoi is monitored with an on-island seismic network, and remotely by satellite and lightning sensors. An infrasound array on Adak Island could detect explosive emissions from Semisopochnoi with a 13 minute delay if atmospheric conditions permit.
Source : AVO.
Photo : Kaufman, Max .
El Salvador , Santa Ana ( Llamatepec) / San Miguel (Chaparrastique) :
Santa Ana Volcano (Ilamatepec)
Location: shared by the departments of Santa Ana and Sonsonate
Altitude: 2381 meters above sea level
Type of volcano: Stratovolcan
Type of activity: Vulcanian- Strombolian
Last eruption: October 1, 2005.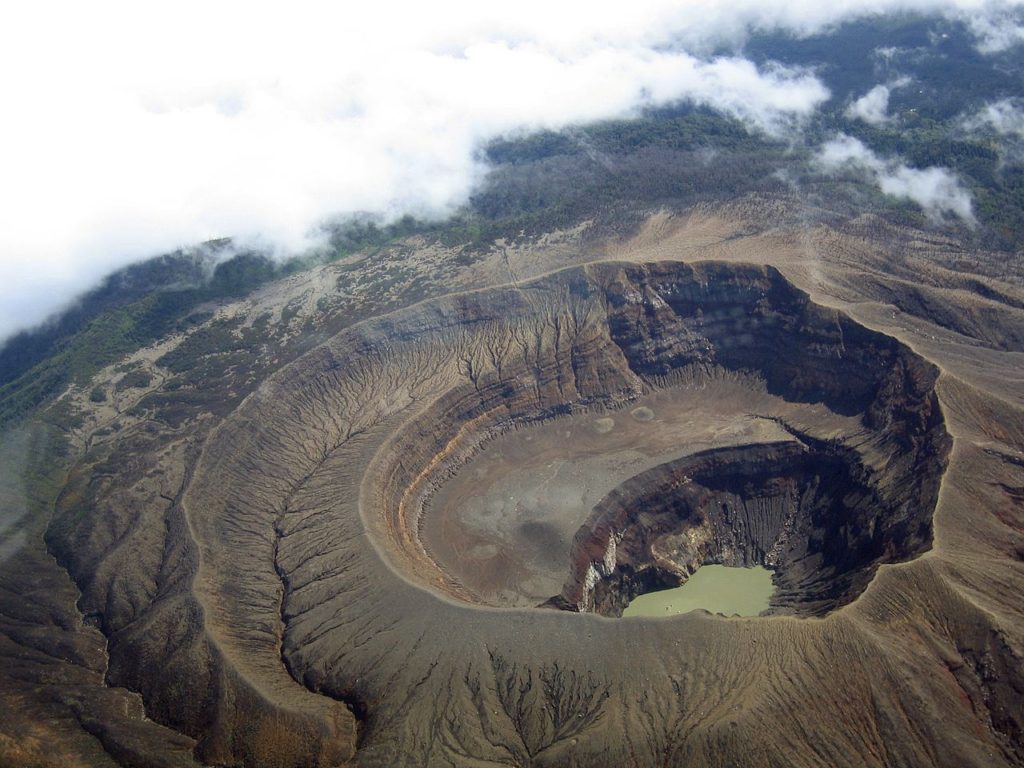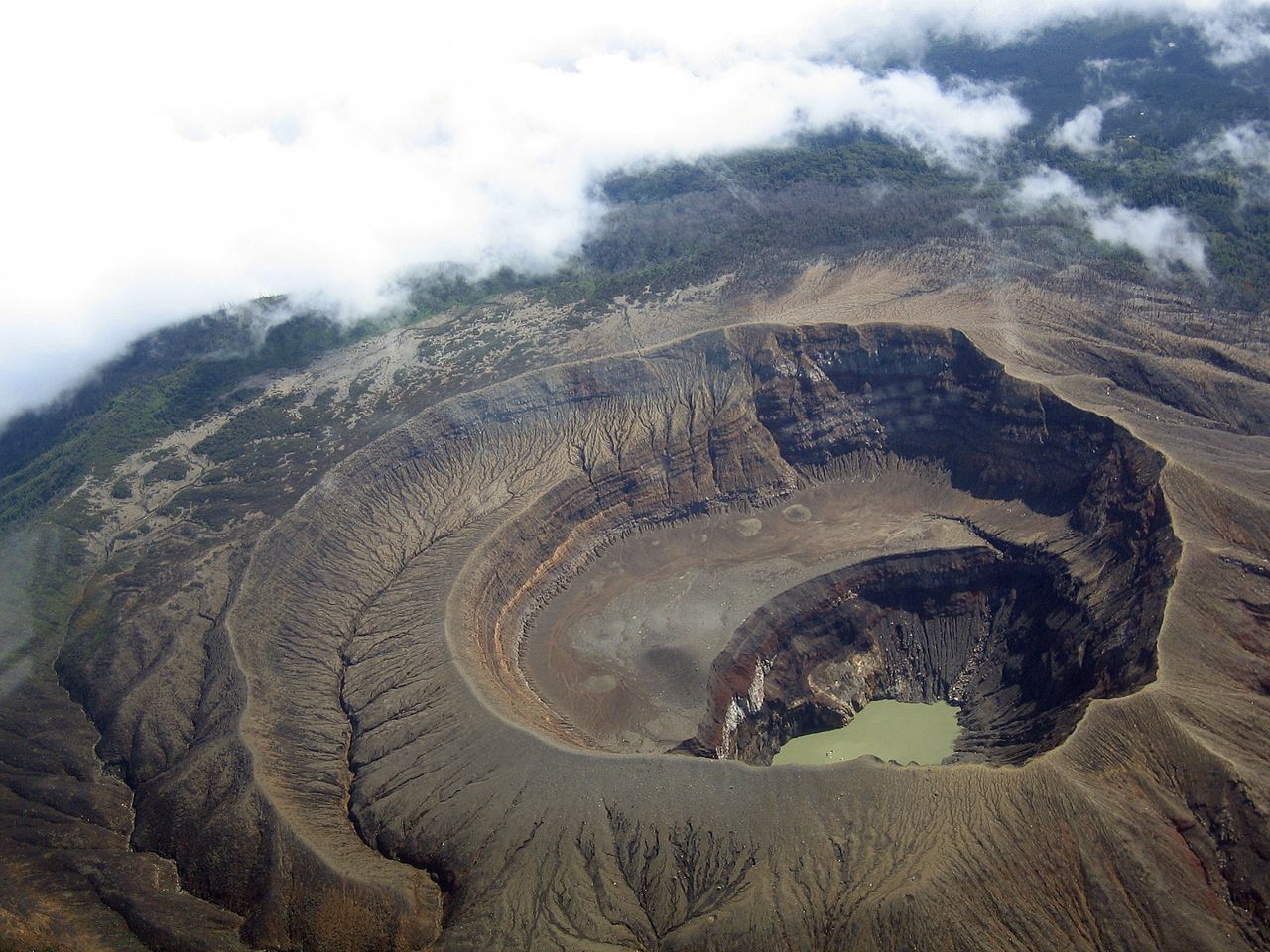 The seismic vibration of the volcano remained between 18 and 24 RSAM units on average per day, that is to say in the normal range. A total of 58 earthquakes related to the movement of fluids in the volcanic system were recorded during the month. Regarding the earthquakes associated with rock fractures, only one (1) was recorded in the volcano area, due to its small magnitude, it was not possible to locate it. As for sulfur dioxide (SO2) emissions, measured with DOAS equipment, they fluctuated between 30 and 308 tonnes per day, with an average of 213 tonnes / day, the threshold being 300 tonnes / day. Gas monitoring with a multigas station has shown normal values. According to monitoring, the volcano has activity in the normal range.
San Miguel Volcano (Chaparrastique)
Location: Department of San Miguel
Altitude: 2130 meters above sea level
Type of volcano: Stratovolcan
Activity type: Strombolian-Vulcanian.
Last major eruption: December 29, 2013.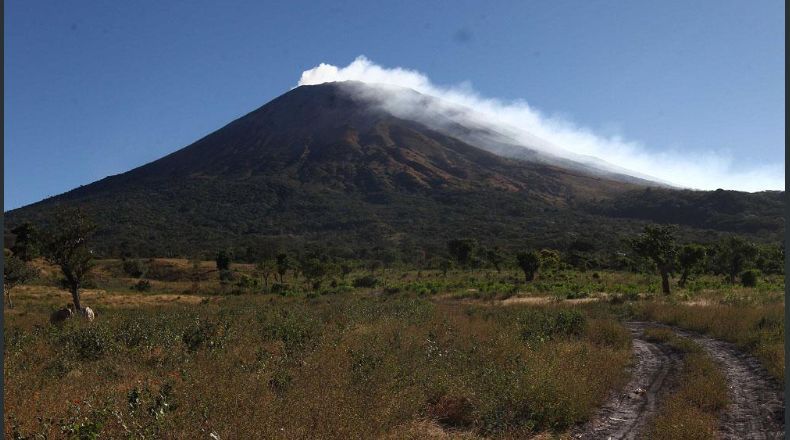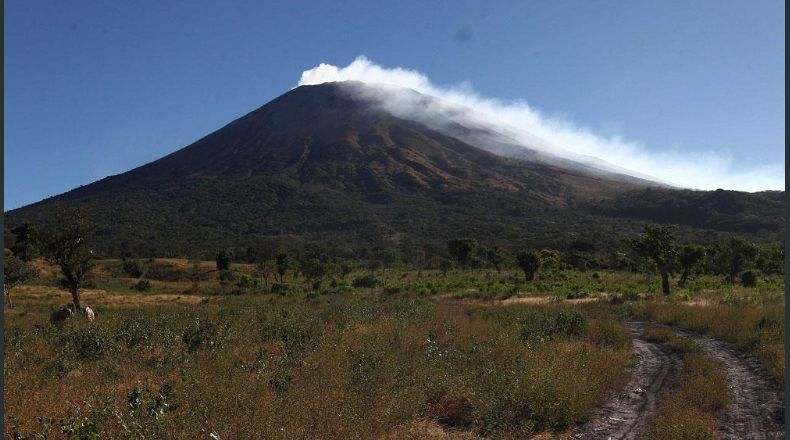 During the month of December, the San Miguel volcano presented a relatively stable level of activity. The seismic vibration continued to fluctuate between 37 and 83 RSAM units on average per day. No earthquake was perceived by the population living in the region.
Regarding sulfur dioxide (SO2) emissions, they remain below the threshold of 620 tonnes / d, indicating that the volcano continues to degas. In general, the activity of the volcano has remained stable, but it is not excluded that it suddenly changes as usual, so it is suggested that mountaineers and the general population avoid visiting the area of the crater.
Source : Marn .
Photos : Volcano.USAF.C-130.3 , laprensagrafica