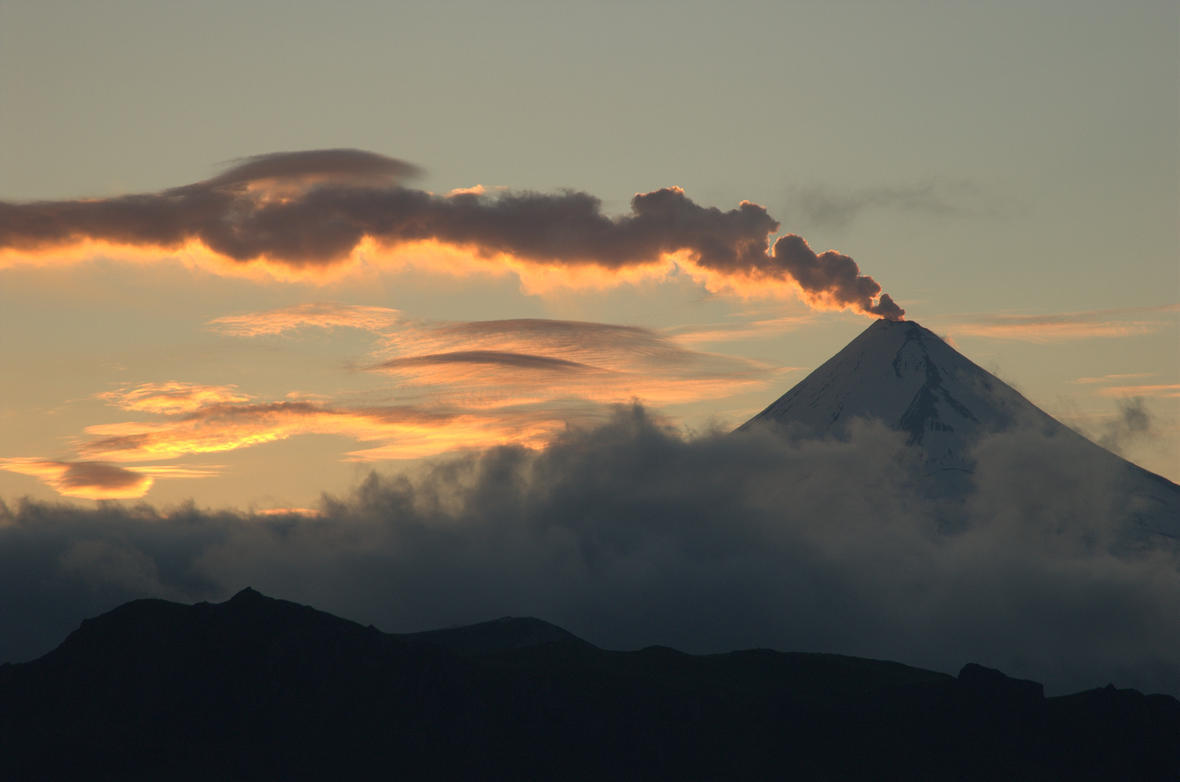 November 05 , 2019. EN. Peru : Ubinas , Peru : Sabancaya , Alaska : Shishaldin , Indonesia : Anak Krakatau , Italy : Stromboli .
November 05 , 2019.
Peru , Ubinas :
Period of analysis: from October 28 to November 3, 2019. Arequipa, November 4, 2019.
Current alert level: ORANGE
The Geophysical Institute of Peru (IGP) reports that the eruptive activity of the Ubinas volcano remains low. To date, the energy of earthquakes associated with the rise of magma at the surface has decreased. Sporadic emissions of bluish gas (of magmatic origin) and water vapor, observed with surveillance cameras, are recorded. In this scenario, the probability of occurrence of volcanic explosions and / or ash emissions is low.
Between October 28 and November 3, the IGP recorded and analyzed a total of 940 seismic events associated with the eruptive process of the Ubinas volcano, with predominant seismicity of the volcano-tectonic (VT) type, associated with fracturing of the rock inside the volcano, with an average value of 75 events per day, with a magnitude less than M1.9. There has been a decrease in the number and energy of seismic signals that are related to the rise of the magma (hybrid type), which recorded an average of 47 earthquakes per day during this period. In addition, there has been no volcanic explosion since September 12th.
The surveillance cameras recorded light and sporadic emissions of blue gas (magmatic origin), with heights less than 1,000 m above the volcano's summit. The monitoring of the deformation of the volcanic structure, using GNSS data (processed with fast orbits), presents no anomalies. The MIROVA satellite monitoring recorded 1 thermal anomaly with a value of 1 MW.
Source : IGP.
Peru , Sabancaya :
Period of analysis: from October 28 to November 3, 2019. Arequipa, November 4, 2019.
Alert level: ORANGE
The Geophysical Institute of Peru (IGP) reports that the eruptive activity of the Sabancaya volcano has remained at moderate levels; that is, recording continuous moderate explosions and resulting ash emissions. Therefore, for the following days, no significant change is expected.
The analysis of records obtained from the seismic network of the Sabancaya volcano for the period from October 28 to November 3, 2019 has identified the occurrence of about 2012 earthquakes of volcanic origin, the highest percentage of which is associated with the movement magmatic fluids. During this week, an average of 28 explosions per day of medium to low intensity were observed.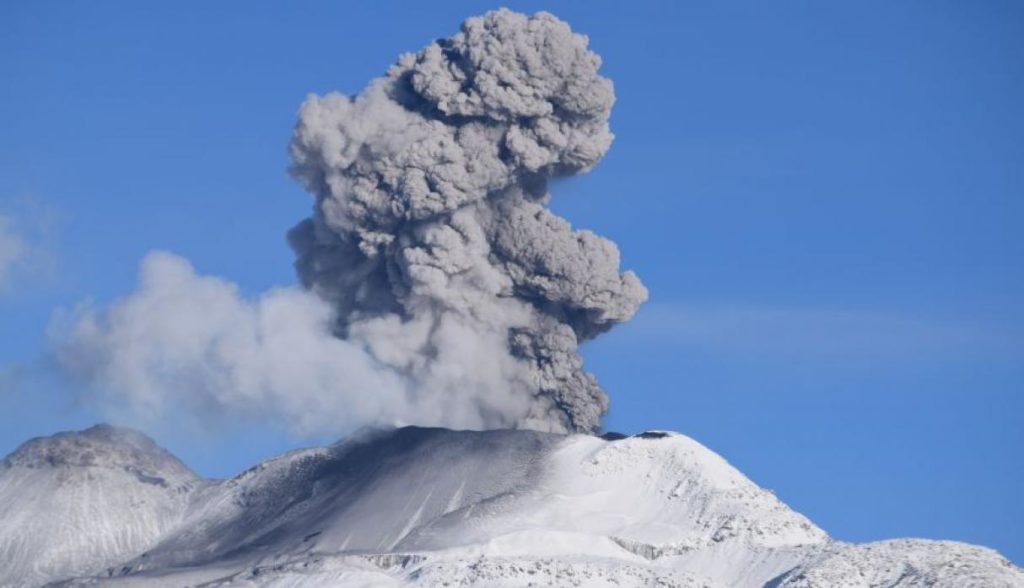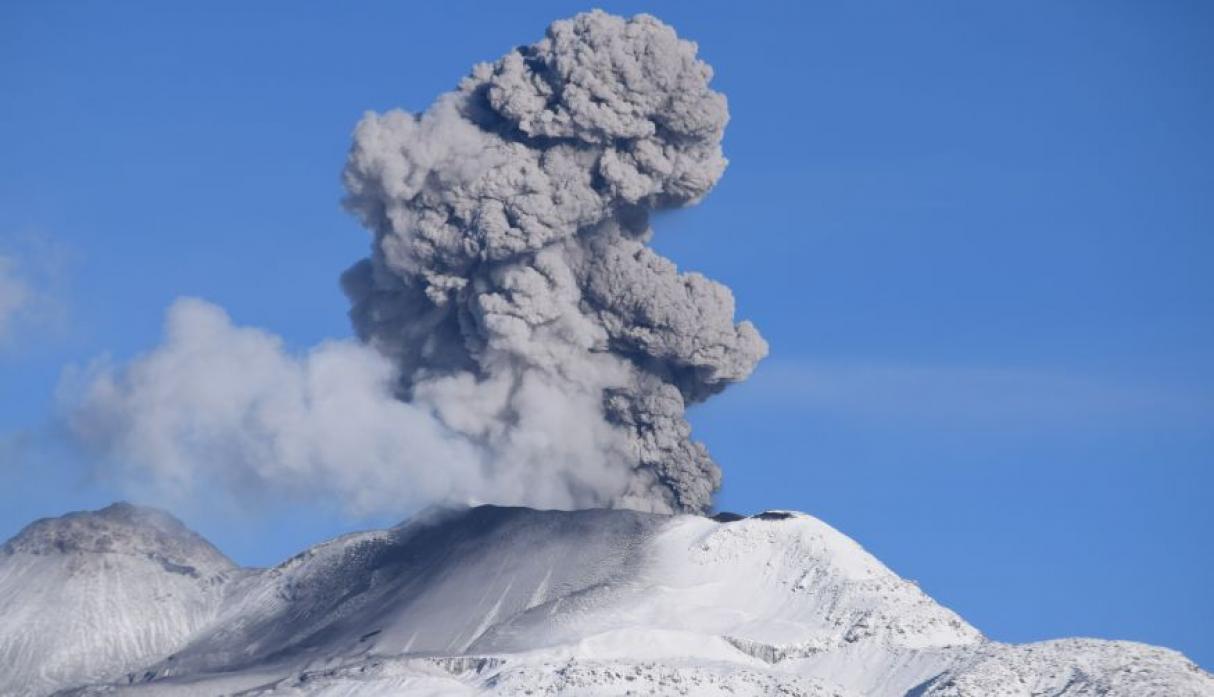 The monitoring of the deformation of the volcanic structure, using GNSS data (processed with fast orbits), does not present significant anomalies. Visual surveillance, using surveillance cameras, identified the appearance of columns of gas and ash up to 2 km high above the summit of the volcano, which dispersed in the Western, Southern and SouthWest of Sabancaya. Satellite monitoring has identified the presence of 9 thermal anomalies on the volcano of between 1 and 30 MW, associated with the presence of a lava body (dome) in the crater of the volcano.
Source : IGP.
Photo : Ingemmet.
Alaska , Shishaldin :
54°45'19 » N 163°58'16 » W,
Summit Elevation 9373 ft (2857 m)
Current Volcano Alert Level: WATCH
Current Aviation Color Code: ORANGE
A low-level eruption continues at Shishaldin. Lava is overflowing the summit crater and the lava flow on the northwest flank has increased in length. Satellite data on Sunday afternoon show that the flow has developed two branches, each extending for about 1000 meters (0.62 miles). Seismicity has decreased over the past 12 hours after an extended period of elevated high-amplitude tremor that was likely related to increased lava effusion. Volcanic debris flows (lahars) have also increased in length and now extend as far as 2 km (1.2 miles) on the north and south flanks.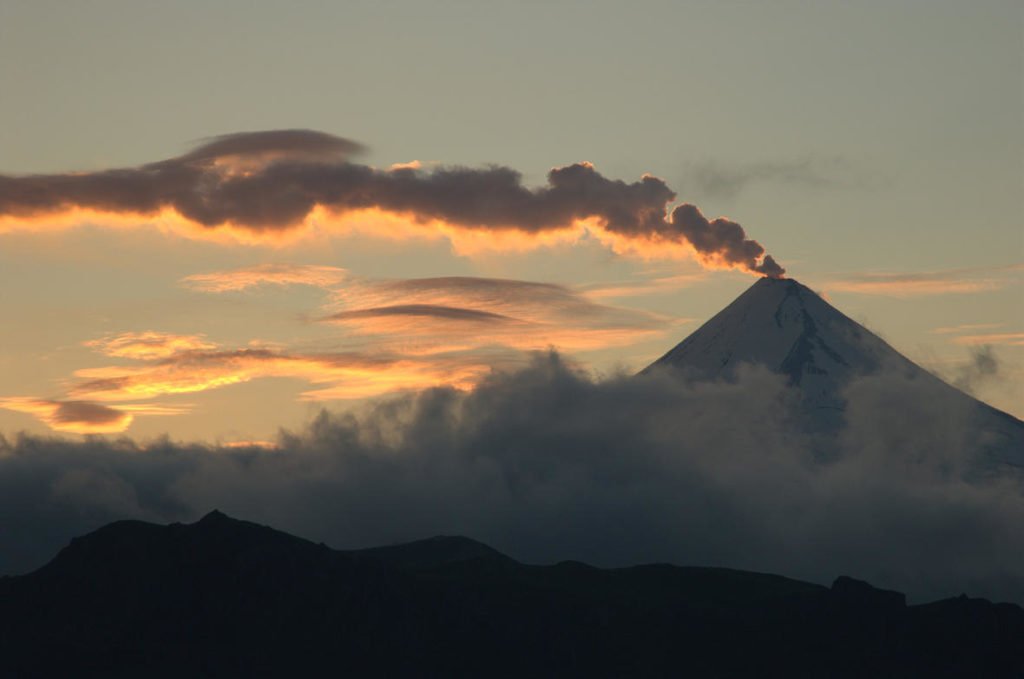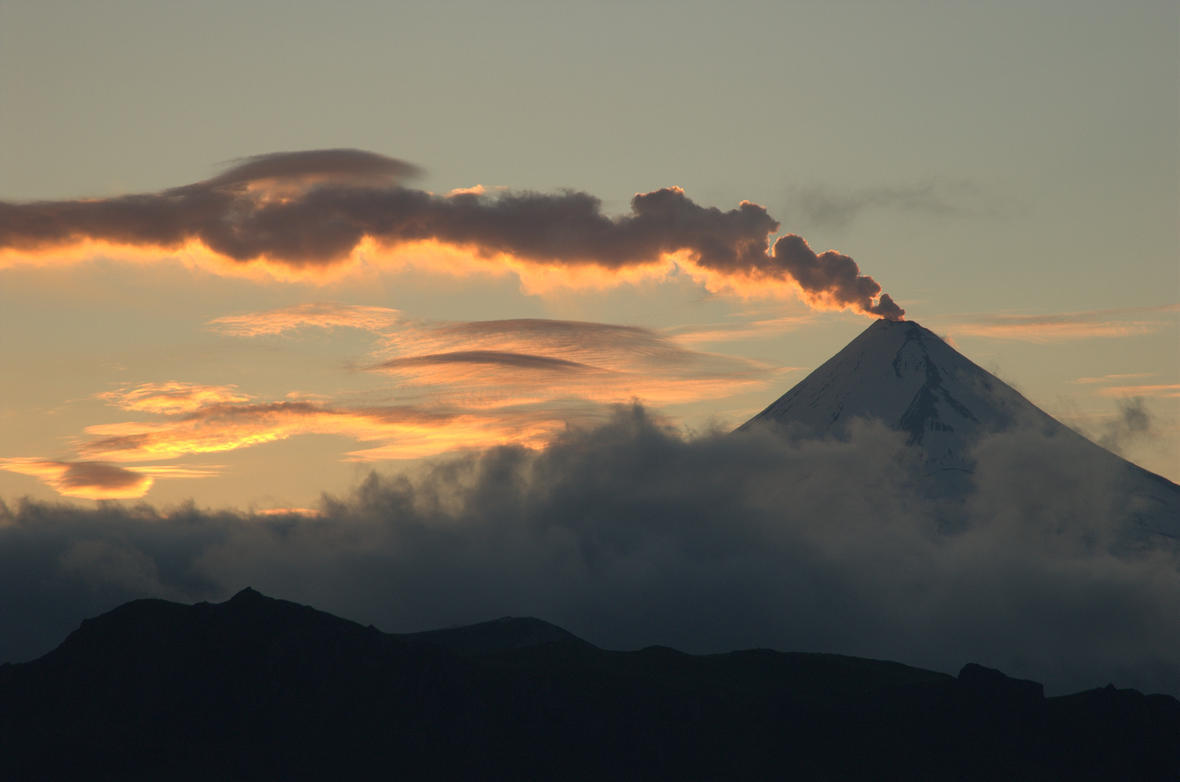 Sporadic incandescence was observed in overnight webcam images and satellite data show deposits of hot lava spatter on the summit cone due to minor explosive activity and/or lava fountaining. Small explosions have also been observed on local seismic stations and detected in regional infrasound data. No significant ash emissions observed in satellite or web camera data, although there are likely periods of minor ash emissions in the immediate vicinity of the summit crater.
Shishaldin is monitored by local seismic and infrasound sensors, satellite data, a web camera, a telemetered geodetic network, and distant infrasound and lightning networks.
Source : AVO.
Photo : Cyrus Read, U.S. Geological Survey. Public domain.
Indonesia , Anak Krakatau :
Level of activity level II (Waspada), since March 25, 2019. The Anak Krakatau (157 m altitude) has experienced an increase in its volcanic activity since June 18, 2018, which was followed by a series of eruptions from September 2018 to February 2019. On October 29, 2019, an eruption occurred, recorded on a seismogram of an amplitude of 41 mm with a duration of approximately 4 minutes 57 seconds.
The weather is sunny, then cloudy, overcast and rainy, the wind blows weakly to the North and East, the air temperature is around 25 – 31 ° C. The volcano is clearly visible until it is covered with fog, no smoke from the crater is observed. Thanks to CCTV, no smoke was observed in the crater.
The seismograph dated November 4, 2019, recorded:
Continuous tremor with amplitude of 1 to 5 mm, dominant value of 3 mm
Recommendation:
The public / tourists are not allowed to approach the crater within a radius of 2 km.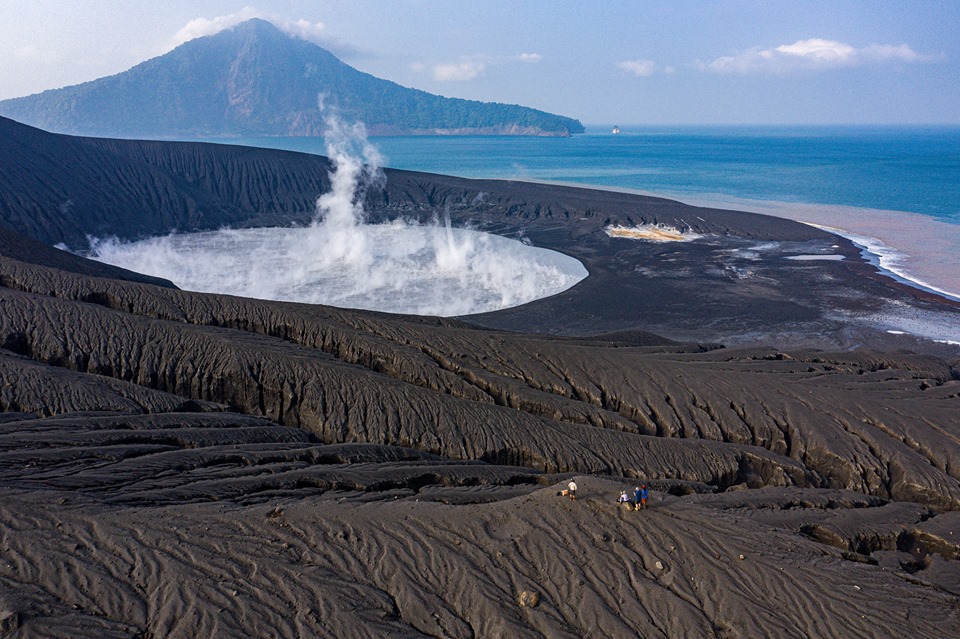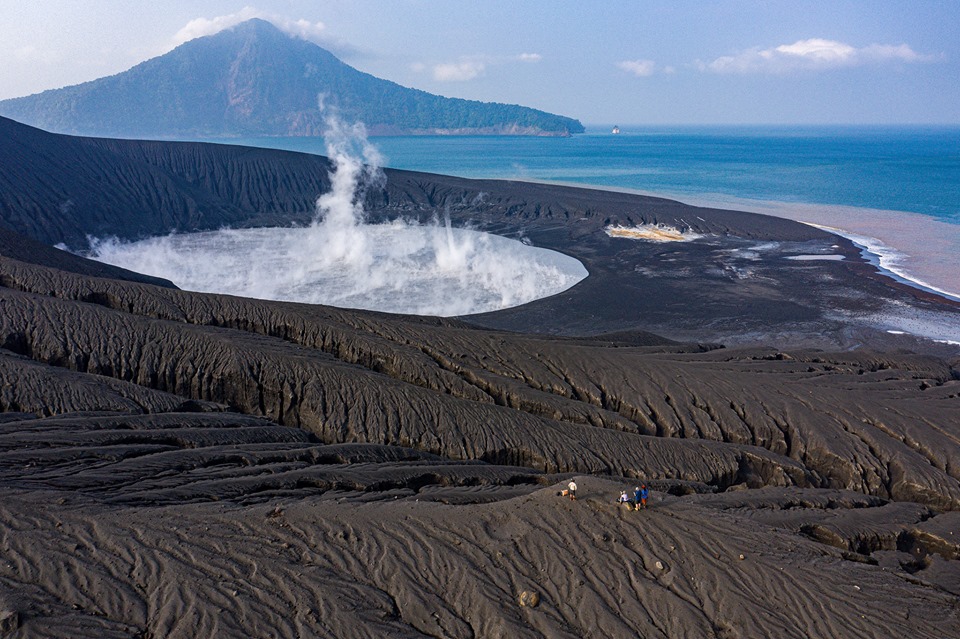 VOLCANO OBSERVATORY NOTICE FOR AVIATION – VONA.
Issued: November 05 , 2019
Volcano: Anak Krakatau (262000)
Current Aviation Colour Code: ORANGE
Previous Aviation Colour Code: orange
Source: Anak Krakatau Volcano Observatory
Notice Number: 2019KRA194
Volcano Location: S 06 deg 06 min 07 sec E 105 deg 25 min 23 sec
Area: Lampung, Indonesia
Summit Elevation: 502 FT (157 M)
Volcanic Activity Summary:
recorded eruption at 04:04 UTC (11:04 local )
Volcanic Cloud Height:
Best estimate of ash-cloud top is around 1462 FT (457 M) above sea level, may be higher than what can be observed clearly. Source of height data: ground observer.
Other Volcanic Cloud Information:
visually from cctv crater seen volcanic ash moving to north, volcanic ash white-black thick 200 meters high from the bottom of the crater.
Remarks:
Eruption recorded on seismogram with maximum amplitude 42 mm and duration 46 second.
Source : PVMBG , Magma Indonésie .
Photo : Martin Hertel.
Italy , Stromboli :
Stromboli Daily Bulletin of 04/11/2019
SUMMARY OF THE STATUS OF ACTIVITY
In light of the surveillance data, we highlight:
1) VOLCANOLOGICAL OBSERVATIONS: Normal explosive activity of Strombolian type accompanied by degassing activities.
2) SISMOLOGY: The seismological parameters do not show any significant changes.
3) DEFORMATIONS: The deformation monitoring networks of the island did not show any significant variation in communication during the last 24 hours.
4) GEOCHEMISTRY: The SO2 flux is moderately medium-high. There is no available measure of the CO2 / SO2 ratio. The last value for the day of 27/10/2019 was at low levels. The isotopic ratios of helium dissolved in the thermal layer remain unchanged for the mean-low values (data of 23/10/2019).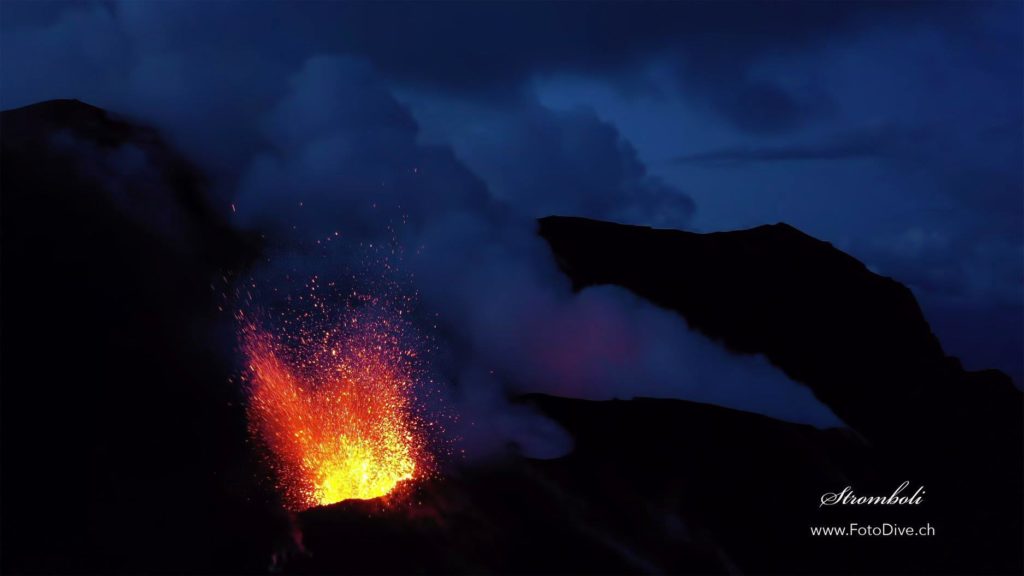 VOLCANOLOGICAL OBSERVATIONS.
At 1200 UTC, analysis of 400 m-high surveillance camera images (SQV and SQT) showed ordinary Strombolian activity from the most active mouths in the North and South Center crater areas. The total daily time frequency was between 23 and 29 events / h (high frequency). In detail in the North Zone, the average explosive activity was 9 events / h with peaks of 13 events / h of low intensity explosions (less than 80 m in height) emitting coarse materials (lapilli and bombs) that sometimes covered the slopes of the cone facing the Sciara del Fuoco. In the South Center zone, an average explosions frequency of 14 events / ha was observed emitting fine materials (ash) mixed with coarse materials, with medium intensity (less than 150 m high) and sporadically high (the products have reached a height of 250 m)). The raw products also fell in the direction of the Sciara del Fuoco.
Source : INGV.
Lire l'article : file:///C:/Users/Utilisateur/AppData/Local/Packages/Microsoft.MicrosoftEdge_8wekyb3d8bbwe/TempState/Downloads/BollettinoGiornalieroStromboli20191104%20(1).pdf
Photo : Willie FotoDive