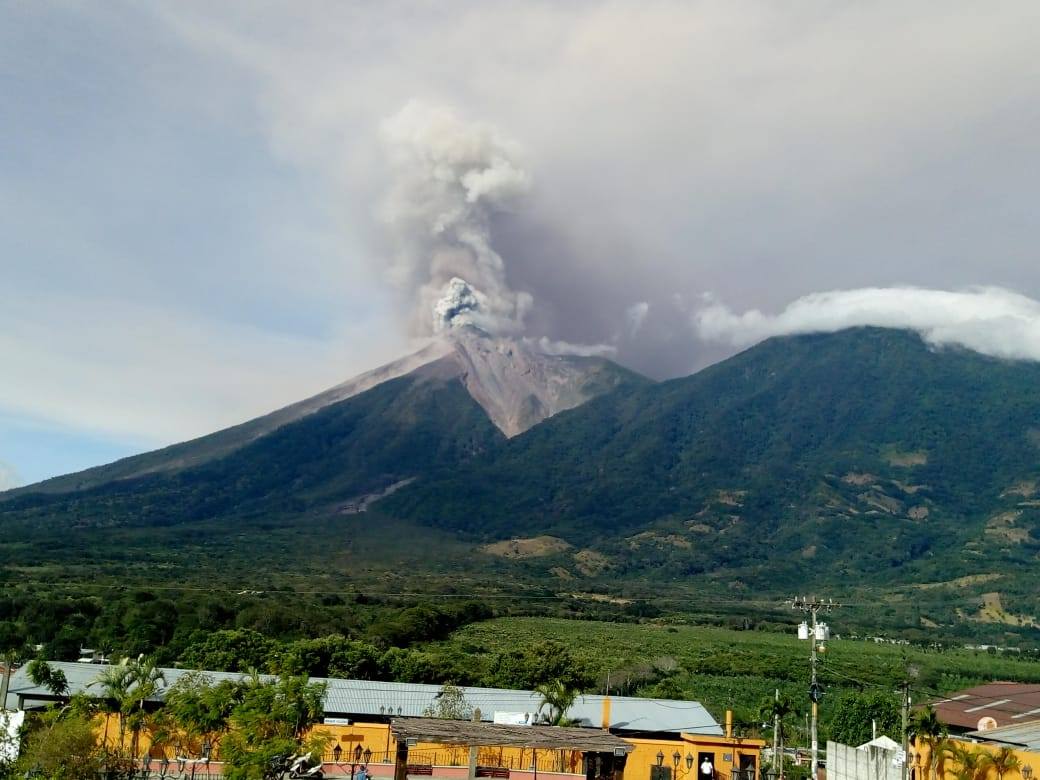 November 20 , 2018. EN. Guatemala : Fuego , Peru : Sabancaya , Alaska : Veniaminof , Russia / Northern Kurils Islands : Ebeko .
November 20 , 2018.
Guatemala , Fuego :
VOLCANOLOGICAL SPECIAL BULLETIN BEFGO # 214-2018 ERUPTION, Guatemala 19 November 2018, 08h30 (local time).
Type of activity: Vulcanian
Morphology: Composite Stratovolcano
Location: 14 ° 28'54˝ Latitude N; 90 ° 52'54˝Longitude W.
Height: 3,763msnm.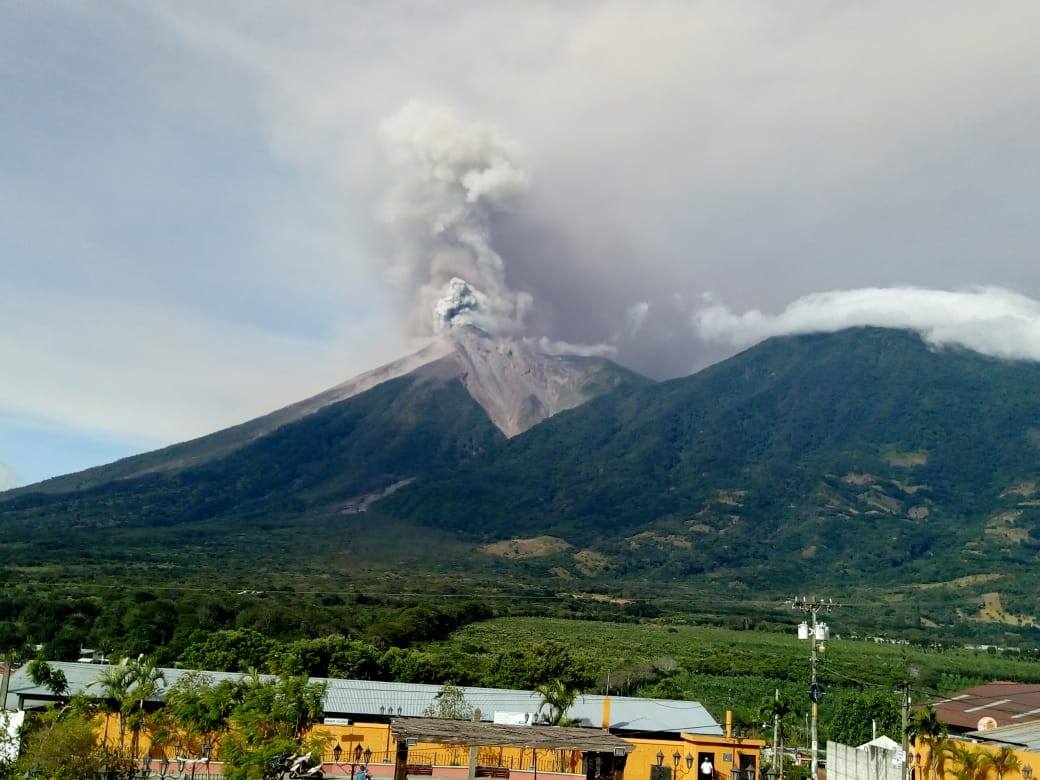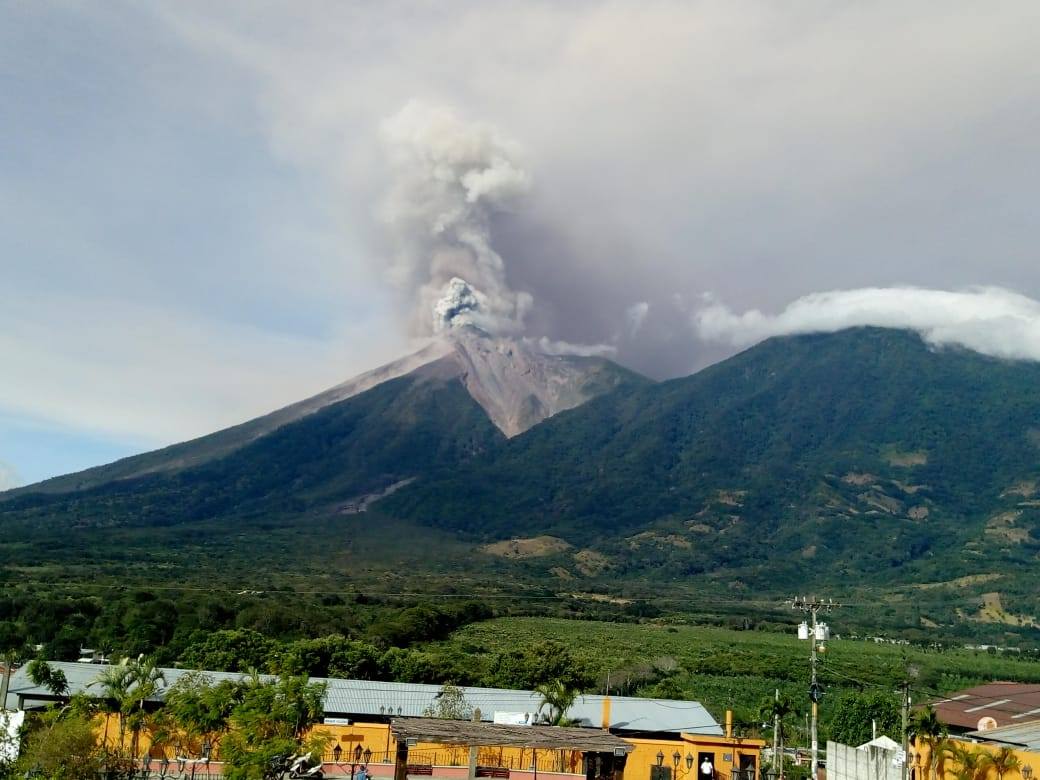 The eruption of the Fuego volcano continues with a high range of activities, pyroclastic flows were generated in the Barrancas Seca, Las Lajas and Honda. The eruption is accompanied by strong and constant explosions, with a thick column of ash maintained at an approximate height of 7000 m of altitude dispersing towards the West and the South-West. The ash dispersal reaches 50 to 60 km, moderate to strong avalanches towards the canyons of Ceniza, Taniluyá and Seca, with distances leading to the edge of the vegetation. The incandescent source rises 800 – 1000 m above the crater, the ballistic materials are scattered more than a kilometer around the crater.
Fuego volcano, Guatemala 7:20 am today ( video by Adrian Bernal a friend)

Publiée par Carmen Morataya de Rehnberg sur Lundi 19 novembre 2018
The explosions generate moderate to loud rumblings that rattle the homes to the west and southwest, more than 15 km from the volcano. Currently, ash particles fall abundantly into the regions of Panimache II, Santa Sofia, Sangre de Cristo, Finca Palo Verde, San Pedro Yepocapa, etc. Lava flows are generated, the longest having an approximate length of 3,000 m towards the Ceniza Canyon, two small ones about 300 m in the direction of the Las Lajas and Honda ravines. Their front part generate avalanches and ash rising.
As the eruption continues to increase, the possibility of pyroclastic flows that can be channeled mainly in the Seca, Taniluyá, Ceniza, Las Lajas and Honda ravines, as well as in the other ravines of the Fuego volcano, is not excluded. you must not stay near or inside ravines where volcanic products descend.
SPECIAL VULCANOLOGICAL BULLETIN BEFGO No. 217-2018. END OF ERUPTION. Guatemala 19 November 2018, 18:00 (local time).
The fifth eruption of the Fuego volcano ended. There are constant low to moderate explosions, a column of ash at an approximate height of 4,800 meters (15,748 feet), traveling 15 km to the west and southwest. This causes the ashes to fall to Panimaché, El, Porvenir, Morelia, Santa Sofia, Sangre de Cristo, Finca Palo Verde, San Pedro Yepocapa, among others.
Incandescent impulses are observed in the crater at an approximate height of 100 to 300 meters, causing weak to moderate avalanches on the crater contour, some reaching long distances to the vegetation towards the main ravines.
This eruption lasted 32 hours, lava flows and pyroclastic flows appeared. It is therefore possible to observe remains of lava flows during the night and early in the morning towards Ceniza Canyon, as well as fine particles in suspension.
Source : Insivumeh.
Video : Carmen Morataya de Rehnberg. Rudy Giron .
Peru , Sabancaya :
An average of 20 Explosions / day was recorded. The activity associated with fluid movements (long-period types) continues to predominate. Earthquakes associated with the rise of magma (hybrid types) remain very few and low energy. 
The columns of gas and eruptive ash reached a maximum height of 3000 m above the crater. The dispersion of these materials occurred within a radius of about 40 km, mainly to the northwest, southwest and south.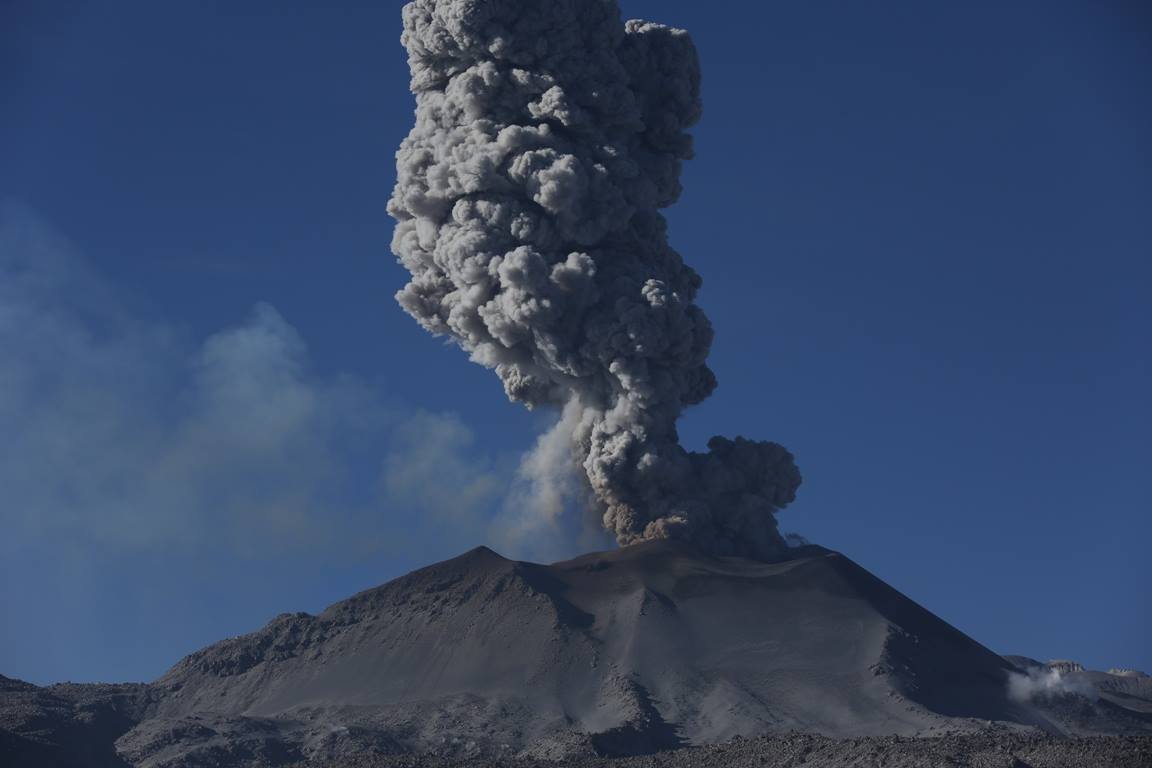 The volcanic gas flow (SO2) recorded on November 13 a maximum value of 3000 tons / day, a value considered important. 
The deformation of the surface of the volcanic building presented important variations. 
The MIROVA satellite system recorded 7 thermal anomalies, with values between 3 and 43 MW VRP (Radiated Volcano Energy).
In general, eruptive activity maintains moderate levels. No significant changes are expected in the coming days.
Source : IGP
Photo : Photovolcanica.
Alaska , Veniaminof :
56°11'52 » N 159°23'35 » W,
Summit Elevation 8225 ft (2507 m)
Current Volcano Alert Level: WATCH
Current Aviation Color Code: ORANGE
Veniaminof volcano continues to erupt with effusion of a lava flow from the cone in the ice-filled summit caldera, and continuous, low-amplitude seismic tremor. Clear satellite views of the volcano over the past day showed strongly elevated surface temperatures from the active lava effusion. Web camera images showed incandescence from the lava emission overnight and a minor plume above the vent in daytime images.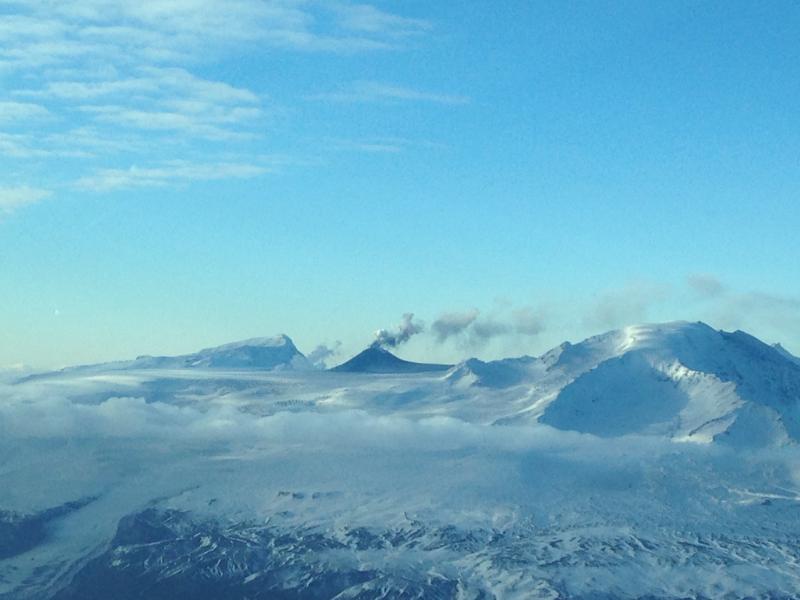 Diffuse ash and steam emissions continue and trace ashfall is possible in nearby communities under favorable wind conditions.
Veniaminof volcano is monitored with a local real-time seismic network, which will typically allow AVO to detect changes in unrest that may lead to a more significant explosive eruption. Rapid detection of such an event would be accomplished using a combination of seismic, infrasound, lightning, and satellite data.
Source : AVO.
Photo : Finley, Zachary , 09 Novembre 2018.
Russia / Northern Kurils Islands , Ebeko :
VOLCANO OBSERVATORY NOTICE FOR AVIATION (VONA) .
Issued: November 19 , 2018.
Volcano:Ebeko (CAVW #290380)
Current aviation colour code:ORANGE
Previous aviation colour code:orange
Source:KVERT
Notice Number:2018-111
Volcano Location:N 50 deg 41 min E 156 deg 0 min
Area:Northern Kuriles, Russia
Summit Elevation:3791.68 ft (1156 m)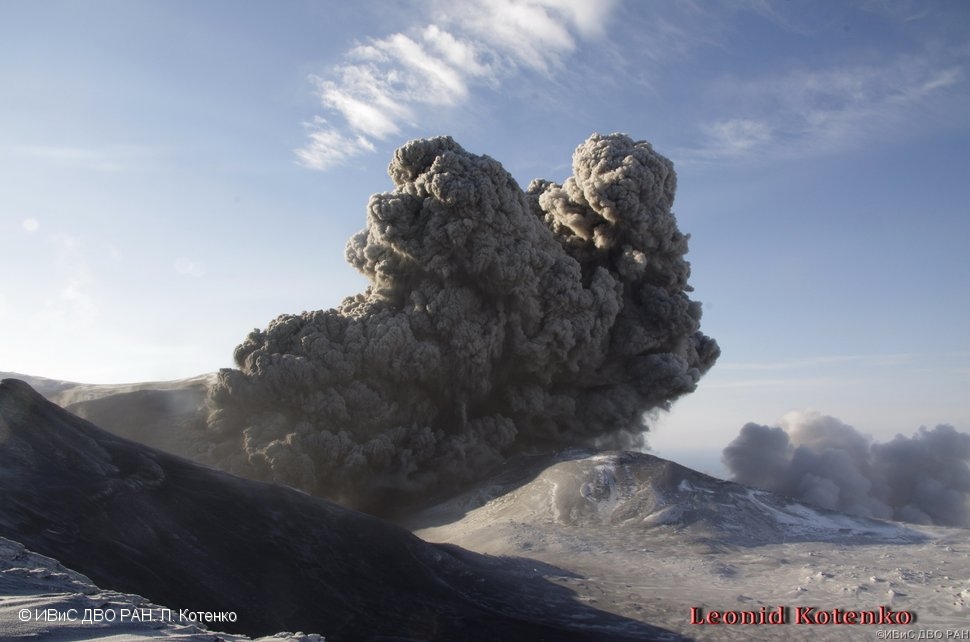 Volcanic Activity Summary:
A moderate explosive activity of the volcano continues. Visual data from Severo-Kurilsk showed an explosion sent ash up to 2-2.3 km a.s.l., an ash plume is extending to the north from the volcano.
This moderate eruptive activity of the volcano continues. Ash explosions up to 19,700 ft (6 km) a.s.l. could occur at any time. Ongoing activity could affect low-flying aircraft and airport of Severo-Kurilsk.
Volcanic cloud height:
6560-7544 ft (2000-2300 m) AMSL Time and method of ash plume/cloud height determination: 20181119/2223Z – Visual data
Other volcanic cloud information:
Distance of ash plume/cloud of the volcano: 3 mi (5 km)
Direction of drift of ash plume/cloud of the volcano: N
Time and method of ash plume/cloud determination: 20181119/2223Z – Visual data
Source : Kvert
Photo : L. Kotenko, IVS FEB RAS