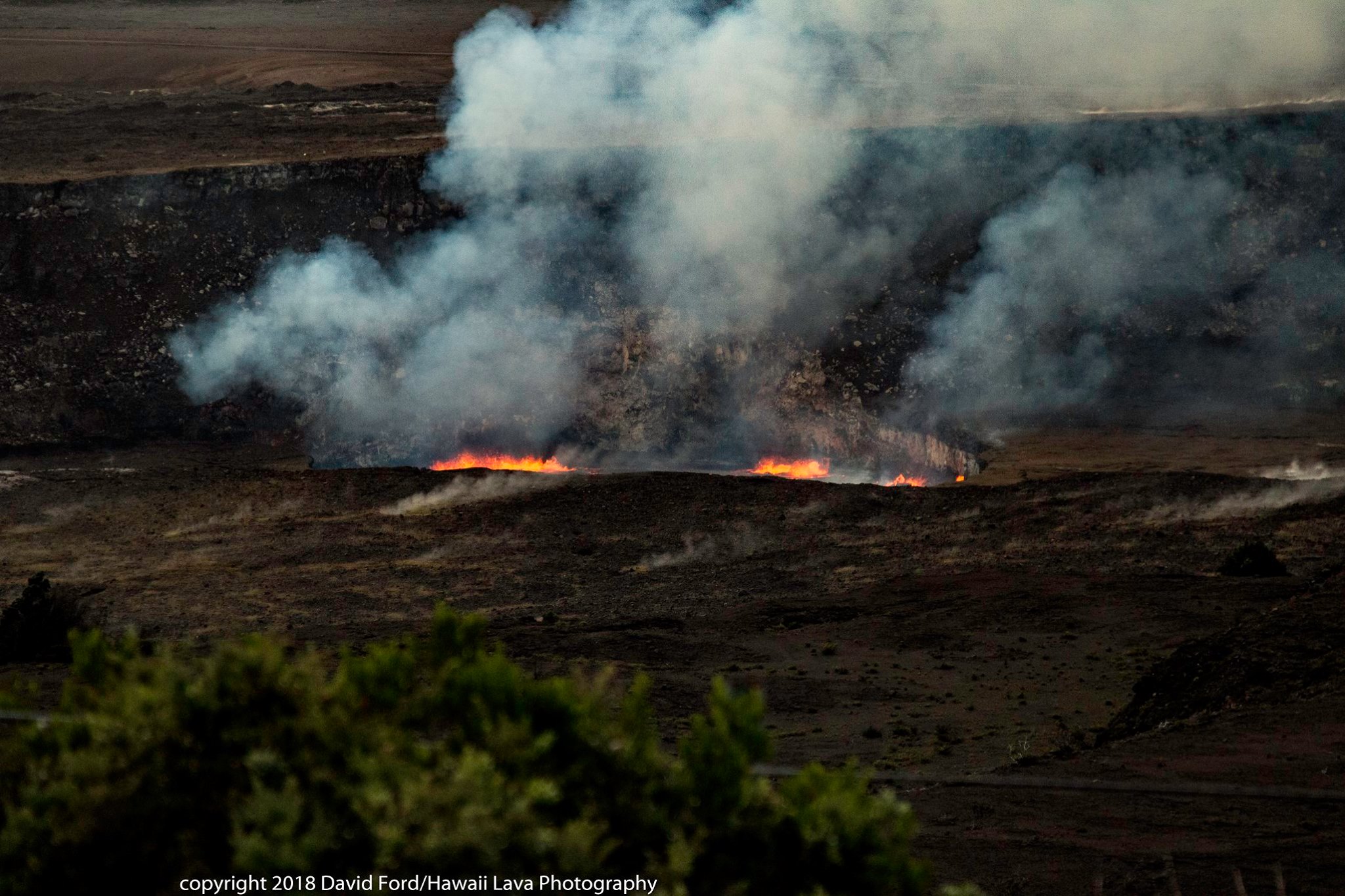 April 17 , 2018. EN. Kilauea , Sabancaya , Nevados de Chillan , Dukono .
April 17 , 2018.
Kilauea , Hawai :
19°25'16 » N 155°17'13 » W,
Summit Elevation 4091 ft (1247 m)
Current Volcano Alert Level: WATCH
Current Aviation Color Code: ORANGE
Activity Summary:
Eruptions at Kīlauea Volcano's summit and East Rift Zone continue. The summit lava lake remains at a high level, with spattering visible from Jaggar Museum. Puʻu ʻŌʻō cone has been inflating and recently produced lava flows on the crater floor. The Episode 61g lava flow is active above Pulama pali and does not pose a threat to nearby communities at this time. There is currently no active lava on the pali, the coastal plain, or entering the ocean. Low rates of ground deformation and seismicity continue across the volcano.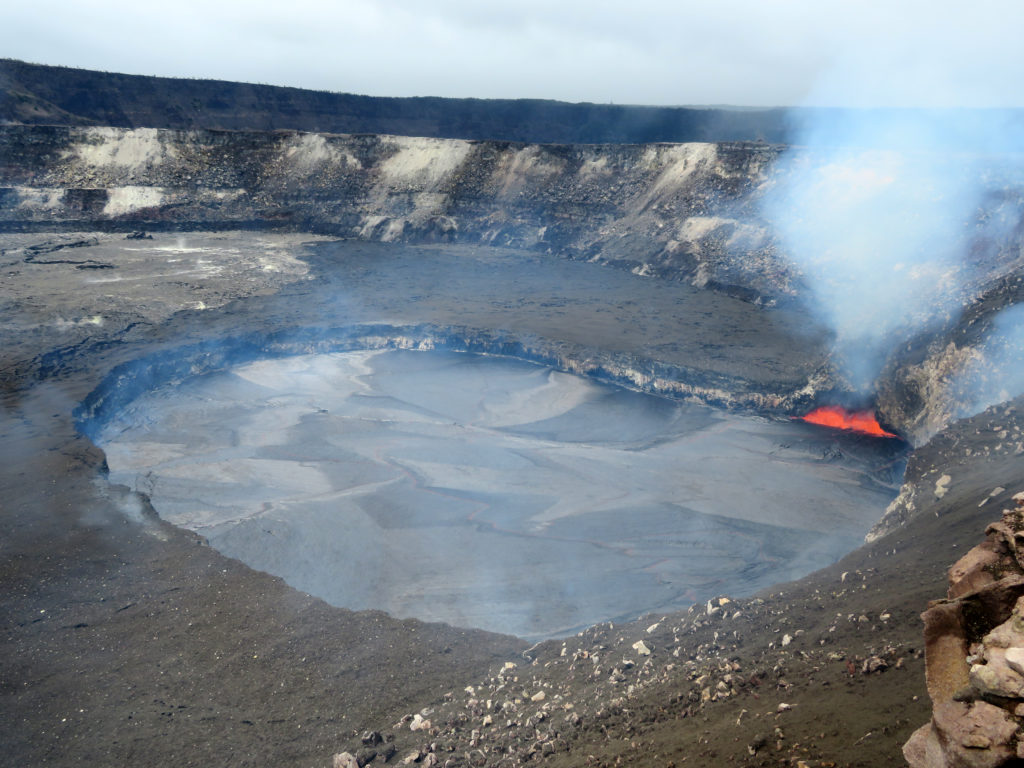 Over the past few days, Kīlauea Volcano's summit lava lake in Halema'uma'u has steadily risen as summit inflation continues. Today, Sunday, April 15, the lake surface was just 14 m (46 ft) below the Overlook crater rim. Spattering has also been active, with this photo showing a large spattering site in the southeast portion of the lake. These high lake levels have provided good views from the public viewing area at Hawai'i Volcanoes National Park's Jaggar Museum.
Summit Observations:
The summit lava lake continues to rise and remains at a high level, with spattering visible yesterday from HVO and Jaggar Museum. This morning it was measured to be about 10 meters (33 ft.) below the rim of the Overlook crater. Summit tiltmeters continued to record inflationary tilt throughout the day. Seismicity in the summit area is within normal, background rates, with tremor amplitude fluctuations associated with lava lake spattering. A slight increase in seismicity in the Upper East Rift Zone began overnight. The largest event was a M2.9 earthquake.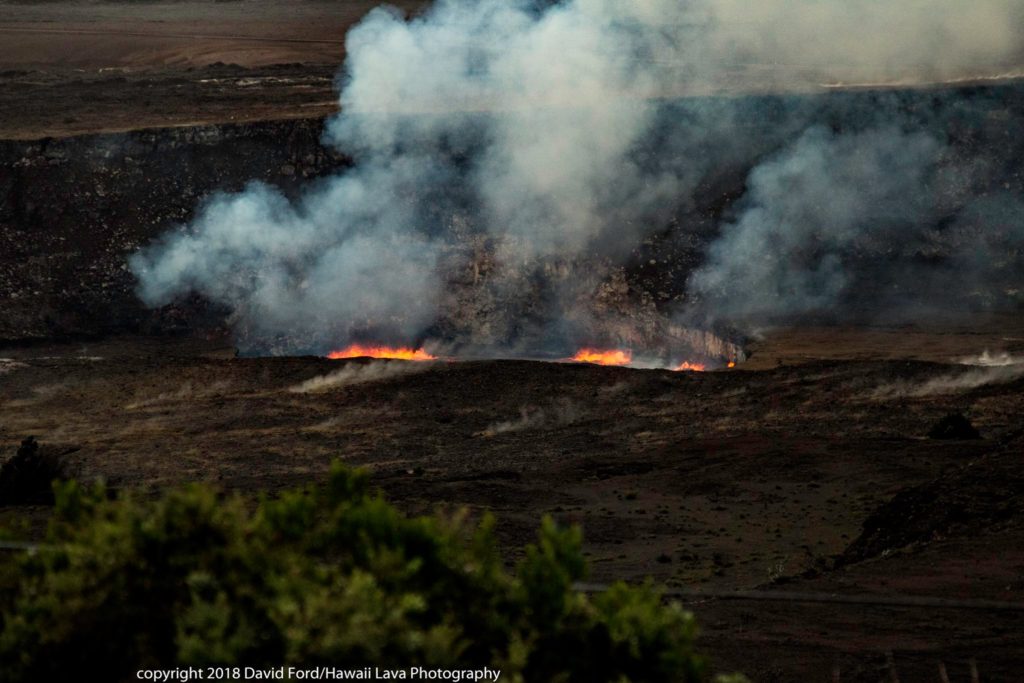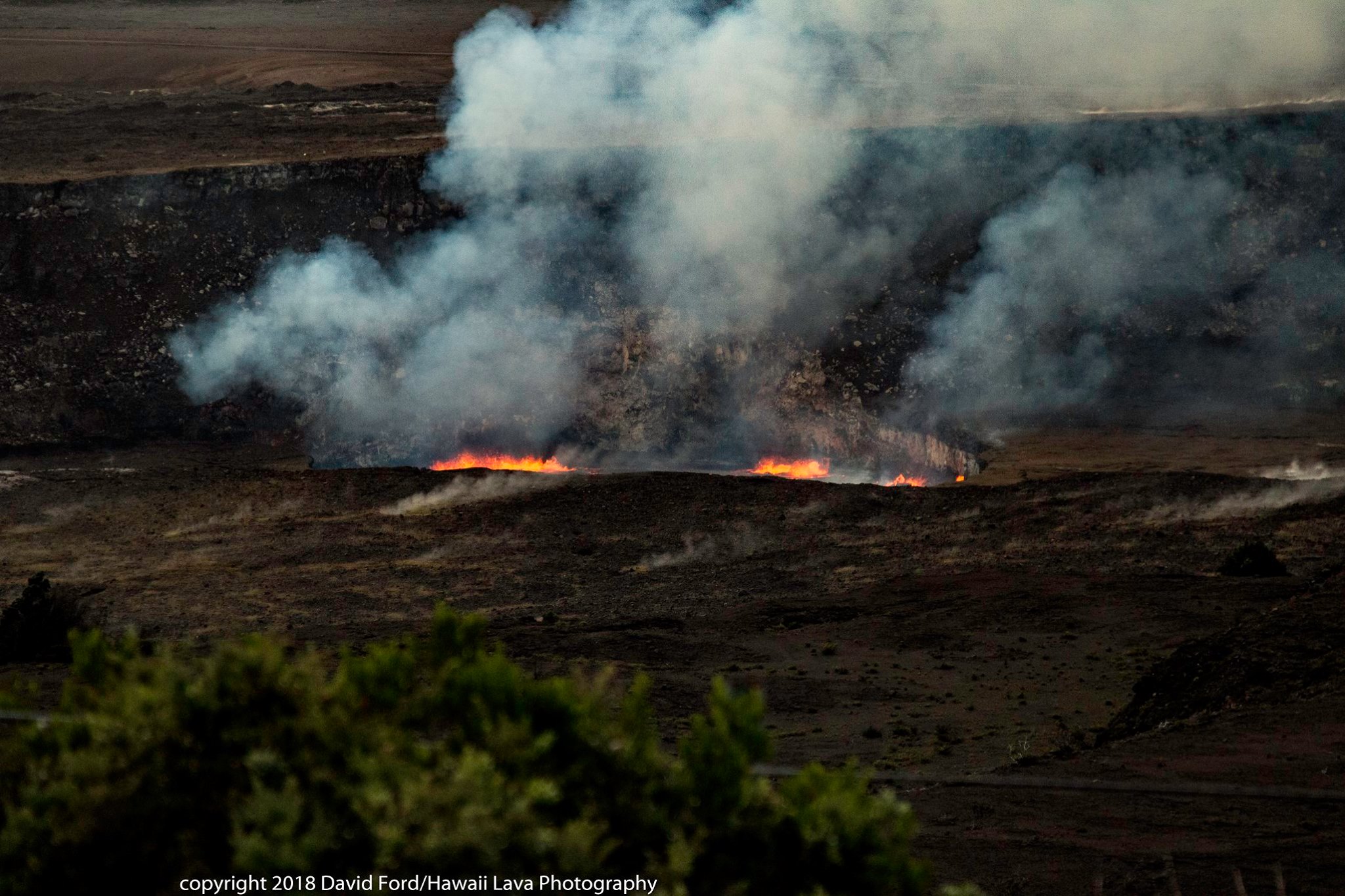 Puʻu ʻŌʻō Observations:
No significant change in tilt was recorded on Puʻu ʻŌʻō tiltmeters over the past day and seismicity is at normal, background levels. Apparent changes in tilt recorded early this morning are due to rainfall. The overall trend over the past several weeks has been one of inflationary tilt. Webcam views showed no new flows in the crater in the past 24 hours. The sulfur dioxide emission rate from the East Rift Zone vents has been steady over the past several months and remains significantly lower than the summit emission rate.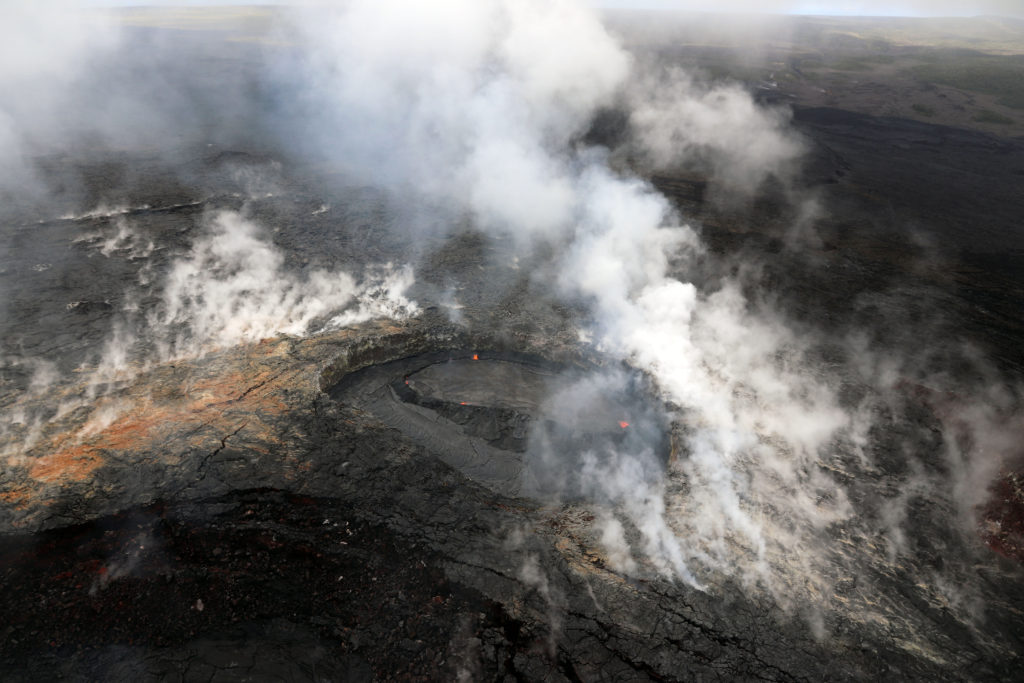 Lava within the west pit at Pu'u 'Ō'ō has continued to rise since HVO's previous overflight (March 27) and has formed a perched lava pond (center) contained within a levee. This levee, formed by an accumulation of hardened lava, confines molten lava to the perched pond, which allows the lava surface to rise higher than the west pit floor. If the pond rises high enough, lava can spill over the levee, forming small flows around the margin of the perched pond.
Lava Flow Observations:
There is no lava flow activity from the Episode 61g lava flow on the coastal plain or pali, and no lava is flowing into the ocean. Lava flow activity continues on the upper flow field, above the pali and closer to Puʻu ʻŌʻō, and does not pose a threat to nearby communities at this time. Areas of the upper flow field with active lava flows are located within the Kahaualeʻa Natural Area Reserve, which has been closed to the public by DLNR since 2007 due to volcanic hazards.
Source : HVO.
Photo : HVO , David Ford.
Sabancaya , Peru :
The explosive activity was maintained with an average of 15 explosions / day. Events associated with fluid movements (Long Period type) and ash emissions (Tremor type) continue to dominate. The earthquakes associated with the rise of the magma (Hybrids type) continue to be low in number and energy. 
The eruptive columns of gas and ash reached a maximum height of 2200 m above the crater. The dispersion of these materials occurred within a radius of about 30 km, mainly to the northwest and southwest. Very slight ash falls have been reported in Huambo and Cabanaconde.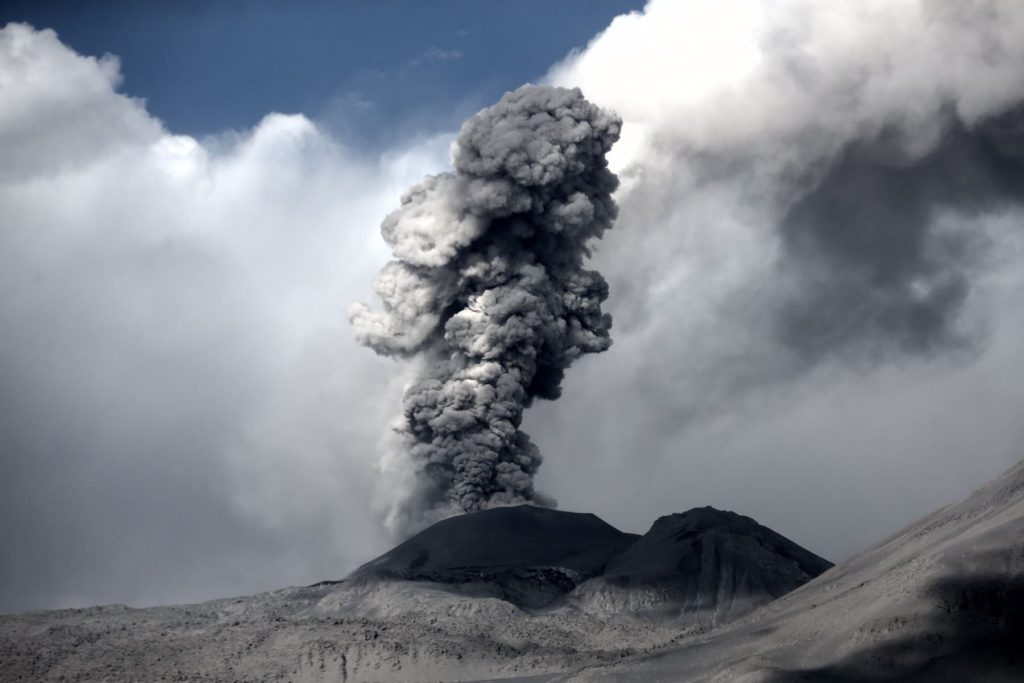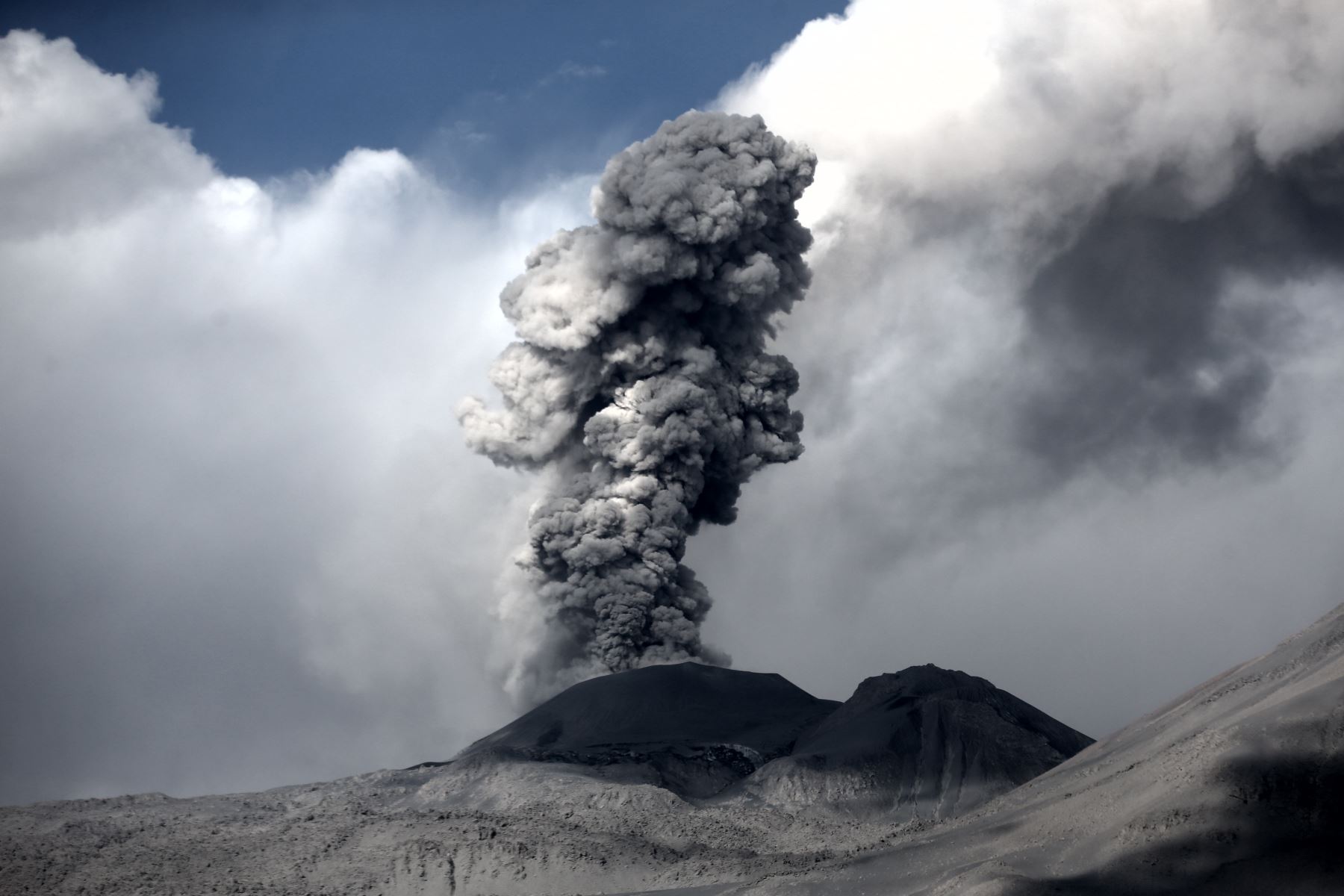 The volcanic gas (SO2) flux recorded on March 30 has a maximum value of 2726 tons / day, a value considered large. 
The volcanic deformation measured in the UBGW station shows positive changes compared to the previous period. 
Three thermal anomalies were recorded according to the MIROVA system, with values between 6 and 21 MW VRP (Radiated Volcanic Power). In general, eruptive activity maintains moderate levels. No significant changes are expected in the following days
Source : IGP
Nevados de Chilian , Chile :
Volcanic Activity Report (RAV), Volcanological Observatory of the Southern Andes – Ovdas
Date: April 15, 2018 5:00 PM HL.
Current alert level: ORANGE
1. Volcanic monitoring
1.1 Seismic activity:
In the past 24 hours, the Nevados del Chilian volcanic complex has continued to exhibit long-period (LP) earthquakes and tremor (TR) episodes related to the occurrence of explosions, most of them with moderate seismic energies. In addition, the beginning of each explosion was often accompanied by LP-type earthquakes followed by episodes of tremor. Activity levels remained very close to levels reported for the previous period. In addition, there was a low occurrence of smaller volcano-tectonic activity.
1.2 Surface activity
Maximum height of the column (km): 0.2.
Direction: South.
Main distance Panache (km): not detected.
Source of information: OVDAS IP camera
Incandescence (yes / no): Yes
Observations:
The gas columns observed from the IP cameras, were weak and had a mainly whitish coloration, with a preferential dispersion towards the South. We also observe intermittent nighttime glow and ballistic emission around the active crater associated with explosions.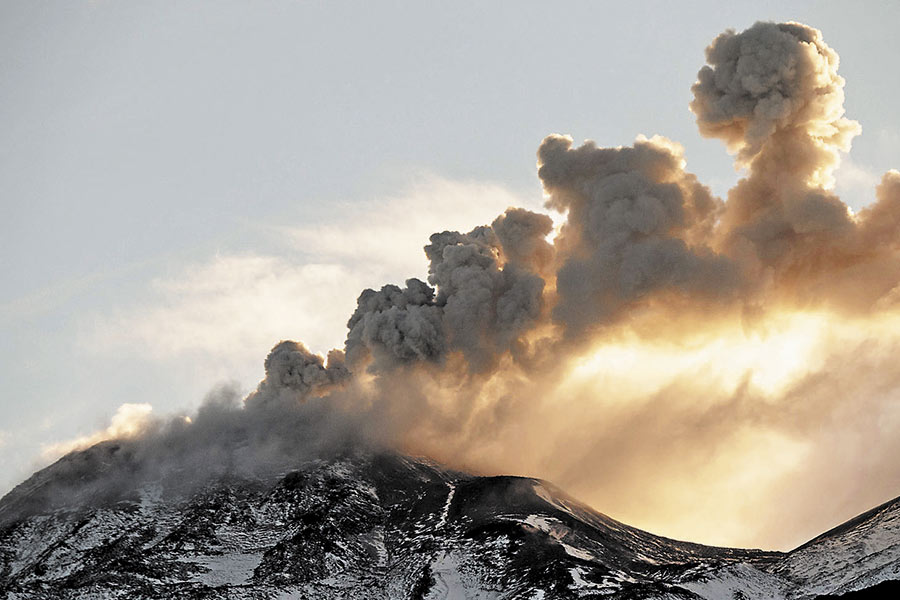 1.3 Other observations
Infrasound sensors recorded during the period acoustic signals due to explosions with amplitudes lower than 0.2 pascals (Pa) reduced to 1 km.
⦁ Thermal radiation data processed by the MIROVA group did not report any thermal anomalies on Nevados del Chilian.
The area of ​​potential danger is determined on the basis of a moderate to high explosive eruptive phase, associated with a partial destruction of the lava dome located in the active crater. The procedure planned before this event would be the generation of a 10-kilometer high eruptive column that collapses, which could generate pyroclastic surges that would radially affect the crater.
Eventually, depending on the availability of sediments and water, flooding could occur in the large valleys draining the Las Termas sub-complex, mainly towards Estero Renegado, Shangri-La Valley, the Rio's headwaters. Nuble. In addition, the gravitational collapse of the lava dome of the Northeast crater is envisaged, which could affect the Gato and Las Minas rivers through pyroclastic flows, ash and blocks.
Finally, the most likely scenario is the sporadic generation of minor eruptive impulses (columns no greater than 5 km altitude) associated with explosions of gas, pyroclastic particles whose ballistic projections fluctuate over a distance of 2 to 3 km around the active crater.
Source : Sernageomin.
Photo : Sernageomin / La Tercera.
Dukono , Indonesia :
VOLCANO OBSERVATORY NOTICE FOR AVIATION – VONA.
Issued: April 15 , 2018.
Volcano: Dukono (268010)
Current Aviation Colour Code: ORANGE
Previous Aviation Colour Code: orange
Source: Dukono Volcano Observatory
Notice Number: 2018DUK41
Volcano Location: N 01 deg 41 min 35 sec E 127 deg 53 min 38 sec
Area: North Maluku, Indonesia
Summit Elevation: 3933 FT (1229 M)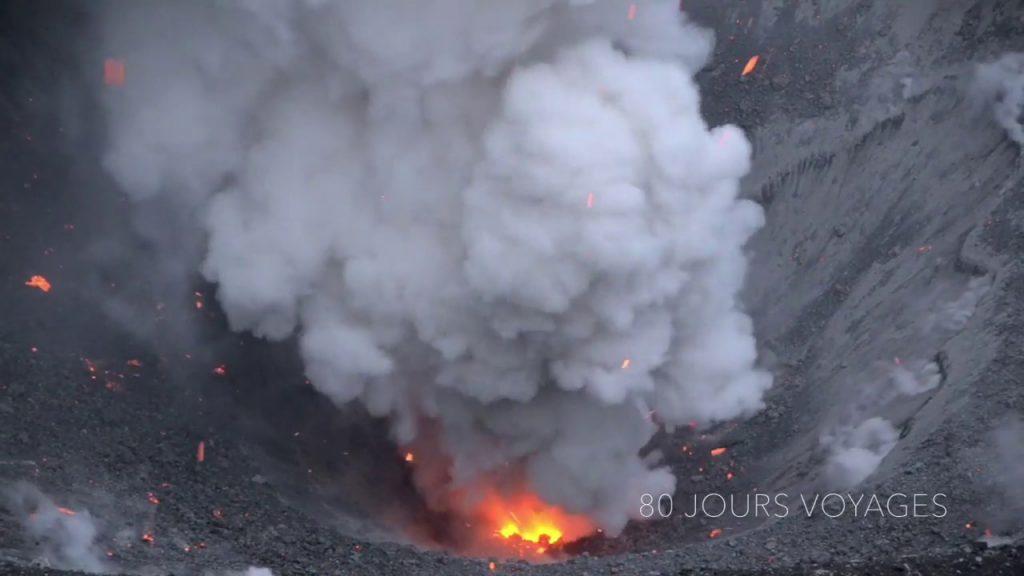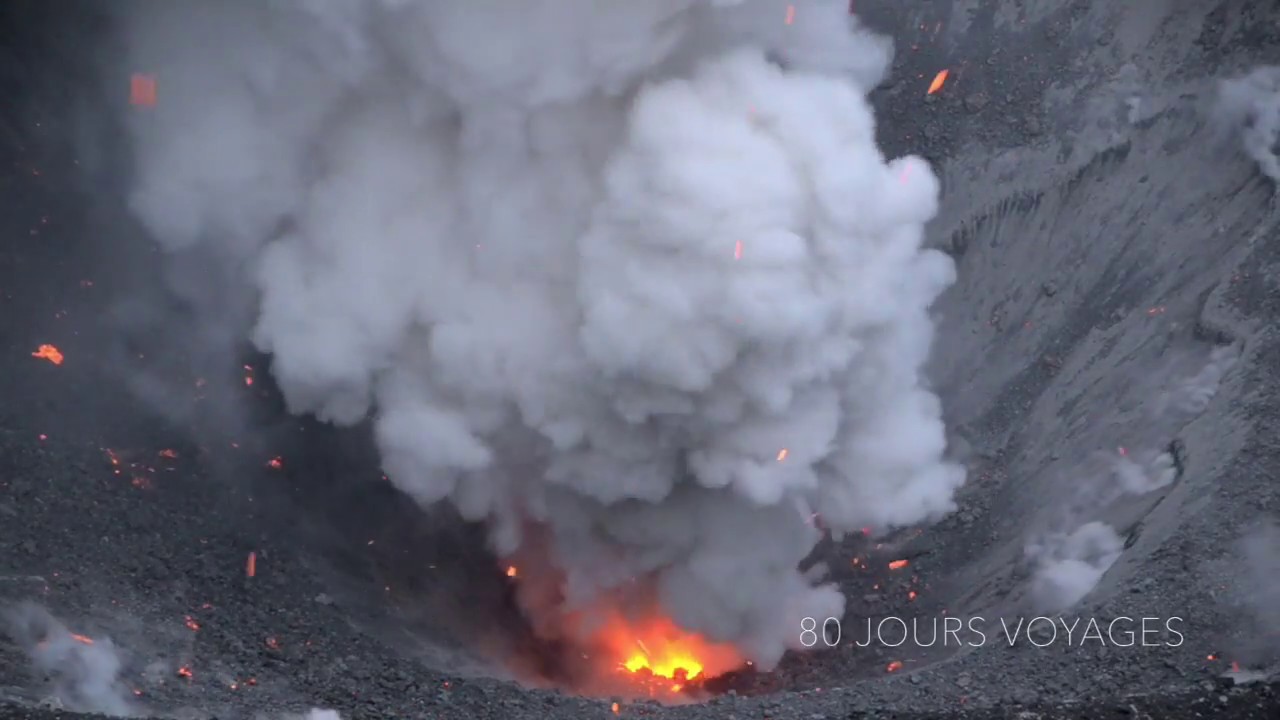 Volcanic Activity Summary:
Eruption with volcanic ash cloud at 23h13 UTC (08h13 local).
Volcanic Cloud Height:
Best estimate of ash-cloud top is around 5853 FT (1829 M) above sea level, may be higher than what can be observed clearly. Source of height data: ground observer.
Other Volcanic Cloud Information:
Ash cloud moving to North.
Remarks:
Eruption and ash emission is continuing.
Source : Magma Indonésie.
Photo : S Chermette , http://80joursvoyages.com/