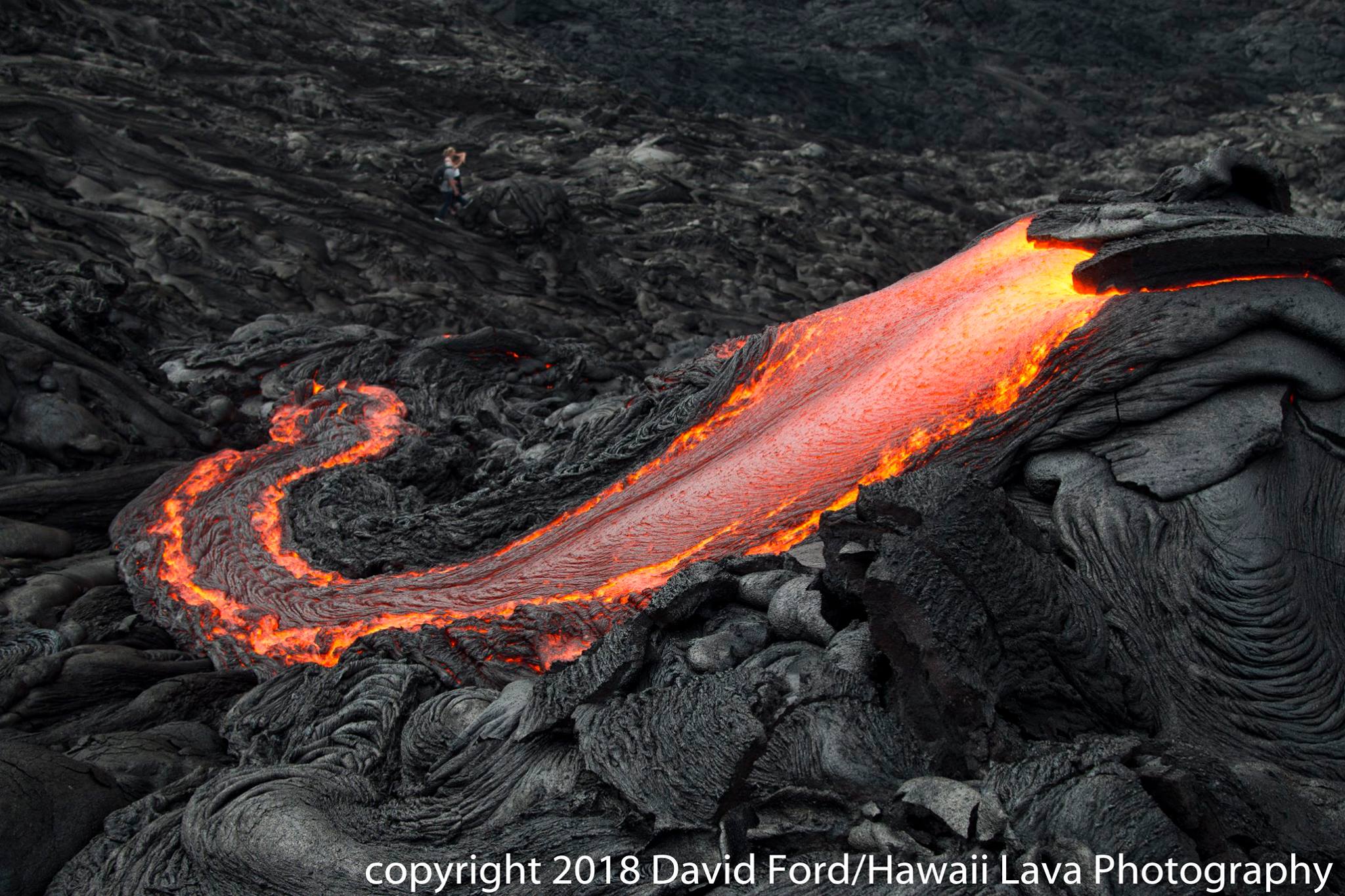 March 17 , 2018. EN. Kilauea , Cleveland , Sheveluch , Agung .
March 17 , 2018.
Kilauea , Hawai :
19°25'16 » N 155°17'13 » W,
Summit Elevation 4091 ft (1247 m)
Current Volcano Alert Level: WATCH
Current Aviation Color Code: ORANGE
Activity Summary:
The eruptions at Kīlauea Volcano's summit and East Rift Zone continue without significant changes. The upper portion of the Episode 61g lava flow is active, issuing surface flows on the upper portion of the flow field and on Pulama pali. These lava flows pose no threat to nearby communities. Lava is not flowing into the ocean at this time. The summit lava lake surface has risen since yesterday's measurement, to levels where active spattering can be seen via webcams mounted in the HVO building tower. Low rates of ground deformation and seismicity continue across the volcano.

Just before noon today, HVO's summit webcam (KIcam) captured this striking image of Kīlauea Volcano's ongoing summit eruption. A small rockfall on the north side of the Overlook crater triggered a small explosion in the lava lake, sending a dark-colored ash plume skyward. Visitors (lower right) who happened to be looking toward Halema'uma'u from the Jaggar Museum Overlook in Hawai'i Volcanoes National Park witnessed the event, but were in no danger from it given their distant vantage point.
Summit Observations:
The lava lake within the Halemaʻumaʻu Overlook crater remains active. Webcam views of the lava lake show continued circulation and spattering as well as fluctuations in depth from adjacent crater floor to lava lake surface. Through the past day, the surface of the lava lake has risen from yesterday's measured depth, to levels where active spattering has been visible via webcams mounted in the HVO tower, across the crater from the vent. Seismicity in the summit area is within normal, background rates, with tremor fluctuations associated with lava lake spattering.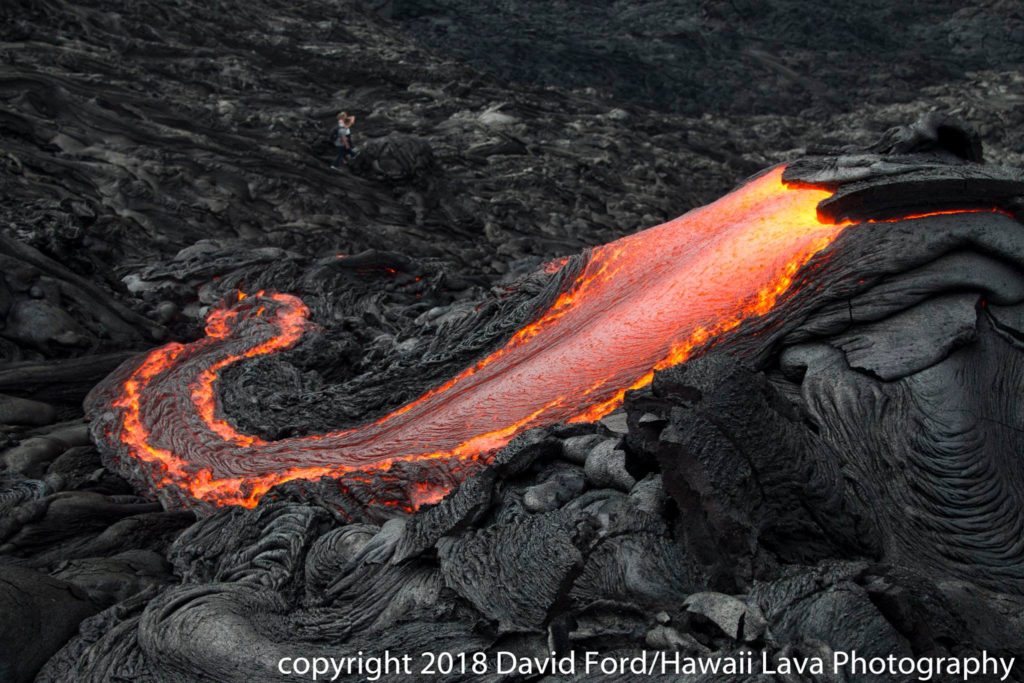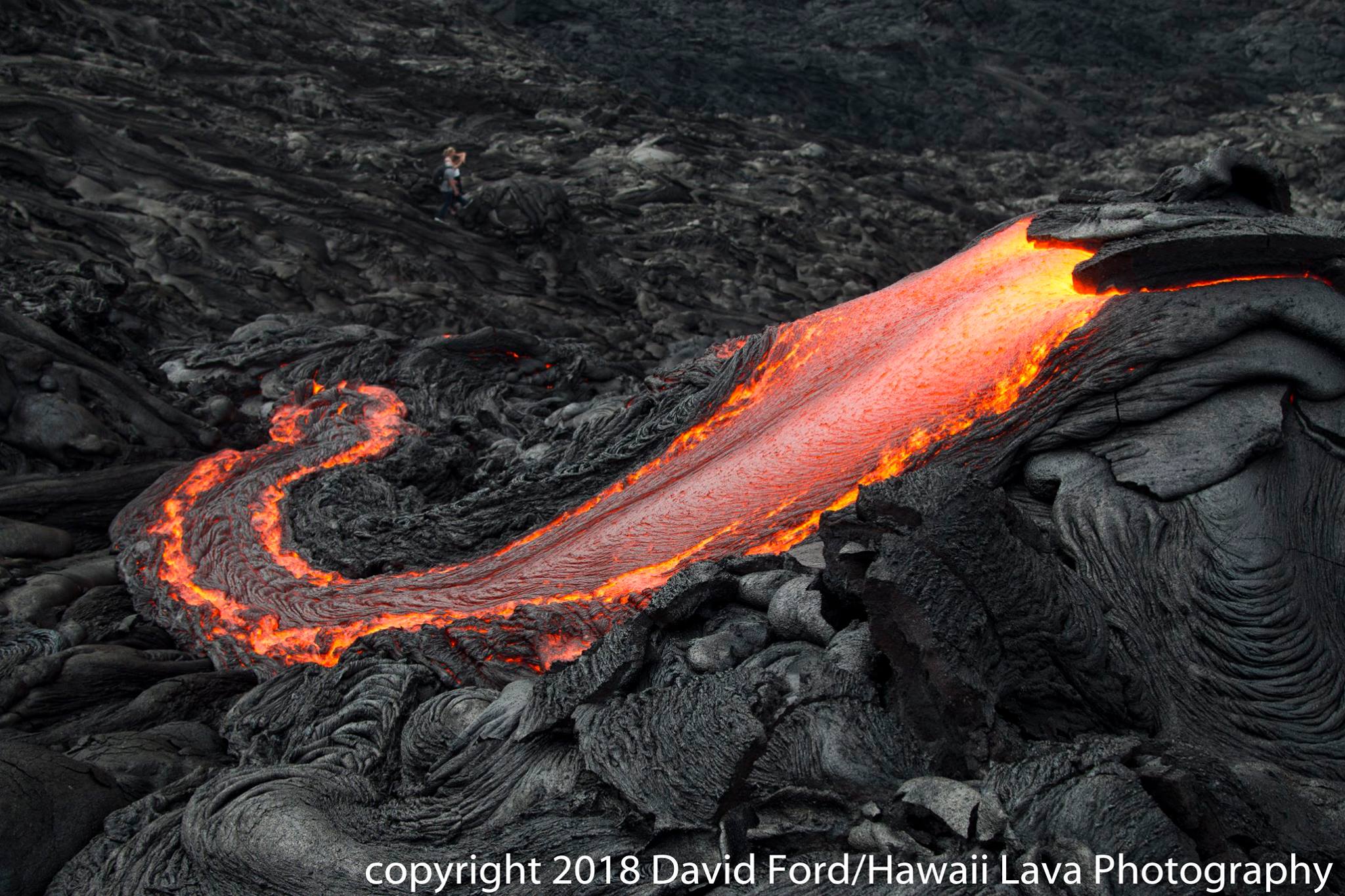 Puʻu ʻŌʻō Observations:
Available webcam images over the past 24 hours show persistent glow at long-term sources within the crater and from a small lava pond on the west side of the crater. Minor tilt was recorded over the past day. The sulfur dioxide emission rate from the East Rift Zone vents has been steady over the past several months and remains significantly lower than the summit emission rate.
Lava Flow Observations:
The episode 61g lava flow is still active, and webcam images show continuing surface flow activity on the upper portion of the flow field and on Pulama pali. None of these flows is posing any threat to nearby communities and no lava is flowing into the ocean at this time.
Source : HVO
Cleveland , Alaska :
52°49'20 » N 169°56'42 » W,
Summit Elevation 5676 ft (1730 m)
Current Volcano Alert Level: ADVISORY
Current Aviation Color Code: YELLOW
Unrest continues at Cleveland volcano. No elevated surface temperatures were observed in satellite data over the past week, although conditions were cloudy overall. A small explosion occurred at 6:19 UTC March 15 (10:19 pm AKDT March 14), producing seismicity and atmospheric pressure waves that were measured on the seismic and infrasound stations at the volcano. No ash cloud was observed in cloudy satellite images acquired after the explosion. The explosion was not preceded by local earthquakes in the hours leading up to the event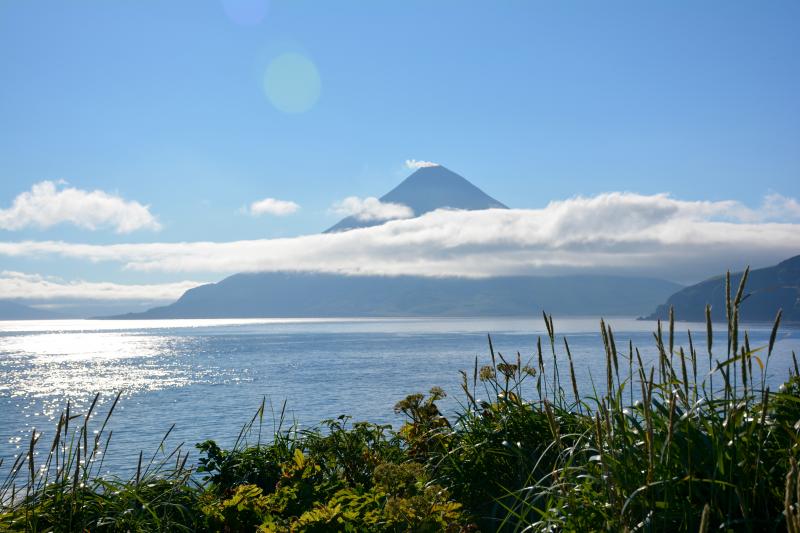 Future explosive activity is likely and is expected to occur without warning. Previous explosions have produced hazardous conditions primarily near the summit crater, but occasionally they have been large enough to produce a drifting ash cloud.
Cleveland volcano is monitored by only two seismic stations, which restricts AVO's ability to detect precursory unrest that may lead to an explosive eruption. Rapid detection of an ash-producing eruption may be possible using a combination of seismic, infrasound, lightning, and satellite data.
Source : AVO
Photo : Lyons, John , 25 Juillet 2016.
Sheveluch , Kamchatka :
56.64 N, 161.32 E;
Elevation 10768 ft (3283 m),
the dome elevation ~8200 ft (2500 m)
Aviation Colour Code is ORANGE
A moderate activity of the volcano continues. Ash explosions up to 32,800-49,200 ft (10-15 km) a.s.l. could occur at any time. Ongoing activity could affect international and low-flying aircraft.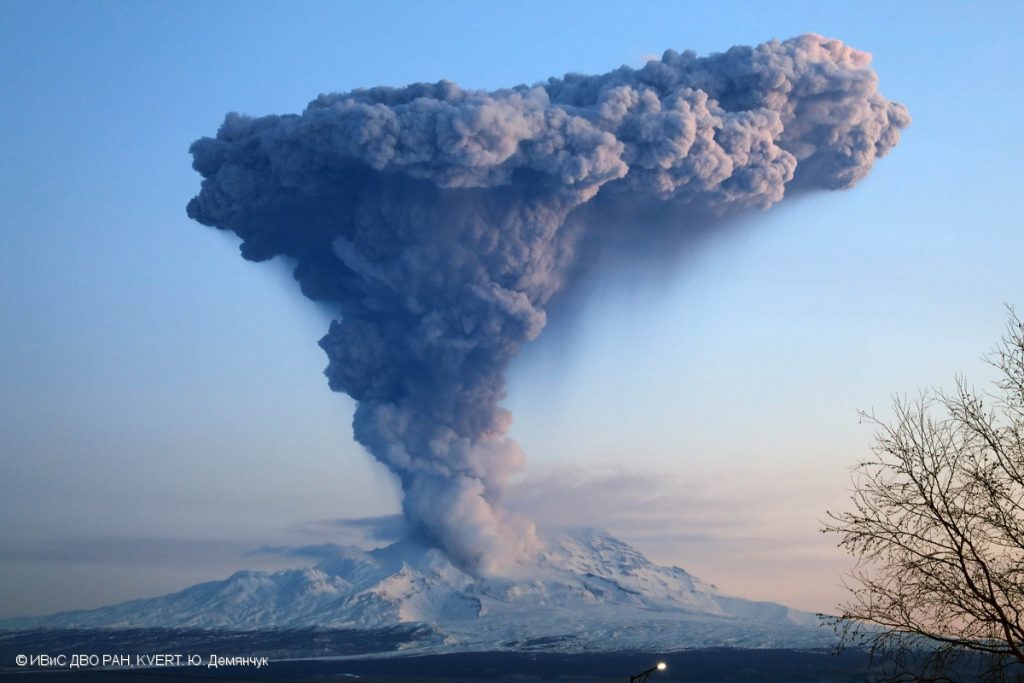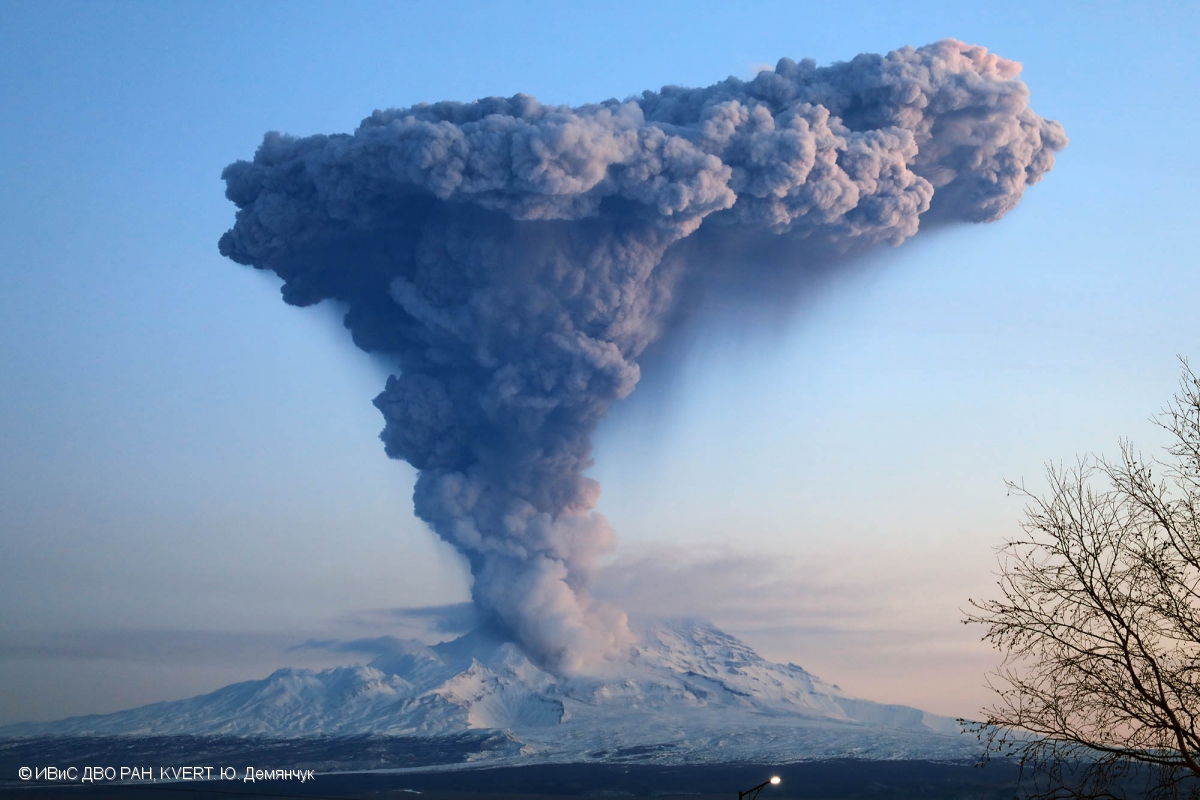 A moderate gas-steam activity of the volcano continues. Satellite data by KVERT showed a weak thermal anomaly over the volcano on 11-14 March; the volcano was obscured by clouds in the other days of week.
Source : Kvert.
Photo : Yu. Demyanchuk, IVS FEB RAS, KVERT, 4/12/2017.
Agung , Indonesia :
Based on the analysis of visual and seismic data and considering the potential threats of danger, the status of G. Agung was lowered from Level IV (Awas) to Level III (Siaga) on February 10, 2018 at 09:00. Since yesterday and until today, it has been possible to visually observe the volcano until it is covered with fog. . The emission of white fumes, low intensity and low pressure, reaches a height of 50 to 400m above the summit. The wind is heading east.
The records of the seismographs dated March 15, 2018 noted:
11 emission earthquakes
5 shallow volcanic earthquake (VB)
2 deep volcanic earthquake (VA)
2 local tectonic earthquake (TL)
3 distant tectonic earthquake (TJ).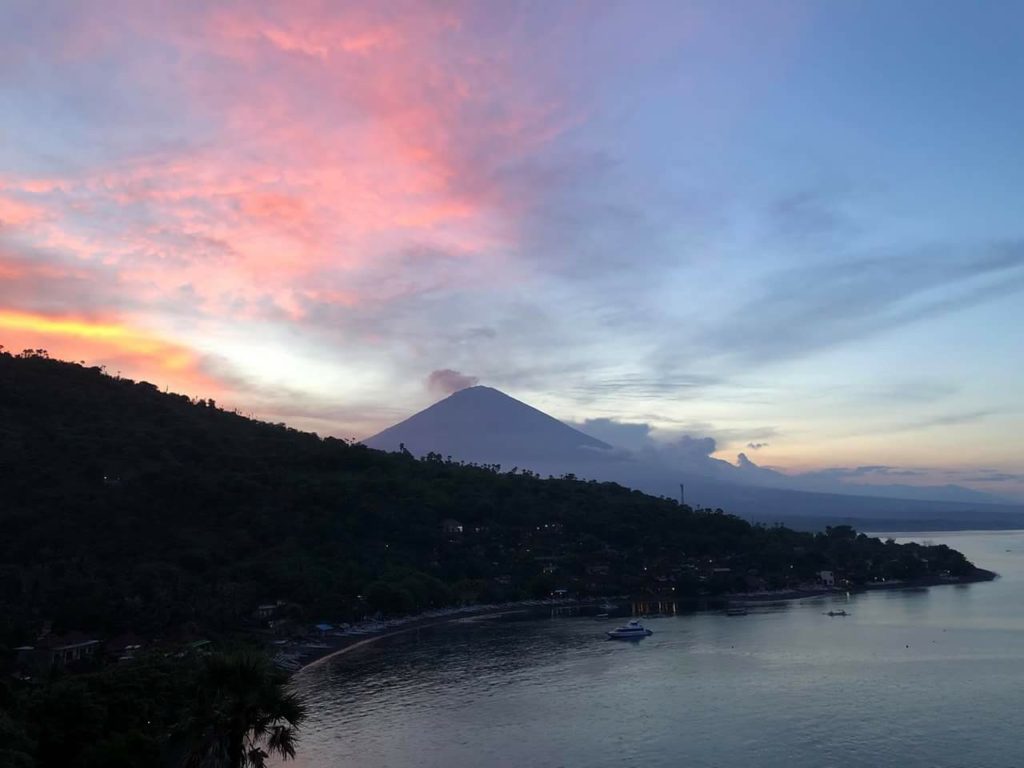 As of 16 March 2018 (00:00 to 18:00) it has been registered:
2 emission earthquakes
18 shallow volcanic earthquake (VB)
5 deep volcanic earthquake (VA)
2 local tectonic earthquake (TL)
Recommendations:
The communities around G. Agung and mountaineers / visitors / tourists should not climb, climb or do any activity in the danger zone around the G. Agung crater area and in all areas within 4 km from the crater of G. Agung. The estimated area risks are dynamic and continuously assessed and can be modified at any time based on the most recent observational data from G. Agung.
People who live and move around streams that discharge from Gunung Agung should be aware of the potential danger of a secondary form of lahars, which can occur, especially during the rainy season. The lahar zone follows the streams of the upper reaches of Gunung Agung.
Level 3 (SIAGA) is only valid for a radius of 4 km as mentioned above. Outside the activity area, everything can work like NORMAL and always SAFE.
Vona: The last VONA code sent was an ORANGE color code, published on March 12, 2018 at 12:20, associated with the 11:20 pm eruption where the ash column was observed rising 3942 m above level from the sea, about 800 m above the summit, the wind blowing east.
Source : VSI
Photo : via Vincent Gougeau Pap S.