April 08, 2021. EN . Iceland : Geldingadalur , Guatemala : Pacaya , Japan : Suwanosejima , Indonesia : Sinabung , Russia / Kurile Islands : Ebeko .
April 08 , 2021 .
Iceland , Geldingadalur :
Two new craters opened around lunchtime yesterday (Easter Monday), some 700 metres north-east of the two existing craters in Geldingadalir. They are 100-200 metres long and lava is now flowing into Meradalir valley, as well as Geldingadalir.
There was almost no warning recorded by monitoring equipment before the new craters opened just 200 metres from the search & rescue team's tent. Between 400 and 500 people were visiting the eruption at the time and they were evacuated quickly. Visitors will not be allowed today.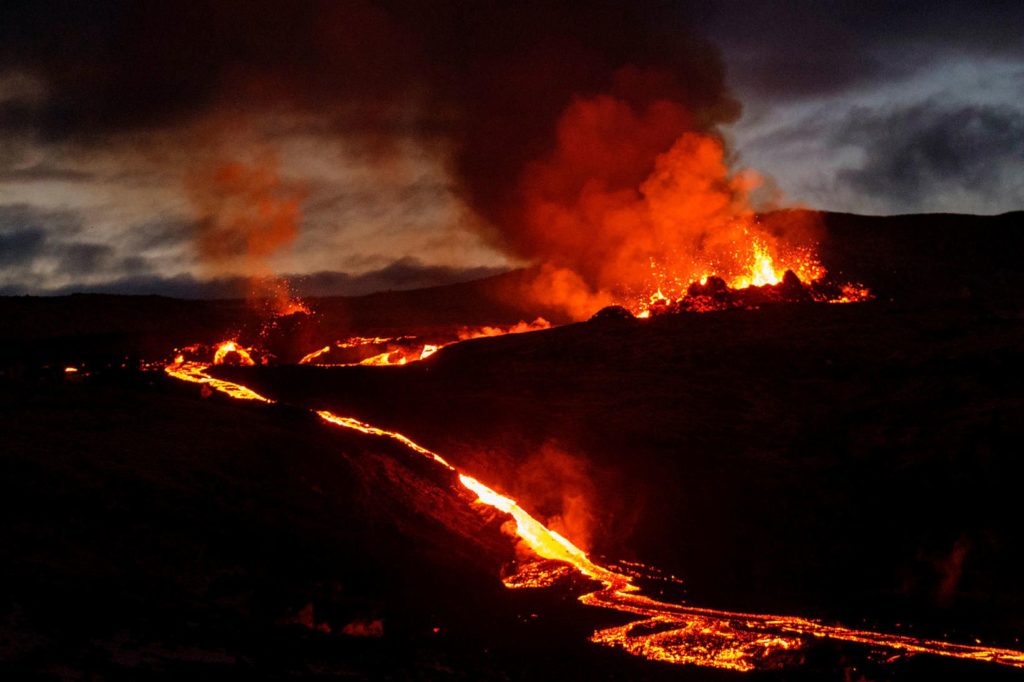 It is believed the new craters are being fed by the same magma intrusion dyke as the old ones and that they may have appeared because a shift in the crust restricted the flow of lava in Geldingadalir, thereby increasing pressure and forcing lava up in a new location. The new lava flow runs further into the highland area of the Reykjanes peninsula and poses no increased threat to homes or infrastructure.
"It is perhaps not very likely the eruption will manage to keep both channels open; both the old and the new craters, for a long time, though that cannot be ruled out says Halldór Geirsson, geophysicist.
At midnight April 6. – 7. a new volcanic fissure opened about 420m NE of the first eruption site in Geldingadalir. This new fissure is therefore between the two currently erupting fissures. Lava from it flows towards Geldingadalir.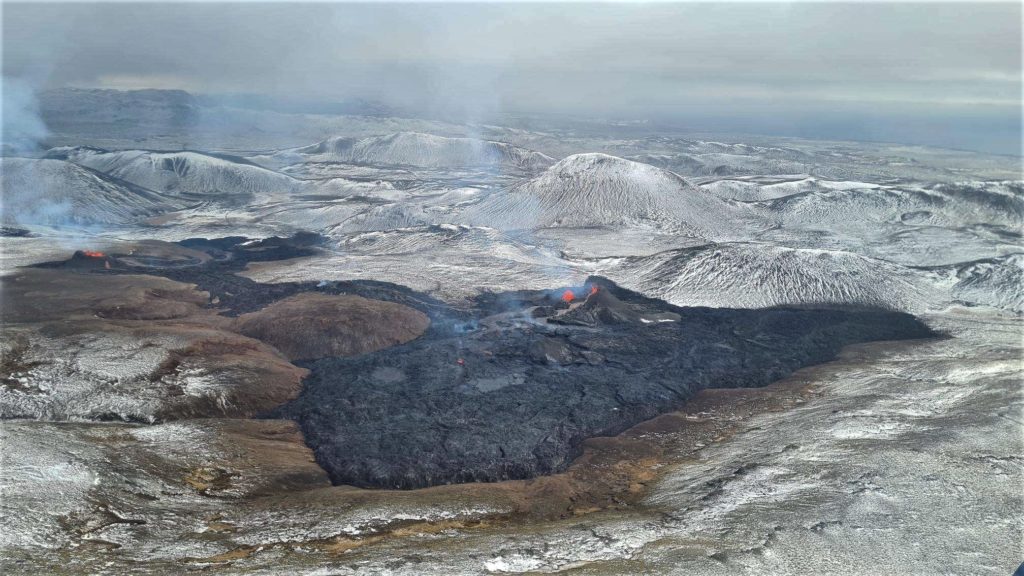 Lava Fields Meet, Meteorological Office Announcement:
In photos taken during yesterday afternoon's reconnaissance flight, the lava fields from the three eruptions can be seen now meet. Lava from the third eruption site, which opened at midnight, flowed both south into Geldingadalur and northeast to the eruption above Meradalur. There is a continuous lava field between the three eruption sites, which actually belong to a single eruption fissure above the Fagradalsfjall magma dyke.
IMO reported that the small eruption in the W part of the Krýsuvík-Trölladyngja volcanic system, close to Fagradalsfjall on the Reykjanes Peninsula, continued during 31 March-6 April. Video and visitor photographs showed spattering and lava fountaining from the two cones, and lava flows from both cones moved W and S within the Geldingadalur valley. A new fissure, 100-200 m long, opened about 700 m NE of the Geldingadalur cones around noon on 5 April.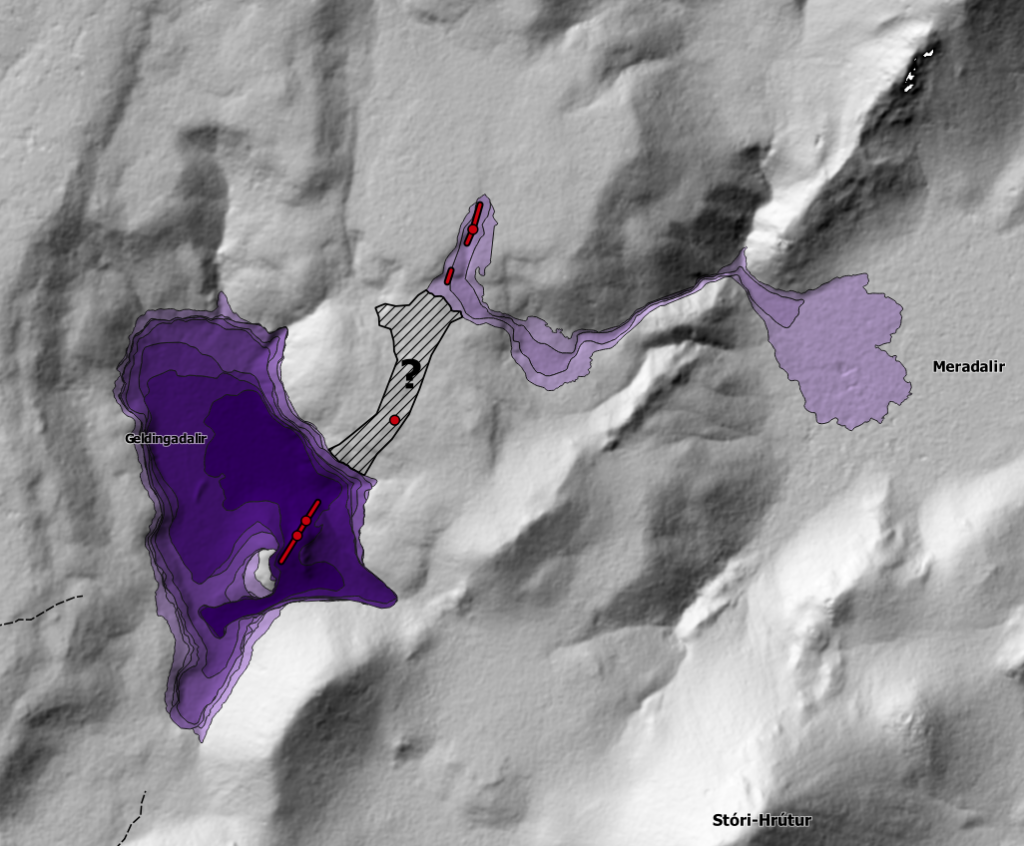 During a helicopter overflight, scientists observed a gas plume rising from the new fissure and a fast-moving lava flow descending into the Meradalir valley to the SE. On 6 April lava from the second fissure was advancing at a rate of 7 cubic meters per second; lava-flow rates at the Geldingadalir site averaged 5.5 cubic meters per second. Around midnight during 6-7 April a third fissure opened in between the first two; all three were oriented NE-SW. Earlier on 6 April field teams had observed a landslide in same area. Lava from the third fissure mostly flowed SW into Geldingadalur. The Aviation Color Code remained Orange due to the lack of ash and tephra emissions.
Source : RUV, Vedur Is , GVP.
Photo : mbls.is / Kristin Magnusson. RUV.
Guatemala , Pacaya :
Activity:
OVPAC observers report that during the night and early in the morning in the Mackenney crater, explosions with the presence of ballistic projections are observed which reach a height of 50 to 150 meters above the crater. The ashes reach heights of around 3,500 meters (11,482 feet) which disperse to the west and southwest, over a distance of 10 kilometers, with the possibility of ash falling on communities near the volcano. . On the western and southwestern flanks, the lava flow with an approximate length of 3,700 meters remains active. It has different ramifications, causing fires in the vegetation, with detachment of incandescent blocks from its forehead and flanks, which can cause serious injuries. The generation of other lava flows on the various sides of the volcano is not excluded. The PCG seismic station records a tremor (internal vibration) associated with the rise of magma and the displacement of the lava flow.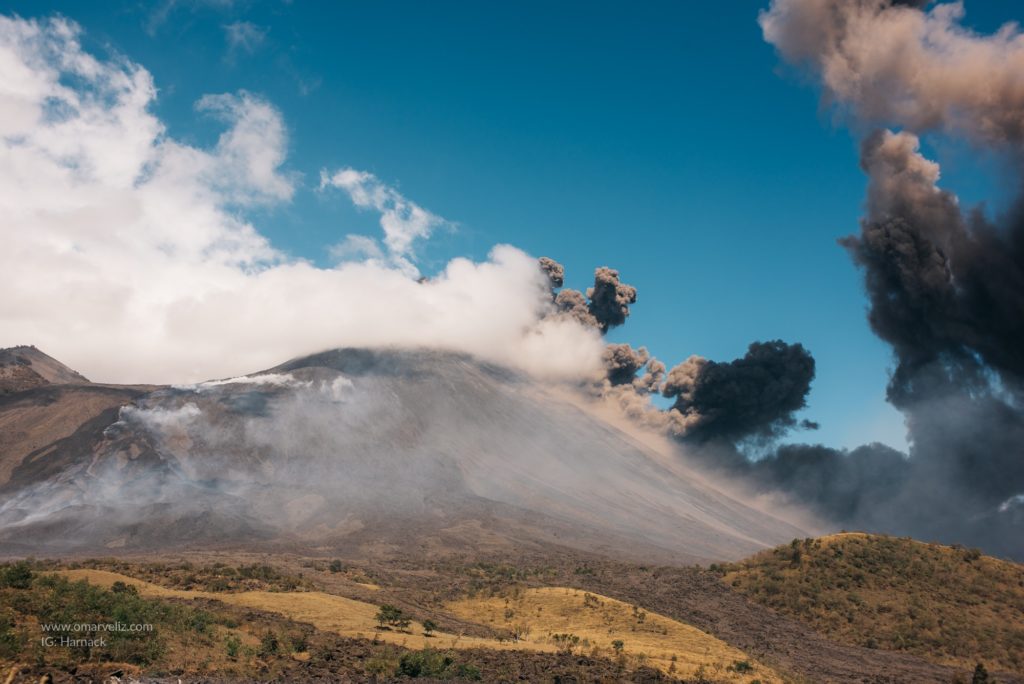 INSIVUMEH reported that explosions at Pacaya's Mackenney Crater during 30-31 March produced gas-and-ash plumes that rose 1.8 km above the summit and drifted up to 50 km S, SW, W, and NW. Explosions ejected blocks as high as 150 m above the summit. Lava flows on the W flank advanced to 3 km long and were near La Breña; the flows overtook an unoccupied building on the Campo Alegre farm that was used for monitoring and visitor services. The flow front was about 500 m from the town of El Patrocinio. Incandescent blocks detached from the end of the lava flow and set fire to vegetation. During 31 March-2 April explosions ejected incandescent blocks as high as 225 m above the summit. Ash plumes rose 500 m and drifted 20 km S and SW. The SW-flank lava flows remained active. Explosions continued during 3-6 April, with ash plumes rising as high as 1 km and drifting 6-20 km W, SW, and S. The lava flow continued to be active on the SW flank, setting fire to local vegetation. Strombolian activity ejected material 300 m high during 5-6 April.
Source : Insivumeh , GVP.
Photo : Omarveliz , via Rizal M.
Japan , Suwanosejima :
JMA reported that during 30-31 March large volcanic bombs were ejected at least 41 times from Suwanosejima's Ontake Crater as high as 800 m above the crater rim and to distances as far as 1 km. The Alert Level was raised to 3 (on a 5-level scale) at 03h30 on 31 March and the public was warned to stay outside a 2 km radius of the crater. The increased activity prompted an overflight that same day where scientists confirmed several hundred high-temperature bomb deposits with a thermal camera within a 1 km radius.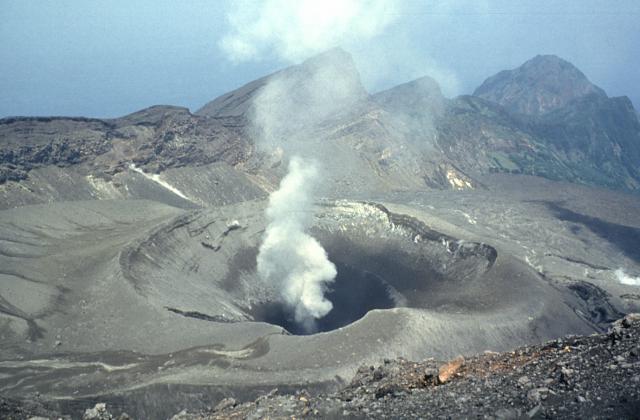 Explosions at 22h05 on 30 March and 02h57 on 31 March ejected bombs onto the S and SE flanks, respectively. Grayish-white emissions rose from the crater. After 1500 eruption plumes rose as high as 1.4 km above the crater rim. The number of explosions decreased; two per day were recorded during 1-2 April and one was recorded on 3 April. The Alert Level was lowered to 2 on 5 April and the public was warned to stay 1 km away from the crater.
Source : GVP , JMA.
Photo : Yukio Hayakawa, 1998 (Gunma University).
Indonesia , Sinabung :
VOLCANO OBSERVATORY NOTICE FOR AVIATION – VONA.
Issued : April 8 , 2021
Volcano : Sinabung (261080)
Current Aviation Colour Code : ORANGE
Previous Aviation Colour Code : orange
Source : Sinabung Volcano Observatory
Notice Number : 2021SIN34
Volcano Location : N 03 deg 10 min 12 sec E 98 deg 23 min 31 sec
Area : North Sumatra, Indonesia
Summit Elevation : 7872 FT (2460 M)
Volcanic Activity Summary :
Eruption with volcanic ash cloud at 08h47UTC (15h47 local)
Volcanic Cloud Height :
Best estimate of ash-cloud top is around 11072 FT (3460 M) above sea level, may be higher than what can be observed clearly. Source of height data: ground observer.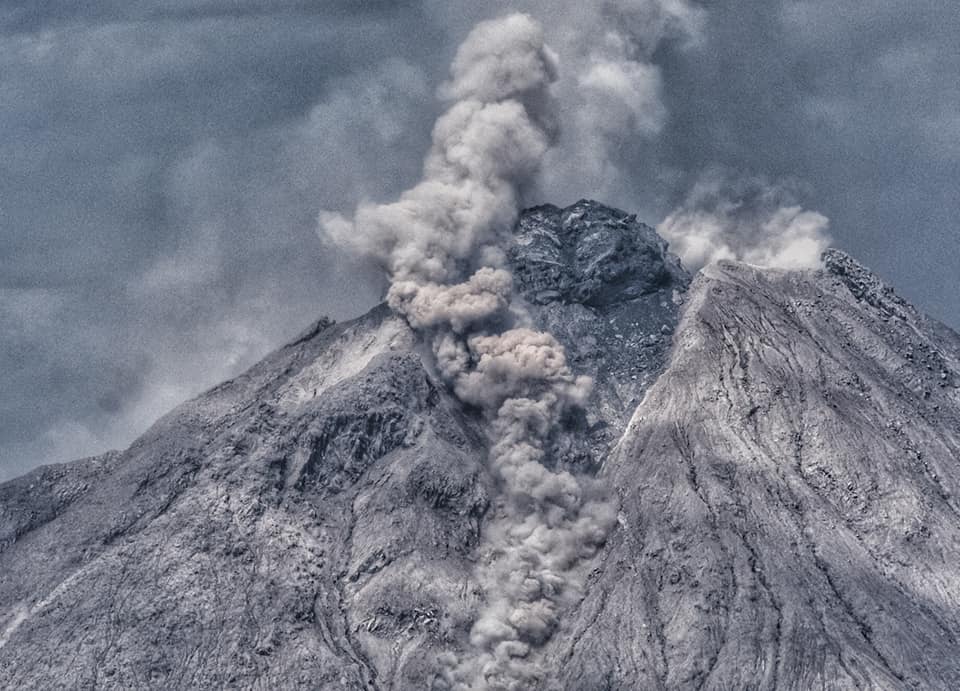 Other Volcanic Cloud Information :
Ash-cloud moving to E – SE
Remarks :
Seismic activity is characterized by eruption.
PVMBG reported that the eruption at Sinabung continued during 31 March-6 April. Weather conditions sometimes prevented visual observations of the volcano, though daily white fumarolic plumes were visible rising as high as 500 m above the summit. Avalanches were detected daily by the seismic network and observed traveling 500-1,500 m down the E and SE flanks. An eruptive event produced a gray ash plume that rose 500 m above them summit on 1 April. Pyroclastic flows went as far as 1.5 km down the E and SE flanks. Ash plumes rose 0.7-2 km during 2-5 April and mainly drifted E and SE. The Alert Level remained at 3 (on a scale of 1-4), with a general exclusion zone of 3 km and extensions to 5 km in the SE sector and 4 km in the NE sector.
Source : Magma Indonésie , GVP.
Photo : Nachelle Homestay .
Russia / Kurile Islands , Ebeko :
VOLCANO OBSERVATORY NOTICE FOR AVIATION (VONA)
Issued: April 06 , 2021.
Volcano: Ebeko (CAVW #290380)
Current aviation colour code: ORANGE
Previous aviation colour code: orange
Source: KVERT
Notice Number: 2021-46
Volcano Location: N 50 deg 41 min E 156 deg 0 min
Area: Northern Kuriles, Russia
Summit Elevation: 1156 m (3791.68 ft)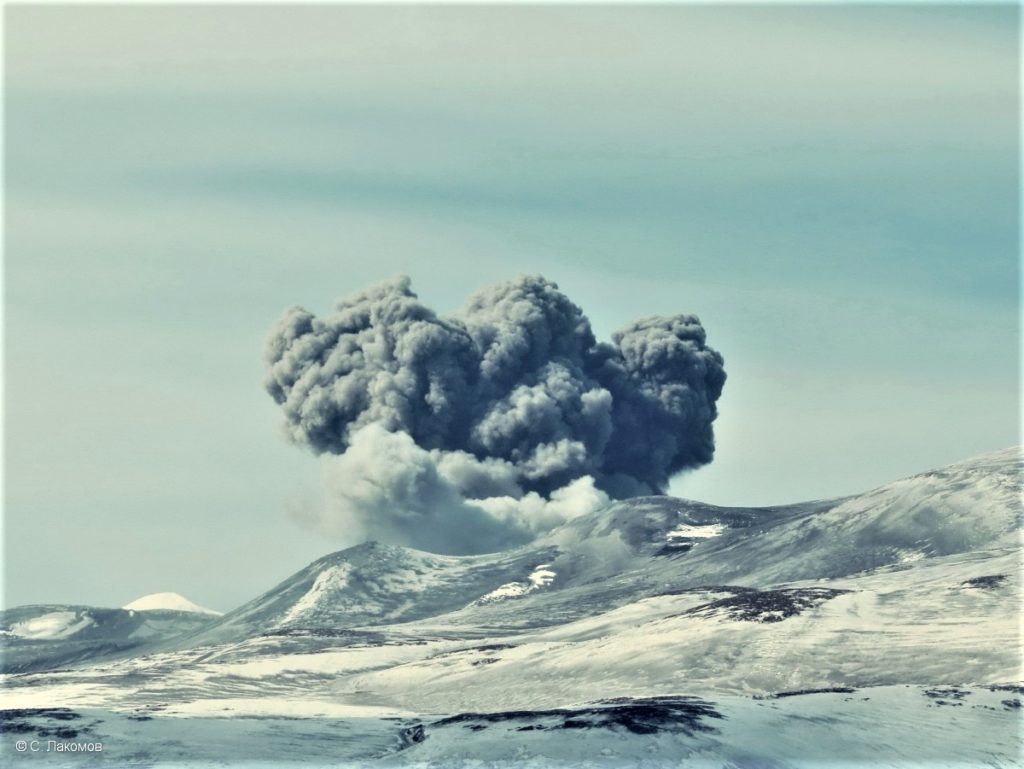 Volcanic Activity Summary:
A moderate eruptive activity of the volcano continues. According to visual data by volcanologists from Severo-Kurilsk, explosion sent ash up to 2 km a.s.l., an ash cloud is drifting to the south-east of the volcano.
A moderate eruptive activity of the volcano continues. Ash explosions up to 6 km (19,700 ft) a.s.l. could occur at any time. Ongoing activity could affect low-flying aircraft and airport of Severo-Kurilsk.
Volcanic cloud height:
2000 m (6560 ft) AMSL Time and method of ash plume/cloud height determination: 20210406/2322Z – Visual data
Other volcanic cloud information:
Distance of ash plume/cloud of the volcano: 5 km (3 mi)
Direction of drift of ash plume/cloud of the volcano: SE
Time and method of ash plume/cloud determination: 20210406/2322Z – Visual data
Source : Kvert .
Photo : S. Lakomov