September 06 , 2019. EN. Hawaii : Mauna Loa , Chile , Nevados de Chillan , El Salvador : San Miguel (Chaparrastique) , Mexico : Popocatepetl .
September 06 , 2019.
Hawaii , Mauna Loa :
19°28'30 » N 155°36'29 » W,
Summit Elevation 13681 ft (4170 m)
Current Volcano Alert Level: ADVISORY
Current Aviation Color Code: YELLOW
Activity Summary:
Mauna Loa Volcano is not erupting. Over the past week, rates of deformation and seismicity continue to remain slightly elevated.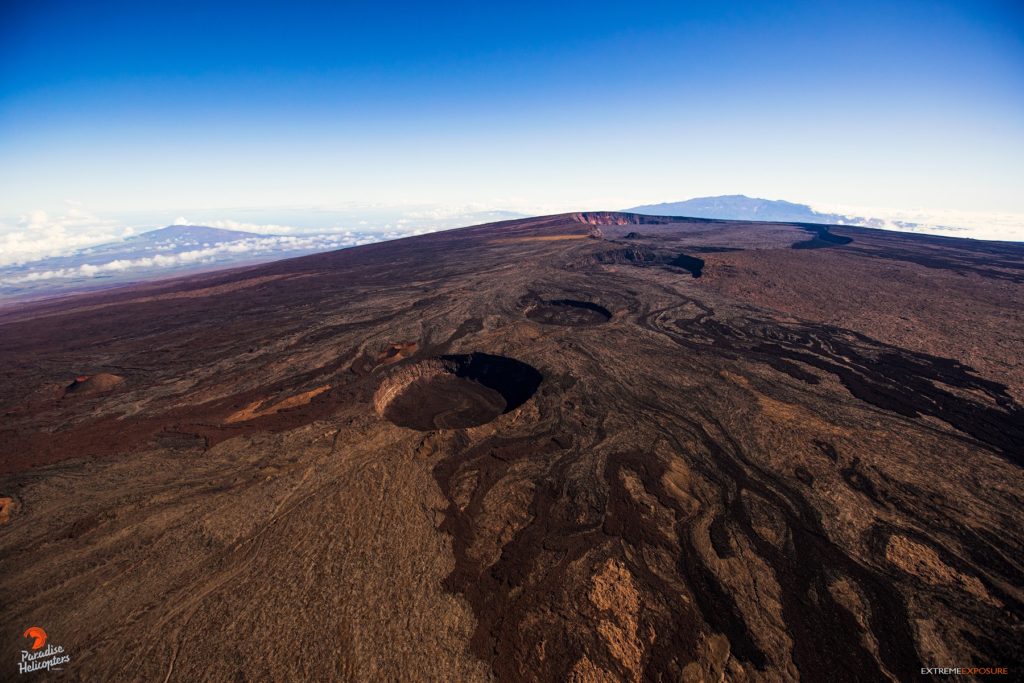 While its summit rises to more than 4 kilometers above sea level, Mauna Loa's flanks extend down to the sea floor an additional 5 km, and on top of that, well, under actually, the sea floor is depressed another 8 km by its sheer mass, making it more than 17 km tall!! The mountains in the background, from left to right are Hualalai, Kohala, and Mauna Kea. And, in the far, far distance, between Hualalai and Kohala, and behind the clouds is Haleakala, island of Maui.
Observations:
During the past week, approximately 50 small-magnitude earthquakes (all smaller than M2.5) were detected beneath the upper elevations of Mauna Loa. Most of the earthquakes occurred at shallow to intermediate depths of less than 10 km (~6 miles) below ground level.
Global Positioning System (GPS) and Interferometric Synthetic Aperture Radar (InSAR) measurements show continued summit inflation, consistent with supply to the volcano's shallow magma storage system.
No significant changes in volcanic gas release were measured at Sulphur Cone on the Southwest Rift Zone. Fumarole temperatures remain stable at Sulphur Cone and within the summit caldera.
Source : HVO.
Photo : Bruce Omori
Chile , Nevados de Chillan :
Over the past few days, there has been a change in eruptive dynamics on Nevados de Chillan, with an increase in the frequency and magnitude of explosive activity, which has led Sernageomin to expand the area with high probability of being affected by volcanic flows 3 km southwest and 5 km north-northeast
NEVADOS DE CHILLÁNDurante los últimos días se ha observado un cambio en la dinámica eruptiva en los Nevados de Chillán, a través de un aumento en la frecuencia y magnitud de la actividad explosiva, que ha llevado a Sernageomin a extender la zona con alta probabilidad de ser afectada por flujos volcánicos a 3km hacia el SW y 5 km hacia el N-NE (polígono rojo en mapa de peligros volcánicos adjunto en "comentarios").En el video adjunto, se muestra una comparación visual de la actividad explosiva entre el 3 de septiembre de 2018 (arriba) y 3 de septiembre de 2019 (abajo), dejando en evidencia lo señalado al comienzo de esta nota. El aumento de la actividad eruptiva es probable que este asociada a la aparición de sismicidad tipo VLP (sismos de muy largo periodo) y la inflación del edificio volcánico detectados hace unas semanas por el observatorio volcanológico de los andes del sur (OVDAS) perteneciente a Sernageomin, que sustentan la idea de una intrusión o movimientos de magma en profundidad. A mantenerse atento al monitoreo de Sernageomin y sobre todo, respetar el radio de exclusión en torno al cráter. Se mantiene alerta Naranja.Imágenes de la cámara de vigilancia de Sernageomin.Compilación y comparación por volcanólogo de la Universidad de Concepción Jose Luis Palma.

Publiée par Volcanologia en Chile sur Jeudi 5 septembre 2019
In the attached video, a visual comparison of the explosive activity is shown between September 3, 2018 (above) and September 3, 2019 (below), with the evidence shown at the beginning of this note. . The increase in eruptive activity is probably related to the appearance of VLP-type earthquakes (very long-lived earthquakes) and to the volcanic building inflation detected a few weeks ago by the Volcanological Observatory of the South Andes. (OVDAS) belonging to Sernageomin, which support the idea of an intrusion or magmatic movements in depth.
The alert level remains in Orange.
Images of the Sernageomin surveillance camera.
Compilation and comparison by the volcanologist of the University of Concepción Jose Luis Palma.
Special report of volcanic activity (REAV).
Nuble Region, Nevados Volcano of Chillan, 05 September 2019, 01:10 local time (mainland Chile).
The National Geological and Mining Service of Chile (Sernageomin) publishes the following PRELIMINARY information, obtained from monitoring equipment of the National Volcanic Monitoring Network (RNVV), processed and analyzed at the Volcanological Observatory of the Southern Andes (OVDAS) :
On Thursday 05 September 2019, at 00:42 local time (04:42 UTC), the monitoring stations installed near the Nevados volcano of Chillan recorded an explosive event associated with the occurrence of a long-period type earthquake (Type LP) which was related to the fluid dynamics inside the volcano.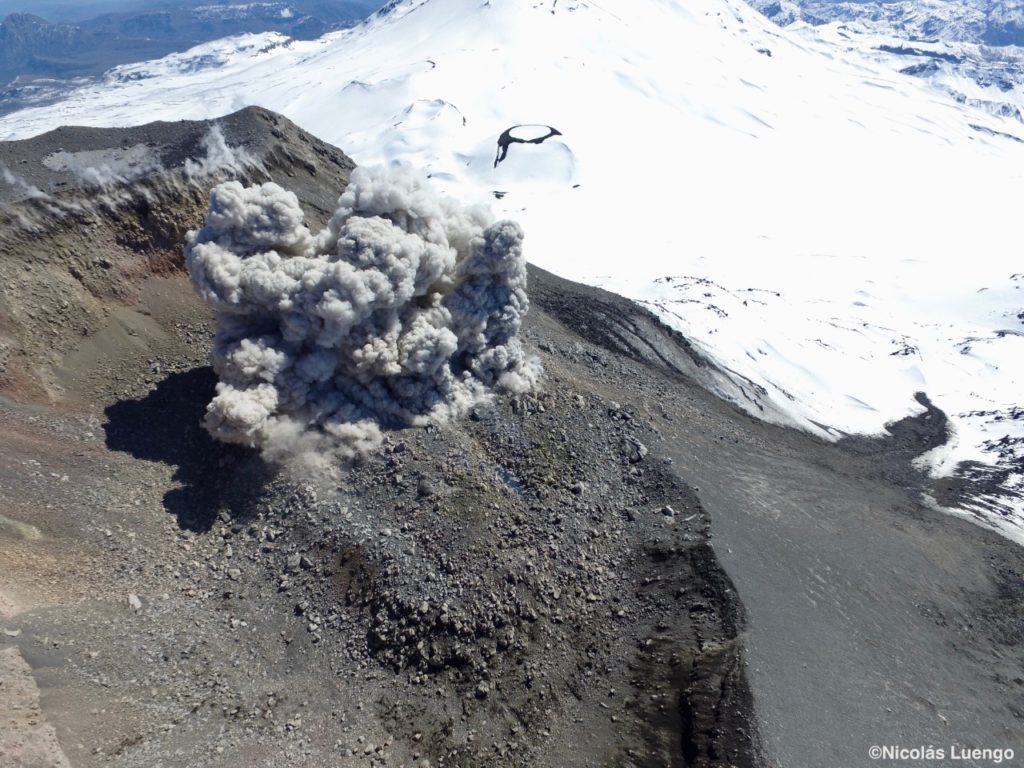 The location of the earthquake after its analysis is:
TIME OF ORIGIN: 00h42 Local time (04h42 UTC)
LATITUDE: 36,852 ° S
LONGITUDE: 71.377 ° W
DEPTH: 3.6 KM
REDUCED MOVEMENT: 598 cm2
ACOUSTIC SIGNAL: 8.5 Pa reduced to 1 km
OBSERVATIONS:
The explosion was associated with the recording of a seismic signal with a reduced displacement value (mean seismic energy) of 598 cm2, considered high. Also, an emission of incandescent gas and particulate materials was recorded, which was deposited around the active crater.
The level of volcanic technical alert remains at the level: ORANGE.
Sernageomin continues online monitoring and will inform in a timely manner about any changes observed.
Source : Sernageomin. Volcanoes of Chile.
Photo : 03-09-2018 Nicolás Luengo (Volcanochile).
El Salvador , San Miguel ( Chaparrastique ) :
Location: San Miguel Department
Altitude: 2130 meters above sea level
Type of volcano: Stratovolcano
Attraction type: Strombolian – Vulcanian
Last major eruption: December 29, 2013.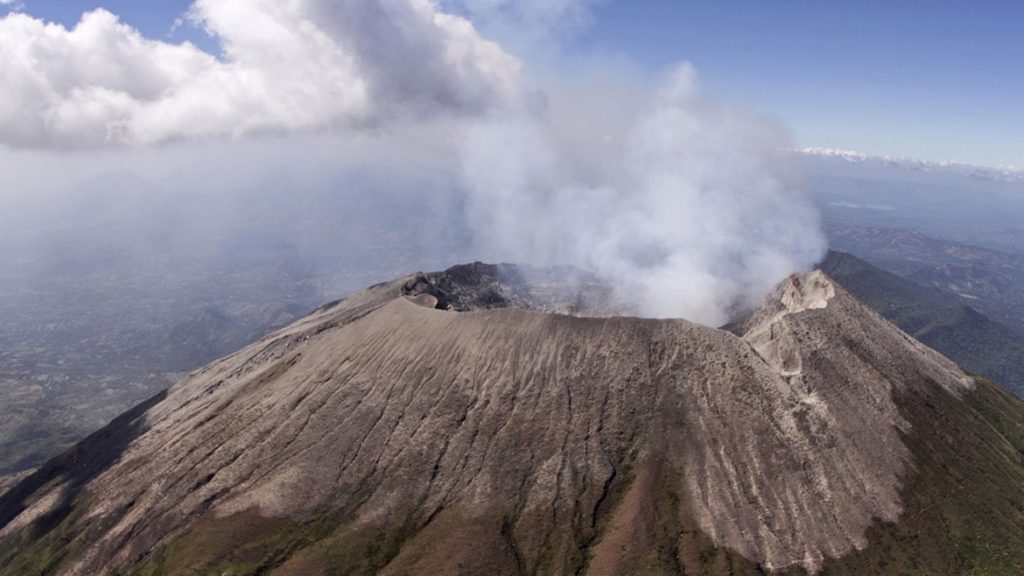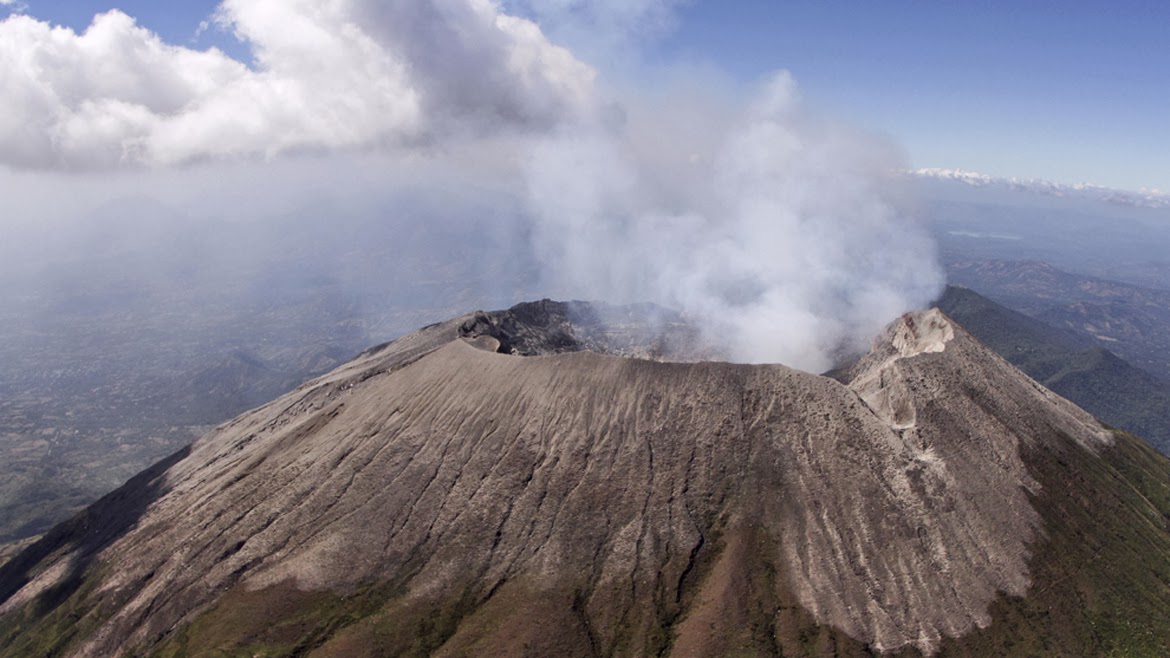 The behavior of the seismic activity continued to show fluctuations. At the beginning of the month, the values remained above 50 RSAM units; however, starting August 20, the behavior reverses, drops, and remains below 50 units until the end of the month. The seismic vibration values ranged from 30 to 97 RSAM units per day on average. The presence of microseisms associated with fluid movements (gas / magma) decreased compared to the previous month, with an average of 526 events per day. Due to its low magnitude, no earthquakes have been perceived by the population living in the volcano area.
For sulfur dioxide (SO2) emissions, they fluctuated between 101 and 748 tonnes per day, with an average of 449 t / d, the threshold being 620 t / d.
Source : Marn .
Photo : Marn / Epa.
Mexico , Popocatepetl :
September 5, 11:00 am (September 5, 16:00 GMT)
During the last 24 hours, there was little visibility on the crater. However, thanks to the monitoring systems of the Popocatepetl volcano, 310 exhalations were identified accompanied by small amounts of ash, 22 minor explosions and two moderate explosions yesterday at 19:55 and one today at 15:49.
There was a slight ash drop in the municipalities of Juchitepec, Tenango del Aire, Tepetlixpa and Atlautla, in the State of Mexico.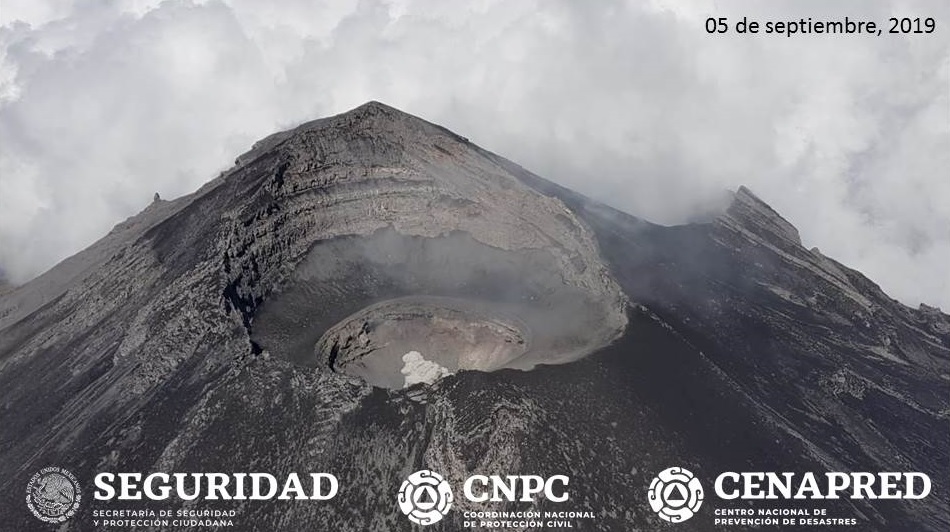 There were also 309 minutes of low to medium amplitude tremor and three volcano-tectonic earthquakes yesterday at 09:53, 16:23 and 16:54, with a calculated magnitude of M1,3, M1,7 and M2,2, respectively.
As of today morning and at the time of writing this report, emissions of water vapor, low ash gas have been observed that the wind disperses preferably towards the West South-West sector. .
On September 5, with the support of the National Guard, a reconnaissance flight was made to the crater of the Popocatépetl volcano. During this overview, specialists from the National Center for Disaster Reduction (CENAPRED) of the National Coordination of Civil Protection and researchers from the Institute of Geophysics of UNAM did not observe the presence of a dome , but the weather conditions allowed to recognize in detail the general conditions of the crater. Similarly, thermal images and photographs were obtained with which it was possible to determine that the internal crater retains its same dimensions (350 m in diameter and 150 m in depth).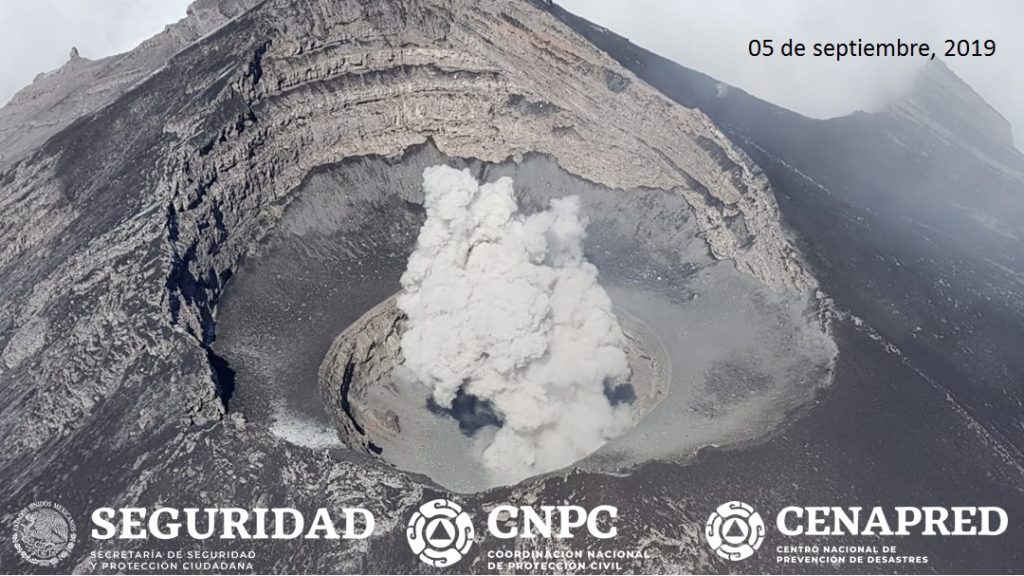 CENAPRED urges NOT to approach the volcano and in particular the crater because of the risk of falling ballistic fragments, and in case of heavy rains to stay away from the bottom of the ravines due to the risk of mudslides and debris.
The warning light of Popocatépetl is in YELLOW PHASE 2.
Source : Cenapred